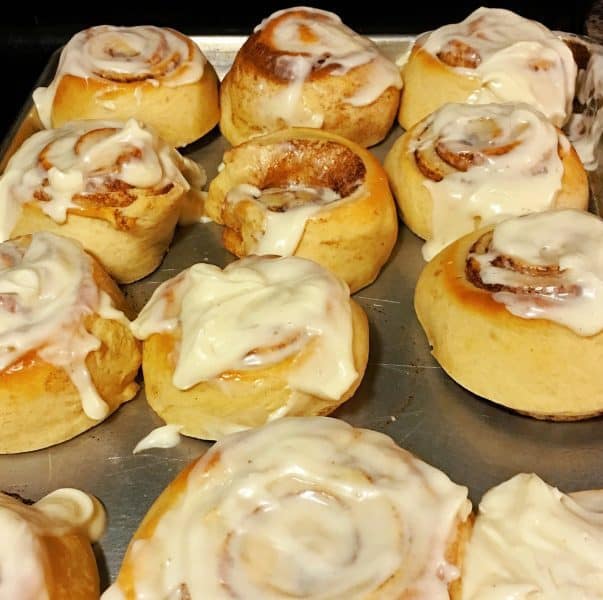 I have two GREAT loves! (Outside of my family, hubs, and God!) Kids and Food! So when a friend posted a photo of her cute son making cinnamon rolls… I knew I had to create a new monthly addition to Norine's Nest. Something I'm calling…. Kids In The Kitchen!!!
*As an Amazon Associate I earn from qualifying purchases. This post may contain affiliate links, which means that I may make a commission from any purchases at no additional cost to you. Thank you for your support!
I'm super excited about this new monthly post! I love the idea of spotlighting wonderful, talented, and amazing kids in the kitchen!
Lao Tsu said that if you give a hungry man a fish, you feed him for a day, but if you teach him how to fish, you feed him for a lifetime. In our "want it now" fast food society, the process of cooking seems too demanding on our time schedules. Too many families are completely skipping family meal time and catching things on the go! I understand, with Mom and Dad working, not to mention all the extra activities our children are involved with, it makes it difficult, if not impossible to have a family dinner. However, we also live in a world with crock pots and new Pressure cookers. Tools to make cooking easier than ever before.
Children still need to learn how to cook and prepare food! I'm concerned we are busy feeding our children fish, but ignoring the importance of teaching them to "fish"!
So…all that said… I'm excited about this new series here at my Nest! I hope it inspires more young cooks and their parents!
Let me introduce you to my friend Trent!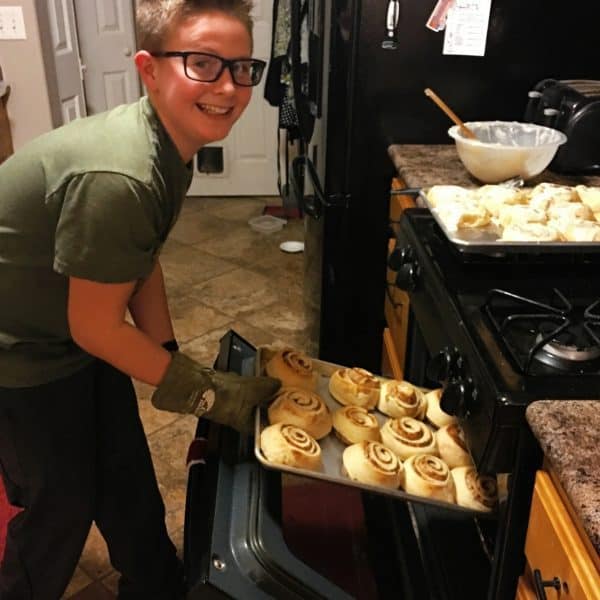 Trent is 12 years old. He loves playing football and basketball! He plays the piano and tuba. (Wow! So talented!) His Mom told me he is a straight "A" student! (No wonder he cooks..he's smart!) Every summer he loves going to Football camp and Science Camp. Some of his other interest and hobbies include rappelling, canyoneering, hiking, shooting, camping and river rafting! WOW! He is one busy kid!
He also reads like crazy! And, to quote his Mom…"HE REALLY LOVES FOOD!" Best of all Trent is an amazing big brother to his younger brother and baby sister!
When I asked Trent why he loves to cook he said "Because there's food at the end!" (My kind of kid!) His favorite thing about cooking is that he can have his favorite treats even when he can't talk Mom or Dad into making them for him. (I'm starting to think Trent and I are kindred spirits…well minus all that outdoor activity and sports stuff! lol)
Trent's favorite thing to make in the kitchen is cinnamon rolls. So today he is sharing his recipe for his amazing Ooey-gooey, warm, and chewy cinnamon rolls!
Trent sets out all his ingredients and supplies on the counter. That's a really GREAT idea so you don't forget something in the prep process! There's nothing worse than getting all done and realizing you forgot to add an important ingredient or do an important step. I recommend all young cooks read through a recipe first to make sure they have everything on hand that they need and that they will know the steps in preparing the food item they are making. It's a really good habit to get into. So if you're a young cook reading this…follow Trent's example.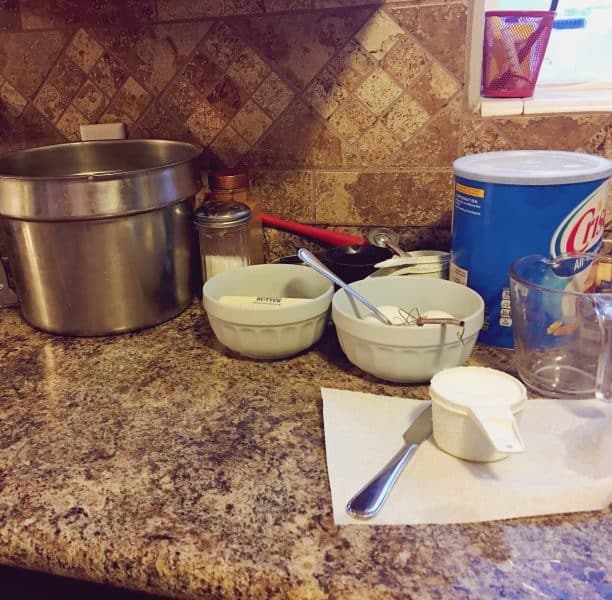 Trent likes to use his grandma's old mixer rather than his mom's newer Kitchenaid! (Shhhhh! We won't tell the good folks at Kitchenaid that Gran beat them out! I'm still praying they'll send me a rainbow of mixers! lol) No worries Trent! I totally understand. I have things in my kitchen that belonged to family members that I love too. There's just something awesome about cooking with things that have helped fill family tummies for generations! It's like passing the love along.
In your mixer place 1 cup of shortening, 3/4 cup of sugar, and 2 tsp. salt. Pour one cup of boiling water over that combined mixture. Beat till smooth.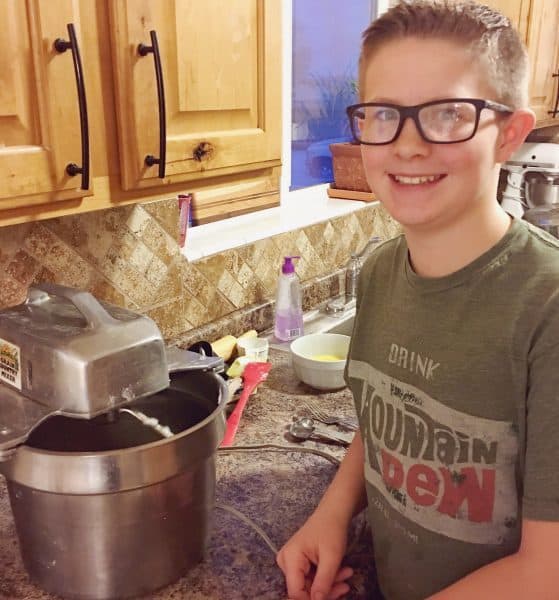 Add in 1 Cup of cold water. Add 2 Tablespoons of Yeast, dissolved in 1/2 cup of lukewarm water. Add in 4 well beaten eggs. Mix again till well blended. Add flour a cup at a time, a total of 7 and 1/2 cups, and mix using your dough hook.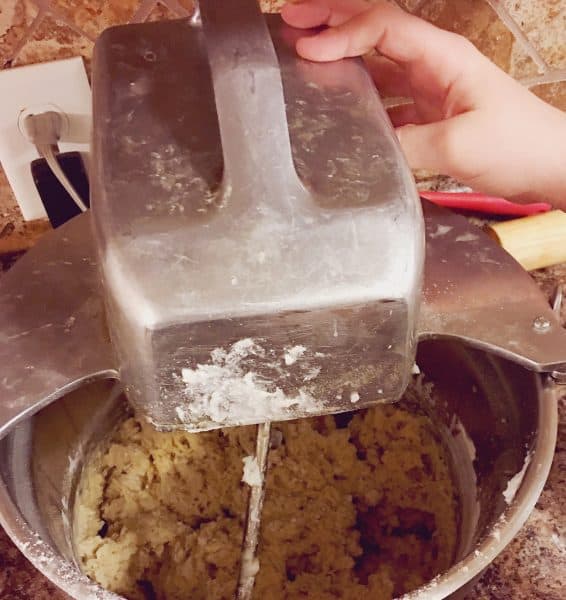 Let rise till double in size. Punch down and allow to rise again. (I'm loving that happy face! Total anticipation!)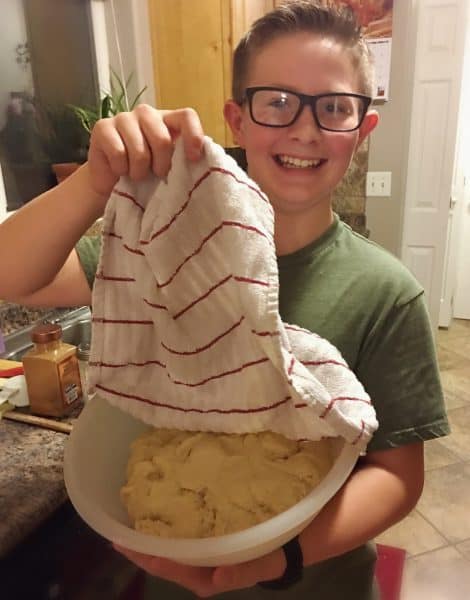 Roll the dough out into a large rectangle on a clean smooth surface. Spread with butter and sprinkle with sugar and cinnamon. Starting at the long edge on one side roll to the other side. (I love a man who knows how to use a rolling-pin!)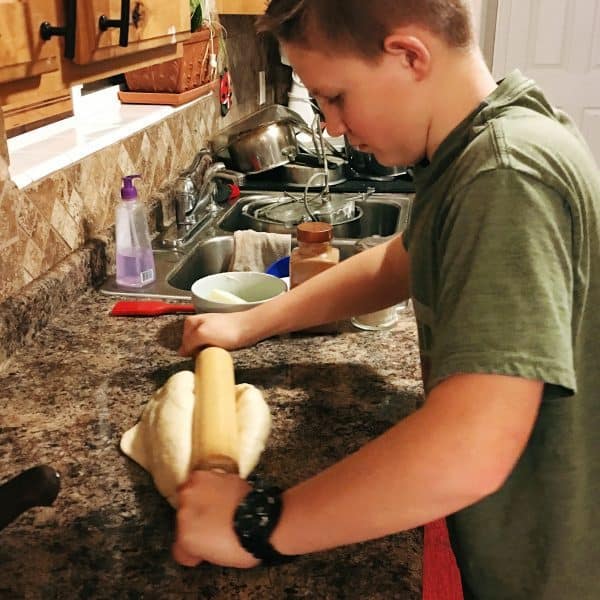 Trent uses floss to cut his dough into individual cinnamon rolls! Just like a pro! Look at those clean-cut rolls.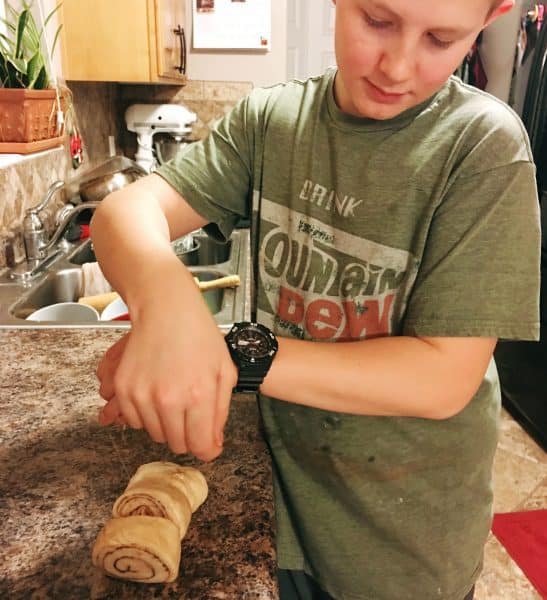 Next place on a sprayed baking sheet, let rise again. Then bake at 400 degrees for 12-14 minutes or until lightly golden brown.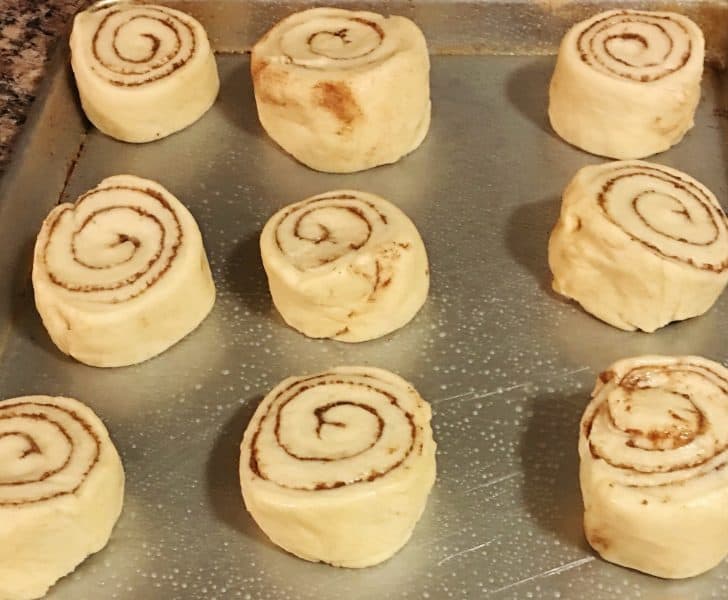 While the rolls are baking Trent whips up a batch of his favorite icing to brush on top of the rolls when they come out of the oven.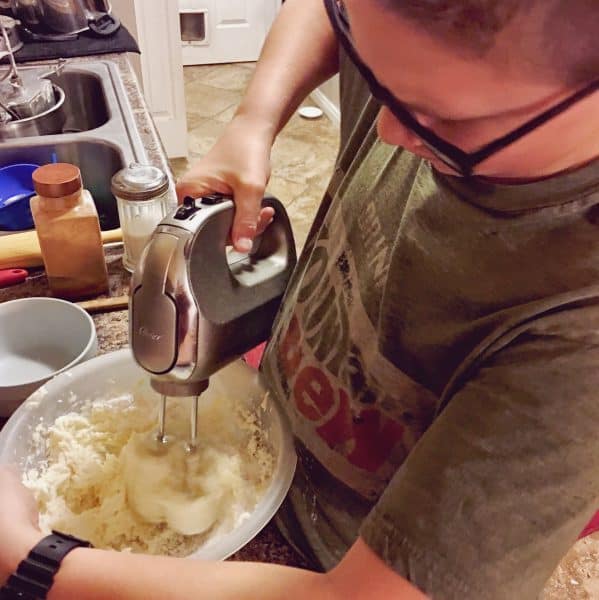 Let's not forget the best part….licking the beaters! Ahh… the Joys of being a kid in the kitchen! (I'm thinking this may be his little brothers favorite part too? lol)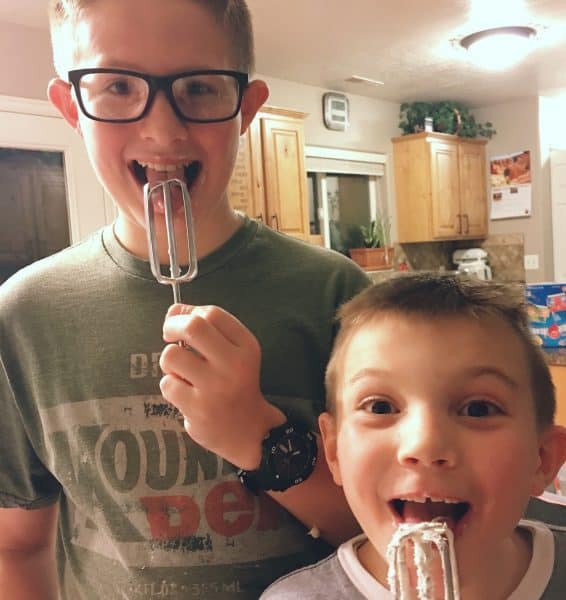 After they have cooled slightly Trent spreads that yummy frosting all over the top of those mouth-watering delicious rolls! (I'm starting to drool! Anyone else?) He looks pretty serious about getting it just right. I always say it's the little touches that take you to the next level of being a GREAT chef! It shows you care.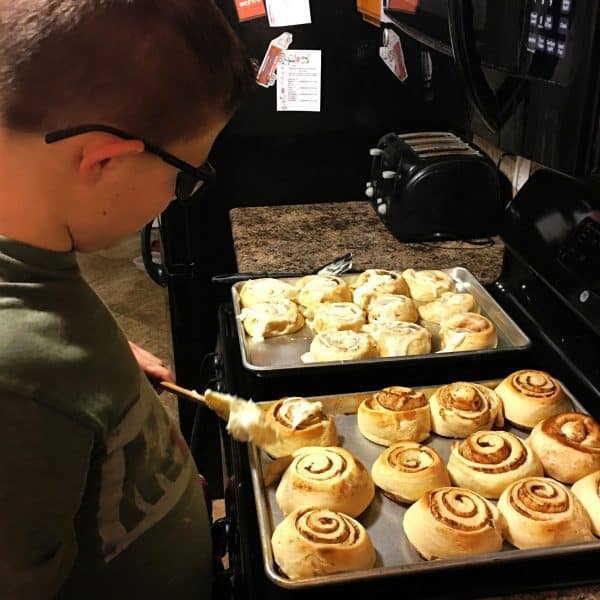 Look at those beautiful cinna-buns! I'm thinking a little well-known company better watch out because they have some stiff competition coming up the ranks! Watch out guys! There's a new kid in town and his cinnamon rolls look mighty good!
The perfect blend of ooey and gooey! Not to mention they look finger licking good!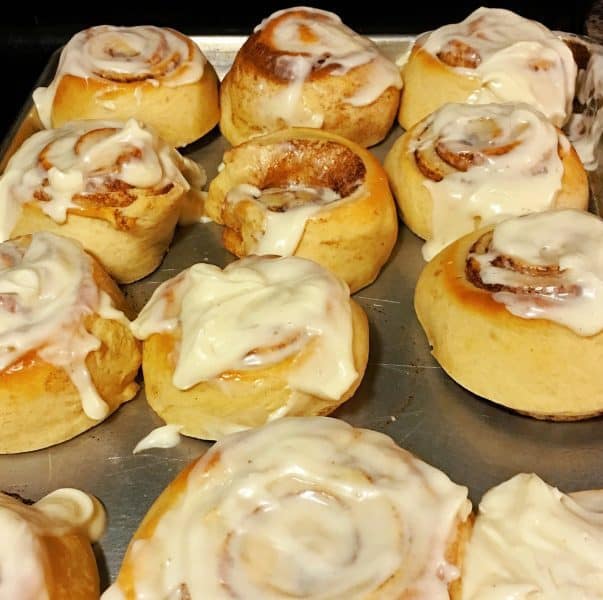 It's Trent's favorite time! Actually, let's be honest…it's every bakers favorite time. The moment when all the hard work is behind you, and what you are left with is the amazing deliciousness you created in your kitchen. (Is that a milk mustache I see buddy? lol) Way to Go Trent!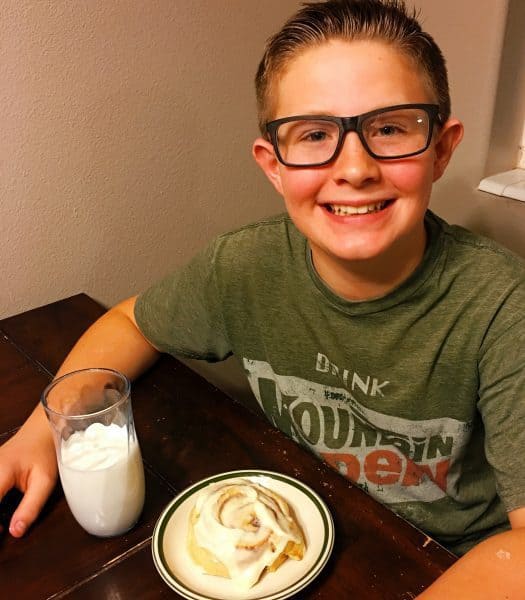 This entire post just makes my heart SO happy! Like I said earlier…I love food and I love kids! This kid is a favorite of mine. I've known him for several years now and he is a GREAT young man! I'm so thrilled he enjoys creating dishes in the kitchen. His Mom said that while his favorite is cinnamon rolls (A carb lover after my own heart!) He also makes a mean chocolate chip cookie!
I love that his Mom and Dad are encouraging him to have fun in the kitchen! So great! It's a skill he will be able to use all his life!
Trent thanks for being the very first "Kid In The Kitchen" spot light and for sharing your awesome recipe for homemade cinnamon rolls! I know you made these as a special treat for your grandma. Speaking as a "new" Grandma…I can't think of anything I'd love more than to have a delicious warm cinnamon roll from a favorite grandson! You ROCK buddy!
If you have a "Kid" who would LOVE to be spotlighted in our monthly post "Kids in the Kitchen" please contact me via my email address, located on the Contact Page. You'll find the tab right on my homepage.
I know Trent would love a shout out so please feel free to comment and encourage this young chef and I'll be sure he receives your comments! The printable recipe is below!
Have a wonderful Wednesday from Nest to Yours!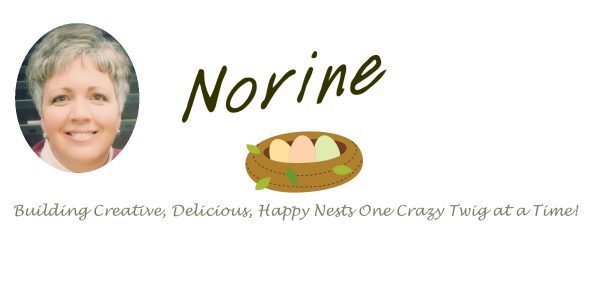 Cinnamon Rolls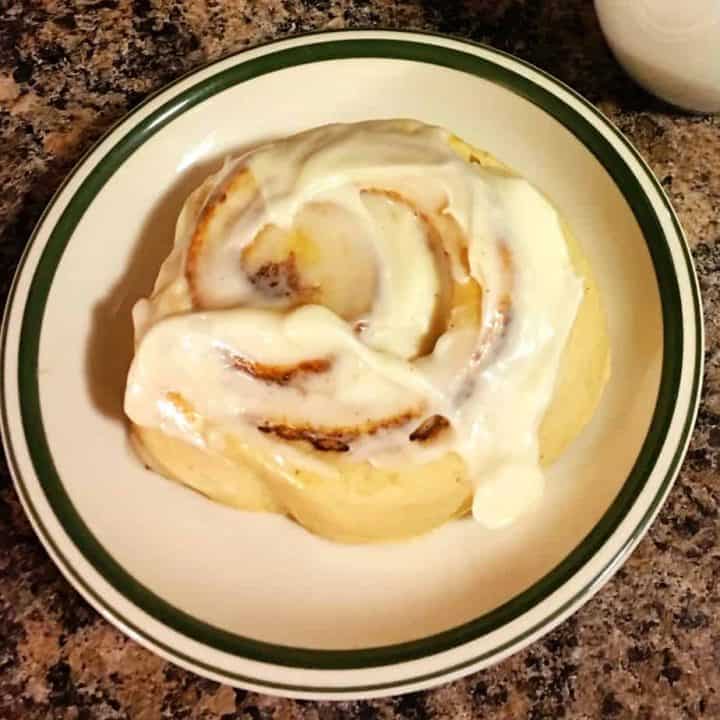 A delicious kid friendly recipe for ooey-gooey cinnamon rolls!
Ingredients
1 cup shortening
3/4 cup sugar
2 tsp. salt
1 cup boiling water
2 Tablespoons yeast, disolved in 1/2 cup lukewarm water
4 eggs, well beaten
7 1/2 cups flour
1 cup cold water
Frosting of your choice
Instructions
Mix shortening, sugar, and salt together in your mixer. Pour 1 cup boiling water over mixture. Beat until smooth.
Add 1 Cup Cold Water.
Add Yeast and beaten eggs. Stir well.
Add in flour, one cup at a time, and mix using your dough hook attachment.
Place in greased bowl and allow to rise. Punch down and let rise again.
Roll dough out on clean flat surface with rolling pin into a large rectangle.
Spread with butter, cinnamon, and sugar. (To personal taste)
Cut into rolls and place on sprayed baking sheet. Allow to rise till double in size.
Bake at 400 degrees for 12-14 minutes.
Ice with favorite frosting.