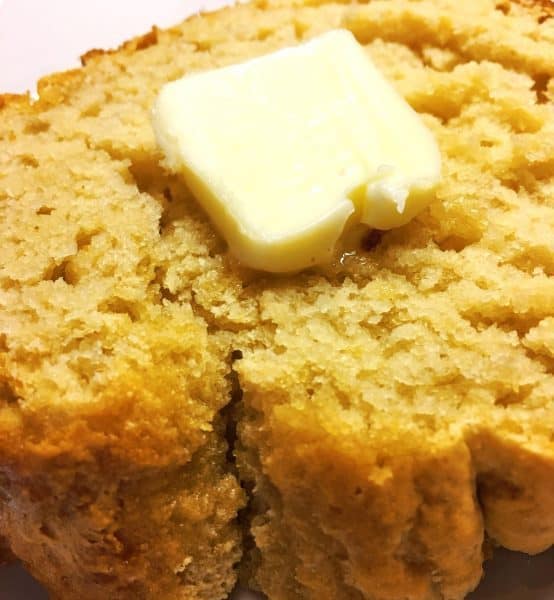 *This is a sponsored product review. All opinions are my own and you can always count on me to be honest about any product I'm reviewing.
*As an Amazon Associate I earn from qualifying purchases. This post may contain affiliate links, which means that I may make a commission from any purchases at no additional cost to you. Thank you for your support!
I've had the pleasure of reviewing a Thoughtfully gift package in the past. I was so impressed with every aspect of their gift box and was super excited when the good folks at www.thoughtful.com sent me another wonderful gift box to review. Last time I reviewed "Chip Chip Hooray"! It's such a fun and yummy cookie gift box. The perfect "Her" gift!
This time they sent me a gift for "Him"! The gift box this time is called "Add Beer, Bake Bread"! Two steps. The perfect "Man" recipe! lol
As always, Thoughtfully Gift Boxes tell a story and are beautifully packaged! I absolutely love the packaging for thoughtful gifts. The boxes are extremely sturdy and designed with an eye for detail. I love the bright red pop of color when you lift the lid, and the cute 3 dimensional type writer with the pull-out story that is unique to each gift box! It's so much fun pulling out that little story and reading the details about your gift box!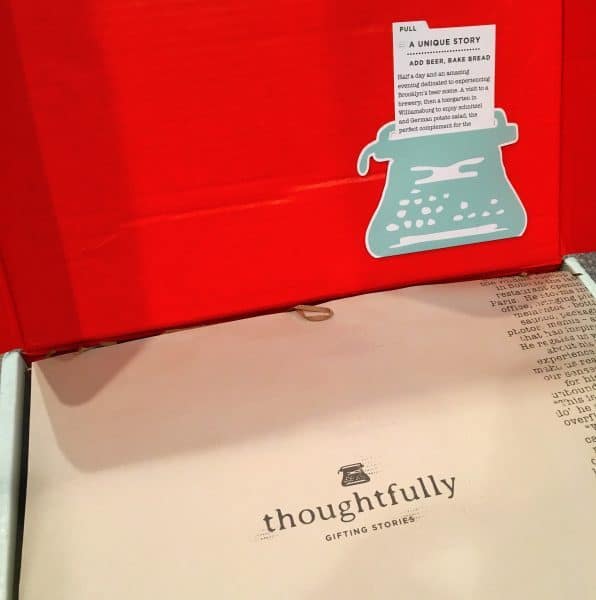 This box is LOADED with goodies! Really GREAT gifts! I was so excited when I saw all the fun elements of this gift box and I can't wait to share them with you.
First there is this really fun canvas apron. My husband totally called "dibs" on it. Since he is the "Grill Master" I conceded. This is a really nice apron and plenty big enough for the man at your Nest! The fun "Born to Bake" print is perfect.
Included in the gift box is this amazing durable ribbed bread pan. I LOVE this bread pan! It is my "go-to" pan from now on when I make breads. I can't stress enough the fantastic quality of this bread pan. I love how the themed story of this gift box is carried out in amazing detail.
Can you see the rustic wrench down there on the right hand side? That is a bottle opener! Is that not the coolest bottle opener you have EVER seen?!!! We have a tendency at this Nest to lose bottle openers. It's like they get up and walk out of the drawer on their own. (Probably cause they are only used to open the Sparkling Cider on Thanksgiving!) This is a nice heavy-duty bottle opener that is easy to spot in the drawer. The birds at this Nest went CRAZY for this bottle opener! They seriously thought it was awesome…and it is! This box is worth every penny for the apron, bread pan, and that awesome bottle opener. There's more though…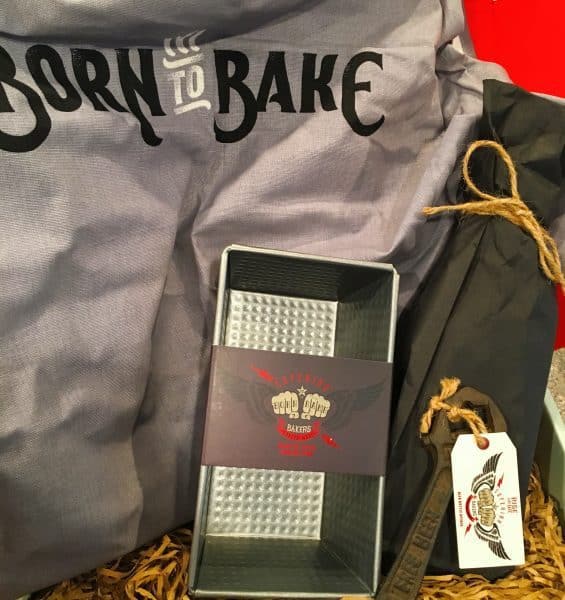 Let's move on to the actual "bread" portion of this gift box. It's in that black sack above with the jute wrapped around it. You are gonna flip when you see how they packaged the bread mix! I couldn't believe it till I saw it for myself! Inside that black bag is a very large "beer bottle" that has the actual bread mix inside. So cute!
Inside each thoughtful gift box is a "Newsletter" that gives you all the details, and some fun facts, about your gift box. It's just one of those "personal" touches that the good folks at thoughtful gifts put into every gift they make. It's one of the many things I love about their products.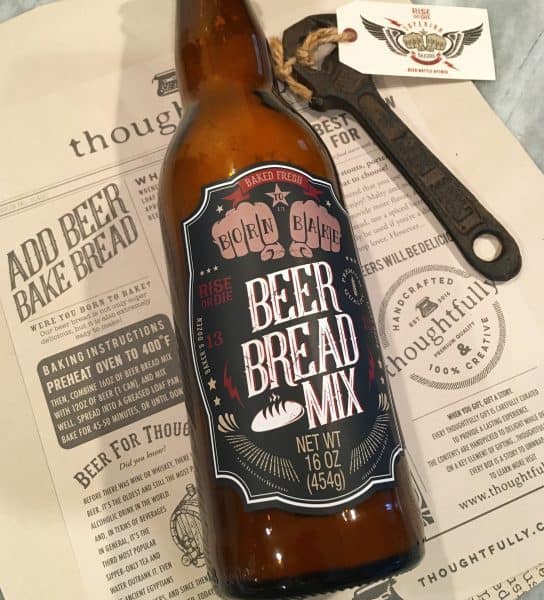 Time to use that handy-dandy bottle opener to get the mix out of the "fake" beer bottle. Worked like a charm.
You do have to shake the bottle pretty good to get the bread mix out, but a few hardy shakes and it's out and in the bowl waiting for the next element…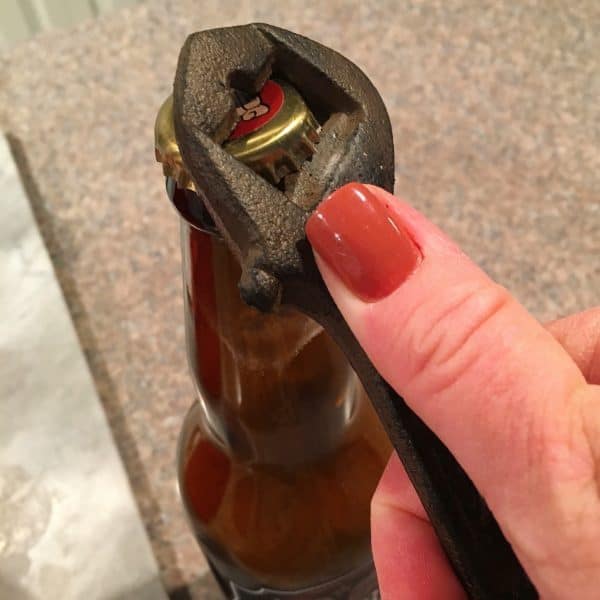 …the Beer! Now I have to insert here that the wonderful folks at Thoughtfully Gifts didn't know that we don't drink at this house. I do use alcohol to cook, so it wasn't really an issue for me to use it to make this bread. However…with that said…I have to say we are not fans of the taste of beer. At All! The instructions do highly recommend that you purchase a really good beer. So for all you beer drinkers out there…you probably know what that is. We don't! lol (We were about to find out how bad our beer picking skills were!)
This bread is super easy to mix up. You pour the mix into a medium size bowl and you add one 12 oz. can of beer. Mix until just blended and pour into that awesome bread pan. Bake at 400° F for 45-50 minutes. Simple! (I really adore simple!)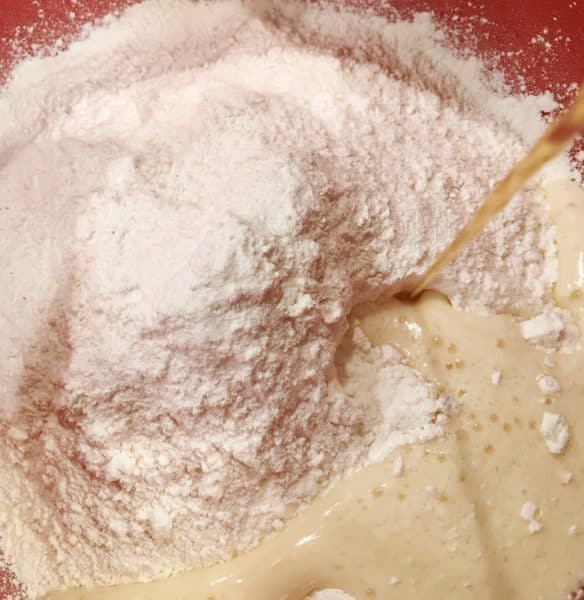 You'll begin to smell the yeast. The beer acts as the leavening process for this bread. It's really important to stress that the type of beer used in this bread will have a huge effect on the TASTE! Thoughtful gift does stress this in their instructions. They just need to add a "Beer Picking for Dummies Guide"! (wink, wink)
I was really impressed at the beautiful loaf of bread this mix made. It was super moist on the inside with a beautiful dense texture. The outside had an amazing crispy shell. I brushed the outside of our loaf with melted butter for added flavor and presentation.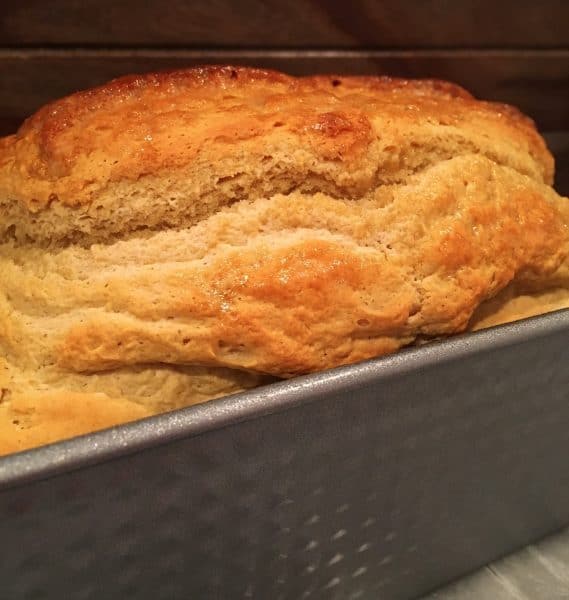 The bread does need to cool for just a minute before cutting into so that it doesn't crumble and fall apart. I let our bread rest for about 10 minutes. It will still be nice and hot.
I cut our slices about 1 inch thick. I felt a good strong beer bread deserved a "man size" slice and a nice thick slab of butter!
Remember how I said we realized we don't know how to pick beer? Oh boy! If you aren't a super big fan of the taste of beer and your husband buys a really STRONG flavored beer…you are going to be sad! So, so, sad! (We were SO sad! Totally our own fault!) A word of warning for you…go with a very mild beer. My sweet non-beer drinking husband grabbed one of the strongest beers on the shelves and this bread had a VERY strong beer taste.
If you love beer…you will L.O.V.E. this bread! You'll love everything about it…from how moist it is, how hardy it is, and how flavorful it is! lol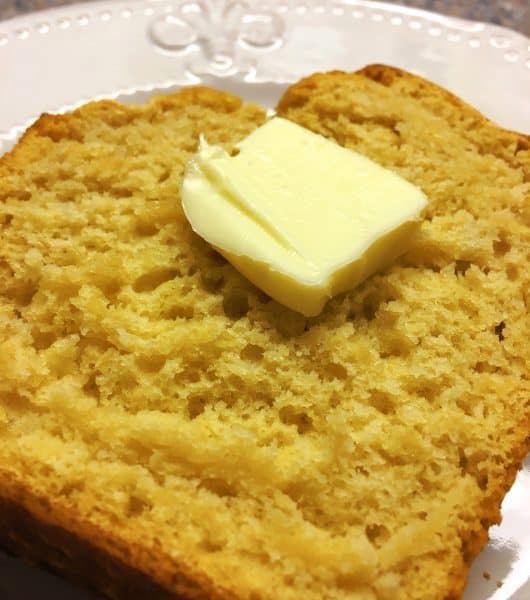 I am always so impressed by the quality of gift boxes that Thoughtfully gifts produces! So much "thought" goes into each and every gift box story they create. It's a gift you can feel really confident in sending, and one where the receiver will always feel special! It's a win/win for everyone!
Even more great news…this gift box is on SALE right now! Originally this gift box sold for $39.99…it's on sale, right now, for $24.99! That's a savings of $15.00!!! WOW! This would be a perfect Father's Day gift for the man in your life. Order it now and tuck it away.
You can find the Add Beer, Bake Bread gift box HERE. While you're there be sure to check out all the other amazing gift box sets that Thoughtfully Gifts has to offer. There's a Thoughtful gift for every occasion!
Thanks for stopping by my Nest! Hope to see you again real soon!