*I was not financially compensated for this post. I received a sample for review purposes. The opinions are completely my own based on my experience.*
The Christmas countdown is on! Only 9 days left till the big guy comes! Have you finished all your holiday shopping? I know I still have a few odds and ends to finish up!
*As an Amazon Associate I earn from qualifying purchases. This post may contain affiliate links, which means that I may make a commission from any purchases at no additional cost to you. Thank you for your support!
If you're like me, and you still have a few last-minute gifts you need to purchase, I have just the thing for you!
I get tons of Christmas catalogs every holiday season from companies selling gift baskets. They all look amazing. However, sometimes you want a gift that's new, different, and exciting! Thoughtfully Gifts are perfect for your friends, family, or even your boss. They have lots of different boxed gift sets to choose from too!
Thoughtfully.com asked if I'd like to receive one of their gift boxes and give it a whirl. They are a new company established this year, 2016. To be honest…I was a little skeptical at first…hasn't it all been done? Not to mention, how good could a "baking" gift set be with mixes? (Remember I'm a tried and true, bake it from scratch, kind of gal!)
From the moment the box arrived on my door step I was impressed!!! (Not an easy feat with me!) The gift box was heavy-duty and designed with an amazing eye to detail. From the way the box opens and presents the contents inside, to the labeling on the outside of the package. No detail was overlooked. I even love the color of the box!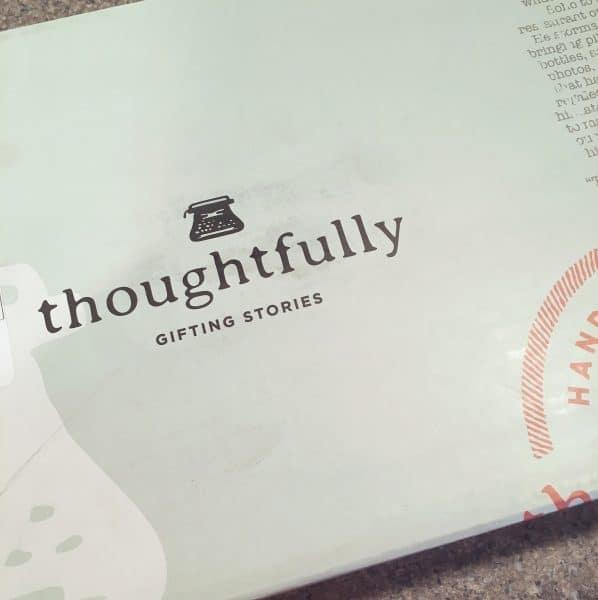 Look at the fun tag on the outside of the box! What a wonderful invitation for your friends to receive about their gift.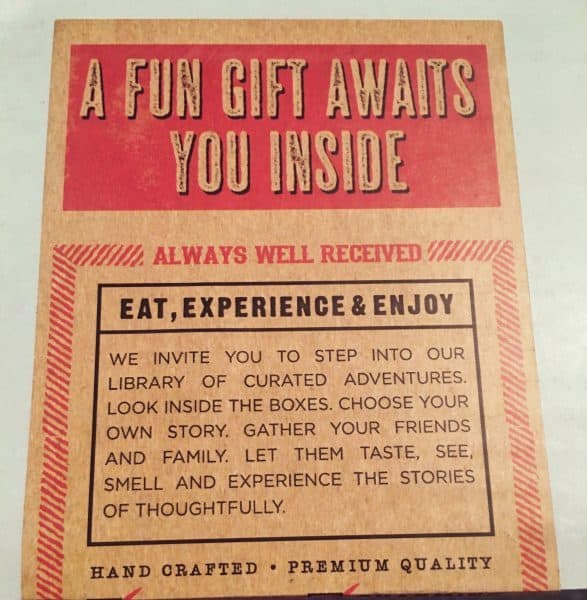 Open the box, and you are immediately hit with a "pop" of cherry red! So cheery and bright! There's a small typewriter on the inside lid of the box with a pull out "unique story" behind the gift being given to you. Such a fun introduction. I'll admit I had to pull it right out and read it!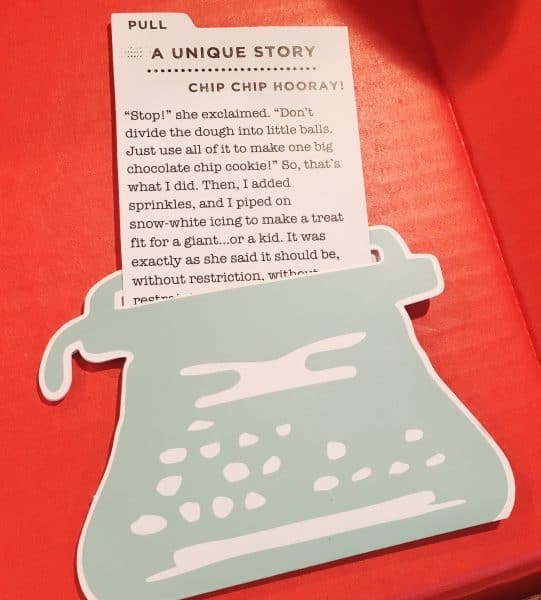 Laying on top of the contents of the box is this cute "news letter" telling you all about your gift. It has the baking instructions, contents of the box and an informative "Fun Facts" about whisks, which is included in this gift set. (I love whisks…it may be an obsession of mine!)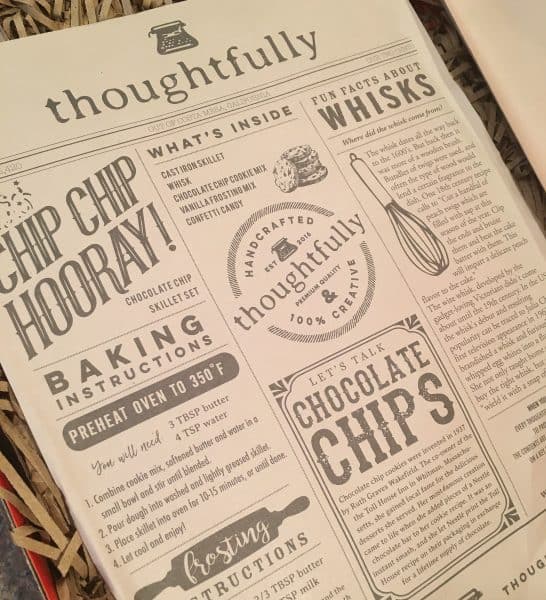 Everything is packaged really well! I always worry about that when I order a gift on-line. I want to make sure it will arrive in one piece. I also want it to be received with lots of "Oohh's and Aahh's"!! ( I was when I opened the "Chip Chip Hooray" gift box! )
I love the polka dot packaging and how everything is tied with string and has a cute tag attached tied with a bow.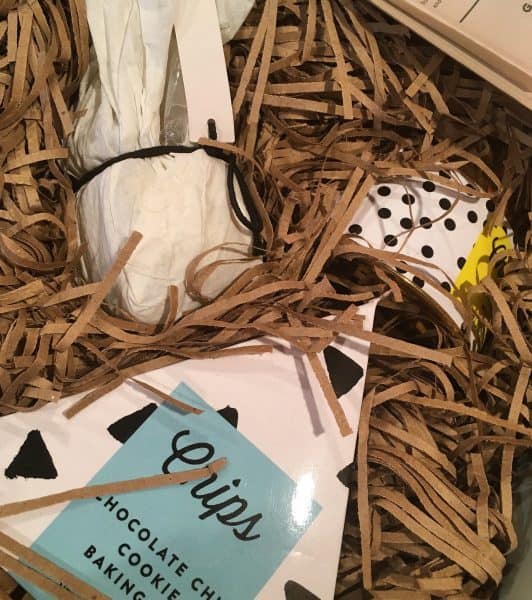 I quickly dug everything out of the box so I could get a good look at all the goodies and treats inside. (I really was like a kid on Christmas morning! It was so much fun!!!!)
Look at all the amazing fun and delicious things that come in the "Chip Chip Hooray" gift box! This box comes with cookie mix, vanilla frosting, candy sprinkles (who doesn't love candy sprinkles!) in a darling little glass jar with a cork stopper, a beautiful wire whisk with a ceramic handle. (I'm slightly in love with this whisk! Okay, Okay…I'm REALLY in love with this whisk!) Last, but not least, is the darling mini cast iron skillet in the polka dot fabric bag! Hello! Thoughtfully.com Gifts are dedicated to the details!!! Details make a gift special!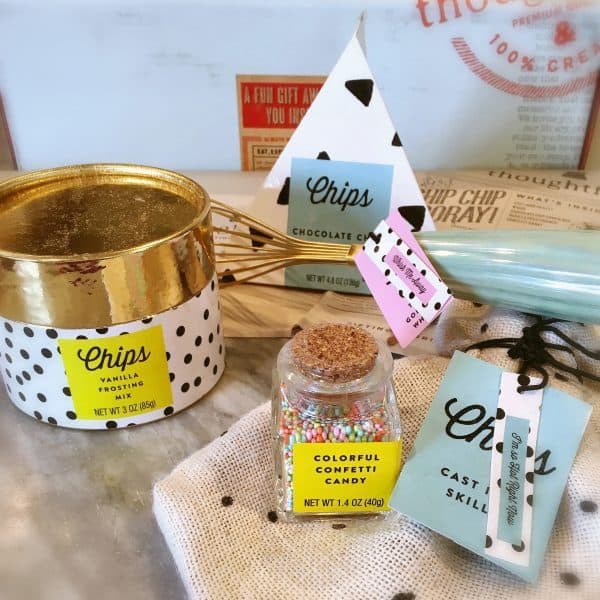 I could hardly wait to make the cookie and see if it was any good! (Remember I'm skeptical about baking mixes so, excuse the pun, I was going to be one tough cookie to impress!)
The cookie is easy to mix up! Butter and water. That is it. I had it whipped up in no time. Next you need to "season" your mini skillet by wiping it down with vegetable oil after you have washed and dried it.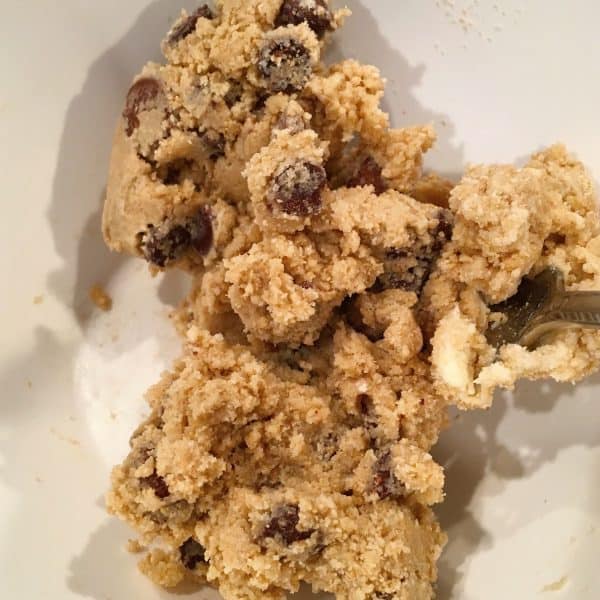 After your cookie dough is mixed together, place it in your mini skillet, and gently push the dough almost to the end of the skillet rim.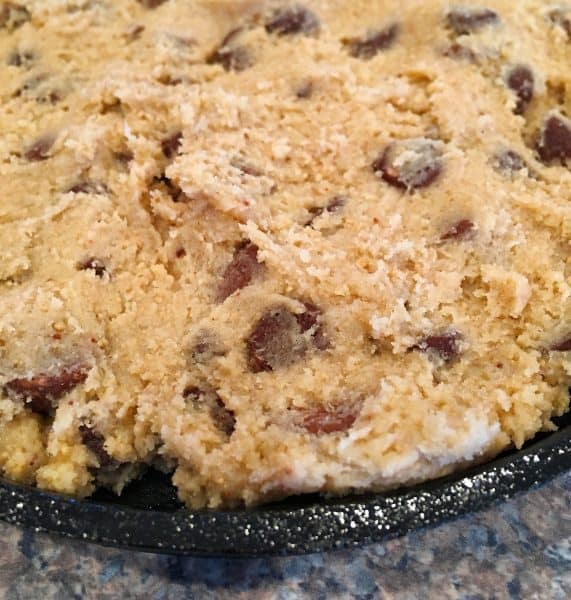 Pop it into a 350° oven for 10-15 minutes. It smelled and looked wonderful! It was crispy on the edges and top and ooey gooey in the center! Frankly…it smelled delicious! My mouth was watering!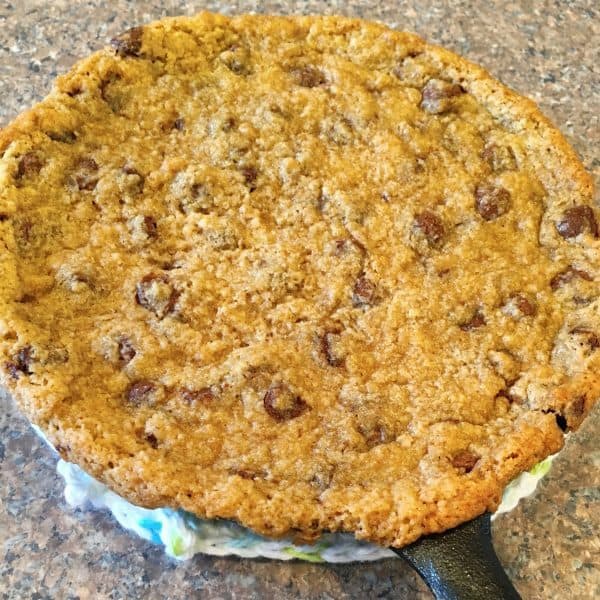 I could completely understand why the "unique story"stated they wanted to make one GIANT cookie. GIANT COOKIES ROCK!!!!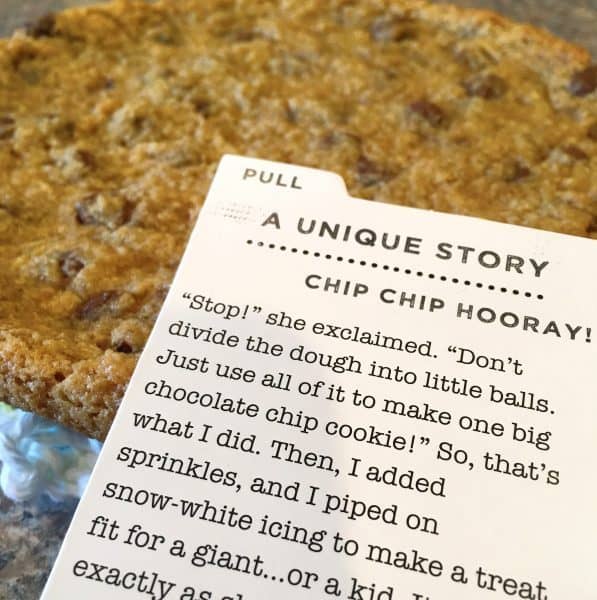 Allow the cookie to cool for about 10 minutes. This set comes with a vanilla frosting mix. However, I just thought that might be too sweet? I wanted to step up the dessert a tad and serve it warm with vanilla ice cream, drizzled with caramel topping, whip cream, and those cute colored sprinkles! Something I could serve as an after dinner dessert.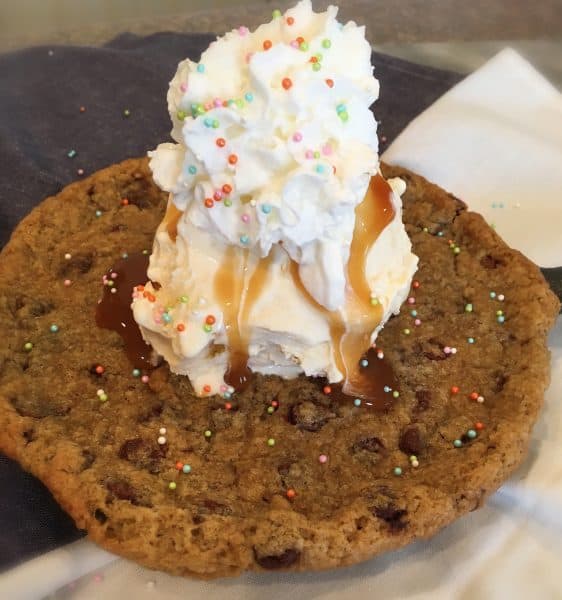 Just so you know….it was HEAVENLY! It made a believer out of me! Truly one of the BEST Chocolate chip cookies I have ever had and it was fun eating it straight out of the mini skillet! I'm thinking this would be a wonderful valentines gift too! 😉
I love a cookie that is crispy on the outside and rich and gooey on the inside! Topped with that Ice Cream it was out of this world! What a wonderful gift to give to someone.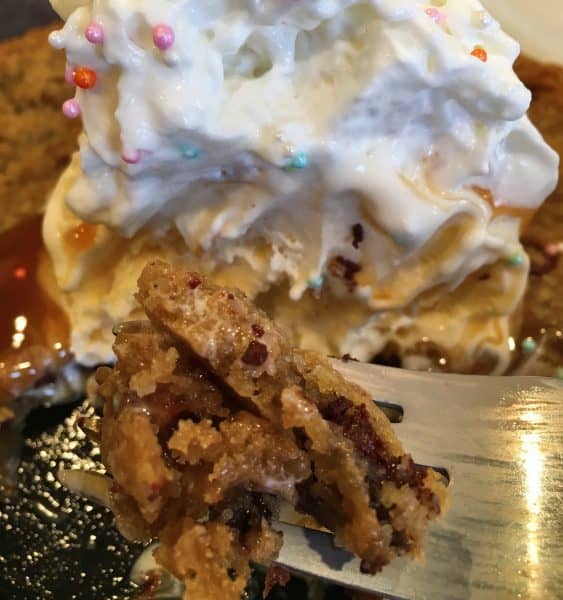 Thoughtfully.com has thought of everything to make your gift giving experience both pleasant for the giver and the person receiving the gift. It truly is a gift that will keep on giving! I know I will use the beautiful whisk for years to come. The mini cast iron skillet? Well…I have some serious plans for that cutie! Hot dips for the Holidays is just one thing that comes to mind not to mention more delicious chocolate chip cookies!
I highly recommend Thoughtfully.com Gifts. My experience has been wonderful! I love a company that really pays attention to details! Thoughtfully does just that and more! I can't wait to send one to a friend, and make them feel as special and loved as my gift box made me feel!
Today they have $5.00 off shipping! Wooo-hooo! To visit their website you can click right HERE! Stop in and check out all their wonderful gift box sets! There's something for everyone on your list! I have my eye on several other beautiful gift box sets! So many to choose from.
Now if you'll excuse me…I have a cookie I have to go finish! Thanks for stopping by my nest!
Hugs!