Vintage Red Truck SVG Files for your Cricut and Stunning Vintage Red Truck Watercolor Printables for crafts, decor, and more available at Norine's Country Nest Etsy Shop.
Today I'm so excited to share with y'all our latest Holiday print for our Etsy Shop! Vintage Red Trucks are my absolute FAVORITE Christmas decor!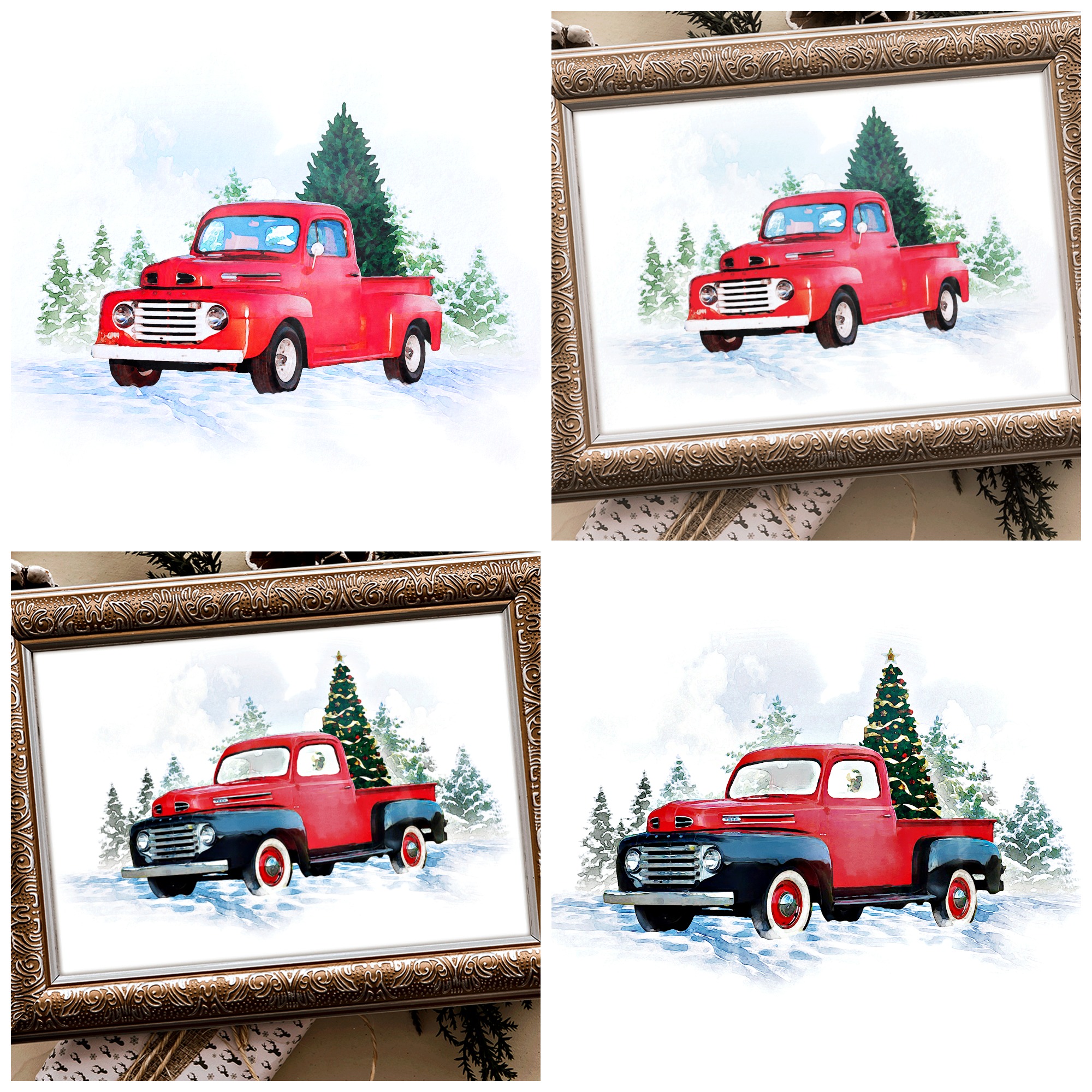 That's right I'm in love with the Vintage Red Christmas Truck! So I begged my son, Bryce, to design a Red Truck for the Etsy Shop!
Bryce is an amazing artist and designer and we are so lucky to have him designing products for us over at Norine's Country Nest! (It helps that I'm his Mom…but I'd still hold firm to my bragging rights because he truly is so talented!)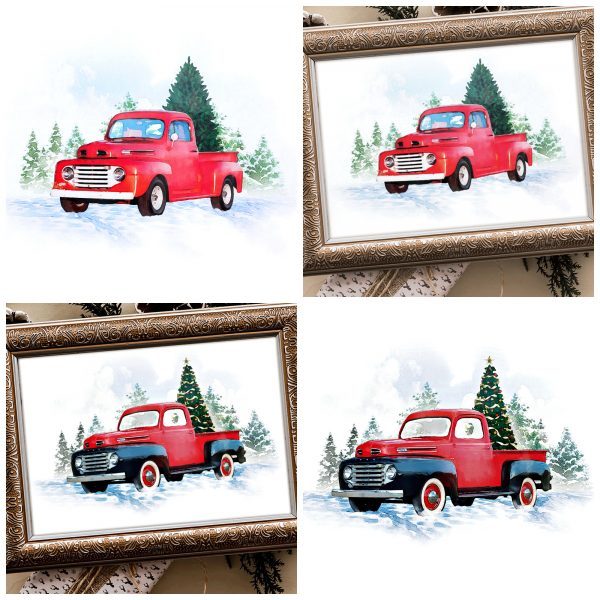 I dreamed of a beautiful watercolor print that could be printed and framed to decorate your Nest with OR could be printed as a Holiday card! He made my dreams come true!! Don't you agree?
I'm so happy how this printable turned out. The truck is so AWESOME! Fantastic details in the design!
You have two print options… a solid red truck with a pine tree in the back, or a black and red truck with a decorated Christmas tree. (I'm mildly gah-gah over those black fenders! Okay, that's an understatement…I'm 100% crazy about them! It's loaded with Rustic Charm!)
Both can be printed in 8 x 10 or 5 x 7! You'll find the Prints that you can purchase and own HERE at Norine's Country Nest Etsy Shop.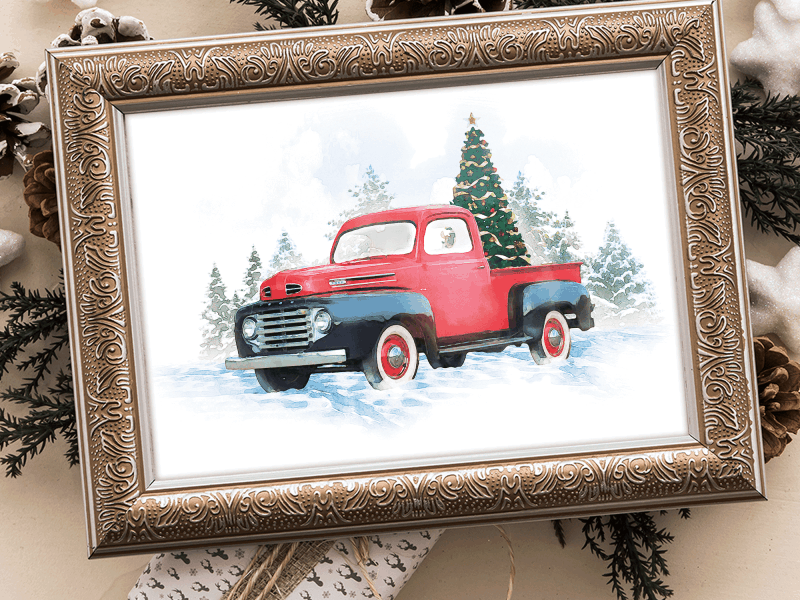 There's a beautiful Christmas card printable available too! (I know! It just keeps getting better!)
You can purchase this downloadable card and print it at home. Available whenever you need a beautiful card for your gifts or to mail out for the Holidays!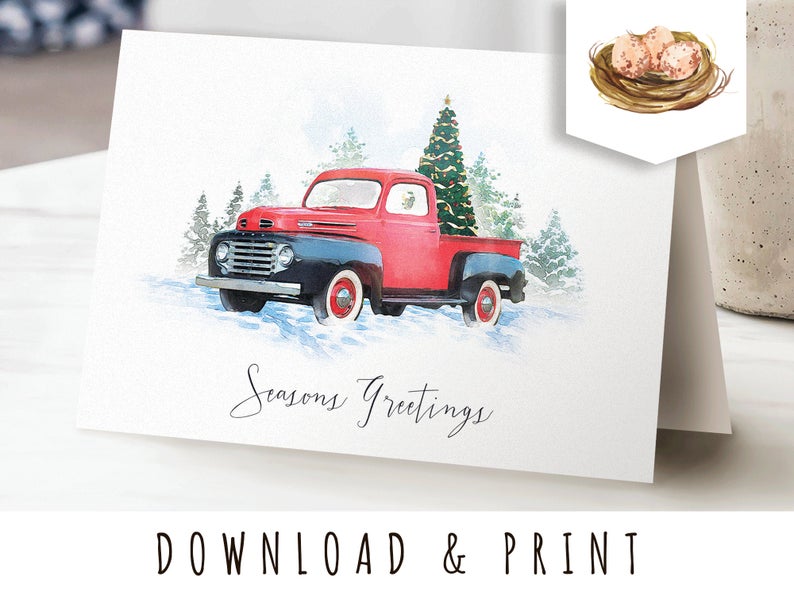 There's more! MORE! Yep…there's More!
Our Red Truck love isn't stopping with just the printable! We also have an adorable SVG file for your Cricut!
There are so many awesome gifts you can make using this fun vintage truck file! You can find the link for the SVG FILES HERE!
From Mugs and T-shirts- to Santa's awesome rustic vintage sign! Let your creative juices run wild and make holiday gifts your friends and family are sure to love!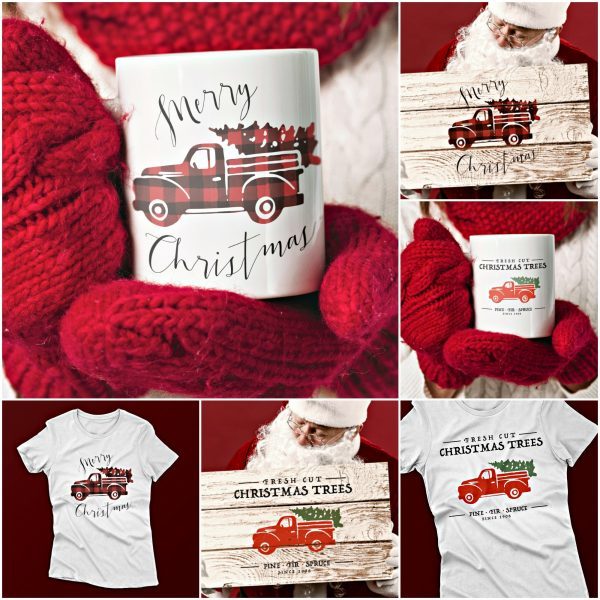 I love all the fun vinyl patterns that Cricut is offering! Especially their Holiday vinyls! This SVG works beautifully with all of them! So get your "Cricut game" on … and create the Truck of your Christmas dreams!
We hope you'll stop by Norine's Country Nest Etsy Shop and take a look around! The Holiday designs we are offering are all originals and so affordable! Let your creativity take over and use them to help the elves at your Nest with their gift making!
I can't wait to get busy crafting and decorating using these beautiful prints and SVG files! By far my favorite Holiday print! (Yep I bought the buffalo vinyl so I'm ready to go!)
Thanks so much for stopping by! If you purchase any of our printables please hashtag us on IG and FB using #norinesnest . We'd love to check out your creations and share them with our followers!
Happy Nesting and Happy Printing!