Creamed Turkey 'n' Biscuits is a dish that can be made year round substituting chicken for the turkey! A rich savory cream sauce is loaded with bits of tender moist Turkey or Chicken, and served over big fluffy homemade biscuits! It's pure country comfort food!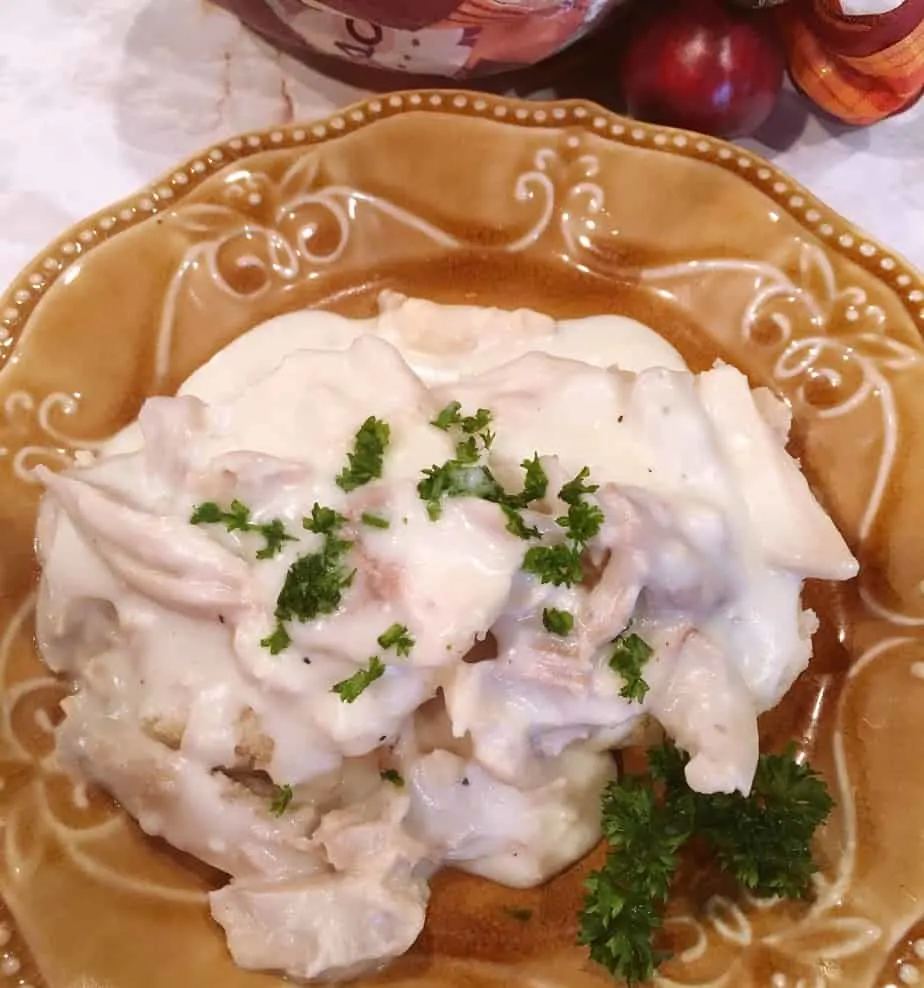 When I was a young girl, my Dad would whip up Creamed Turkey and Biscuits every year after Thanksgiving. It was a great way to use up all those little bits of Turkey at the bottom of the left over bag!
I asked him once where he got the recipe? He told me his Mom used to make. I think this is just one of those old time dishes our ancestors used to stretch a dollar.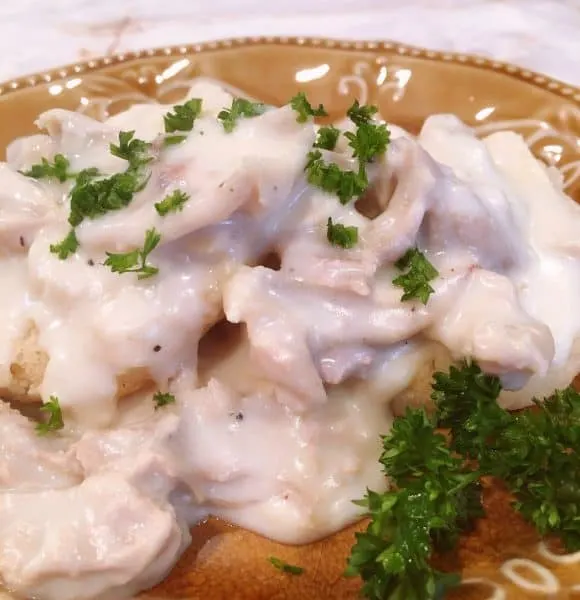 It was, and still is, one of my very favorite meals! A true comforting dish that wraps itself around you like a big warm hug! Plus there's just something special about a dish your grandma and great-grandma used to make.
It's simple…not fancy…but it's simplicity is what makes it such a great dish.
How To Make Creamed Turkey or Chicken
Like any great recipe…or story…it starts with a great beginning! For this dish, it's the cream sauce! Made from scratch. Cause homemade is always best!
Once you master a really great "roux", you can make a great cream sauce every time.
In a large, deep skillet, over medium high heat, melt 1/4 cup butter. Any great recipe has butter!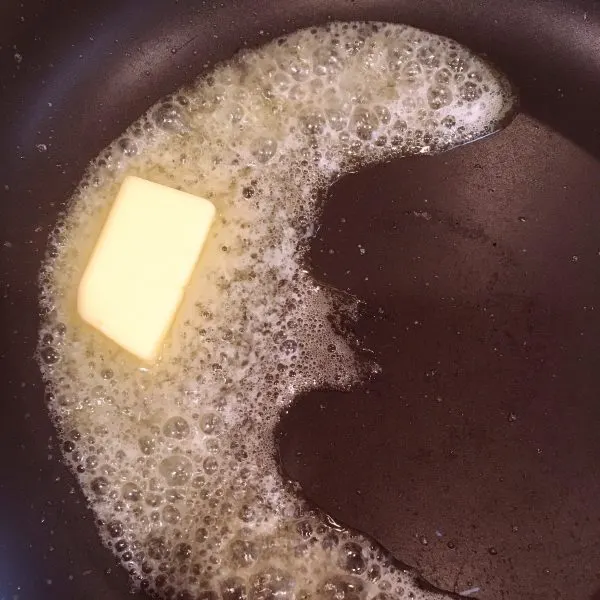 Add 1/4 cup of flour …
TIP: To create a successful roux you want equal parts butter and flour.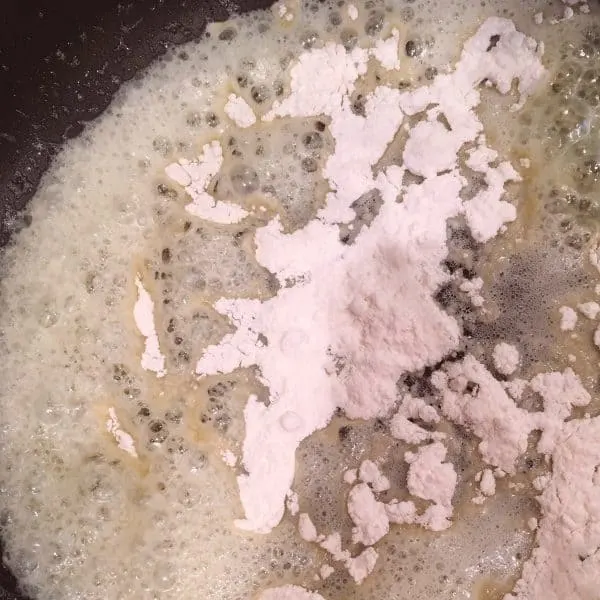 Stir with wire whisk, I love "flat whisks", until well combined! You have to move quickly…you don't want it to burn!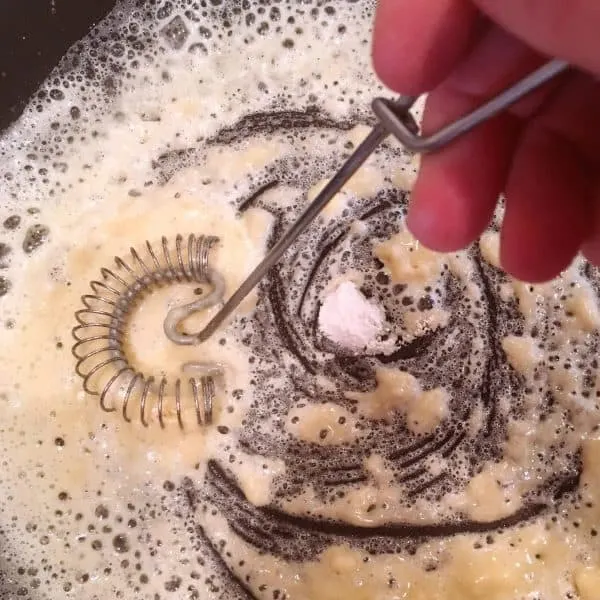 Slowly add in 2 cups of milk while whisking constantly! This requires mad multi-tasking abilities! (It is at this moment the kids will come to you with every possible issue known to mankind! It's like they have radar or something!)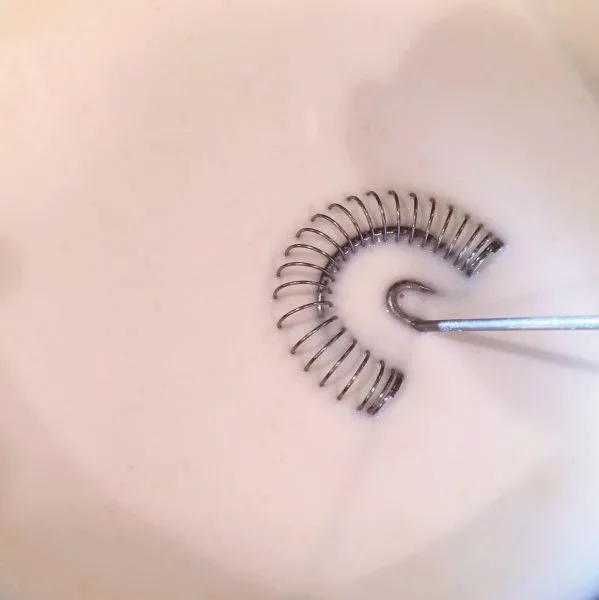 Add 1 cup chicken broth and continue to stir until mixture begins to thicken slightly. (Is your arm tired yet? It's gonna be worth it…so keep on' whisking!)
Add 1/2 teaspoon pepper, and 1/2 teaspoon salt, 1/8 teaspoon sage and thyme. Stir until combined.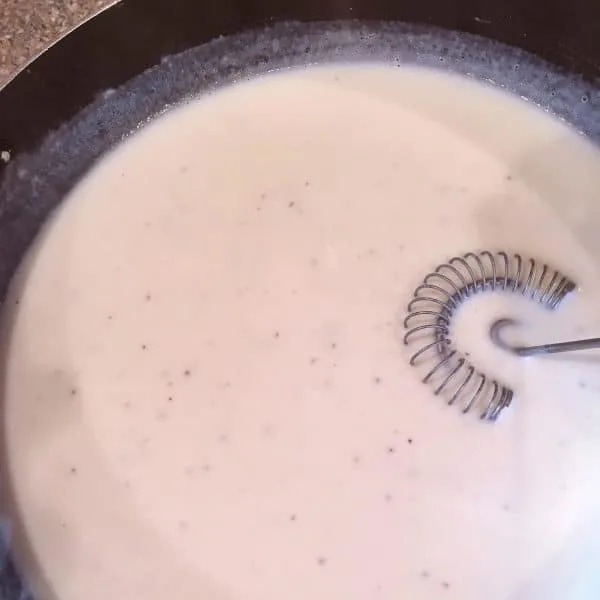 Continue to stir mixture until mixture comes to a low boil and has thickened to a gravy consistency.
TIP: If cream sauce becomes to thick, add additional chicken broth.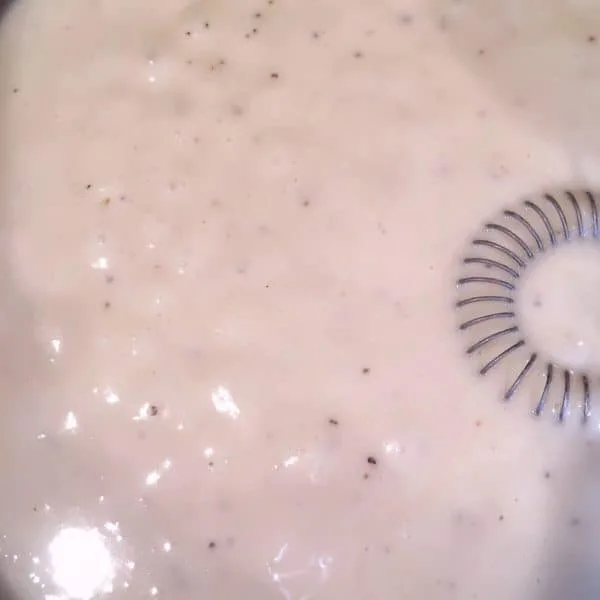 Add 2 cups of chunked Turkey or Chicken. Stir until combined. Turn down heat, and allow to simmer until biscuits are ready.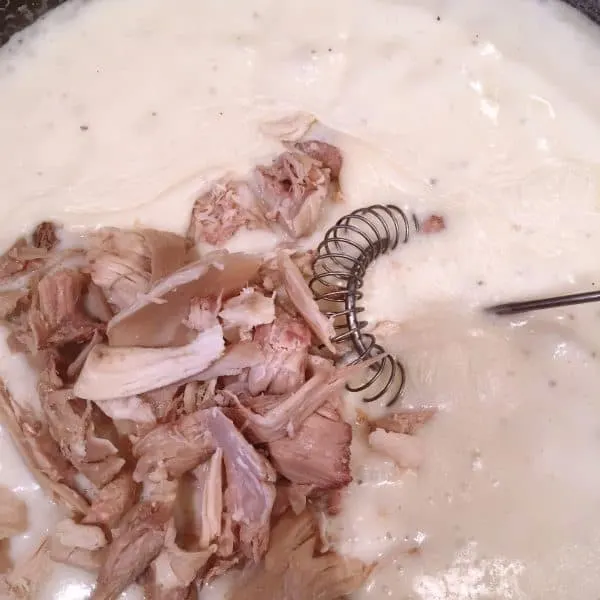 That is it for the actual "Creamed Turkey" portion of this dish! You have a savory, flavor filled cream sauce with tender chunks of chicken or Turkey.
Now you know why I love this dish so much! Not only is it delicious, and easy to make…it's budget friendly! (We can all use budget friendly meals while raising a family!)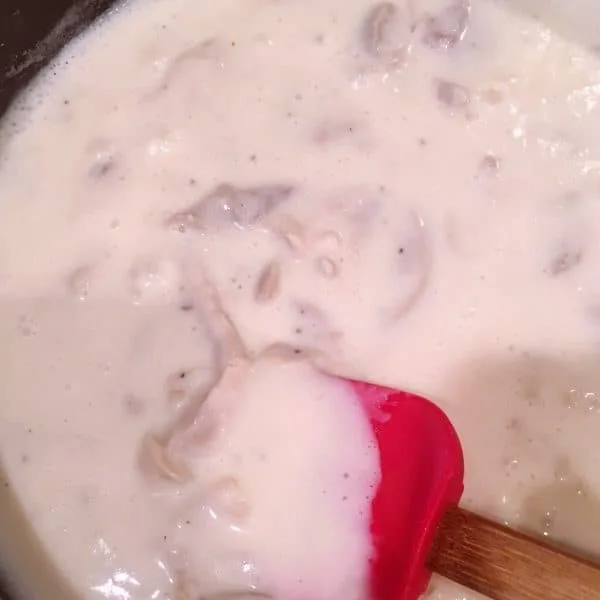 The "second act" of this fantastic old fashioned dish are the homemade biscuits!
Now if you don't want to make homemade biscuits…you can use the exploding can! Just make sure you have EMT's standing by! (That can gives me a heart attack every. single. time!)
Seriously feel free to use any kind of biscuit you want. I won't judge! (I might question your tastes…I'm kidding!)
I love baking powder biscuits! My favorite are mine! (I know shocking! lol) You can find the recipe for my Baking Powder Biscuits right here on the blog, but feel free to use your own. I won't be offended! I give you the step-by-step directions and they are super easy to make. So even if you've never made them…don't let that scare ya from trying!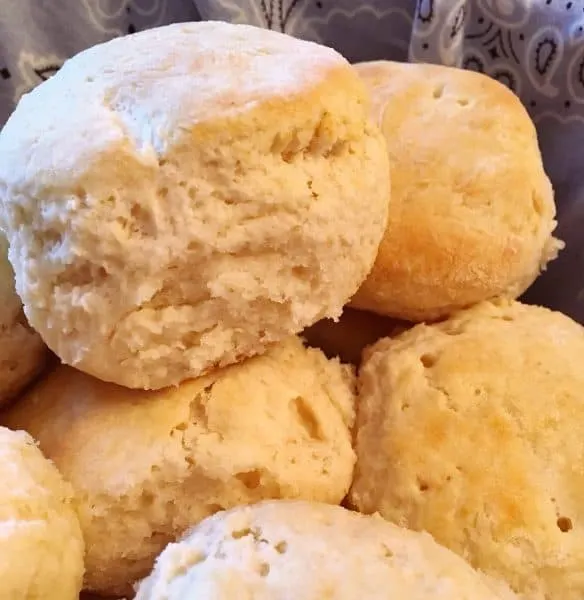 Once the biscuits are ready, all that's left is to crack one open on a plate. (I thought it might be helpful to mention you serve this dish on a plate…hello!)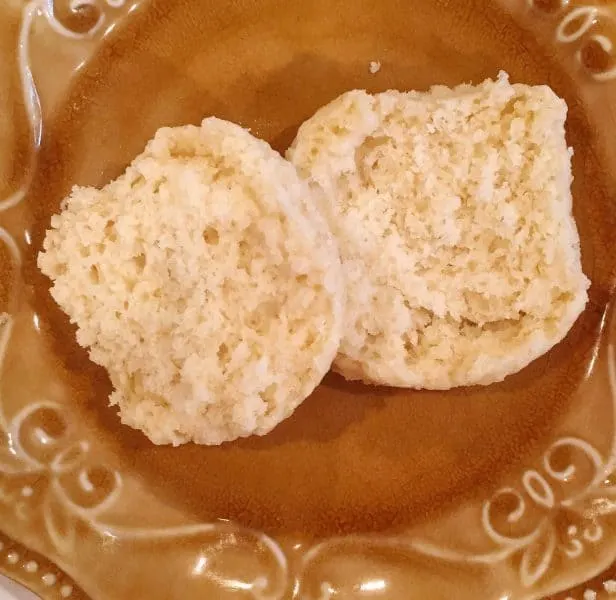 Top with a hearty scoop of warm Creamed Turkey or Chicken.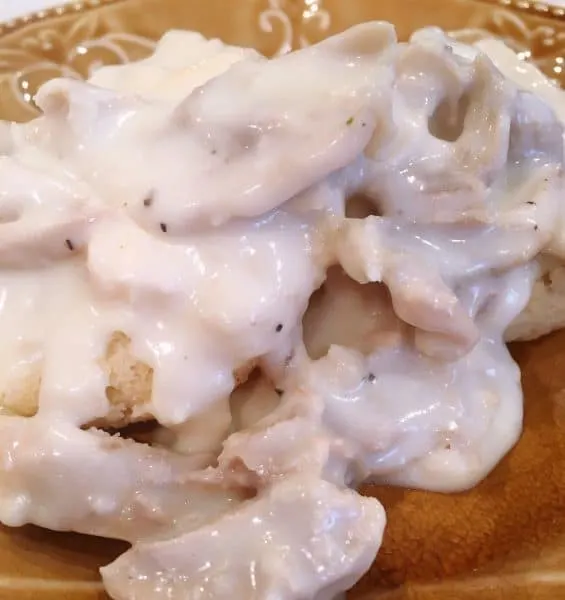 Garnish with chopped parsley…or you can skip this step and just dig in!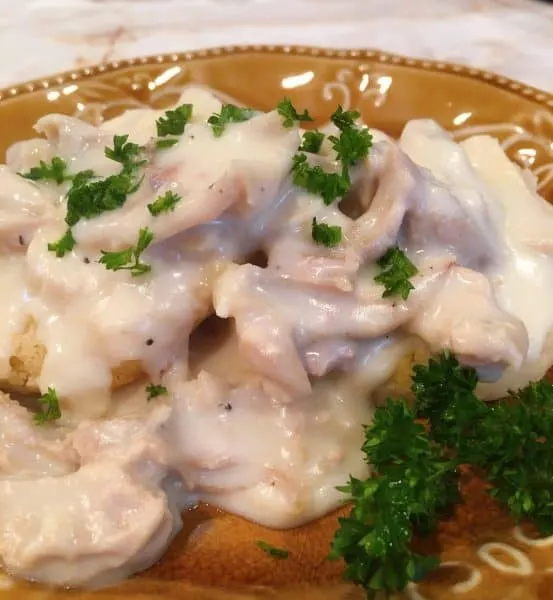 There is nothing better than a forkful of biscuit slathered in Creamed Turkey or Chicken! Yum!
If you think Sausage Gravy and Biscuits are good…hold on to your seat because this is gonna blow ya away!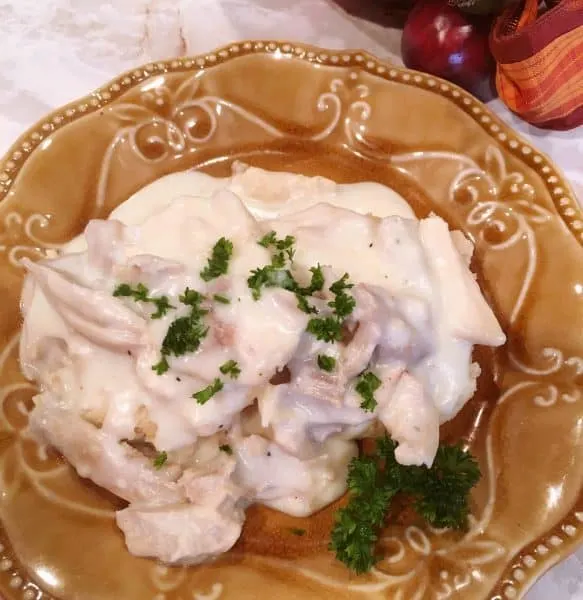 This is a fantastic way to use up leftover Turkey. It's also a great dish with chicken on a busy week night!
I like to serve this dish with a garden salad and steamed vegetables…or just a fork! It all works for me!
Thanks so much for stopping by and visiting with me today. I hope your family enjoys this family favorite. It holds a special place in my heart!
Happy Nesting!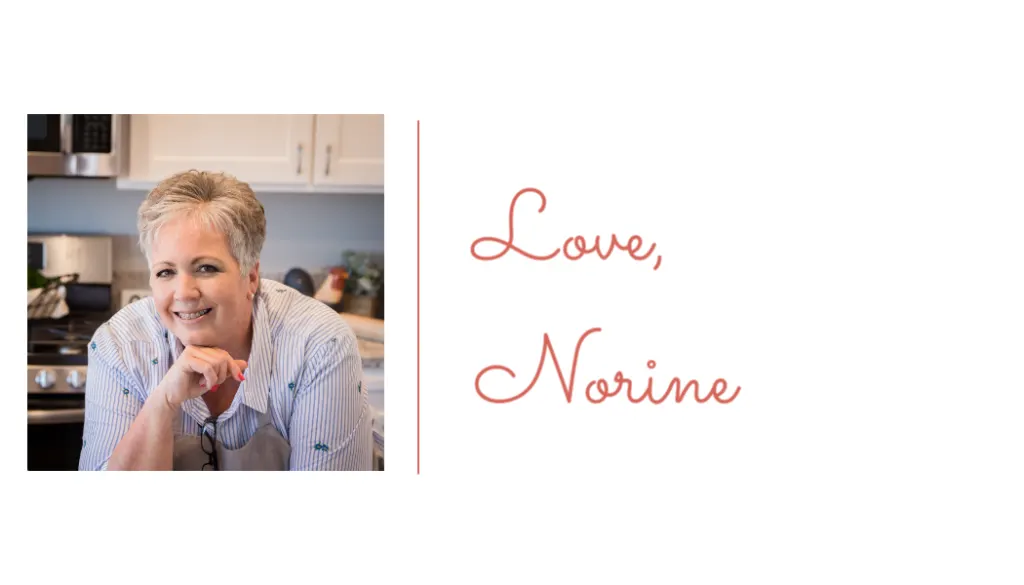 Yield: 6 servings
Creamed Turkey 'n' Biscuits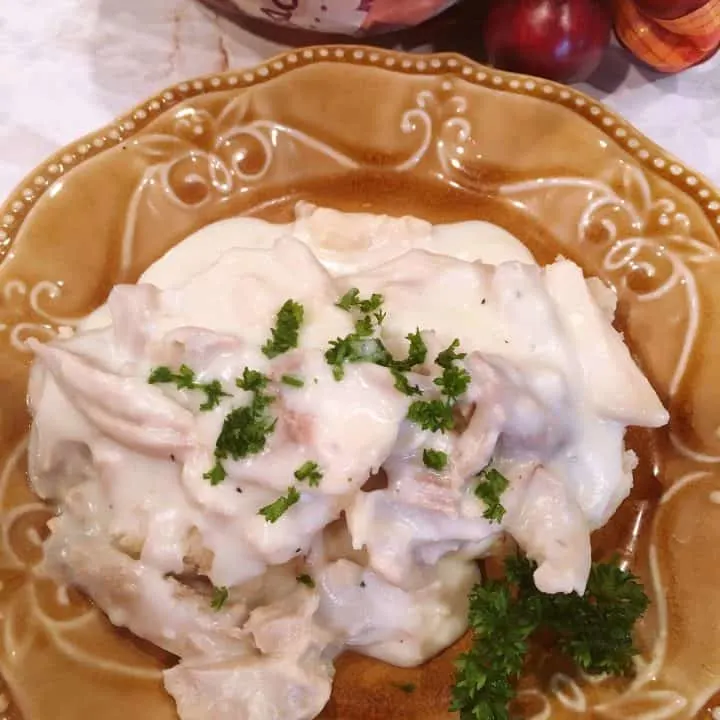 Hearty Savory Homemade Cream Sauce with Tender Chunks of Turkey or Chicken served over fluffy biscuits.
Additional Time
25 minutes
Ingredients
1/4 Cup butter
1/4 Cup All-purpose flour
2 Cups Milk
1 Cup Chicken Broth
1/2 teaspoon salt
1/2 teaspoon coarse black pepper
1/8 teaspoon dried sage
1/8 teaspoon thyme
2 Cups Chopped Turkey or Chicken
8 biscuits (canned or homemade)
Instructions
In a large skillet over medium heat, melt 1/4 cup of butter. Whisk in 1/4 cup of all-purpose flour.
While stirring with a whisk, add in 2 cups of milk and 1 cup of chicken broth. Add in salt, pepper, sage, and thyme. Stir continually until mixture thickens and comes to a low boil.
Add in 2 cups turkey or chicken. Stir and allow to simmer until biscuits are ready. If mixture becomes too thick add additional chicken broth until desired consistency is reached.
Divide biscuit in half and spoon creamed turkey over tops. Serve immediately.
Notes
Additional cook time is only needed if making homemade biscuits.
Recommended Products
As an Amazon Associate and member of other affiliate programs, I earn from qualifying purchases.
Nutrition Information:
Yield:
6
Serving Size:
1 biscuit
Amount Per Serving:
Calories:

530
Total Fat:

28g
Saturated Fat:

11g
Trans Fat:

0g
Unsaturated Fat:

15g
Cholesterol:

92mg
Sodium:

954mg
Carbohydrates:

44g
Fiber:

1g
Sugar:

2g
Protein:

26g
Norine's Nest in no way provides any warranty, express or implied, towards the content of recipes in this website. It is the reader's responsibility to determine the value and quality of any recipe or instructions provided for food preparation and to determine the nutritional value, if any, and safety of the preparation instructions.