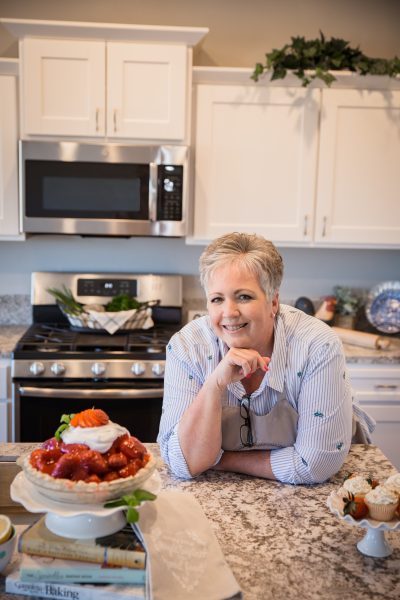 Hi! I'm Norine! Welcome to my Nest!
I'm best known around these parts as "Mom, Grandma, and Goddess Divine!" (Okay! I made up that last one…but this is my bio, so it's staying!) I'm also the "Granny with the Braces"! I didn't want die with "peasant" teeth… so I entered a contest for free braces… and I WON! Every month I join my 8-12 year old friends, march back to the Ortho chair, and pick out the brightest colored bands possible. I'm proudly owning my mouth full of bling!
We could probably just stop there and you'd know all you need to about me. However, If I were to choose five words that best describe me…Christian, Wife, Mom, Creator, and Humorist! (As a bonus title…Master of Sarcasm! I blame 3 brothers and my Dad for that one!)
Family! They are the heart of my nest! I've been married to my best friend (I know, it's corny, but true) for 30+ years! I L.O.V.E. being a Mom and Grandma. You can often find me having Tea Parties, making cookies, and playing ballerina princess with one of my three beautiful vivacious Granddaughters!
When I'm not too busy being a prima ballerina (that is not a visual any of us wants in our lives)…I'm in the kitchen cooking, baking, and eating (those three should always go together!).
When not in the kitchen I'm at my desk writing! A life long dream I put on hold for 30 years while I did that "Mom" thing. One day, I looked around, and realized my nest was empty! Whoa! How did that happen? It was time to take the leap, combine all my passions, channel my creative juices, and publish my own website.
It's been the BEST ride of my life! I absolutely love what I do here at Norine's Nest each and every day. Yes, I've had plenty of life experiences and jobs…but creating recipes, photographing food, and sharing it with others brings me great joy!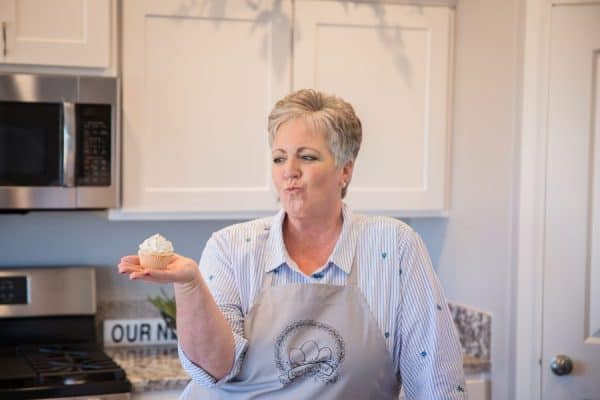 Other quirky random facts about me… I love aprons, Dr Pepper, Cheesecake, cookies, popcorn, Mexican Food, Netflix marathons (the only type of marathon I do!), making others laugh, the sun on my face, and tulips! I'm a homebody, and would rather be with my family than any other people on the planet!
My husband and I live in beautiful southern Utah in a small, but charming country town we call home. There's still the local ice cream/soda fountain in the main street pharmacy. If you're ever in Cedar City, Utah be sure to make Bullock Drug a stop on your road trip! Don't be surprised if you see me there! Friday night football is still a "town event", and folks around here wave as they drive past you! It's just part of our country hospitality!
OUR NEST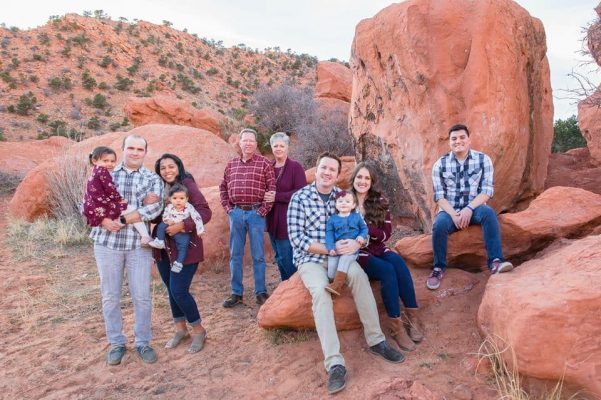 Here's the birds that feather our Nest! From L-R: Brakel, Our Son-in-law Dustin, Daughter- Taryn, Baby Rae, Alan, Norine, Our Son- Bryce, Indy, Daughter-in-law Brooke, Son – Landon…and we're growing all the time!
No self-respecting Grandmother would miss the opportunity to post an adorable picture of her little princesses!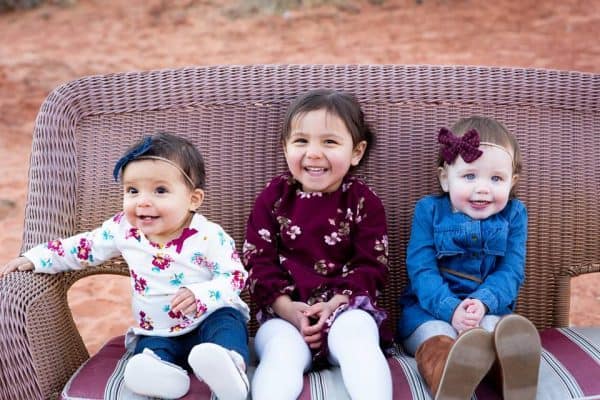 I'm so excited to share my favorite recipes, crafts, party planning ideas, and stories. I want to brighten your day! I can't wait to get to know y'all and share my love of "nesting"! So, grab a drink, warm up the oven, and let's have some fun together.
Thanks for stopping by my Nest where Food, Fun, and Family come to Nest!