Salted Caramel Skillet Chocolate Chip Cookie is a decadent deep dish homemade cookie loaded with big chunks of semi-sweet chocolate, milk chocolate chips, and a smooth creamy caramel center…topped with coarse salt and more chocolate chunks! It will be love at first bite!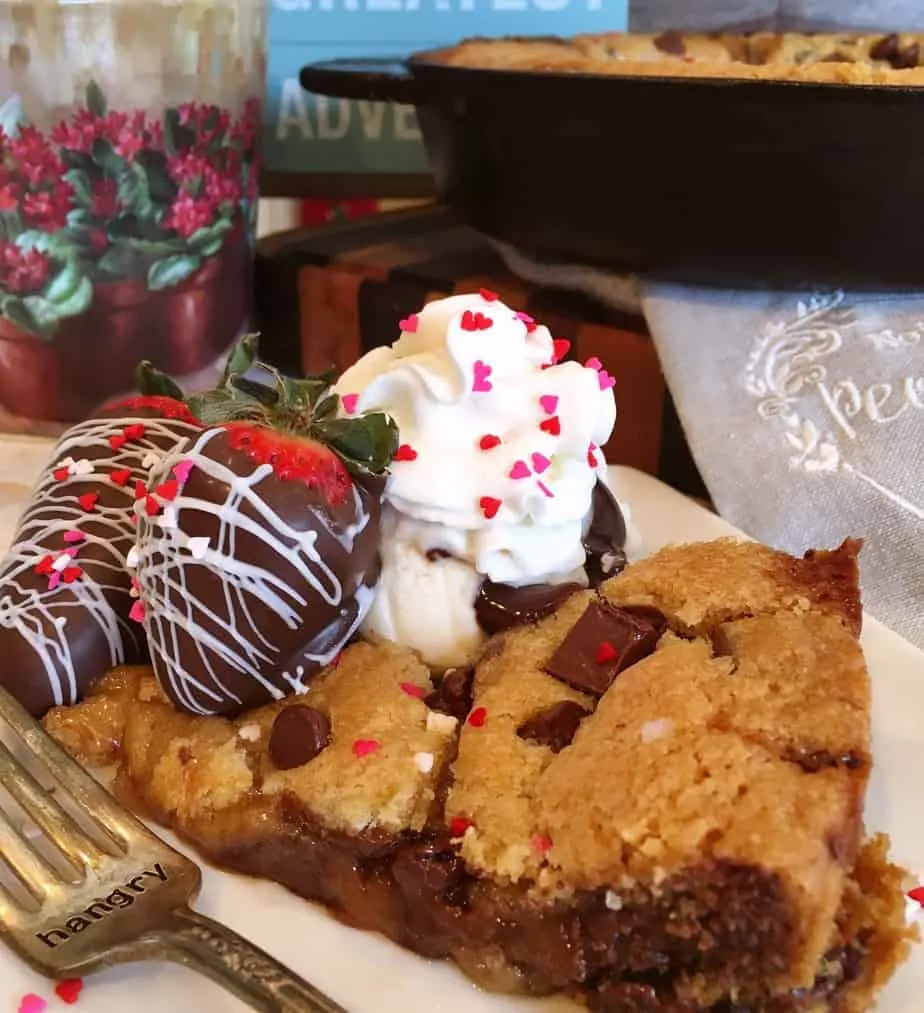 A few months ago I wanted a really rich and sinful dessert for Sunday dinner! I went looking on-line…like all of you…and stumbled across several versions of a "deep dish chocolate chip cookie".
That sounded sinful enough for me on the Sabbath! So I went to work on my take of this delightful dish!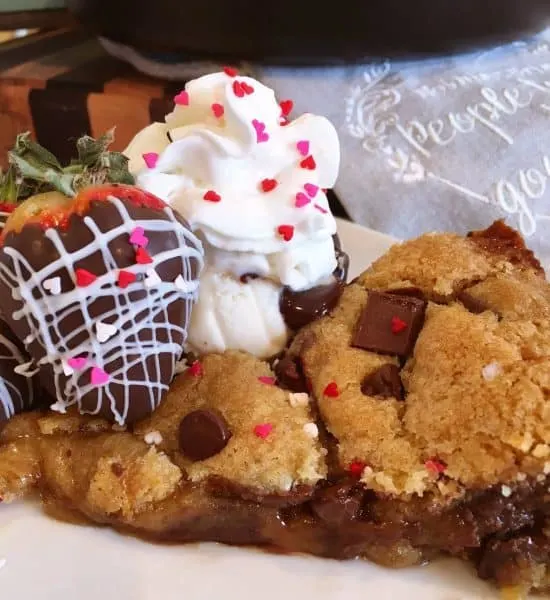 This amazing Deep Dish Cookie comes together quickly… and is a dessert everyone will like. Even your non-dessert loving friends (I don't understand those people…at all! I'm convinced they're aliens visiting from another planet!) will love this dessert!
I know you're worried about calories…don't be…drink a diet coke with it and all calories will be wiped out. (Welcome to "Norine World" where there are no calories and the word "Keto" will get you cast into a black hole!)
How To Make A Deep Dish Skillet Chocolate Chip Cookie
Preheat your oven to 350°
In a large mixing bowl, or the bowl of your mixer, Add 1 cup and 1 Tablespoon softened butter, 1 cup granulated sugar, 1/2 cup packed brown sugar.
How to tell when butter is perfect for baking
TIP: Butter soft, and perfect for baking, when you can place an indent in the butter with your finger.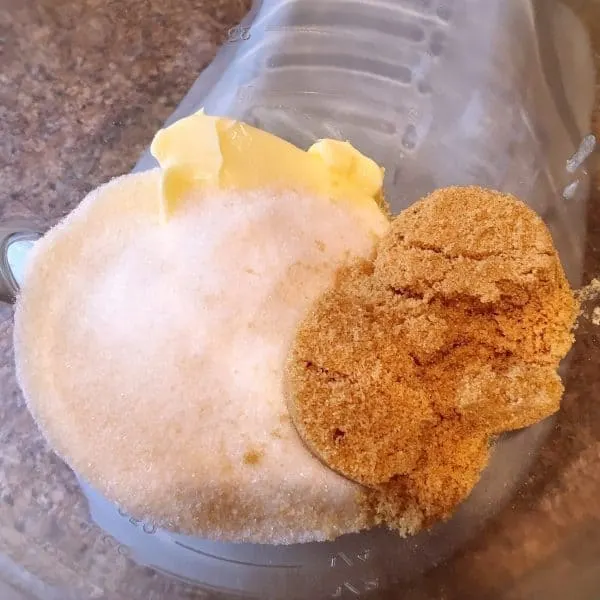 Making the Dough…
Cream butter and sugars together until smooth and creamy. (Kinda like how the skin on your face and hands looked at 20… and we didn't appreciate it! Remember that? )
Add two eggs, one at a time! (Crack the eggs… I forgot to mention that little step. It's mildly important to the success of this recipe. Lol)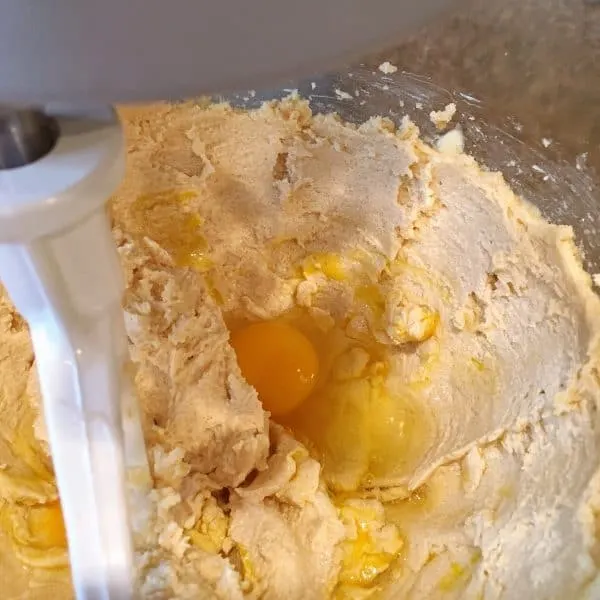 Blend together on low, until well incorporated. Add 2 teaspoons of vanilla. Mix again until well combined and creamy.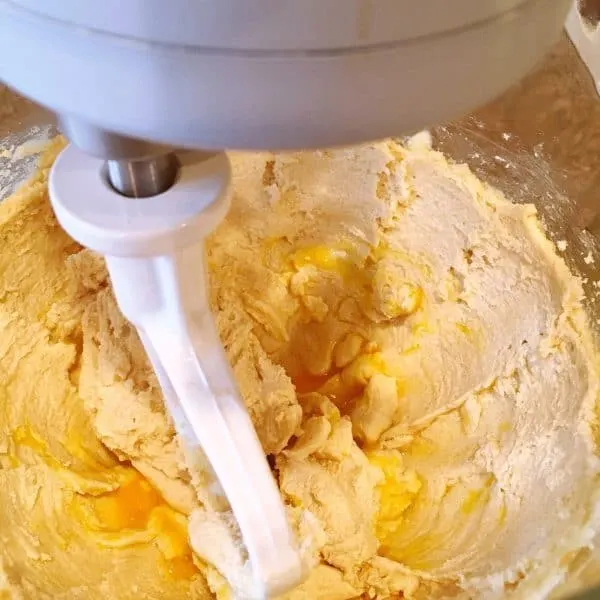 In a separate bowl combine 2 3/4 cups of all-purpose flour, 1 teaspoon baking soda, and 1/2 teaspoon salt. Whisk to combine dry ingredients. This will help remove any lumps and mix all the dry ingredients together before adding to wet ingredients. If dough is super sticky…add more flour a few tablespoons at a time until dough is dryer and only slightly tacky.
Add 1 cup semi-sweet chocolate chunks and 1/2 cup chocolate chips. You can add milk chocolate chips, semi-sweet chocolate chips, or white chocolate chips. Whatever your preference. We love semi-sweet so I used all semi-sweet chocolate.
Set dough aside.
Line a 9 inch, or larger, cast iron skillet with parchment paper. Spray sides with non-stick cooking spray.
Do I have to use a Skillet to make this Dish?
No you don't! (Hooray!!!)
TIP: If you don't have a cast iron skillet you can use a deep dish 9 inch pie plate.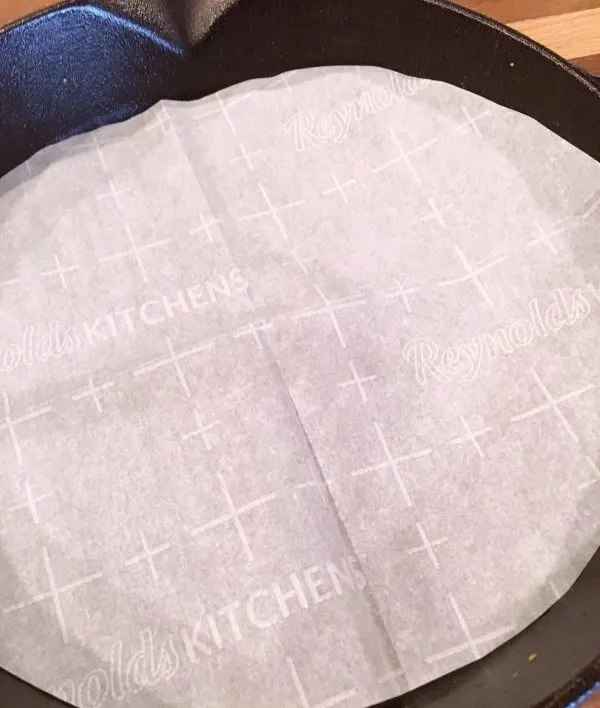 Flour hands and press 1/2 the cookie dough in the bottom of your choice of baking dish.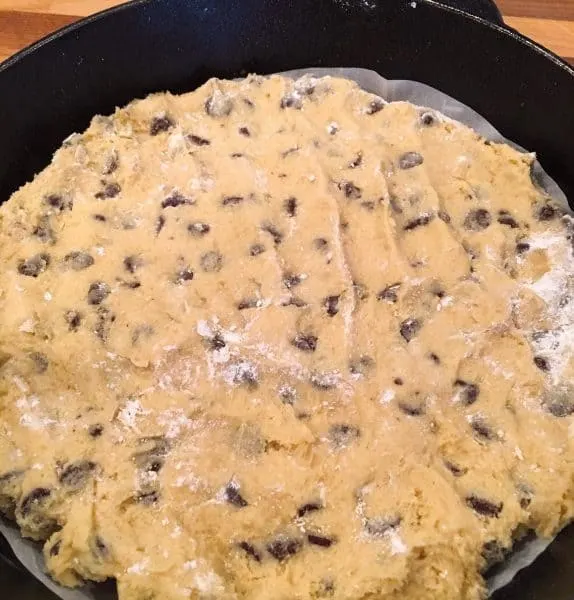 In a small, microwave safe bowl, add 1/2 cup of caramel bits and 3 Tablespoons of heavy whipping cream.
Place in microwave on 50% power for 2–3 minutes. Carefully remove from microwave and mix until smooth and creamy. (Use an oven mitt… I burned my hands! Microwaves get HOT!)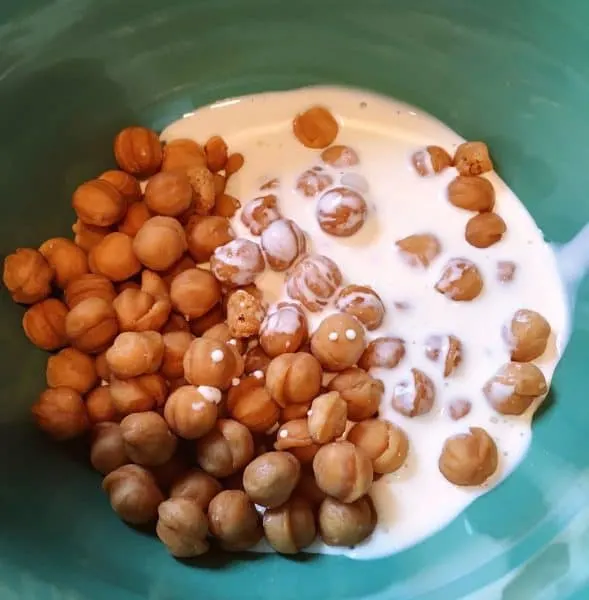 Pour melted caramel sauce over cookie dough. Leave 1 inch around the edge of the cookie dough.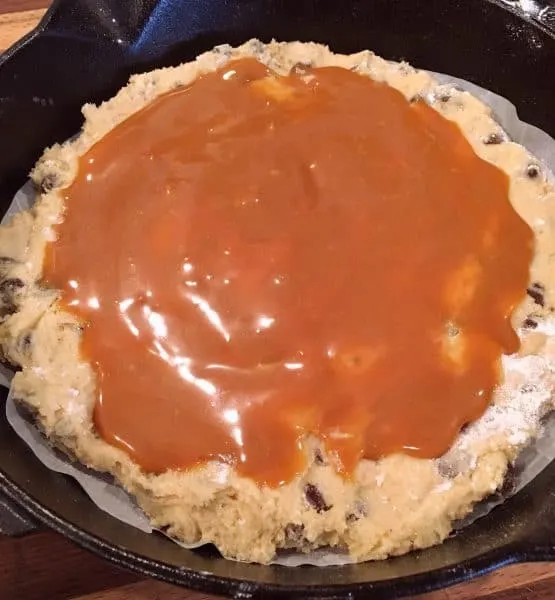 Spoon remaining cookie dough carefully over the top of the caramel sauce. Press down gently and try to cover caramel sauce. It's okay if some of the caramel peeks out. Don't worry about that. The cookie dough will puff up and cover it!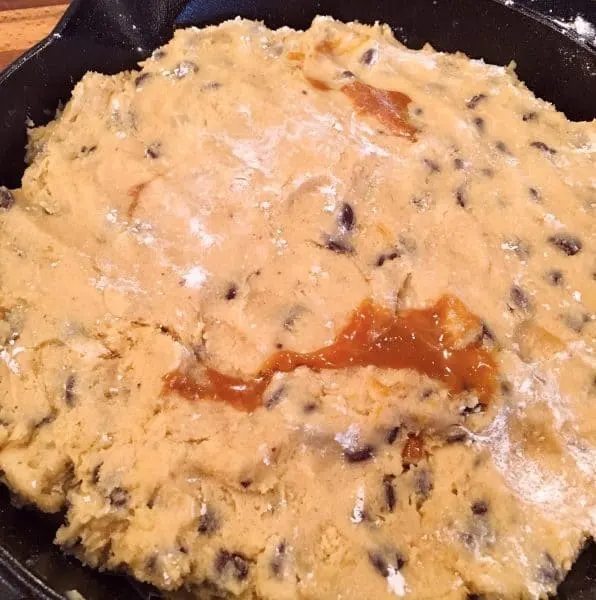 Add more chocolate chunks to the top. If you're making this for Valentines, or another holiday, like 4th of July, you can add festive sprinkles. (I used the word "festive" and it's not even Christmas! Lol)
Place skillet in preheated oven and bake for 20–25 minutes. If you like it a tad "gooey". If you don't like it gooey … bake it for 25–30 minutes.
Remove from oven, add coarse salt on top, and allow to cool for 1 hour. Cast Iron retains the heat better than another baking pan would, so it will continue to cook for a few more minutes. Allowing it to cool for an hour will help the dessert hold its shape.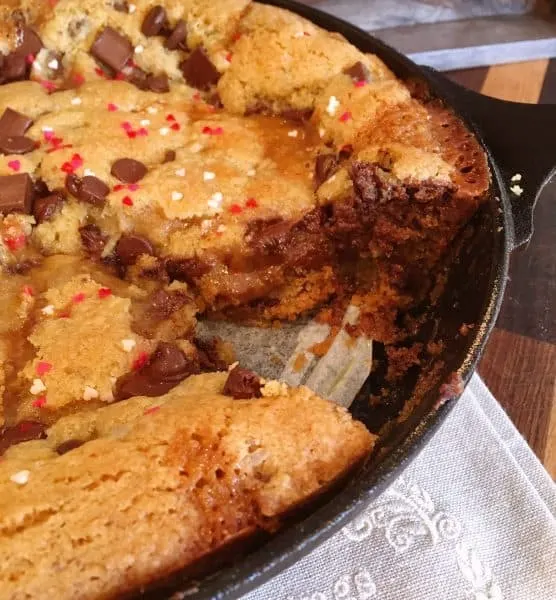 The parchment paper will keep the cookie from sticking to the bottom of the skillet and make serving a lot easier. I suggest running a knife around the outside edge to loosen any caramel that escaped during baking! (Ya can't trust caramel…it's a sneaky sticky little devil!)
What's the best way to serve this dessert?
There are several ways you can serve this dessert. You can pile several scoops of Ice cream in the center of the skillet cookie and top with chocolate or hot fudge and whip cream…and that works if you're going to eat it all in one sitting! (I will stand in Awe and applaud if you can do that!)
I prefer to slice and serve it like "pie" (Wicked evil scrumptious pie!) and place a nice heaping scoop of vanilla, or coffee ice cream, on the side with hot fudge drizzled down the sides, and a spritz of whip cream.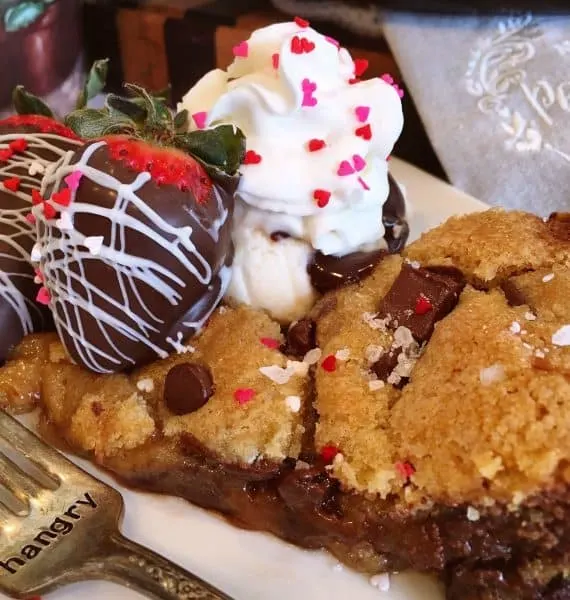 How to "dress" it up for a Special Occasion!
For Valentines, I tossed in a few Chocolate Covered Strawberries! (We've already blown our calorie limit for the day! What the heck…lets go ALL IN!) Let's be honest though…chocolate covered strawberries are always a good idea!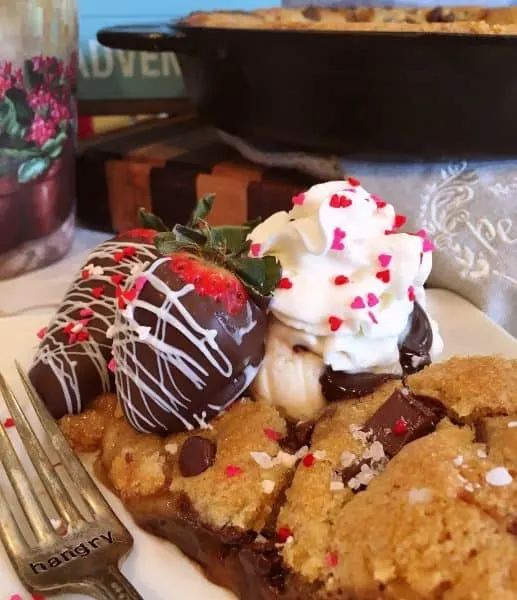 Yep… I'm obnoxiously posting photos of this amazing dessert!
Know what the best part of my job is? Besides meeting all of you! Taste testing my recipes to make sure they pass muster! I ate an entire slice…this exact plate…just to be sure! It passed with flying colors!
What I love the most about this dessert…besides how absolutely luscious it is… how easy it is to make. It takes less than 40 minutes from start to finish! That included the strawberries!
If you're looking for a wickedly delicious dessert this Valentine's Day…or any other day…give this Salted Caramel Skillet Chocolate Chip Cookie I try! You won't be sorry! (Can I get a Hallelujah for stretch denim and Salted Caramel Chocolate Chip Cookies!)
Thanks so much for stopping by my Nest! The printable recipe is below with a few of my favorite product suggestions. Also be sure to sign up for my Newsletter for all the latest and greatest recipes here at Norine's Nest!
Happy Nesting!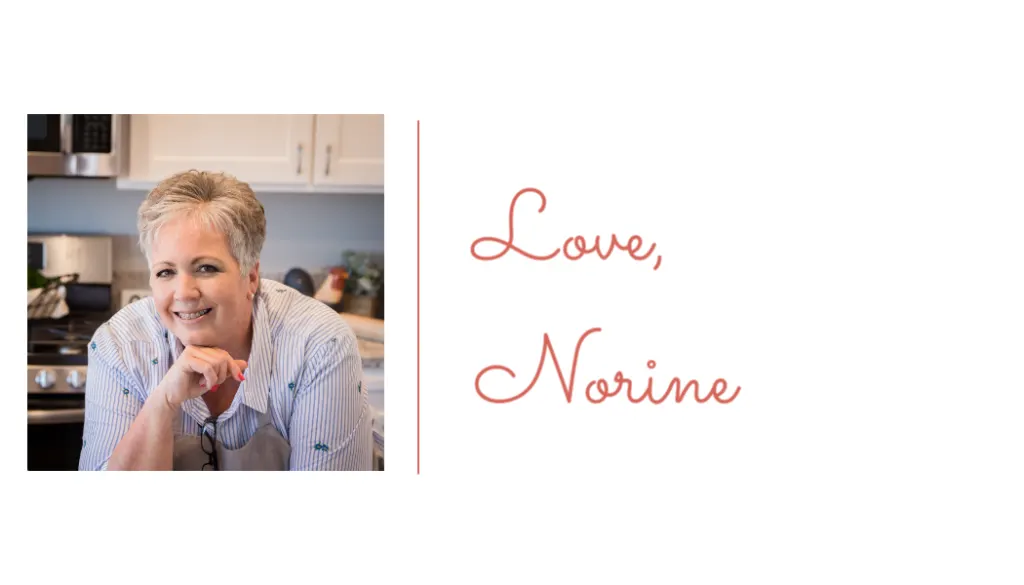 Yield: 12 servings
Salted Caramel Deep Dish Chocolate Chip Cookie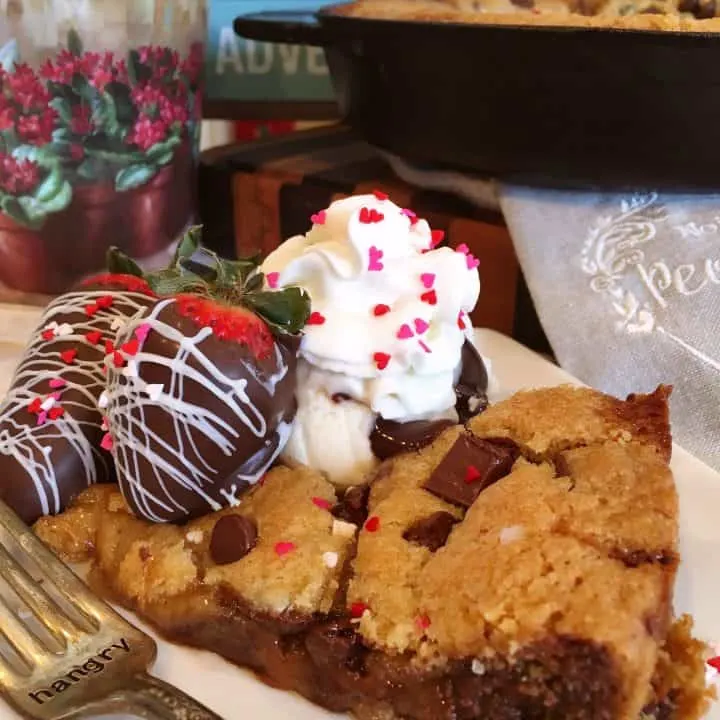 Deep dish skillet chocolate chip cookie with salted caramel filling topped off with more semi-sweet chocolate chips. A spectacular easy dessert that everyone will love!
Ingredients
1 Cup plus 1 Tablespoon soften butter
1 Cup Sugar
1/2 Cup packed brown sugar
2 eggs
1 teaspoon vanilla
2 3/4 Cups All-Purpose Flour
1 teaspoon baking soda
1/2 teaspoon salt
1 Cup Semi-Sweet Chocolate Chunks
1/2 Cup Milk Chocolate Chips or Semi-Sweet Chocolate Chips
1/2 Cup Caramel Bits
3 Tablespoons Heavy Whipping Cream
Coarse Sea Salt and Additional Chocolate Chunks for garnish
Instructions
Preheat oven to 350°
In large mixing bowl combine soften butter, sugar, and brown sugar. Mix until creamed together. Add vanilla and mix until smooth. Add eggs one at a time blending well after each addition.
In a separate bowl mix together flour, baking soda, and salt with wire whisk. Add the flour in batches with creamed butter and sugar, until a smooth dough forms. The dough should feel dry to the touch. If it is still sticky add a little more flour until desired consistency is reached.
Stir in chocolate chips and chocolate chunks.
Divide dough in half. Press half the dough mixture into a 9 inch or larger cast iron skillet lined with parchment paper. Dusting hands with flour will help with spreading the dough.
In a small, microwave safe bowl, add caramel and whipping cream. Microwave for 2-3 minutes on 50% power. Stir well until melted and smooth.
Pour caramel over the dough and smooth with a spoon leaving an inch around the outside edge. Cover with remaining cookie dough. Don't worry if some seeps through the dough. Sprinkle additional chocolate chunks on top and any sprinkles you may want.
Bake for 20-25 minutes (see notes) Remove from oven, sprinkle with sea salt, and allow to rest for at least one hour in order for the pieces to hold their shape.
Serve with Ice Cream or alone.
Notes
If you prefer your cookie less "gooey" bake for an additional 10 minutes.
Recommended Products
As an Amazon Associate and member of other affiliate programs, I earn from qualifying purchases.
Nutrition Information:
Yield:
12
Serving Size:
1 slice
Amount Per Serving:
Calories:

388
Total Fat:

11g
Saturated Fat:

6g
Trans Fat:

0g
Unsaturated Fat:

4g
Cholesterol:

39mg
Sodium:

319mg
Carbohydrates:

70g
Fiber:

2g
Sugar:

46g
Protein:

6g
Norine's Nest in no way provides any warranty, express or implied, towards the content of recipes in this website. It is the reader's responsibility to determine the value and quality of any recipe or instructions provided for food preparation and to determine the nutritional value, if any, and safety of the preparation instructions.