There's nothing better on your dinner or breakfast table than a basket full of big fluffy, tender, buttery, golden Homemade Baking Powder Biscuits! (I could have worked more adjectives into that sentence! Lol)
For weeks, I've been promising to post my Basic Biscuit recipe! Today is the day! I'm pretty excited about sharing these big pillows of happiness with you! (Biscuits are JOY!)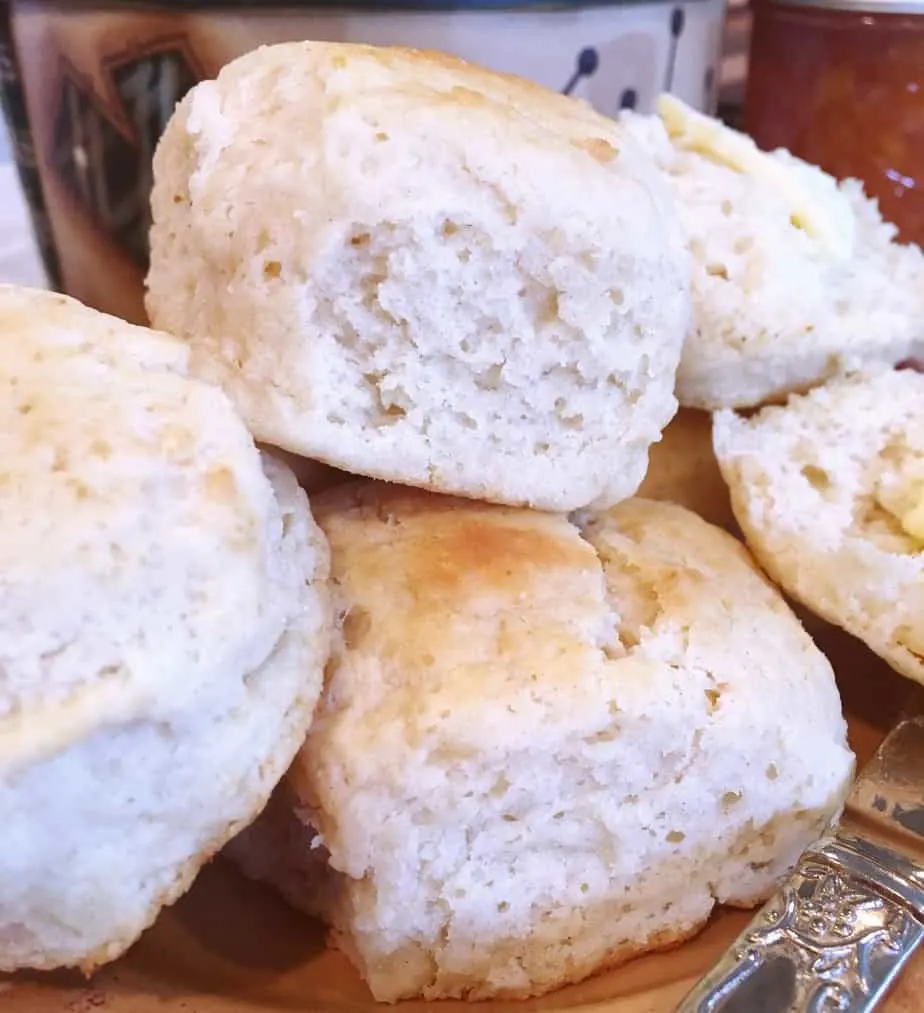 Baking Powder Biscuits are a favorite at this Nest. In fact…my family recently told me that they'd rather have biscuits with a meal than rolls! (SAY WHAT?!!!)
I love both…but I'm President of the National Carb Lovers Society! It's expected! Honestly when I die…just please bury me with doughnuts, rolls, pancakes, cake, muffins, bread, AND… Biscuits! (You could throw a few cheetos on top for good measure!)
How To Make Homemade Biscuits
This recipe will make about 2 dozen biscuits! (Remember I said the birds at this Nest L.O.V.E. biscuits!) You can cut this recipe in half, with no problem!
In a large bowl whisk together 4 cups of flour, 2 Tablespoons of Sugar, 2 Tablespoons baking powder, and 2 teaspoons salt.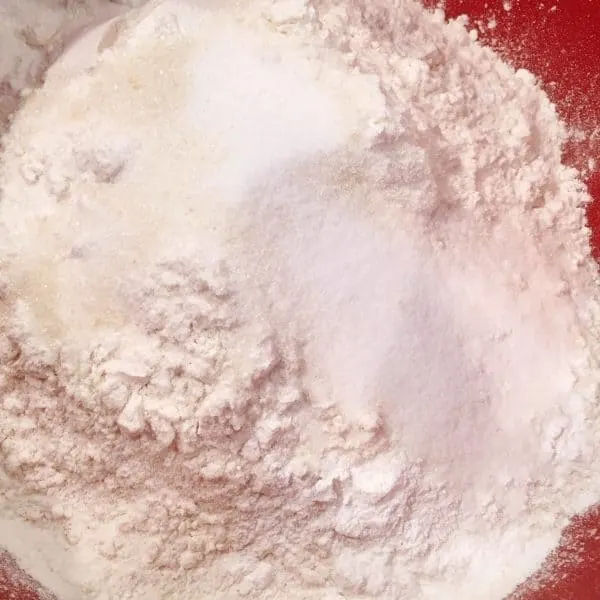 TIP: Using a wire whisk to mix the dry ingredients creates the same effect as "sifting" the dry ingredients. It will help create the fluffiest biscuit!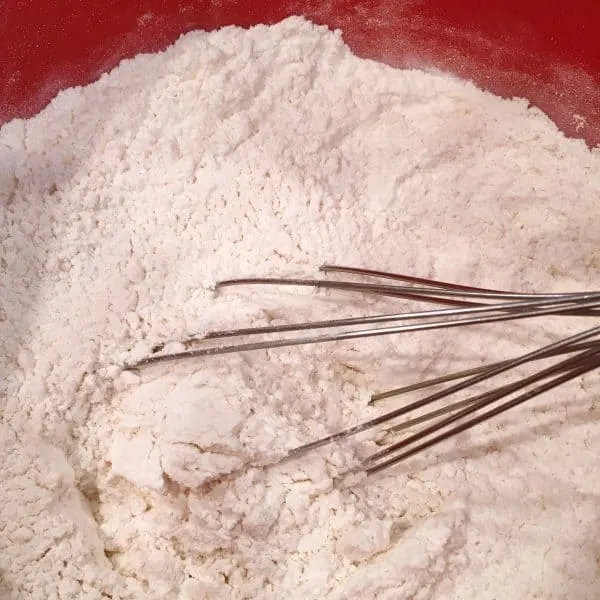 I love to mix shortening and butter in this recipe. That being said…add 1/3 cup shortening and 1/3 cup cold butter pieces.
TIP: Cut butter into smaller pieces. It makes it easier to cut into the flour.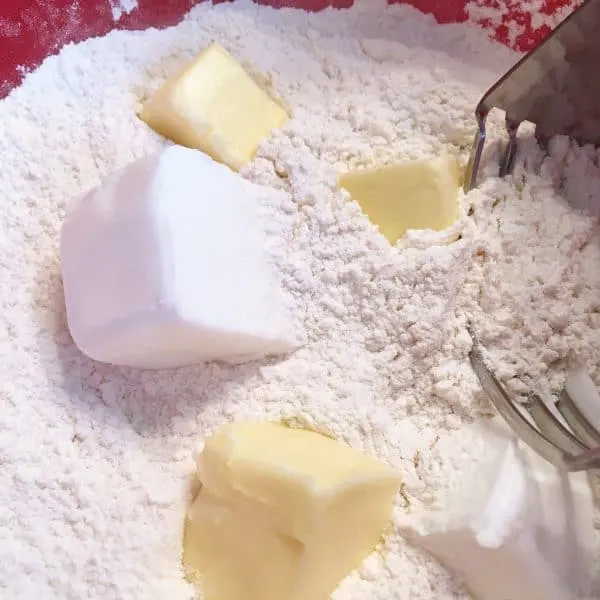 Cut butter and shortening into the flour until it resembles a coarse meal.
Which reminds me…I am totally in love with my new Pastry Blender! In Love! It's well-made and a great deal for the money. It cut through the cold butter so smoothly!
It can also chop nuts, cut eggs for egg salad, and mash-up avocados for guacamole among other things. It's my favorite new kitchen tool, and I've included the link above and in my recipe card below!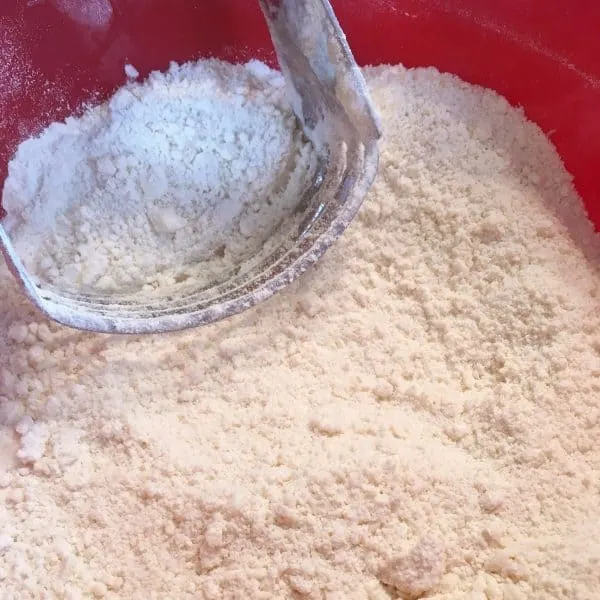 Make a well, or hole, in the center of the biscuit mix for the liquids.
This is a great tip for mixing the wet with the dry. It makes it so much easier to blend the two together. Over mixing can make your biscuits tough!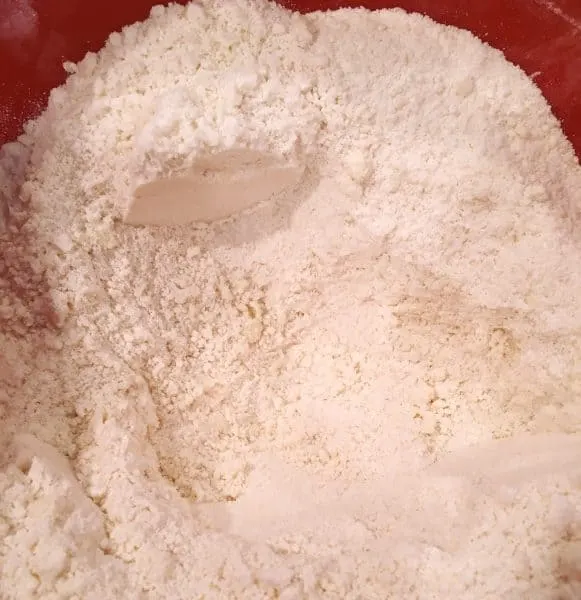 Pour 1 1/2 cups of milk and 1/2 cup of buttermilk into the well.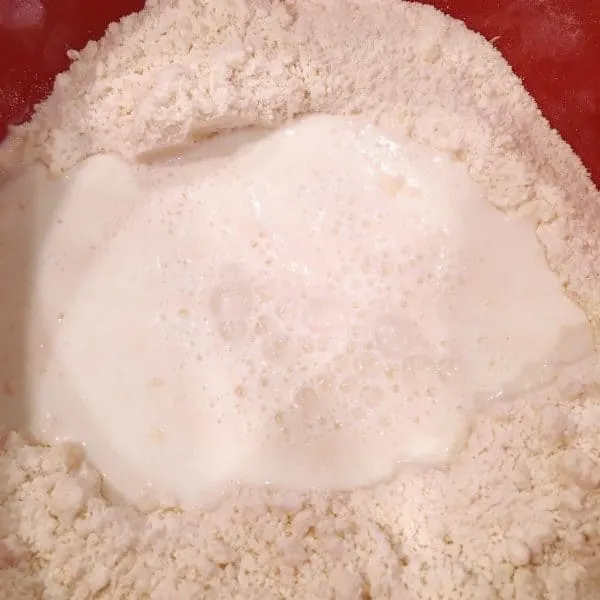 Using a rubber spatula carefully mix the wet ingredients into the dry until the dough begins to pull away from the sides of the bowl! DO NOT OVER MIX THE DOUGH! (Do I have your attention? Did ya get that? I don't want you to over mix the dough…lol)
Your dough will be wet and sticky. That's perfect!
TIP: Truly for the BEST BISCUITS the less you handle the dough the better!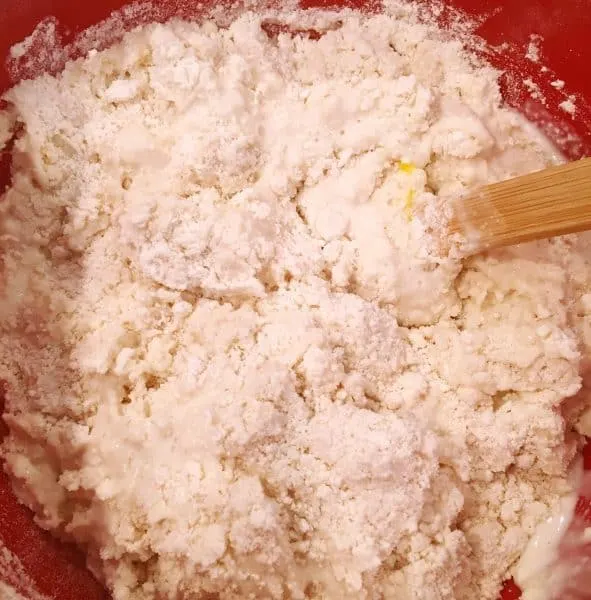 Turn dough out onto a floured surface. I love to use my dough disc for kneading and cutting out my biscuits. It's at the top of my "must have" kitchen tools! (This post is full of my favorites! I truly use them ALL and Love them!)
Notice the dough is still wet and sticky and not perfectly blended. That's exactly how you want your dough to look. Gently fold it over and press down. Knead it 5–8 times. That's ALL!
Again…DO NOT OVER HANDLE THE DOUGH! (Yep, I'm gonna keep yelling that! I'm used to doing this… I'm a Mom… Hearing myself speak is normal!)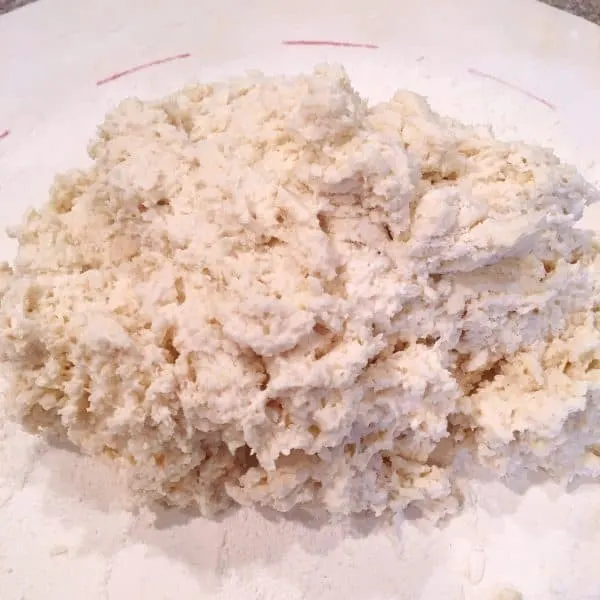 Pat the dough into a large circle about one inch thick. Don't roll it. Just pat it gently into a circle…don't take your frustrations out on it!.
The dough should be at least an inch thick! Yep! That's thick! We are making big thick fluffy biscuits. If you want Mamsy-Pamsy biscuits…you need to go knocking at another door! These are biscuits you can sink your teeth into and have yer eye's rollback into yer head!
Using a biscuit cutter, OR a biscuit cutter masking as a "round cookie cutter" (I know…some of ya only use it to make those big thick sugar cookies with pink frosting!)… cut the biscuits out by dipping the cutter into flour first, then placing it as close to the edge of the dough as possible and pressing down.
Repeat over and over, flour and cut, cutting each biscuit as close to the other as possible.
TIP: If you don't have a biscuit cutter you can use a juice glass turned upside down. Just be sure to flour it each time before cutting.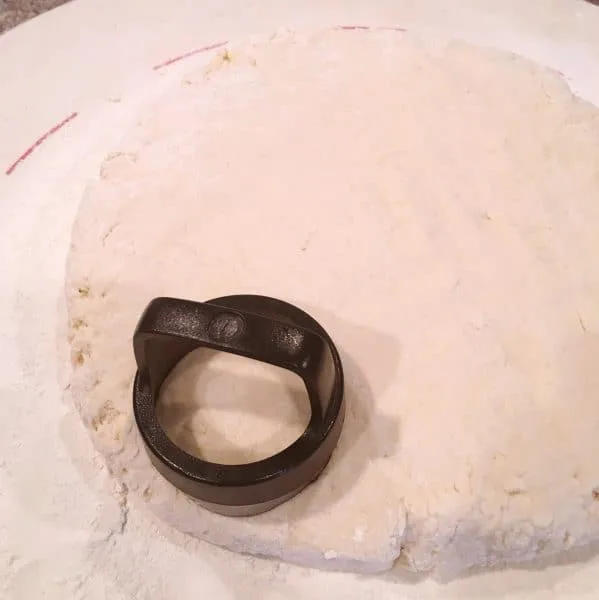 Place cut biscuits, bumped up against each other, on baking sheet lined with parchment paper or silicone baking mat!
Let's Talk! If you don't have silicone baking mats…GET THEM! They are the best thing since sliced bread! I use mine ALL. THE. TIME! You can check them out HERE. They are worth every penny, and they're not expensive at all!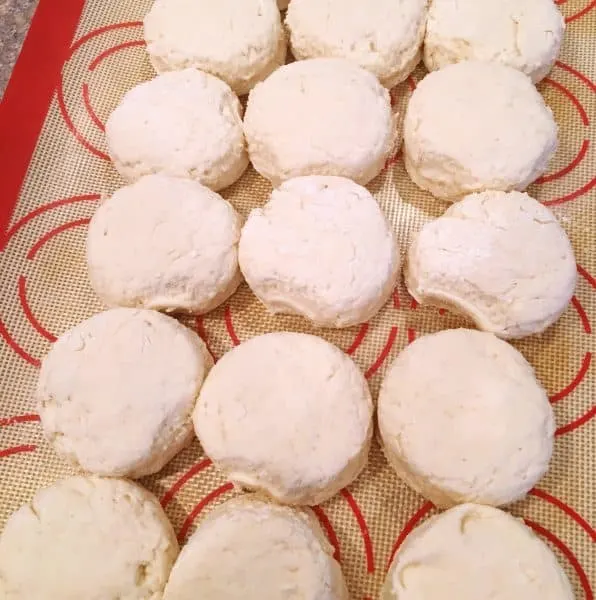 Preheat oven to 425°
Melt 2 Tablespoons of butter in a microwave safe bowl. Brush each biscuit with butter. Oh, yeah baby! It's getting real now! Look at those babies…see how fluffy they are? The baking powder is already doing its thang!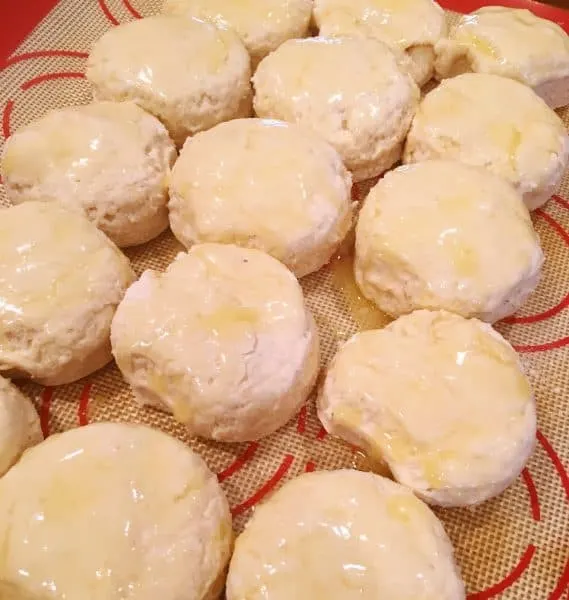 Bake 13–15 minutes until edges are golden. I placed mine under the broiler for minute to get the tops golden brown…but that was just for photography purposes. Generally speaking just let them bake until the edges are golden.
You're gonna flip when you see how high these biscuits rise! It's like they're reaching for the sky! They should double in size during baking. Isn't that glorious! A truly beautiful biscuit!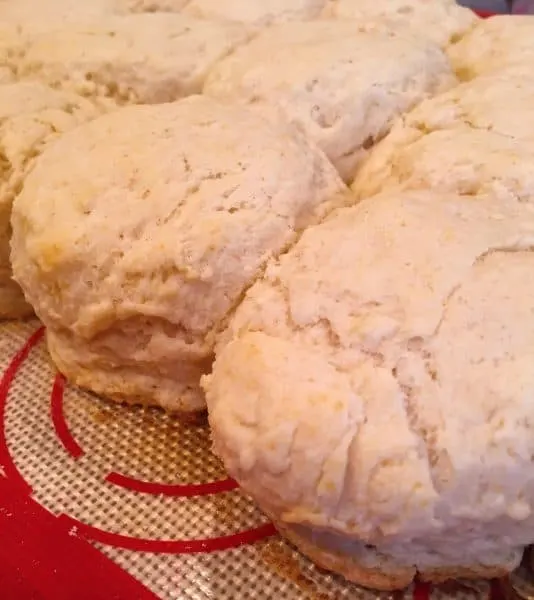 Remove from baking sheet…try not to burn your hands! (I'm obviously speaking from experience! Lots of Experience!) I want to pull them off the minute they pop out of the oven! Can ya blame me?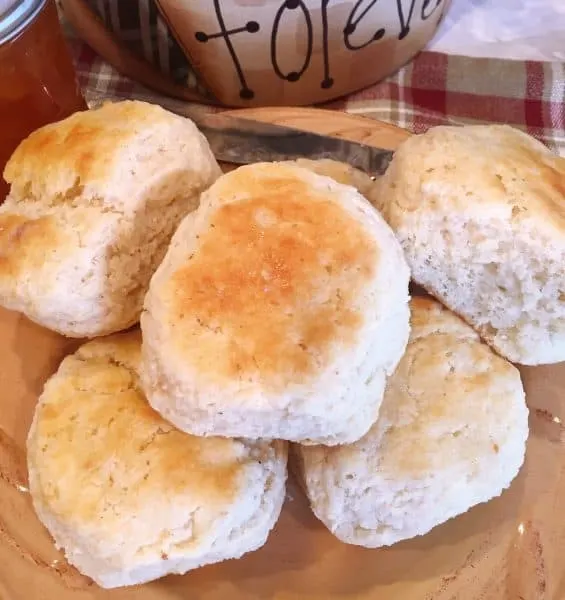 Crack one open and watch the steam escape! They're so tender and moist they melt in your mouth!
Top with big heaping slabs of butter and a scoop of your favorite jam. I swear my kids can put down an entire jar of Raspberry Jam with these biscuits! (Okay…maybe I help with that! Truthfully…wars are fought at this Nest over Raspberry Jam!)
Do you see all those air pockets? Those are little tiny spaces of happiness and joy that mean you've created the BEST biscuit on the Planet!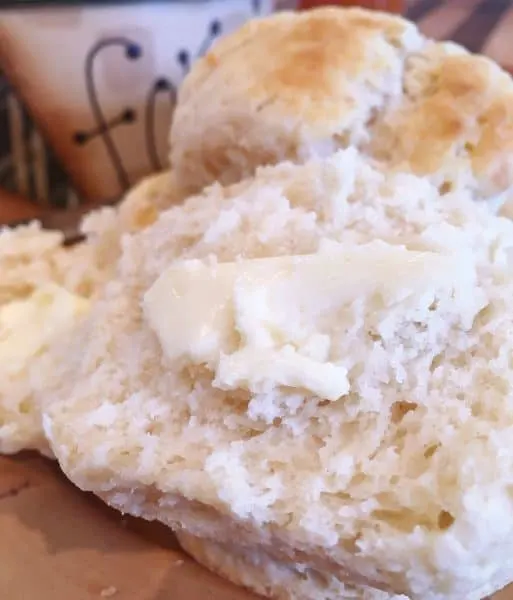 They are so easy to make and such a favorite with family! The leftovers make great breakfast sandwiches the next day…or midnight snacks…just sayin'! Let's recap how to make the BEST biscuits EVER!
TIPS FOR MAKING GREAT HOMEMADE BISCUITS
Make sure you cut the butter and shortening in until it resembles a coarse meal.
Handle the dough as little as possible. Only Knead 5–8 times. Pat the dough into a circle, don't roll it.
Brush with melted butter
Bake on silicone lined baking sheet at 425 degrees
You can make the dough up ahead of time by turning dough out onto aluminum foil that been either floured, lightly buttered, or lightly sprayed with cooking spray. Roll up foil until sealed, and refrigerate up to 24 hours.
Store leftovers in airtight container and re-heat in microwave.
That's all there is to it…easy-peasy! Truly amazing Homemade Baking Powder Biscuits!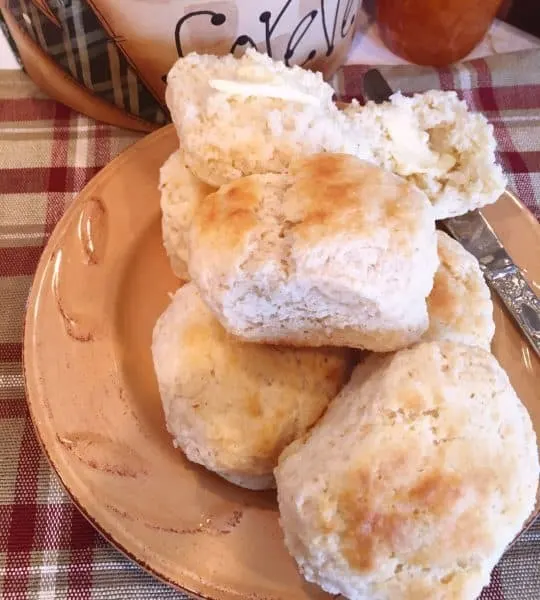 Remember you can always follow me on Pinterest, Facebook, and Instagram! I'd love to have you join me.
Thanks for stopping by my Nest! Have a GREAT day!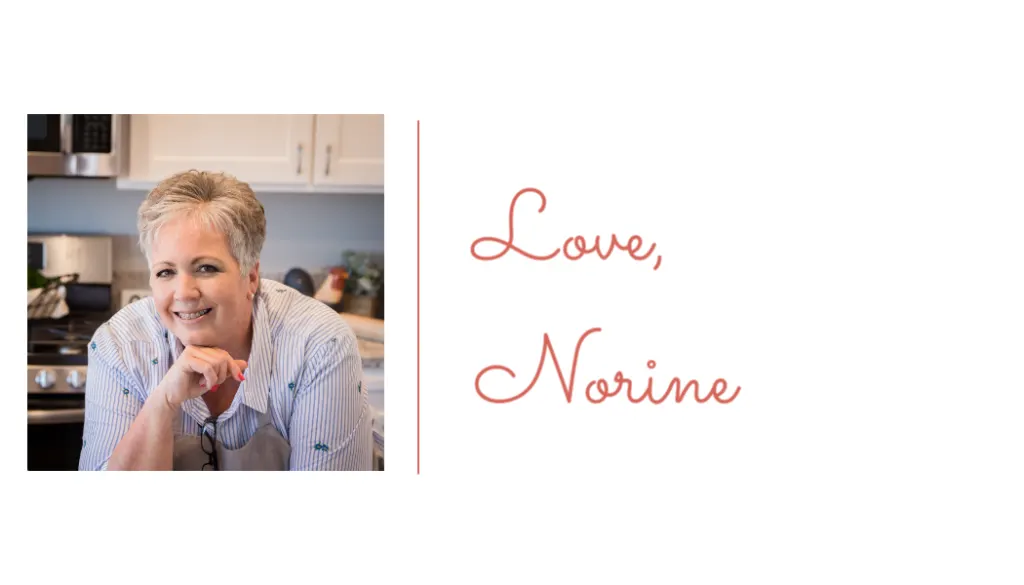 Yield: 24 biscuits
Easy Homemade Baking Powder Biscuits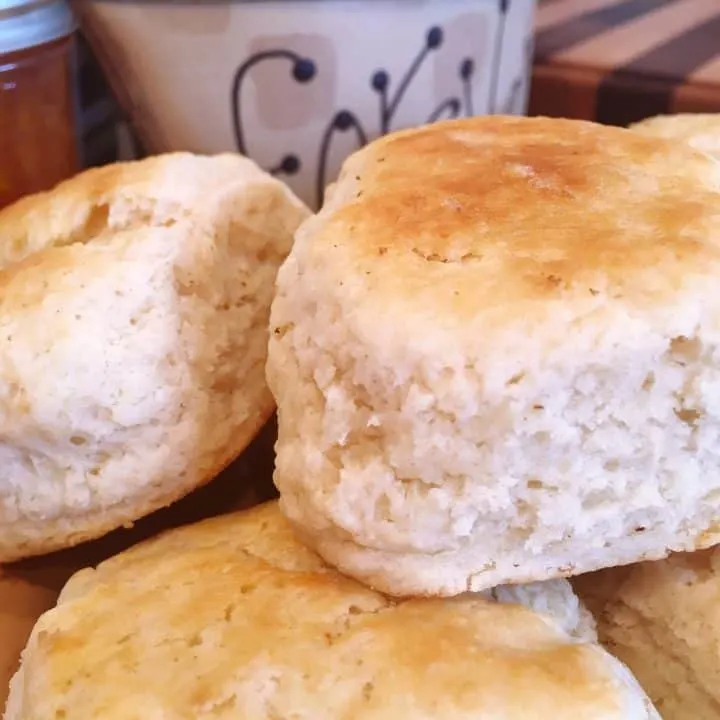 Tender tasty easy to make homemade baking powder biscuits.
Ingredients
4 cups all-purpose flour
2 tablespoon baking powder
2 teaspoons salt
2 tablespoons sugar
1/3 cup shortening
1/3 cup cold butter
1 1/2 cup milk
1/2 cup buttermilk
2 tablespoons melted butter for brushing on top
Instructions
Preheat oven to 425 degrees F (220 degrees C).
In a large bowl, whisk together flour, baking powder, salt, and sugar.
Cut in the shortening and butter until the mixture resembles coarse meal.
Make a "well" in the center. Add milk and buttermilk. Stir gently until dough pulls away from the side of the bowl. Do NOT over mix.
Turn out onto floured surface, and gently knead 5-8 times. Pat dough out to 1 inch thick. Cut biscuits with a large cutter or juice glass dipped in flour. Repeat until all the dough is used. Brush off the excess flour. Place biscuits on lined baking sheet.
Brush with melted butter.
Bake for 13 to 15 minutes in the preheated oven, or until edges begin to brown.
Notes
Recipe can be cut in half and it can be made ahead of time wrapped tightly in sprayed foil, in the refrigerator up to 24 hour.
Nutrition Information:
Yield:
24
Serving Size:
1
Amount Per Serving:
Calories:

147
Total Fat:

7g
Saturated Fat:

4g
Trans Fat:

0g
Unsaturated Fat:

3g
Cholesterol:

12mg
Sodium:

344mg
Carbohydrates:

18g
Fiber:

1g
Sugar:

1g
Protein:

3g
Norine's Nest in no way provides any warranty, express or implied, towards the content of recipes in this website. It is the reader's responsibility to determine the value and quality of any recipe or instructions provided for food preparation and to determine the nutritional value, if any, and safety of the preparation instructions.