Traditional Fry bread is a flat dough bread, fried, that magically puffs like little pillows of happiness! Made with simple ingredients, this delicious authentic fry bread can be eaten alone or with various toppings like butter & honey, jam, or sprinkled with cinnamon sugar.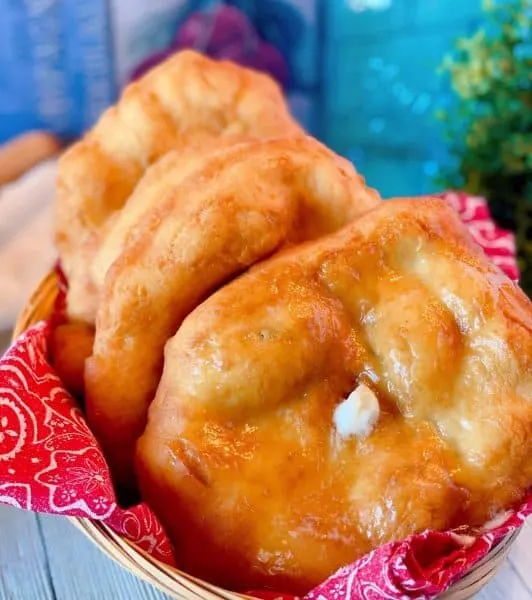 I can honestly say this recipe is a dream come true! It's not only super easy to make, but if you're a bread loving carb-a-vore like myself…the only thing better than freshly baked homemade bread…is Fried Bread!
What. Could. Be. Better? Oh, I don't know…maybe slathering it with lots of butter and then drizzling it with loads of honey!
I had never had Native American Fry Bread until we moved to Utah. It's a huge favorite at County Fair's, and the local "Pow Wow" event held each year by the local Native Americans, here in our beautiful State.
The first time that golden disc hit my taste buds…it was LOVE!
A true deep immediate abiding love! I love bread of any kinds. I try to keep our relationship a little distant, otherwise…one of us would blow-up like the Good Year Blimp! (I'm already well on my way to flying over football stadiums!)
I assumed Fry bread would be difficult. It's not…in fact it's pretty easy to make and only takes a few minutes to whip up! There are multiple versions of fry bread, from yeast to sweet breads. Everyone has an opinion about this recipe, and what is "original" or "traditional". No disrespect is intended. This is the recipe I found works best for me and is delicious.
This recipe is great because it only requires five basic pantry ingredients. You'll be creating your own love story in no time. (Just remember… I already have a deal with Good Year! Your on your own!)
How To Make Navajo Fry Bread
In a medium size bowl add 1 cup all-purpose flour, 1½ teaspoons baking powder, and 1/4 teaspoon salt. Mix together with a wire whisk.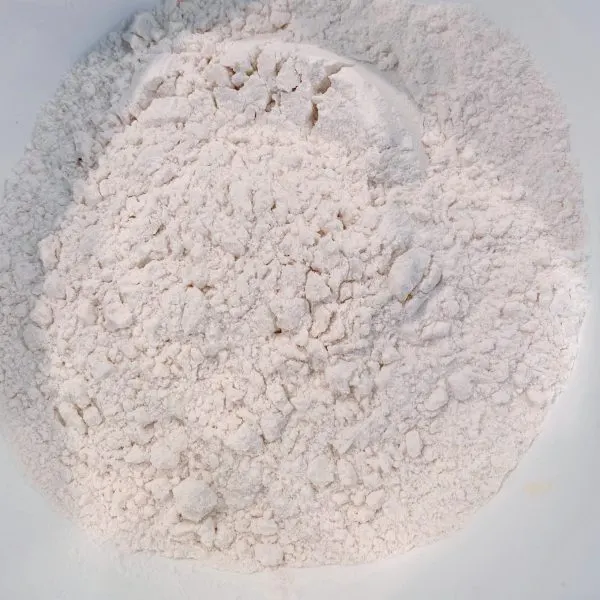 Add 1/2 cup milk and 2 Tablespoons milk. Make sure you use a liquid measuring cup when measuring liquids. There is a difference.
The original recipe calls for just 1/2 cup of milk. I found that makes the dough too dry! So adding two extra tablespoons of milk creates the perfect dough! This dough will form easily by just mixing it with a rubber spatula. I like to use a rubber spatula because the sticky dough comes off it quickly as apposed to a wooden spoon.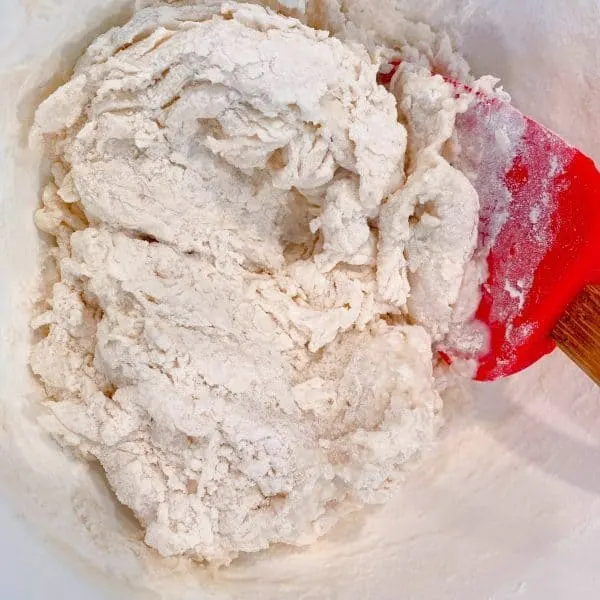 Place the dough on a lightly floured surface. I love using my dough disc. It works perfectly for kneading doughs and rolling out pastries.
The secret to the perfect Fry Bread, I've found, is to only knead it a few times. I scrape the dough onto my floured dough disc, then I gently roll it around on the flour to make sure it is well coated with flour. Then I gently knead it four or five times until it's just easy enough to work with. Pat the dough into a rectangle.
Place in a bowl and refrigerate for 30 minutes. This will help prevent it from being so sticky. You can opt to skip this step if you like. Just know in advance it may be a little tricky to roll out that dough!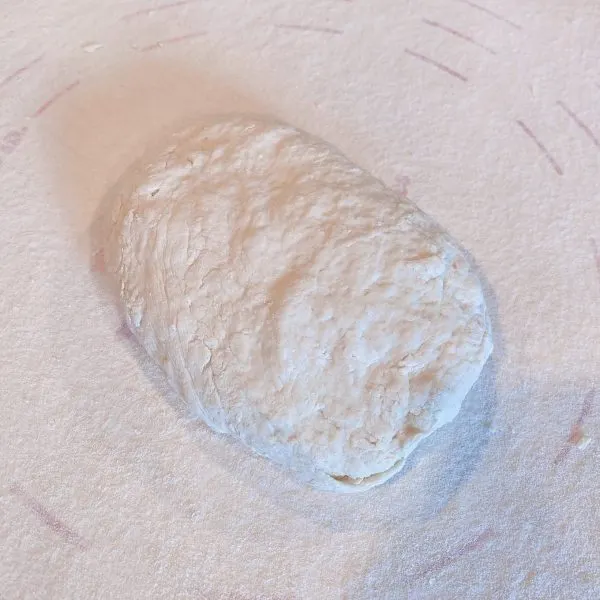 After the dough has chilled, use your pastry scraper, and cut the dough into four equal sections. Form them into balls.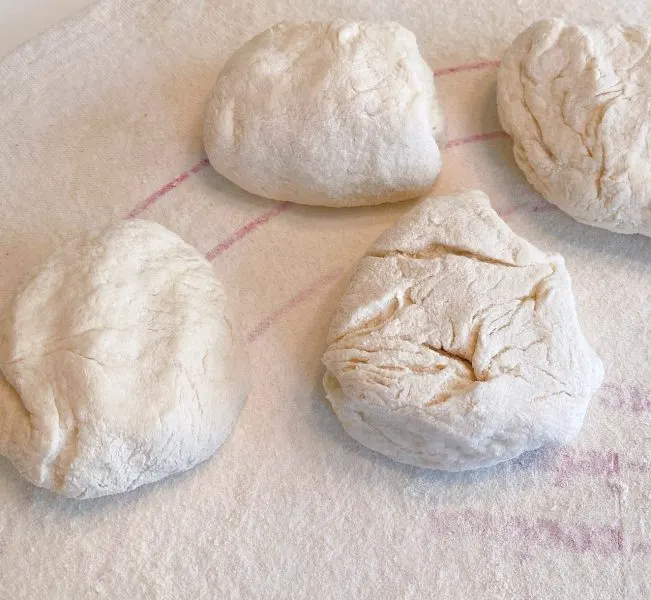 Dust a rolling pin with flour and roll each ball into a 1/4 inch thick disc. Using your finger or a sharp knife poke a hole into the center of each disc. This will help the bread stay flat during frying.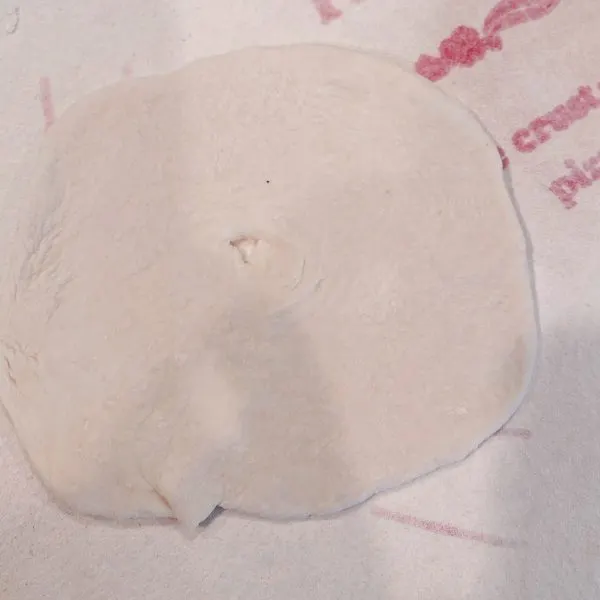 The success of this dish lies with making sure your oil is the right temperature! Not hot enough, and you end up with a greasy fry bread. Too hot, it will cook too quickly and be doughy in the middle.
In a large skillet, or kettle, add 1 inch of vegetable oil, or melted shortening, and heat the oil to 350°.
TIP for perfect frying: If you don't have a deep-frying thermometer, you can add a kernel of pop corn to the oil, when it pops you're oil is ready. Popcorn pops at 350°. You can also place a wooden spoon handle in the hot oil, when bubbles gather around the stick the oil is ready for frying!
TIP: I recently discovered that deep frying anything in a large deep pot, or kettle, is less messy than using a large cast iron skillet. It not only helps keep your stove top clean…it prevents the oil from popping on you! That's a huge win in my book.
Carefully place the dough disc into the hot oil, by placing the bread dough into the hot oil lying it AWAY from you! Always, always, always place items you are frying into hot oil by lying it away from you. Safety first!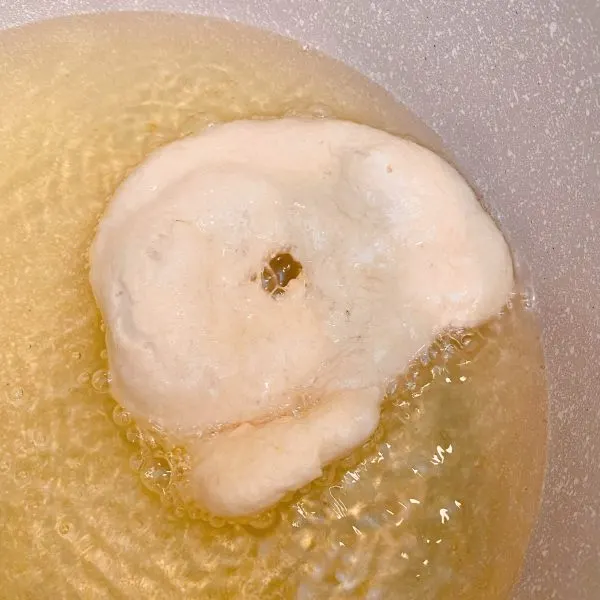 Allow the bread to cook 3–4 minutes or until golden brown. Using tongs lift the fry bread and carefully turn the bread over and cook the other side. Total cook time for both sides shouldn't exceed 4 minutes.
As the bread cooks it will bubble up. We want those bubbles! They're crevices for butter and honey, or jam, or powder sugar, or cinnamon sugar…or…well you get the point!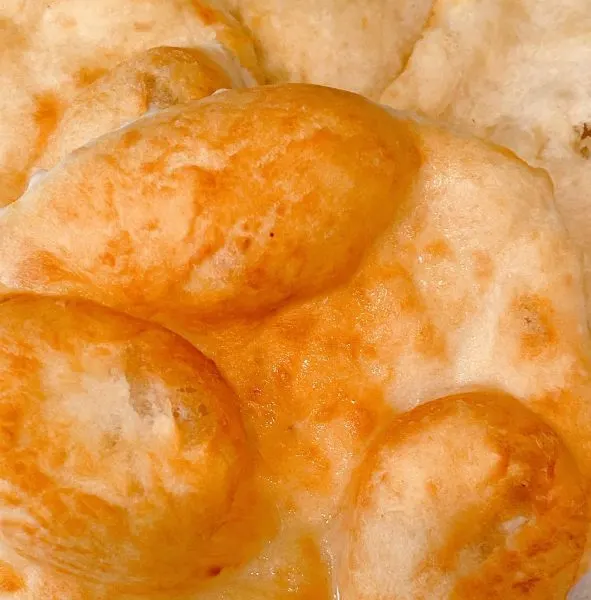 Remove fried bread from the hot oil, with tongs, and place on a plate lined with paper towels. Allow to drain and cook the next fry bread. (I know, I'm stating the obvious by suggesting you use tongs! One never can be too sure though, and we all have different cooking skills!)
This recipe will make four separate pieces of fry bread! If you're feeding a larger crowd, or working on those Goodyear requirements, you may want to double this recipe.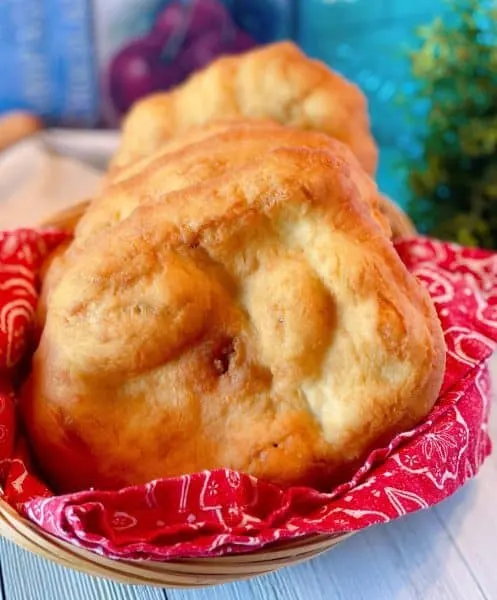 Now it's up to you how to serve them. You can slather 'em up with honey butter. You can serve them with jam or powder sugar. I go with that honey butter every time…it's lip-smacking, finger licking, deliciousness!
My husband and I each downed an entire piece. (Blimping it up here at this Nest!) There is nothing better than a hot piece of Fry bread with honey butter dripping off the edges. It's the reason they're a favorite at local fairs and street carts!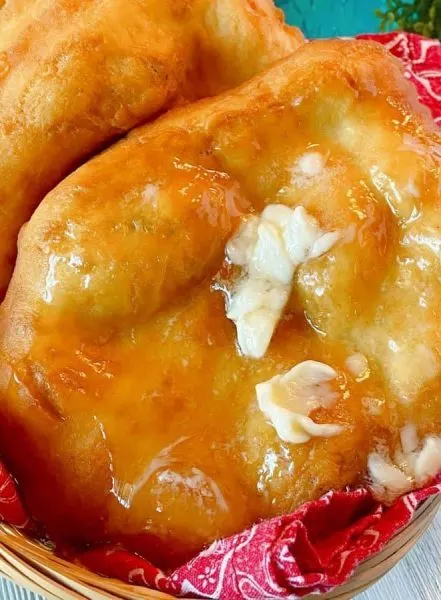 Another favorite? Navajo Tacos. Traditional Fry Bread is the perfect vehicle for this main dish delight! Layer them with Hearty Slow Cooker Homemade Chili, shredded lettuce, grated cheese, diced tomatoes, sliced olives, and sour cream! A dinner the whole family will love! You could even do a Navajo Taco Bar for your next party or family get together.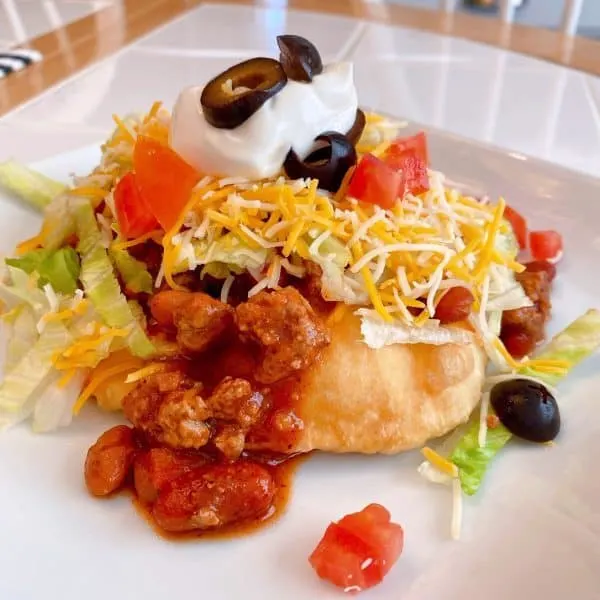 This is one of the BEST fry breads. The outside is perfectly crispy, the inside is tender and moist! This fry bread had me swooning my friends! It is perfect. It's not sweet. It's not meant to be. I think that is what makes this the best fry bread recipe I've found!
It's so versatile. If you're using this fry bread recipe for a dessert…then sweeten it up! Get creative, top it off with powder sugar, pie filling, etc. If you want to use it for Navajo Tacos then the sweetness that some other Sweet Indian Fry Bread recipes sport, won't conflict with the savory dish you're trying to create.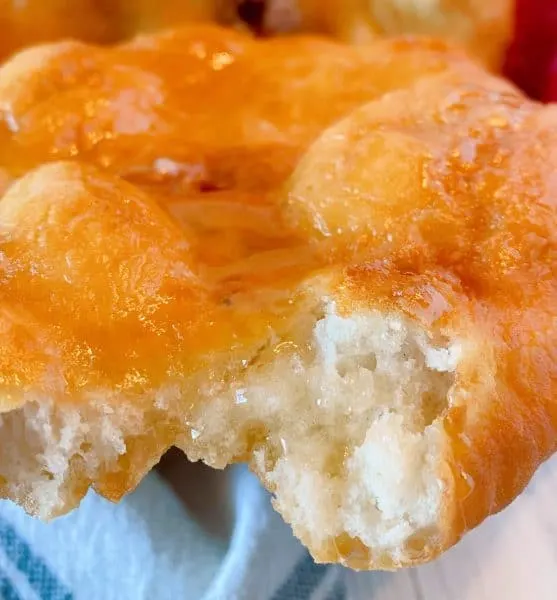 I love bread…any kind of bread! Here are a few of my other great Loves!
Favorite Bread Recipes
I know things are hard this year. 2020 hasn't turned out to be the big ol' happy party we imagined. However, one of things I have most loved…is the creativity that I've witnessed flowing from others as they strive to make a "new normal".
Maybe we can't go to the fairs this summer and have all the treats we love and crave. That doesn't mean we can't try to make them at home. I think if you give this recipe a chance you won't be disappointed that you couldn't find your favorite pan fried bread vendor this year…you'll have a new one in your kitchen!
Happy Nesting Friends! Stop back by soon!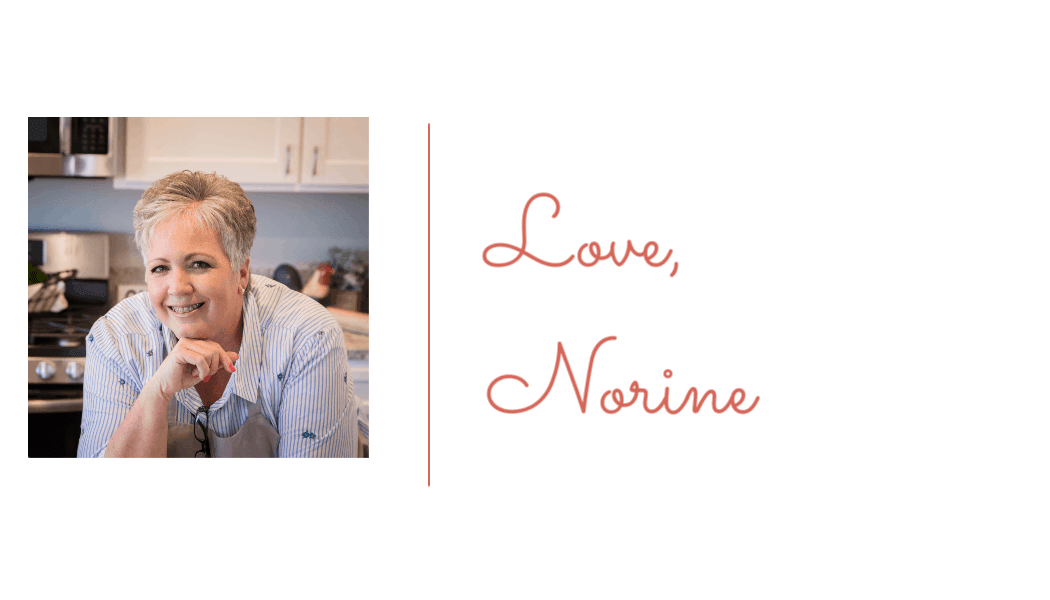 Yield: 4 pieces
Traditional Indian Fry Bread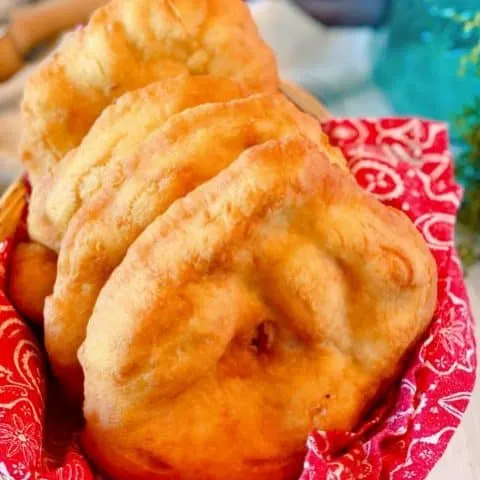 Traditional Indian Fry bread is a flat dough bread, fried or deep-fried, that magically puff like little pillows of happiness! Made with simple ingredients, this delicious authentic fry bread can be eaten alone or with various toppings like butter & honey, jam, or sprinkled with cinnamon sugar.
Ingredients
1 cup all-purpose flour
1½ teaspoon baking powder
¼ teaspoon salt
½ cup plus 2 Tablespoons Milk
Vegetable Oil for Frying
Instructions
Place flour, baking powder, and salt in a medium bowl. Add milk and stir until dough begins to ball up. On a lightly floured surface knead dough. Do not over-work the dough. After working dough, place in a bowl and chill for 30 minutes.
Heat oil to 350 degrees in a deep frying pan or kettle. You'll need at least one inch of oil in the bottom of the pan.
Divide the chilled dough into four equal portions. Lightly flour surface. Pat and roll out baseball size pieces of dough to 1/4 inch thickness. Poke a hole in the middle of each disc with your finger or knife (so dough will fry flat). Place dough disc in oil and cook until golden brown, flip over and cook opposite side until golden brown. Dough is done in about 3 minutes depending on oil temperature and thickness of dough.
Place fry bread on paper towel lined plate. After fry bread is done top with favorite topping or make Navajo Tacos.
Nutrition Information:
Yield:
4 servings
Serving Size:
1 disc
Amount Per Serving:
Calories:

149
Total Fat:

4g
Saturated Fat:

0g
Trans Fat:

0g
Unsaturated Fat:

3g
Cholesterol:

1mg
Sodium:

320mg
Carbohydrates:

25g
Fiber:

1g
Sugar:

0g
Protein:

4g