Mini Flour Street Tortillas stuffed with Jalapeno Cream Cheese, cheese, and seasoned shredded beef all rolled up, brushed with melted butter, and baked till golden crispy! Just for fun I'm throwing in a big ol' side of Fresh Guacamole for dipping! (Okay I'm not truly throwing it…let's save that for the football!)
Big Game Days call for the BEST Finger Foods and Snacks! Like these amazing Oven Fried Mini Beef Flautas!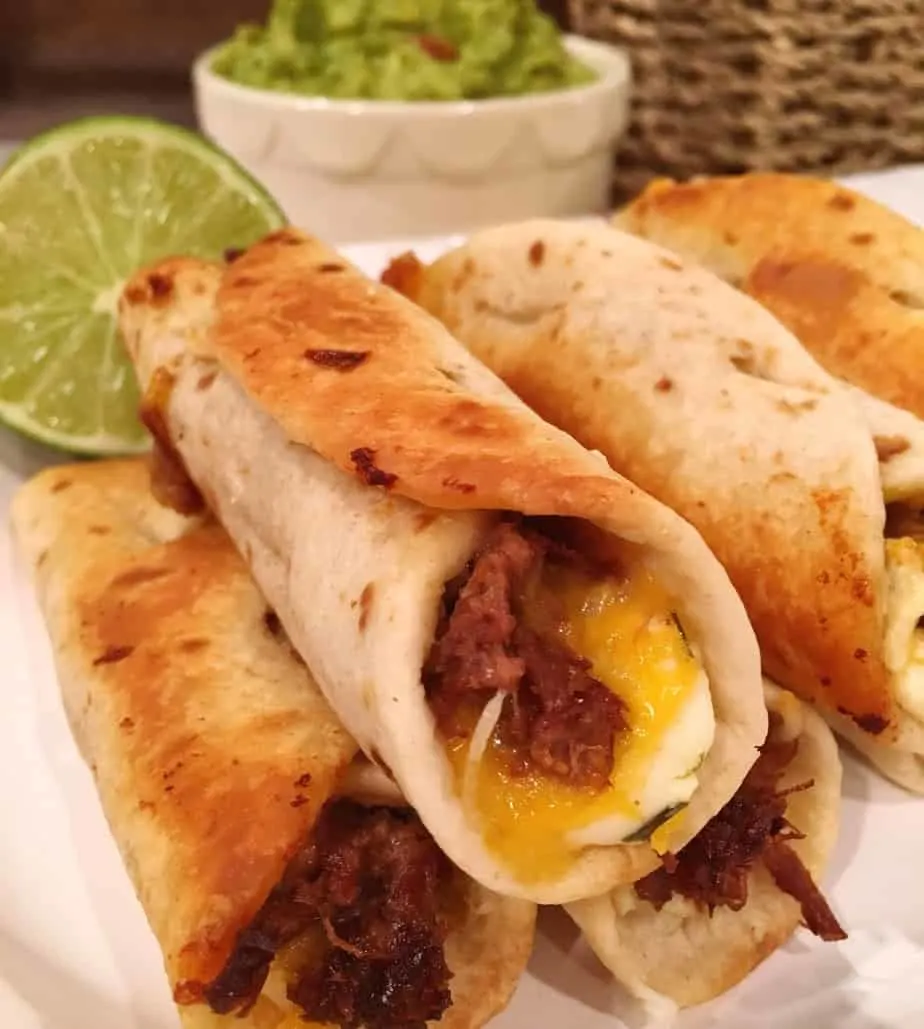 Bonus…these can be made ahead of time…up to 24 hours ahead of time! Touch Down! (Yes…I'm making football puns!)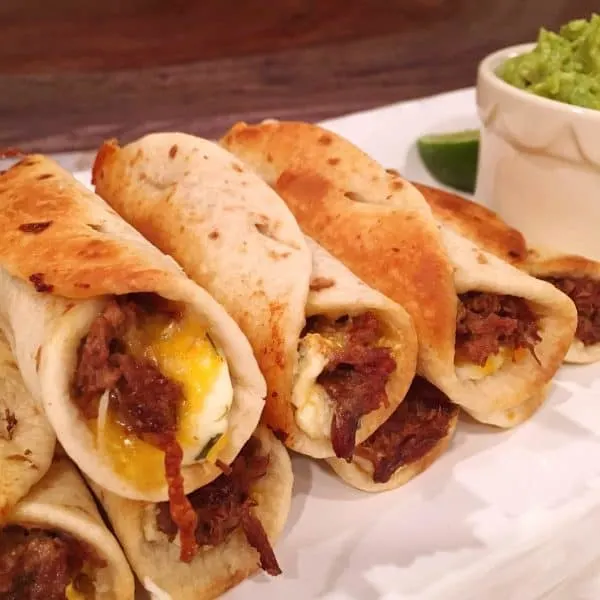 What Are Flauta's?
The word Flauta, is literally Spanish for "flute". (This is the ONLY musical instrument I can play…besides the Kazoo!)
Flauta's are rolled flour tortilla's stuffed with meat and cheese and fried.
What's the difference is between a Flauta and a Taquito?
Simply put…the tortilla! Taquitos are rolled tacos in corn tortilla's and flauta's are rolled tacos in flour tortilla's.
Let's Make Mini Flauta's with Fresh Guacamole!
You can use 1 cup of any meat you have on hand. I prefer beef, but if you like Chicken, or pork, you can use either of those too.
To make these quick and easy…because finger food should be "easy"…I used canned beef from Costco. If you've never tried their canned shredded beef…it's really good! You'll only need one can to make 12 flautas.
Add 2-3 Tablespoons of your favorite taco seasoning to the beef. Mix well.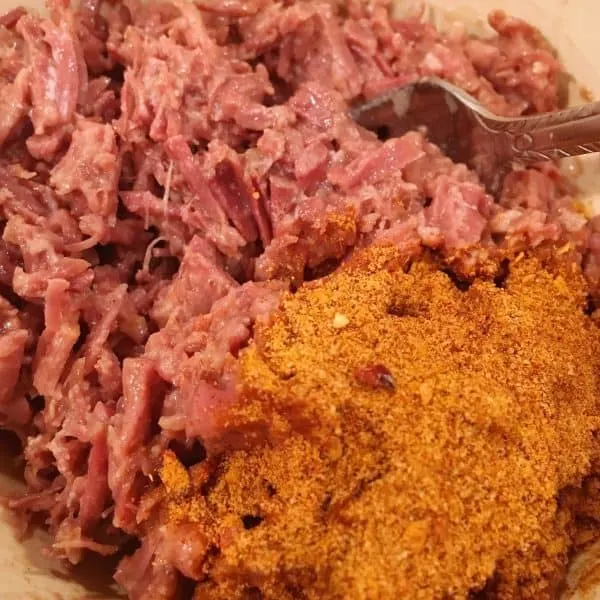 You'll need one dozen mini flour street taco tortillas. Place them on a plate, cover with a clean towel, and microwave for 1 minute.
This will soften them up and make rolling them a breeze!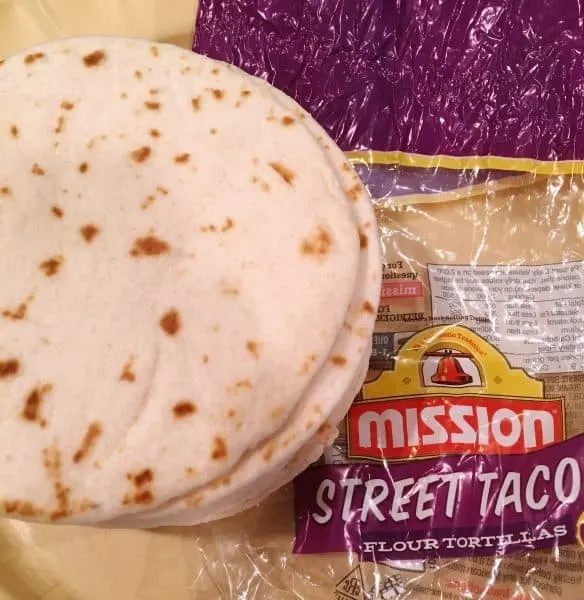 Let's talk "party" food! This is a REALLY easy appetizer to make for any party that you are hosting! That was planned!
I wanted a finger food that would be quick and easy to prepare. Nobody wants to be out in the kitchen during whatever event you're hosting! That's no fun! Granted some events I want to hide in the kitchen…but the Super Bowl isn't one of them. I actually LOVE watching football!
Back to preparing Mini Beef Flautas!
Spread about 1 teaspoon of soft cream cheese with jalapeno… OR, if you're not a fan of heat or spice, you can use soft cream cheese with chives down the center of one of the mini flour tortillas. Now usually I'm not a fan of putting cream cheese in my Mexican dishes. However…this addition kicks up this yummy appetizer with more flavor!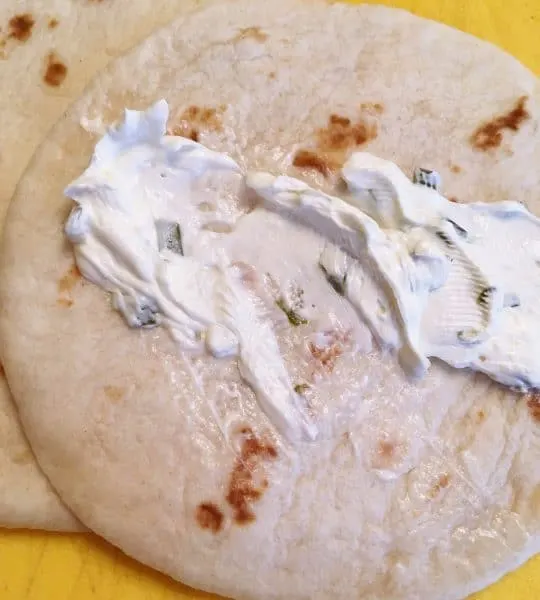 Place a heaping Tablespoon of grated cheese on top of the cream cheese.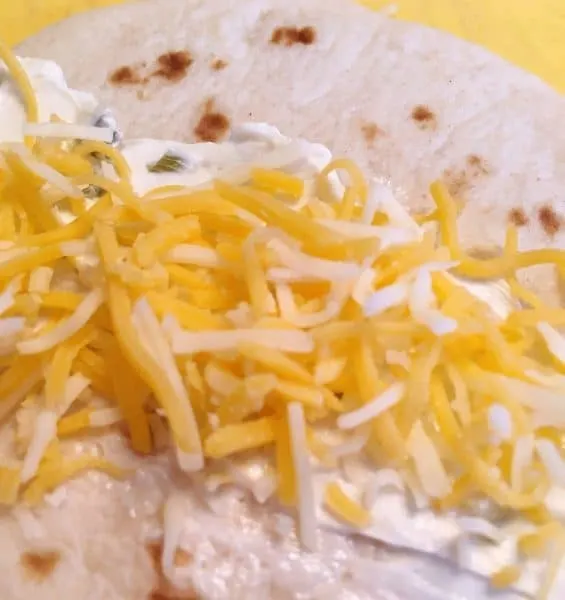 Place a Tablespoon of seasoned shredded beef, or the meat of your choice, on top of the cheese.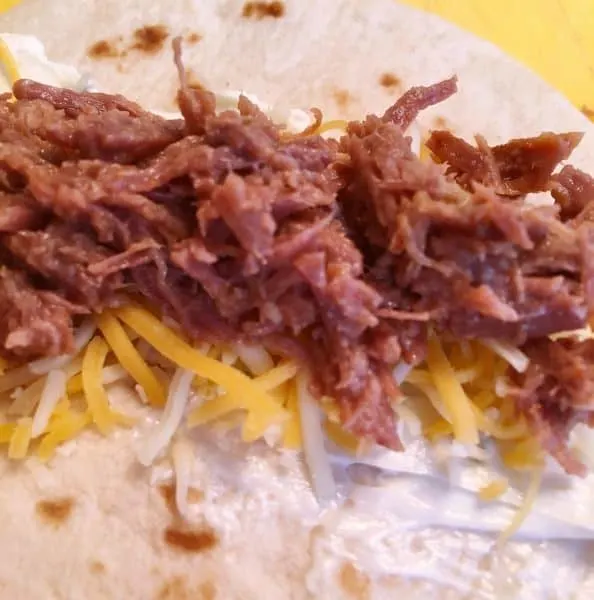 Fold one side over the filling. Continue to roll until you have a "flute"!!! (Yep roll them babies up tight!)
Spear them! Okay maybe that's overkill and a little violent…tack the top to the bottom using a toothpick. A nice round toothpick. Those flat splinters they call tooth pick won't work! They'll fall apart and you'll have wood filled flautas! Yum!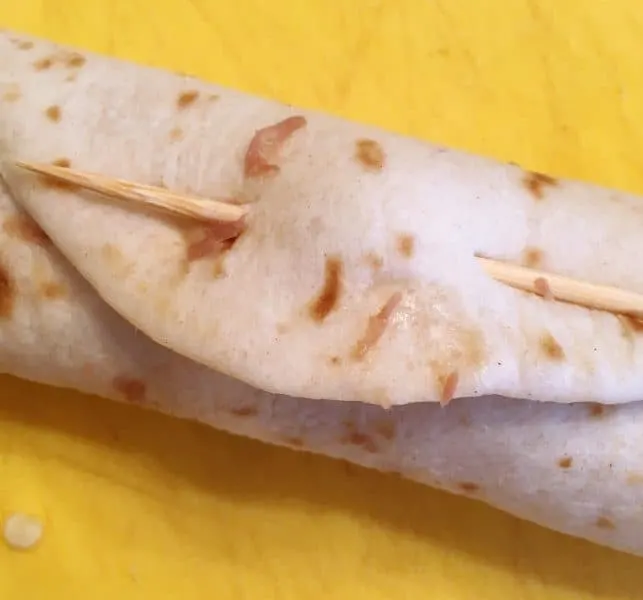 Continue the process until all the flautas are done. If the filling starts to escape…just poke it back in and keep on going!
TIP: At this point you can cover them and refrigerate until you're ready to bake them…OR you can bake them right away. I love the fact that these can be made ahead of time.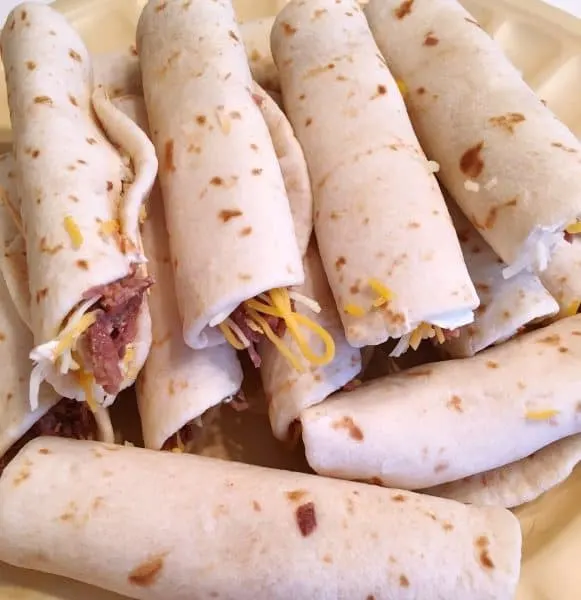 When ready to bake…Place Flauta's on baking sheet, fold side down. Place the fold down so that the flautas stay together and hold their shape. (I should have laid fold side down to hold my shape years ago! Another missed opportunity!)
In a small bowl melt 3 Tablespoons of butter. Using a pastry brush…or in my case a paint brush. Yep…being the "classy cook" that I am…I use a paint brush.
It's NEW and CLEAN! I wasn't raised in a barn! Okay when I was kid, we actually lived in a barn for awhile…so scratch that! (Whoa…just had that moment when you realize you really are a Red Neck! Yee-haw!)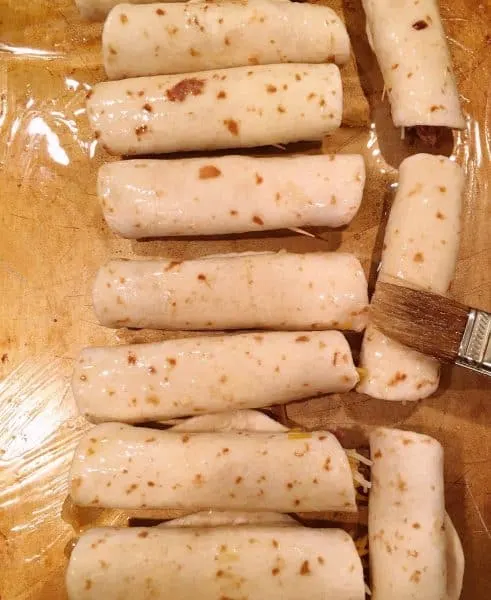 Place in a preheated 375 degree oven. Bake for 10-15 minutes or until golden brown! Check them at 10 minutes! These little bundles can brown quickly!
How to Make Fresh Guacamole Dipping Sauce
Now while those little flutes are baking…it's the perfect time to make that fresh guacamole!
In a medium bowl add two peeled and pitted Avocado's . Now as always…I'm just making recommendations. If you like that leathery skin…have at it. I hear it makes a dogs coat shiny…so imagine what your hair will look like! It's like a two-fer one! Guac and beautiful hair!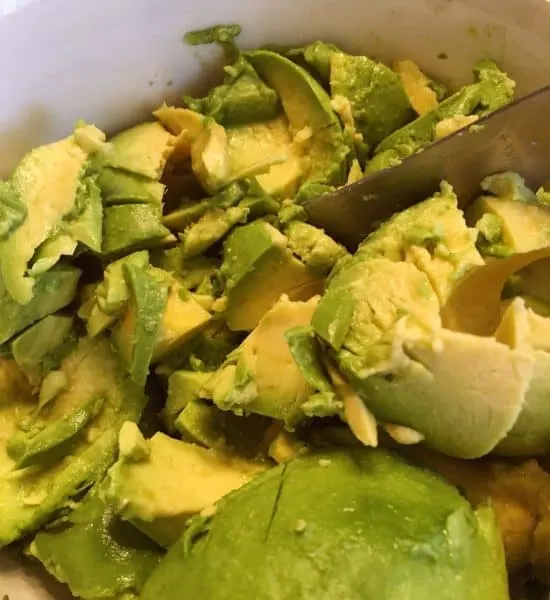 TIP: You can use a pastry blender to mash up the avocado or go Ninja…like I do…and chop, chop, chop with a knife! It's like Lizzy Borden gone mad! (Perhaps not the best comparison…let's see if that makes the cut for this post! lol)
Using a fork mash the Avocados until semi-smooth and creamy. Season with Garlic Salt and Pepper to taste. Add 2 Tablespoons of jarred Salsa and mix until combined.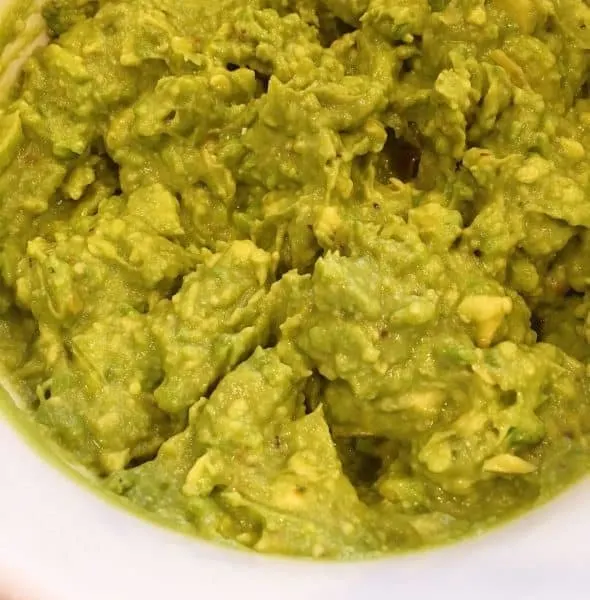 You can make this ahead of time to make game day a little less stressful!
TIP: To make the guacamole ahead of time place a piece of plastic wrap down on top of the guacamole, and push it down so there is no air that can reach the guacamole.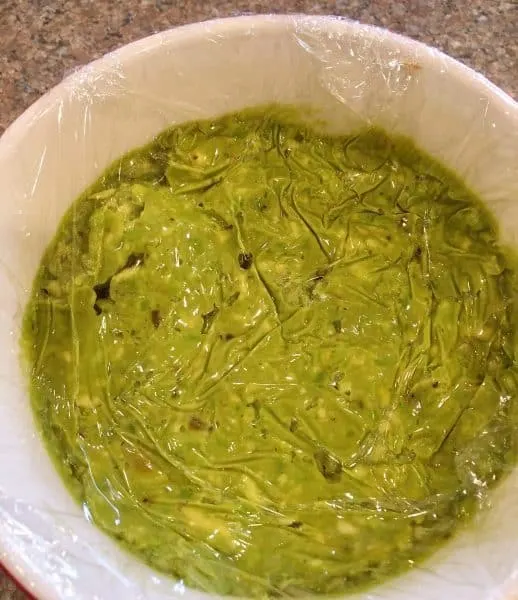 Remove toothpicks from Flautas. (We're having a party…not a murder mystery dinner!)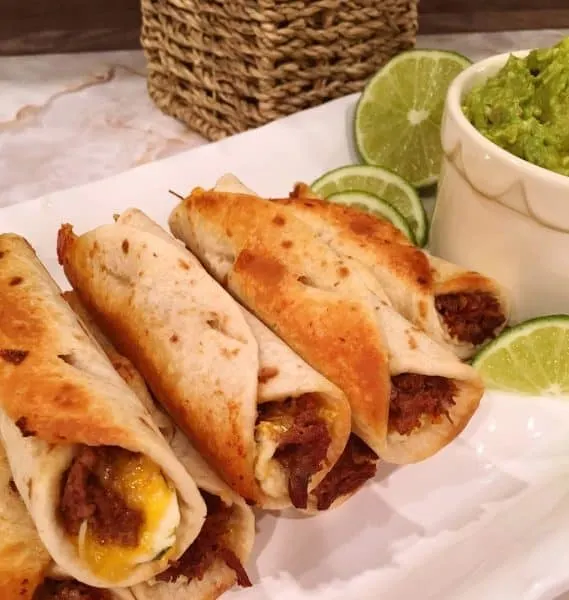 Place the Mini Oven Baked Flauta's on a serving platter with fresh guacamole and lime wedges!
The hardest part is not eating them all yourself before they make it to the table! They're so crunchy, flavorful, and filled with all the yum! Dunk them in that Guac and it's a solid win for the home team!
You can cut them in half…but I could down one, or two…and my guys…well serious damage was done in no time at all! No overtime was needed! (I'm killing myself with these puns!)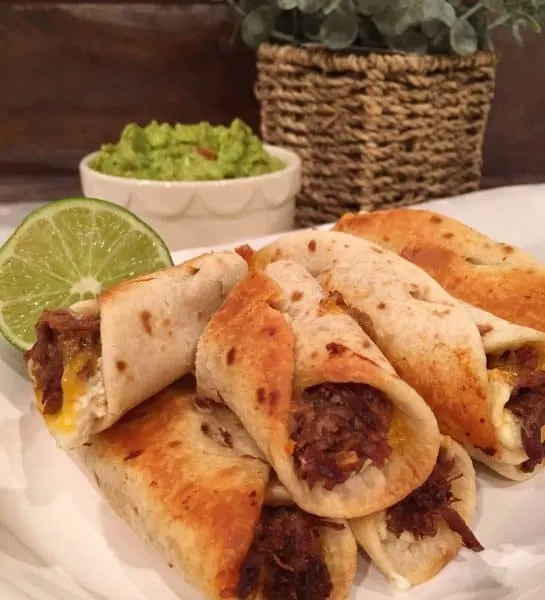 I know your guest will love these easy to make Oven Fried Mini Beef Flauta's! They're the perfect appetizer for your Super Bowl Party!
Favorite Party Appetizer Recipes
Who ever your cheering for…your guest will be cheering for these delectable treats!
The printable recipe is located below! Enjoy!
Happy Nesting my friends!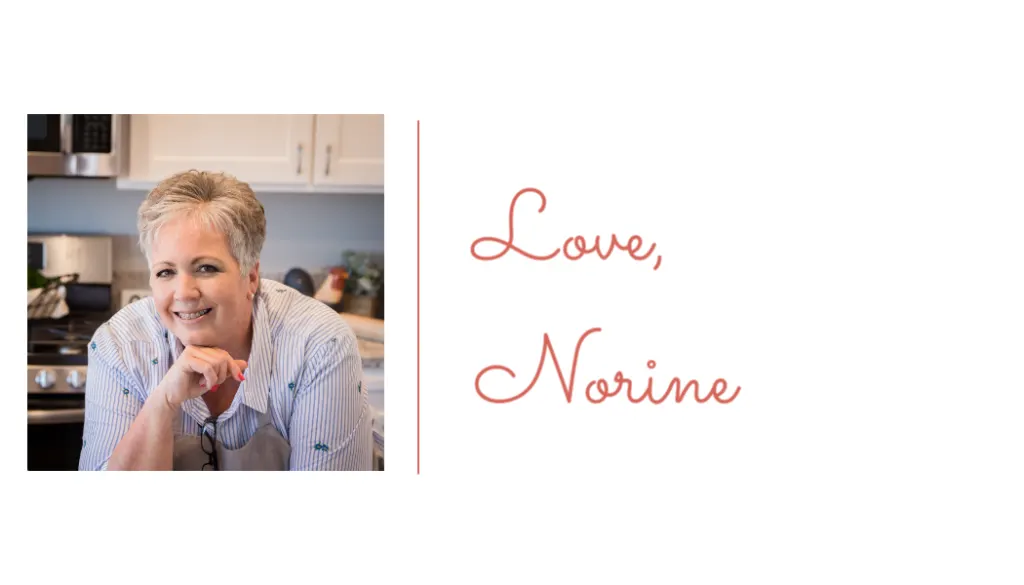 Yield: 12
Oven Fried Mini Beef Flautas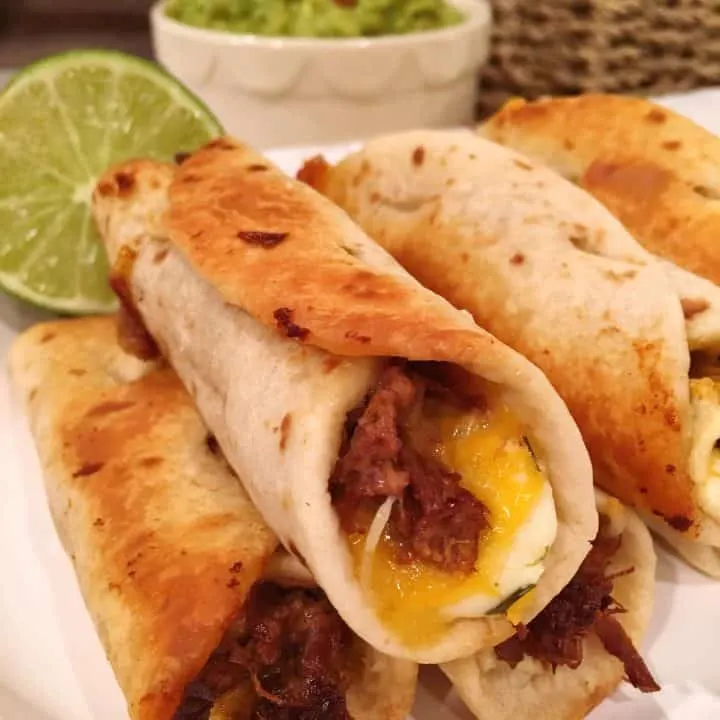 Mini Flour street tacos are stuffed with soft cream cheese with jalapenos, cheese, seasoned shredded beef, and baked in the oven until golden crispy brown.
Ingredients
1 dozen flour street tacos
1 cup shredded canned beef or meat of your choice
2-3 Tablespoons Taco Seasoning
1/2 cup softened cream cheese with jalapenos
1 cup grated cheddar cheese
3 Tablespoons melted butter
Fresh Guacamole
2 large ripe avocados
3 Tablespoon prepared salsa
Garlic Salt and Pepper to taste
Instructions
Preheat oven to 375°
Place meat in small bowl with 2 Tablespoon Taco Seasoning. Mix well.
Remove Tortillas from packaging and place on microwave safe plate. Cover with cloth and heat in microwave for 1 minute.
Spread 1 teaspoon cream cheese down center of tortillas. Top with 1 Tablespoon grated cheese and 1 Tablespoon of meat.
Fold one side over the filling and roll towards the other side. Tack down with a toothpick.
Place prepared flauta's on baking sheet.
Melt butter in small bowl. Brush each flauta with melted butter.
Bake in oven for 10-15 minutes until golden brown and crispy.
Remove toothpicks and serve immediately with guacamole.
To make guacamole, cut avocados in half, remove pit and peel. Mash avocados in a small bowl, season with garlic salt and pepper. Add in 3 Tablespoons prepared salsa and stir until well combined. Serve with Flauta's
Nutrition Information:
Yield:
6
Serving Size:
2
Amount Per Serving:
Calories:

1386
Total Fat:

40g
Saturated Fat:

17g
Trans Fat:

0g
Unsaturated Fat:

18g
Cholesterol:

108mg
Sodium:

787mg
Carbohydrates:

203g
Fiber:

11g
Sugar:

3g
Protein:

49g
Norine's Nest in no way provides any warranty, express or implied, towards the content of recipes in this website. It is the reader's responsibility to determine the value and quality of any recipe or instructions provided for food preparation and to determine the nutritional value, if any, and safety of the preparation instructions.