Sharing is caring!
*As an Amazon Associate I earn from qualifying purchases. This post may contain affiliate links, which means that I may make a commission from any purchases at no additional cost to you. Thank you for your support!
A delicious family Gingerbread Recipe and "How To" build a Haunted Gingerbread House!
Today I am SUPER DUPER excited to introduce you to my dear sweet friend "Gingerbread Brenda"! (Isn't she the cutest! I just love her to pieces!)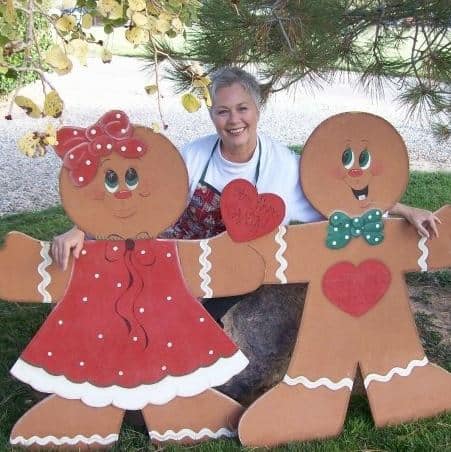 When I first moved to this quaint little country town, I now call home, Brenda was the first friend I made! She saw this scared Mom with three little kids standing in the hallway at church and just welcomed me with her big warm smile and took me under her wing!
It didn't take me long to learn she was super uber talented! Some of my readers may know her as the artist behind Frazzled Frannie! Our cute little frazzled Mom Mascot here on Norine's Nest. She even painted those cute little Gingerbread people she's hanging out with! (I told you…super talented…but hold on cause your about to be blown away!)
You maybe asking yourself why I call her "Gingerbread Brenda"? Well I'll tell you!
My first Christmas here, away from "home and family", there came a knock on my door one cold December night. I opened my door to see Brenda standing there with her pretty smile and a big beautiful stunning Christmas Gingerbread House in her hands! I'm pretty sure my mouth fell open! She said "I wanted to give this to you for Christmas!" WHAT?!!! No way!
Now, let me explain. This wasn't your ordinary, out of the box, cardboard stale, Wal-Mart, tube icing, gum drop gingerbread house! THIS gingerbread house had "sugar glass" caramel colored windows, with tear drop icicles, snow-covered roof tops, ice cream cone chimney's with Santa, packages, candy canes, and every kind of confection known to mankind, and… it had lights inside!!! IT HAD LIGHTS!
When you plugged it in, the heat from the little lights would allow the house to emit the wonderful aroma of gingerbread baking. It was MAGICAL!
To this day, one of my very favorite Christmas memories! From that day on she has always been "Gingerbread Brenda" to me! (I saved that house for months! I was heartbroken the day the kids knocked it over and it broke!)
Then a couple of years ago she started making Haunted Gingerbread Houses for Halloween….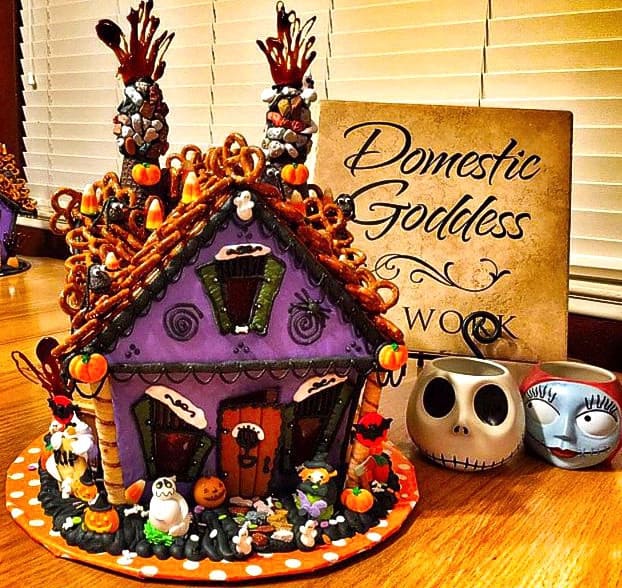 Haunted Gingerbread Houses! I know…RIGHT?!!!
So, when I decided to do my "Fall Fest" I put on my beggars outfit and started begging her to let me feature her on Norine's Nest. I just had to share her amazing beautiful fun gingerbread houses with all of you!
I even caught her at Wal-Mart with bags of candy in her hands trying to decide what she wanted to purchase for this masterpiece. It was the perfect time to "beg" some more. It paid off BIG time! Hooray!!!
So, I put on my "reporters hat" and pelted her with all kinds of questions wanting to know how this whole tradition started and how she constructs these amazing pieces of art. (Wouldn't you agree this is a piece of art work?!)
Grab some hot spiced cider, or your favorite warm snuggly feel good beverage, and get ready to have some fun!
Brenda shared with me how this all started. She said, "This fun family tradition all started when my mom learned how to make Christmas gingerbread houses at a church women's auxiliary meeting". The adorable Halloween ginger house was introduced, a few years ago, to the family by her sister Charlotte Mann, who they affectionately call "The REAL Gingerbread MANN!" (I love that! Yes, her sisters are all equally talented, cute, beautiful, creative and fun! So not fair!)
Charlotte altered the original gingerbread pattern to be a little more spooky with the slanted windows and crooked door. Brenda said "It's been super fun to experiment with the pattern and add a little something new each year!"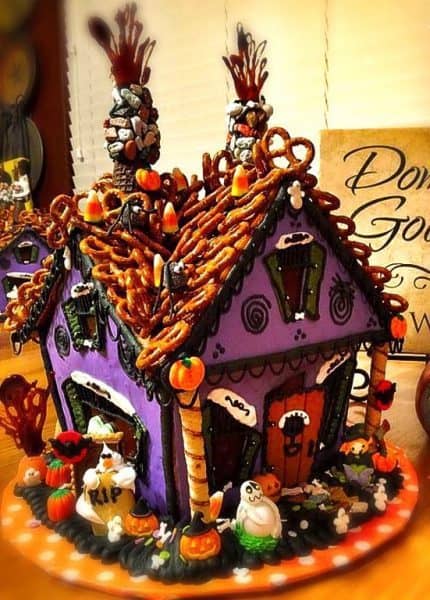 You really have to take some time to drool over all the darling little details. I love the gum drop spiders on the pretzel shingle roof with their stringy spooky legs! I love the scary smoke coming out of the rock candy chimney's! The bones lying around in the yard add a fun little eerie touch, along with the ghost and witch bubble gum buddies by the front door!
This house comes with candy corn, bats, pumpkins, ghosts, a cemetery, and more!
I asked Brenda if she would share their family gingerbread recipe with us and she was more than happy to do that. So, if you are itching for something fun to do the week before Halloween, or… maybe make a gingerbread house for Christmas, I am going to share all of Brenda's "Tricks and Treats" to help you become a Gingerbread Master!
How To Make A Haunted Gingerbread House
Start by making your Gingerbread and finding a cute pattern. You can Google Gingerbread Templates and find all kinds of free patterns that you can print off at home or you can make your own template. (I have Brenda's family recipe below in a printable for the gingerbread.)
Brenda said the next thing she does, once the dough is made, is roll out the gingerbread on parchment paper. To do this she lays the pattern down on the gingerbread and cuts around it with an exacto knife. Then bakes it on that same parchment paper which, she said, " Helps the gingerbread hold its shape". (I wish I had figured out that little tip with my one EPIC gingerbread house fail!)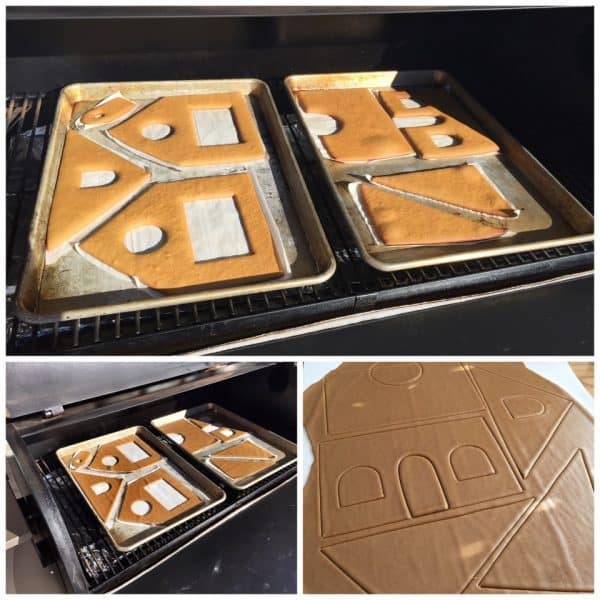 After the house pieces have baked and cooled, she makes the liquid sugar for the windows and to "glue" the house together. The Recipe for the Liquid Sugar is 2 cups of sugar. Place the sugar in a medium skillet over medium/high heat. Stir continuously until sugar is melted and golden in color.
CAUTION: It is VERY hot! Be VERY careful!!! Especially with "littles" around! (I've seen Brenda's finger tips after sugar gluing! You don't want that kind of hurt! Ouch!!!)
Lay your gingerbread pieces on tin foil sprayed lightly with Pam cooking spray. Spoon melted sugar into the windows. It set's up QUICK! To stick the house together, dip the edge of the pieces into the melted sugar in the skillet and begin "gluing" the house together.
This is where Brenda cautions you about how hot the sugar is. I can't stress that enough! That sugar is BOILING hot! Personally if you are not going to eat it…glue gun it! (That's me! Not Brenda. Brenda is a true die-hard editable ginger house gal! I'm a "pray I get through it alive gal"!)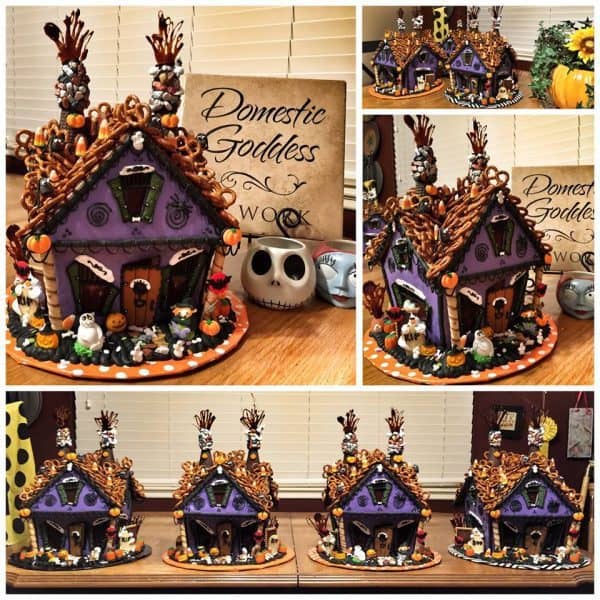 To make Royal Icing you will need 1 (2 lbs.) bag of powder sugar, 6 Tbsp. Wilton meringue powder and 12 Tablespoons of water. Whip on high-speed with mixer until frosting forms peaks and holds it shape. About 5-7 minutes.
Color the frosting with Wilton frosting gels. Use the frosting to "glue" your decorations on to the house and to create beautiful and fun trims. Brenda covers a cake round with cute holiday paper and uses the frosting to hold it down.
She said you can find the little embellishments for decor at Wal-Mart in the Holiday isle by the Wilton decor. She also purchases items from the Peppermint Palace in American Fork, Utah if your from Utah, or I found a website www.fancyflours.com where you can order them from.
For the lights she cuts a hole out of the back piece of the house before baking. Once the house is complete she carefully places a small string of white or orange twinkle lights inside the house. As it warms up the gingerbread begins to smell and the lights shine out from the sugar glass windows. It's enchanting! It truly is!
Look at all those beautiful house's she made! Isn't she amazing?!
Can you imagine receiving one of those as a gift! Let's cross our fingers she let's me share her Christmas Gingerbread house at Christmas.
I wait anxiously every year to see her Facebook photo's of all her daughter's, sisters, nieces, and daughter-in-laws the day after Thanksgiving all decorating their houses together! It's such a fun family tradition.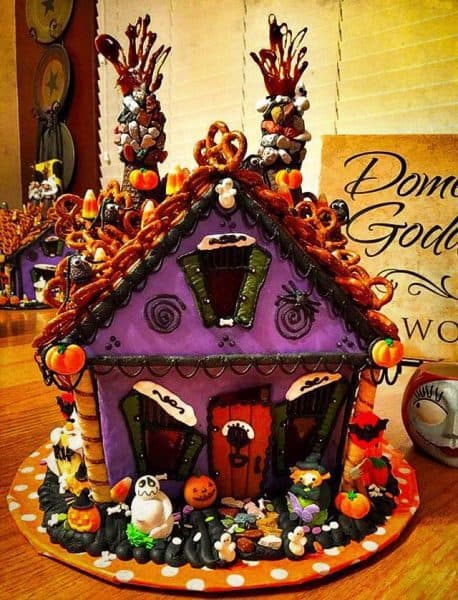 I want to thank my dear sweet friend "Gingerbread Brenda" for allowing me to feature her and her cute spooky haunted gingerbread house. If you have any questions or comments you'd like to share with Brenda, or myself, please feel free to comment below and I'll make sure she receives them and I get answers for you.
The printable "Stubbs Family Gingerbread" Recipe is below. Feel free to print it out and make your own gingerbread house and if you do PLEASE share with us! We are "dying" to see how they turn out!!! Buwahahaha! (Little Halloween humor!)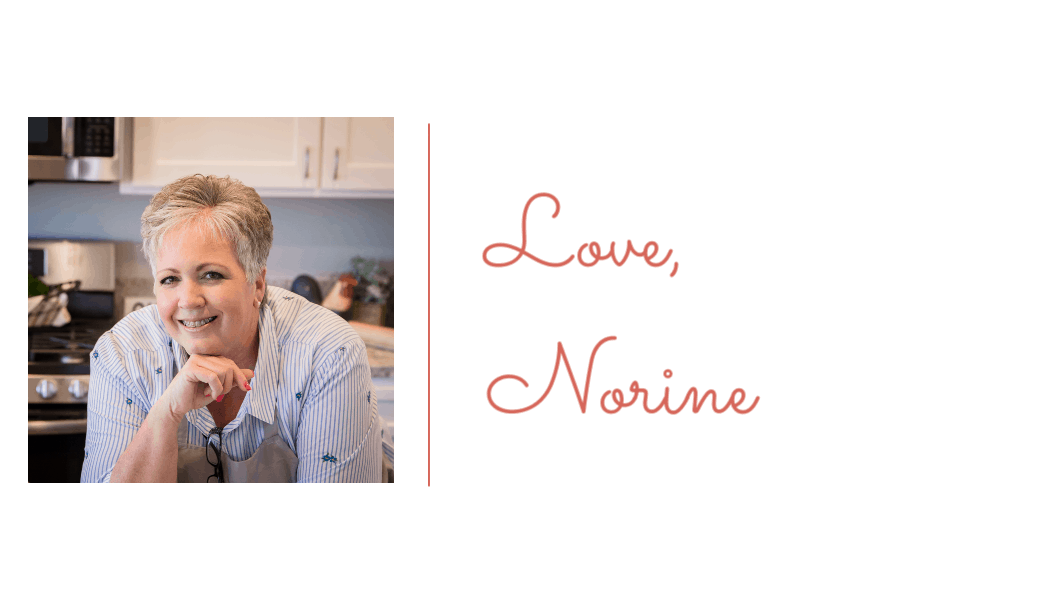 Stubbs Family Gingerbread House Recipe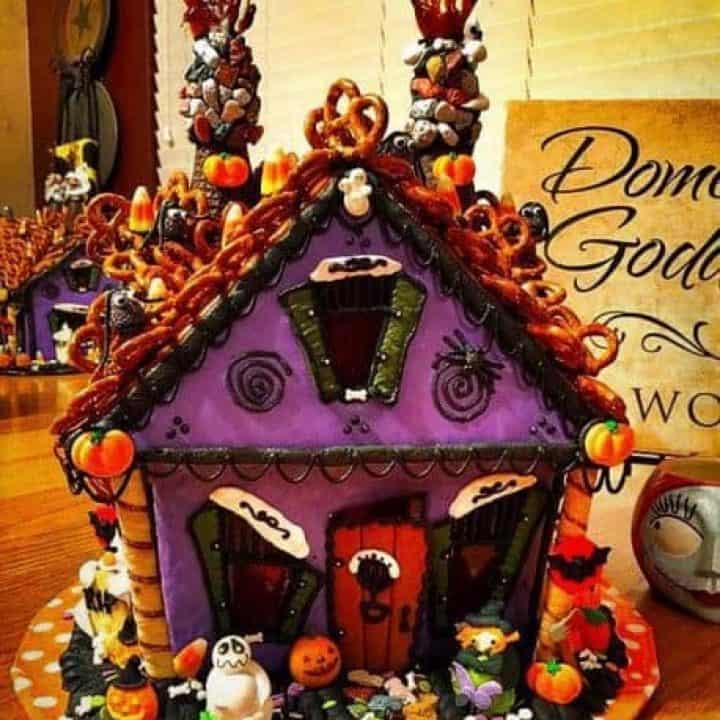 A beautiful Haunted Halloween Gingerbread House with "How To" Instructions and a delicious gingerbread recipe.
Ingredients
Stubbs Family Gingerbread House Recipe
1 ½ cups margarine
1 ½ cups brown sugar
1 ½ cups molasses
8-10 cups of all-purpose flour
3 tsp. cinnamon
3 tsp. baking soda
3 tsp. ginger
1 ½ tsp. salt
¾ tsp. cloves
1 cup water
Instructions
Cream Margarine and sugar together in your mixing bowl. Add molasses. In a separate bowl combine all your dry ingredients. Mix well with wire whisk.
Alternate dry ingredients with water. Roll dough out on parchment paper. Lay pattern down and cut out with sharp Exacto knife. Transfer pieces on parchment onto baking tray. Bake at 350 degrees for 8-10 minutes or until lightly golden brown around the edges. Let cool.
Glue house together with liquid sugar. To make liquid sugar place 2 cups of sugar in a skillet over medium/high heat. Stir continuously until golden in color. Lay house pieces on tin foil sprayed with pam cooking spray. Spoon melted sugar into the windows. It will set quickly.
Stick your house together using the remaining liquid sugar by dipping the edges into the HOT liquid sugar and "gluing" them together. CAUTION: The liquid sugar is VERY hot. Be careful!
Wilton Royal Frosting
1 (2lb) bag of powder sugar
6 Tablespoons of meringue powder by Wilton
12 Tablespoons of water.
Whip on high speed w/ mixer until frosting forms peaks and holds it shape. About 5-7 minutes.
Recipe make two large houses
Nutrition Information:
Amount Per Serving:
Calories:

0
Total Fat:

0g
Saturated Fat:

0g
Trans Fat:

0g
Unsaturated Fat:

0g
Cholesterol:

0mg
Sodium:

0mg
Carbohydrates:

0g
Fiber:

0g
Sugar:

0g
Protein:

0g
Sharing is caring!