Ground beef, rice, mushrooms and a creamy sauce combine to create a delicious stuffing for a hallowed out pumpkin! In this family traditional Halloween Dinner in a Pumpkin!
One of the things I love the most about this time of year are the traditions!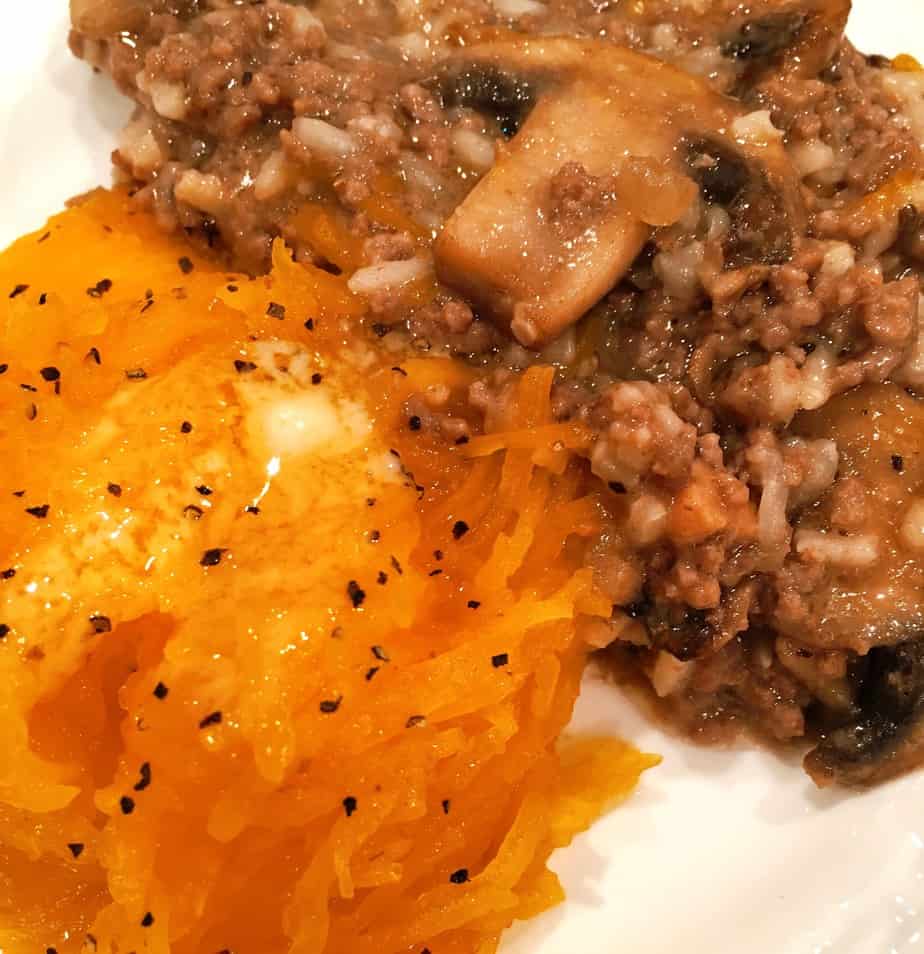 When we moved here to Utah, one of the first church functions I attended that Fall, was a dinner for the women of our congregation. For weeks before hand, everyone was talking about the "traditional dinner in a pumpkin". (Huh?)
I was intrigued, because all we did with Pumpkins in California was carve them and then throw them out! So you can imagine how surprised I was to learn they are actually useful and GOOD eatin'! (I was such a city girl back then!)
At the dinner there were pumpkins on the serving table with cute little painted faces. Inside each pumpkin, was this heavenly (this was church after all) ground beef, rice, and mushroom casserole.
The best part…we actually ATE the pumpkin! I'd never eaten pumpkin like "squash" with butter and seasonings. Man a day! Had I been missing out.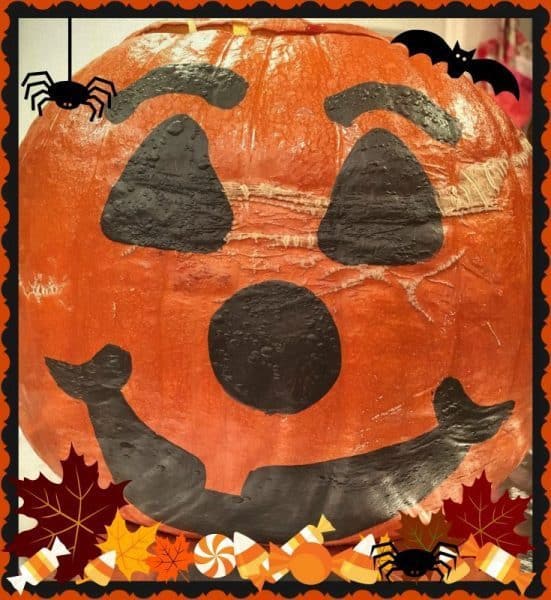 So from then on, every October, I have made it our family tradition to have dinner in a pumpkin! The kids love the rice and hamburger mixture. They aren't too keen on the mushrooms, but Mars and I love mushrooms, so they stay!
So, I proudly present….Dinner In A Pumpkin!
How To Make Ground Beef and Rice Stuffing For Dinner in a Pumpkin
Not to state the obvious but…you'll need a medium size pumpkin for this dish. (Hey! lol It's actually THE DISH!) Okay, Okay…I'll be serious!
Cut a lid into the top of the pumpkin and then clean out all the "guts"! (Nobody wants to the eat guts for cryin' out loud! There went serious…right out the door!)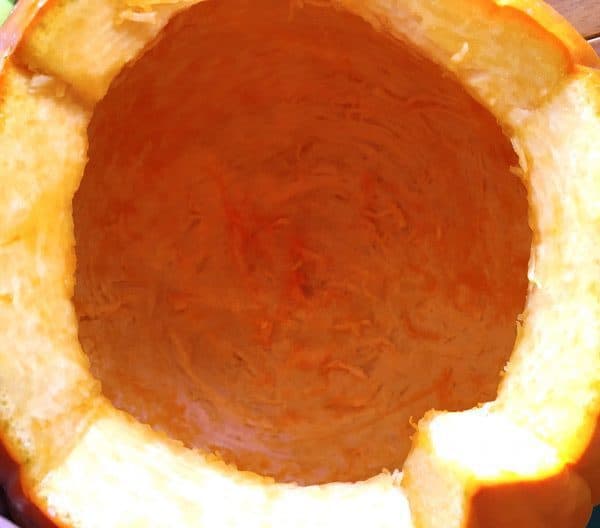 Once you have your pumpkin all cleaned and seeded you can paint a face on it, if you want, with acrylic craft paint. I'm not an artist. I'm a glue gun, cooking, baking freak. Freehand painting not so much so… feel free to laugh!
Tip: This would be something super fun for the kiddo's to do while you are making the stuffing! How cute would it be for them to get to paint the face!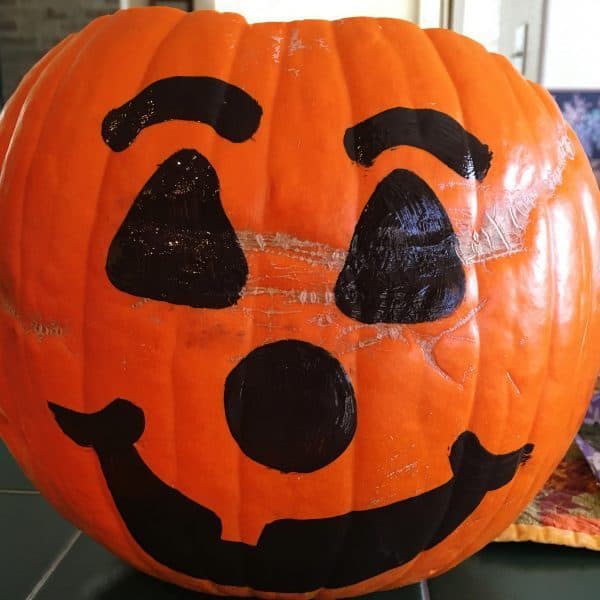 While your pumpkin face is drying…you can get started on the "new guts"! lol
You'll need 2 cups of cooked rice.
Tip: You can cook the rice earlier in the day, or even the day before and keep it in the refrigerator until you are ready to make the filling. You can even make the filling ahead of time and just stuff it in the pumpkin when you are ready to have this dish. (Just a few ideas to help with busy schedules!)
Brown two pounds of ground beef with one diced medium onion, and minced garlic. Add the fresh mushrooms if using fresh. (Note: Recipe calls for canned mushrooms however, I feel they are evil and should be destroyed, or only used during the apocalypse!) Strain the meat after it is cooked.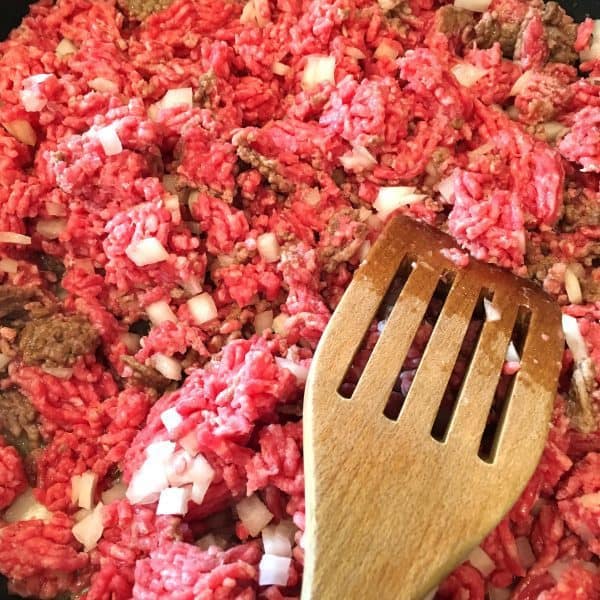 Add the rice, water chestnuts, soup, brown sugar, seasoning, and soy sauce. Mix it all together.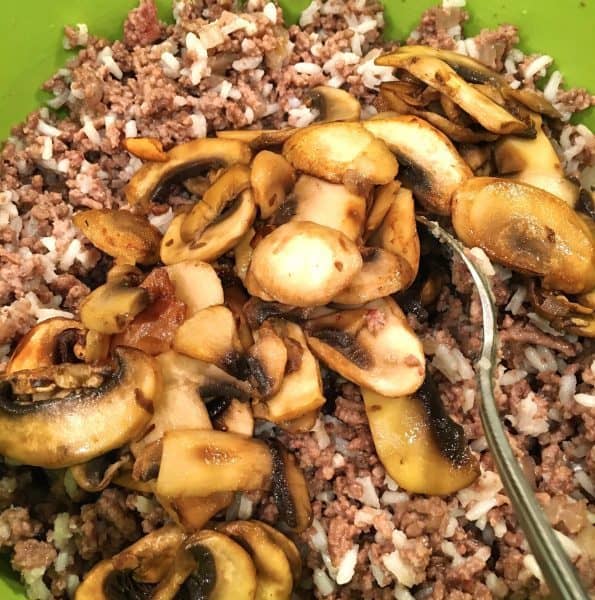 Place your clean pumpkin on a foil lined baking sheet and be sure to adjust your oven rack for that big ol' pumpkin you're about to place in there! (See what I mean!)
Tip: If your worried about your stem burning you can cover it with foil. I had enough of a gap so it was okay.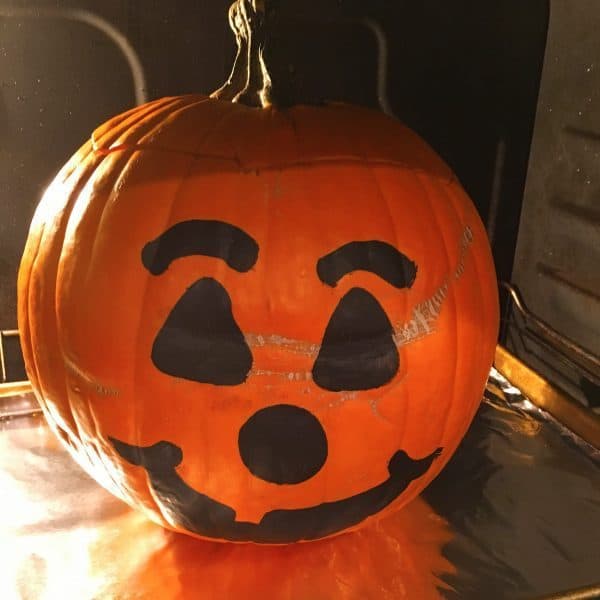 Fill the pumpkin with the hamburger rice mixture. Place the lid on top. Place the entire tray, pumpkin and all, into the oven.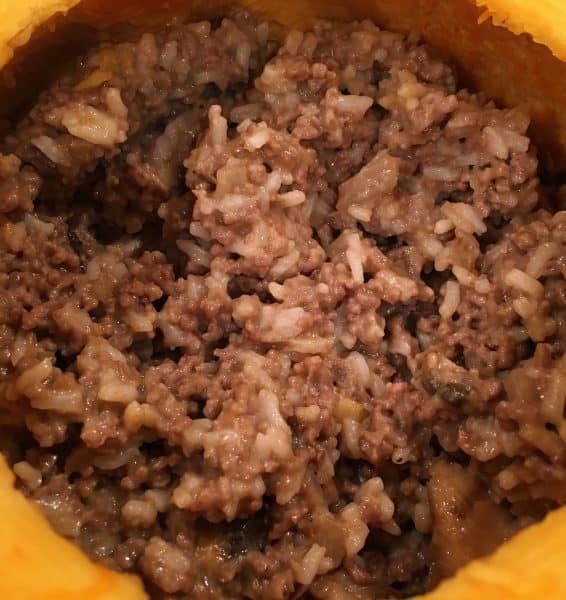 Bake at 350 degrees for 1 hour and 20 minutes or until pumpkin is tender. (Poke that poor thing with a fork to see if he or she…no pumpkin discrimination here…is done!)
Remove the top off the pumpkin. Can you see how the pumpkin, aka…squash, is now cooked and tender? It's perfect and ready to eat!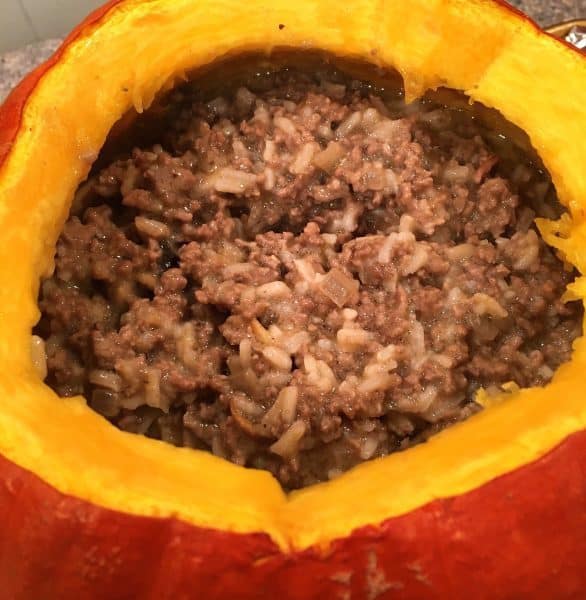 Using a large spoon scooping out the filling and then carefully scoop out the cooked pumpkin. You don't want to poke through the outer layer of the pumpkin, just the meat of the squash.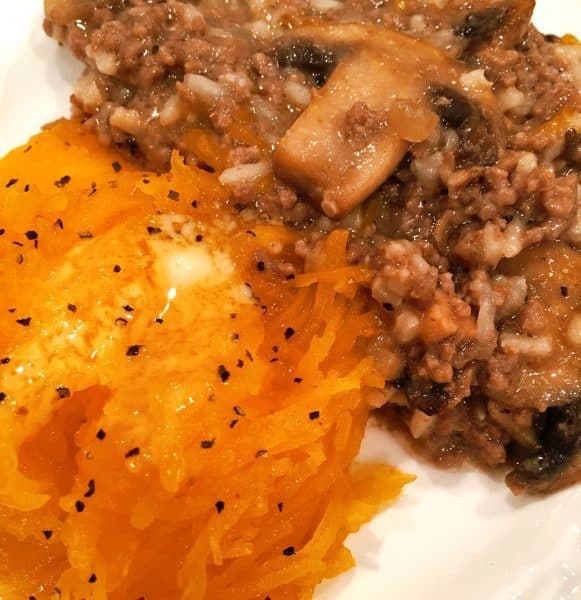 Serve with a side salad, biscuits, or corn bread and you have the perfect fall meal!
The pumpkin is rich, tender and flavorful with just a little butter, salt and pepper. The ground beef and rice is so delicious.
It's not a dish to make all year round, and frankly you can't because pumpkins aren't sold year round, but it is a really fun and yummy family dinner to celebrate the bounties of the Fall Harvest!
Ground Beef Recipes
I hope you'll want to give this recipe a try and even make it a tradition in your family. If your family is small cut the recipe in half and find a smaller pumpkin. This recipe can be made smaller or larger to fit any size family.
The printable, as always, is below. Thanks for stopping by and visiting! Have a FANTASTIC Fall day!
Happy Nesting!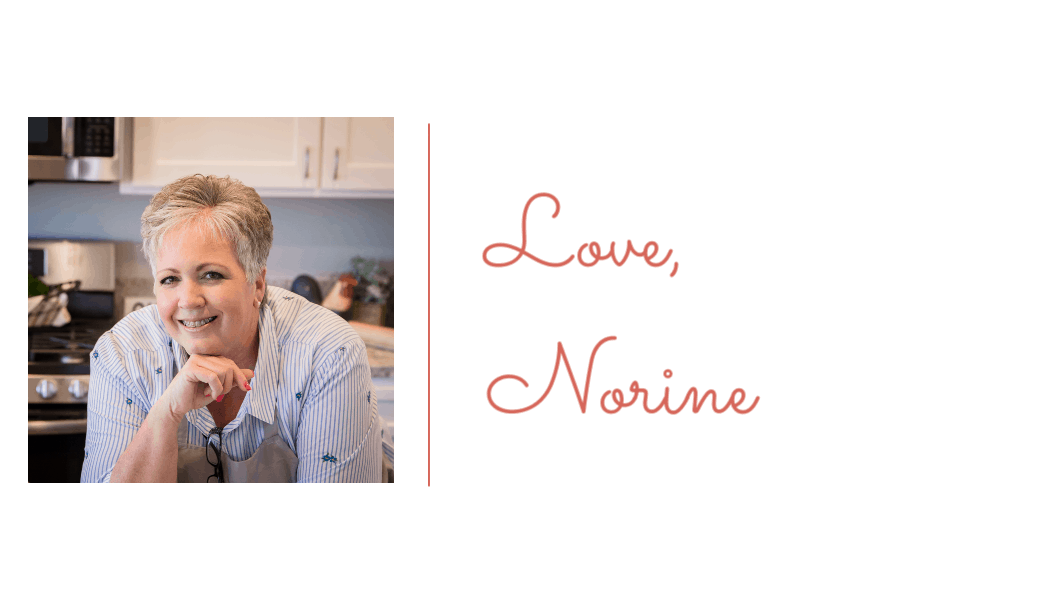 Yield: 6-8 servings
Dinner In A Pumpkin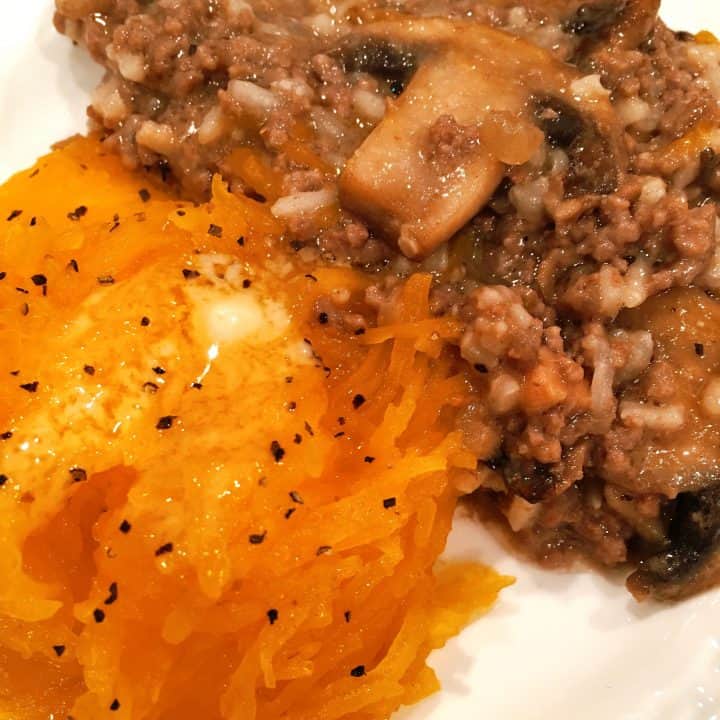 This is a fun Fall Tradition. Dinner in a pumpkin is a delicious hamburger and rice casserole stuffed into a pumpkin and baked until the pumpkin is tender.
Cook Time
1 hour
20 minutes
Total Time
1 hour
50 minutes
Ingredients
1 medium pumpkin
1 onion chopped
2 Tablespoons soy sauce
1 package fresh mushrooms or 1 (4 oz) can of sliced mushrooms, drained
1 (8 oz.) can sliced water chestnuts drained
2 lbs. lean ground beef
2 Tablespoons brown sugar
2 cups cooked rice
1 can cream of chicken soup
1 clove minced garlic
Salt and Pepper to taste
Instructions
Wash pumpkin and cut off top. Clean seeds and pulp from inside.
Paint a face on the pumpkin.
In a large skillet brown ground beef and drain off fat. Add chopped onions and minced garlic, sautee.
Add fresh mushrooms and cook till tender.
Add soy sauce, sugar, and soup, rice and water chestnuts. Mix till well blended.
Spoon mixture into pumpkin shell. Replace pumpkin top and place on foil lined baking sheet. Bake at 350 degrees for 1 hour and 20 minutes or until pumpkin is tender.
Serves 6-8
Recommended Products
As an Amazon Associate and member of other affiliate programs, I earn from qualifying purchases.
Nutrition Information:
Yield:
8
Serving Size:
2 cups
Amount Per Serving:
Calories:

382
Total Fat:

16g
Saturated Fat:

6g
Trans Fat:

0g
Unsaturated Fat:

8g
Cholesterol:

104mg
Sodium:

635mg
Carbohydrates:

22g
Fiber:

1g
Sugar:

5g
Protein:

35g