Luscious creamy pumpkin spiced cheesecake with mini chocolate chips and a chocolate cookie wafer crust, create the BEST Fall Dessert!
Today I'm sharing my baby brother's favorite pumpkin dessert that I make every year for Thanksgiving! Honestly I think we all LOVE it! (Except for hub's and he doesn't like any pumpkin dessert! WHAT?!! I know!!!)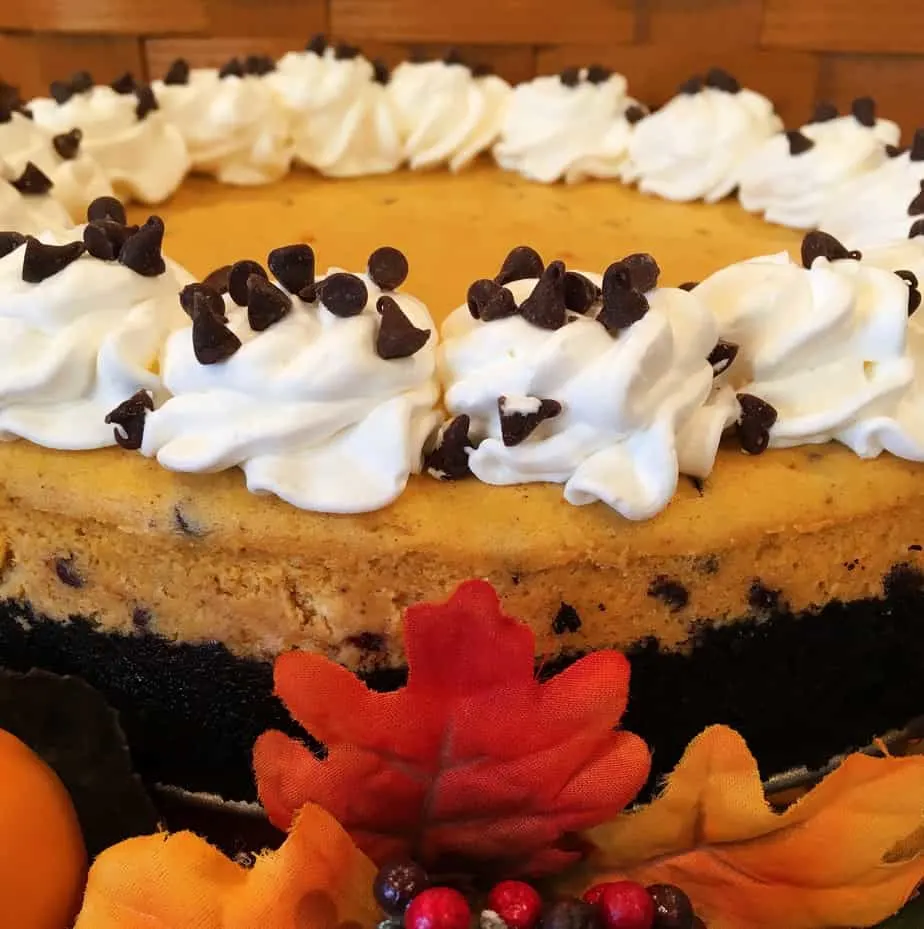 So, what is this amazing dessert? It's pumpkin chocolate chip cheesecake and it's SCRUMDELICIOUS! I originally found this recipe in a 1991 Pillsbury Classic Cookbooks. It was titled "Chocolate and Pumpkin Cheesecake.
I felt bad for the mini chocolate chips not getting their "due", so I changed the name! Other than that… I give all the credit to the bakers at Pillsbury for this wonderful family tradition!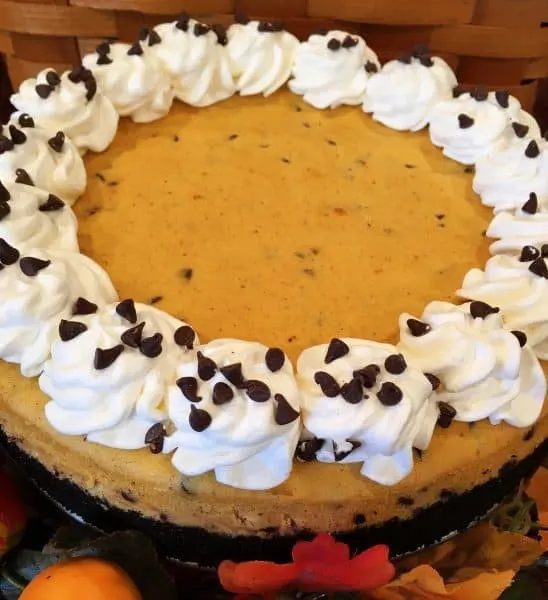 Tips for making the perfect cheesecake
Please don't let the word "cheesecake" scare you off! I know they seem like a difficult dessert to tackle, but they really aren't, and with a few of the helpful tips I'm going to share, you'll be a cheesecake whiz in no time! Even if you've never made one.
I'm going to start off by sharing the best tips I know of for making a successful cheesecake.
How To Do The Water Bath Method of Cheesecake Baking
First Tip: You need a good 9 inch springform pan! Most cheesecakes are 9 inches and every baker/cook should have at least one really nice springform pan.
Second Tip: You want to cover your springform pan with aluminum foil because we are going to bake this cheesecake using the "water bath" method. This will prevent huge "fault line cracks" through the middle of your cheesecake.
The easiest way I've found to do this is to take two sheets of foil, laying one on top of the other. Fold a seam about 1/2 inch wide, along the length of one edge. Fold it over 3–4 times. This will create a large piece of foil, that will be leakproof, to wrap around the pan.
This is really important if you don't have one of those awesome leakproof pans.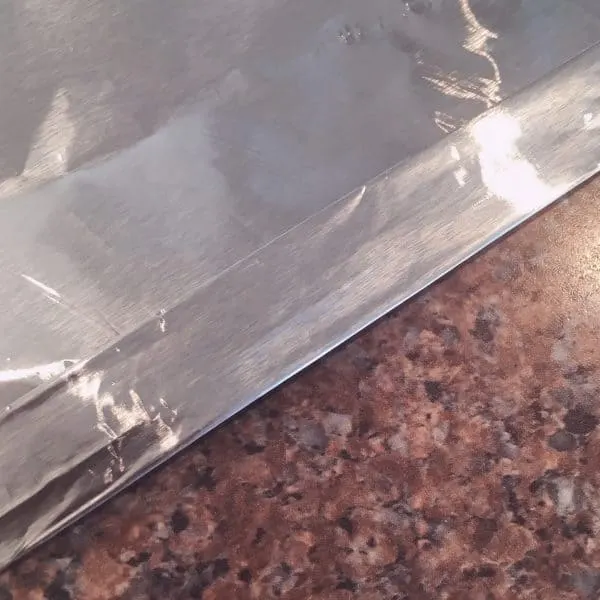 Next open the foil and lay flat. Place your springform pan in the center, on top of the fold. Just like in the picture below.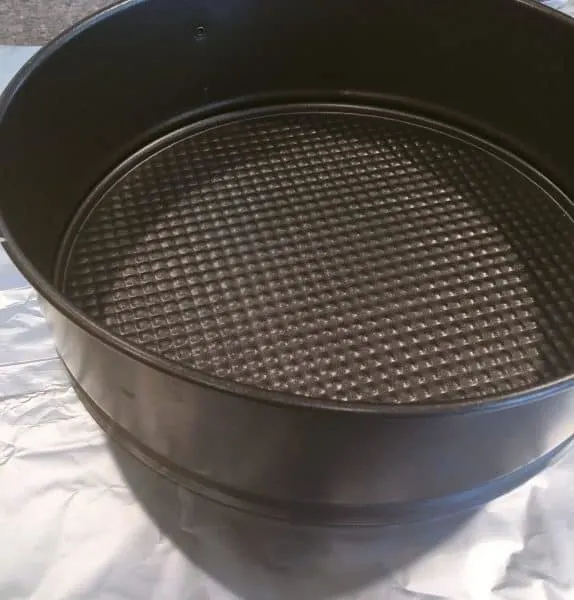 Wrap the foil around the outer edge of your springform pan. This will create a barrier between your pan, and the water it will be sitting in, so that you don't end up with a soggy crust. Ain't nobody got time for soggy crusts!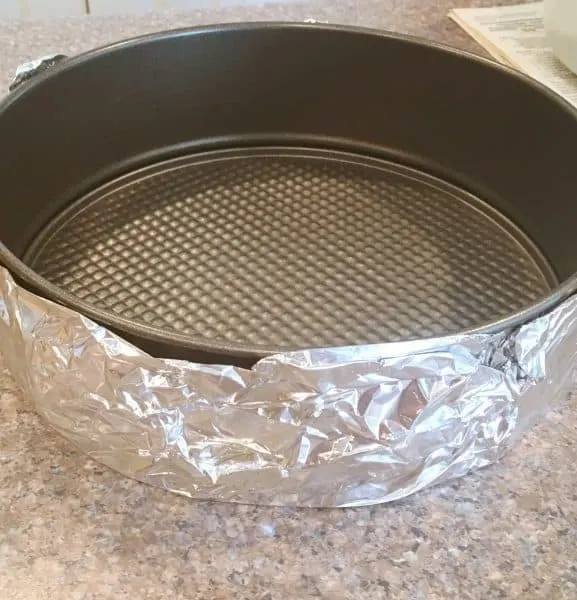 How To Make Chocolate Crumb Crust
This is an "Oreo" bottom crust. Some stores carry Oreo crumbs in a box usually by the graham cracker crumbs in the baking aisle.
However, if you live in the country, and they don't carry such high falutin fare, you buy a carton of Oreo's and scrape out the white filling with a sharp knife…not with your teeth! Lol
It will take two rows of a regular package of Oreo's to make this crust. (The third row is to eat while scraping the other two rows! I got ya covered! Wink-wink) Crush them, add the butter, blend well.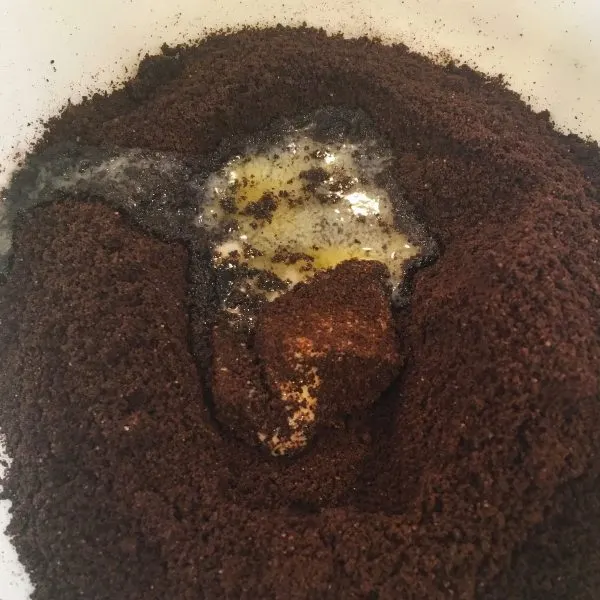 Place the buttered Oreo crumbs into your springform pan. Spread the crumbs evenly over the bottom of the pan and towards the rim.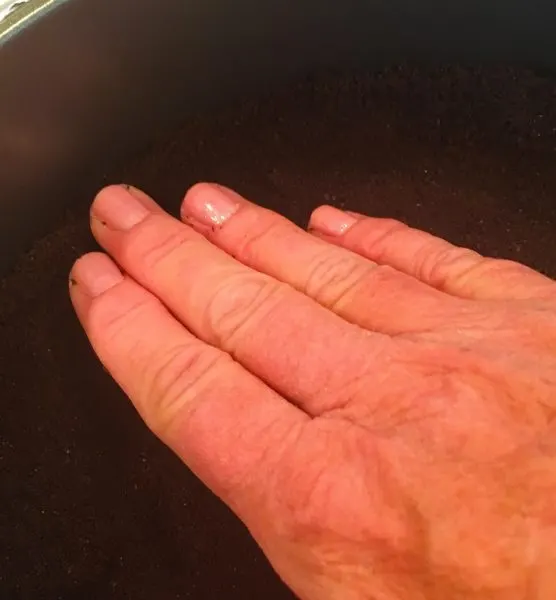 Third Tip: This recipe calls for the crust to go up the pan about one inch.
For years, I tried pushing the crust crumbs up the edge only to have them stick to my fingers or come crumbling down. Then one day when I had the idea to use a cup! Any type of smooth bottomed cup or jar will do. Gently push the crumbs up the edge of the pan. It works great!
That is it! We are done with the crust. Just set the pan in the refrigerator until we are ready to bake the cheesecake.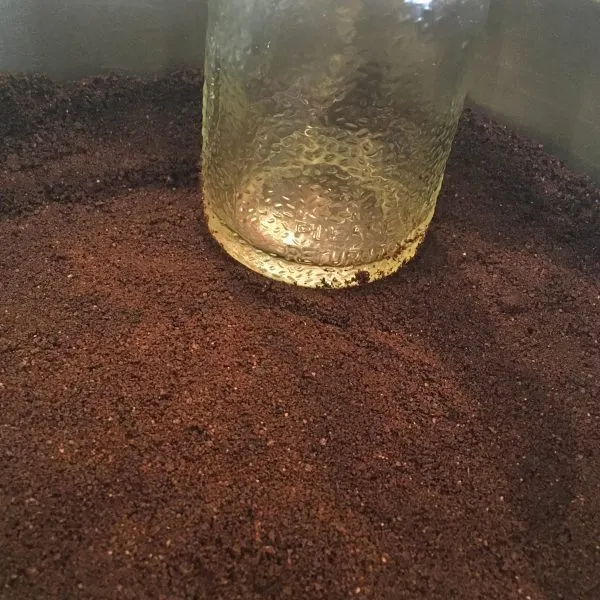 Making Pumpkin Cheesecake Batter
In a large bowl, beat cream cheese, pumpkin, sugar, flour, cinnamon, ginger and cloves until smooth. Add the eggs one at a time. Continue to beat until well blended.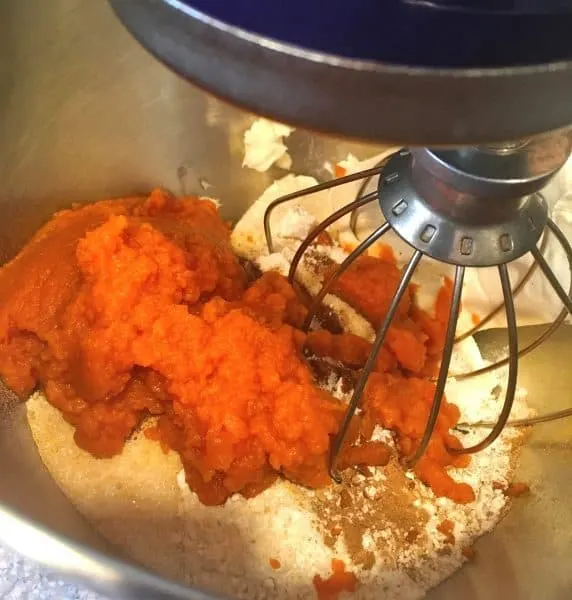 Stir in, by hand, Mini Chocolate Chips.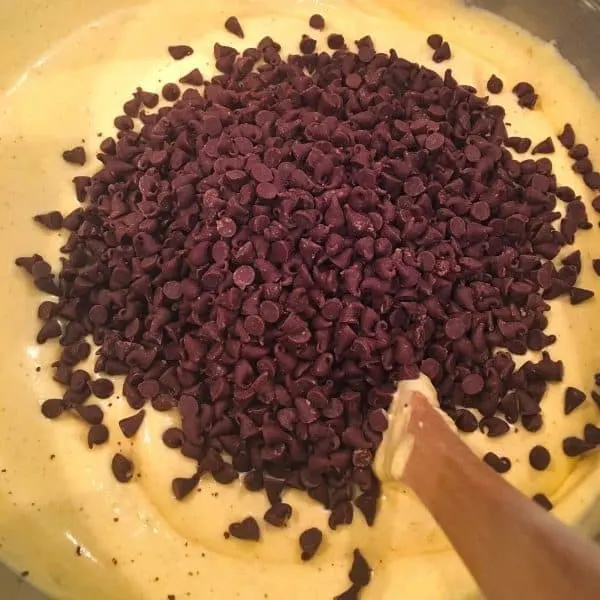 Pour into crust-lined springform pan.
Fourth Tip: Water Bath! Note I have placed my foil covered springform pan inside another larger baking pan. This is for the water bath.
Carefully pour 1½ inches of water into the pan. This will prevent huge cracks from forming while baking. (Cheesecakes love to crack! So frustrating!)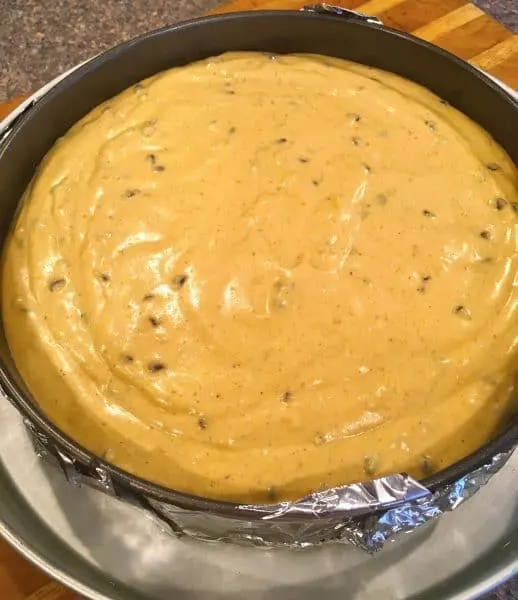 Bake in a preheated 325 °F oven for 60 minutes or until edges are set. Center of cheesecake will be slightly soft and slightly jiggly. If it is super jiggly give the cake another 10 minutes bake time.
Turn off your oven and allow the cheesecake to stand in oven with the door open at least 4 inches for 30 minutes or until center is set. Remove from oven; cool to room temperature on a wire rack.
You'll note there is a little cracking along the edges and that's okay. It's the huge San Andres Fault line down the center we want to prevent.
As the cake cools those cracks will almost disappear and besides…we're going to doll this puppy up a bit with some whipped cream!
Once the cake is completely cool you can remove the sides of the pan (Gotta love those springform pans!) and refrigerate overnight.
TIP: I recommend running a sharp knife between the cheesecake and the inside of the springform pan before releasing the tension clasp on your springform pan.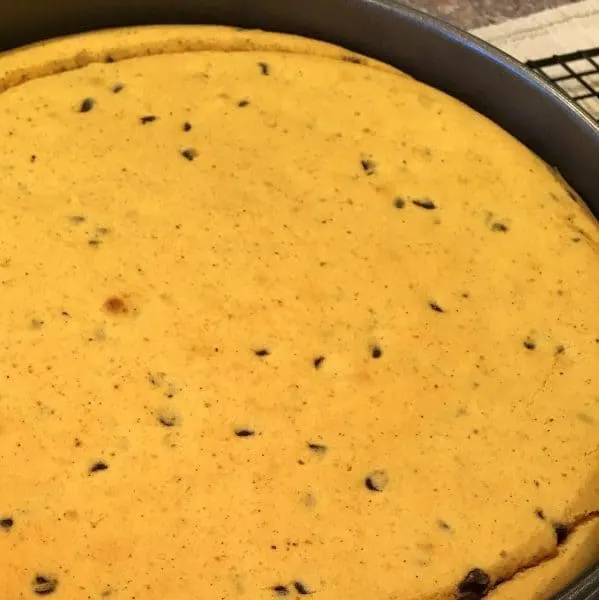 To finish this cheesecake off… I whipped up some Pastry Pride and piped it along the outer edge and sprinkled with the remaining mini chocolate chips.
Pastry Pride is a non-dairy commercial product. I've only been able to find it at Smart & Final Stores or in specialty baking stores. Any time any friend is heading to Vegas I ask them to pick up a gallon container for me.
The beauty of this product is that it holds its shape, and it is really yummy!
TIP: If you can't find pastry pride…no worries. Whip up 1 cup of heavy cream in your mixer till nice and stiff. Add in one tsp of vanilla and 1/4 cup of powder sugar. It will work just as well.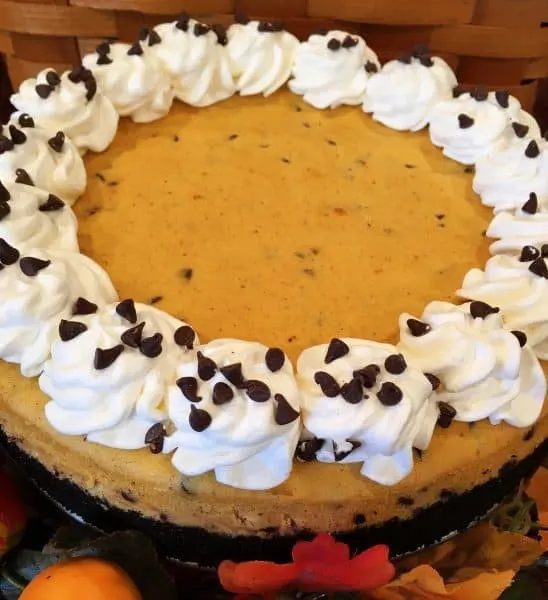 Isn't that beautiful enough to serve on Thanksgiving! I absolutely L.O.V.E. this cheesecake! The creamy pumpkin spice with the burst of semi-sweet chocolate in every bite is pure perfection!
That buttery Oreo crust is the ultimate pairing for the cheesecake. I can't even imagine using any other type of crust with this delicious cheesecake. Is your mouth watering yet? I hope so!
To finish mine off, I drizzle it with a little Hershey's dark chocolate syrup. It just gives it a really elegant look and adds more wonderful chocolaty goodness to every sinful bite of this decadent dessert. And why not? We are celebrating right?!!!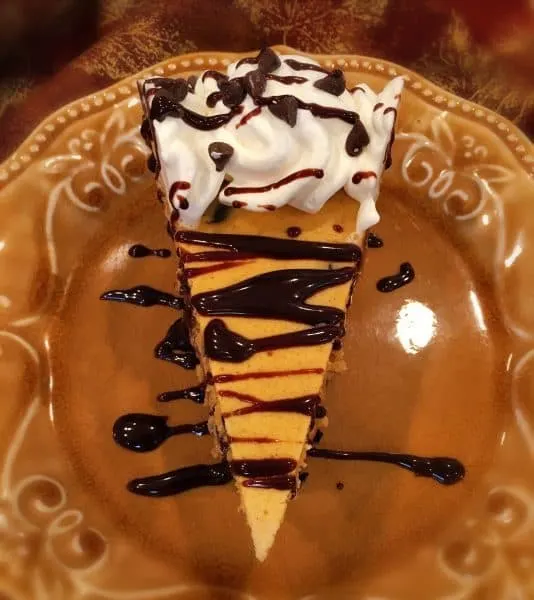 I hope you love this recipe as much as we do! If you love pumpkin and chocolate chip cookies and you're a cheesecake fan…this is a MUST for your Holiday menu!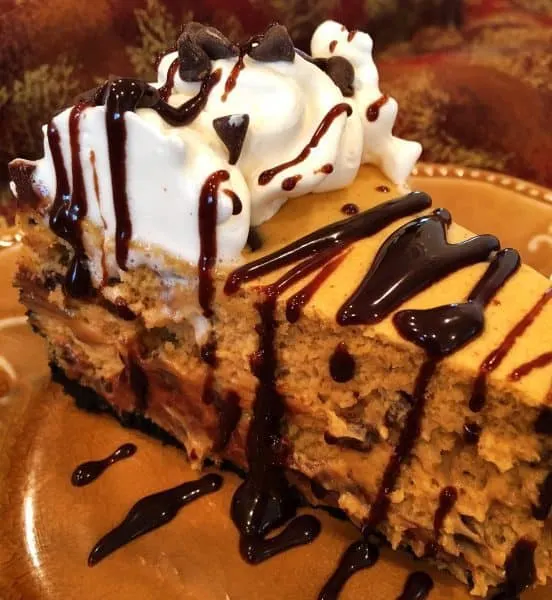 Other Favorite Cheesecake Recipes
There you have it. Pumpkin Chocolate Chip Cheesecake. The ultimate Fall Cheesecake!
Happy baking, and Thank you for stopping by my Nest!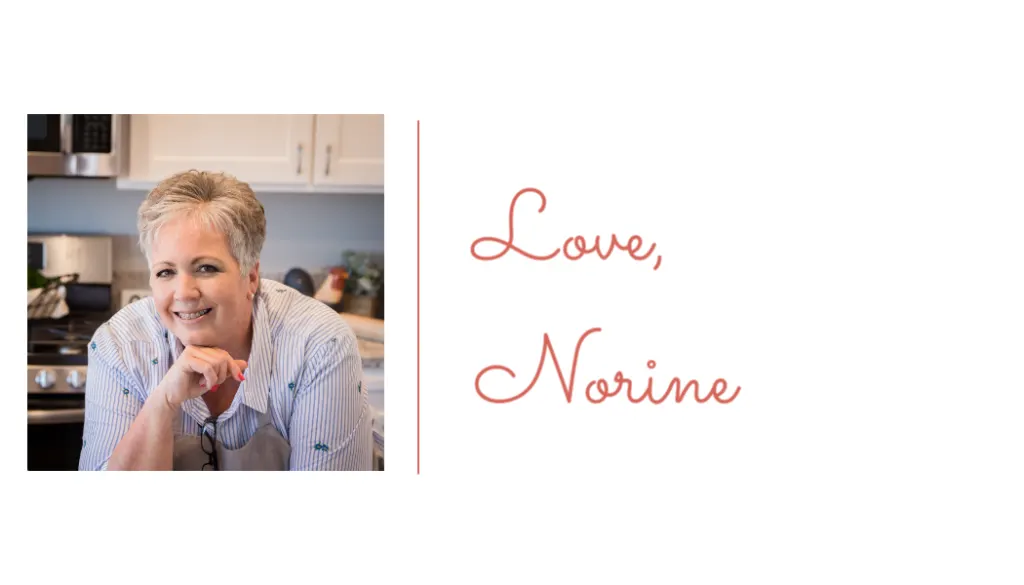 Yield: 16-20 servings
Pumpkin Chocolate Chip Cheesecake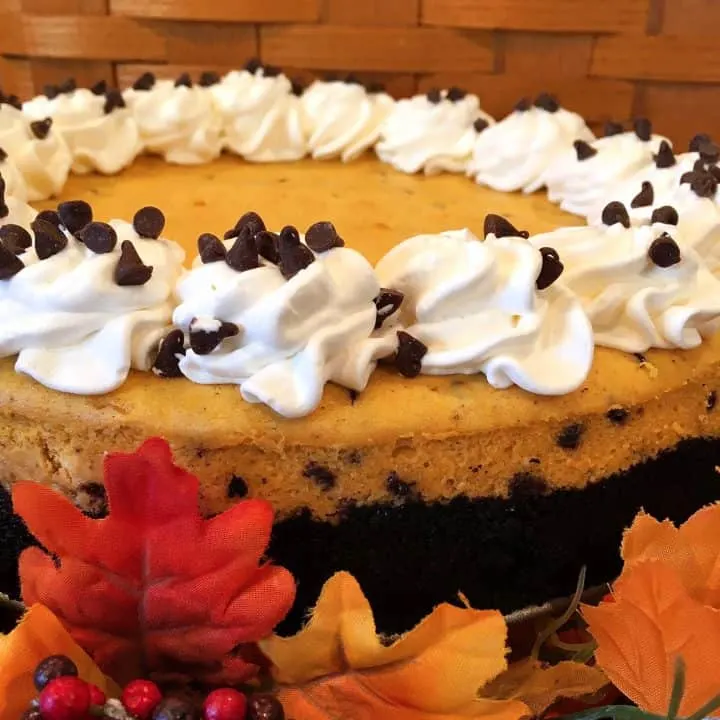 This is a rich creamy Pumpkin Chocolate Chip Cheesecake with an Oreo crust bottom. Make it up a day ahead and refrigerate it so flavors can blend. Sure to become a family tradition!
Cook Time
1 hour
30 minutes
Ingredients
Crust
1 1/2 cups crushed Oreo creame-filled sandwich cookies (about 19 cookies)
2 Tablespoons butter, melted
Filling
3 (8-oz.) packages cream cheese, softened
1 cup sugar
3 Tablespoons flour
2 teaspoons cinnamon
1 teaspoon ginger
1/2 teaspoon cloves
1 cup canned pumpkin
4 eggs
1 1/2 cups miniature semi-sweet chocolate chips
Instructions
Heat oven to 325 degrees. In medium bowl, combine crust ingredients; mix well. Press in bottom and up sides of ungreased 9-inch springform pan. Refrigerate.
In a large bowl, beat cream cheese, sugar, flour, cinnamon, ginger, cloves and pumpkin until smooth. Add in eggs, one at a time, and beat until well blended. Stir in chocolate chips. Pour into crust-lined pan.
Bake at 325 degrees for 60 minutes or until edges are set. Center of cheesecake will be soft. (To minimize cracking follow the water bath instructions by covering spring form pan with foil, placing inside a larger baking dish and adding about 1 cup of water)
Turn off oven. Let cheesecake stand in oven with door open at least 4 inches for 30 minutes or until center is set. Remove from oven; cool to room temperature on wire rack. Carefully remove sides of pan; refrigerate overnight. Store in refrigerator. Finish edges with whipped cream topping and sprinkle with remaining chocolate chips.
Recommended Products
As an Amazon Associate and member of other affiliate programs, I earn from qualifying purchases.
Nutrition Information:
Yield:
20
Serving Size:
1 slice of cheesecake
Amount Per Serving:
Calories:

234
Total Fat:

10g
Saturated Fat:

5g
Trans Fat:

0g
Unsaturated Fat:

5g
Cholesterol:

42mg
Sodium:

116mg
Carbohydrates:

35g
Fiber:

2g
Sugar:

25g
Protein:

3g