Tender Romaine Lettuc, Spinach, bacon, cottage cheese, grated swiss cheese, and marinated mushrooms and red onion in a poppy seed dressing combine to make this spectacular Spinach Salad!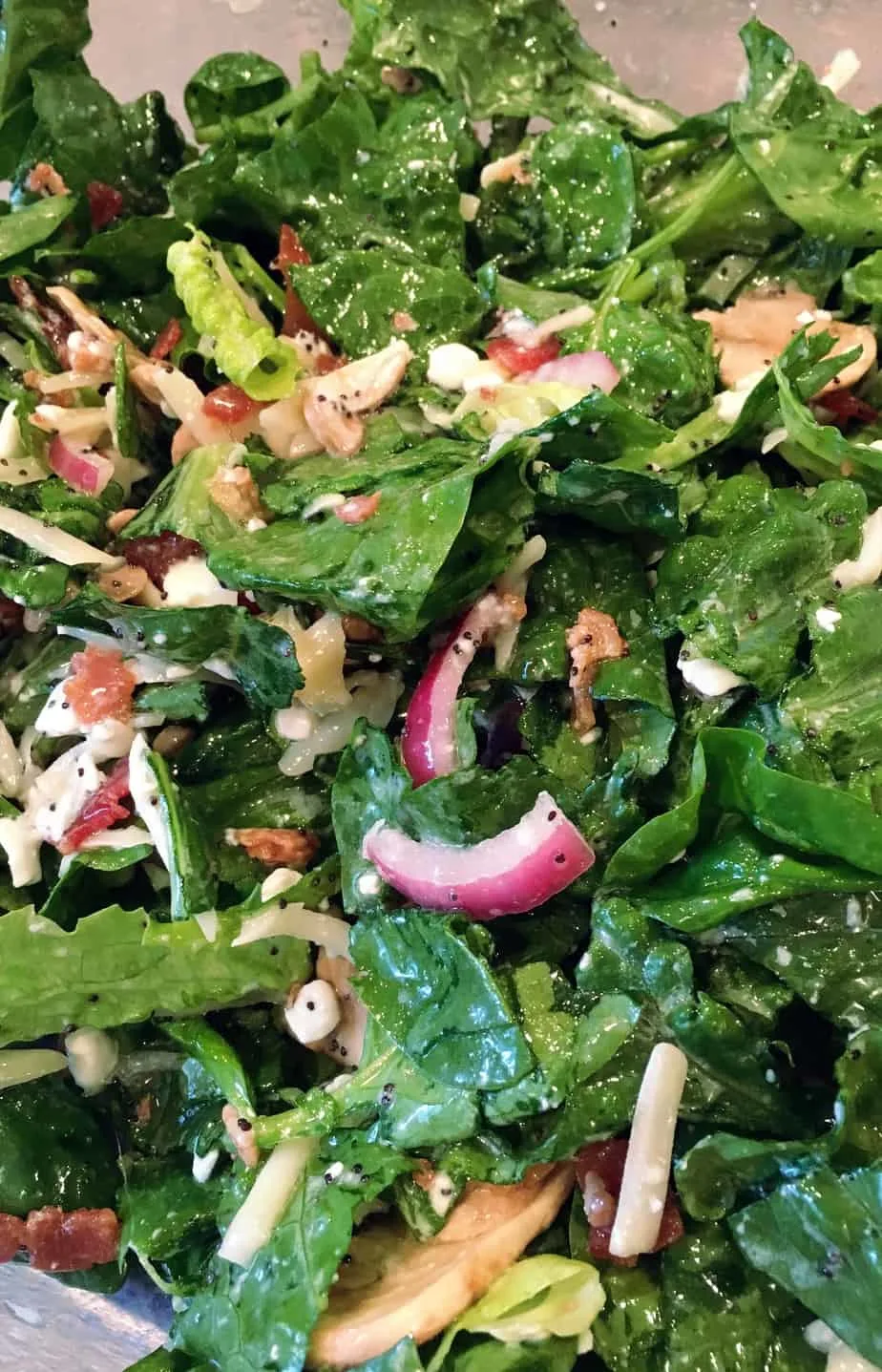 Okay all you leaf eaters… It's Salad time! Time for this Amazing Spinach Salad with Poppy Seed Dressing!
Who loves a good salad? (I do, I do, I do!) I like to create or find salad recipes that are different or unusual.
It's the perfect time of year for light cool refreshing salads! This is one of those salads! I got this recipe from my SIL long ago, and it is still one of my all-time favorite salad recipes! It truly has a "twist" that will make you go "huh?"…"really?"…" She wants me to add WHAT!"
How do I know this is how you will react? Because it is how I reacted, and it is exactly how my daughter reacted when she saw me add it to this salad.
I think her exact words were… "What the heck are ya doing adding that?!!" She was extremely skeptical but, in the end…the salad won! (I'd like to think it was my exceptional cooking skills that won but…it was the salad!)
Ingredients for a delicious Spinach and Mushroom Salad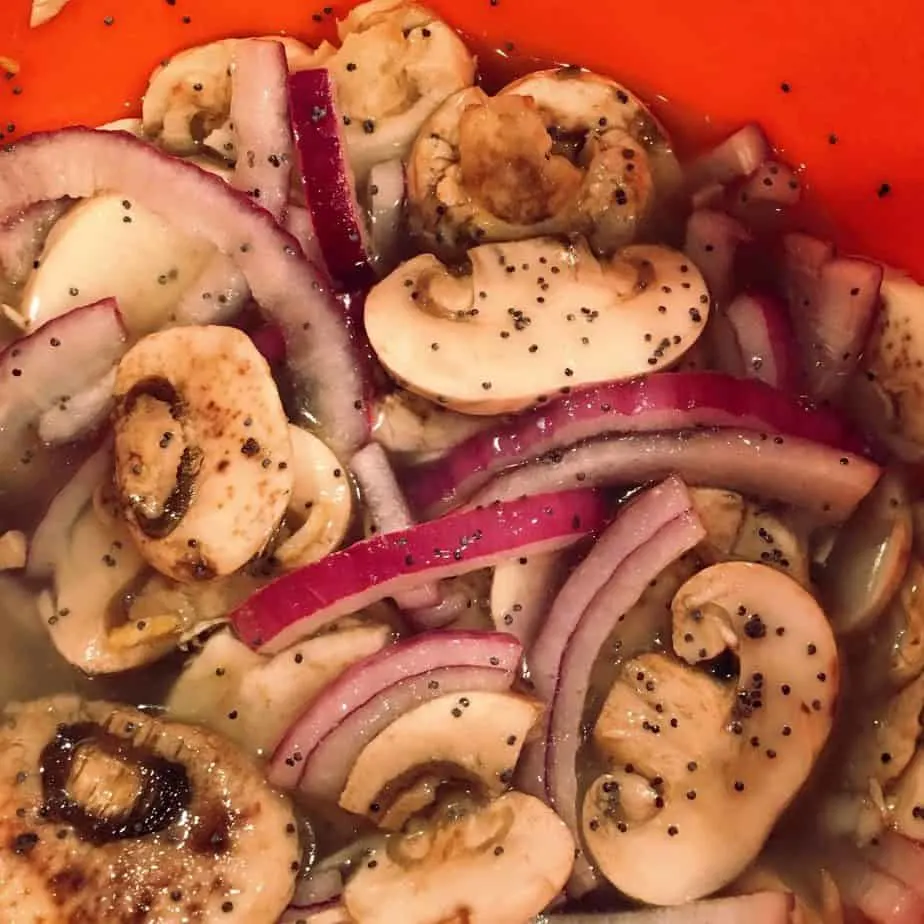 One unusual aspect of this salad is that you marinate red onion slices and mushrooms in the poppy seed vinaigrette dressing. I know…strange right? But, it is SO good!
This salad contains all the original favorites…lettuce, fresh spinach leaves, bacon crumbles and even grated Swiss cheese. Yum! (Bacon and Cheese! Hello!)
The real twist, beyond the marinated mushrooms and onions, is that it also contains 1 cup of cottage cheese! SAY WHAT? (I did warn you!) And it's great in the salad! (Mind blown)
All the ingredients blend together to make it one of the very best spinach salads you will ever taste!
This salad pairs well with any main dish but, particularly with grilled dishes. It's a showstopper and I guarantee your guests will be asking for seconds. You may even find someone licking the bowl…just sayin'…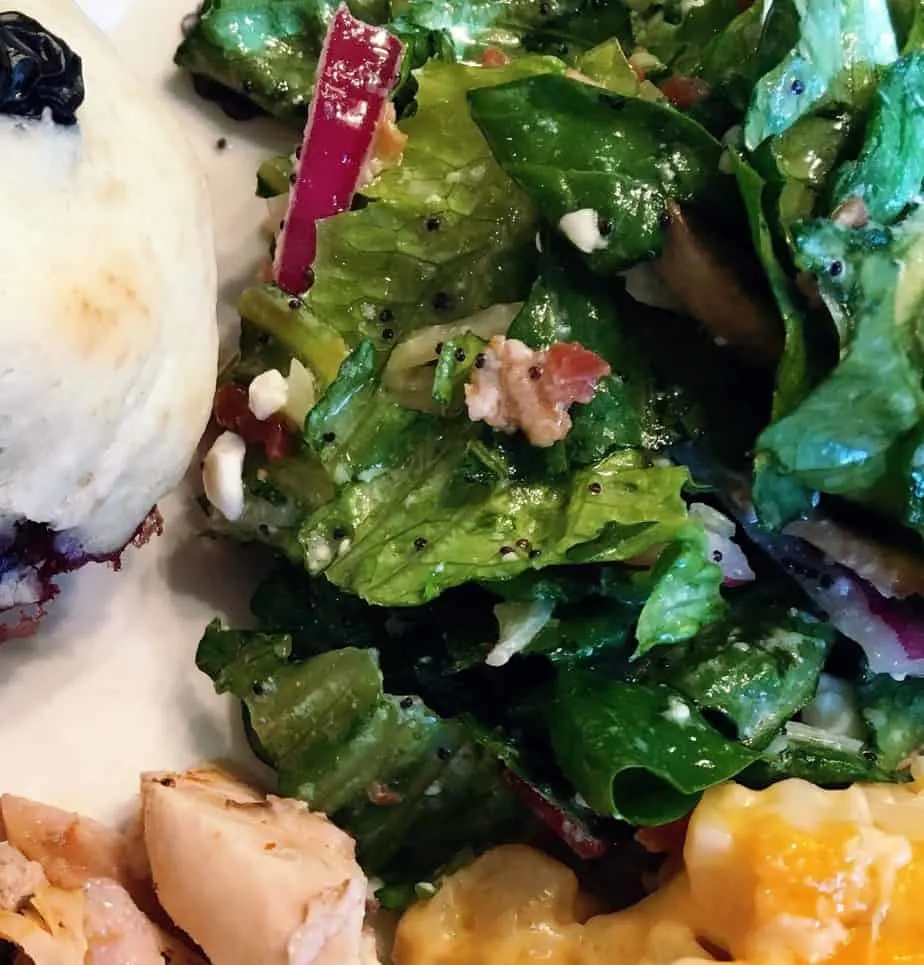 TIPS FOR MAKING SUMMER SPINACH SALAD…
You make half of the recipe because it is a large recipe and this is one dish that doesn't save well because of "pre-dressing" the salad.
Use a slotted spoon to scoop out the mushrooms and onion and then slowly adding the dressing a little bit at a time till you have the amount you want.
This makes a LOT of dressing, and it is too much for the salad. So, add and test…add and test…till you have the perfect amount! (It's also a legit way to taste test and get away with it! Lol)
There you have it my leafy eaters. The best spinach salad! (In my humble opinion)
It really is worth the time and extra effort to make this salad. It's a meal all alone or a great side dish to serve with grilled steaks grilled chicken, fish, etc. Heck…really with just about anything!
Have a great day…thanks for stopping by!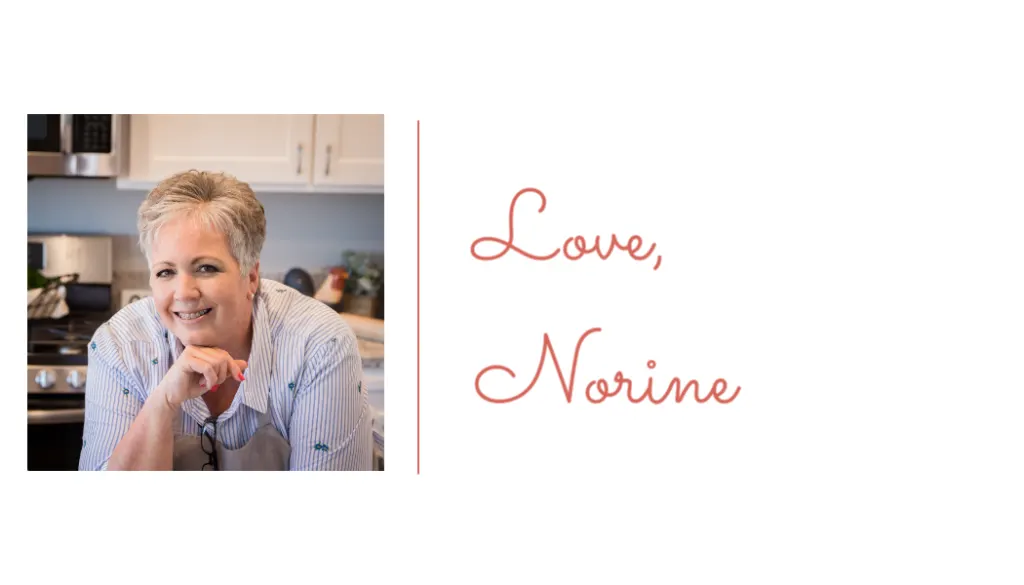 Yield: 8-10 servings
Spinach Salad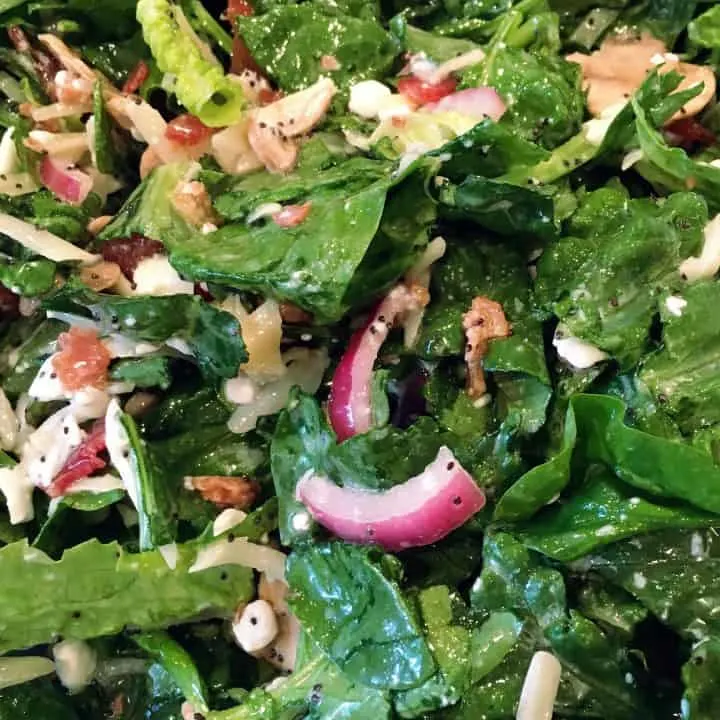 This unique full flavored spinach salad. The marinated mushrooms and onions add to the amazing flavor of this salad. This salad pairs well with any main course dish or as a meal all on it's own!
Ingredients
1 package spinach leaves
1 head of Romaine lettuce
1 Cup cottage cheese
3/4 pound grated Swiss Cheese
1/2 lb bacon, cooked and crumbled
1 purple onion-thinly sliced rings cut in half
3/4 lbs sliced fresh mushrooms
Dressing:
1 1/2 TBS poppy seeds
3/4 C White vinegar
1 1/2 cup oil
3/4 cup sugar
1 1/2 TBS grated onion or onion flakes
1 1/2 tsp salt
3/4 tsp dry mustard
Instructions
In a medium bowl mix together all the dressing ingredients. Add in slice mushrooms and slice red onions. Cover and marinate for 2 hours.
Assemble remaining salad ingredients. Right before serving scoop out mushrooms and onions and add to salad. Drizzle with a small amount of dressing and toss. If more dressing is needed add more dressing and toss again.
Nutrition Information:
Yield:
8
Serving Size:
1 1/2 cups
Amount Per Serving:
Calories:

820
Total Fat:

66g
Saturated Fat:

14g
Trans Fat:

0g
Unsaturated Fat:

48g
Cholesterol:

72mg
Sodium:

1067mg
Carbohydrates:

31g
Fiber:

4g
Sugar:

23g
Protein:

27g
Norine's Nest in no way provides any warranty, express or implied, towards the content of recipes in this website. It is the reader's responsibility to determine the value and quality of any recipe or instructions provided for food preparation and to determine the nutritional value, if any, and safety of the preparation instructions.