Tender Juicy skinless chicken breast stuffed with ham and Swiss cheese, in a mustard thyme sauce create this amazing Grilled Chicken Cordon Bleu.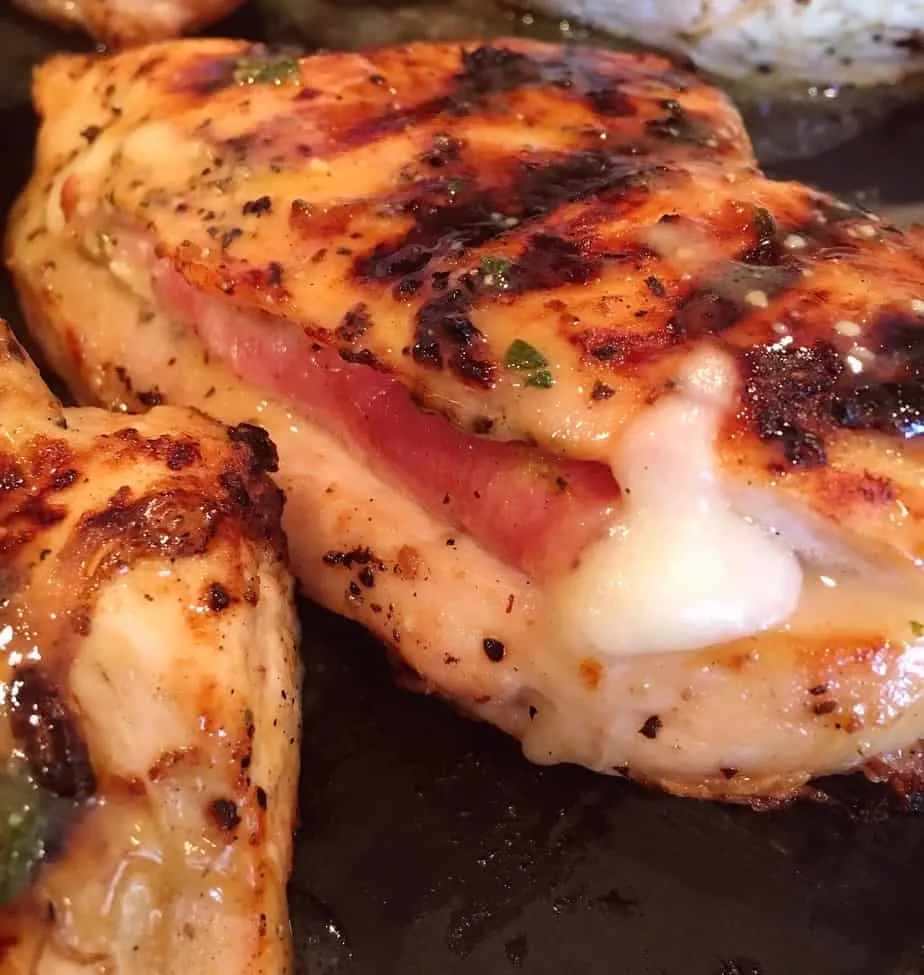 Okay that's it! There will be no more heating up the oven in my kitchen in the afternoons and evenings!
It's hotter than Heck on earth out there!
Oh, I know, there are actually some of you sun worshipers who get a thrill having sweat run down your back! (I personally think you may have burnt the receptors in your brain but, I love ya anyway…I just love ya from my air-conditioned house slurping my shaved ice!)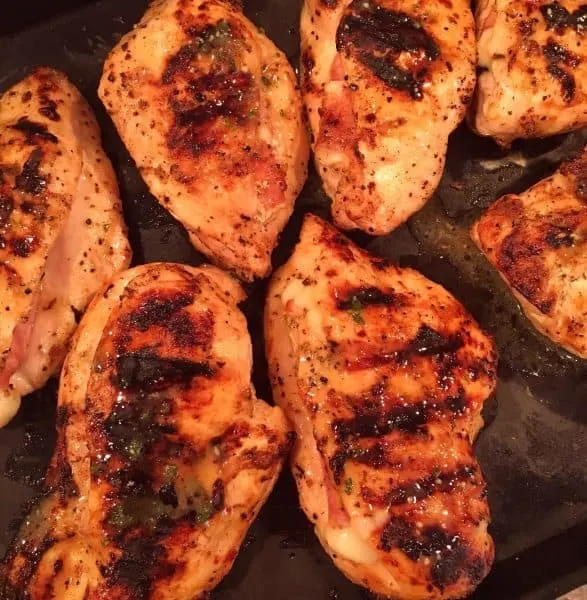 Since I'm having my own tropical heat wave 24/7, even in the winter, the thought of adding any more heat is mind-numbing!
So… it's time to start grilling full time at this nest! The best place to start? This Grilled Chicken Cordon Bleu!
Since I love to have grilled meals during these wonderful heat waves…I am always looking for new and exciting recipes for the grill.
A few years ago, I ran across this amazing recipe on Pinterest and since then, it has made a regular summer appearance on our patio dinning table! It was originally on Cuisine Grilling.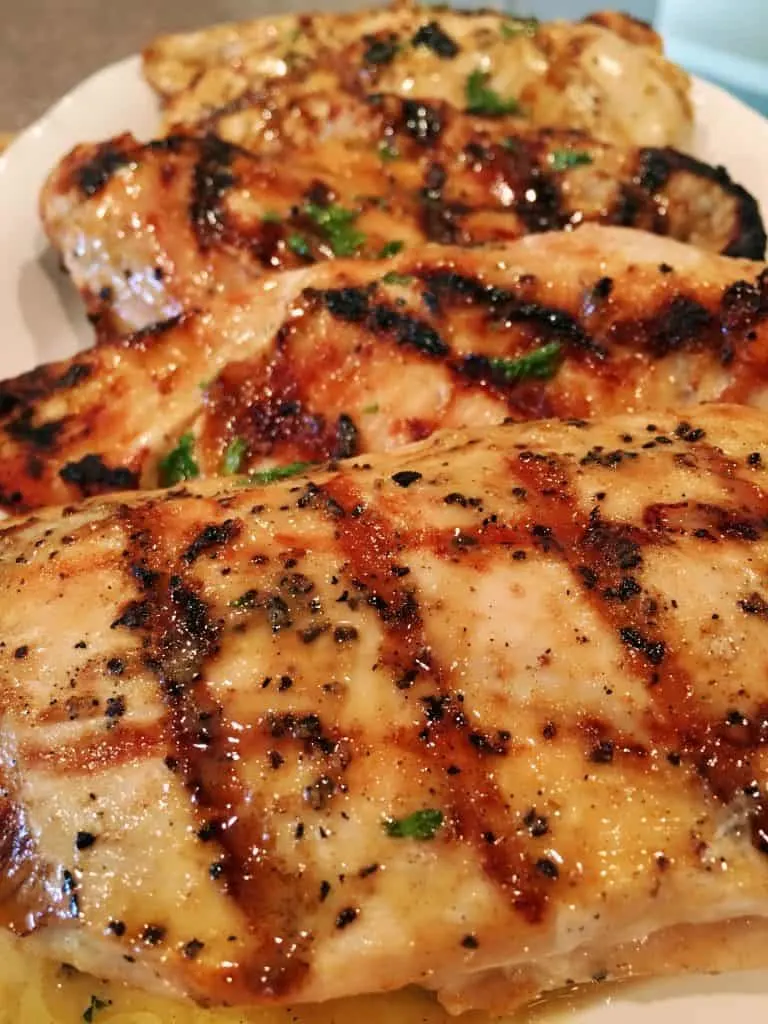 So, the story goes…when the Little Red Hen and Wilbur got together…they created… Chicken Cordon Bleu! Well, maybe not but…you have to admit whoever did come up with the idea to stuff chicken with ham and Swiss cheese was a genius!
What could possibly top that? How about instead of breading it and making a rich creamy sauce we grill it and make an amazing mustard honey thyme vinaigrette (Fancy word for drizzle or sauce…lol) to go over it?
We take conventional Cordon Bleu, and we kick it up to a summer favorite with a Grilled Chicken Cordon Bleu version.
There are good grilled chicken recipes and there are great grilled chicken recipes! This one is blue ribbon, Wilbur worthy, GREAT! It's one AMAZING recipe! (Not to still Wilbur's thunder!) I can even go so far as to say you will not miss the breading or the creamy sauce! (Say What!!!)
This is super easy to make and one that I wouldn't even think twice about serving to company or on a special occasion. It's so flavorful and juicy. It's one of those recipes where you want to savor every single bite!
How To Make Grilled Chicken Cordon Bleu
I purchase the black forest ham from the deli section and have them sandwich slice it. I also purchase my baby Swiss cheese there too.
Begin by cutting a slit for a pocket into the chicken breast being careful not to cut through the ends or the back side. (use a really sharp knife) Lay a piece of cheese on top of the ham, roll it together, stuff it in the slit, salt and pepper and brush with Dijon mustard.
That's it! After the chicken breasts are prepared, make the honey thyme Dijon mustard drizzle/sauce…"vinaigrette"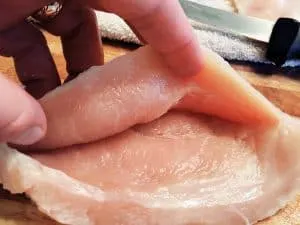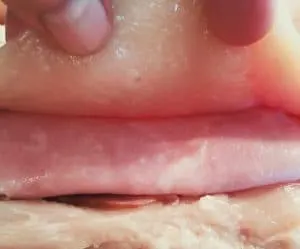 As the chicken breast are grilling brush with the mustard thyme glaze!
After they are done cooking, plate them, and take the remaining sauce and pour it over the tops of the chicken breasts!
That is it! Isn't that simple? Doesn't it look amazing? It really is so yummy! (My mouth may be watering right now…it has nothing to do with the heat either…at least not this time!)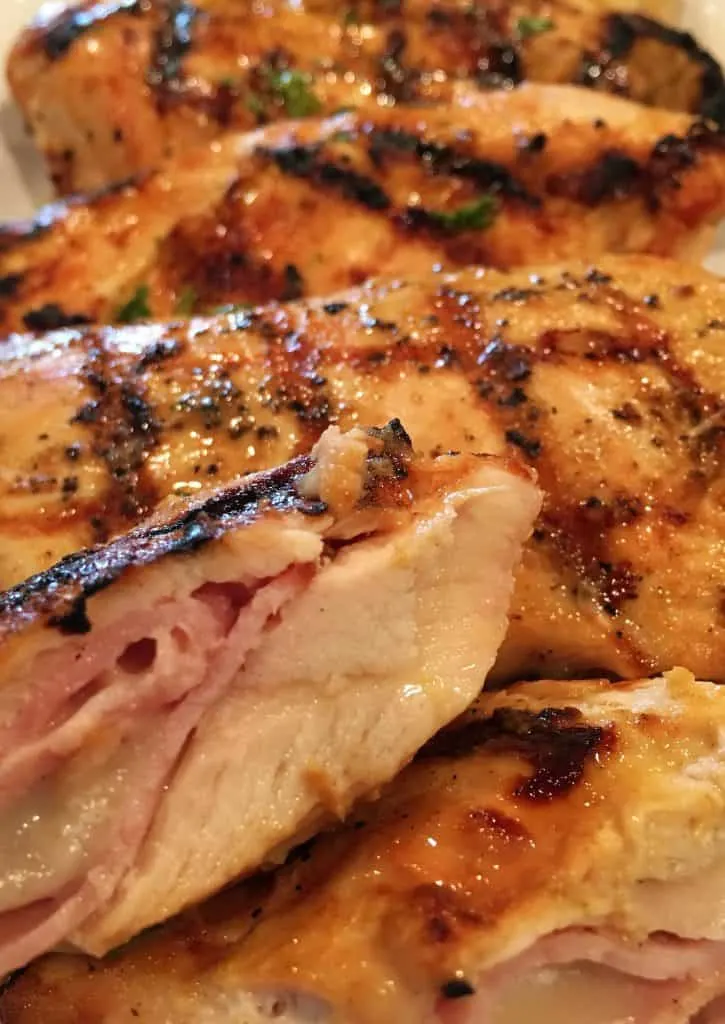 There ya have it! One of my all-time favorite grilled chicken recipes.
We just gotta thank "Red" and "Wilbur" for getting together on this one! I hope you enjoy it as much as our family does. I've got a printable version below.
If you try this recipe for Grilled Chicken Cordon Bleu, please leave a comment below. I'd love to hear from you! I live for feedback! (Well… and chocolate, Dr. Pepper, cold Arctic climates, and Tom Selleck!)
Here are a few of my other favorite Grilling Recipes
Thanks so much for taking time out of your busy day to stop by…have a great one!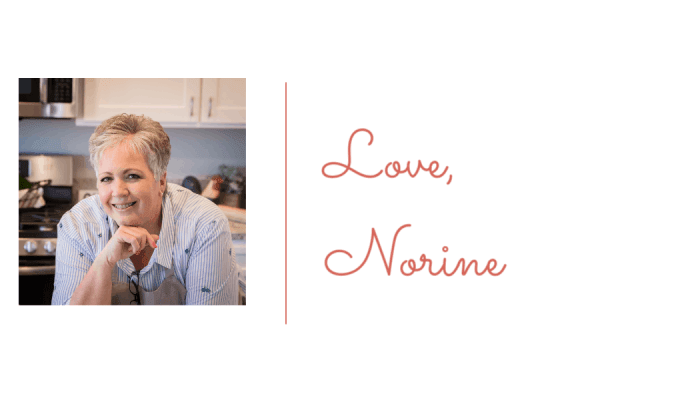 Yield: 4 servings
Grilled Chicken Cordon Bleu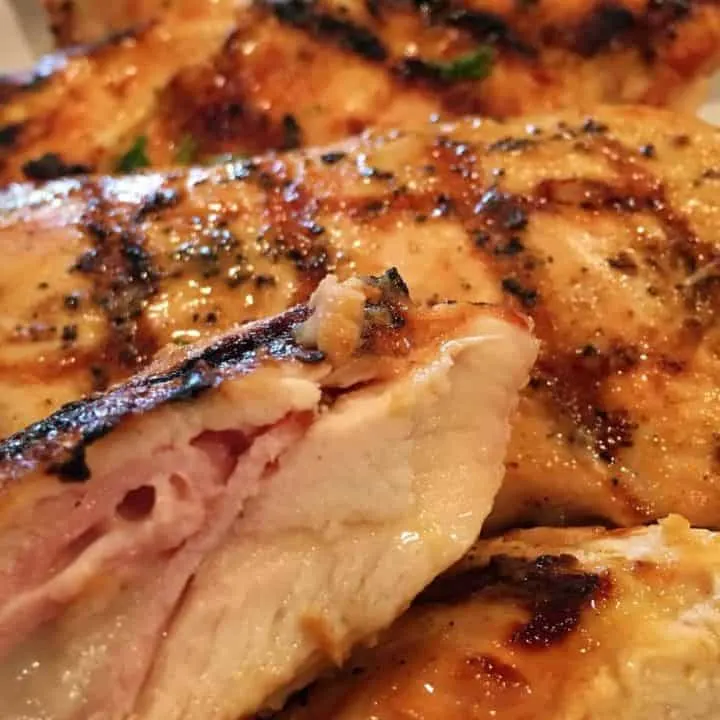 Tender Juicy Chicken stuffed with Ham and Swiss Cheese Grilled to perfection and brushed with a Scrumptious Dijon Vinaigrette.
Ingredients
4 boneless, skinless chicken breast halves
4 slices of thinly slice deli ham
4 slices of Swiss cheese
Dijon Mustard
salt and pepper
For the vinaigrette:
2 T white wine vinegar
1 T Dijon mustard
1 T honey
2 T olive oil
1 T minced fresh parsley
1/2 teaspoon fresh thyme leaves (optional)
salt and pepper
Instructions
Preheat the grill to medium-high heat.
Cut a pocket into each chicken breast by inserting the knife blade into the thick end of the breast. Sweep the blade back and forth, cutting the opening larger, being careful not to cut through the end, top, or bottom.
Layer a slice of ham with a slice of cheese. Roll them up together and insert into the pockets. Brush each breast with Dijon mustard, and sprinkle with salt and pepper.
Grill chicken 6-9 minutes per side, with the lid down, or until cooked through. Brush each breast with the vinaigrette while cooking. When chicken is done and plated drizzle remaining vinaigrette over the chicken and serve.
Vinaigrette
Whisk together the white wine vinegar, Dijon, honey, olive oil, and parsley. Season with salt and pepper.
Notes
Grilled Chicken Cordon Bleu is an elegant summertime dish! It's an easy classic recipe to make, yet juicy and full of flavor!
Nutrition Information:
Yield:
4
Serving Size:
1 chicken breast
Amount Per Serving:
Calories:

393
Total Fat:

20g
Saturated Fat:

7g
Trans Fat:

0g
Unsaturated Fat:

11g
Cholesterol:

130mg
Sodium:

484mg
Carbohydrates:

5g
Fiber:

0g
Sugar:

4g
Protein:

46g
Norine's Nest in no way provides any warranty, express or implied, towards the content of recipes in this website. It is the reader's responsibility to determine the value and quality of any recipe or instructions provided for food preparation and to determine the nutritional value, if any, and safety of the preparation instructions.