Layers of delicious buttery cinnamon sugar corn flakes snuggle a thick slab of creamy vanilla ice cream topped off with a healthy drizzle caramel and chocolate topping! Finish it off with whipped cream and a cherry, and you have a superb Fried Ice Cream Cake dessert!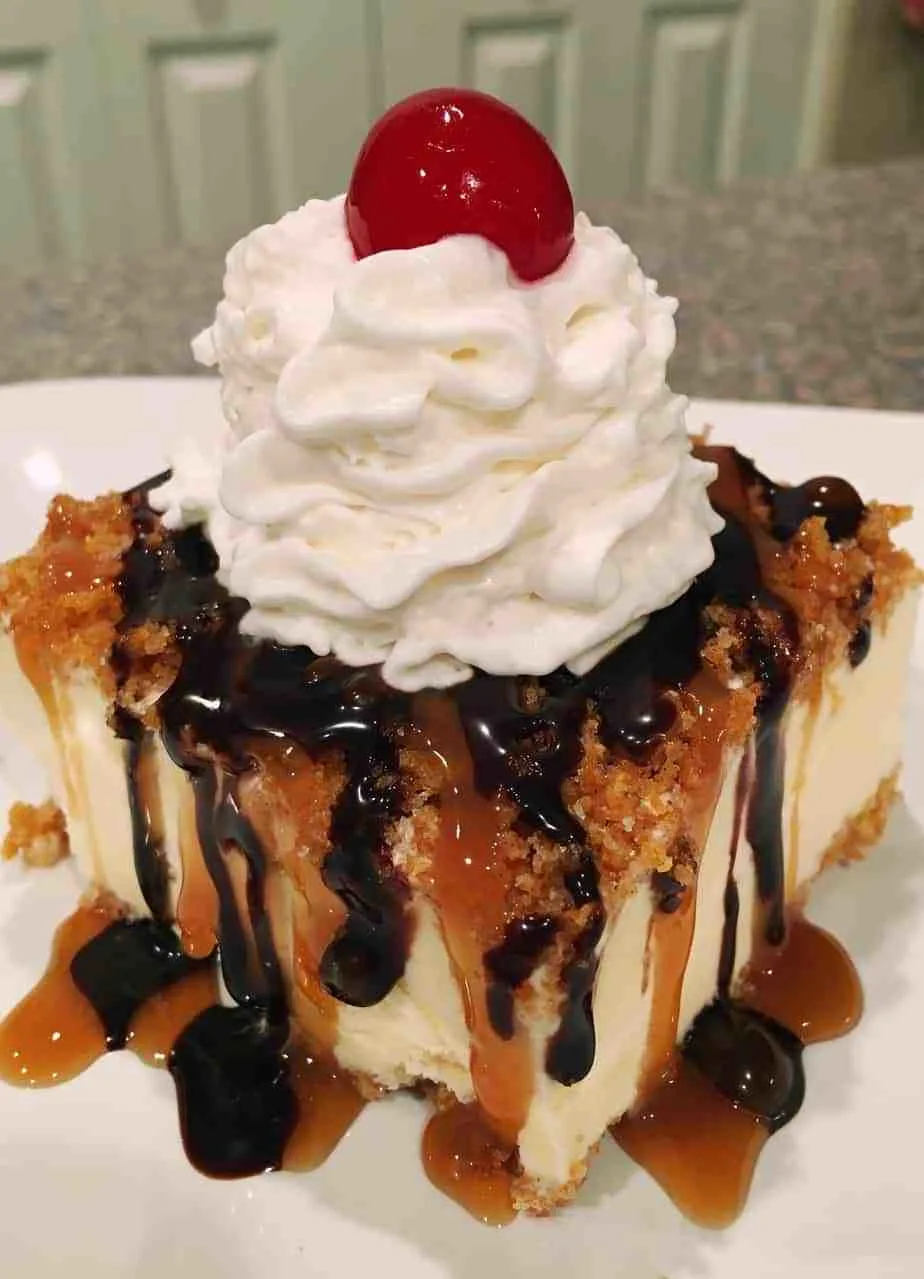 We celebrated our son Landon's birthday last weekend. When I texted him to ask what he wanted for "dessert" …his reply was "I think you know what I want?" (Panic…I do?! Yikes!) Total Mom Senior moment… (I'm a grandma…I'm allowed Senior moments now. It's in the handbook!)
I honestly couldn't remember for a few minutes and then… Wham… It hit me! Fried Ice Cream Cake! Landon loves Fried Ice Cream!
Years ago I made traditional fried ice cream. Last year I got to thinking that there just HAD to be an easier way to make this dessert. THERE. HAD. TO. BE!
One that didn't require frost bite or major burns from splattered grease! I searched and found this amazing…let me say this again…AMAZING…super EASY fried Ice Cream Dessert! It's the Bombdiggity! You gotta try this …
How To Make Fried Ice Cream Cake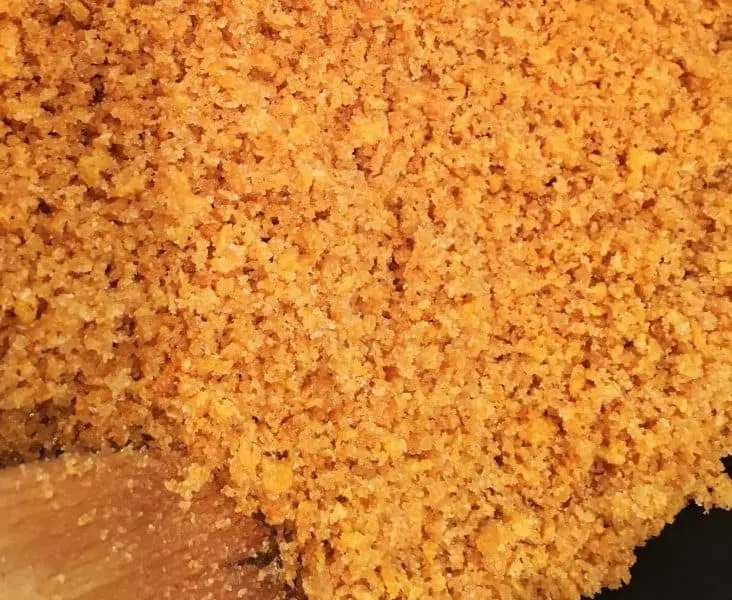 You want to make the crispy golden cinnamon crust first to give it time to cool.
Toast the crushed corn flakes…"Here's to you Corn Flakes!" ( Not that kind of toast! Sorry it's late, long day, long day…) and cinnamon sugar. In a large skillet add 1/2 cup, or one stick of butter, over medium heat! Yes! An entire stick of butter.
Add the corn flakes, sugar, and cinnamon. Stir the corn flakes, with a wooden spoon, until they begin to get crispy, the sugar crystallizes, and it smells slightly toasty!
You'll want to jump in that pan and suck up every last morsel! (It's like corn flake crack! Not that I'm familiar with crack but…you get the gist!)
Once the crumbs are nice toasted, and slightly more golden, remove them from the pan. Set them aside to cool.
TIP: They need to cool completely, or the crumbs will melt into the ice cream and disappear forever.
How to make Vanilla Ice Cream Filling
Remove vanilla ice cream from the freezer, about 30 minutes beforehand, and let it soften. The softened Ice Cream makes this frozen dessert a breeze to make.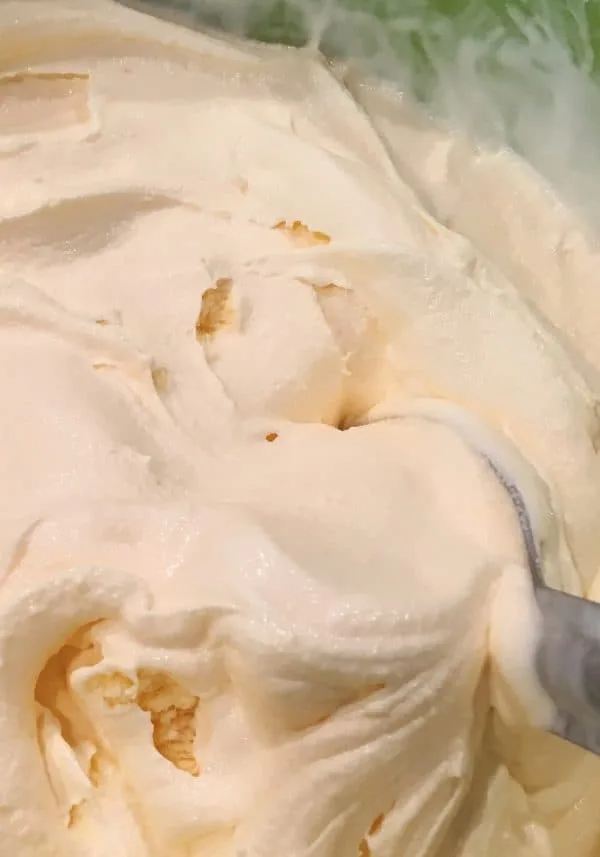 Mix one quart of softened vanilla ice cream with one package of cool whip. Throw some muscle behind it…come on…you can do it! Mix, mix, mix!
Once the ice cream and cool whip are blended together, place half of the cooled corn flake mixture into the bottom of the pan. Spread it from edge to edge and pat down with your hands. It will not "stick" together like a typical crumb crust, but it will help to even it out.
Carefully spread your ice cream mixture on top of the crumb crust. Just like the picture. (Why do I suddenly want a spoon?)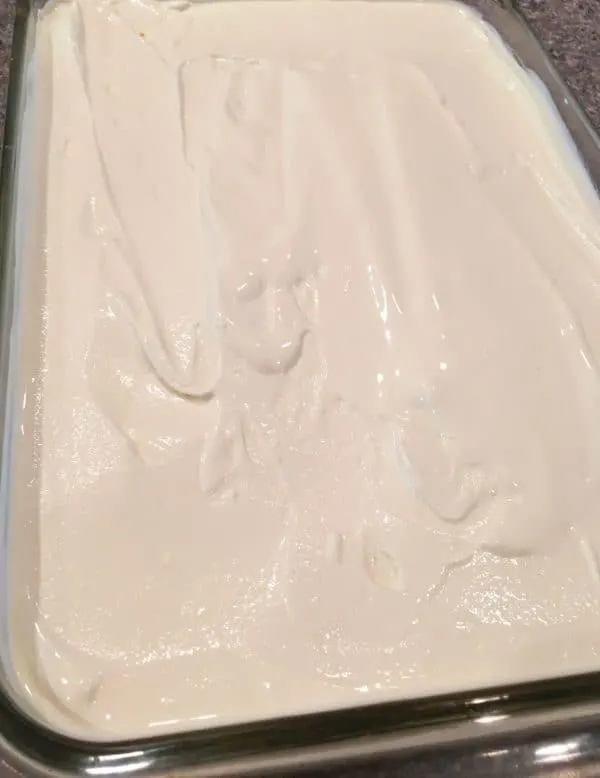 See…easy-peasy!
Place the remaining corn flakes evenly over the top of the Ice Cream. Lightly press them into the ice cream and then drizzle with honey. (Sorry, I forgot to take a photo of that last step…Cut a girl some slack…I was dealing with melting Ice Cream and Corn Flake Crack!)
Cover with foil and place in the freezer! Freeze for 4-5 hours. Tick-tock…tick-tock…don't do it…ya gotta wait!
How To Serve Fried Ice Cream Dessert
Before serving, let cake set out for about 20 minutes.
With a sharp knife cut the cake into squares. Place a serving of cake on a dessert plate.
Finish with a drizzle of caramel and chocolate ice cream syrup! Add a hefty squirt of my fluffy friend "whip cream"! If you've gone this far… I say go ALL THE WAY and finish with a cherry on top!
Ta-DA! Fried Ice Cream Cake!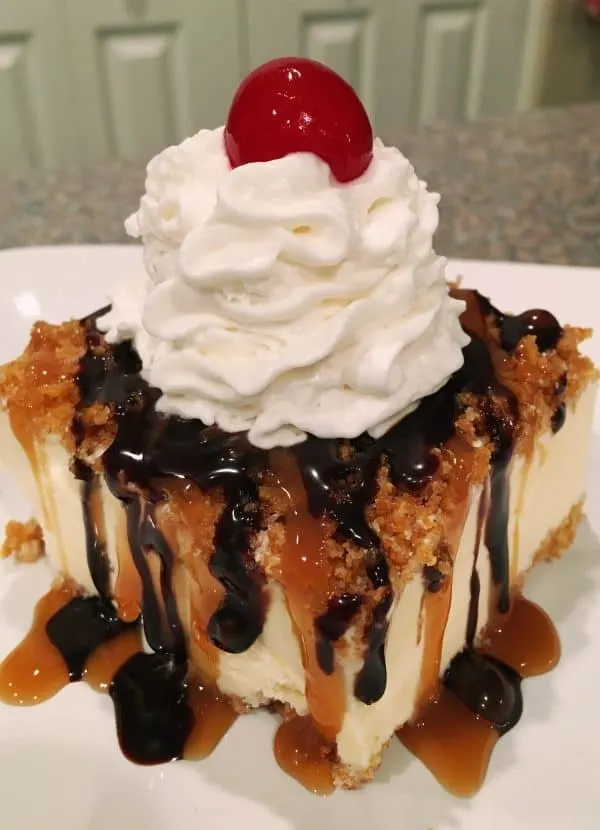 Say it with me….Mmmmmmmm! Both my son and son-in-law declared it better than original fried ice cream! WOWZA! (I happen to agree with them and… they are the experts!)
The big bonus of this Frozen Treat is how easy it is to make. No more dealing with hot oil and atomic ice bombs!
As the host you can serve everyone, including #1… Yo-self! Also, you are not stuck in the kitchen trying to juggle frying 8 ice cream balls all at once. (It never works…trust me!)
There it is. Fried Ice Cream Cake! It's great any time, but during the blazing hot summer… it's the best!
Maybe someone at your nest would like this for their birthday?
Great Summer Dessert Recipes
I hope you like this recipe. If you do… remember to share it with a friend! Thanks for stopping by my Nest Today! Have a great week and stop again soon.
Happy Nesting My Friends!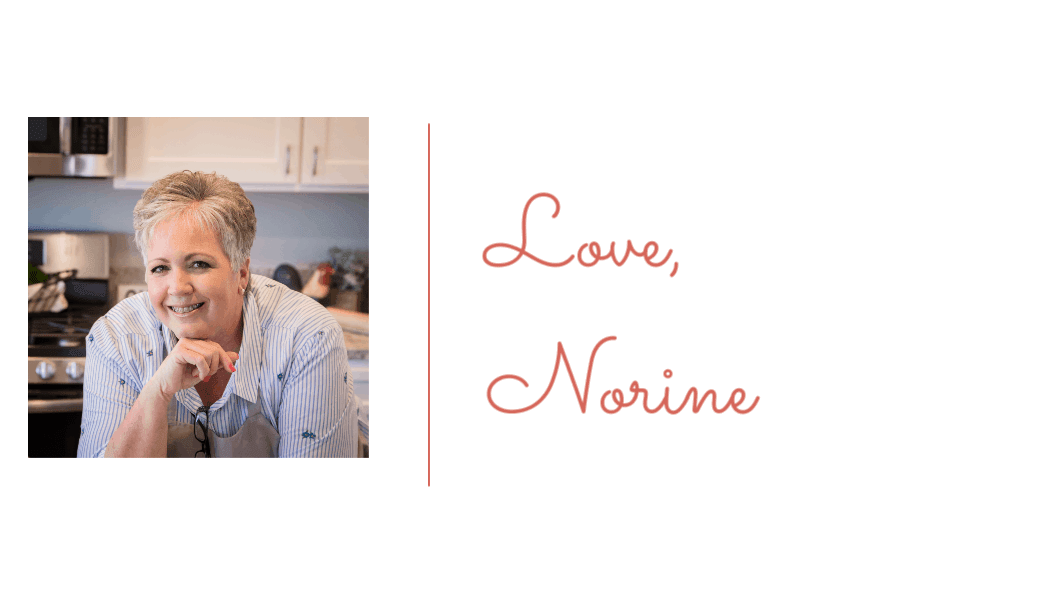 Yield: 12 servings
Fried Ice Cream Cake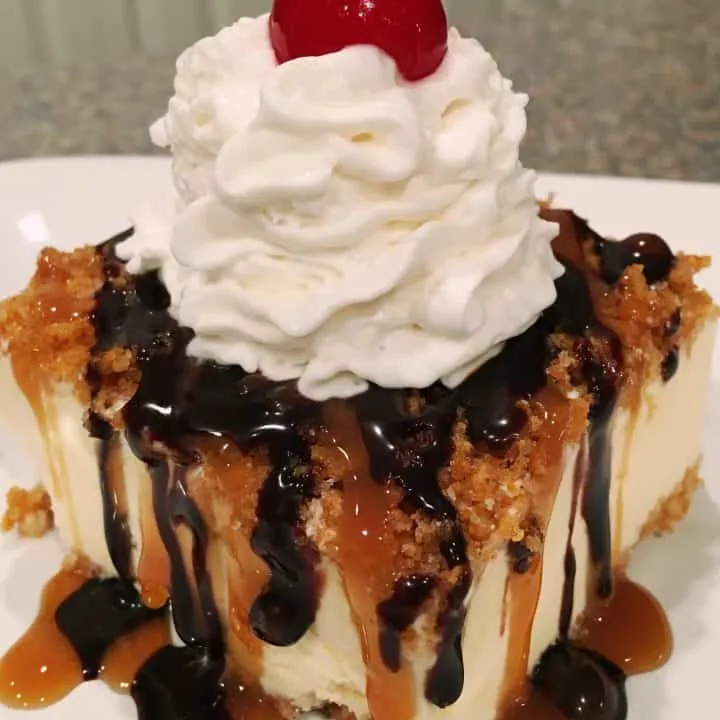 The traditional Mexican fried ice cream dessert but without the deep fry! It's full of flavor and yet so easy to make!
Total Time
4 hours
50 minutes
Ingredients
3 cups crushed Corn Flakes cereal
3/4 cup sugar
1/2 tsp ground cinnamon
1/2 cup (1 stick) butter
1 (1.75 quart) container Vanilla Ice Cream
1 (8 ounce) container Cool Whip
1/4 cup honey
Chocolate syrup
Caramel sauce
Instructions
Take the vanilla ice cream out of your freezer and let sit at room temperature for 30 minutes or so, to soften.
Melt butter in a medium skillet, over medium heat. Add the crushed corn flakes, sugar and cinnamon.(I mix my sugar and cinnamon before hand) Stir to combine. Fry mixture for 5 minutes, stirring constantly, until cereal is golden-brown. *Be careful not to burn. It may take less than 5 minutes. Allow corn flake mixture to cool completely.
Take a 9 x 13 baking dish and spread 1/2 the corn flakes mixture into the bottom of pan. Set aside.
In a large bowl, add the softened vanilla ice cream and cool whip. Using a spatula or large spoon, stir and mix well to combine. Spread ice cream mixture over the top of the corn flake mixture in the bottom of the pan.
Spread the remaining corn flake mixture evenly over the ice cream. Drizzle the honey over the top. Cover pan, and place in freezer. Freeze ice cream for at least 5 hours, or overnight.
Cut into squares and serve with drizzles of chocolate syrup and caramel sauce. Remember your fluffy friend whip cream and the cherry on top! Enjoy!
Nutrition Information:
Yield:
12
Serving Size:
One square
Amount Per Serving:
Calories:

204
Total Fat:

9g
Saturated Fat:

6g
Trans Fat:

0g
Unsaturated Fat:

3g
Cholesterol:

25mg
Sodium:

135mg
Carbohydrates:

31g
Fiber:

0g
Sugar:

25g
Protein:

1g
Norine's Nest in no way provides any warranty, express or implied, towards the content of recipes in this website. It is the reader's responsibility to determine the value and quality of any recipe or instructions provided for food preparation and to determine the nutritional value, if any, and safety of the preparation instructions.