Flaky Pie Crust filled with fresh tart Rhubarb and Sweet Strawberries. The two balance each other perfectly and create the BEST Strawberry Rhubarb Pie on the planet!
Post Updated: 5-14-2020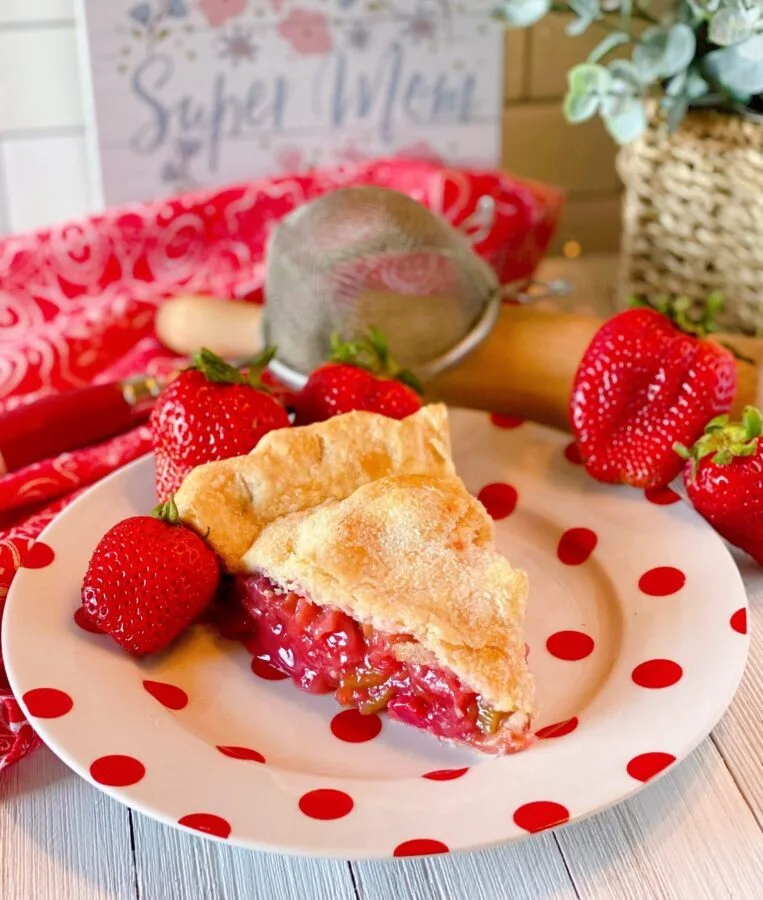 When I think of "Country" foods… I think BBQ, beans, corn bread, watermelon and a slab of homemade Strawberry Rhubarb Pie! It's just great Country Cuisine!
I have visions of farm wives baking this pie and placing it on the windowsill to cool.
Now…I realize not everyone is a Rhubarb fan so, we will pause and have a moment of silence for you sad non-rhubarb loving folks….. Okay, that's enough…back to it!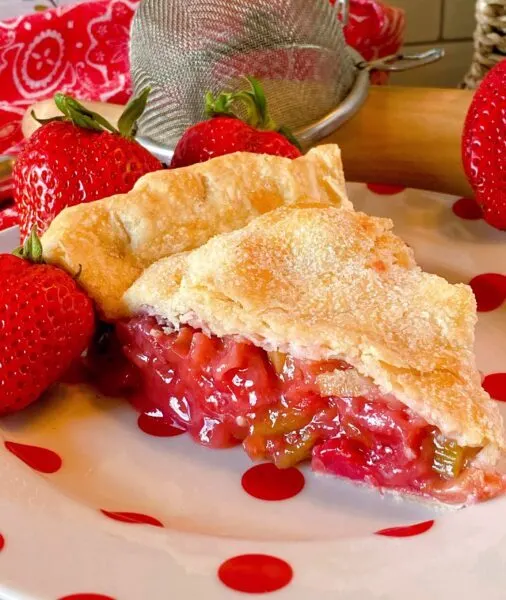 Even if you are not the world's biggest rhubarb fan, or a fan of old-fashioned rhubarb pie…you will love strawberry rhubarb pie. The tart of the rhubarb with the sweet of the strawberries…it's just down right divine! Add a scoop of vanilla ice cream and well… Ssssslaaaaam dunk! That's a country dessert worth smackin' yo' lips for and talking about!
How To Make Fresh Strawberry Rhubarb Pie Filling
I wandered out back yesterday and cut several stalks of rhubarb. (No! It's not celery! Don't be insensitive and insult rhubarb that way!)
Cutting Rhubarb makes me happy. I go out there with my largest, sharpest knife, and I cut it down at the base, and then in true swash buckling fashion, I stand up, and I raise the blade up high… and whack it down right below the leaf! Ker-plunk! (Seriously, I feel so cool when I do that! Lol)
I love the color of rhubarb and I even love the smell of it when cutting it up.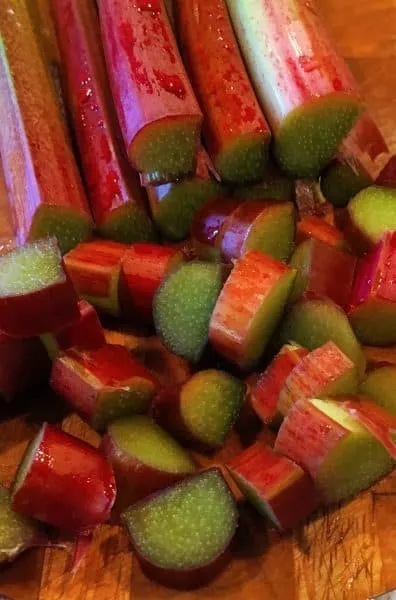 Rhubarb and Strawberry Pie Filling
For this pie you are going to need 4 cups of rhubarb cut into bite size pieces and 2 cups of cut up strawberries! You'll end up with a bowl full of beautiful reds and greens! Isn't that pretty?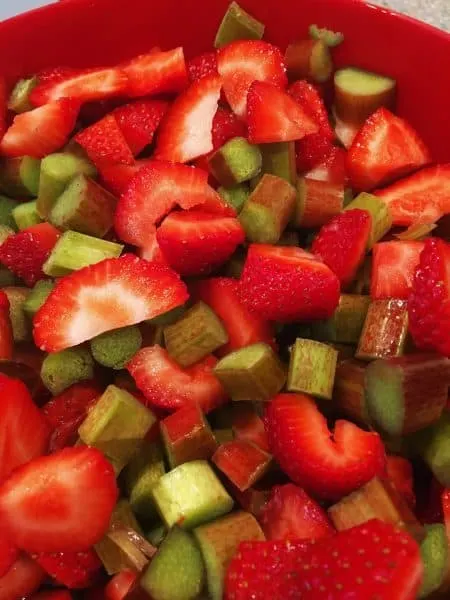 There ya go…you have your pie filling. Well…just about. Add 1 1/3 cup sugar and 7 Tablespoons of flour. Stir until well combined. Set aside until ready to fill the crust.
How To Make the Perfect Flaky Pie Crust
I love making pie crust…like seriously…I do! My crust always receives rave reviews. It's the recipe I've used for 30+ years now, and it is always perfect!
There are some key points to making a good flaky crust.
First…make it like Grandma did…with a pastry blender and your hands!
Confession…every time I see a cook use a food processor to make pie dough I cringe and want to run from the room screaming! I know it works… I know, I know, I know! It just doesn't work for me. I'm old-fashioned when it comes to making pies…especially the crust. You need to feeeeeel it! Cooking is about using your sense's. (Okay, I'll step down off my soap box for now…)
Tips for Cutting Shortening Into Flour
When cutting in the shortening…wait…let's pause for a second and get this out of the way….ALWAYS use shortening! Mini (from "The Help"… and I agree with this) said… "I reckon if there's anything you're wanting to know about cooking it's this (holds up Crisco can)…the most important invention since they put Mayonnaise in a jar!"
Yep…always shortening for that pie crust! Okay back to our regular scheduled programming…. When you "cut in" the shortening be sure it is a fine crumble! Like the photo below.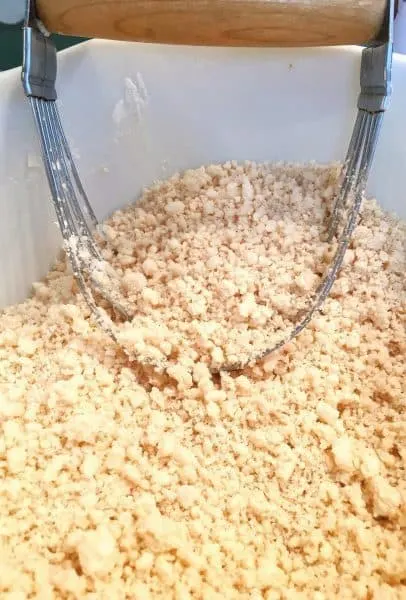 Adding Water and Forming Pie Dough
Add ice-cold water…right into the center of the mixture.
Grab the bowl and gently toss it around a few times until a soft ball begins to form. I don't put my hands into the dough yet.
Once a ball begins to form take your fingers and spread them out like a rake. Then quickly go in a scraping motion blending the dough together.
The key is to handle the dough as little as possible. The more you handle, the tougher the dough!
Form two balls. One for the top crust and one for the bottom. Roll out your bottom crust and place it in a deep dish 9 inch pie plate.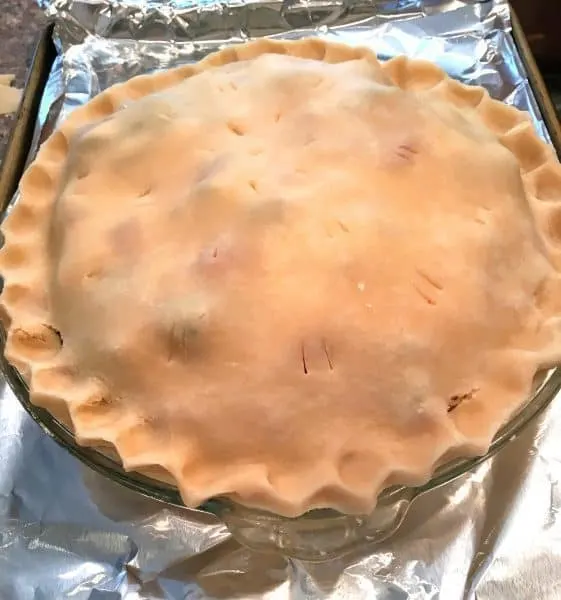 Adding the Pie filling and pie crust top!
Next sprinkle the bottom of the pie crust with 1/4 cup of the sugar and flour mixture.
TIP: The reason for this is it will caramelize and keep the bottom crust from getting soggy. I know, usually you mix the sugar and flour directly in with the fruit but, this works out GREAT for this rhubarb pie! Rhubarb is full of water and can create a very soggy bottom crust. This will help prevent that.
Add all the beautiful chopped fruit. Once you have that all arranged in the pie shell take the remaining sugar and flour mixture and sprinkle it over the top of the fruit.
Roll out the top crust and place over the pie filling. Crimp the edges and cut slits in the top for steam to escape.
TIP: Line a baking sheet with foil and place pie on top of the foil, so you don't have a big mess when it bubbles over…and it's going to bubble over…any good pie does!
Brush the top with milk and sprinkle with sugar.
Baking Strawberry Rhubarb Pie
Place pie in a 425-degree oven for 15 minutes.
Turn the heat down to 325 and continue baking for one hour.
TIP: To keep pie top and edges from getting too brown, check the pie at the 30-minute mark. If crust is golden brown, place a foil tent over the top to keep it from burning.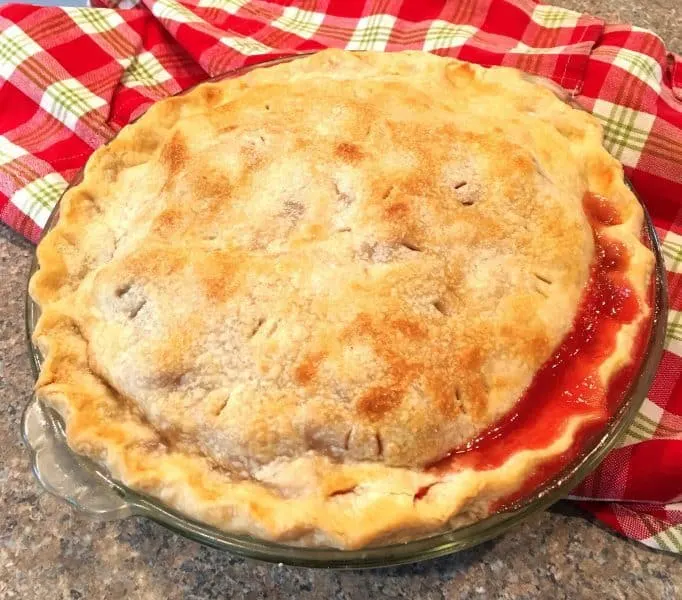 The house is going to start filling with the amazing sweet smells of strawberries and rhubarb! (They really do need to make a wallflower in this scent!)
Cooling and Serving Rhubarb Pie
When the pie is done, the wonderful gooey filling should be bubbling out.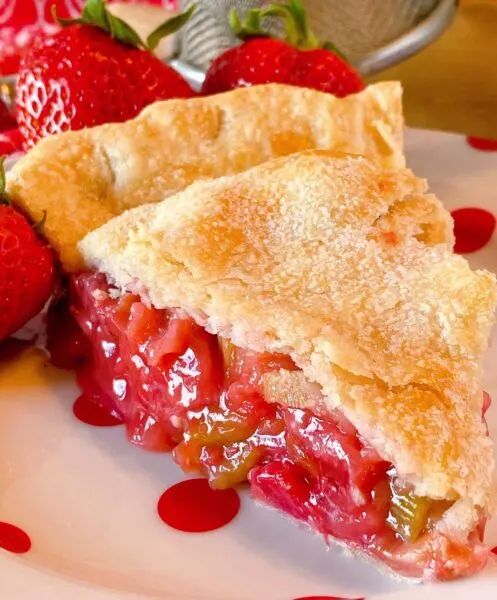 Some may think this ruins the look of the pie. I think it adds to it. I think it is the Pies way of teasing you and saying… "Hey, what's inside is AMAZING!!!"
That crust is perfect! It's talking for crying out loud! Lol (I could seriously O.D. on the light flakiness of this crust! If there's a rehab for that… I don't want to know!)
Let pie cool for filling to set up…otherwise you will have Strawberry Rhubarb Lava all over the place!
Once cool, slice and serve. I like to serve mine with a scoop of Vanilla Ice Cream but, it's just dandy all on its own! Oh…heavenly days…look at that! (I will not disclose how many slices I have had!)
That my dear friends is how you make the World's BEST Strawberry Rhubarb Pie!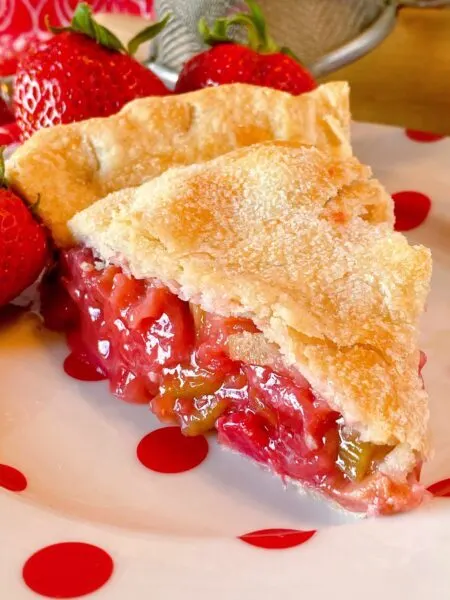 It's a favorite of the women folk in this family! Okay fine… My daughter and I had a slice for breakfast this morning! There you have it…confessions of true rhubarb fans! Lol Pie for breakfast is okay…right?!!
I've put the recipe for the crust and the pie filling below in the printable recipe card for ya. If you have any questions please feel free to ask. I'm always willing to help anyway I can! Have a fantastic weekend, and thanks for popping by!
Other delicious Homemade Fruit Pie Recipes
Thanks so much for stopping by and visiting today! I'd love to have you follow me on Facebook, Pinterest, and Instagram where I share my favorite recipes every day!
Happy Nesting!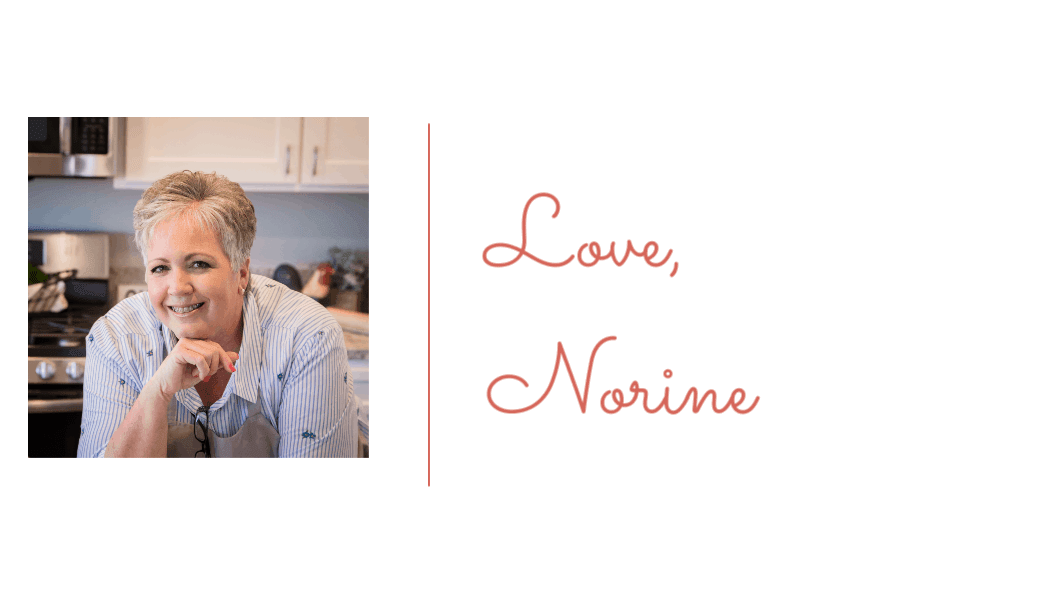 Yield: 10 slices
Strawberry Rhubarb Pie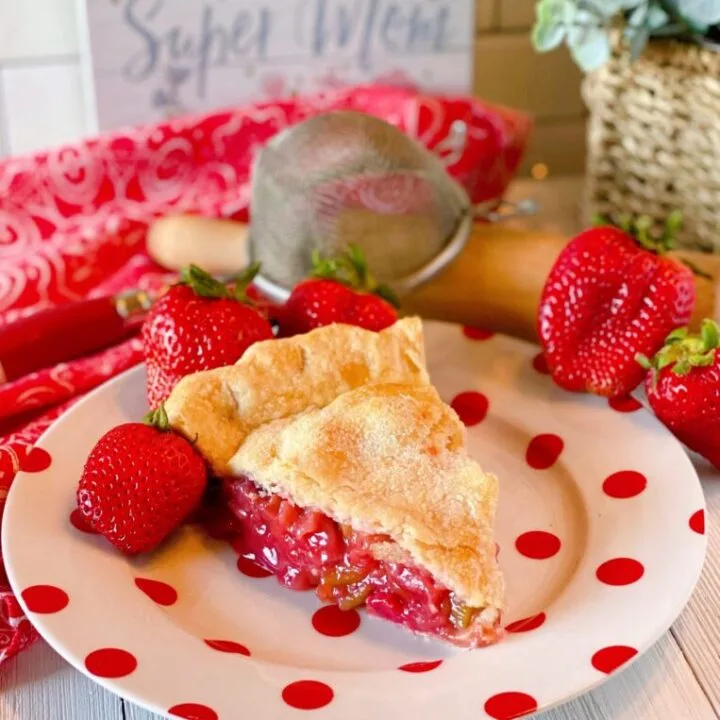 This is the World's BEST Strawberry Rhubarb Pie! It's full of fresh rhubarb and strawberries to give it the perfect combination of tart and sweet. Serve it with a scoop of vanilla ice cream for one of the best homemade country pies you'll ever have! Enjoy!
Cook Time
1 hour
15 minutes
Total Time
1 hour
35 minutes
Ingredients
Pie Crust
2 cups all purpose flour
2/3 cup plus 2 Tablespoons shortening
1 teaspoon salt
6 Tablespoons ice cold water
Strawberry Rhubarb Pie Filling
4 cups cut up fresh rhubarb
2 cups cut up fresh strawberries
1 1/3 cup sugar
7 Tablespoons all purpose flour
Instructions
Pie Crust
Place flour, shortening, and salt into a large plastic bowl. With a pastry blender cut in the shortening until you have a fine crumble. In the center of the mixture add in 6 Tablespoons of ice cold water. Grab your bowl and gently toss until a small ball forms in the bowl. Using your hands like a rake, gently scrape the ingredients together until mixed and a large ball forms. Break the ball into two separate yet, equal balls. Roll one ball out for the bottom of the crust.

For the filling
Mix the rhubarb and cut strawberries together in a large bowl. In a separate bowl mix together the 1 1/3 cup sugar and the 7 Tablespoons of flour. *Reduce sugar if you prefer the pie to be more tart than sweet.

Preheat oven to 425 degrees. In the bottom of the pie crust sprinkle 1/4 cup of the flour and sugar mixture. Add the fresh fruit. Sprinkle remaining flour and sugar mixture over the top of the fruit. It will filter down into and around the fresh fruit.

Roll out the top pie crust and place on top of the fruit. Crimp your edges together. With a sharp knife cut slits into the top of the crust for ventilation. Brush the top of the crust with milk and sprinkle with white sugar.

Place pie on foil lined baking sheet. Place in the middle rack of the oven. Bake at 425 degrees for 15 minutes. Then reduce the heat to 325 and continue baking for one hour. Check the top of the pie crust at 30 minutes. If it is golden brown cover with a piece of tin foil to keep the top and edges from burning. When done remove from the oven and allow to cool for several hours so that the filling can set up. Enjoy.
Notes
You can make this pie tarter by reducing the sugar from 1 1/3 cups to 1 1/8 cup of sugar.
Recommended Products
As an Amazon Associate and member of other affiliate programs, I earn from qualifying purchases.
Nutrition Information:
Yield:
10
Serving Size:
1 slice
Amount Per Serving:
Calories:

258
Total Fat:

3g
Saturated Fat:

1g
Trans Fat:

0g
Unsaturated Fat:

2g
Cholesterol:

1mg
Sodium:

216mg
Carbohydrates:

55g
Fiber:

2g
Sugar:

29g
Protein:

4g
Norine's Nest in no way provides any warranty, express or implied, towards the content of recipes in this website. It is the reader's responsibility to determine the value and quality of any recipe or instructions provided for food preparation and to determine the nutritional value, if any, and safety of the preparation instructions.