Homemade Cream Puffs are an easy elegant dessert! Golden Crispy Pastry is stuffed with an amazing whipped vanilla cream filling and finished off with powder sugar or chocolate ganache!
Cream Puffs make me giddy! Seriously, they make me SO happy!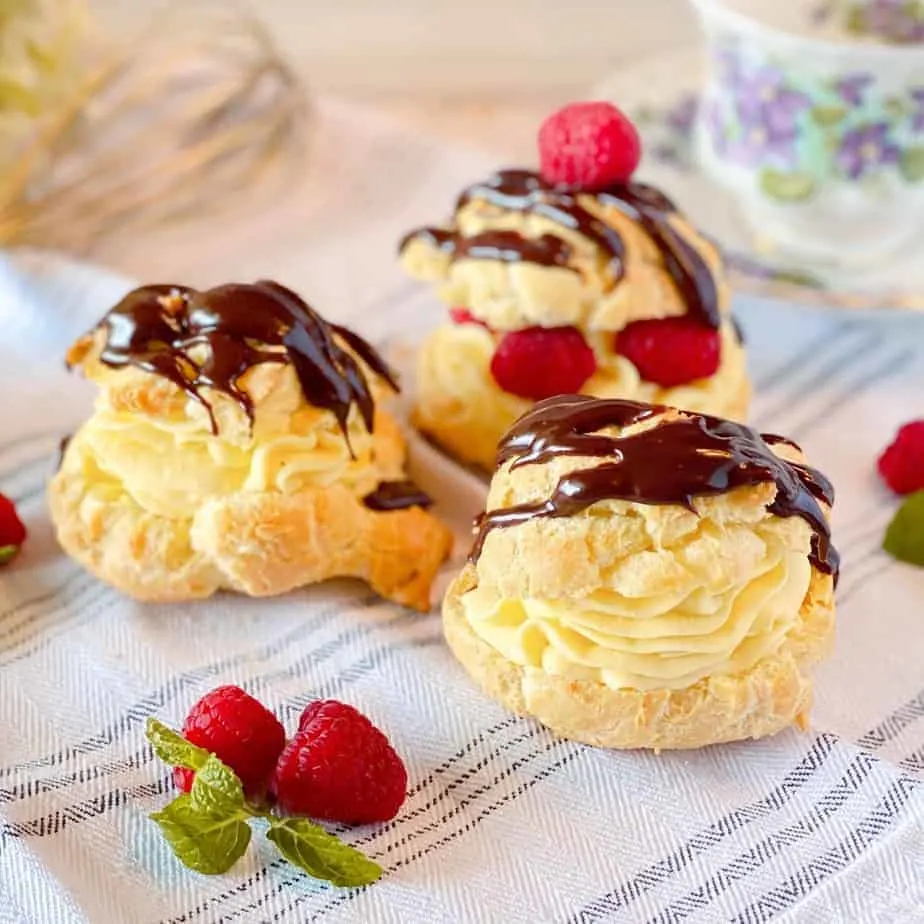 From first bite to last…they are little clouds of joy! Like a little mini vacation to France! (Without the TSA pat down! Have I mentioned my fear of flying? I digress…back to the Cream Puffs.)
They look difficult and sophisticated…but all ya need is a strong arm and one hour!
True Story… the ONLY craving I had during pregnancy… Chocolate Éclairs! One day I drove to a local bakery, hefted my 7-month pregnant self out of our teeny tin can car, ordered two éclairs, and waddled back out to the car! No easy "feat" on swollen "feet"! I managed to inhale both of them in the car out in the parking lot without taking a breath! (I know…my talents are astounding! Lol)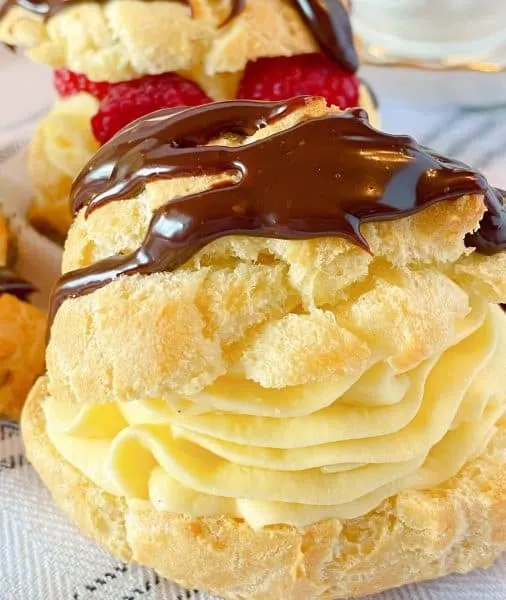 Cream Puffs and Éclairs are basically the same thing…the only difference? Shape! (Kind of like me and Scarlett Johansson…same thing…just different shapes!) One is long the other round. (Yep…JUST like me and Scarlett!)
Those cravings never left, they're still there hanging out with my leftover pregnancy weight! I still love baked Choux Paste with heaps of cream and chocolate! Oh… I won't turn down one with powder sugar…but my favorite is topped with chocolate Ganache…toss in a few fresh raspberries with the cream, and you'll find me out in my car licking my lips!
How To Make Cream Puffs From Scratch
It's always important to understand the why and what's of baking. It's a science…but I flunked science and I can do it…so I know you can too! Let's briefly talk about what makes the pastry used for Cream Puffs, also known as Choux Paste, different from other pastry doughs?
Like other pastry doughs, choux paste consists of flour, butter, and water. However, unlike others, it is cooked on top of the stove before it is shaped and baked in the oven. Most pastries are baked in the oven skipping the stove top step. Eggs are added for leavening. Something else unique to Choux paste.
The cooked flour paste must be allowed to cool slightly before the eggs are added to prevent the eggs from cooking prematurely, but if the paste is too cold when the eggs are added, they will not blend in smoothly. If you follow my step-by-step instructions you'll be fine, and you'll be amazed just how easy this dessert is to make.
Now that you have a little understanding about the Choux paste used for making Cream Puffs…let's get baking!
Begin by making the simple, yet rich, Vanilla Cream filling! This is hands down, the easiest, and BEST tasting cream puff filling ever! There is NO Baking involved in making this custard!
I know a lot of Cream Puff fans fill their cream puffs with Instant pudding…and some use only whipped cream. In my humble opinion, one is too heavy and the other too light. The combination of the two however, creates a superb filling without all the work of a cooked custard.
In a large bowl add 2 (3.5 ounce)packages on Instant vanilla pudding mix, two cups heavy cream, and 1 cup of milk.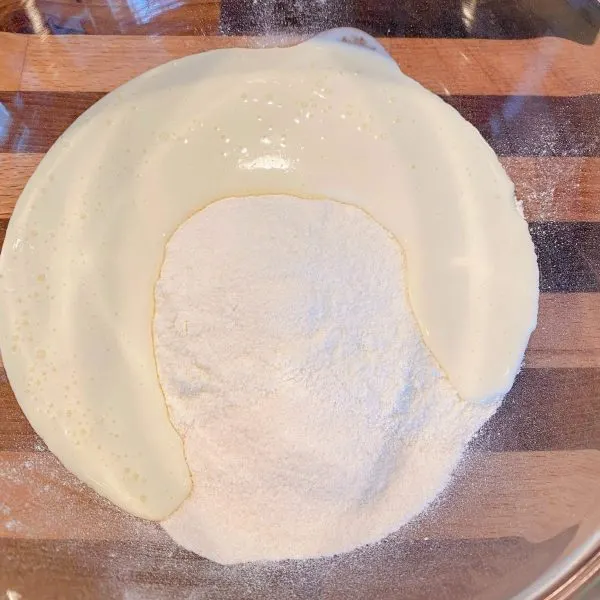 Add 2 teaspoons vanilla bean paste! This will add another depth of rich vanilla flavor to this cream!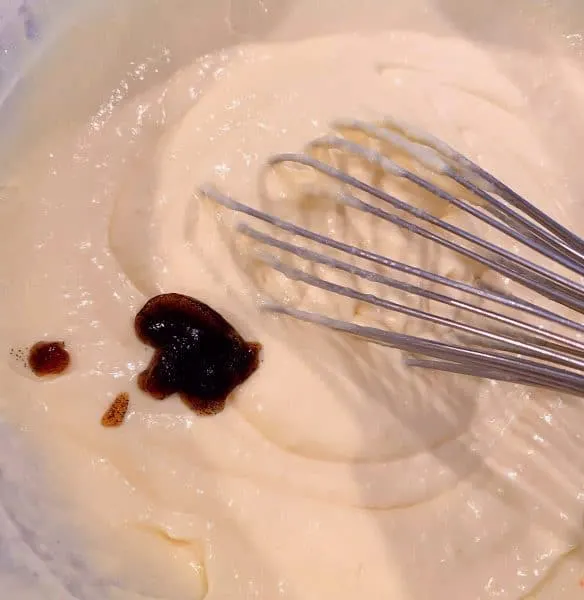 Whisk until combined and mixture begins to thicken. Cover and refrigerate until mixture is set. About 30 minutes.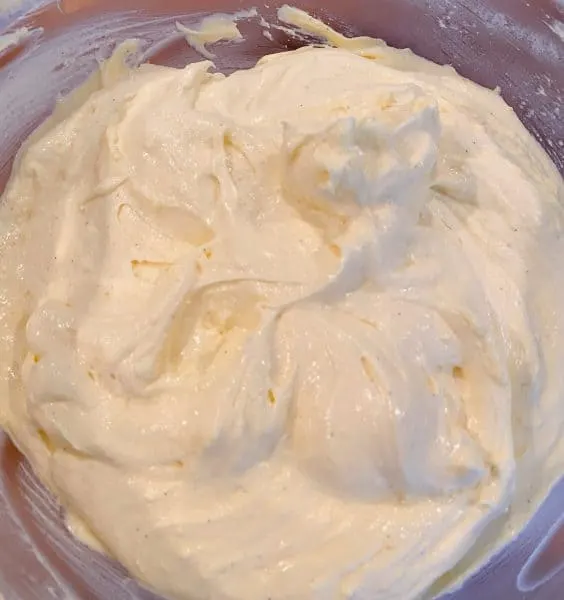 Preheat oven to 400°. A lot of recipes will call for you to bake in a 425° oven. I find this is too hot.
In a large sauce pan, bring 1 cup of water and 1/2 cup of butter to a rolling boil.
A rolling boil is a boil that won't drop in temperature if something is added to it. It's the stage just past boiling!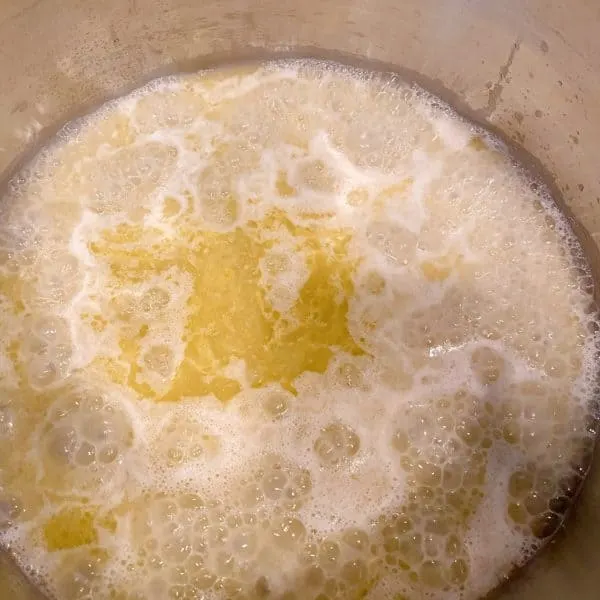 Go take a vitamin or put on your wonder woman wristbands…y'all are gonna need it!
Stir in 1 cup all-purpose flour and 1/4 teaspoon salt with a wooden spoon…until the mixture pulls away from the sides of the pan. Continue to cook and stir the mixture for about 1 minute, to eliminate any excess moisture.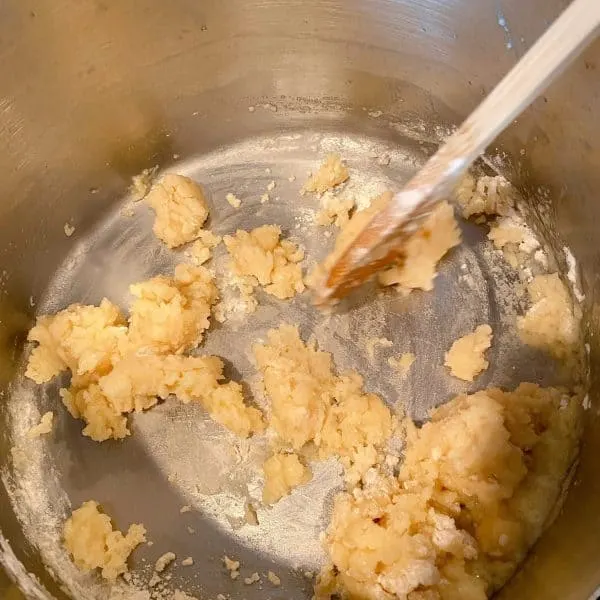 Transfer to a bowl and cool for 5 minutes. Stirring occasionally.
I used the bowl of my mixer…but I didn't use my mixer for the next steps! I HIGHLY recommend you hand beat this dough! Using a mixer can cause too many air bubbles to form in the dough, and you'll end up with flat cream puffs.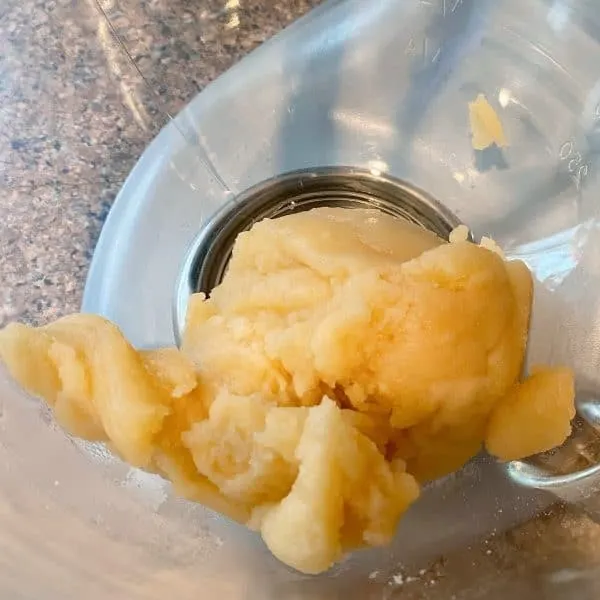 Beat in 4 eggs, one at a time by hand, (Muscles are needed NOW! It's okay you can use my name in vain!)
Make sure the paste is smooth before adding the next egg! (remember "no pain, no gain"!)
Beat the dough until smooth and shiny! (At this point I'm always afraid I'm going to have to call the cardiac unit to come and shock my heart back into normal rhythm)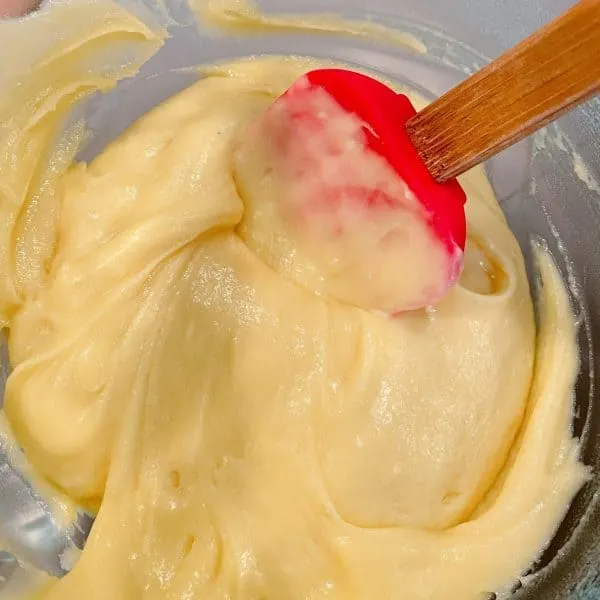 TIP: Coux paste can be covered and refrigerated for up to 4 hours. (This will give you time to find someone to help lift your arms up onto the counter, so you can finish the cream puffs!) Seriously though, you can chill the dough up to 4 hours and there is no need to bring it back to room temperature before shaping.
Baking Cream Puffs
There are two ways to make cream puff shells. You can scoop the paste into a pastry bag fitted with a 1/2-inch plain tip and pipe 15 puffs onto a baking sheet….OR you can drop by the tablespoonful onto an ungreased baking sheet! You can use a non-stick baking cooking sheet but do not grease the pan.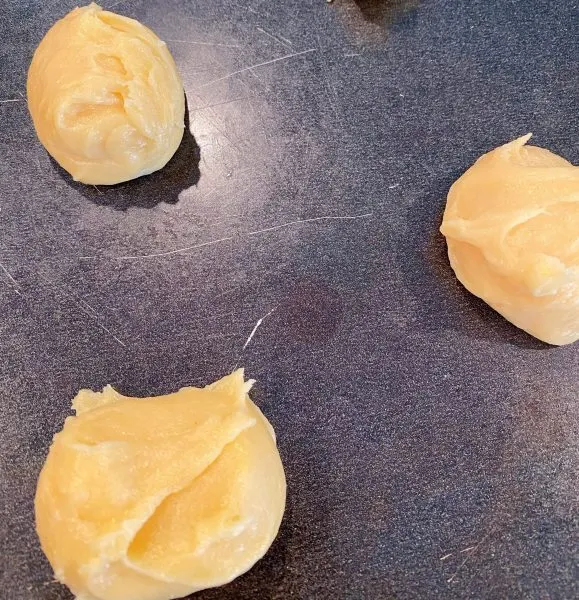 Bake for 20–25 minutes until golden brown and very firm to the touch. Centers should be dry.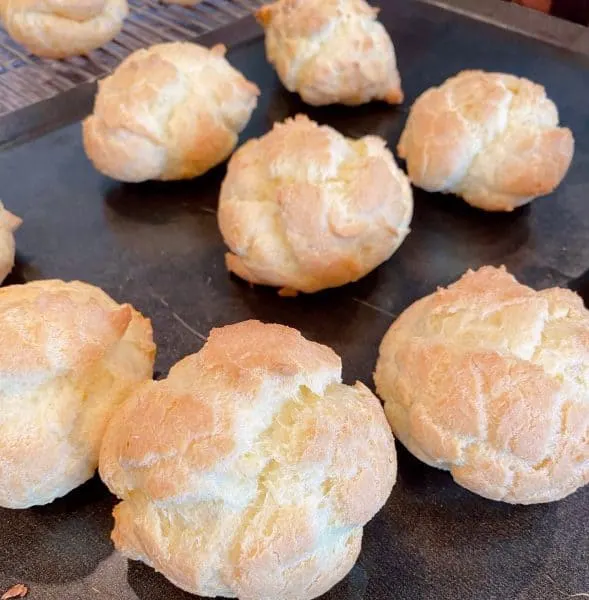 Remove the cream puffs from the baking sheet and place on a rack. When the shells are completely cool, slice the tops, and remove them from the puffs. If there is any uncooked dough, remove it.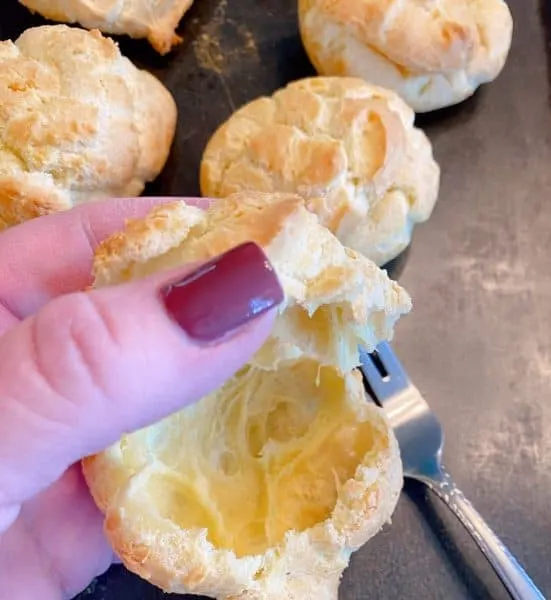 Fill the pastries with the chilled vanilla cream filling. I like to use a pastry bag to fill them, just adds a pretty touch…but you can also scoop it into the bottom of each cream puff.
Don't be shy with that filling! A Cream Puff is nothing without its delicious Vanilla Cream filling! That filling is killer!!!
Place the top back on, slightly askew, or you can add fresh fruit for an extra touch of indulgence. I love adding fresh fruit, especially fresh raspberries! The added flavor it spectacular.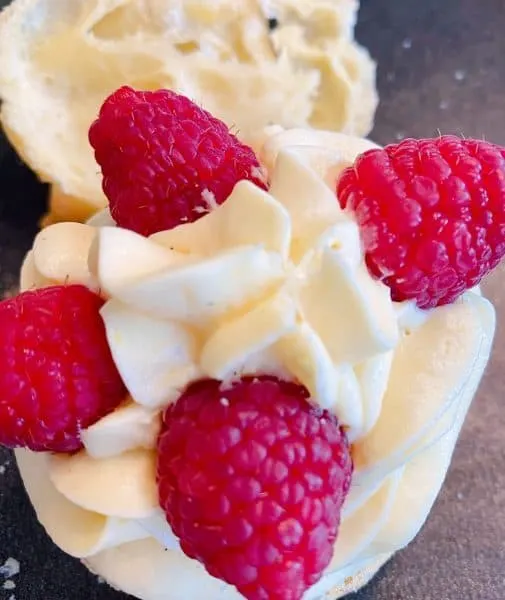 You can finish off the Cream Puffs in two ways. The traditional method…with a heavy sprinkle of confectioner's or powdered sugar.
TIP: If you are not going to serve them right away, wait to dust them with powder sugar until ready to serve. This will keep them nice and crisp and fresh.
Aren't those beautiful Cream Puffs! Perfect for a bridal shower, baby shower, or the ever popular… "mommy needs a shower" but she ain't getting one, so I'm eating a cream puff!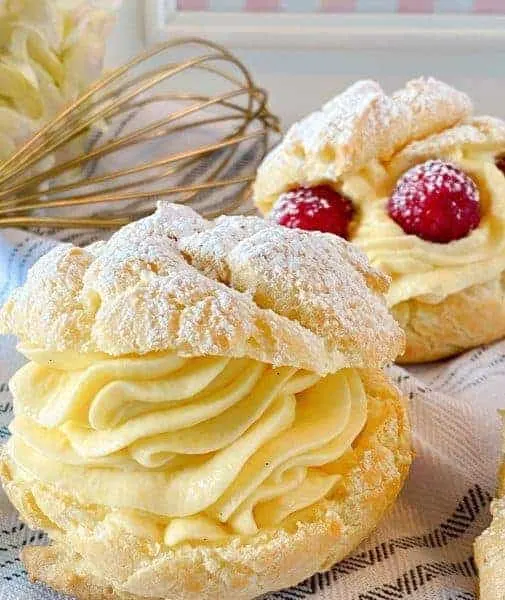 The other way, and my personal favorite is to drizzle them with rich dark Chocolate Ganache!
Now WAIT before you click and leave muttering "I thought these were easy cream puffs"! Chocolate Ganache is SO simple to make… and once you've made it…you'll be making it ALL. THE. TIME.
In a microwave safe bowl add 1 cup heavy whipping cream. Heat for 1–2 minutes on high in your microwave. You want the cream hot, but not boiling! Add 1 cup semi-sweet chocolate chips! This is the typical 1:1 ratio Ganache.
Allow chocolate chips to set in the hot cream for 5- 8 minutes.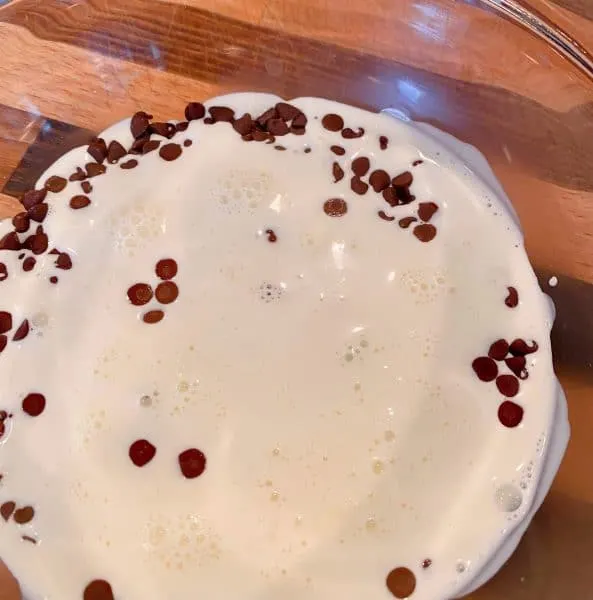 Using a small whisk carefully blend melted chocolate chips with the warm cream. As you mix it will become thicker until you have a beautiful satiny rich chocolate ganache. It also makes the BEST hot fudge sauce.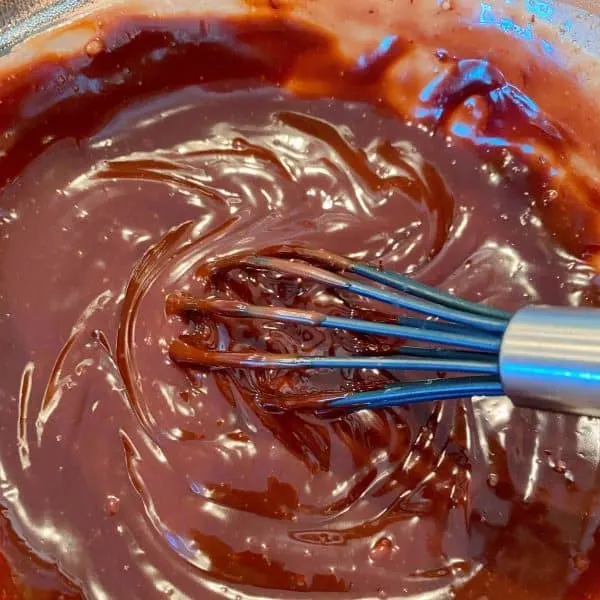 Drizzle warm Ganache over the tops of filled Cream Puffs. The ganache will "set" as it cools.
Are ya drooling yet? Are you forgiving me for those sore arms? Arms? Who cares about a little arm pain now! You've got picture perfect, superbly delicious Cream Puffs! Hurry run to your car!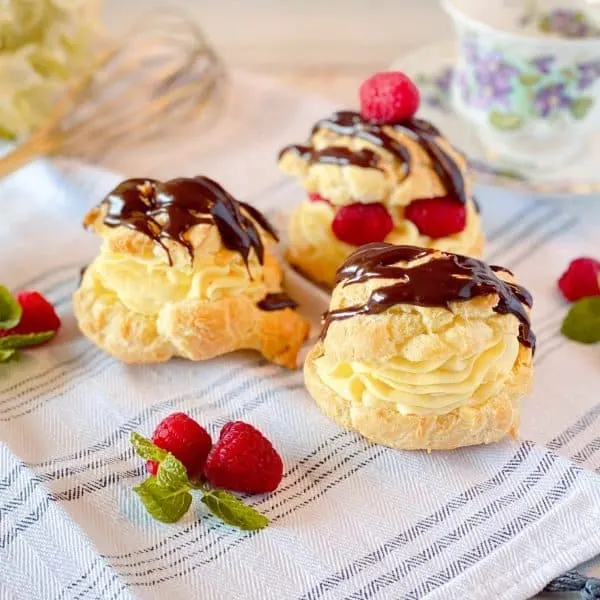 If you're making this recipe for a Holiday Treat like Valentines, and what Valentine Sweetheart wouldn't want to bite into these little pillows of Heavenly Happiness…you can sprinkle them with Holiday Sprinkles!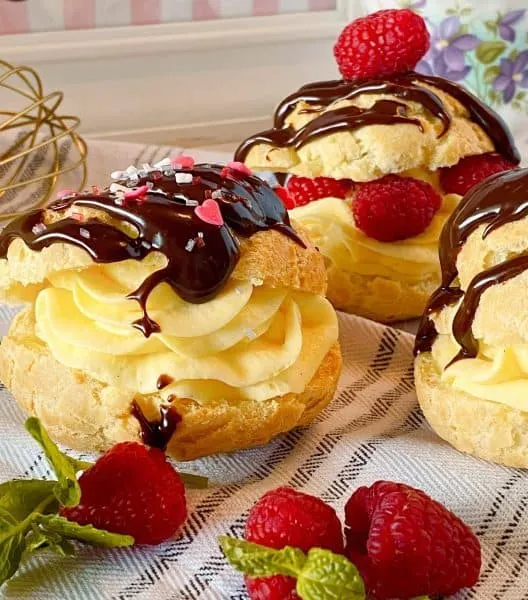 Can you understand my enthusiasm for this yummy classic treat?!! It's the perfect combination of light crispy pastry and perfect Vanilla Cream filling!
You'll be swooning! Because…this is one dessert that truly is "Love at First Bite"!
Easy Valentine Dessert Recipes
Thanks so much for stopping by my Nest! Hope you have a Great Week!
Happy Nesting!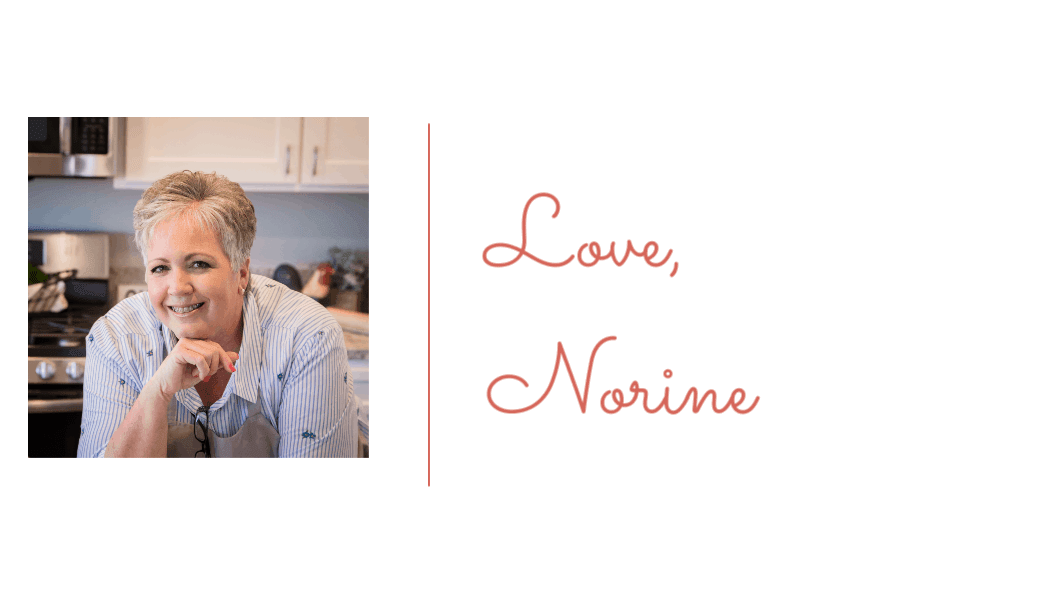 Yield: 15 cream puffs
Easy Homemade Cream Puffs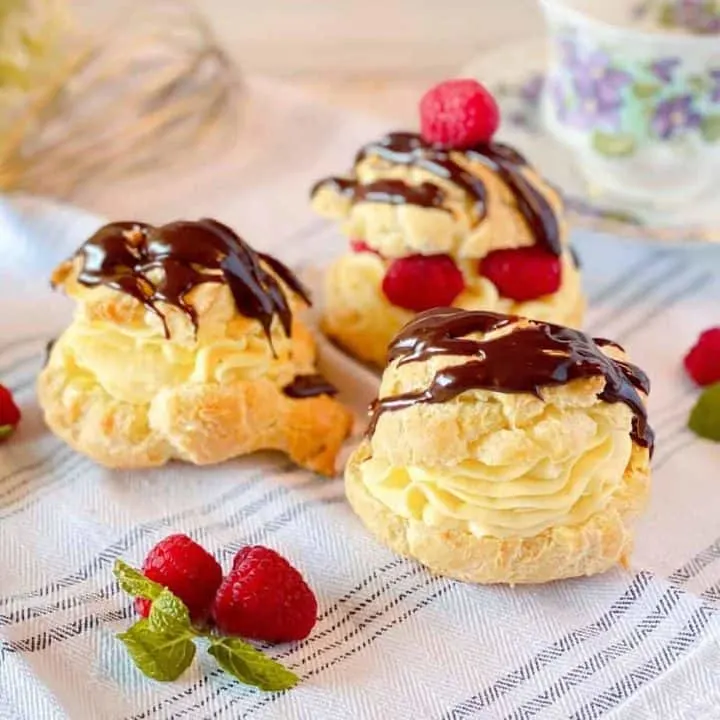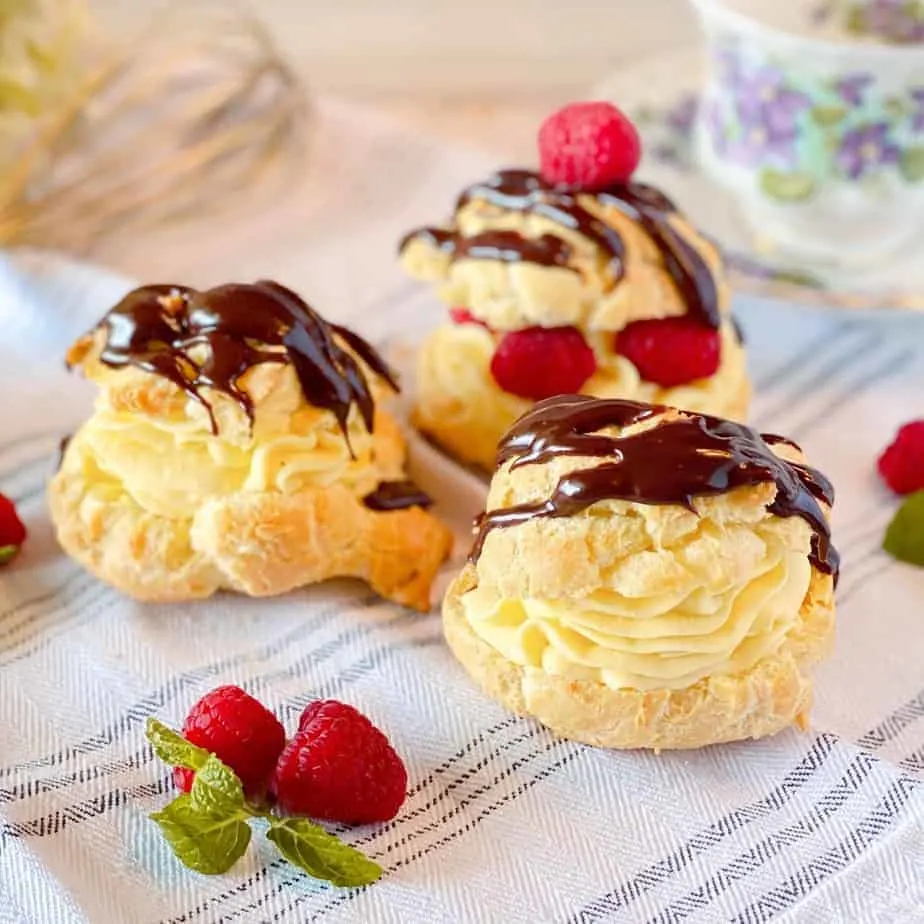 Homemade Cream Puffs are an easy elegant dessert! Golden Crispy Pastry is stuffed with an amazing whipped vanilla cream filling and finished off with powder sugar or chocolate ganache!
Ingredients
2 (3.5 ounce) packages instant vanilla pudding mix
2 cups heavy cream
1 cup milk
2 teaspoons vanilla bean paste
1/2 cup butter
1 cup water
1/4 teaspoon salt
1 cup all-purpose flour
4 eggs
Confectioner's sugar for garnish
Chocolate Ganache
1 cup heavy whipping cream
1 cup semi-sweet chocolate chips
Instructions
In a large bowl, mix together vanilla instant pudding mix, cream, milk, and vanilla bean paste. Mix until thick. Cover and refrigerate to set.
Preheat oven to 400°
In a large sauce pan, bring water and butter to a rolling boil. Stir in flour and salt, with a wooden spoon until the mixture forms a ball. Continue mixing for one more minute until all liquid is absorbed.
Place in a bowl and allow to cool for 5 minutes, stirring occasionally. Beat in eggs one at a time, mixing well after each addition. Drop by the tablespoonfuls onto an ungreased baking sheet.
Bake for 20-25 minutes in preheated oven, until golden brown. Tops should be hard to the touch. Place cream puffs on rack until completely cool.
When the shells are cool, cut off tops of cream puffs and fill them with vanilla cream, or use a pastry bag to pipe the pudding into the shells.
Sprinkle with powder sugar or drizzle with chocolate Ganache.

To make Chocolate Ganache, place heavy whipping cream a microwave safe bowl and heat in the microwave on high for 1-2 minutes until cream is hot, but not boiling. Carefully remove from microwave and add 1 cup semi-sweet chocolate chips and allow to sit 5-8 minutes until chips are melted. Stir with wire whisk until smooth and creamy.
Notes
*Dough can be refrigerated up to four hours without bringing back to room temperature before shaping.
Nutrition Information:
Yield:
15 servings
Serving Size:
1
Amount Per Serving:
Calories:

387
Total Fat:

29g
Saturated Fat:

18g
Trans Fat:

1g
Unsaturated Fat:

9g
Cholesterol:

121mg
Sodium:

222mg
Carbohydrates:

30g
Fiber:

1g
Sugar:

22g
Protein:

5g