Spiced Caramel Apple Pie is a delicious twist on traditional dessert. Delicious firm, slightly tart apples are coated in a sweet subtle spiced caramel sauce and baked to perfection in a delicious flaky lattice crust.
One of the BEST things about Fall? Apples! From pastries to muffins…apples are a scrumptious addition to any Autumn dessert or dish. Have you tried thinly sliced apples in a grilled turkey sandwich? AMAZING!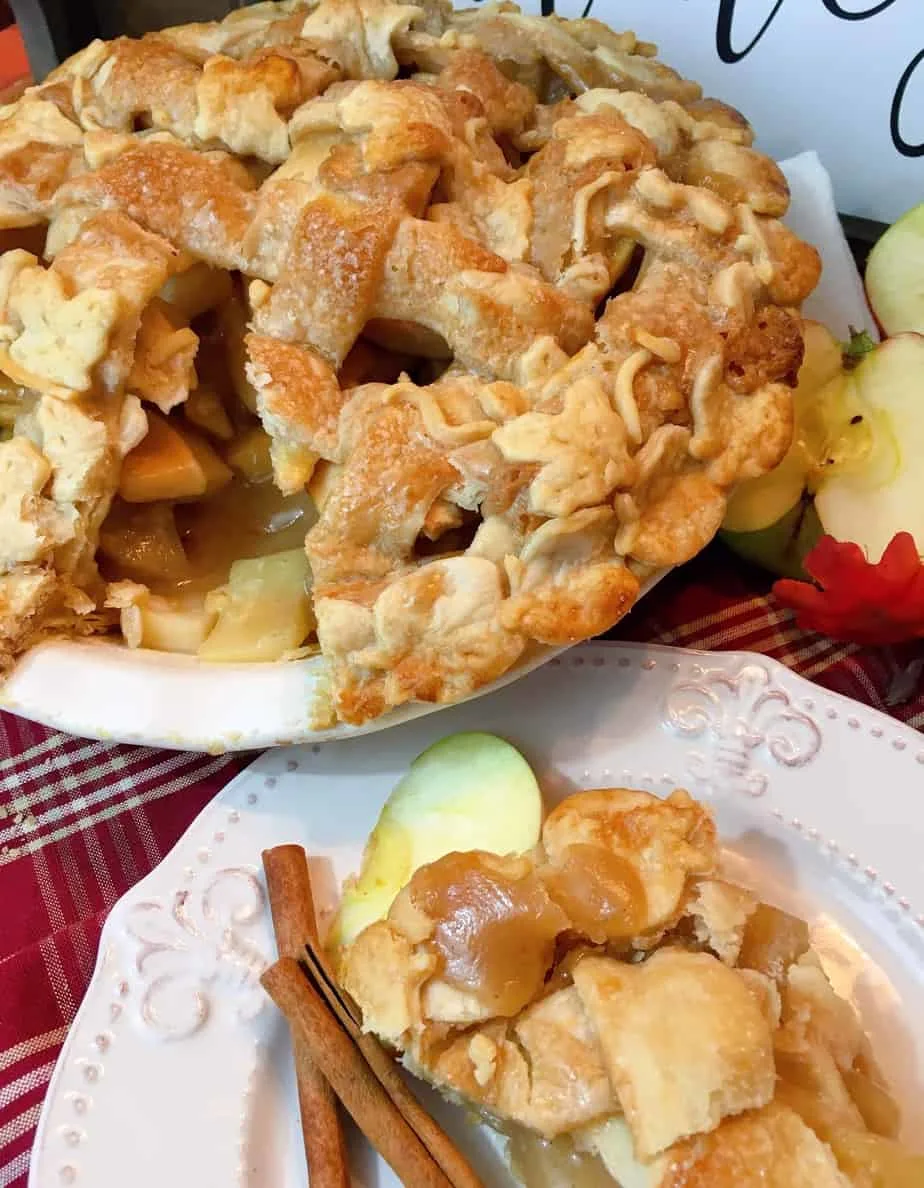 I digress! (That happens around here a lot when I start talking food!) What I really want to talk about…this luscious Caramel Apple Pie! It's a twist on the All-American classic!
Several years ago I stumbled upon "Grandma Opal's Apple Pie" on AllRecipes. From that moment to this, it's still my favorite Apple Pie recipe.
The original recipe does not call for any of the yummy Fall spices found in my version. I wanted to "warm" things up a bit with this deep dish apple pie. With hints of cinnamon, nutmeg, and cardamom take "Grandma's Pie" to a whole new level.
Let's make Spiced Caramel Apple Pie
To start off you'll need a recipe for a 9-inch double crust pie. You can find my ultimate flaky pie crust HERE. There are step-by-step instructions as well as the recipe as well as a video. This is my number one "go-to" pie crust recipe.
Preheat oven to 425 degrees.
How To Make Grandma Opal's Caramel Sauce
Next is the amazing homemade caramel sauce. This is the game changer of game changers for Apple Pie!
In a medium saucepan over medium heat melt the butter! Any recipe that starts off with "butter" is headed in the right direction my friends! It's a one way trip I wanna take! So hop on board with me.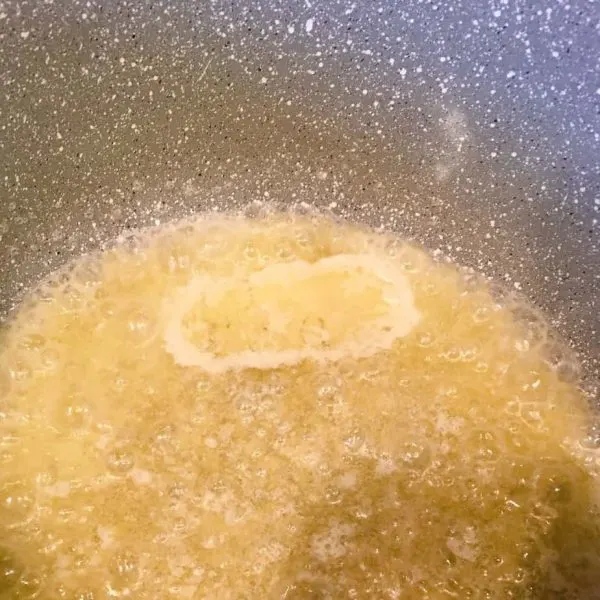 Add 3 Tablespoon flour and stir to form a paste. (This is NOT the paste you ate in kindergarten! It is the base for our caramel sauce. Just wanna be clear here and don't want a bunch of you disappointed when you can't relive your paste eating days of yore!)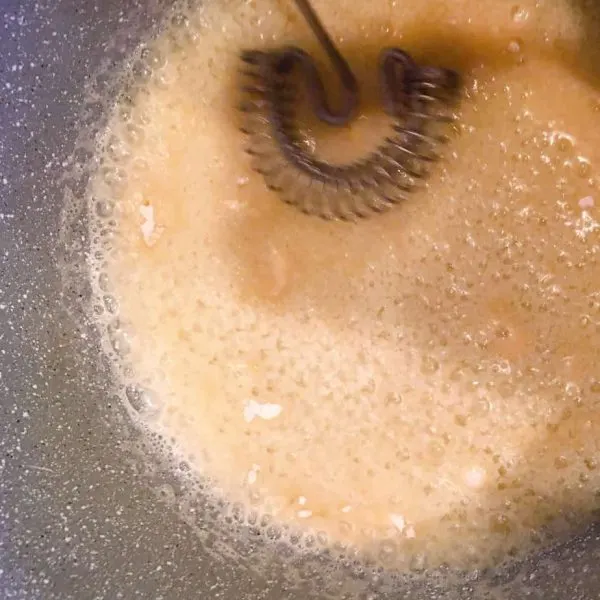 Add 1/4 cup water, 1/2 cup white sugar, and 1/2 cup of packed brown sugar.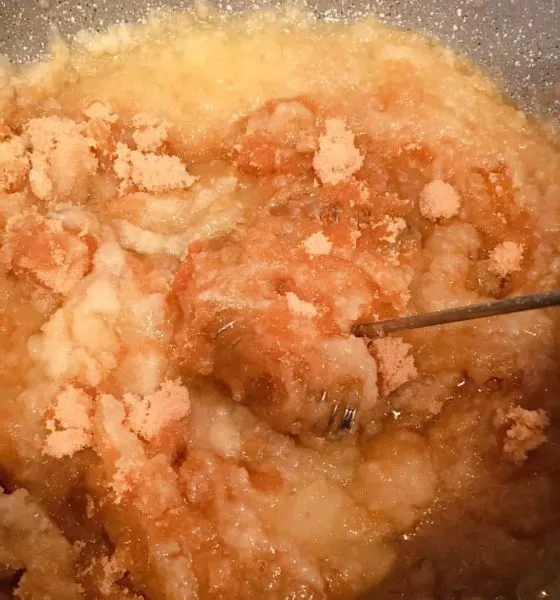 Mix ingredients together until well combined. Add 1/2 teaspoon cinnamon, 1/4 teaspoon nutmeg and 1/8 teaspoons cardamom!
All About Cardamom!
Cardamom is my favorite new spice!
I get asked all the time what it tastes like? That's a great question! It's such a beautiful blend of so many various unique flavors and scents. It's made from several pods of the ginger family. Like I mentioned before, it has a complex flavor…a little bit citrusy, minty, spicy, herbal…and all at the same time.
It's extremely powerful so you only need a little bit or it can take over a dish. A small amount, such as the 1/8 teaspoon in this dish, enhances the flavors of the fruit and is a superb addition.
TIP: Cardamom can be substituted with Allspice.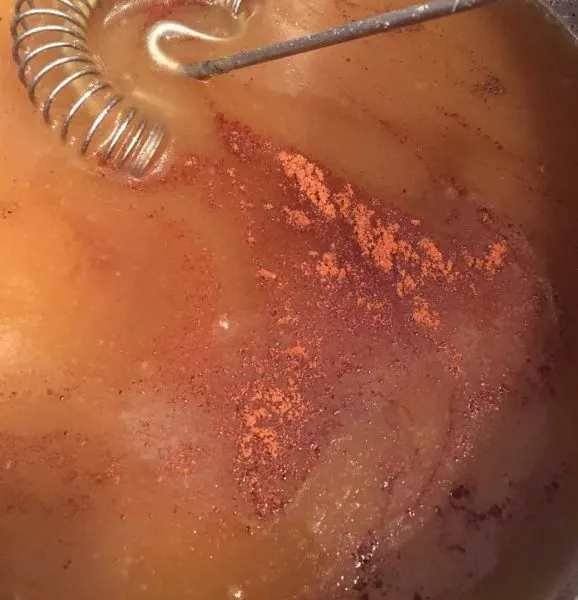 Finishing the Caramel Sauce
Stir spices into caramel mixture and bring mixture to a boil. Reduce heat and let simmer while you finish preparing the pie…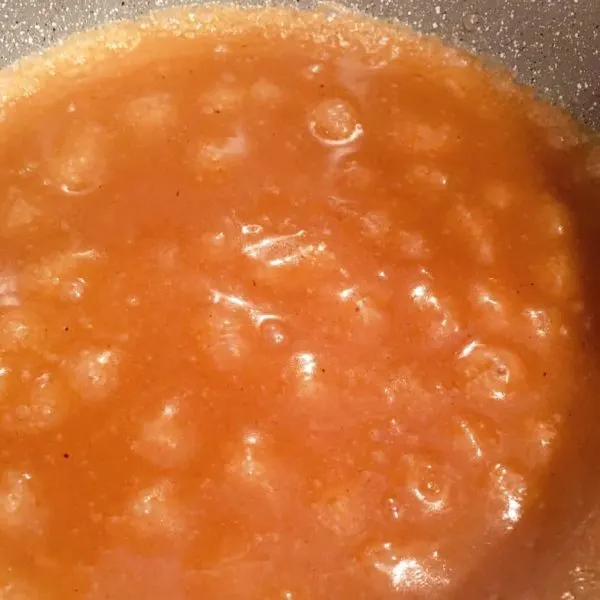 Preparing the Apples
Wash, peel, core and slice 8 apples!
I like to cut my slices a little thicker. I want to sink my teeth into the fruit of this pie! I also like my apples a little bit crispy and not mushy! Thinner sliced apples tend to cook faster and can get mushy if your not careful with your bake times.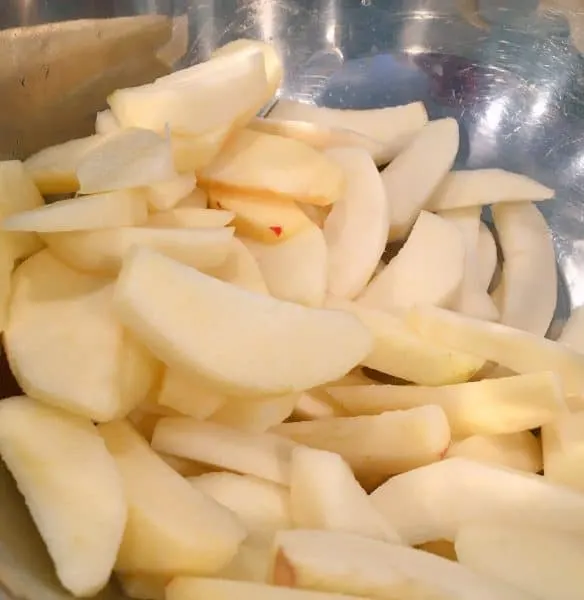 What Apples are Best to Use in an Apple Pie?
It truly depends on the type of Apple Pie you are making and personal taste.
There are over 2,500 varieties of apples grown in the United States. (No wonder they keep the doctor away! That's a LOT of apples my friends!) 100 are grown commercially in the U.S. So with all those apples bobbing around, it can be a little hard to know which are best for baking?
I highly recommend using an extra firm and tart apple. Like Granny Smith, Pink Lady, Honey Crisp, Braeburn, and Jonagold. In this pie I used a combination of Honey Crisp and Pink Lady. They worked beautifully.
Finishing off the Apple Pie
Roll out the bottom crust, fit into a deep dish 9 inch pie pan, make sure to patch any tears or holes, and trim the overhanging dough. Arrange half the sliced apples in the bottom of the pie crust. Sprinkle with 2 Tablespoons of flour.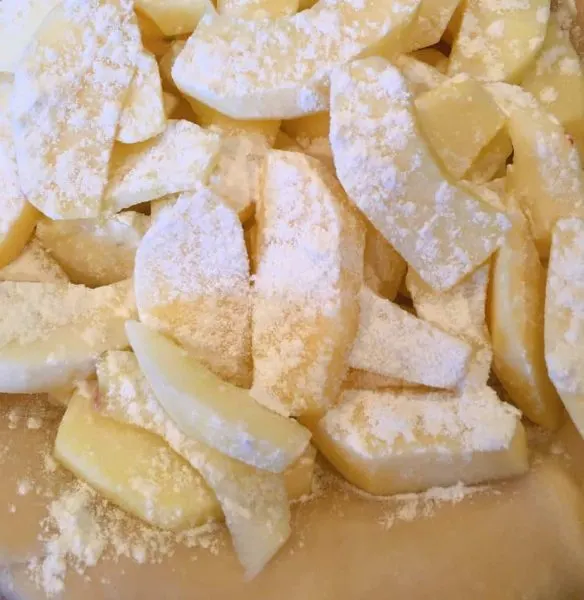 Adding Caramel Sauce to Apple Filling
Time to go back to that beautiful simmering spiced caramel sauce! Pour half of the sauce over the apples.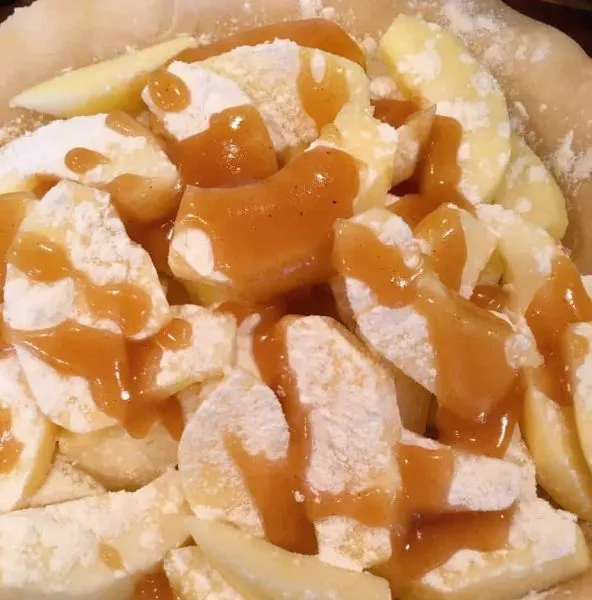 Add the remaining apples. Pile'em up high my friends! This is a fruit pie and those apples are the star of the show. Let'em shine!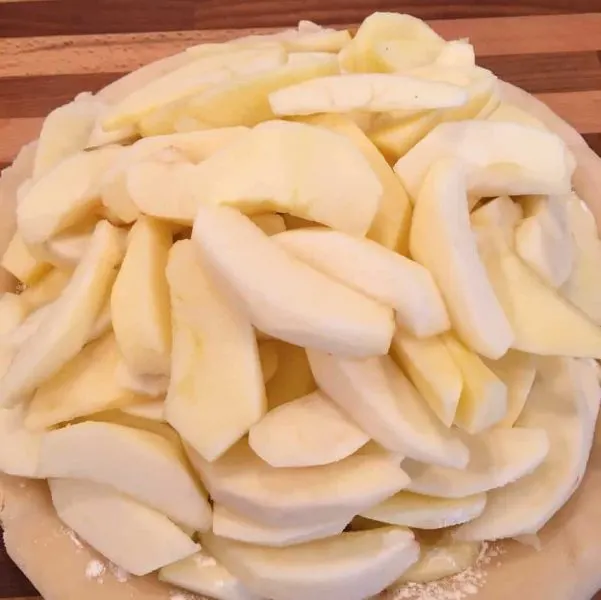 Making a Lattice Top for Pies
TIP: This pie requires a lattice top crust unless you mix the apples with the caramel sauce BEFORE placing into the pie crust.
To make a lattice top, roll the other half of the dough into a 13 1/2-inch round for the top of the crust. Cut into 1/2 inch strips. Arrange 9 of the strips 1/2 inch apart across the top of the pie. Fold every other strip halfway back, making the ends meet, then place 1 strip crosswise. Return the folded strips to their original flat position.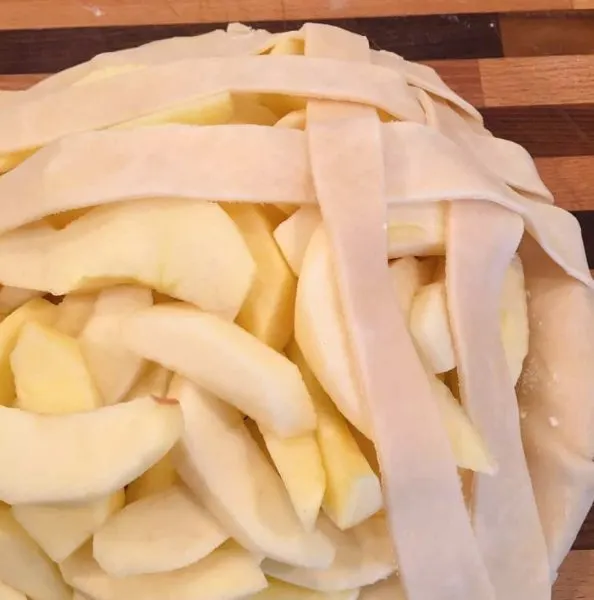 Continue to repeat the pattern, until all the pieces have been "woven" to form a lattice. Trim your ends flush with the edge of the pie plate.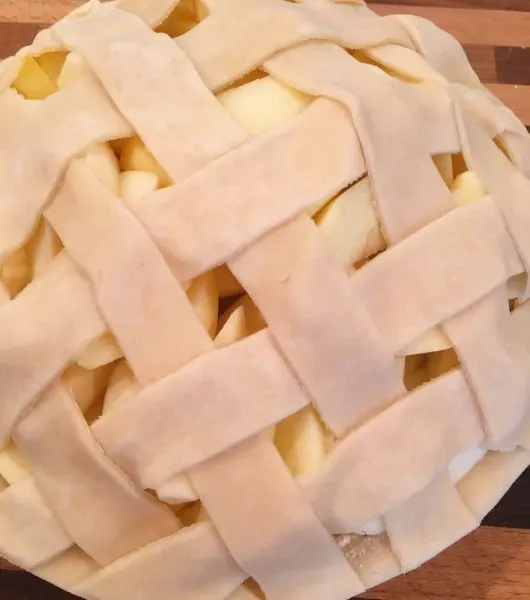 One of the things I LOVE about this pie is this very next step!
Gently pour the remaining warm caramel over the top of the pie and down into the holes of the lattice, making sure the caramel sauce does not run off the top of the pie. Don't rush this step. Be patient…it's worth the extra time!
TIP: If the caramel becomes too thick you can thin it slightly with a Tablespoon or two of water over medium heat.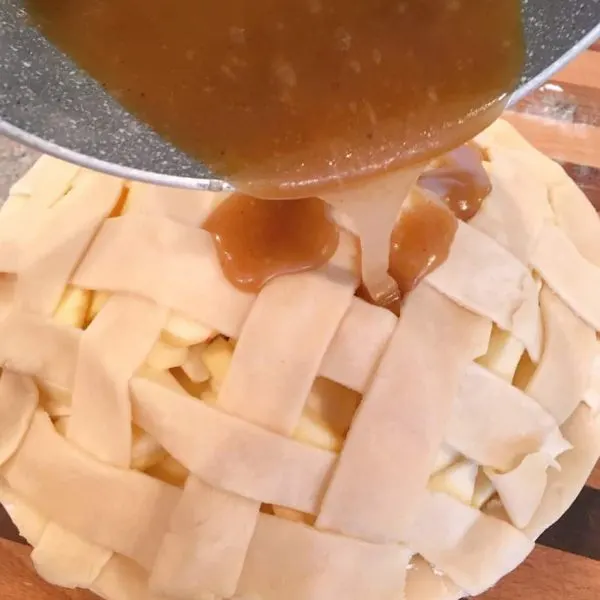 At this point you can add fun pastry garnishes if you want. I cut out leaves and apples with miniature cookie cutters. Don't let this intimidate you! It's like playing with play dough!
Plus you can skip this part and just have a beautiful lattice top pie! As my Dad used to say…It's all going to the same place!
Brush the top of the pie that isn't covered in caramel with milk and sprinkle with sugar.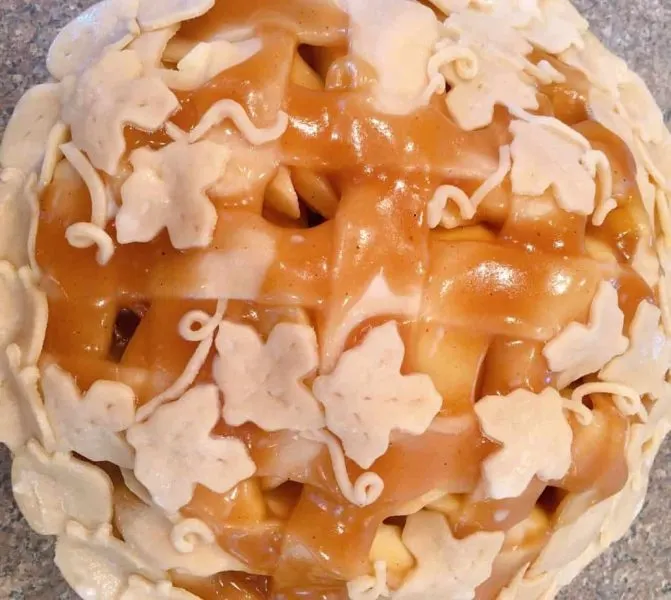 Baking Caramel Apple Pie
Place the pie on a foil lined baking sheet! This helps prevent any filling that may bubble out of the pie from falling onto the bottom of your oven! It also makes removing the pie from the oven easier! It's much easier to grasp the sides of a baking sheet that trying to balance a hot pie plate with pot holders!
Bake for 15 minutes in the preheated oven. Reduce the temperature to 350° and continue baking for another 35-45 minutes, until the apples are "soft" or "fork tender".
If the pie begins to brown too much, make a "tent" out of aluminum foil and cover the top of the pie until done baking.
TIP: Raw apples shrink a great deal during baking (unlike myself…I tend to plump up like a balloon in the heat), apple pies tend to develop a gap between the top crust and the bottom (again unlike me…my top seems to be seeking out my bottom!)…so don't let that gap scare ya…it happens.
Carefully remove the pie from the oven and cool 3- 4 hours to allow the filling to set up! (This is the hardest part of this recipe! I kid you not!)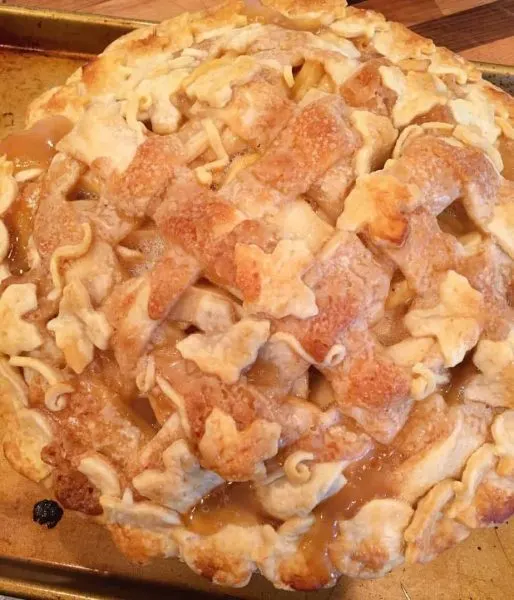 Can you see how that delicious spiced caramel sauce, that was all over the top of the lattice, is now nice and crispy. OH. MY. GOSH! That is like the "toy" in the cracker jack box! A little delectable taste treat!!
Let's take a peek inside! See all that delicious caramel sauce!!! It's sneaking out ready to escape! Don't you just want to stick your finger in there and steal a taste!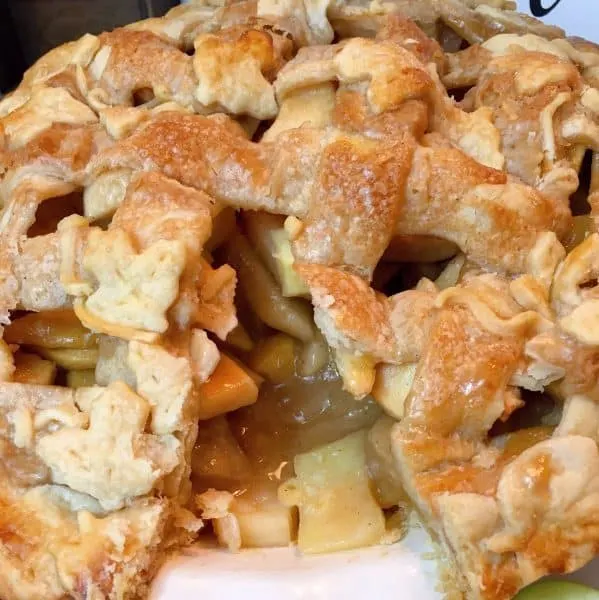 Serve up a delicious slice for your guests! It's the perfect Holiday Pie, summer pie, or "I'm going to go hide in the closet pie"! (I tend to lean towards the latter!)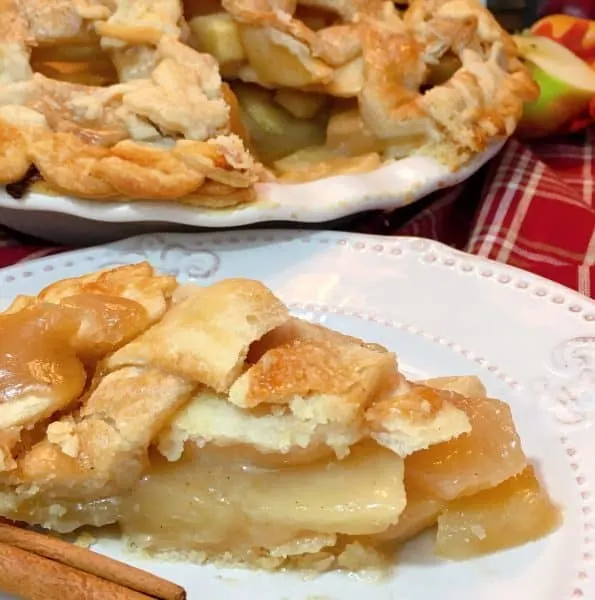 That caramel sauce pairs with fresh apples so perfectly! It really is the most delicious Apple Pie you'll ever have!
Here are a few of my other favorite Apple Recipes
I hope you'll give this recipe a try! I know it will be a hit at your Nest! Remember you can always follow me on FB, Pinterest and Instagram where I share all my favorite recipes!
Happy Nesting!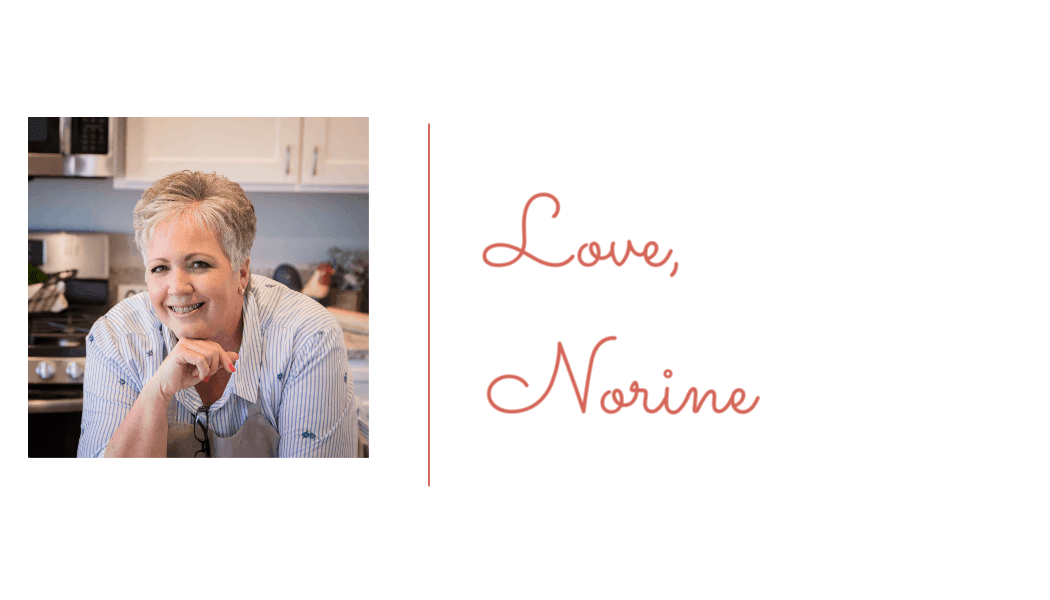 Yield: 8 servings
Spiced Caramel Apple Pie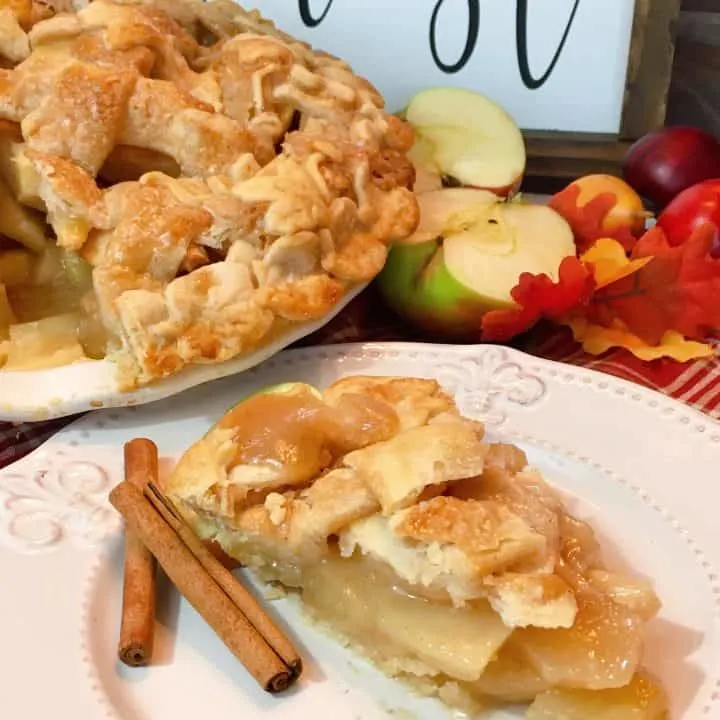 Spiced Caramel Apple Pie is a delicious twist on traditional dessert. Delicious firm, slightly tart apples are coated in a sweet subtle spiced caramel sauce and baked to perfection in a delicious flaky lattice crust.
Total Time
1 hour
30 minutes
Ingredients
1 recipe pastry for a 9 inch double crust pie
1/2 cup butter
3 Tablespoon all-purpose flour
1/4 cup water
1/2 cup white sugar
1/2 cup packed brown sugar
1/2 teaspoon cinnamon
1/4 teaspoon nutmeg
1/8 teaspoon cardamom or allspice
8 apples, washed, peeled, cored, and sliced
2 Tablespoons flour
Instructions
Preheat oven to 425 degrees. Melt the butter in a medium sauce pan over medium high heat. Add 3 Tablespoons flour to form a paste. Add water, white sugar, brown sugar, and spices. Stir to combine.
Bring to a boil. Stirring occasionally. Reduce temperature and let simmer while preparing pie crust.
Place the bottom crust in your pan. Fill with half the prepared apples. Sprinkle with 2 Tablespoons of flour. Carefully pour half the spiced caramel sauce over the apples.
Pile remaining apples into pie plate. Cover with a lattice crust. Gently pour the remaining caramel sauce over the crust and into the holes of the lattice. Making sure it does not run off top.
Place pie on foil lined baking sheet. Place in center rack of preheated oven. Bake for 15 minutes. Reduce the temperature to 350° for 35-45 minutes until apples are soft. Remove from oven and allow to cool 3-4 hours to set.
Notes
If pie begins to brown too much, cover top of pie with foil tent until fully baked.
Recommended Products
As an Amazon Associate and member of other affiliate programs, I earn from qualifying purchases.
Nutrition Information:
Yield:
8 servings
Serving Size:
1
Amount Per Serving:
Calories:

382
Total Fat:

16g
Saturated Fat:

9g
Trans Fat:

0g
Unsaturated Fat:

5g
Cholesterol:

36mg
Sodium:

164mg
Carbohydrates:

62g
Fiber:

5g
Sugar:

46g
Protein:

2g