Raspberry Cream Pie is loaded in an ultra flaky crust, filled with a creamy cheesecake bottom, a layer of sour cream, and topped with an amazing raspberry cream! It's a delicious and decadent Holiday dessert!
Raspberry Cream Pie is one of my all time favorite desserts!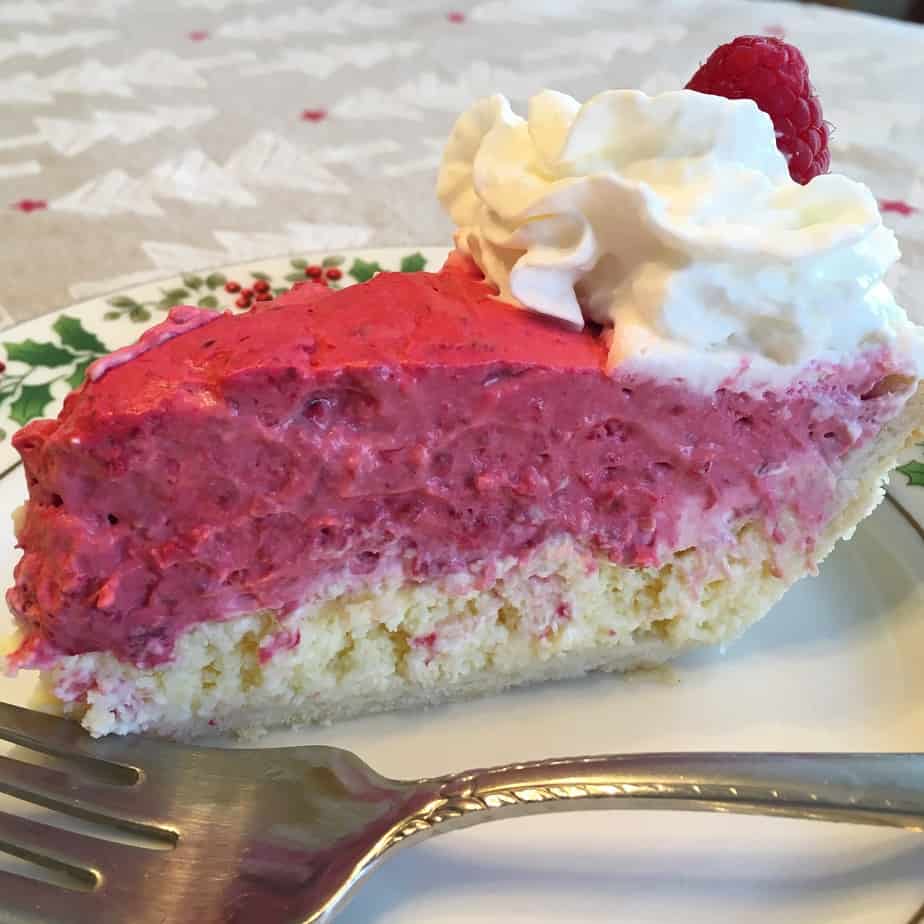 Let's pause for a moment on that Raspberry Cream top! Let's just look at it…absorb it…take it all in! Aahhhhh! That right there friends is so good it should be illegal in at least 49 of the 50 states. (Not here! Cause then I couldn't eat it! That would be beyond sad!)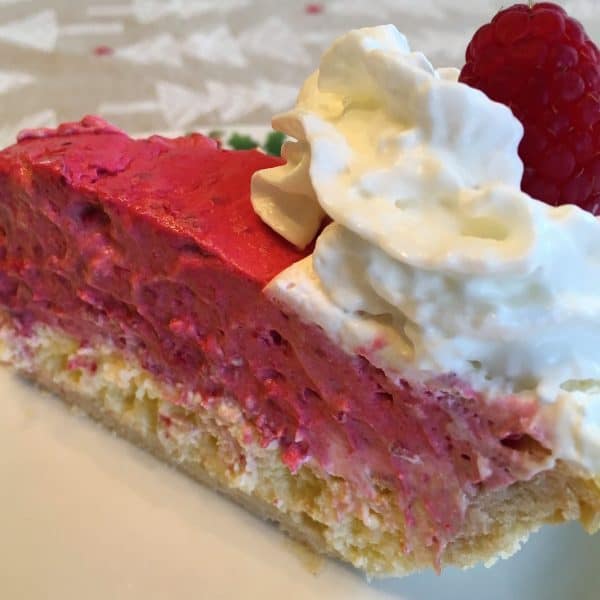 This recipe is one my Mom used to make when she had dinner parties. She got it from a friend of hers, Margo!
Margo has long since gone to the big kitchen in the sky, but she was probably one of the best cooks in the world…according to my mother! It must be true because I have made several of her recipes. They are classics and will never leave my personal cookbook!
Do not let this pie intimidate you! I'm going to walk you through it step-by-step and you will be amazed how talented you are! Let's channel our inner Julia!
How To Make Raspberry Cream Cheesecake Pie
You'll need a 9 inch pie unbaked pie crust. You can find my pie crust recipe by clicking here. You can also use the dough boys crust. Whatever works best for you.
How To Make Cream Cheese Layer
In your mixing bowl combine the softened cream cheese, sugar, and eggs. Beat until smooth and creamy.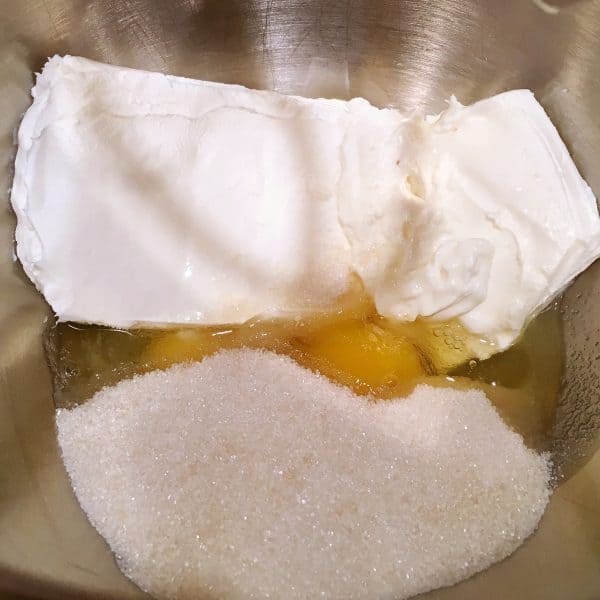 Pour into an unbaked pie shell. Bake in a preheated 350° oven for 30 minutes or until filling is firm.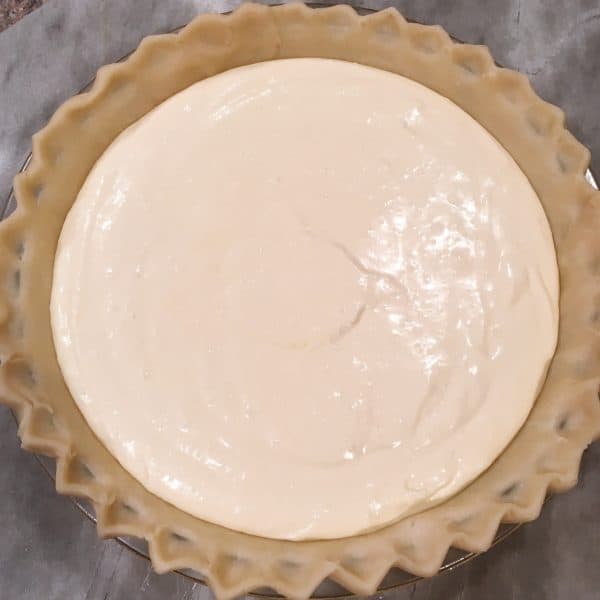 Remove pie from the oven and place on a cooling rack. Allow to cool until cold.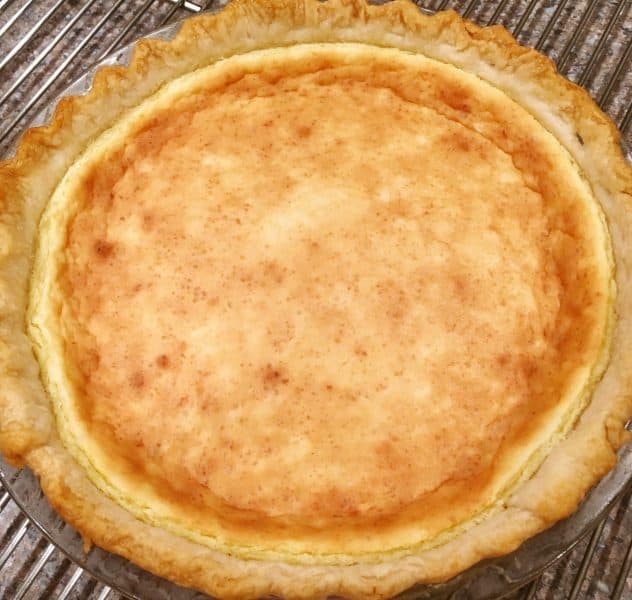 Spread a 1 cup layer of sour cream on top of the baked cheesecake layer. Chill 1 hour.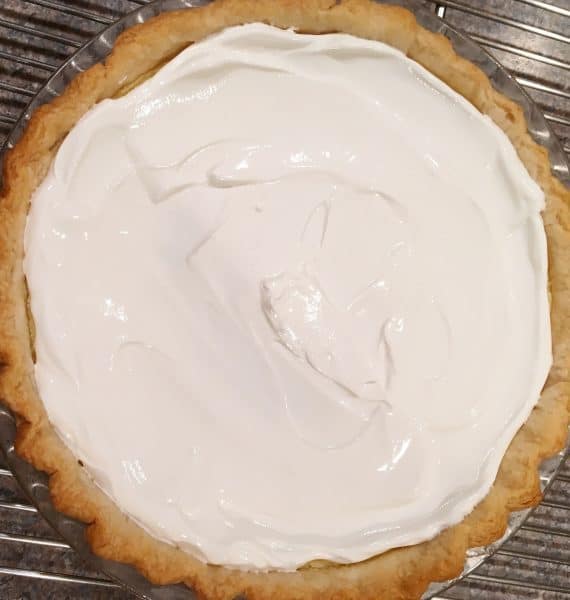 Raspberry Cream Layer
While the pie is chilling… (Why do I suddenly have this vision of the pie in sun glasses kickin' back in the refrigerator?)… place the thawed raspberries and cornstarch in a medium sauce pan and mix well.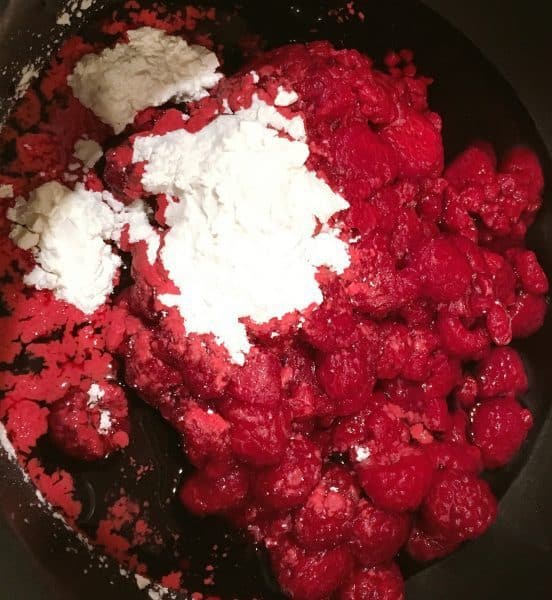 Over medium heat, on your stove top, cook raspberry and corn starch mixture. Stirring constantly!
Tip: Do not use a wooden spoon you are fond of unless you love the color raspberry red! Obviously I'm not a big fan of the wooden spoon I was using, to sentence it to a life of raspberry blush!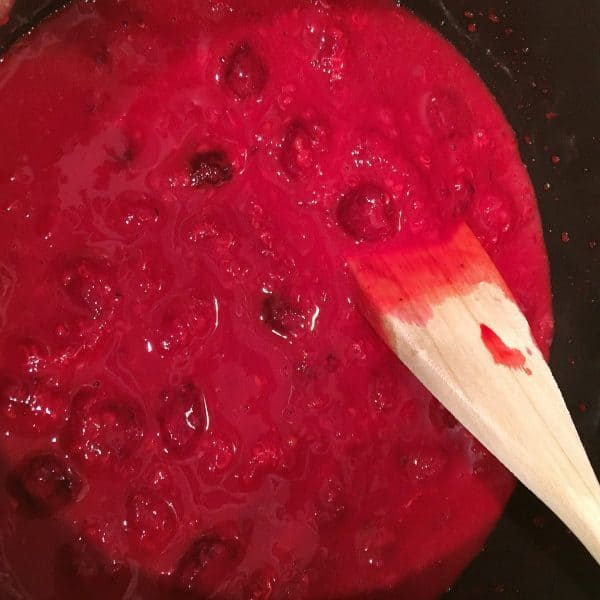 Cook until mixture is thick and clear. I love to watch this process take place. (I feel so "Julia"! Are ya feelin' it too?) Allow the Raspberry mixture to cool completely. Let me stress this point. This mixture must cool completely unless you want Raspberry cream soup on top of your beautiful pie! In which case…you're inner Julia done up and died!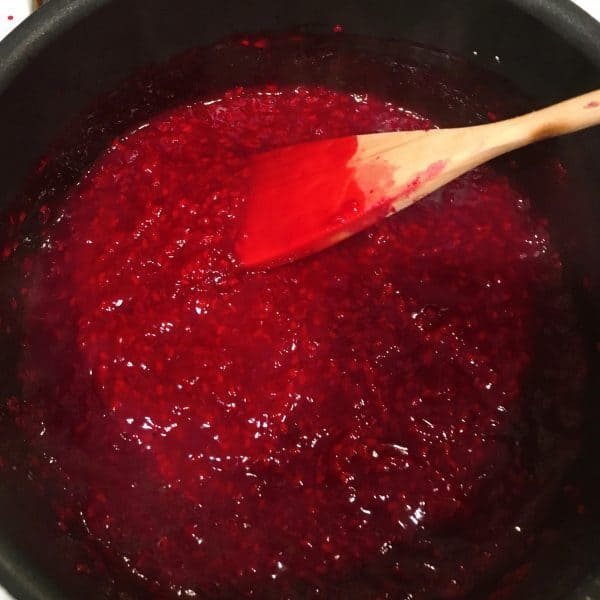 Next in your mixer whip the 1 cup of heavy cream until stiff peaks form. I'm talking about "Swiss Alps" peaks peeps! The Matterhorn at Disneyland! This is "Go big or go home" whipped cream peaks! You don't want butter, but you don't want flat whip cream. (Okay… I think I've sufficiently over stressed this point! Let's move along… lol)
Once your whipped cream is prepared, its time to make the Raspberry Cream! Fold the thickened raspberry mixture into the whipped cream. Folding not stirring. Stirring will cause the whip cream to go flat and you want nice fluffy raspberry cream filling. (Gads me and this whip cream!)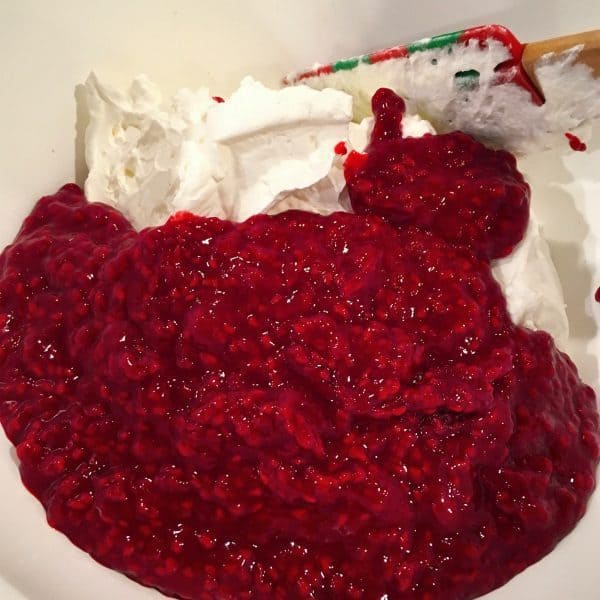 As you continue to fold the two mixtures together you create this marvelous raspberry cream. Make sure to continuing folding it until completely combined.
It's mildly tart and that's okay! You have that sweet cream cheese layer underneath the creamy raspberry topping and it's an amazing combination!
Spoon the beautiful fluffy raspberry cream mixture on top of the sour cream layer.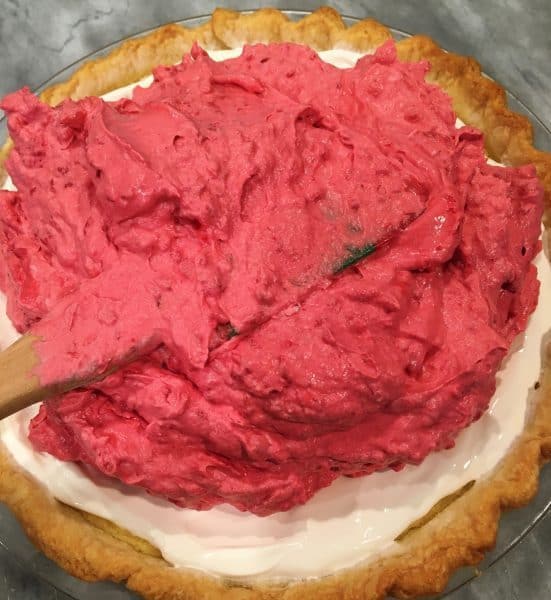 Using your rubber spatula spread the filling out towards the edges of the pie making sure to leave the top high and rounded.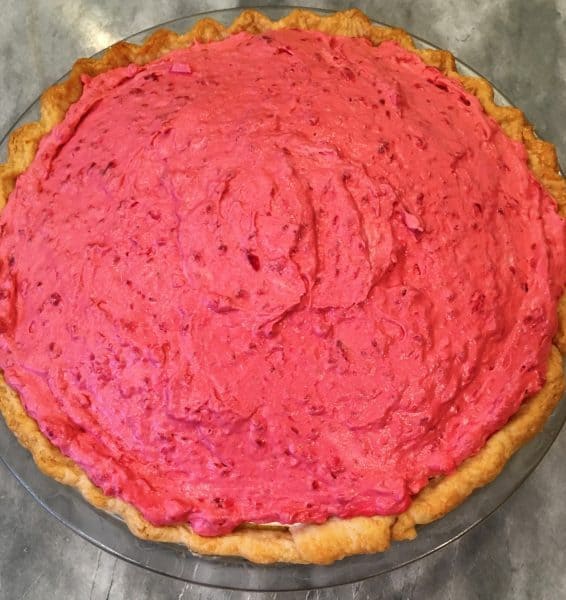 Chill for several hours, or over night!
I love my garnishes! Ya'll know that about me! It's the extra special touches that take an ordinary dish or dessert, and send it soaring to the top of its game! Presentation is everything in my opinion. Especially when you've created such a labor of love!
I garnished this dessert with additional sweetened whip cream and fresh raspberries.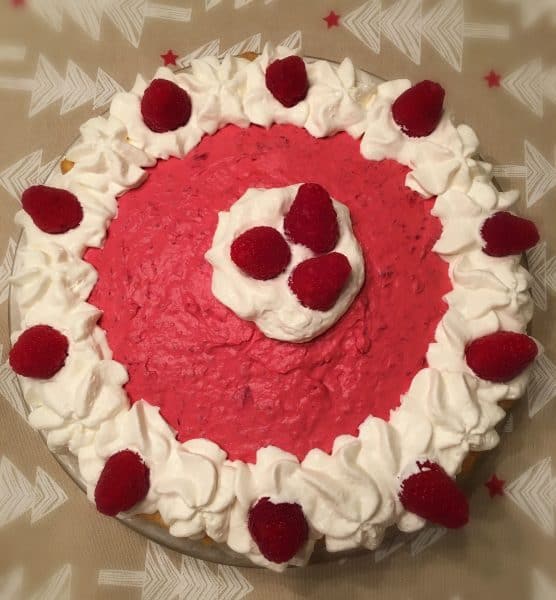 This pie is sensational! Seriously I can't think of a better pie to serve at a dinner party, or holiday gathering, than this delectably delicious and elegant raspberry cream pie.
I love the different layers in this dessert! The burst of creamy flavors blend and combine so beautifully together!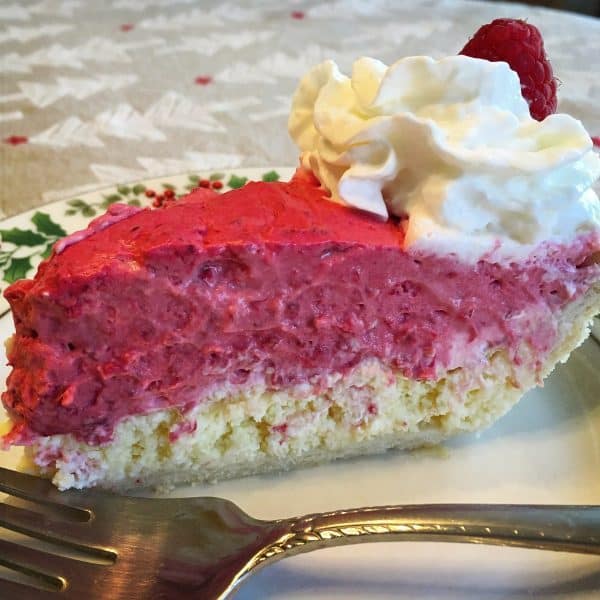 I really hope you'll give this Raspberry Cream Pie a try! Don't let the different layers scare you. Just make sure you allow yourself time. You don't want to rush any of the steps. It's important that the steps that need to "cool" are allowed the time needed to cool and that you allow time for the final chill.
Family Favorite Pie Recipes
I have more wonderful holiday recipes coming this week. We are down to the wire for this holiday season!
Thanks for stopping by my Nest! The printable for the recipe is below and if you have any questions or comments please feel free to post them below and I'll get back to you as fast as I can. I
Have a wonderful day!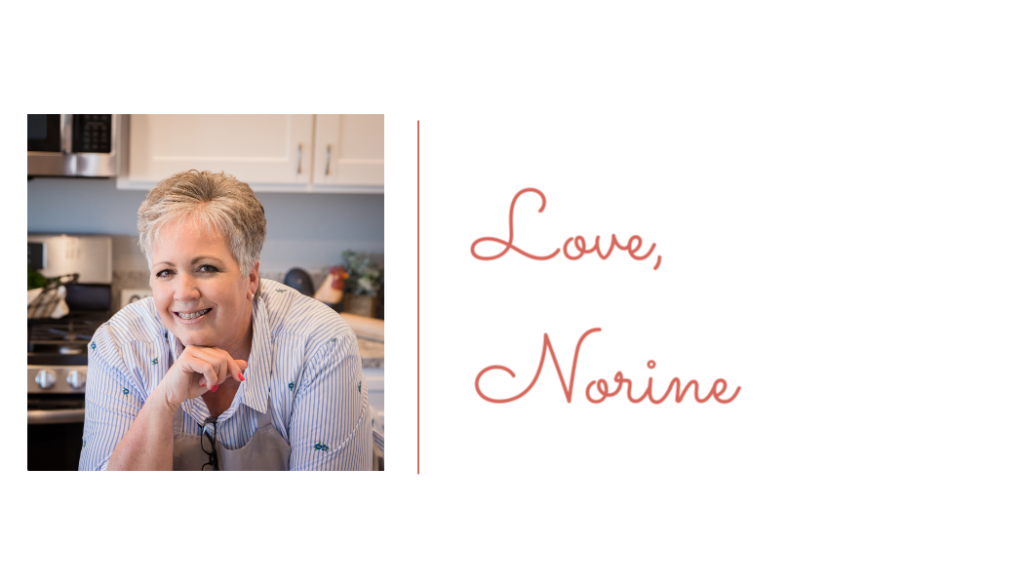 Yield: 12 servings
Raspberry Cream Pie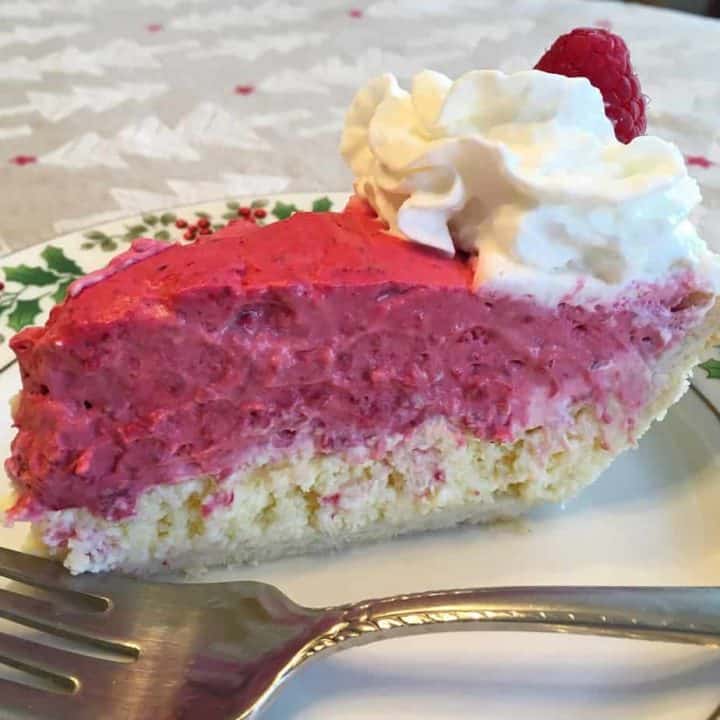 A rich cream cheese layer topped with a sour cream layer and a luscious Raspberry Cream Layer piled high in a flaky homemade crust. A sensational dessert for any dinner party or Holiday meal!
Total Time
4 hours
10 minutes
Ingredients
12 oz. softened cream cheese
2 eggs
1/2 cup sugar
2 packages (10 oz. each) Frozen Raspberries, thawed
5 teaspoons cornstarch
1 cup Sour Cream
1 Cup heavy whipped cream
1 - 9 inch unbaked pie shell with high rim
Whipped cream and fresh raspberries for garnish
Instructions
In your mixer cream together cream cheese, sugar, and eggs. Blend until smooth. Pour into pie shell. Bake at 350° oven for 30 minutes or until filling is firm.
Let stand on cake rack until completely cool.
Spread 1 cup of sour cream over the cream cheese layer and chill for 1 hour.
In a medium sauce pan, over medium to low heat, combine raspberries and corn starch. Stir until well combined. Cook, stirring constantly, until thick and clear.
Remove from heat and allow to cool completely.
In your mixer with your whisk attachment, beat whipping cream till stiff peaks form.
Fold thickened cooled raspberry mixture into whipped cream until completely combined.
Spoon on top of of pie. Spread to edges of crust leaving rounded and high in center.
Chill several hours, or overnight.
Garnish with sweetened whipped cream and fresh raspberries if desired.
Notes
*Note prep time includes chill time.
Nutrition Information:
Yield:
12 servings
Serving Size:
1 slice
Amount Per Serving:
Calories:

239
Total Fat:

17g
Saturated Fat:

9g
Trans Fat:

0g
Unsaturated Fat:

6g
Cholesterol:

75mg
Sodium:

128mg
Carbohydrates:

19g
Fiber:

0g
Sugar:

12g
Protein:

4g