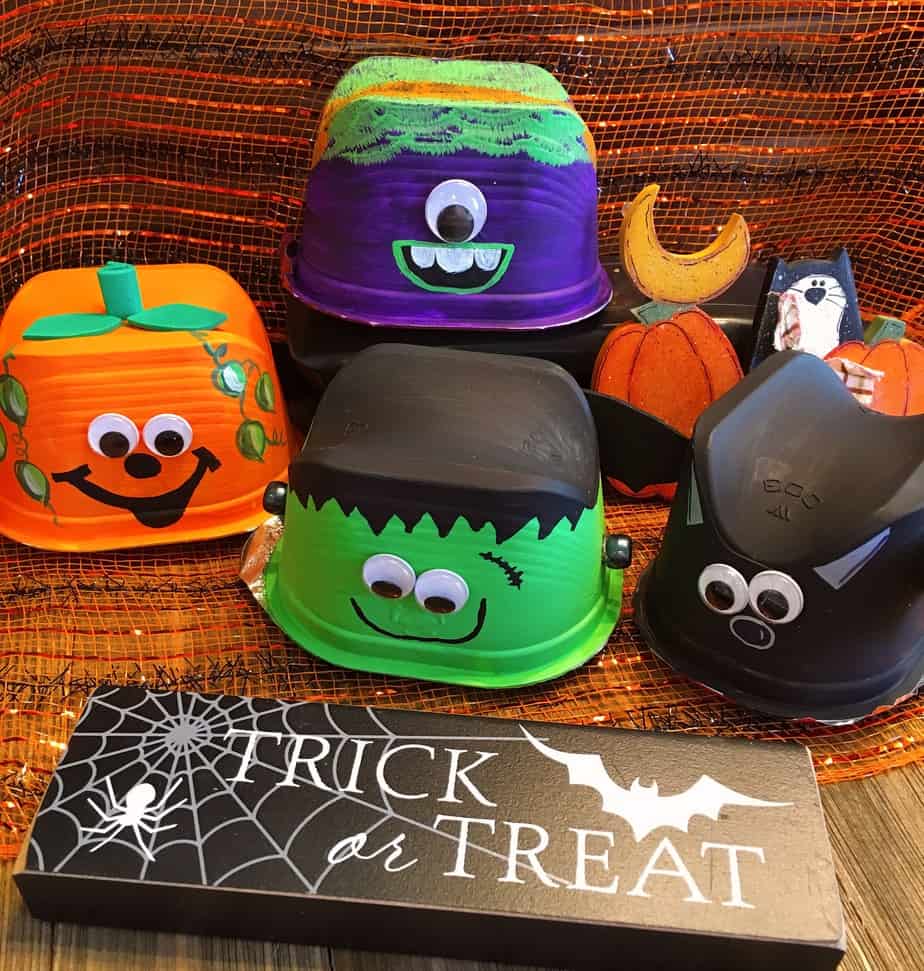 *As an Amazon Associate I earn from qualifying purchases. This post may contain affiliate links, which means that I may make a commission from any purchases at no additional cost to you. Thank you for your support!
I love Halloween and I love sharing treats with all my favorite lil'ghosts, goblins, ninja turtles, and ballerina friends!
This year I wanted to make a special treat. Something totally different! So… I turned to Pringles® Original (12ct) packs, flipped them upside down, and created some of my favorite Halloween characters.
The best part about these single-serve tubs of Pringles crisps is that you never feel the need to share. Single-sized is just that. There's just enough for you. (Hooray! Or should I say "Boo-ray!") No stealing treats Mom and Dad!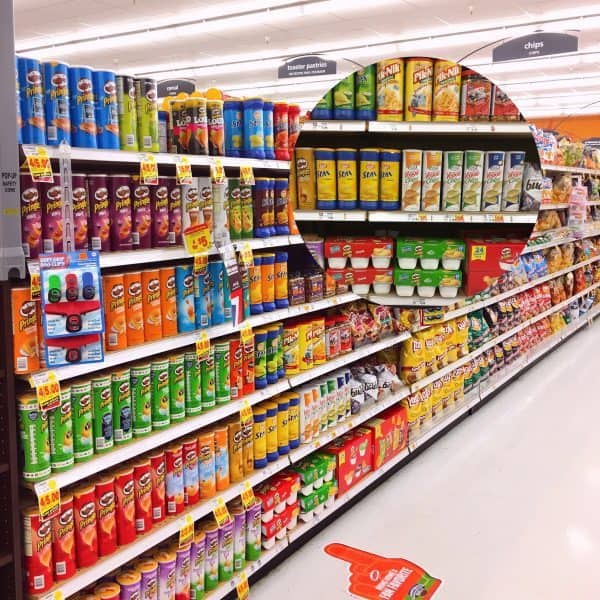 While you're there, be sure to check out the great offers and limited time pricing on Pringle Snack Packs and Keebler Cookie and Cheez-It Variety Packs. Smith's is my "go-to" store for all my Halloween essentials. (Yes! If you know me… Chips and Cookies are essentials! I call them lunch!)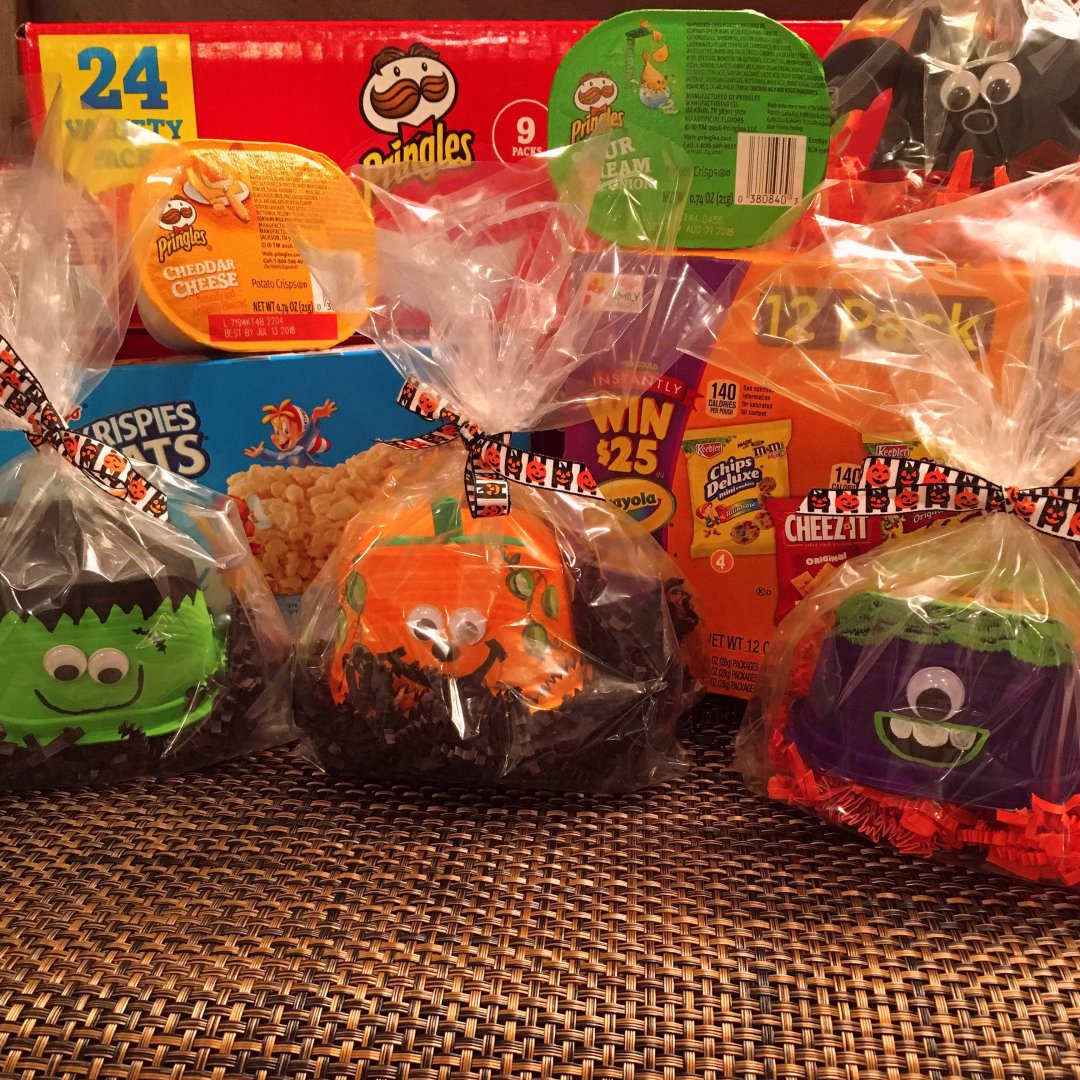 SUPPLIES NEEDED FOR Halloween Spooky Crisps
*Please note…because of small parts glued on to these single serving Pringles cups they may not be suitable for small children.
Paint colors: White, Sour Apple Green, Purple, Noir Black, and Bright Orange.
Google Eyes: 1 package each of 15 mm & 12 mm
Glue Dots: I recommend "Strong strength"
Foam Sheets: 1 each in Black and Green (Please note you can use colored cardstock in place of the foam sheets)
Black Plastic Beads, scissors, and two paint brushes-one thin round for detailing, the other flat for painting package.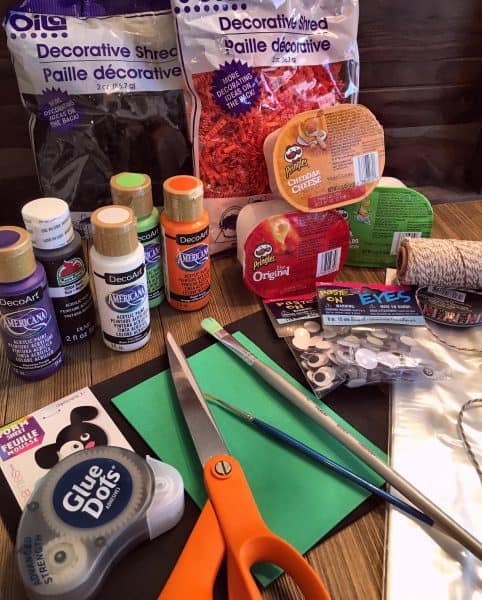 TIP: I like to put my paint on a paper plate. That way when I'm done I can just "toss it". Super easy clean up! Also, parchment paper makes a great "drop cloth"!
Paint each of the individual serving size Pringle cups either Orange, Black, Purple, or Green. Note: Just the white plastic portion of the cup. Not the peel away lid.
Don't fret that the cup isn't covered with the first coat of paint. It takes two coats to cover the cup. Do one coat and allow it to dry, then do the second coat. Be sure to allow both coats to dry completely before moving on.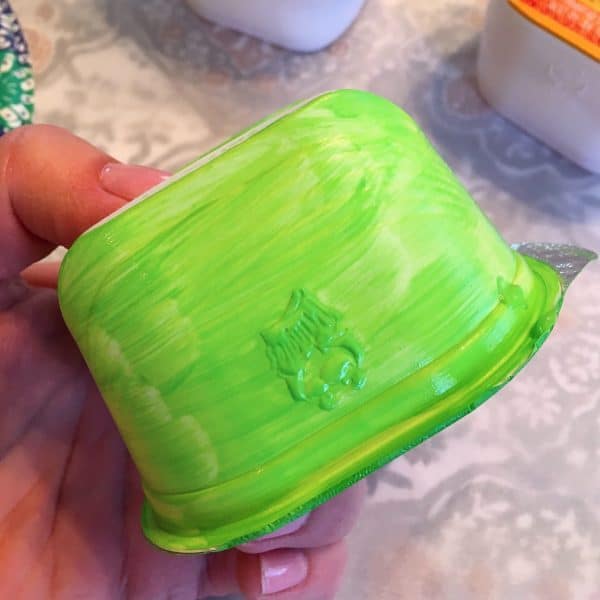 I did green (sour cream and onion) for my Frankenstein, Purple (BBQ) for my one-eyed monster, orange (Cheese) for the pumpkin, and black (Original Red) for my bat.
If you're making these for a child's class party…have them help you! I made sure this was a kid friendly craft!
Once each single serving package has its second coat of paint, and it is dry, apply the details. I went with really simple details. (I'm seriously not a talented painter…circles and lines peeps!)
For Frankenstein use a small round detail brush to make his pointed hair all around the "top" (which is really the bottom) of the container.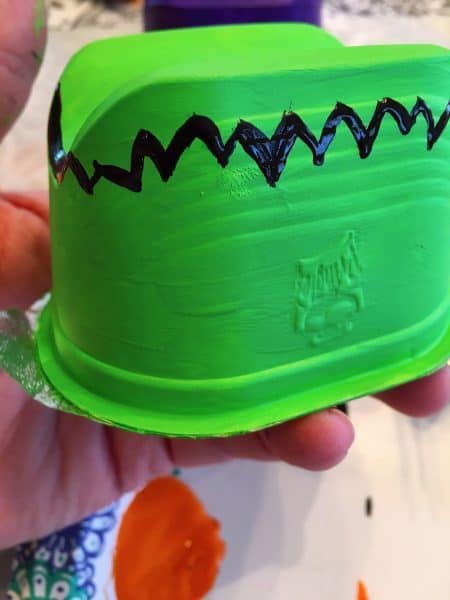 Then fill it in with black paint. Add his scar and wiggly little mouth and… your done painting him! Allow the paint to dry. Use the "glue dots" to glue on his googly eyes, making sure they are uneven, and the two plastic beads for his neck blots.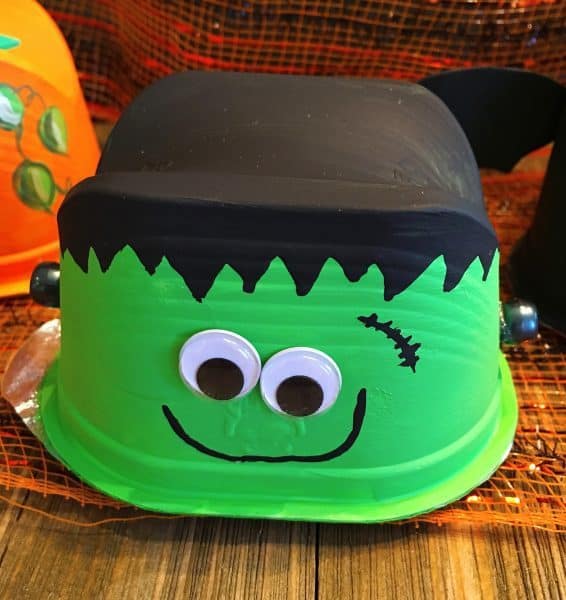 For the pumpkin add leaves and vines using the detail brush. Cut a stem and two leaves out of the foam sheet or colored card stock. Attach them with the glue dots. (Notice I'm avoiding the glue gun…we don't want to melt the plastic cups!)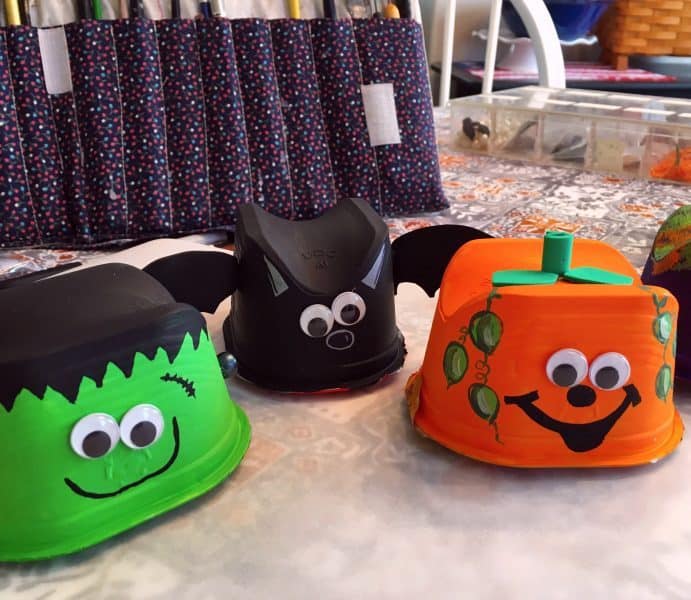 I have a confession…this little bat is my favorite! I don't like bats in real life (as in…I'd be screaming hysterically)…but this cute Pringles Bat is the "Bee's Knees"! (Do bees have knee's?… I digress…once again. lol)
You'll notice to make the bat I turned the cup sideways and used the end. Who knew the shape of Pringles would make the perfect "bat" ears?!!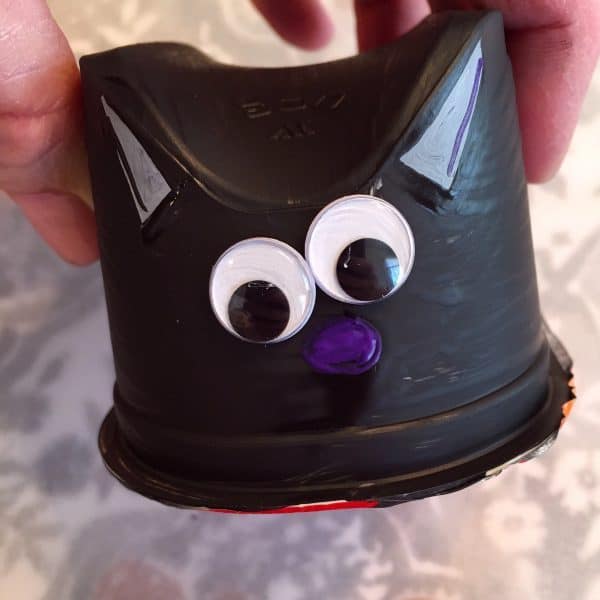 For his wings, cut out a 3 inch circle, cut it in half and fold one end under about ¼ of an inch and place a glue dot.
You can add scallops to your half circle if you want, like I did, but it isn't necessary.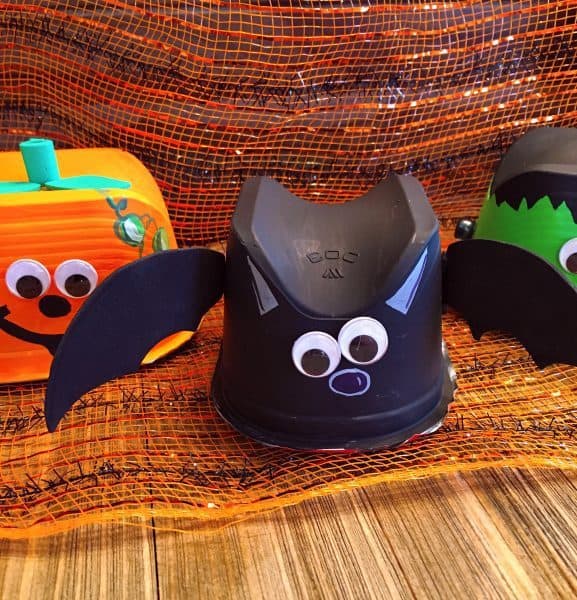 For our one eye'd monster I used the bigger google eye and only gave him one…cause ya know…"He was a one eyed, one horned flying purple people eater"…(you knew it was coming! lol)…a simple half circle mouth outlined in green and striped hair.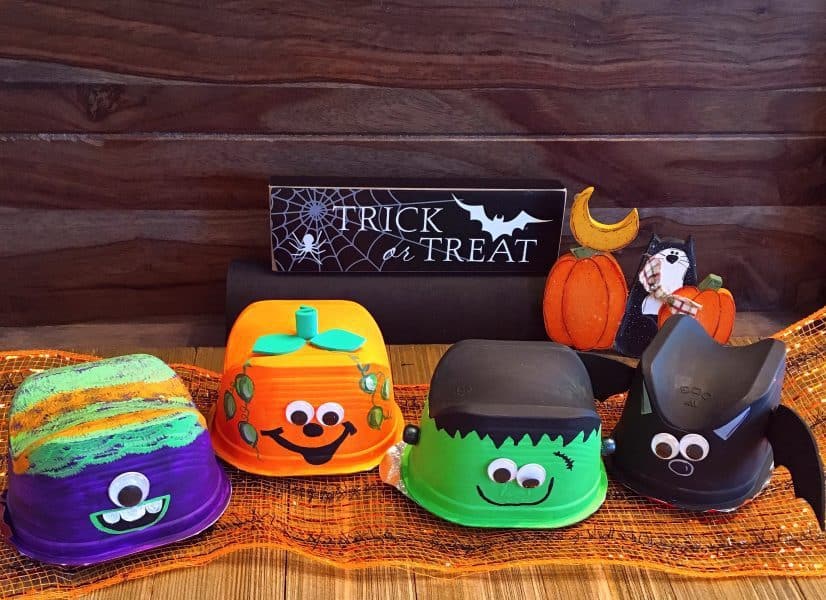 To finish these cuties off, and since they are a "treat", I packaged them in clear "cello" bags. I sprinkled a little black or orange crinkle paper in the bottom of each bag, placed the treat inside, tied it with some cute pumpkin holiday ribbon, and attached a little tag that reads… "Beware of things that go "CRUNCH" in the night!"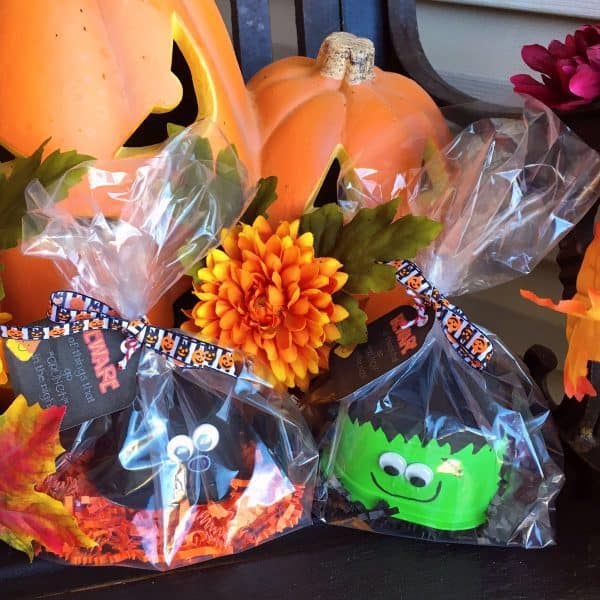 I'm so excited to give these darling little portable, on-the-go, treats to my kids and grandkids. Who doesn't love PRINGLES!
I had so much fun making these Halloween Holiday treats! I hope you'll make some for your little ghosts and goblins too!
Happy Nesting!