Spatchcock chicken, or butterflied chicken, is a method of removing the backbone allowing the whole chicken to completely open out and flatten reducing the cooking time significantly and creating a tender juicy chicken!
Spatchcocking, butterflying, or splitting a chicken is becoming a popular method of preparing and roasting whole chicken. The reason for its increasing popularity is simple…it's easy and creates a tender and incredibly juicy chicken.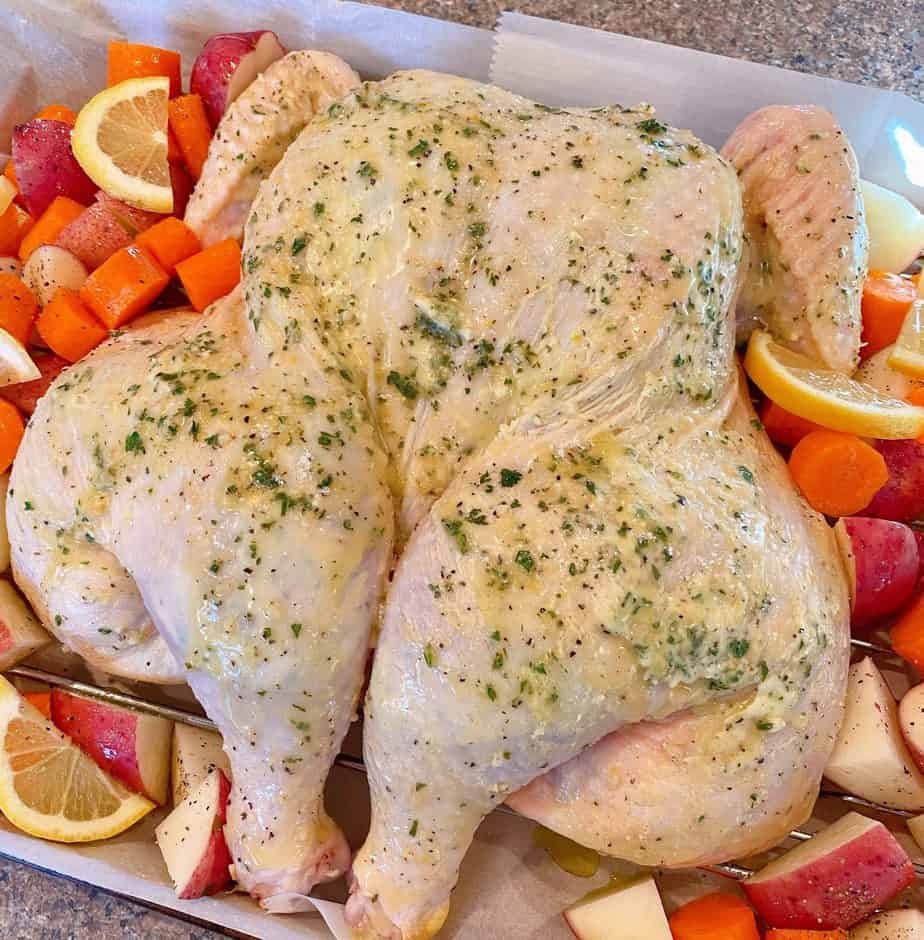 Why Spatchcock or Butterfly Chicken?
Parts of whole chickens cook at different times. The legs and thighs take longer to cook than the breast which generally result in dried out chicken breasts! I think that's why chicken breasts get such a bad rap! Poor chicken breasts! (I can relate to those poor dried out ol' bird breasts! We'll just leave it at that!)
Butterflying chicken allows a chicken to lay flat, resulting in a shorter cooking time, thus the chicken cooks evenly creating moist juicy chicken and a crispy skin! (Crispy chicken skin if mana from heaven!)
I know some queasy cooks may have a difficult time cutting up a raw chicken! (Now…Don't be baby! lol The best cooks get their hands messy!) Seriously though…I spent my young teen years hanging out on my Uncles farm. I learned really quickly that there's respect and purpose for livestock. Plus my Dad was a butcher…sooooo there's that!
It's a lot easier to do than you'd think, so…Let's Spatchcock a chicken!!!
How to Spatchcock or Butterfly a Chicken
Prep the chicken by removing the neck parts and gizzards. (Be brave…you can do this!) You can freeze them to use for homemade chicken stock or you can discard them. Rinse the whole chicken, inside and out. Pat the chicken dry with paper towels.
Place the chicken breast-side down, on a cutting board, legs facing towards you. Grab the "tail" of the chicken, it helps with leverage. Using poultry shears, or sturdy kitchen scissors, Cut along the right of the backbone.
Tip: I like to lay a large piece of parchment paper down on my cutting board before I cut the chicken, makes clean-up a breeze and protects your cutting board.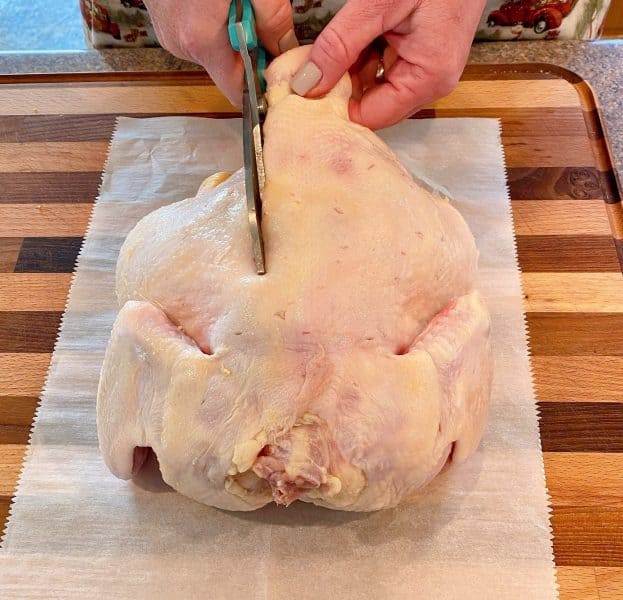 Cut from the tail all the way to the neck.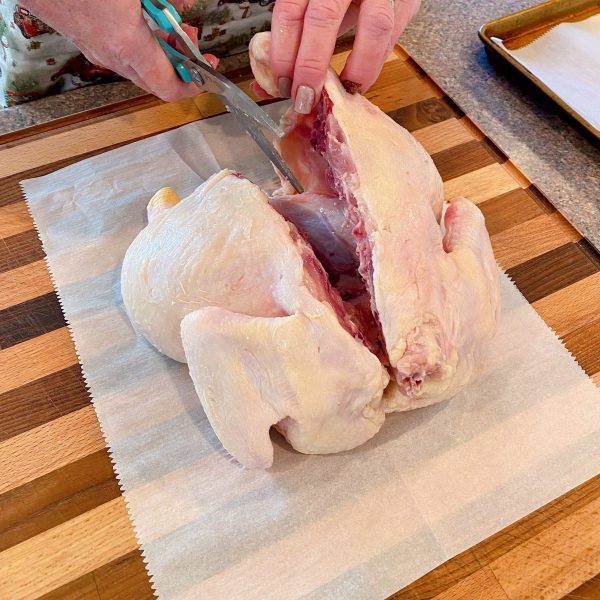 Next, cut along the left side of the backbone, just like you did on the right side.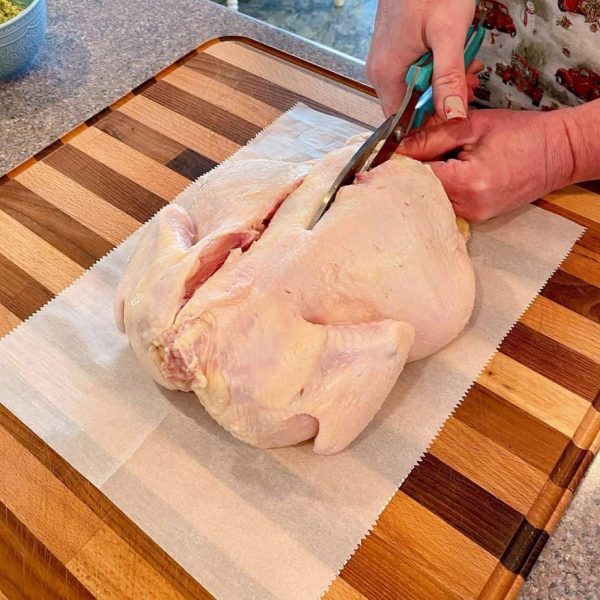 Remove the backbone piece and save for future chicken stock or discard. I save mine, freeze them, and use it to make a delicious homemade stock!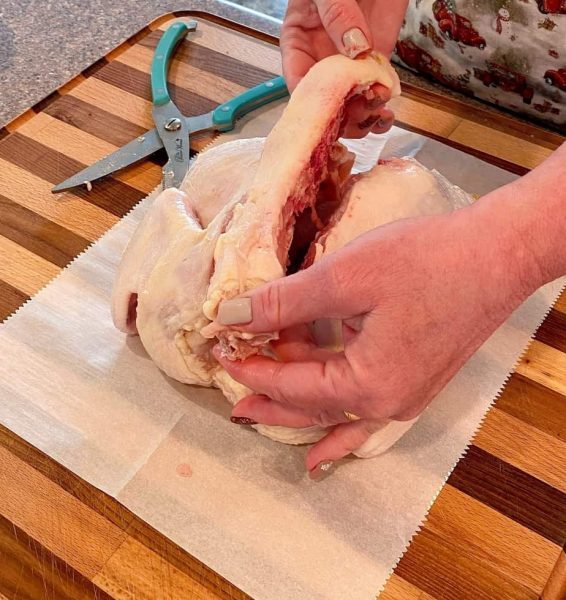 With the backbone removed, you can now open up the chicken and break the breastbone.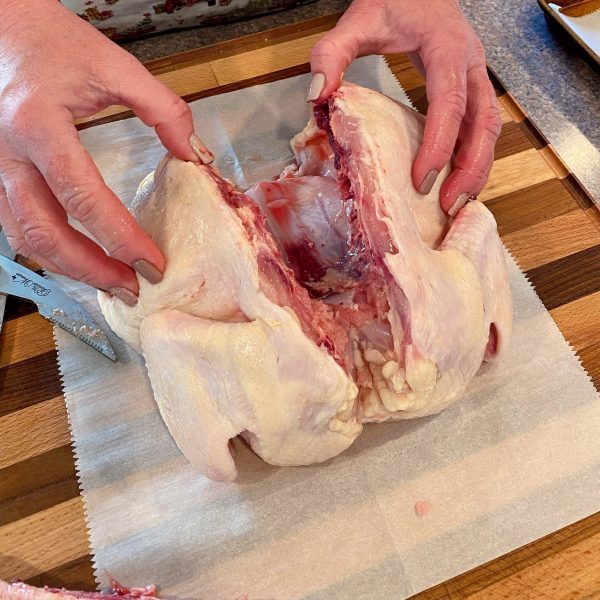 How To Break the Breastbone
In order to completely flatten the chicken, you need to break the breastbone. The easiest way to do this is to slice through the tip of the white cartilage. The chicken will lay nice and flat now. Like a butterfly!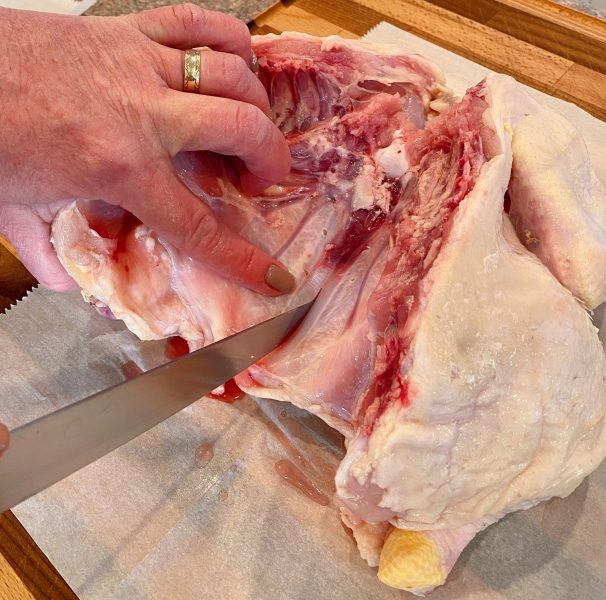 Flip the chicken over and gently place your palms down on the breast bone and give it a big push! This will make sure the backbone is as flat as possible.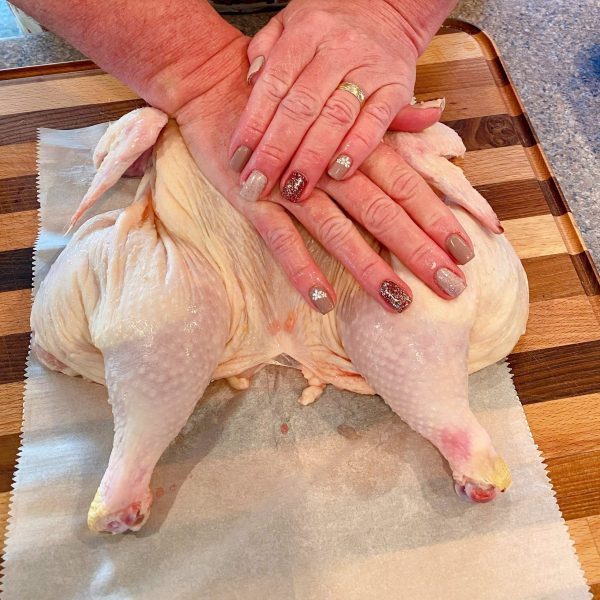 You now have a perfectly butterflied chicken! There are numerous ways to prepare a Spatchcock chicken. You can brush with olive oil or butter then sprinkle with salt and pepper or you can use a delicious rubs.
With the chicken lying flat you can roast it in the oven or grill it on the BBQ! This is a game changer for BBQ chicken! I can't wait for the temps to get warmer to prepare a split chicken on the grill.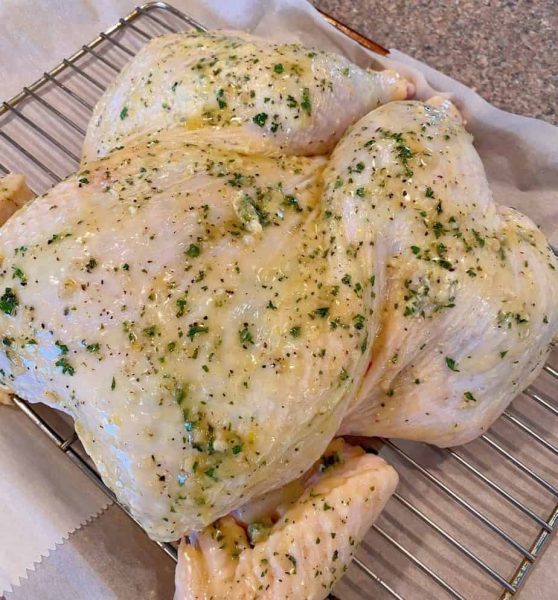 I have a fantastic recipe for butterflied chicken with a lemon garlic baste and roasted veggies! It's a great year round recipe and a family favorite!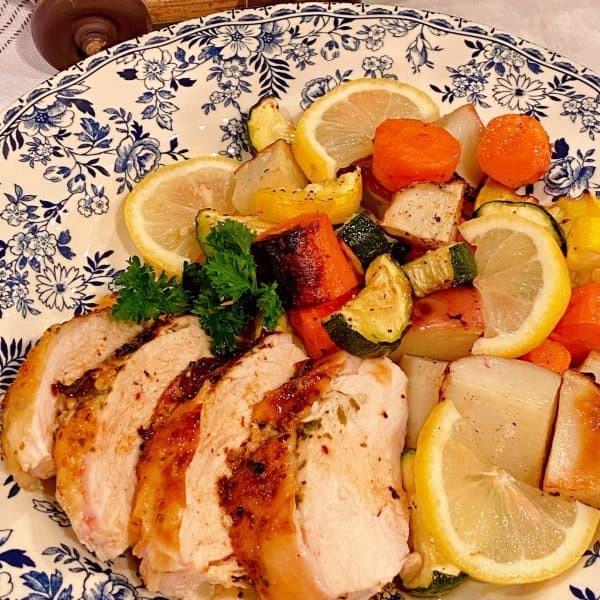 Spatchcock chicken is easy! Two simple steps, removing the backbone and splitting the breastbone, allows you to create a fantastic butterflied chicken!
Other Great Tips for Preparing Spatchcock Chicken
Instead of using (and washing up) a cutting board, you can butterfly the chicken on the same pan you're cooking it in. This only works if you're using poultry or kitchen shears.
For a crispier chicken skin, salt the chicken and let it sit uncovered in the refrigerator overnight. Before baking, pat the skin dry one more time and sprinkle with a little more salt. This is similar to a dry brine.
Marinate the chicken, after it is butterflied, put it in a zip-top bag with the marinade for an hour or overnight. Pat the chicken dry before cooking (are you seeing a trend with the "pat down"!)
Thanks for stopping by today. I hope you'll give this method of preparing chicken a try! You're gonna love the results!
Happy Nesting!