A simple Roasted Spatchcock Chicken with a fresh lemon, garlic and herb seasoning and roasted vegetables, bursting with flavor, tender and juicy. A fantastic easy dinner recipe your entire family will love!
Spatchcock chicken is a quick and simple method of cooking whole chicken. This method allows for a shorter amount of cook time than traditional roasting.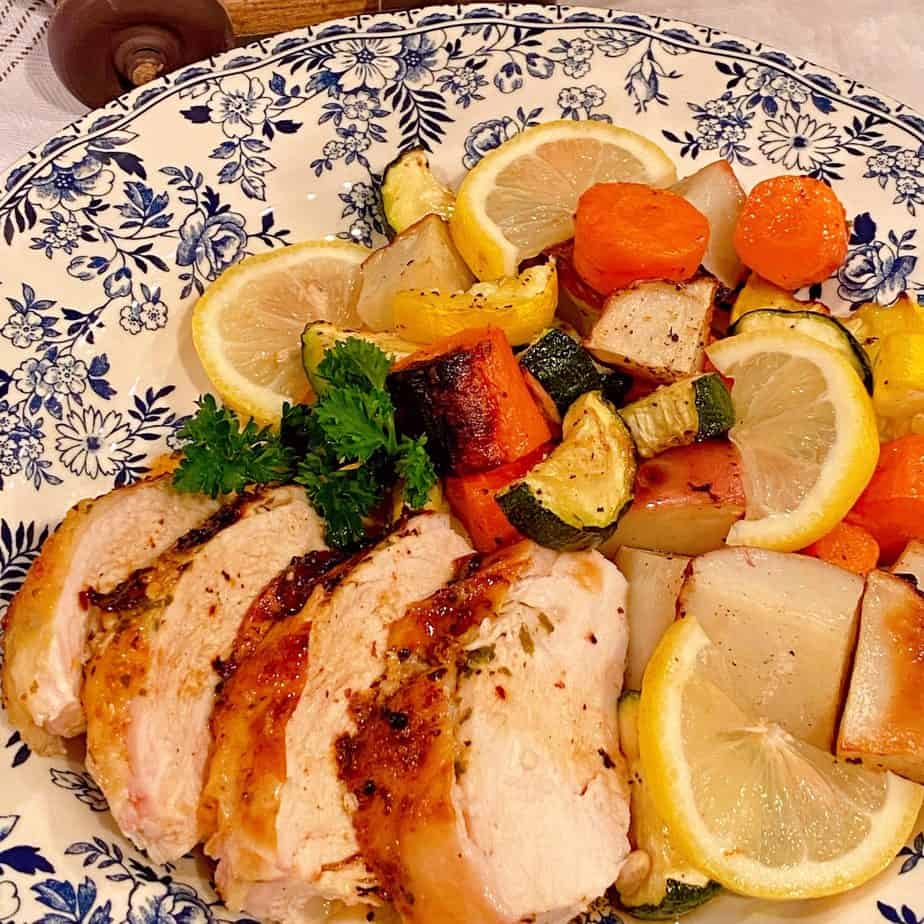 The results are incredible! Tender juicy chicken meat, loaded with flavor and a crispy skin! I'm 100% sold on this way of cooking a chicken and you will be too!
I've been wanting to try my hand at roasting a "split" chicken or "Spatchcock" chicken. Like you, I've seen it on the cooking shows and Pinterest! I was intrigued. I thought it had to be difficult…it looked so "gourmet"!
To my surprise, actually "splitting" or "Spatchcock/butterflying" a chicken is super easy! I'm always the one encouraging you to try new things in the kitchen…so I took my own advice.
If you've never removed the backbone, or "butterflied" a chicken, my simple step-by-step instructions on How To Spatchcock a Chicken will show you exactly how easy it is.
Once you have Spatchcocked your chicken and his stretched out ready for a "sunbath" you'll want to try this recipe! The Lemon Garlic Butter is EPIC! It's one Sheet Pan Recipe you'll want to make over and over.
Let's get cooking!
How To Make Roasted Spatchcock Chicken and Vegetables
Preheat the oven to 425°. If you have a convection oven I highly recommend using the convection setting to help with browning. However, its not necessary!
You'll need one 4 1/4 lb whole chicken, cleaned, patted dried with the backbone removed. (See the link above for Spatchcocking a chicken)
Place the Spatchcock chicken on a cutting board. I lay parchment paper down to protect my cutting board. Carefully slide your hand under the skin, lift to separate it from the breast, thigh, and leg meat.
TIP: If you prefer, and you're a little squeamish, you can turn a spoon upside down and slide it between the skin and meat, being careful not to tear the skin, to lift it. I'm a country girl, I just get in there and get'er done!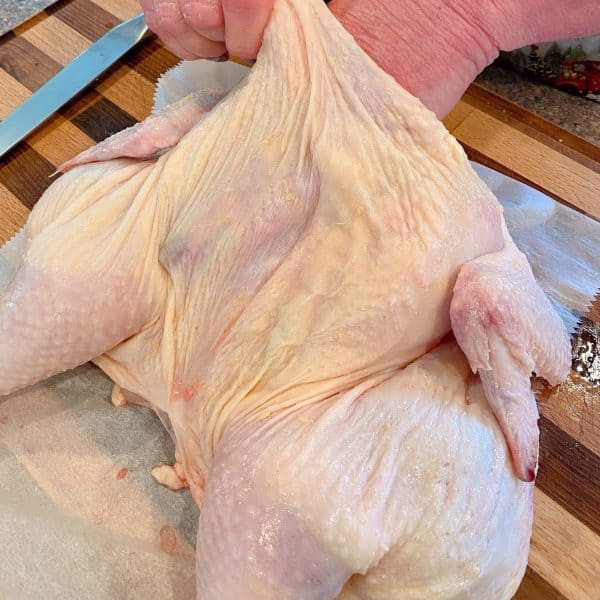 Butter and Herb Rub
In a medium bowl, add 4 tablespoons softened butter, 1 tablespoon olive oil, 1 tablespoon finely chopped parsley, 2 cloves of minced garlic, 1/2 teaspoon lemon zest, 1 tablespoon lemon juice, 1 teaspoon salt, 1/8 teaspoon coarse black pepper, 1/2 teaspoon ground sage, and 1/8 teaspoon ground thyme.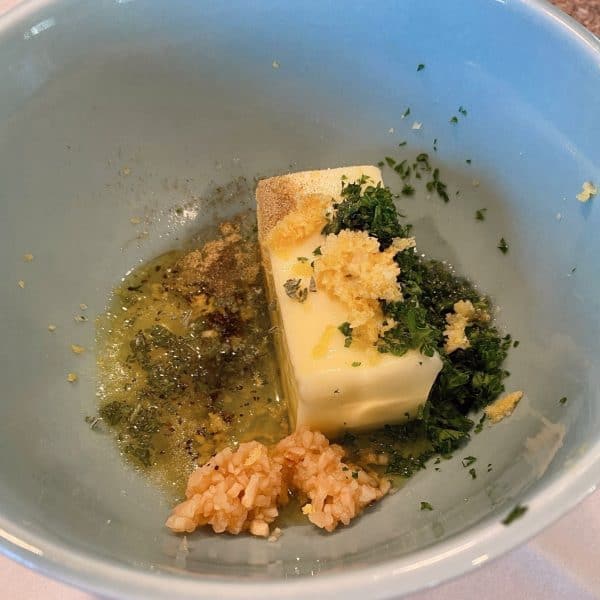 Using a fork mix until the ingredients are combined.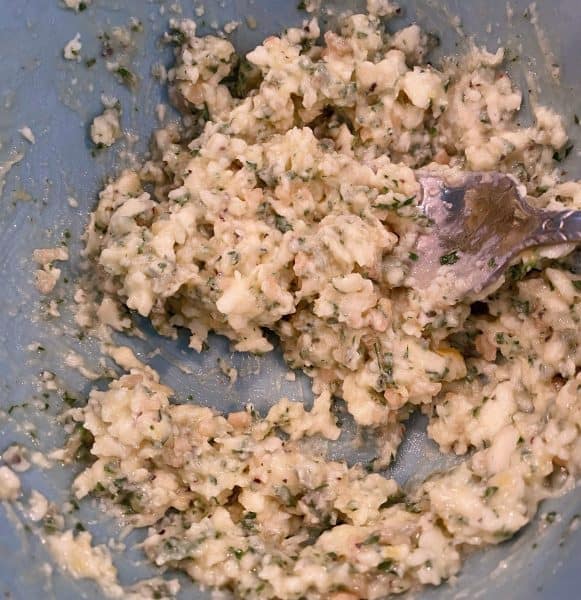 Place half the lemon garlic butter under the skin of the butterflied chicken making sure to get some of that amazing lemon garlic butter all the way down to his legs! It's a little extra "punch" of flavor!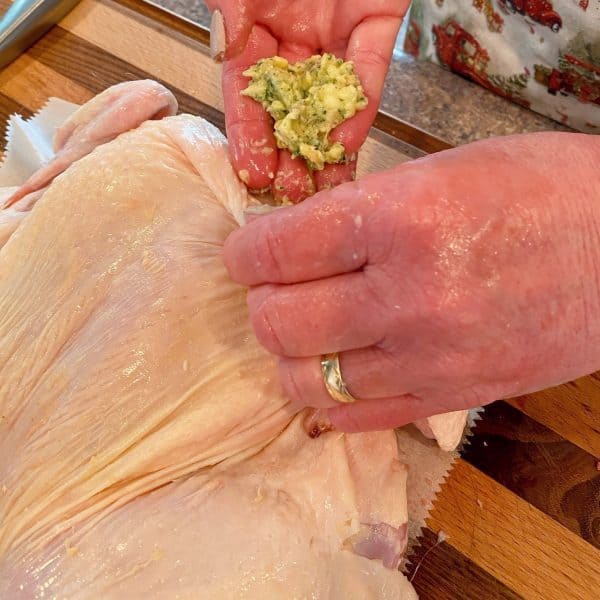 Place the Spatchcocked chicken on a baking sheet lined with parchment paper and a baking rack. The baking rack is optional. You can roast the chicken without the rack. If you don't have a rack that fits your baking sheet, just lay the chicken down directly on the parchment paper.
Melt the remaining lemon garlic butter in the microwave. Brush the melted lemon garlic all over the outside of the chicken. Slather that little fella up good! He's going in the "tanning bed" (wink, wink). The better basted he is the crispier he'll get!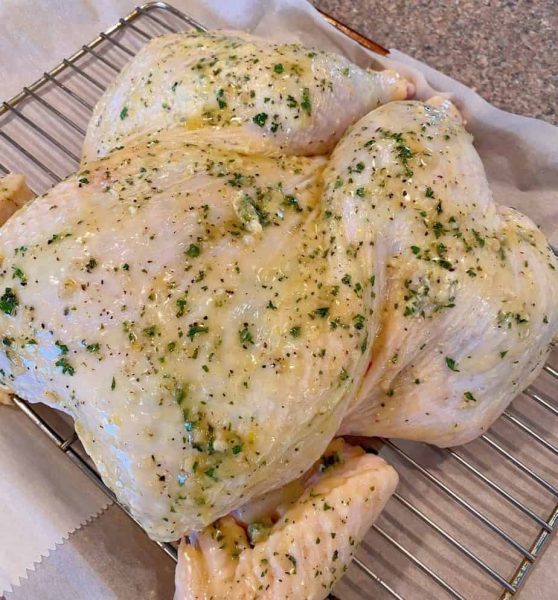 Preparing Vegetables for Roasting
Wash and quarter 2 lbs medium red potatoes. Peel and quarter 3 medium carrots. Slice half a lemon into thin slices.
Place the potatoes, carrots, and lemon slices around the prepared chicken. Drizzle about 1 Tablespoons olive oil over veggies and salt and pepper to taste.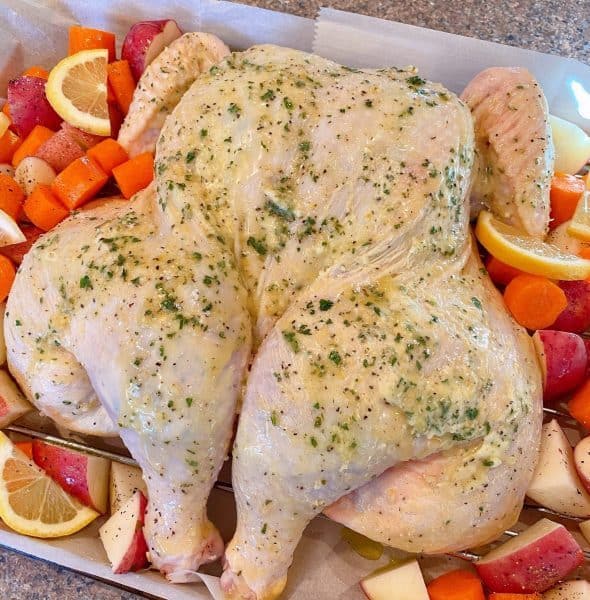 Place the chicken and vegetables in the preheated oven and bake uncovered for 45 minutes or until instant read thermometer reads 160°F when inserted into thickest part of the chicken breast.
Note: You may find you need additional cook time. I highly recommend using a thermometer to make sure the chicken is fully cooked through.
The last 15 minutes of cook time you can add thick slices of squash. I love the addition of squash to this dish. You can also substitute Brussels Sprouts if you prefer them over squash.
Remove chicken from the oven and rest uncovered 10 minutes on cutting board before carving. Remove all the vegetables and place in a covered dish until ready to serve.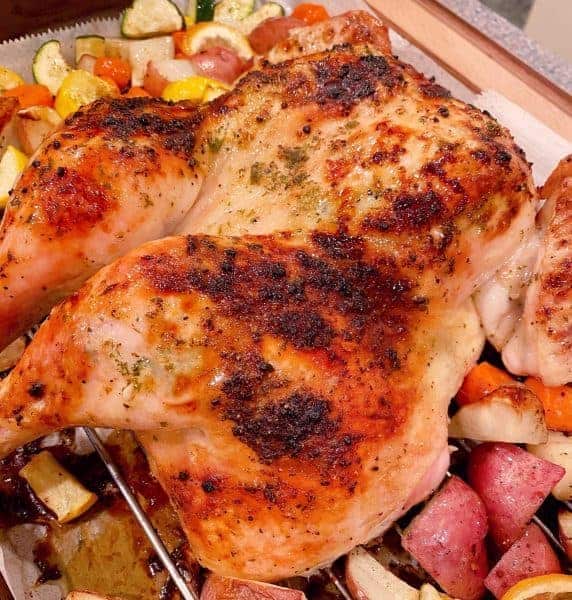 How To Carve A Chicken
Now that the chicken has "rested" (something every mother wishes she could do…we just need to be spineless chickens!) we can begin carving. Once you have to found the joints and other points of connection between parts, carving is easy peasy!
Begin by separating the leg quarters (the leg and thigh when connected) from the breast! Slice through the skin connecting the leg quarter to the breast and lift the leg slightly to expose the joint that connects the thigh to the breast. Cut through that joint. Repeat on the other side.
Separate the legs from the thighs but cutting through the joint that connects them. Follow the white line of fat that separates drumstick and thigh.
Separate wings and breast; halve breast. Locate where the wing bone meets the breast meat and cut through the skin and connective tissue to separate. Cut each breast in half crosswise. This will give you four pieces from the two breasts.
Remove the wings from the breast. Run the tip of the knife along breastbone and then along rib cage, gently pulling meat away from the ribs and using the ribs as a guide as you cut. Cut through the joint that connects wings to carcass to separate.
Place carved roasted chicken and veggies on a serving platter. I like to slice the chicken breasts into nice thick slices for serving.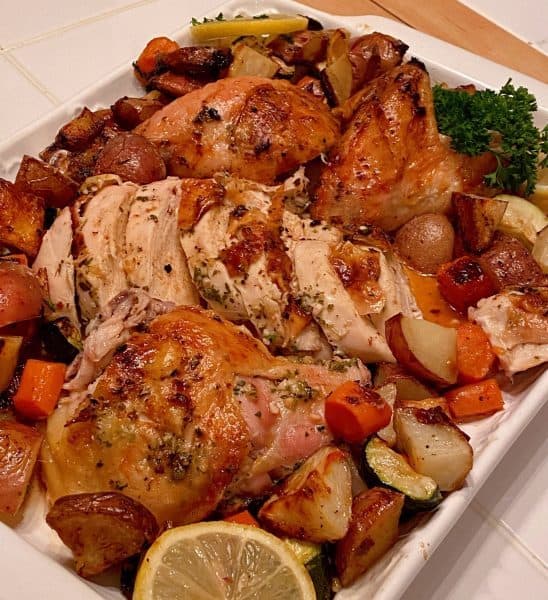 The flavor from the lemon garlic butter and the juices of the chicken are amazing!!! This recipe creates the most incredible moist and tender chicken! You'll be licking your fingers and smackin' yo lips!
Mr. Mars…aka "the hubs", was blown away by the flavor of this chicken! He couldn't believe how moist the white meat was! It's so tender you can cut it with a fork! A FORK!!!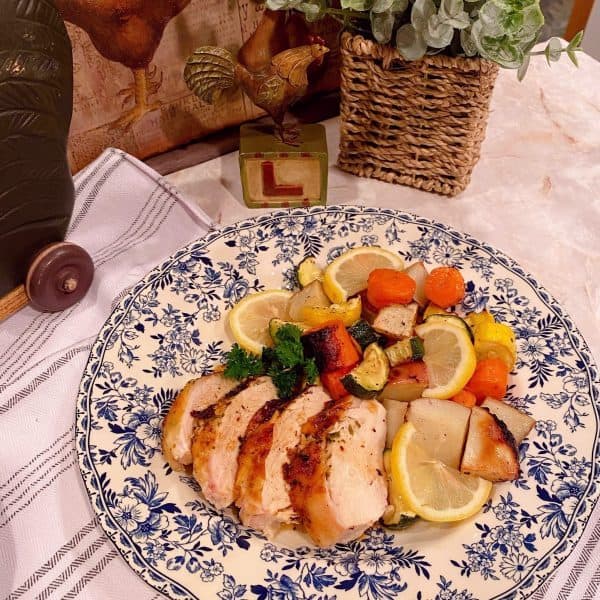 Crispy skin, tender flavorful chicken, and delicious vegetables…what more could ya ask for. It's a great quick easy way to roast a chicken!
This recipes is working it's way into our monthly menu rotation! My granddaughters ate a ton of this chicken! That's all the endorsement this Grandma needs!
Family Favorite Chicken Recipes
If you enjoyed this recipe you'll love these other family favorite chicken recipes!
Happy Nesting,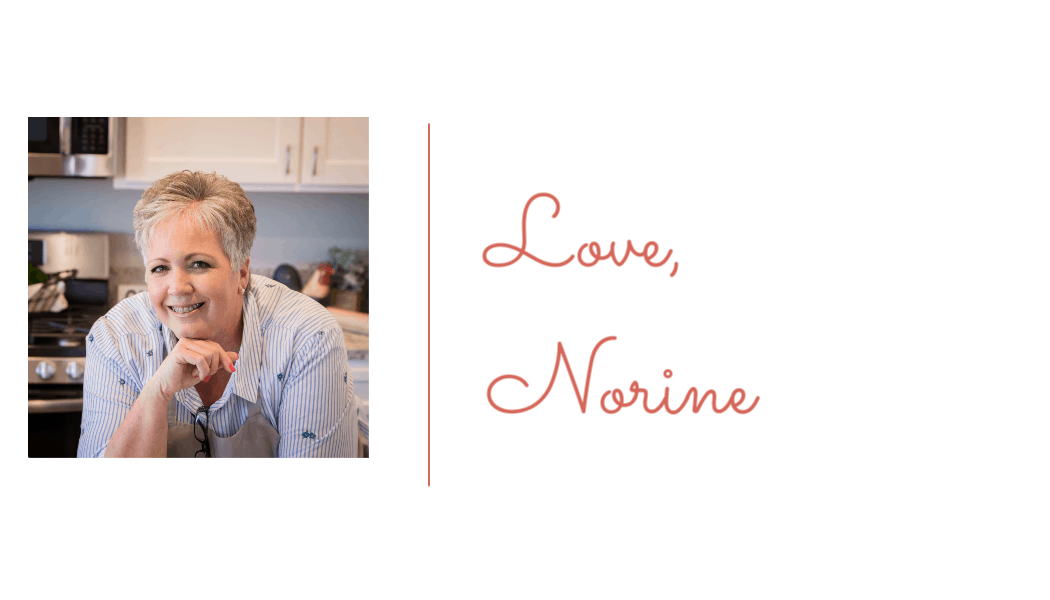 Yield: 6 servings
Roasted Spatchcock Chicken and Veggies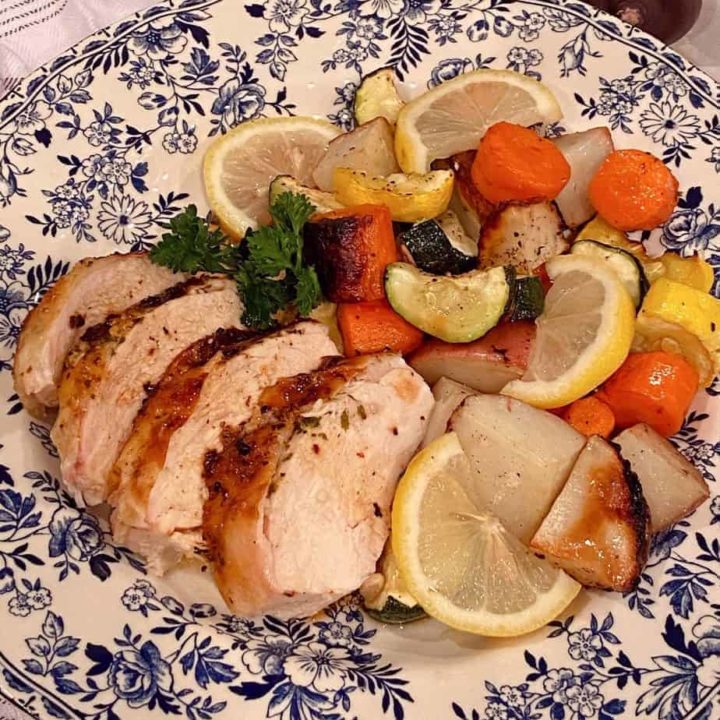 A simple Roasted Spatchcock Chicken with a fresh lemon, garlic and herb seasoning and roasted vegetables, bursting with flavor, tender and juicy. A fantastic easy dinner recipe your entire family will love!
Additional Time
10 minutes
Total Time
1 hour
10 minutes
Ingredients
1 - 4 1/4 pound chicken, butterflied and patted dry
4 Tablespoon butter, softened
1 Tablespoon Olive Oil
1 Tablespoon parsley, finely chopped
2 garlic cloves minced
1/2 teaspoon lemon zest
1 Tablespoon lemon juice
1 teaspoon salt
1/8 teaspoon pepper
1/8 teaspoon ground sage
1/8 teaspoon ground thyme
2 lbs medium red potatoes, scrubbed and quartered
3 medium carrots peeled and quartered
1 zucchini, washed and cut into thick slices
1/2 a lemon cut into thin slices
Salt and Pepper to taste
Instructions
1. Preheat oven to 425°
2. Line a baking sheet with parchment paper and a baking rack (optional). Separate the skin from the breast, thighs, and legs by sliding your hand, or the back of spoon between the skin and meat. Place chicken on baking sheet.
3. In medium, microwave safe, bowl add butter, olive oil, parsley, garlic, lemon zest, lemon juice, salt, pepper, ground sage, and thyme. Mix until well blended. Place half the lemon butter mixture under the skin of the chicken. Melt remaining butter in microwave. Brush chicken with melted butter making sure to cover all the skin.
4. Place quartered potatoes, carrots, and sliced lemon around the chicken on the baking sheet. Bake at 425° for 45 minutes or until instant read thermometer reads 160° when inserted into thickest part of chicken breast.
5. Add sliced squash the last 15 minutes of cooking time.
6. Remove chicken from oven and rest uncovered for 10 minutes on a cutting before serving.
Notes
*Allow the raw butterflied chicken to sit at room temperature for 30 minutes before using for even baking.
**Don't over-bake or the breast will be dry. Keep in mind the internal temp will rise another 5-10 degrees after it comes out of the oven.
***You can substitute 8 oz trimmed halved Brussels sprouts for squash.
Nutrition Information:
Yield:
6 servings
Serving Size:
1
Amount Per Serving:
Calories:

945
Total Fat:

52g
Saturated Fat:

17g
Trans Fat:

0g
Unsaturated Fat:

30g
Cholesterol:

322mg
Sodium:

724mg
Carbohydrates:

33g
Fiber:

4g
Sugar:

4g
Protein:

81g