Amaretto Glazed Carrots are delicious baby carrots sauteed in butter and amaretto and topped off with slivered almonds for a delicious side dish that goes with just about any meal.
Memorable meals are made up of great side dishes that compliment the main course!
*As an Amazon Associate I earn from qualifying purchases. This post may contain affiliate links, which means that I may make a commission from any purchases at no additional cost to you. Thank you for your support!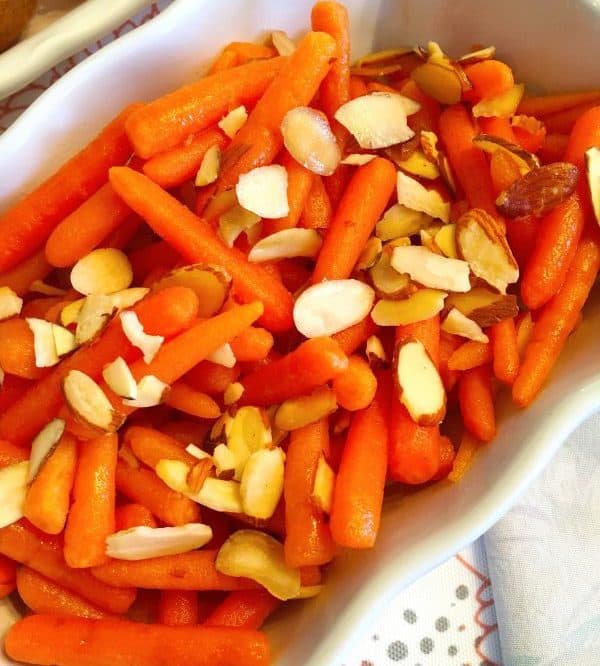 Side dishes don't have to be complicated to be amazing. The smallest addition of one ingredient can kick a dish up to a whole new level.
That's what happens when simple steamed carrots are paired with brown sugared amaretto sauce and slivered almonds. The combination creates the perfect side dish! Worthy of the best Prime Rib or Roasted Chicken.
TIP: Remember whenever you cook liqueur the alcohol cooks out! I always cook off about a cup of Amaretto and store in an air tight container in my spice cabinet. Just like my vanilla and other extracts. However, for this dish I like to just cook it off as I'm making the dish.
How to Make Amaretto Glazed Carrots
Start by placing 4 cups of baby carrots in a sauce pan with salted boiling water. Cook until "tender crisp". Translation…tender, but not mushy! (We're not making mashed carrots. lol Uncle Carl will have to leave his dentures in for this dish!)
Drain and set aside.
In a medium size skillet, over medium heat, melt 1/4 cup of butter. (Any good dish has "buttah"…real buttah! At this Nest it's the real thing or nothing!)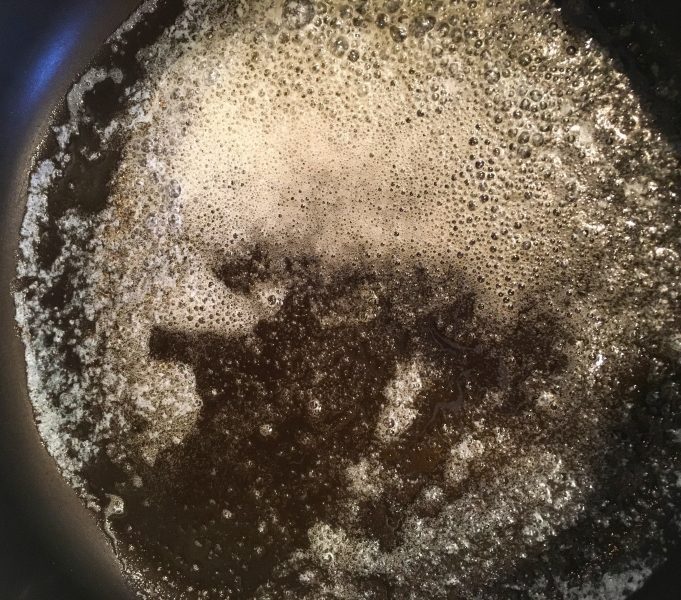 Add 2 Tablespoons of Brown Sugar… stir in 2 Tablespoons Amaretto. Cook until sugar has dissolved and mixture begins to slightly thicken. Add steamed carrots. Stir until well coated and carrots are heated through.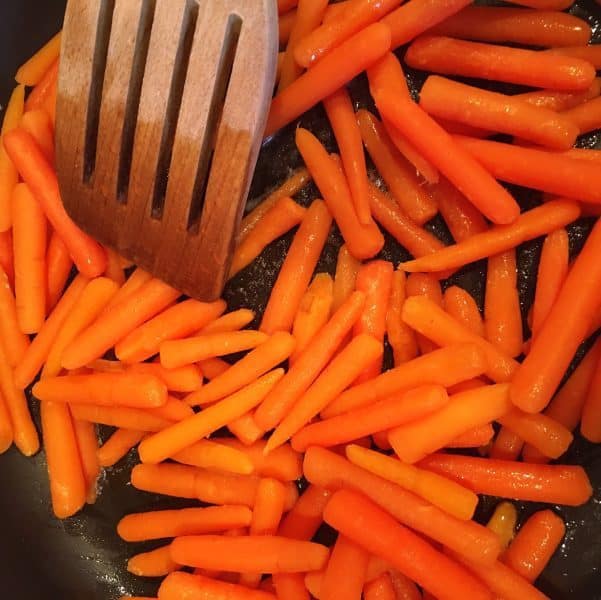 Add toasted slivered almonds. The nutty crunch of those almonds with the brown sugar Amaretto sauce…"Smmmmmack Yo Momma and kick the dog"! (Don't really do either of those things! I tend to be a tad passionate about my food!)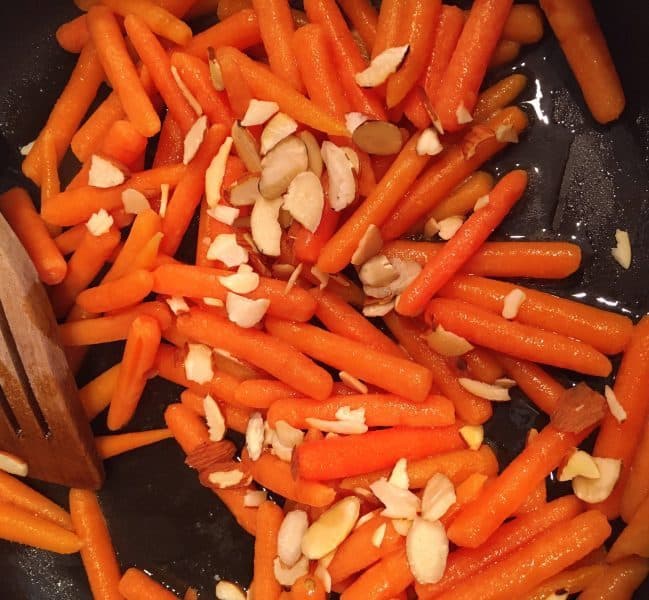 Place in a serving dish and garnish with additional slivered almonds. Simple right? A great side dish in a matter of minutes! My friend Suzanne would be proud of me…5 ingredients in this dish! (That means she'll make it friends! lol)
These carrots! They're like eating candy. Okay…maybe not candy…but you get the drift! Truly Superb!
I wanted to get this recipe up and on the blog before the Holidays so you can serve them with your favorite Seasonal Main Course. Enjoy!
If you enjoyed this recipe here are some other Great Side Dishes
Be sure to follow me on Facebook, Instagram, Twitter, and Pinterest! My Norine's Nest Pinterest board is loaded with every single one of my delicious recipes! Create your own Norine's Nest recipe board today.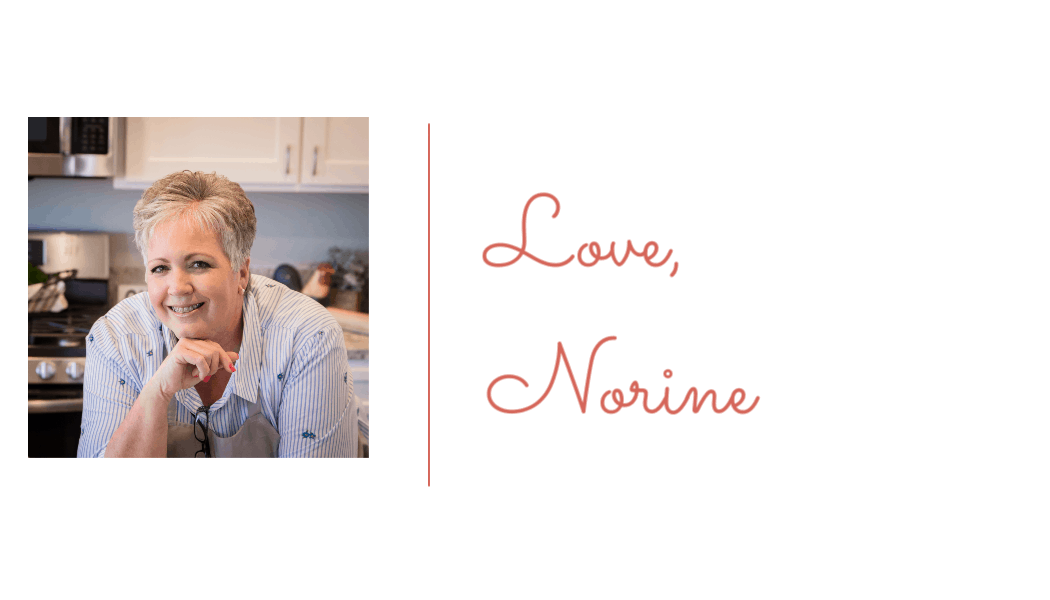 Yield: 8 servings
Amaretto Glazed Carrots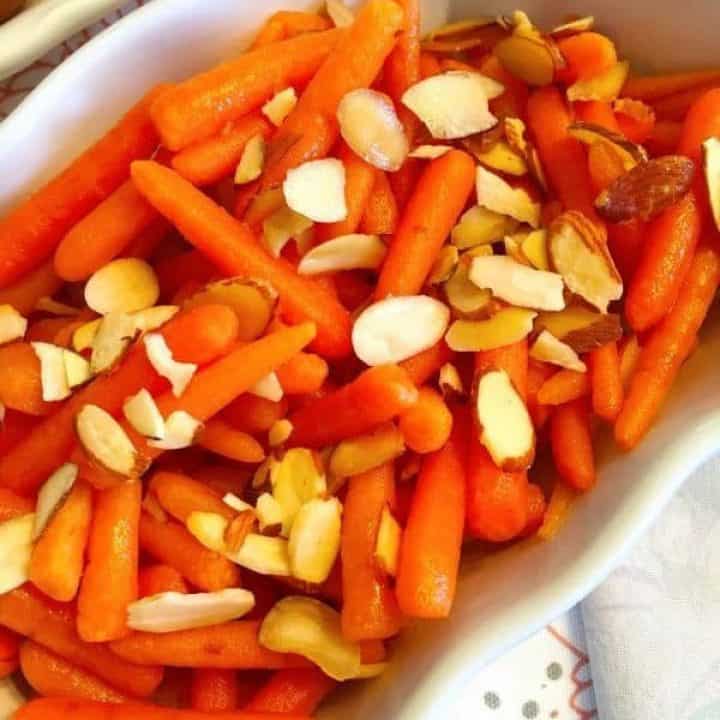 The delicious brown sugar Amaretto sauce kicks these carrots up to a whole new level and makes them the perfect side dish for any Holiday Meal or special Occasion.
Ingredients
4 Cups baby carrots
1/4 cup butter
2 Tablespoons light brown sugar
2 Tablespoons Amaretto
1/4 cup toasted slivered almonds
Instructions
In a large sauce pan filled with water, add 1/2 tsp salt. Bring to a boil. Add baby carrots. Cook until tender crisp, 10-15 minutes.
Drain.
In a medium skillet over medium heat melt 1/4 cup butter. Add 2 Tablespoons light brown sugar and 2 Tablespoons Amaretto. Stir constantly until slightly thickened and sugar is dissolved.
Add carrots and half the toasted slivered almonds.
Stir until well coated.
Place in serving dish and top with additional slivered almonds.
Recommended Products
As an Amazon Associate and member of other affiliate programs, I earn from qualifying purchases.
Nutrition Information:
Yield:
8 servings
Serving Size:
1/2 cup
Amount Per Serving:
Calories:

112
Total Fat:

7g
Saturated Fat:

4g
Trans Fat:

0g
Unsaturated Fat:

3g
Cholesterol:

15mg
Sodium:

90mg
Carbohydrates:

9g
Fiber:

2g
Sugar:

7g
Protein:

1g