Green and Gold Squash Casserole is a scrumptious side dish that is loaded with garden fresh zucchini squash, corn, onion, and a light cheesy egg batter and topped off with more cheese! Simply put…it's Superb!
I get asked where my inspiration comes from when creating new recipes. Depends on the day and my mood! (Bad mood days are not worthy of print! Lol)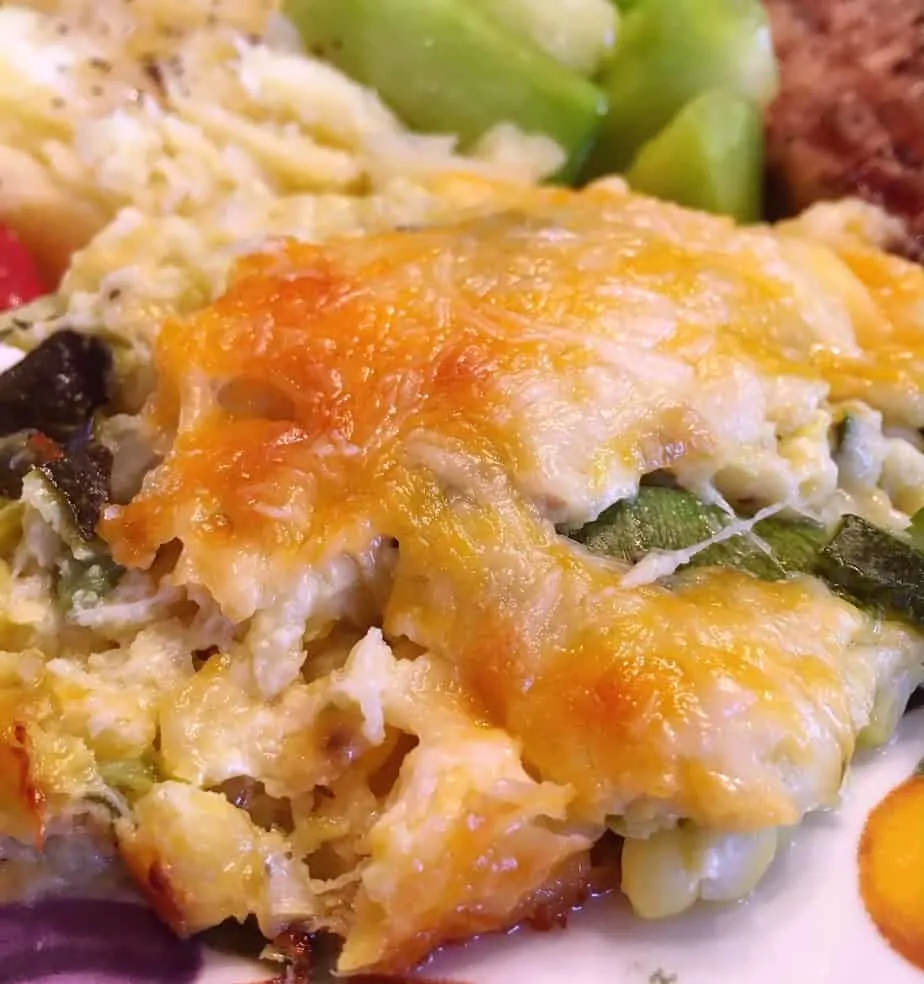 One of my favorite sources for inspiration are old cookbooks found at Thrift Stores. I could spend hours scouring through them for forgotten gems! I generally tweak the original recipes here and there. To suit my tastes. In my mind I just know what is going to work and what isn't.
I was thrilled when I stumbled upon this gem in a Thrift Store cookbook last week! I knew it was going to be good. I just didn't realize HOW good! The ingredients are so simple…the results AMAZING! (You're gonna find yourself wishing you had planted more zucchini…ya may also find yourself in the mental hospital! Lol)
How To make Summer Green and Gold Squash Casserole
I love the simplicity of this recipe. You'll need 2 lbs. of zucchini sliced, or chunked, into 1/4 – 1/2 inch pieces. Boil in salted water for 10 minutes or until tender.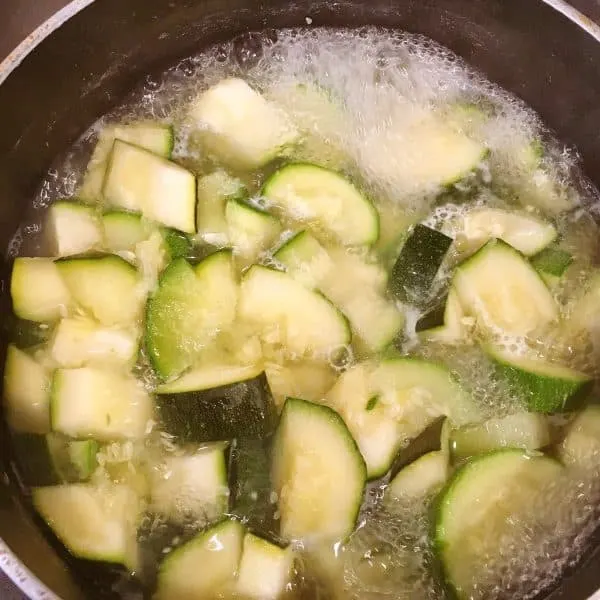 Drain cooked zucchini well. I used a colander and just let it sit in the sink about 30 minutes. (I swear zucchini retains water better than a pregnant woman's ankles in the middle of July!)
Once squash is well drained…place squash in a large bowl and mash with a potato masher.
NOTE: This is gentle mashing…this is not a "I'm gonna hurt that child if he forgets his homework one more time" mashing! (These are "professional" cooking descriptions…only found here! You're welcome!)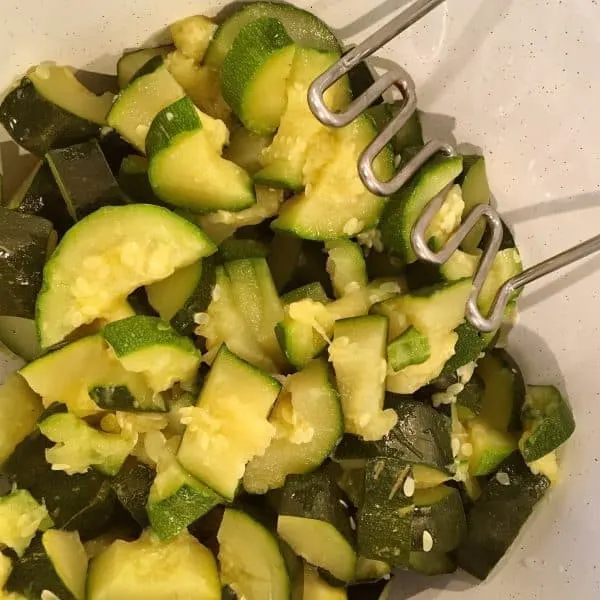 Add One 12 oz. can corn, drained.
NOTE: I used fresh cooked corn, cut off the cob. I had three ears left over from Sunday dinner. So you can use either fresh corn or canned corn.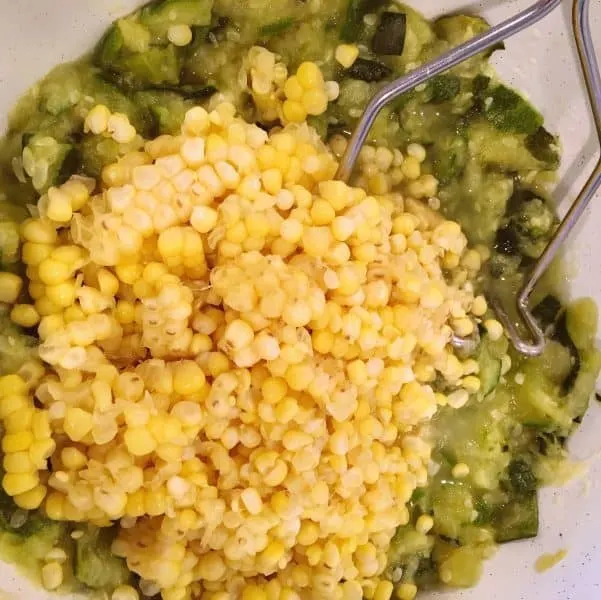 In a small mixing bowl, or measuring cup, beat together two eggs, add in 1/2 tsp. salt and 1/4 tsp. coarse ground pepper.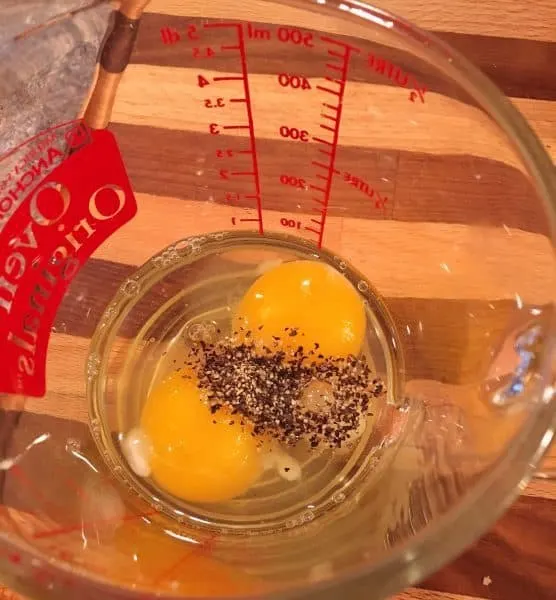 Add egg mixture to mashed squash and corn. Add in 1/2 cup chopped onion.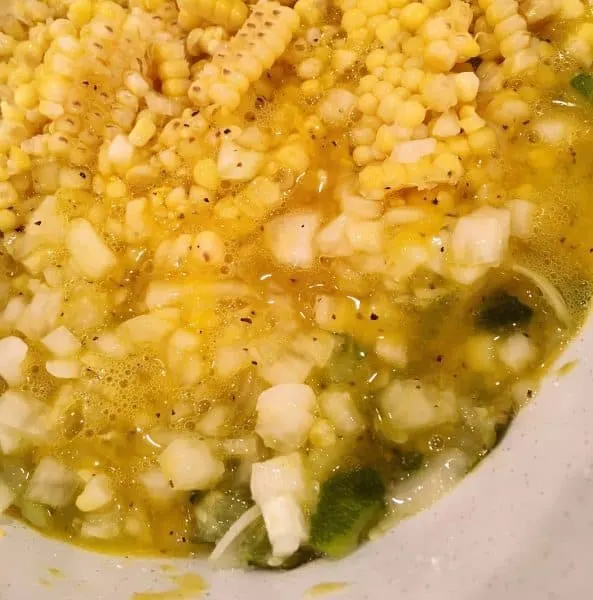 Add 1 1/2 cups of grated cheddar cheese. Confession time…the original recipe calls for 1 cup of cheese. When it comes to cheese… I'm a "Go B.I.G. or Go HOME!" kinda gal! So another little handful of cheese may have made its way into that bowl! (It was so yummy! So…GO BIG!)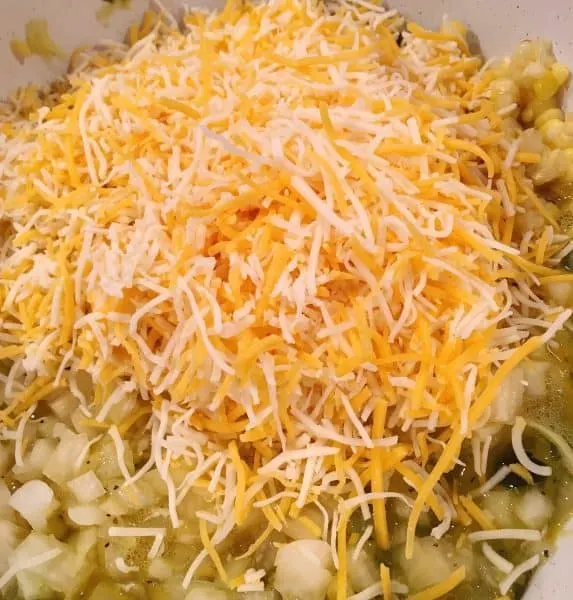 Mix all ingredients together. Making sure everything is well incorporated.
This was the point my heart started to sing! The colors and textures of this dish were just sublime! Truly the makings of a fantastic dish!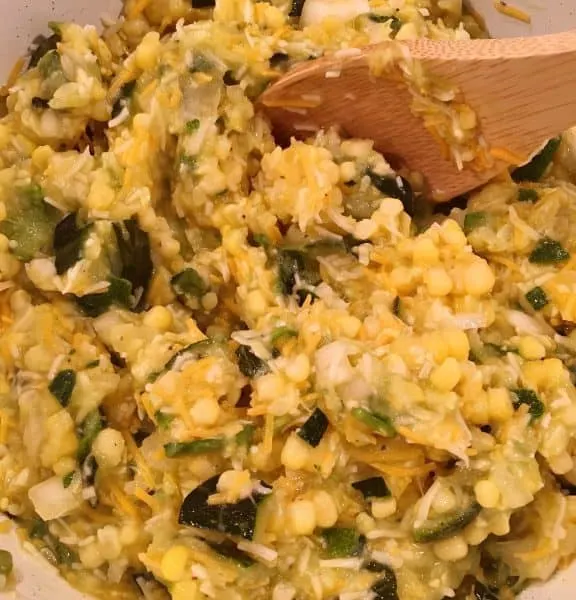 Pour into a greased 2 quart baking dish. Isn't that pretty?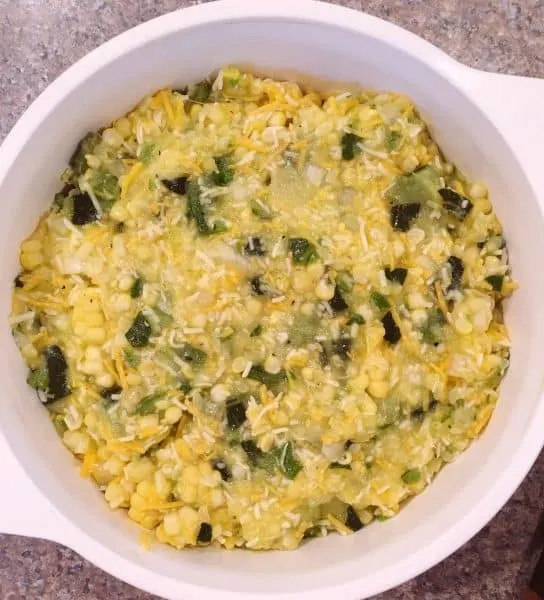 Top it all off with….can you guess? Come on… Go BIG or GO HOME! (This hint is just one reason I'm not allowed to play board games or cards! Which I'm okay with…)
MORE CHEESE PLEASE! Sprinkle 1 cup of cheese on top of casserole.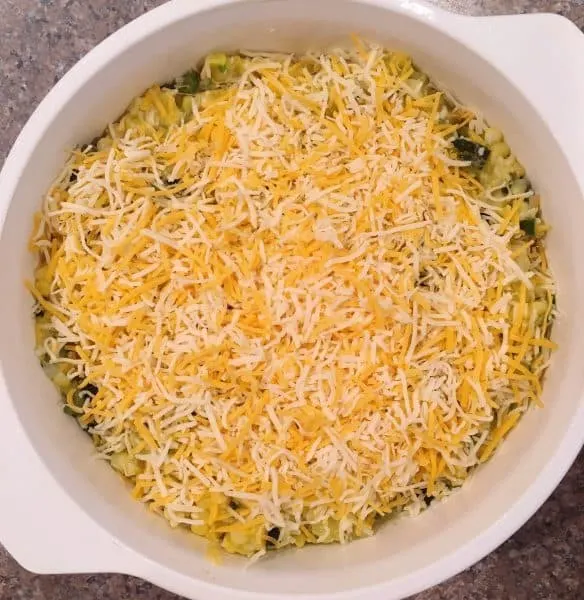 Bake in a preheated 350° oven for 40 minutes or until set!
TIP: How do we know if it is set? Again I offer another stellar "professional" cooking description for you! Does it jiggle like great grandma's chest? If so…push that baby right back in the oven. If… when you gently shift the dish around…nothing budges like "The Rock", Dwayne Johnson's, chest…bring it on out! Did y'all see the new Jumanji movie? Huh? (Squirrel)
I completely forgot what we were talking about…
SQUASH! Squash casserole…EPIC Squash Casserole. (I'm back!)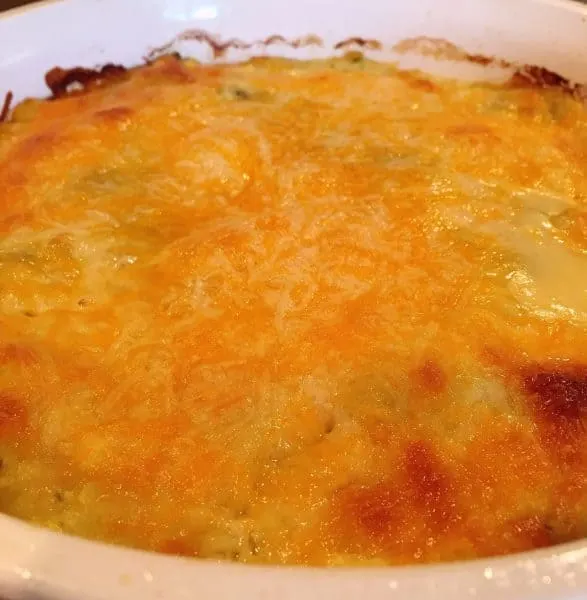 NOTE: Let that cheese brown a little! It makes the dish so appetizing!
I should warn you…this casserole will have your house smelling like Thanksgiving. The air will fill with the most incredible savory scents! It is truly amazing.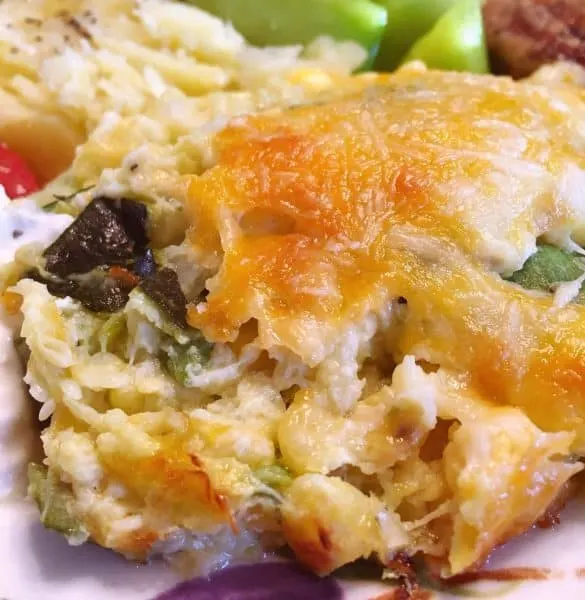 I was so excited about this dish and how tasty it is… that I called friend over and begged her to be my "tester". She loved it so much she took all my extra garden squash and ran home and made it for dinner for her family!
Mr. Nest declared this his favorite new side dish and proceeded to have THIRDS!!! (Whoa!)
The flavor combination of ingredients in this simple dish is spectacular! As I mentioned earlier…this is one for the "family cookbook"! It will be making regular appearances at our dinner table!
I served it with Grilled Marinated Pork Chops, Fresh Garden Tomatoes & Cottage Cheese, Melon, and Garden Potatoes. It was an awesome end of summer dinner!
The Gold and Green Squash was the Main Attraction!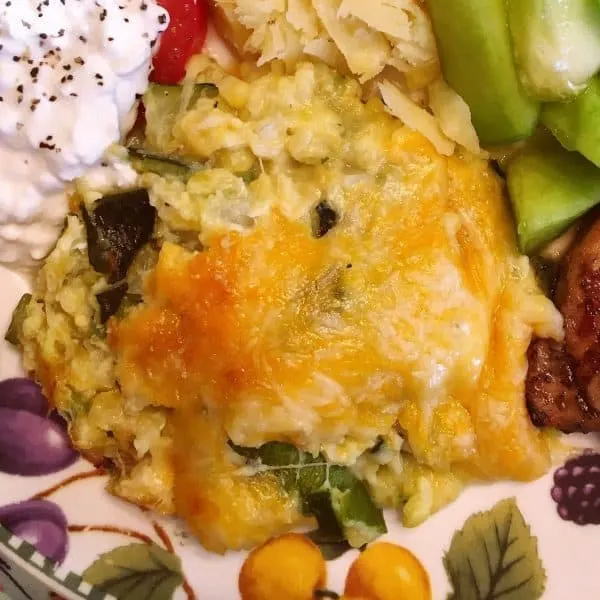 Thanks so much for stopping by my Nest! I hope you'll use some of that extra garden squash and make this recipe as soon as you can. You won't be disappointed!
Favorite Side Dish Recipes
Remember you can always follow me on Facebook, Instagram, Twitter, and Pinterest! I've added a "Pin It" link below, so you can easily pin this to your favorite "side dish" board for a quick reference.
Happy Nesting!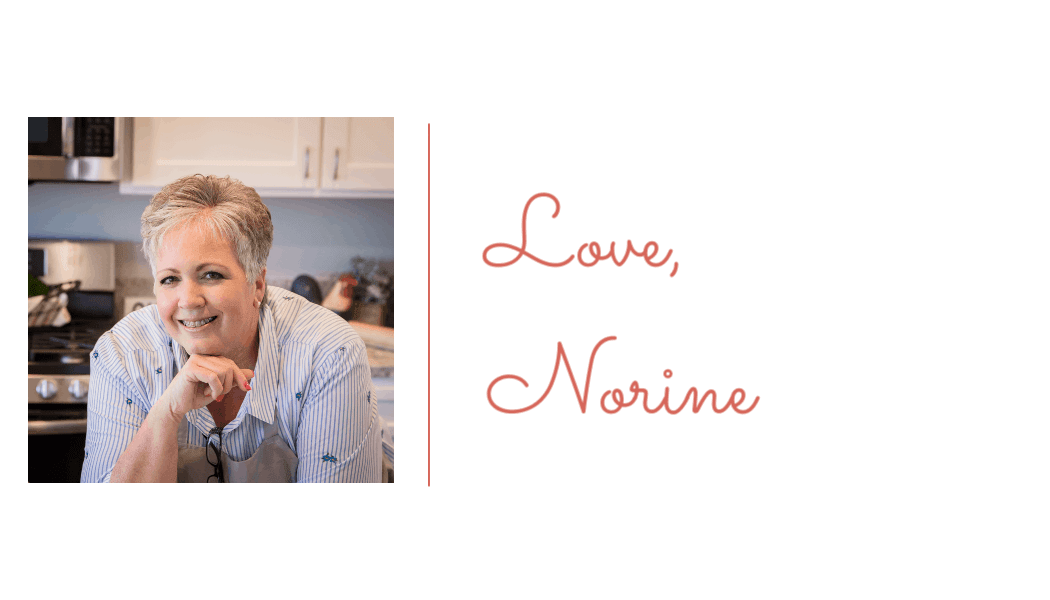 Yield: 8 servings
Green and Gold Squash Casserole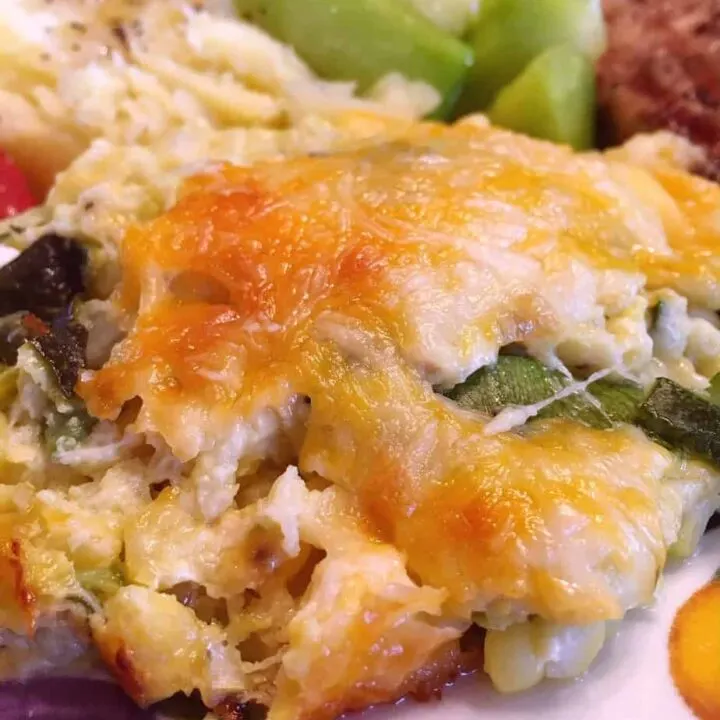 A fantastic side dish casserole perfect for picnics, family gatherings, and holidays.
Ingredients
2 lb. zucchini, sliced into 1/4 - 1/2 inch pieces
1/2 tsp. salt
1/2 cup of water
2 eggs, beaten
1/2 tsp. salt
1/4 tsp. coarse black pepper
1/2 C. onion, chopped
1 - 12oz. can corn, drained
2 1/2 Cups Cheddar Cheese, shredded
Instructions
Place 1/2 cup water and 1/2 tsp. salt in a medium sauce pan and bring to a boil. Boil zucchini in salted water for 10 minutes.
Drain well and mash in a large bowl. Add drained corn and chopped onion.
In a small bowl beat 2 eggs, add in salt and pepper.
Add in 1 1/2 cups grated cheese. Mix all ingredients together until well combined.
Spray a 2 quart casserole dish with non-stick cooking spray.
Pour squash mixture into prepared baking dish.
Top with remaining cheese.
Bake in Preheated 350° oven for 40 minutes or until set.
Recommended Products
As an Amazon Associate and member of other affiliate programs, I earn from qualifying purchases.
Nutrition Information:
Yield:
8
Serving Size:
1 cup
Amount Per Serving:
Calories:

213
Total Fat:

14g
Saturated Fat:

7g
Trans Fat:

0g
Unsaturated Fat:

5g
Cholesterol:

81mg
Sodium:

631mg
Carbohydrates:

12g
Fiber:

2g
Sugar:

5g
Protein:

12g