Delicious tender yellow summer squash with a crispy flavorful crumb breading oven fried to a golden brown. Finish it off with a spinkle of a Parmesan cheese for the BEST, and easiest, Oven Fried Squash recipe you'll ever try!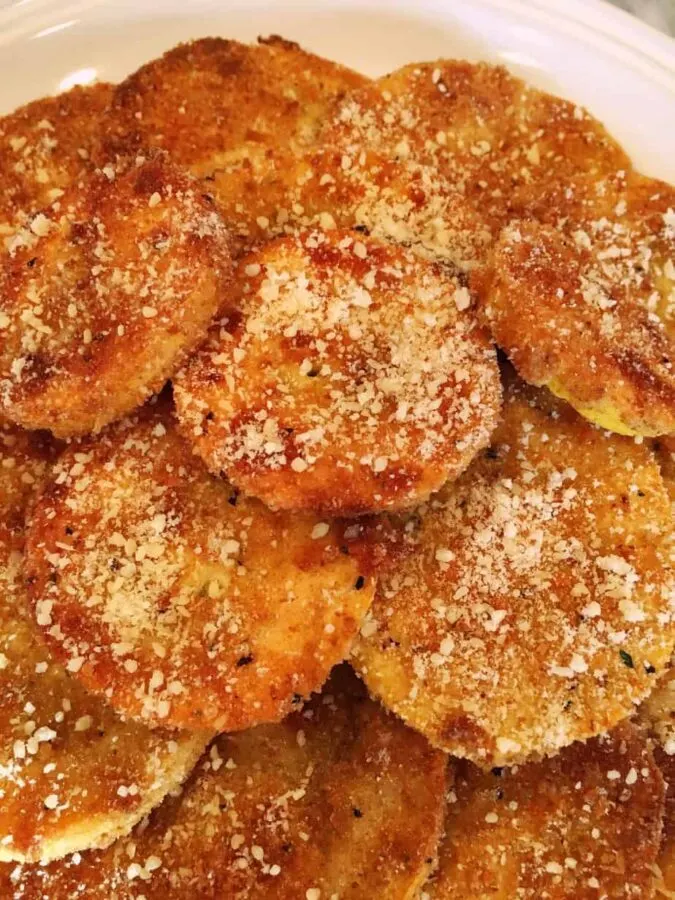 It's summer and the garden has been a tad neglected! (Now there's a huge understatement!) How neglected you ask? Well…let's just say Fred Flintstone's club has nothing on my gigantic crooked yellow squash!
What does one do to use up all those gargantuan vegetables? Well…if you're the massive health freak I am (cough, choke, gag!)…you fry them! lol
I've been frying squash for years, on my stove top, in a skillet. Then this idea to "oven fry" came to me. I'm absolutely in L.O.V.E. with it! It's so good I think I'll just continue ignoring that crookneck squash so we can have this again, and again, and again.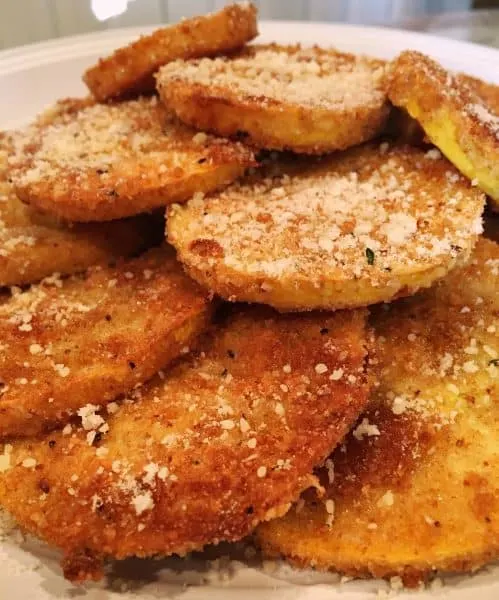 How To Make Oven Fried Squash
Preheat your oven to 325° degrees. Oil a large baking sheet with 3 tablespoons of olive oil. I used a pastry brush to make sure the pan was completely covered.
Slice your squash into 1/4 thick inch slices. In one bowl place 1 Cup Bread Crumbs, 1/2 tsp. garlic salt, 1/4 tsp coarse black pepper, and 1/4 cup grated Parmesan Cheese. Mix well and place in shallow dish.
*Please note that I always go light on the salt in my recipes so feel free to salt to your taste.
TIP: I love to use Lawry's Garlic Salt with dried Parsley Flakes. It add's a pop of color and flavor.
In a separate bowl place beat one egg.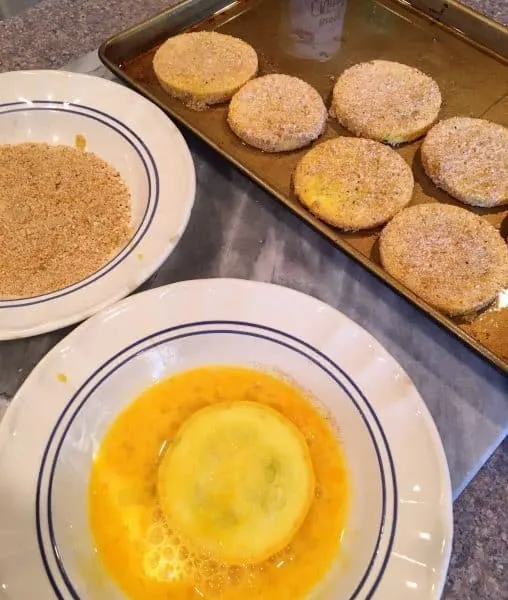 Dip the squash in the egg wash, and then in the bread crumbs, making sure both sides are equally coated. Lay on your greased baking sheet.
Place in preheated oven.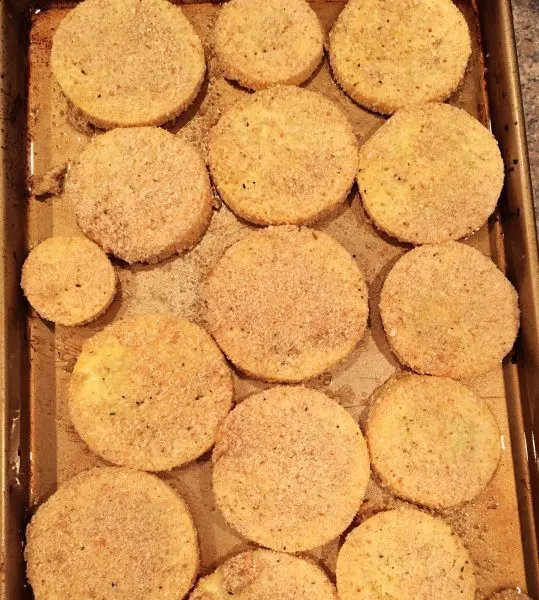 Baking Oven Fried Squash
Bake for 15 minutes. Check to see if the squash, side down, is golden brown. Carefully flip squash over.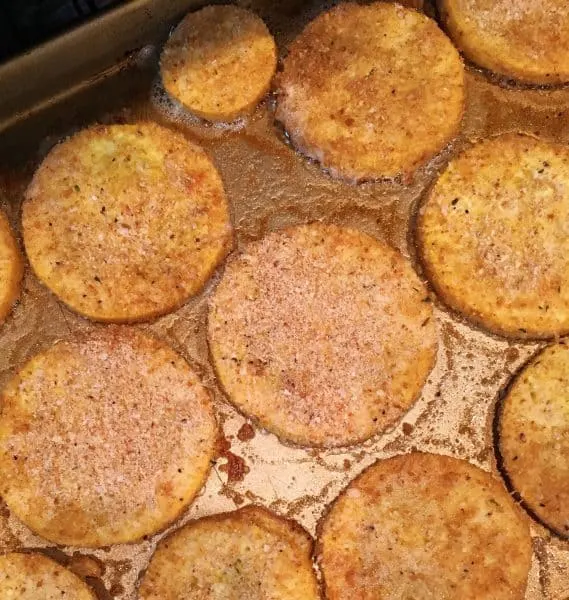 Cook other side until golden brown. Remove from oven and allow to rest for about 3-4 minutes.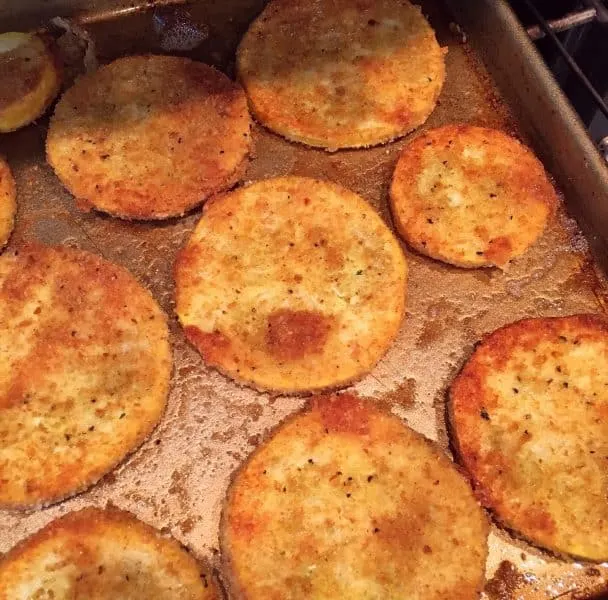 Use a spatula to slide under the squash and remove for the baking sheet to a serving dish. This will help prevent all that crispy goodness from sticking to the pan!
Garnish with an extra sprinkle of Parmesan Cheese.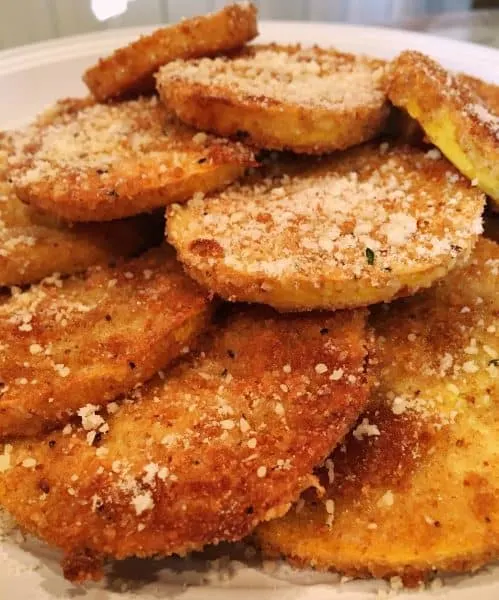 Serve hot with a side of Ranch Dressing… and a napkin for all the drooling you'll be doing.
Summer Side Dish Recipes
This is a fantastic summer side dish. You can use either zucchini or crookneck. Both will work wonderfully.
The season is so short so whip up a batch of this amazing crunchy, crispy flavorful squash while you can.
Happy Nesting Friends!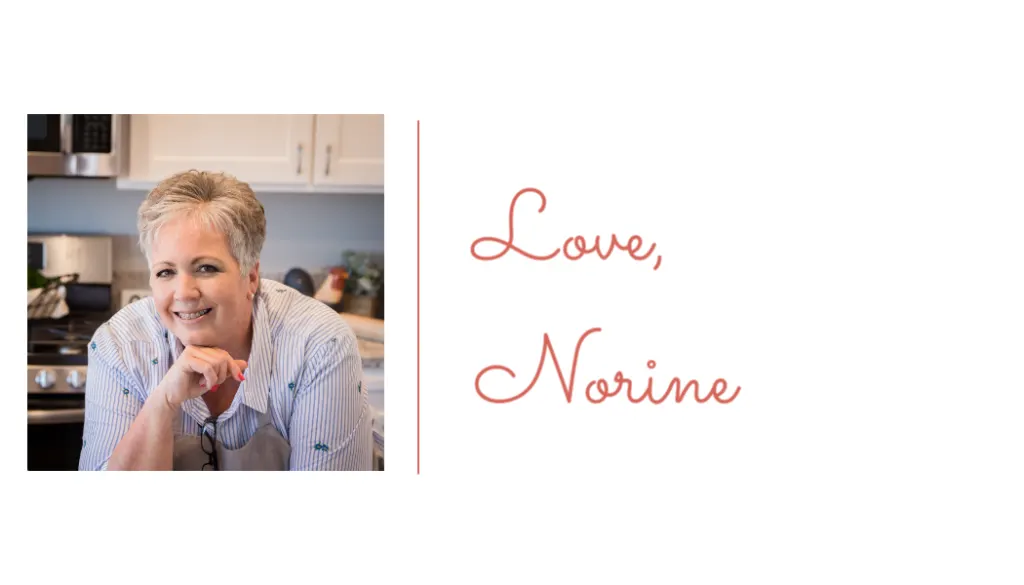 Yield: 4-6 servings
Oven Fried Squash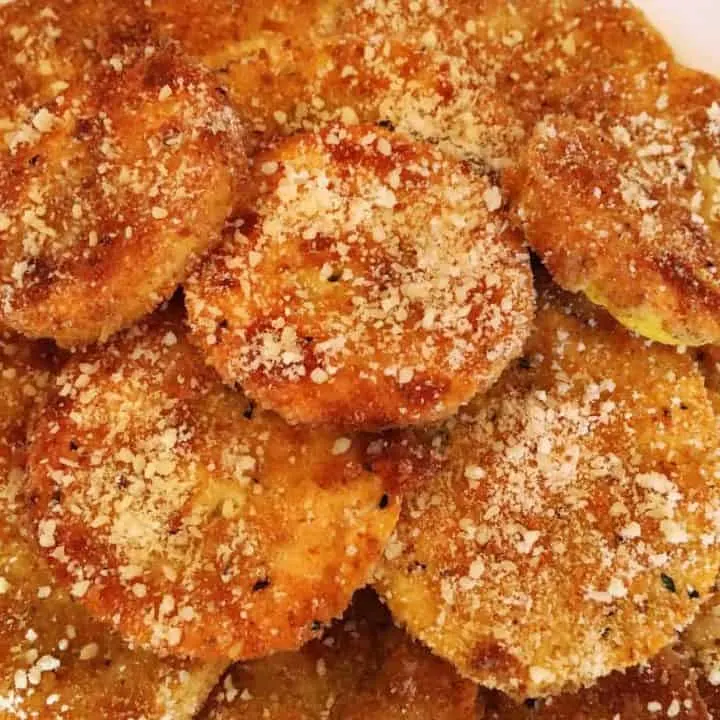 Big beautiful summer squash is dipped in a seasoned breading and oven fried to perfection! It's quick, easy, and a great way to get your stubborn veggie eaters to enjoy your harvest!
Ingredients
1 large yellow crook neck or zucchini squash, sliced into 1/4 inch rounds
1 large egg, beaten
1 cup fine bread crumbs
1/4 cup grated Parmesan Cheese
1/2 tsp Garlic Salt
1/4 tsp. Coarse Black pepper
3 Tablespoons Olive Oil, for baking
Instructions
Preheat oven to 325°
Coat a large baking sheet with 3 Tablespoon Olive Oil
In a shallow dish beat one egg.
In a separate shallow dish add 1 cup fine bread crumbs, Parmesan Cheese, garlic salt, and coarse black pepper. Mix well.
Place one round of squash in the egg wash. Be sure to coat both sides.
Remove squash from egg wash and place in the bread crumbs. Coating onside and then the other.
Place Squash on coated baking sheet.
Repeat until all the pieces of squash have been coated and your baking sheet is full.
Place baking sheet in your preheated oven.
Bake for 10-15 minutes. When squash is crispy and golden on the side that is facing down, gently flip it over, using a fork, to bake the other side.
Bake for another 10- 15 minutes or until the edges are golden and crispy.
Remove from oven and allow to rest for 3-4 minutes.
Slide a spatula under each fried squash round and place on a serving tray.
Garnish with additional Parmesan Cheese.
Serve warm with Ranch Dressing as a dipping sauce.
Recommended Products
As an Amazon Associate and member of other affiliate programs, I earn from qualifying purchases.
Nutrition Information:
Yield:
6 servings
Serving Size:
1
Amount Per Serving:
Calories:

164
Total Fat:

10g
Saturated Fat:

2g
Trans Fat:

0g
Unsaturated Fat:

7g
Cholesterol:

35mg
Sodium:

352mg
Carbohydrates:

14g
Fiber:

1g
Sugar:

2g
Protein:

5g