The original Best Cheesy "Funeral" Potatoes recipe made with southern hash browns, whipped cream cheese, and loaded with cheesy goodness!
I know, I know…not ANOTHER "funeral" potato recipe! Hear me out for a minute…I've been making my "funeral" potatoes for 33 years! These are not the "new kid" on the block cheese potatoes.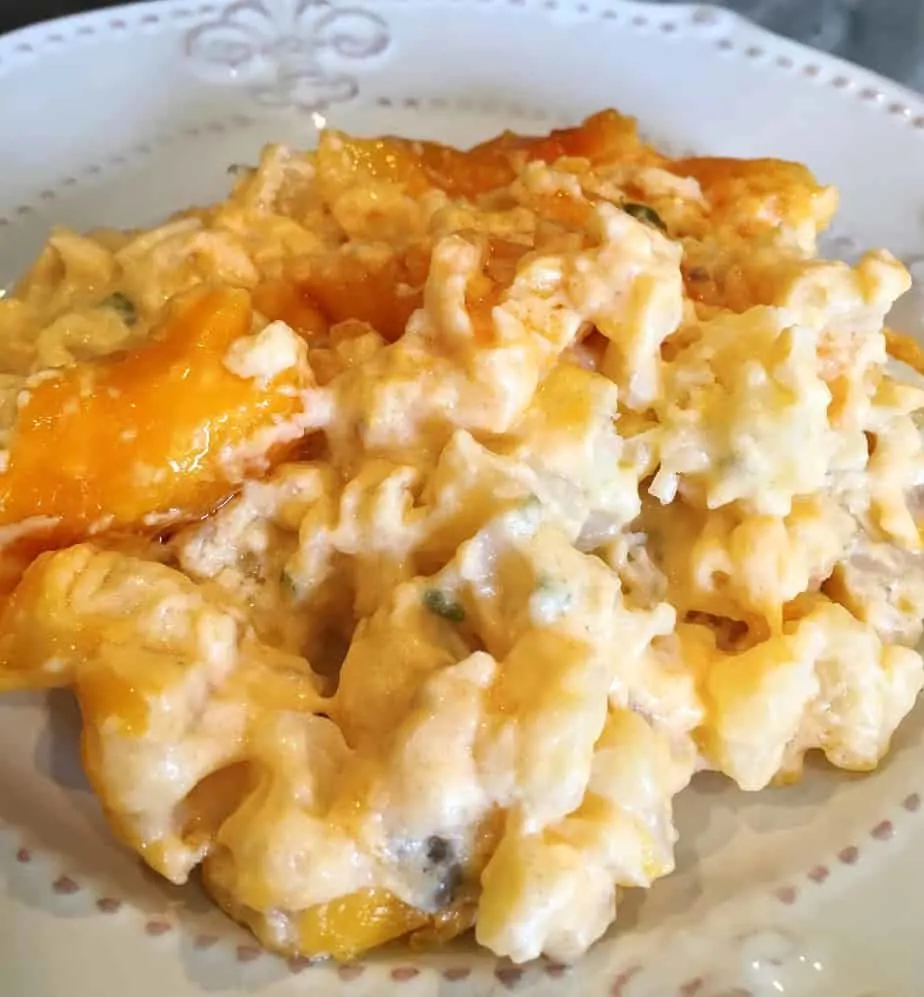 This IS the original "cheesy funeral" potato casserole or cheese potatoes. However, we didn't call them "funeral" potatoes back then. It was just a new amazing easy cheesy potato casserole that you took to every church potluck and made for every family get-together.
First time I made these I wasn't even married. A friend gave me the recipe and swore by them. I remember thinking "Cream of Chicken Soup" in cheesy potatoes?
Being young and having little kitchen experience I trusted her and went with it. Generations are grateful I did! They are a staple at every Holiday dinner table! Nobody even has to die for us to enjoy them! (Bonus!)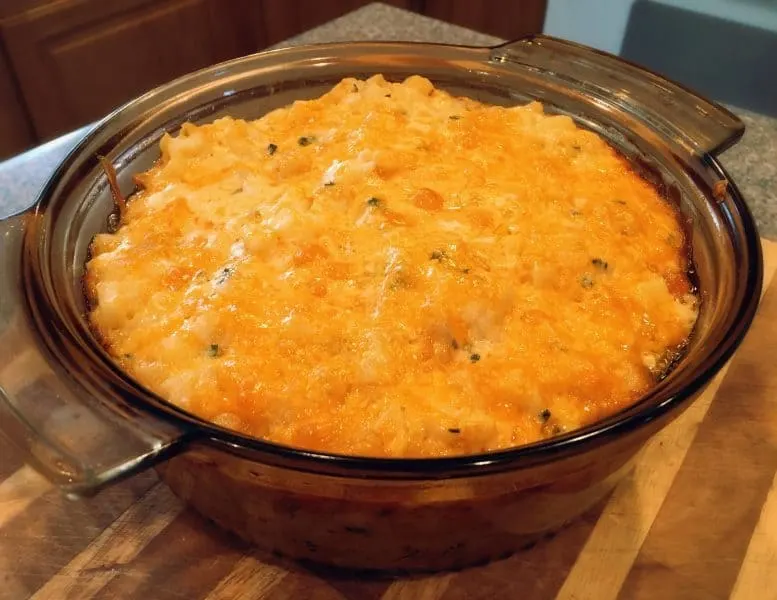 How To Make The Best Cheesy Funeral Potatoes
In a large skillet melt 1 stick of REAL butter. Add one can of Cream of Chicken Soup (Yes… you can substitute cream of mushroom) and one 7.5 oz container of Whipped Philadelphia Chive Cream Cheese.
Tip: If you cannot find Whipped Cream Cheese with Chives you can use one small container of regular cream cheese with chives. Both work equally well it just takes a little longer for the regular cream cheese to melt.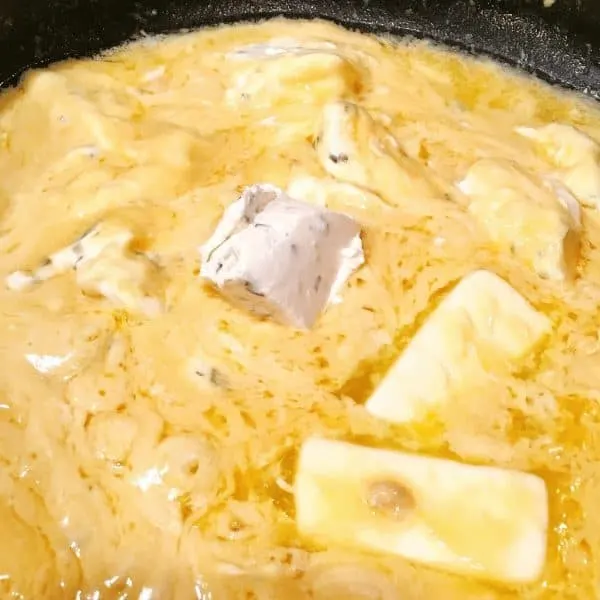 Using a wire whisk blend all ingredients together until smooth and creamy. Add in 1 cup of cubed mild cheddar cheese. You may need to add about 1/4 cup of milk to thin the mixture out.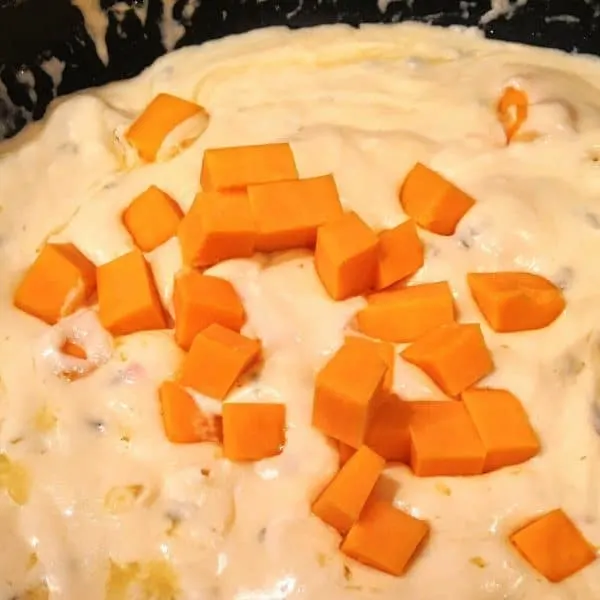 Continue mixing until cheese is completely melted and everything is well blended . It will be very smooth.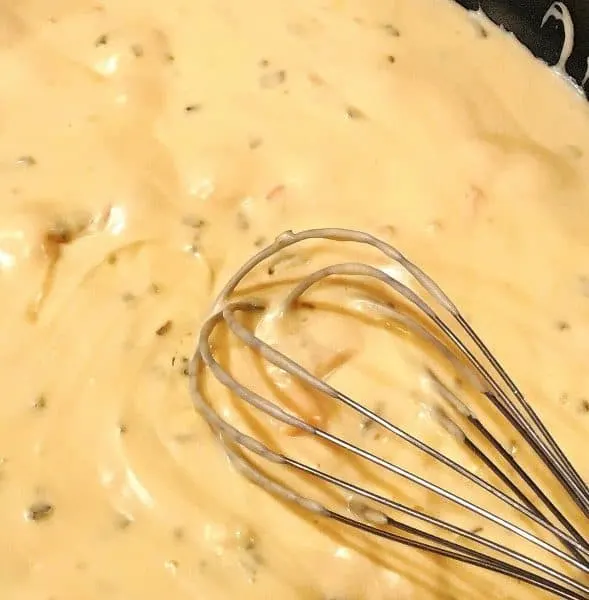 Fill a large bowl with a thawed 2 lb bag of southern hash browns. Add the creamy cheese sauce and mix together.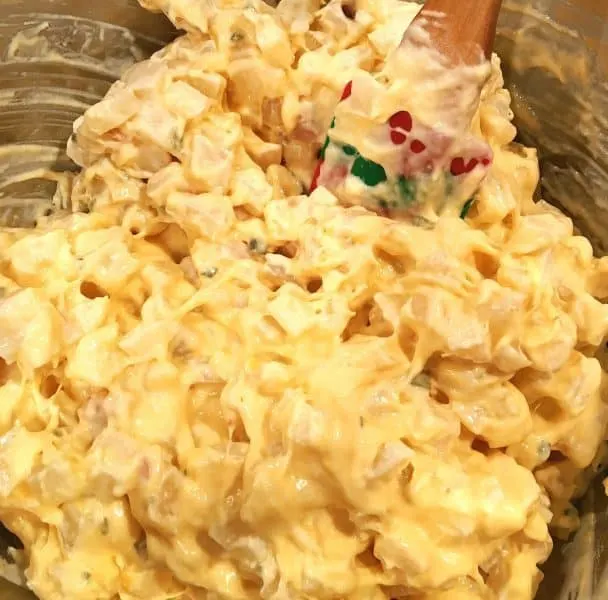 Now you can bake these two different ways. You can pour the mixture into a 2 quart sprayed baking dish and bake them in the oven…OR…if you need room in your oven for other dishes, you can bake them in a sprayed casserole slow cooker.
It works fantastic and I love my slow cooker casserole dish.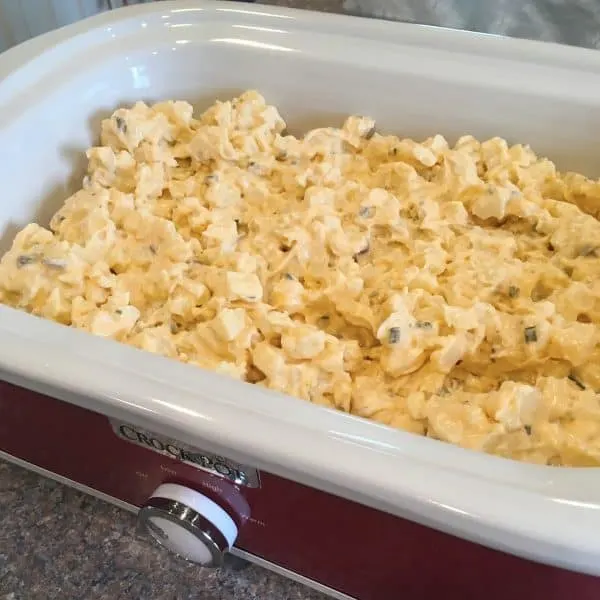 Top with an additional cup of grated cheddar cheese.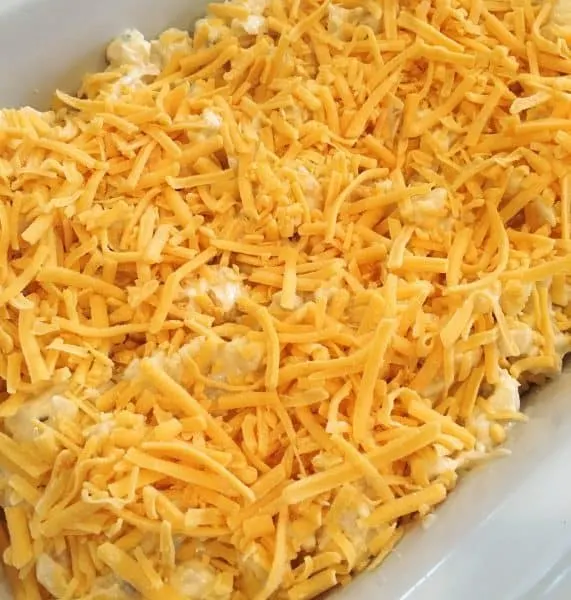 If baking in the oven, bake at 350° F, for one hour. If baking in your crock pot casserole dish cook for 2.5 – 3 hours on high or for 5 hours on low.
The potatoes should be "fork" tender.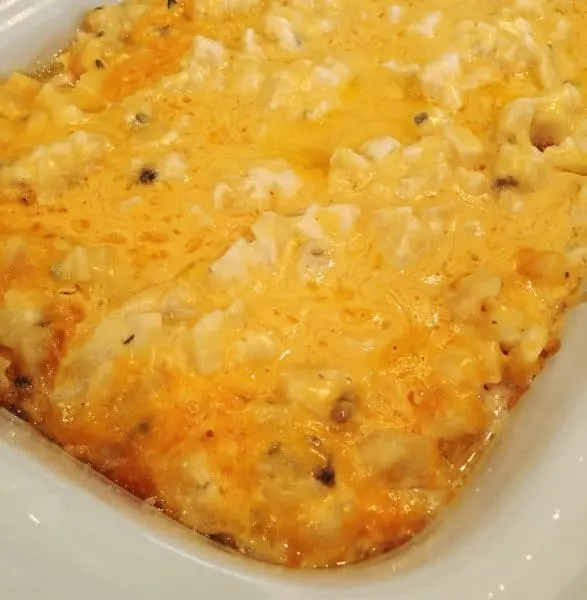 You know what happens at this Nest with these delicious mouth-watering potatoes? The photographer doesn't get a good photo because the piggy's that live here "snarf" them all!
I seriously had to make another batch just to take a photo for this post! Even at that they don't photograph very well. So photos aside…just trust me when I say these are the yummiest cheesy potatoes and your family will love them.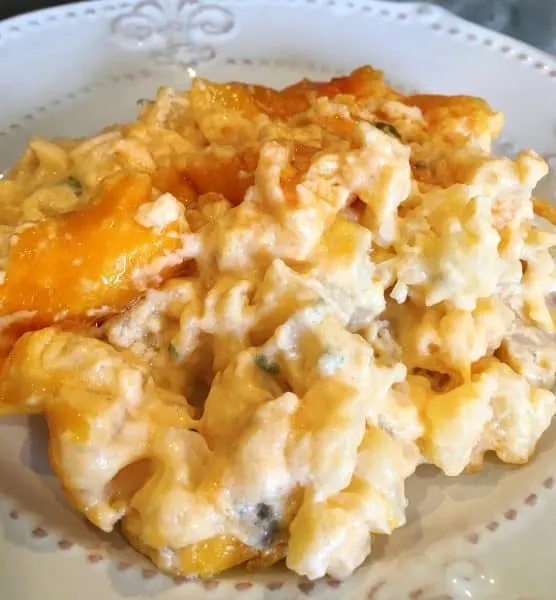 These are the BEST cheesy funeral potatoes I've ever had…and I've had LOTS!
Don't wait to go to a funeral to have them! (Gads!) I really dislike that they have been nick-named "funeral" potatoes. I deal with it by telling myself it's because they are "TO DIE FOR"!
This is the perfect side dish for Ham, Pork Roast, (Coffins?) or any main course dish you are making. Just remember…all the other recipes out there are "wannabe's"!
Here are some of my other Favorite Side Dish Recipes
This is the REAL deal! lol 😉 Nobody wants 2nd hand cheesy potatoes at their funeral! That would just be…well…"Cheesy"! (Come on…ya knew I was going there!)
Remember you can always follow me on Twitter, InstaGram, Facebook, and Pinterest. I'd love to have ya join me!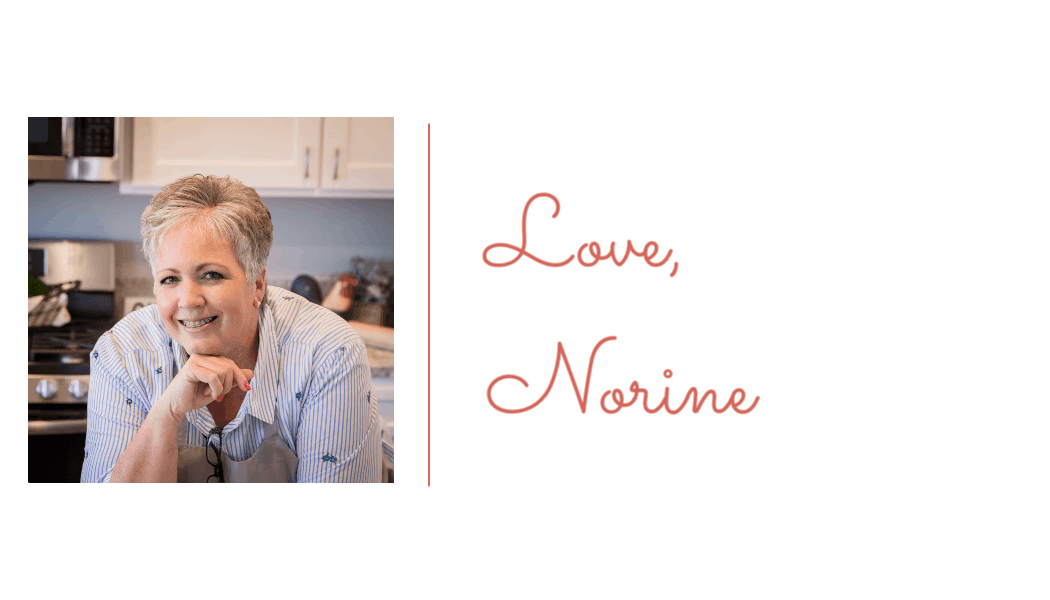 Yield: 6 servings
Best Cheesy "Funeral" Potatoes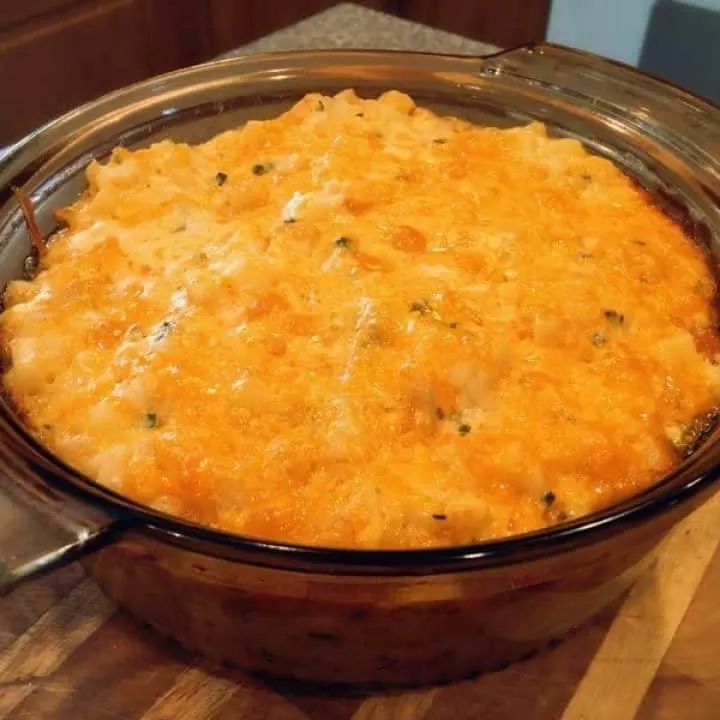 The original cheesy "funeral" potato recipe made with southern hash browns, whipped cream cheese, and loaded with cheesy goodness!
Total Time
1 hour
15 minutes
Ingredients
1/2 cup butter (1 stick)
1 Can Cream of Chicken Soup
1 - 7.5 oz. whipped cream cheese with chives
1/4 cup of milk
1 cup cubed mild cheddar cheese
1 cup grated mild cheddar cheese
2 lb. bag, thawed, southern hash browns (small cubes)
Instructions
In a large skillet melt 1/2 cup butter over medium heat. Add 1 can cream of chicken soup and the whipped cream cheese with chives. Stir until well blended.
Add in 1 cup cubed mild cheddar and 1/4 cup of milk. Continue stirring until cheese is melted and mixture is creamy.
Place bag of thawed hash browns into a large bowl. Add cheese sauce mixture. Stir together.
Pour cheesy hash browns into a sprayed 2 quart baking dish or casserole slow cooker.
Top with 1 cup of grated mild cheddar cheese.
If doing the 2 quart baking dish, bake in a 350° F oven for 1 hour until fork tender.
If making in a casserole crock pot bake on low for 3.5 hours or on high for 2 hours.
Recommended Products
As an Amazon Associate and member of other affiliate programs, I earn from qualifying purchases.
Nutrition Information:
Yield:
6 servings
Serving Size:
3/4 cup
Amount Per Serving:
Calories:

860
Total Fat:

67g
Saturated Fat:

28g
Trans Fat:

1g
Unsaturated Fat:

34g
Cholesterol:

113mg
Sodium:

1692mg
Carbohydrates:

51g
Fiber:

4g
Sugar:

3g
Protein:

17g