Tender chopped Spring Mix Greens are topped with plump fresh blackberries, diced ripe avocados, applewood smoked bacon crumbles, feta cheese, with Honey Roasted Sliced Almonds with cranberries. Top it off with a luscious fruity vinaigrette dressing for the perfect Blackberry Feta Spring Salad.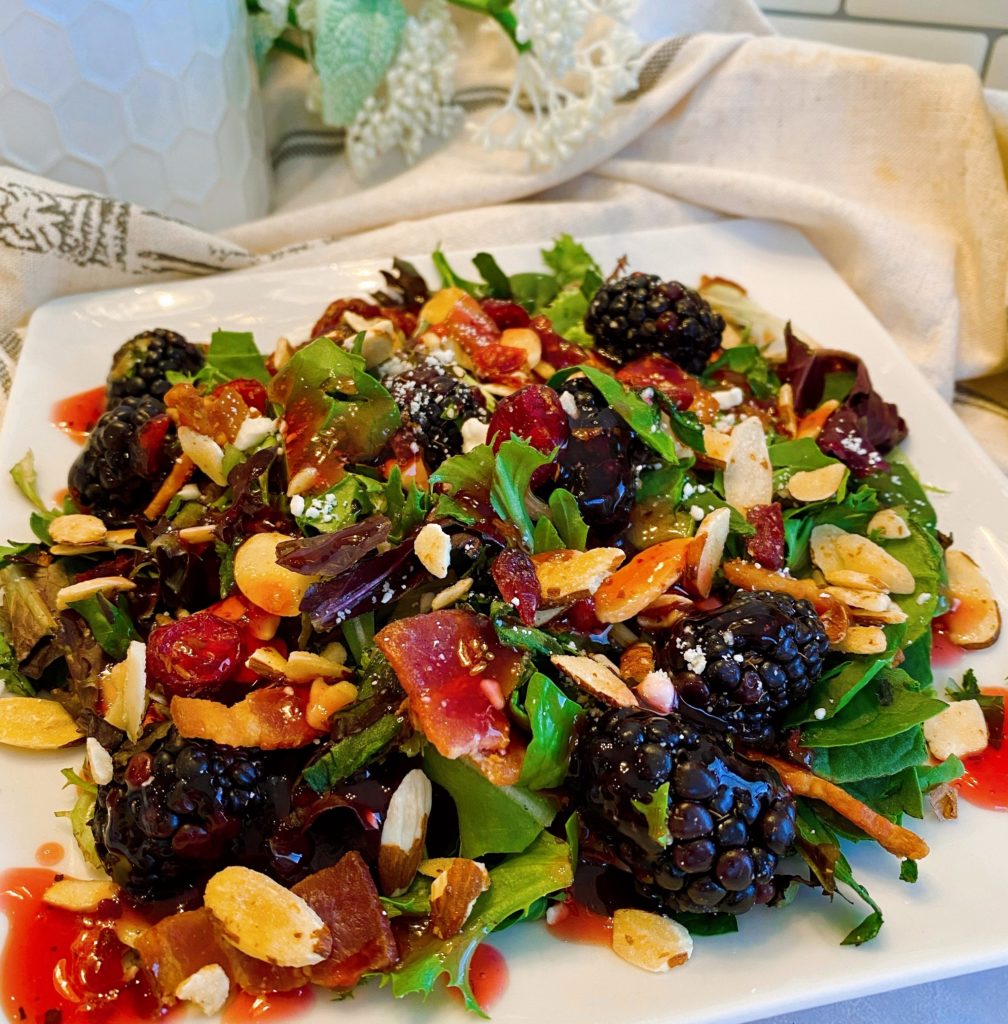 I know it's been a hot minute since I've shared a new recipe! I'm so sorry.
*As an Amazon Associate I earn from qualifying purchases. This post may contain affiliate links, which means that I may make a commission from any purchases at no additional cost to you. Thank you for your support!
Honestly there is so much that goes on behind the scenes of a blog! (Let's be clear…that was completely understated!) It can be a bit overwhelming when it comes to the "technical" side of things. (Word of the day apparently is "understated"!) I'm not a computer "tech" person! (Yep…insert "word of the day")
I'm back though! Back in my happy place creating delicious easy recipes!
I woke up in the middle of the night a few weeks ago and this salad popped into my mind! Every single ingredient… from the beginning, with the beautiful baby spring mix with it's vibrant greens, to the crunchy toasted almonds and light tart berry vinaigrette!
Somehow…I knew before I made it, that it was going to be the perfect Spring/Summer Salad…and it is! I love adding fresh fruit to green salads! They add such a punch of flavor!
How To Make Spring Berry Salad
Like any beautiful salad…this one starts with tender young Spring greens. Tender red leaf lettuce, baby spinach, arugula, and leafy baby greens.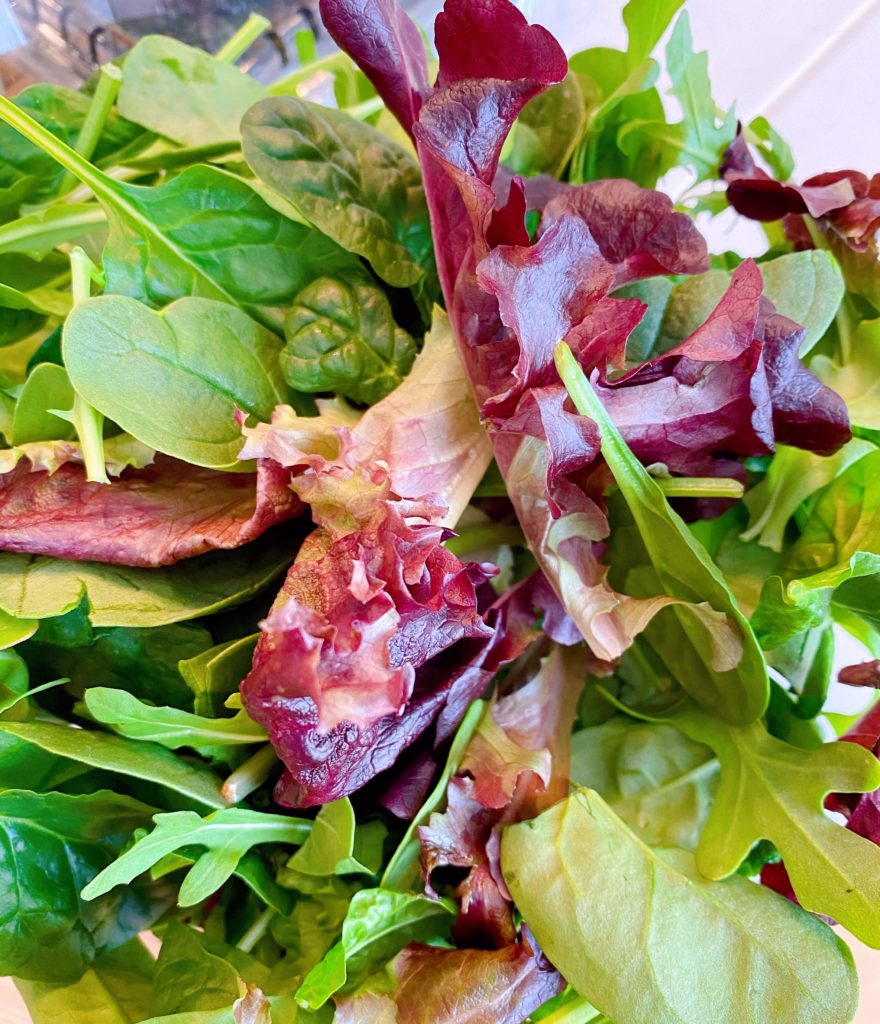 Place 6 cups, washed and dried, spring mix in a large salad bowl. Using kitchen shears, or Salad toss and chop shears, "chop" the greens into bite size pieces. I go after those greens like a mad woman on a mission! Honestly it is so satisfying! (Maybe a little too satisfying…but it saves on therapy!)
TIP: When making a salad to serve to dinner guests, make sure that the "greens" are bite size rather than large huge chunks, unless serving a "wedge salad". It shows thoughtfulness. Nothing worse than trying to cram a half a head of lettuce in ones mouth at a dinner party!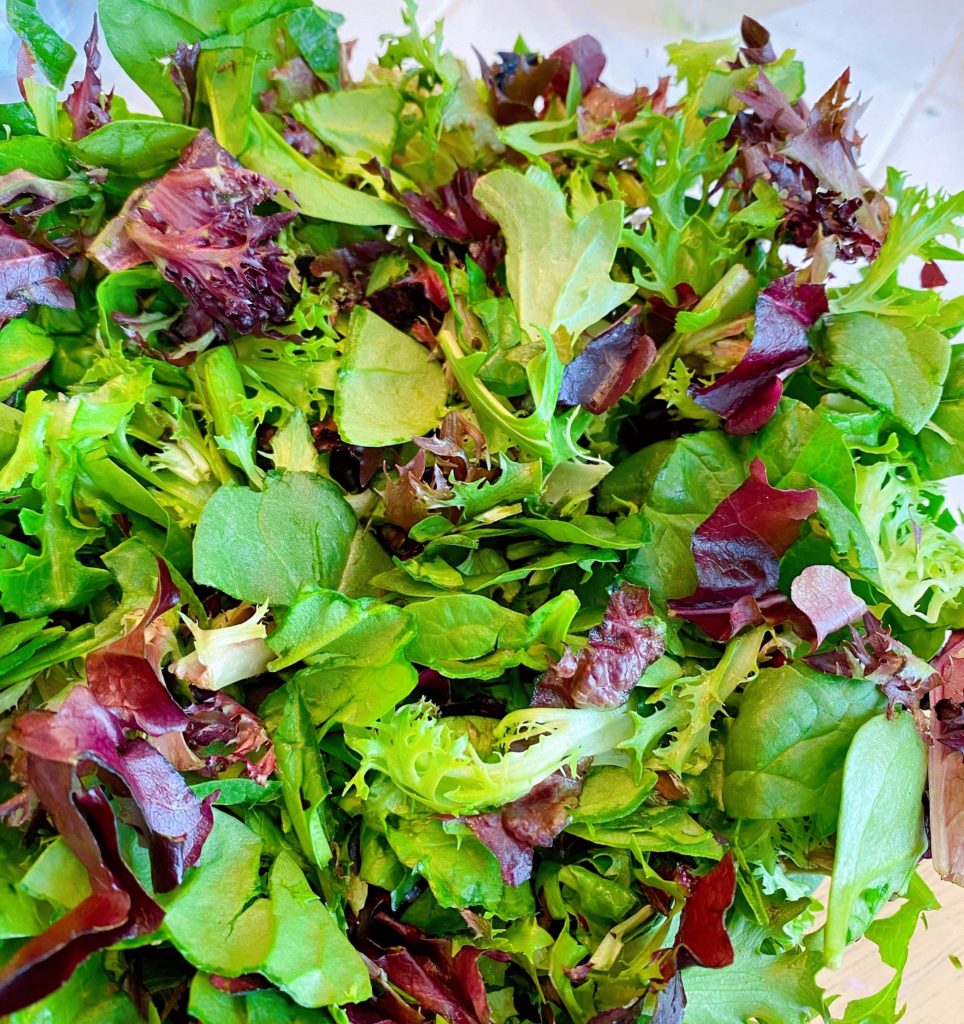 Begin layering the salad by adding 1 pint fresh plump ripe Blackberries that have been washed and air dried on paper towels.
Add 1 large ripe, pitted, peeled and diced avocado! (Or as my granddaughters call them "Guacamole"!)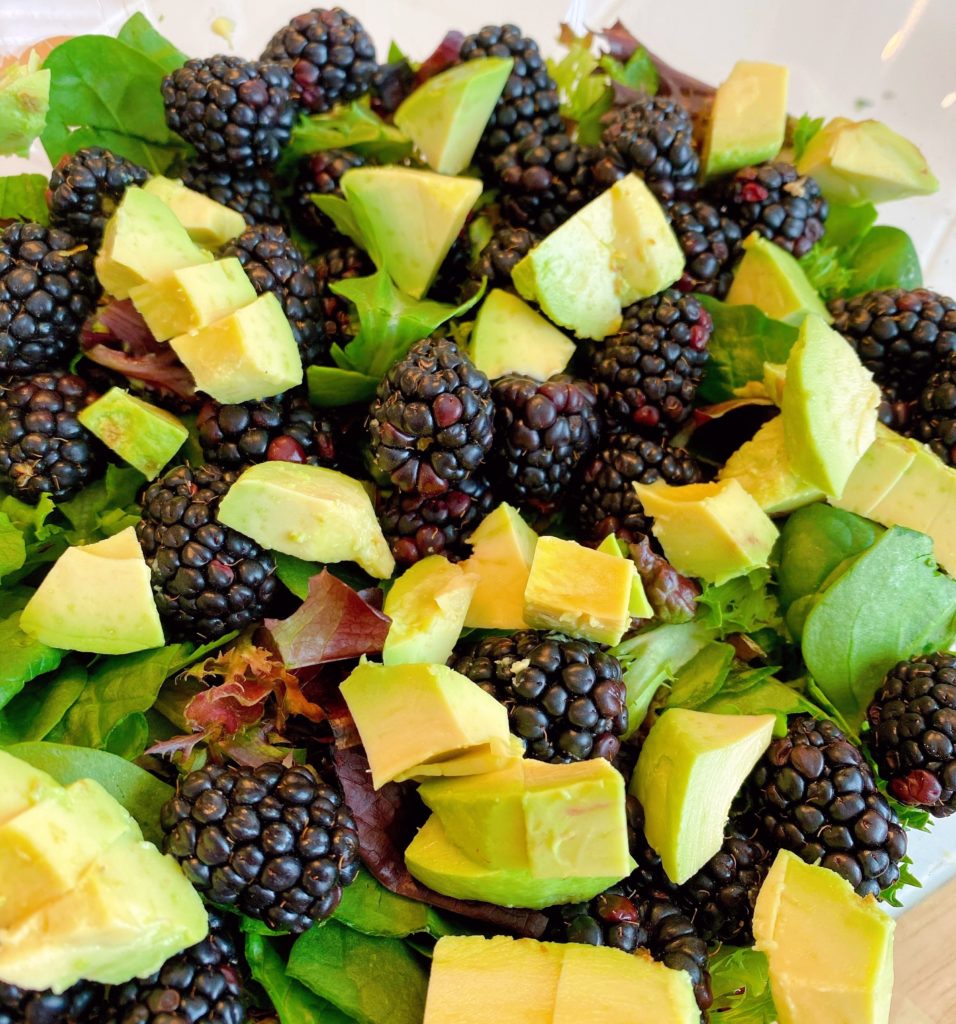 Sprinkle 6 slices of crumbled thick cut applewood bacon, about 1/2 cup, all over the top of the avocados and berries.
TIP: Slice the strips of bacon into thin bite size pieces before cooking. The bacon will cook faster and turn out beautiful, with less splatter to your stove top!
Aren't you just loving the colors in this salad? I am completely in love with them!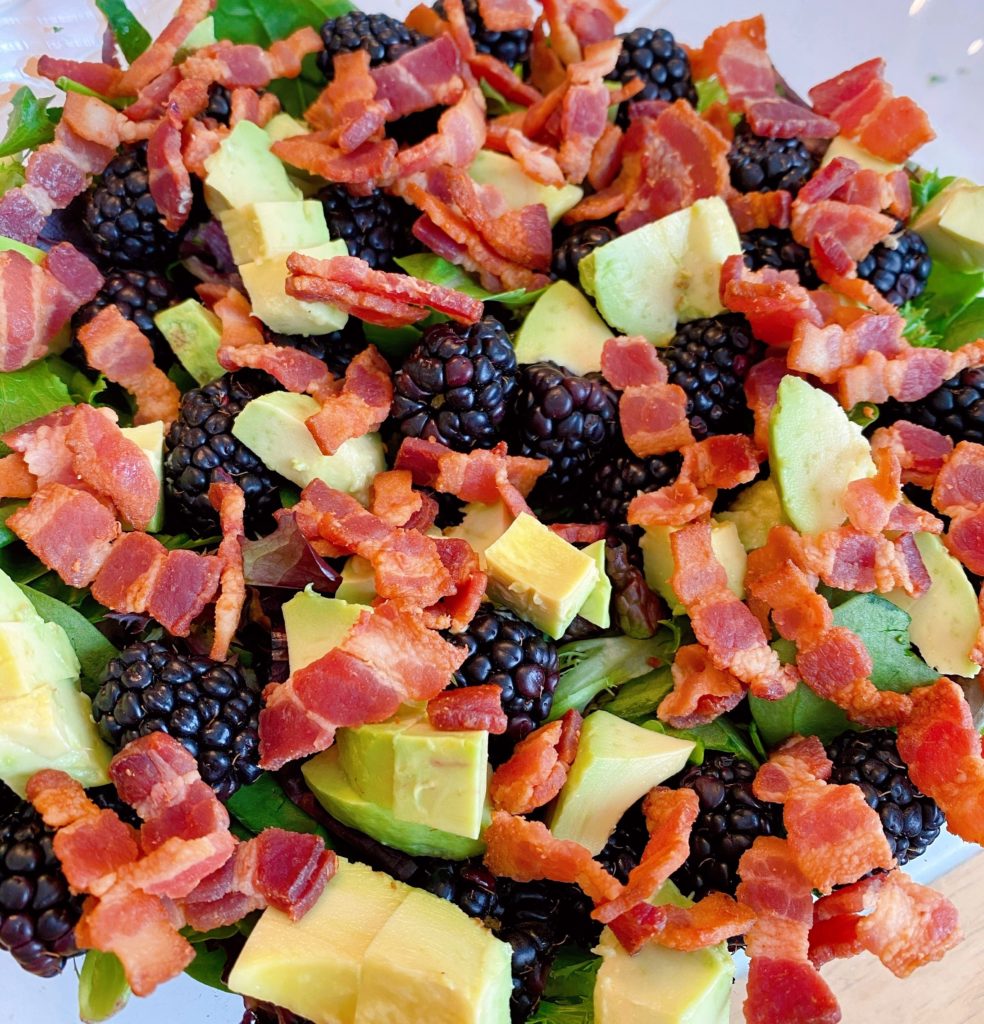 Add 4 Tablespoons small crumbled Feta Cheese. I break the bigger Feta Cheese balls apart by rubbing them together in my fingers. Sprinkle the cheese over the entire top of the salad!
Feta adds the perfect amount of "tart" and creamy to this salad!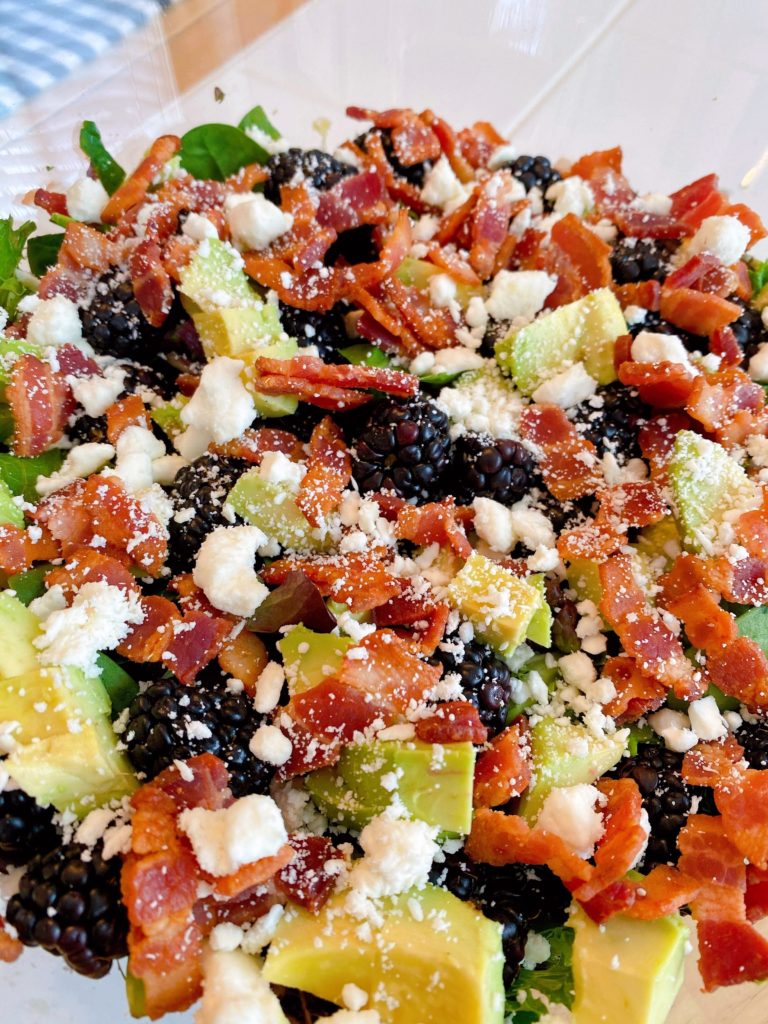 Fresh Gourmet makes an amazing 3.5 ounce Salad Topping mix! I found mine at Smith's Food and Drug for about $3.59. It is carried in many super markets. I like the Honey Roasted Sliced Almonds with dried Cranberries. Any almond salad topper will work.
TIP: The secret to ANY great salad is an element of "crunch"! Bacon not only adds incredible smoky flavor, it also adds crunch.
Toasted nuts are another fantastic way to weave crunch and flavor into a salad. If you can purchase a prepackaged toasted nut salad topping, I say "Go for it!". I'm all about convenience and ease as long as it is a good product. I love the sweet and salty flavor of this one.
Add about 1/3 cup to the top of the salad.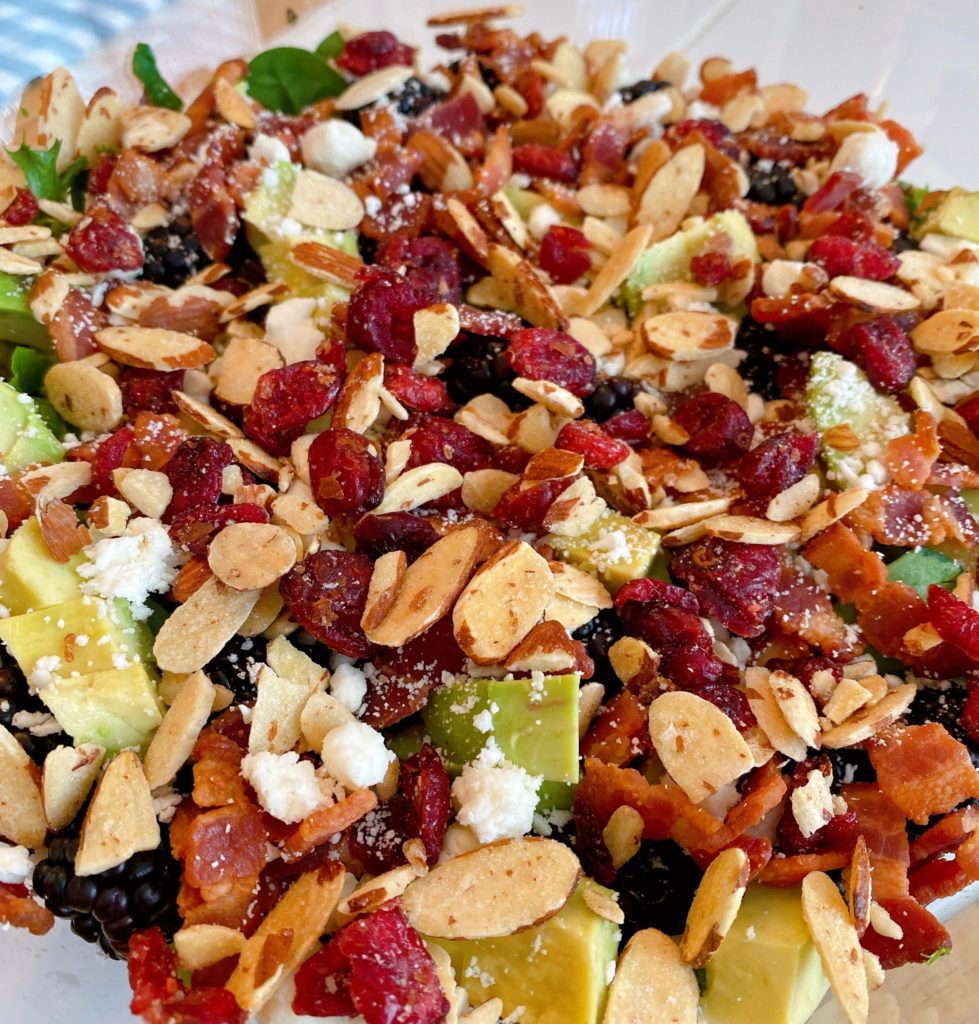 That's it! There's no need to toss this salad! The layers will all blend as you, or your guests serve the salad!
I make this salad ahead of serving, about 2-3 hours, and cover it with saran wrap, chill until ready to serve. The nuts and bacon will stay crispy for a few hours. So no worries.
Dressing the Salad with Vinaigrette
Serve with a delicious Raspberry Vinaigrette. I used Light House Raspberry Vinaigrette, but any fruity vinaigrette will taste amazing with this salad. My delicious Honey Orange Vinaigrette that I served with my Arugula and Crab Cakes, pairs well with this salad. It's not in the recipe card, but about half way through the Crab Cake post.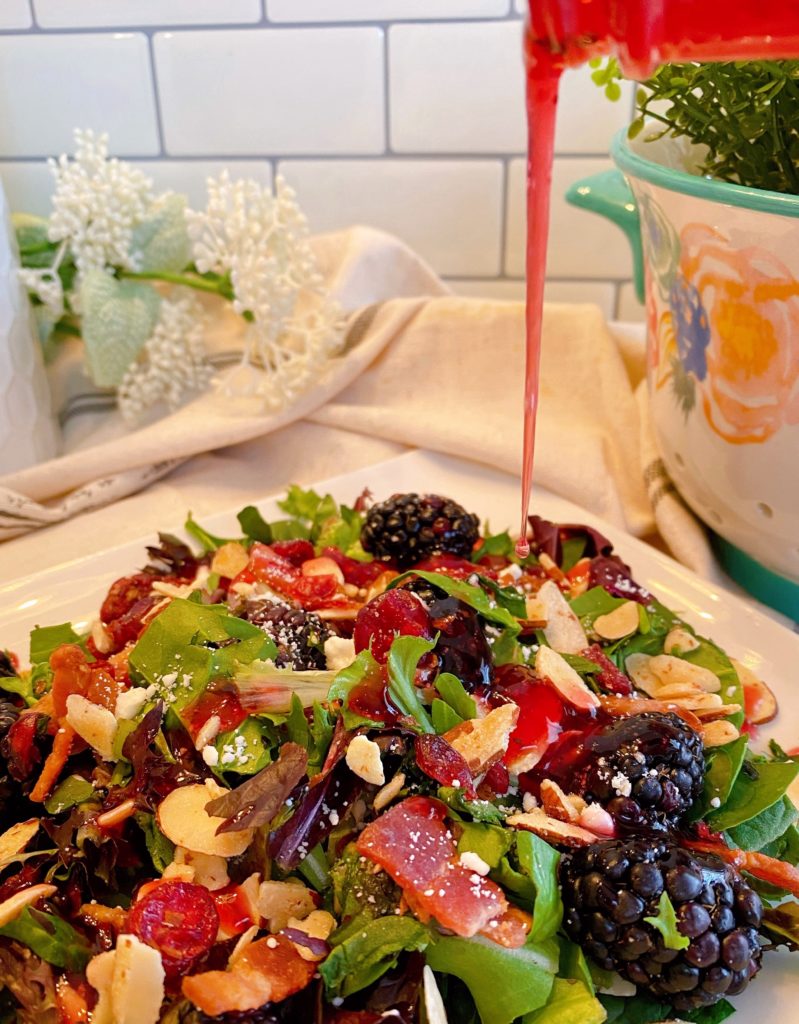 The flavors in this salad are stunning! The nutty flavor of the mixed spring greens combines so beautifully with the sweet and tart flavors of the feta, berries, and vinaigrette dressing. The smokey flavors of the bacon and almonds blends perfectly!
I served this salad for Easter dinner…it received RAVE reviews!
Wanna kick this salad up a bit more? You could toss grilled chicken into this salad for a complete light spring or summer meal!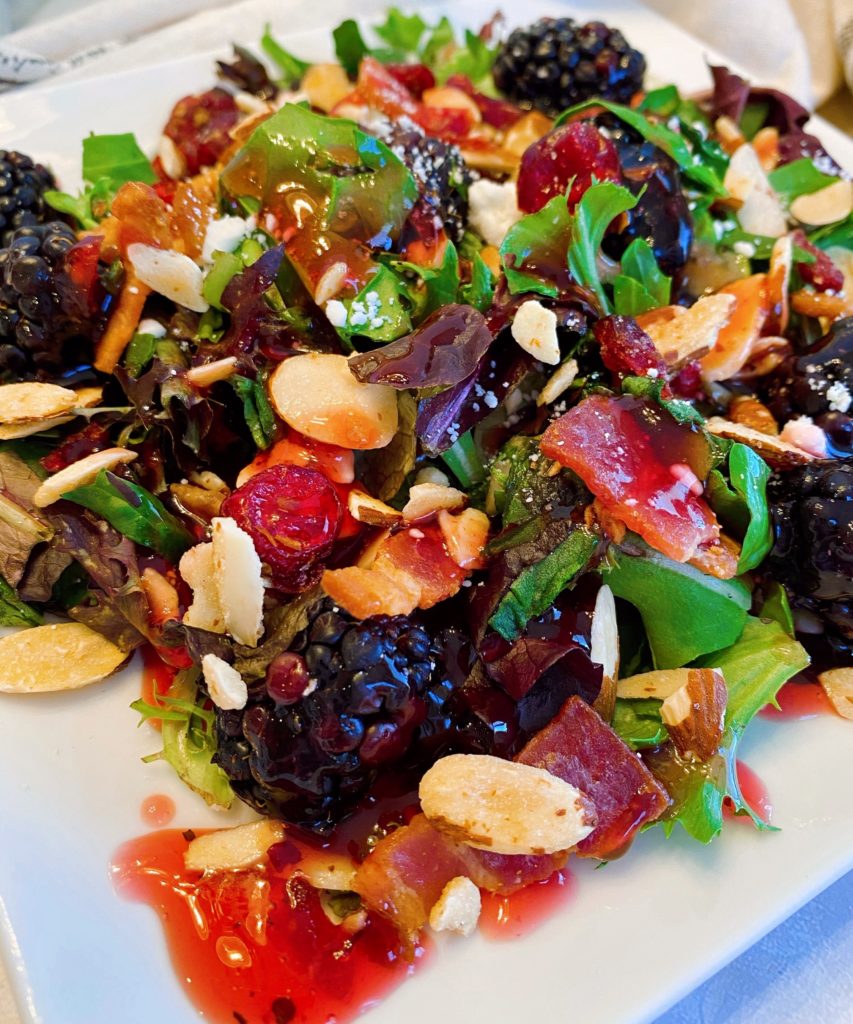 Other Favorite Salad Recipes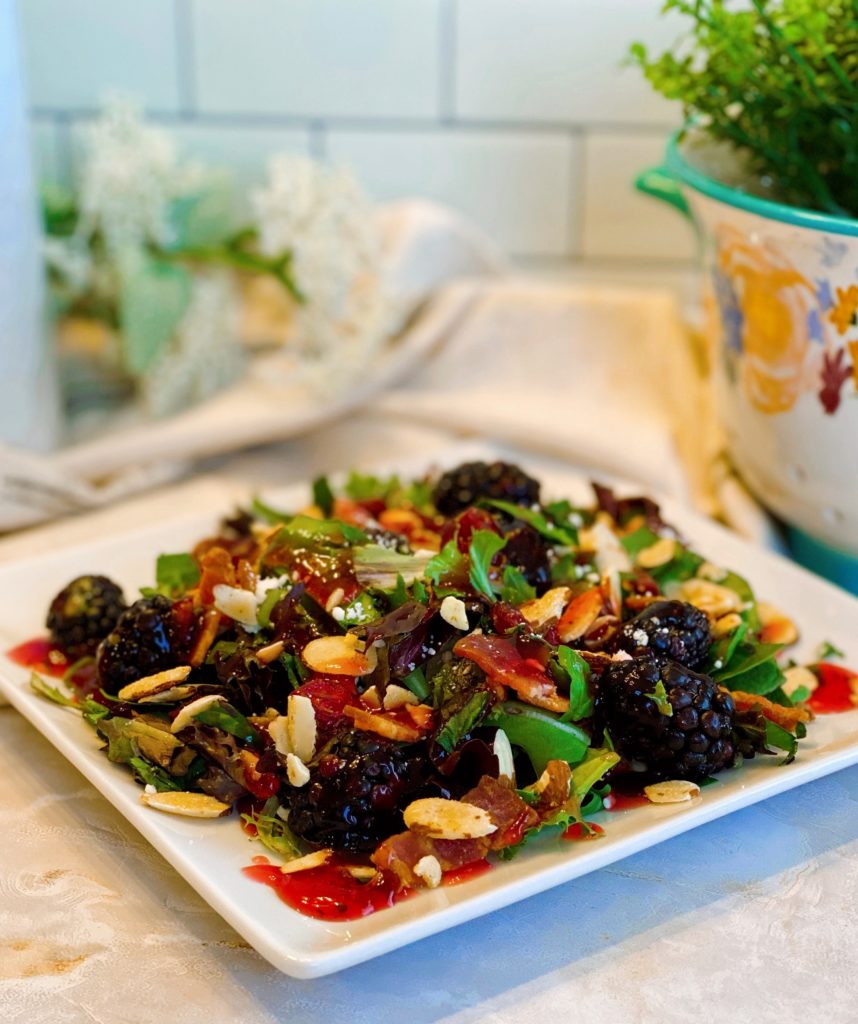 Thanks for stopping by and visiting with me today! We sure love having you here! I promise more delicious Spring and Summer recipes are heading to the blog! Come back soon!
Happy Nesting!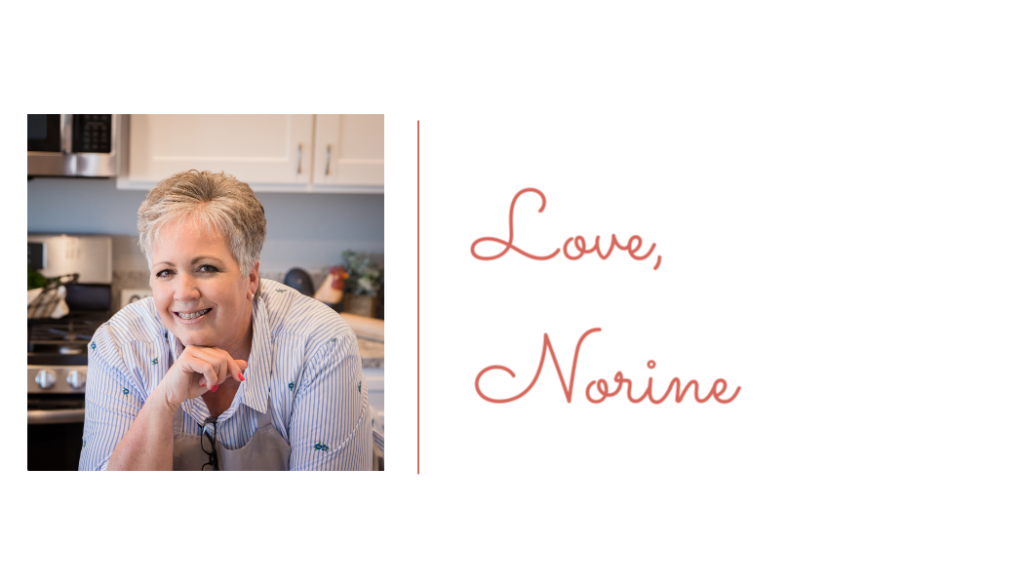 Yield: 8 servings
Blackberry Feta Spring Salad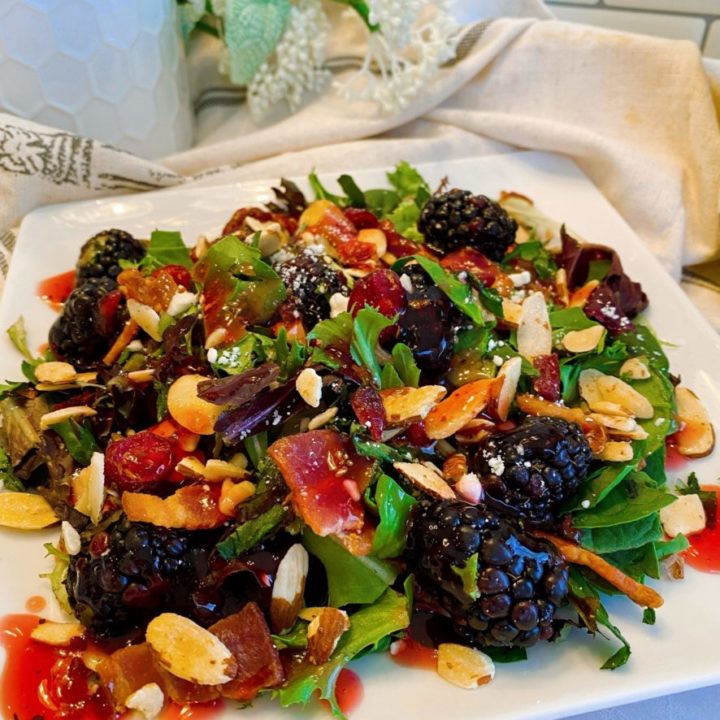 Tender chopped Spring Mix Greens are topped with plump fresh blackberries, diced ripe avocados, applewood smoked bacon crumbles, feta cheese, with Honey Roasted Sliced Almonds with cranberries. Top it off with a luscious fruity vinaigrette dressing for the perfect Blackberry Feta Spring Salad.
Ingredients
6 cups Spring Mix, chopped
1 pint fresh blackberries, rinsed and dried
1 large, ripe, avocado, peeled, pitted, and diced
6 slices, crumbled, thick cut, applewood bacon
4 Tablespoon crumbled Feta Cheese
1/3 cup "Fresh Gourmet" Honey Roasted Sliced Almonds with Dried cranberries
Raspberry or Blueberry Vinaigrette
Instructions
In a large salad bowl place 6 cups washed and dried spring salad mix. Using kitchen shears, or Toss and Chop Salad Scissors, chop spring mix into bite size pieces.
Layer the toppings starting with the blackberries. Sprinkle blackberries on top of spring mix.
Sprinkle diced avocado and bacon on top of blackberries.
Top with feta cheese and almond salad topping mix.
Serve immediately, or cover and chill up to 3 hours before serving.
Serve with favorite Raspberry or Blueberry Vinaigrette dressing.
Nutrition Information:
Yield:
8 servings
Serving Size:
1 cup
Amount Per Serving:
Calories:

215
Total Fat:

12g
Saturated Fat:

2g
Trans Fat:

0g
Unsaturated Fat:

9g
Cholesterol:

6mg
Sodium:

118mg
Carbohydrates:

26g
Fiber:

6g
Sugar:

18g
Protein:

5g