Tender leafy greens with fresh raspberries, sliced ripe avocado, feta cheese, and caramelized pecans. Top it off with an easy homemade raspberry vinaigrette and you have the perfect dinner salad for that special dinner.
Here in our little country town, we have several really AMAZING restaurants! It helps that we are home to the best Shakespeare Festival in the country, The Utah Shakespeare Festival, which draws hundreds of tourists looking for wonderful food!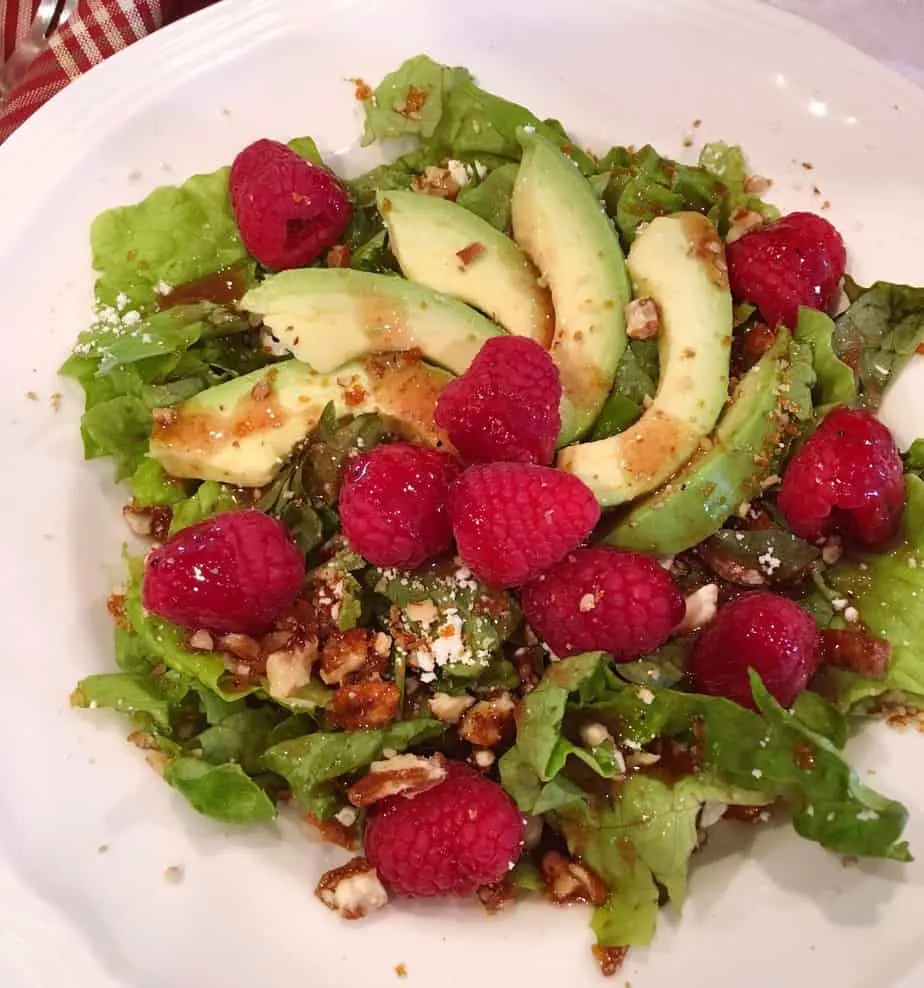 One of my favorite spots is a local Wood fire pizza restaurant. They serve an amazing Raspberry Salad. Their pizza is outstanding…but that salad is mind-blowing! I wanted to recreate it… and add a few twists of my own. I'm happy to say that it turned out wonderful!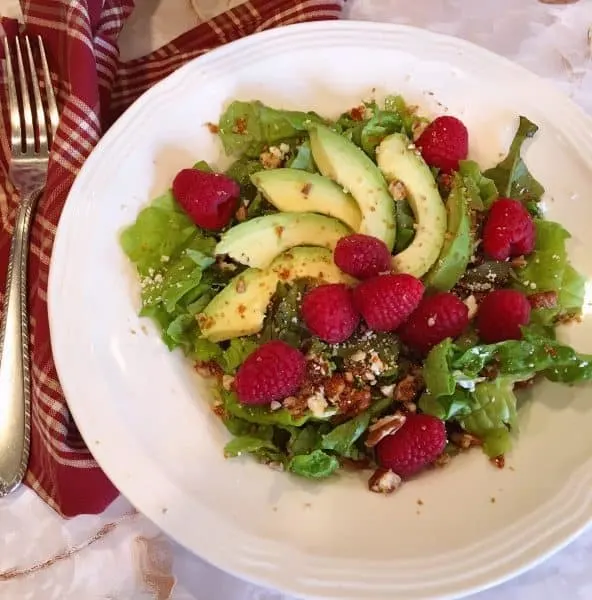 Raspberry Pecan Feta Salad begins with a bed of spring mix, or red leaf lettuce, either will work. Top with fresh sliced ripe avocado, red raspberries, candied pecans, feta cheese and drizzle with a fresh homemade raspberry vinaigrette! All ya need is a fork and an ability to control yourself from over-indulging! (Which I fail miserably at when it comes to this salad…or any food related item! Oh the shame!)
How To Make Candied Pecans
One of the BEST elements of this salad has to be the candied pecans! WOW! (I think every salad should have an ingredient that begins with the word "candied"! lol)
Making Candied Pecans is not difficult. You just need to pay attention to the sugar as it is melting and not rush the process.
Place a small 8 inch non-stick skillet over low heat. (I highly recommend a "non-stick" skillet! It reduces burning and makes clean-up a breeze! If you enjoy scrubbing and cursing…then don't use a non-stick skillet.)
Add 1/2 cup of white granular sugar. Spread sugar evenly in pan by gently shaking the skillet back and forth. (Decided to add that "gently"…I had vision of ya'll throwing sugar all over your kitchens!)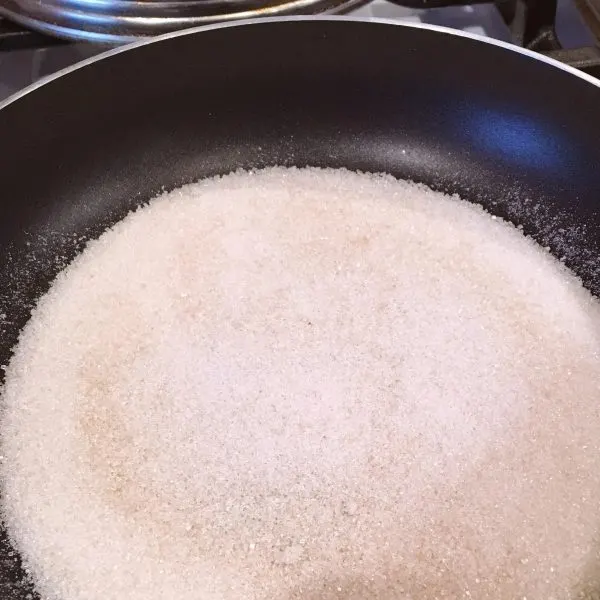 The most important part of this process is TO NOT STIR THE SUGAR! As the sugar begins to heat up, it will begin to melt, and turn a beautiful caramel color. If you ignore me…you will end up with a big ol' glop of goo! DON'T STIR THE SUGAR!
I know…your impulse is going to be to stir that sugar….DON'T DO IT! (I feel like a mother saying to her two year old "Don't touch it…do not touch it…don't touch!" lol)
Watch it very closely. The goal is to have all the sugar dissolve like it has around the edges in photo below.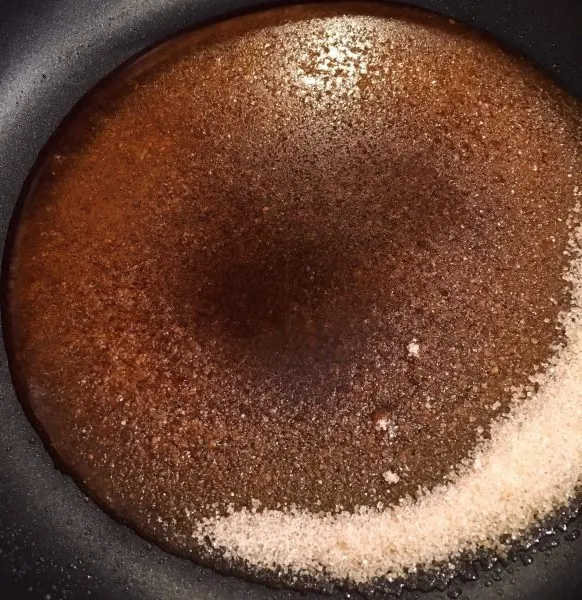 As soon as the majority of the sugar has dissolved and it begins to boil, immediately remove from heat. Please note that I did say "majority" of the sugar has dissolved. If you wait for all of it to melt…it will begin to burn. You'll notice in the lower right hand corner of photo below that the sugar hasn't totally dissolved.
TIP: Do Not Walk Away from this as it is processing. It can burn quickly!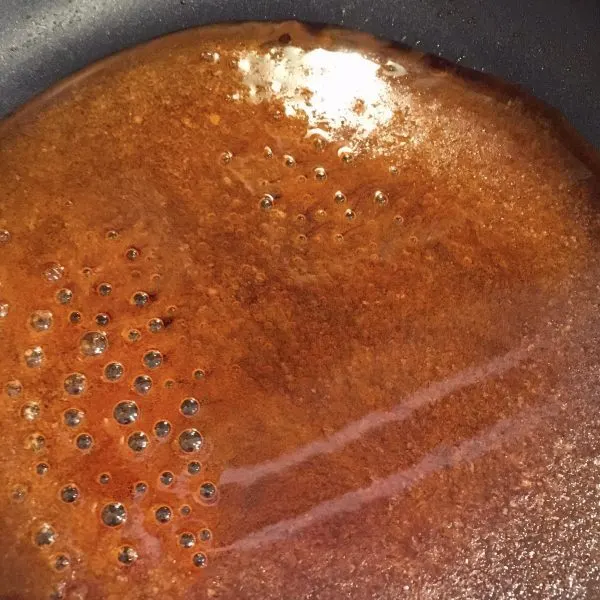 Stir in 1 cup of whole pecans. Stir quickly to coat the pecans evenly.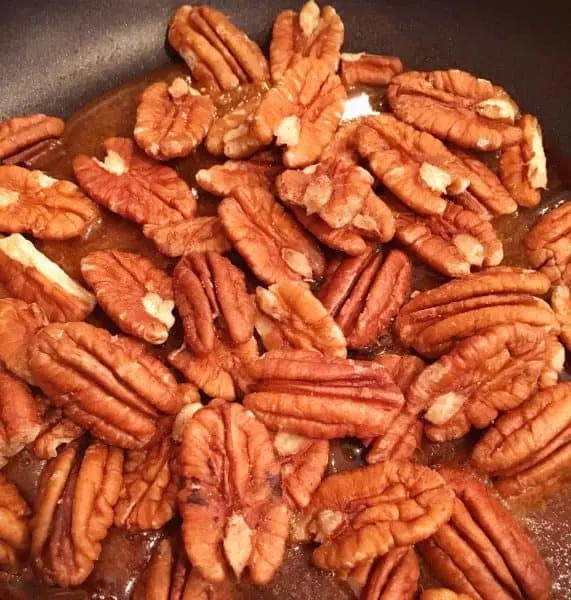 Place pecans on a piece of wax paper that has been coated with non-stick cooking spray. This will prevent the candied pecans from sticking to the wax paper and allow you to remove them quickly and easily.
Allow to cool completely.
Once cool, place candied Pecans in a zip lock bag. Use a rolling pin, or meat tenderizer, pound on the pecans to break into bite size pieces! (I take a lot of joy in this particular part of the recipe! A lot of therapy can be avoided by busting up pecans! It will probably scare your husband to death as he watches you destroy those nuts!)
TIP: This will make more candied pecans than you'll need for this one recipe. I like to store them in air tight containers and use them when making other salads.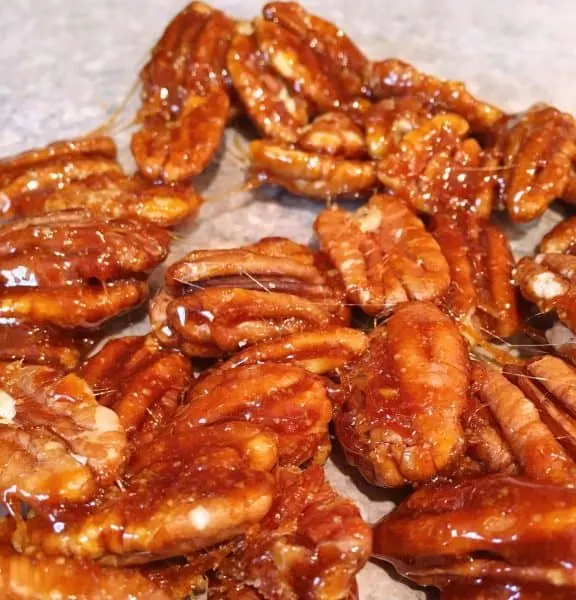 This salad can be made into single serving size, or you can make one big bowl of this salad for a large family gathering. Either way works. Just depends on how you want to present it.
Begin by rinsing one head of red leaf lettuce, or by using one package of baby spring mix. I've used both in this salad…and both work beautifully.
I recommend washing and spinning it dry as well…even if it's been pre-washed! (Can't be too careful these days with all the deadly lettuce running around loose!)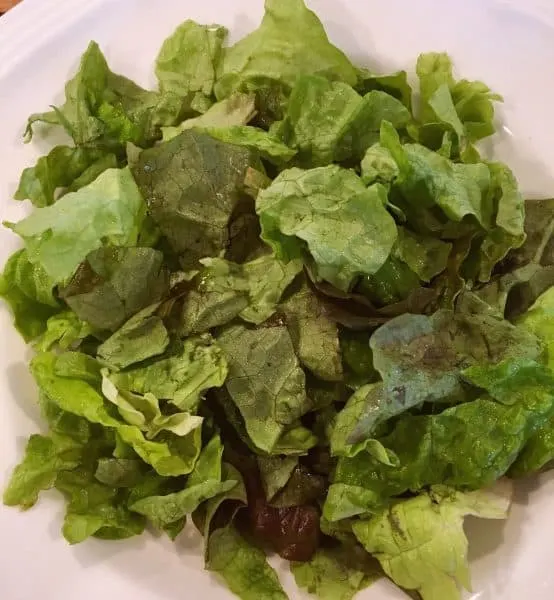 Top with Crumbled Feta cheese and candied pecans. (This is such a happy salad! I know that sounds funny…but look at it!)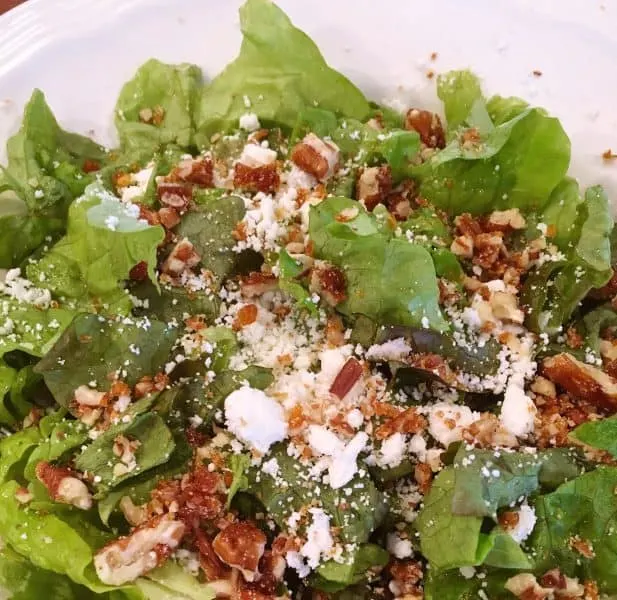 Add sliced avocado. I like to use about 1/4 of an avocado sliced on individual salads, fanned across the top.
Sprinkle with a few more candied nuts.
Top with fresh ripe raspberries. I used 1 pint for the family size version of this salad. Individual size salads I add about 10 fresh raspberries…unless it's my personal salad…then I add about 15!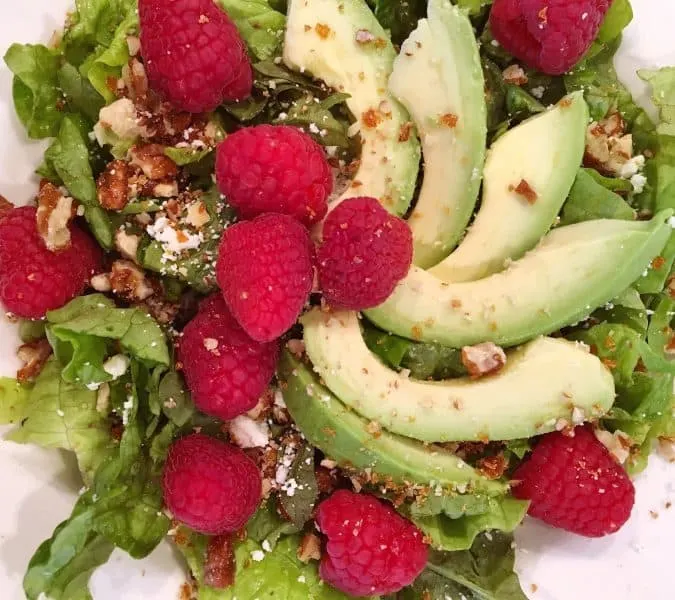 How To Make Raspberry Vinaigrette
In a small bowl, or glass measuring cup, add 1/2 cup extra virgin olive oil, 1/2 cup apple cider vinegar, 1 teaspoon prepared Dijon Mustard, salt and pepper to taste, and 4 Tablespoon Raspberry Syrup. Mix with wire whisk.
TIP: I used Kodiak Raspberry Pancake Syrup! You could also use Raspberry Jam. It will just make a thicker dressing. What ever is your favorite raspberry product is going to work.
Drizzle vinaigrette all over the top of the salad. The salad alone is amazing…but that vinaigrette is fantastic and pulls everything together to create the perfect salad!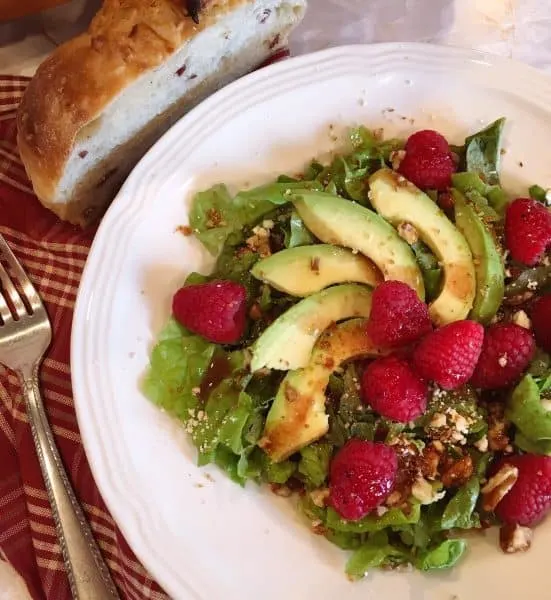 A simple and delicious salad that is ready in minutes. The most difficult part of this salad may be making the candied pecans, and even that isn't difficult…just takes your full attention.
This is a photo of the larger version of this salad that I made for a big family dinner! Everyone loved this salad…even the little ones!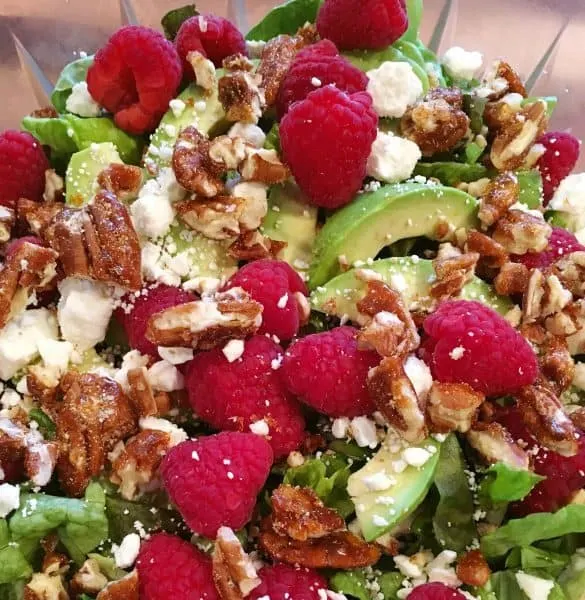 I know I said it before, but I can't say it enough…all the elements of this salad combine together perfectly!
Such a beautiful, colorful, and tasty beginning to any meal! It would be perfect for a romantic Valentines dinner for two! Just reduce the ingredients, or don't and eat till you can't eat any more! You can also add sliced chicken breast to this salad and have it be the main course! It's scrumptious!
If you love this salad…you might also love my Blue Cheese Pear Salad or this yummy Watermelon Summertime Salad.
I hope the birds at your Nest love this salad as much as we do! I know you will!
I'd love to have you follow me on Instagram, Pinterest, or my Facebook Page where every week I share all my favorite recipes and share my weekly meal plans!
Happy Nesting My Friends!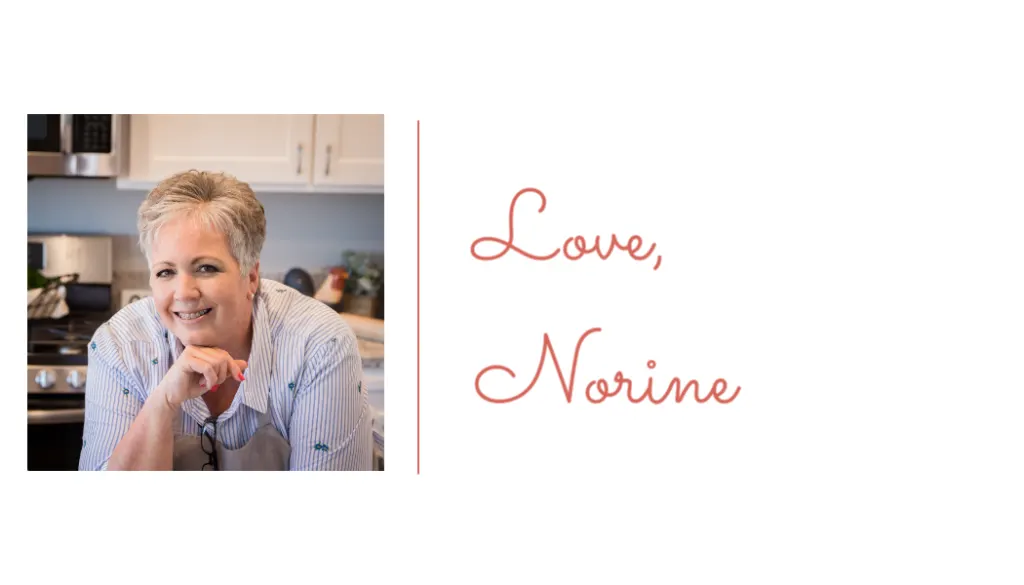 Yield: 6 servings
Raspberry Pecan Feta Salad with Raspberry Vinaigrette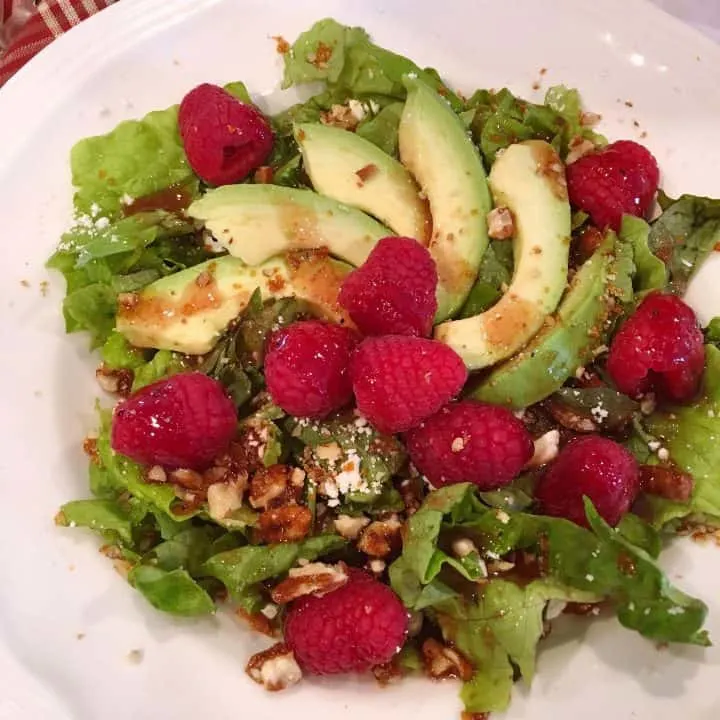 Spring Mix topped with crumbled feta cheese, candied pecans, fresh sliced avocados, red raspberries and a homemade raspberry vinaigrette.
Additional Time
30 minutes
Ingredients
1 head red leaf lettuce, or 1 package baby spring mix, washed and prepared.
1 large avocado sliced
1/2 cup feta cheese
1 pint fresh red raspberries
Candied Pecans
1/2 cup sugar
1 cup whole pecans
Raspberry Vinaigrette
1/2 cup extra virgin olive oil
1/2 cup apple cider vinegar
1 teaspoon prepared Dijon Mustard
4 Tablespoon Raspberry Syrup or Raspberry Jam
salt and pepper to taste
Instructions
In a 8 inch non-stick skillet, over low heat add 1/2 cup of granulated sugar. Shake skillet to distribute sugar evenly over bottom of skillet. Watch sugar until it melts and turns a caramel color. DO NOT STIR! When sugar begins to boil, and most of the sugar has dissolved, remove from heat.
Add pecan halves and stir quickly to coat.
Place coated pecans on wax paper that has been coated with non-stick cooking spray. Allow to cool completely. Place candied pecans in a zip lock bag, using a rolling pin or meat tenderizer, pound nuts to break pecans into bite size pieces.
Place washed and prepared lettuce into a bowl, or plate for single serving size.
Top with crumbled feta cheese, candied pecans, sliced avocado, and washed prepared raspberries.
In a small bowl mix together all the vinaigrette ingredients with a wire whisk until completely combined. Drizzle over salad. Serve immediately.
Notes
Extra "prep" time is to allow candied pecans to cool completely.
Recommended Products
As an Amazon Associate and member of other affiliate programs, I earn from qualifying purchases.
Nutrition Information:
Yield:
6
Serving Size:
2 cups
Amount Per Serving:
Calories:

507
Total Fat:

37g
Saturated Fat:

6g
Trans Fat:

0g
Unsaturated Fat:

29g
Cholesterol:

11mg
Sodium:

219mg
Carbohydrates:

43g
Fiber:

8g
Sugar:

28g
Protein:

6g
Norine's Nest in no way provides any warranty, express or implied, towards the content of recipes in this website. It is the reader's responsibility to determine the value and quality of any recipe or instructions provided for food preparation and to determine the nutritional value, if any, and safety of the preparation instructions.