A Crisp Cold Wedge of iceberg lettuce topped with a creamy scrumptious homemade Blue Cheese Dressing, crumbles of bacon, tomato, avocado, and chunks of tangy blue cheese is perfect as a meal starter or main dish. This Classic Wedge Salad is fully loaded and delicious!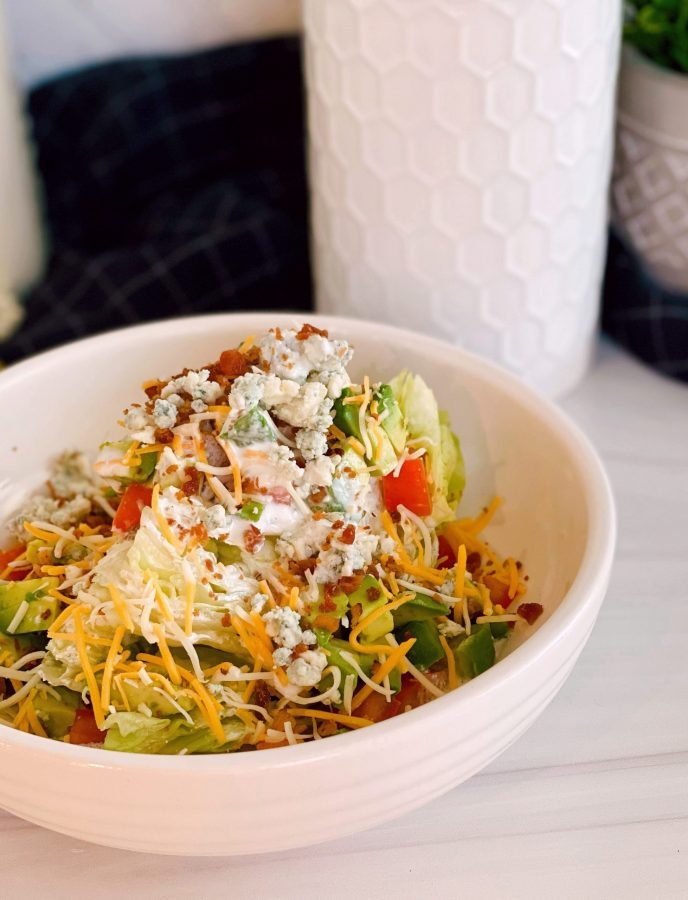 The other night I made Wedge Salads for dinner. My husband was SO impressed and asked me where I came up with this fantastic idea? (Okay…I may have toyed with the idea of taking credit and basking in his awe of my genius! Tick-tock, tick-tock….)
I gave up the lime-light and told him it had been around forever. I mean Wedge Salads have been found to date back as far as 1916. Obviously, I don't jump on the popularity train quickly!
I'm almost embarrassed to say that at my age…29…(stop laughing, fine 50-something)…I'd never had a wedge salad…NEVER! Can you believe it?
I'm not even sure what prompted me to make this classic salad, other than I wanted a salad for dinner, and it seemed like a great way to make salad for two! I also loved the toppings on this salad…and being a huge blue cheese fan, the creamy homemade dressing was a big draw!
We were in love from first bite. Who knew a simple wedge of iceberg lettuce could be so good! Honestly though…that homemade blue cheese is the Bomb!
How to Make A Loaded Wedge Salad
What makes a wedge salad stand out? It has to be the dressing. That creamy luscious blue cheese dressing!
The dressing can be made right before you make the salad…but I think it's best to make it ahead of time and allow it to chill for a few hours allowing the flavors to marinade together.
Making Homemade Creamy Blue Cheese Dressing
In a blender, or food processor, add one cup of buttermilk, 1 cup of quality mayonnaise, and 1 cup sour cream. Add 1/2 teaspoon salt, 1/4 teaspoon coarse black pepper, 1/2 teaspoon garlic powder, and 3 teaspoons apple cider vinegar. If you want a thicker blue cheese dressing reduce the amount of buttermilk by a few Tablespoons.
TIP: When making dressings in a blender add liquids first so that the ingredients are easier to blend.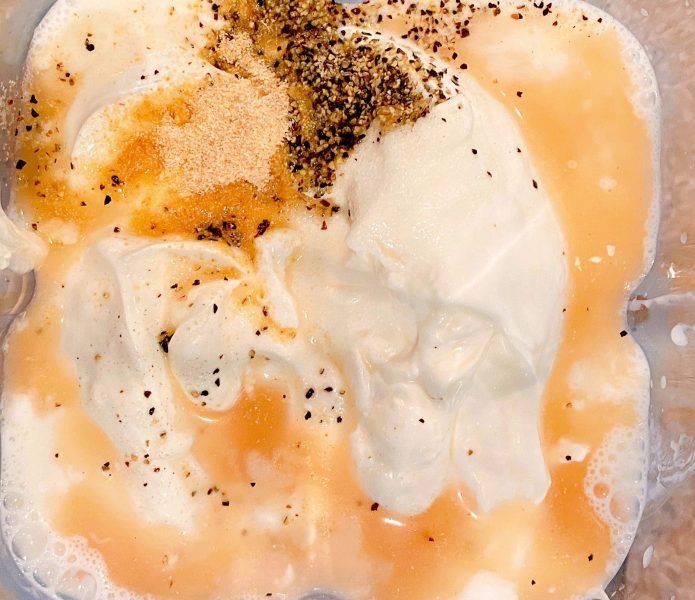 Blend until everything is mixed well.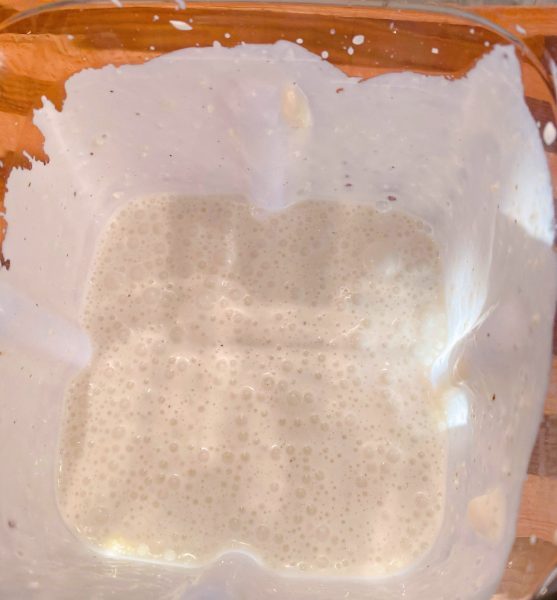 Add four ounces of blue cheese crumbles. Blend until smooth and ultra creamy! Taste test!
It's so important when making dressings and sauces that you taste test. Many times dressings and sauces need a little pinch more of salt or pepper. With this dressing you may find it's too mild and you want more of that blue cheese tang to stand out!
TIP: If you prefer a chunky blue cheese, only mix 2 ounces of blue cheese into the dressing when blending, then add the other two ounces after you have blended everything to create a delicious chunky blue cheese.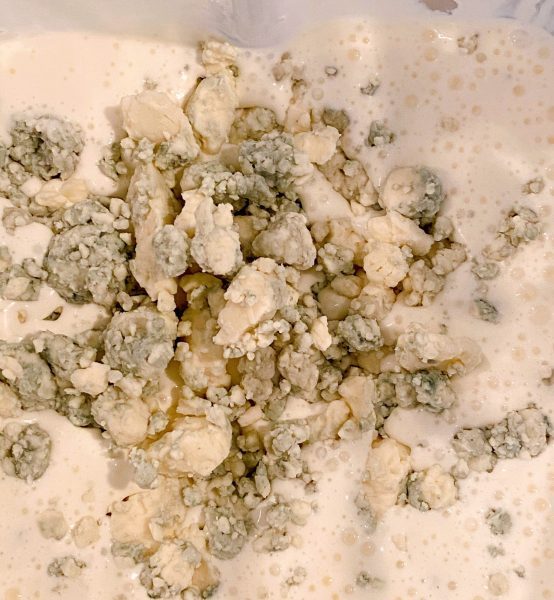 Pour the dressing into a storage jar and chill for 1-2 hours before serving. This dressing makes enough for 8 wedge salads. I deliberately make a double batch of this dressing so we have extra for salads during the week. It's just THAT good! The recipe makes 2 pints.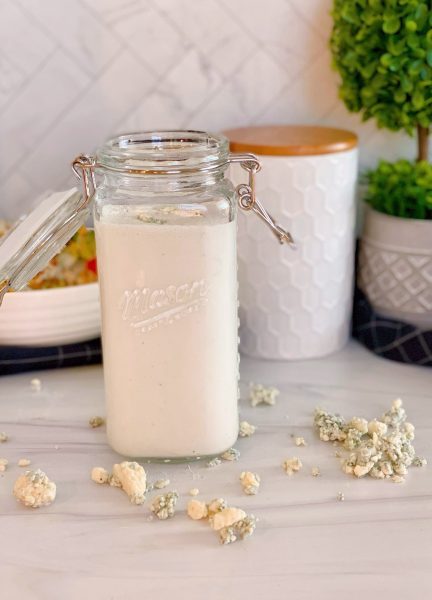 Preparing the Fully Loaded Wedge Salad
You'll need one head of iceberg lettuce to make four servings.
TIP: To pick a good head of iceberg lettuce…sniff it! Seriously, place the core of the head of lettuce up to your nose and take a sniff. If it smells bitter…put it back! It should not smell bitter.
Begin by removing the "core" of the lettuce. You can cut it out…or you can grab the head of lettuce on each side and gently slam the core down on a flat surface. It may take two or three times for the core to completely come loose from the head. (Do not do this if the kids are annoying you…you'll end up with pulverized lettuce!) Remove the core. Rinse the lettuce and allow it to drain on paper towels to remove most of the excess water.
Remove the outer leaves, and the center pale leaves, they tend to be more bitter, and this helps create a small bowl in the center of the wedge to hold extra toppings.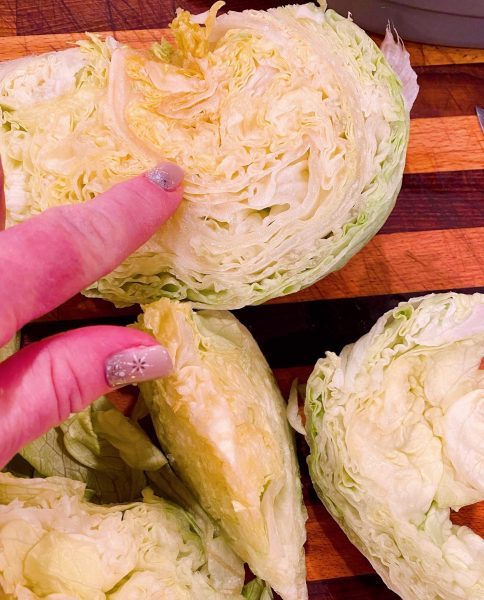 Cut the head of lettuce into four quarters. I like to cut them into 8ths…and use two smaller wedges per serving. It's easier to eat…and it's all about the eating my friends!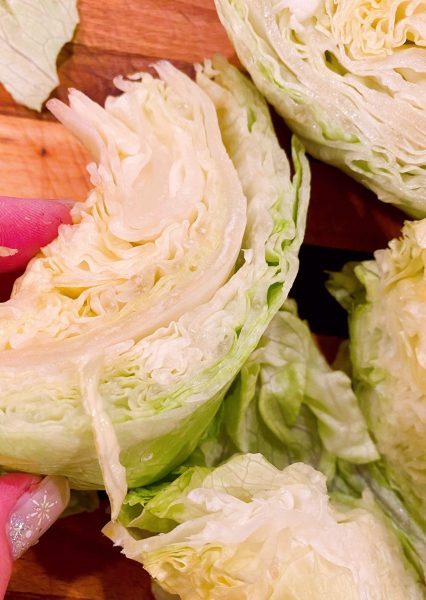 Place wedges in a shallow bowl or salad plate. Drizzle the lettuce with some of the creamy blue cheese. This helps the toppings stick to the wedge without falling off.
Prepare your toppings by chopping two Roma Tomatoes, and dice two avocados. You can fry up your own bacon crumbles or use real bacon bits. I like to keep it simple and went with real bacon bits.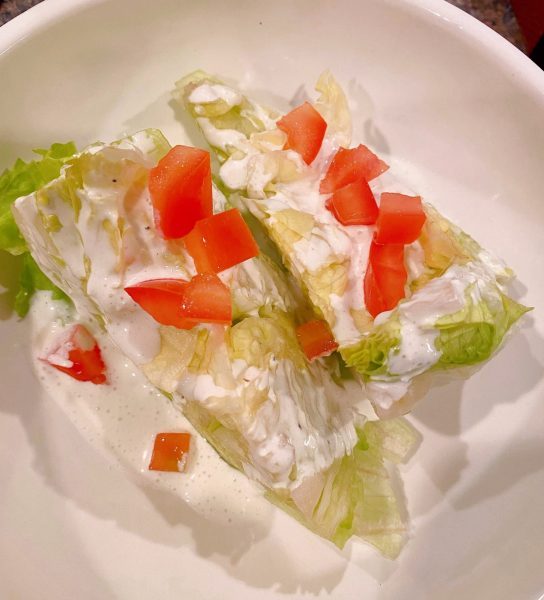 Add avocado, if you like it, if you don't skip it. (I'll weep for you…I love the avocado!) Add bacon crumbles, grated cheddar cheese, and blue cheese crumbles.
The beauty of a wedge salad is it's simplicity! You can add chives, chopped green onions, or red onions. Get creative! This is your salad! There are no rules as far as I'm concerned. The salad police will not show up on your doorstep if you venture off recipe!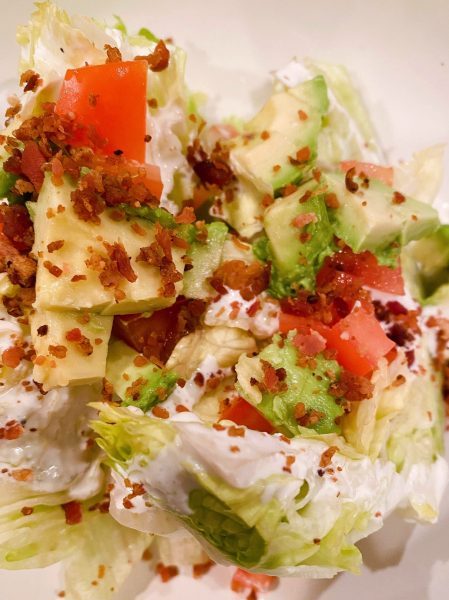 Top the salad off with another hefty drizzle of blue cheese! A few more of the toppings to make it as appetizing as possible. In this case…more is better!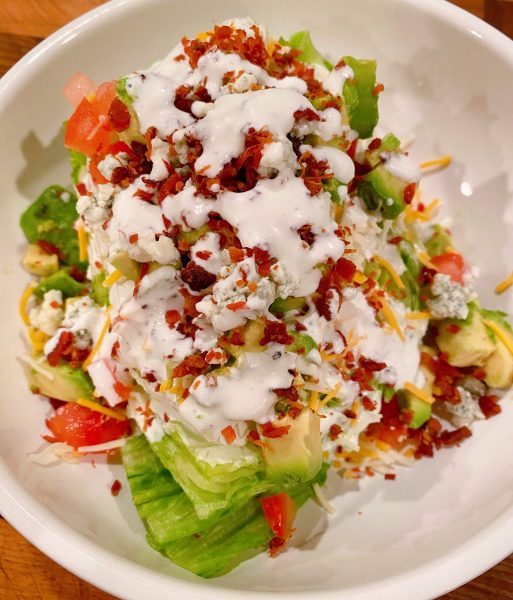 Doesn't that look amazing?!!
How do you eat a big ol' wedge salad! Take a knife and slice right down through the center of the wedge…and keep on chopping it into bite size pieces as you go!
A wedge salad makes a beautiful presentation. So beautiful in fact that I served them for Christmas dinner! Everyone loved them…and the blue cheese dressing…a HUGE HIT! I think I could have served it in glasses with straws!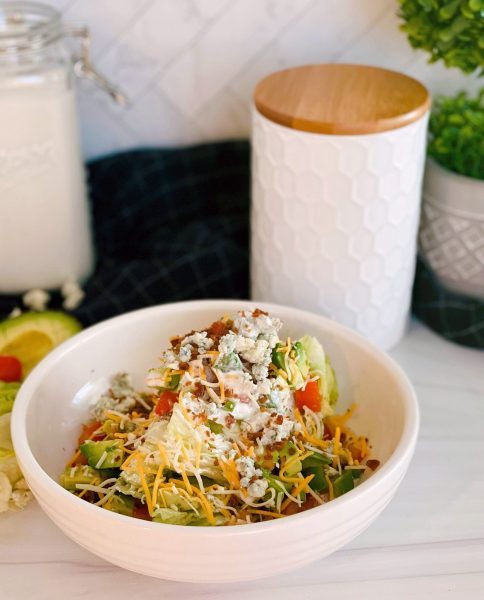 Other Favorite Salad Recipes
I hope you enjoy this recipe. Loaded Wedge Salad is a new regular on the dinner menu. I love how quickly this salad comes together! The dressing is now a staple in our refrigerator! No need to buy blue cheese salad dressing any more…not when it's this easy to make… and this delicious!
Thanks for stopping by and visiting with me today! The printable recipe is below.
Happy Nesting!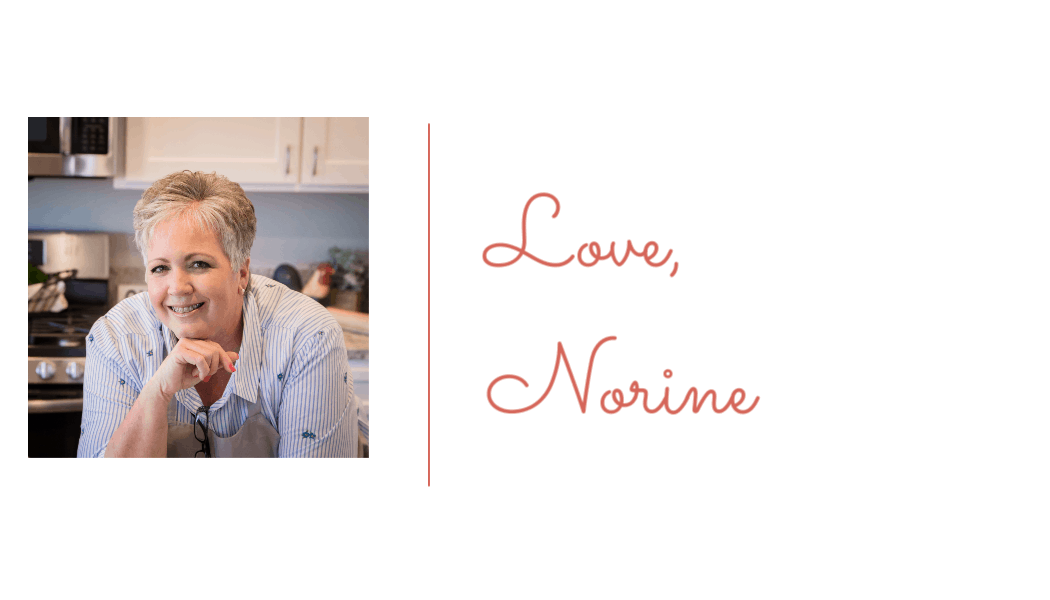 Yield: 4 servings
Easy Classic Loaded Wedge Salad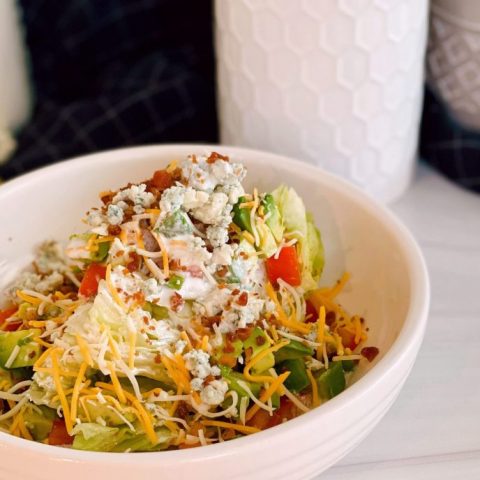 A Crisp Cold Wedge of iceberg lettuce topped with a creamy scrumptious homemade Blue Cheese Dressing, crumbles of bacon, tomato, avocado, and chunks of tangy blue cheese is perfect as a meal starter or main dish. This Classic Wedge Salad is fully loaded and delicious!
Total Time
1 hour
15 minutes
Ingredients
1 head of lettuce
2 Roma Tomatoes, chopped and seeded
2 Large avocados, diced
1/4 cup bacon crumbles
1/4 cup blue cheese crumbles
1/2 cup grated cheddar cheese
1 Cup Blue Cheese Dressing
Instructions
Prepare the lettuce by removing the outer leaves, chop the head of lettuce in half and then half again, making 4 wedges. Cut the end to remove the stem, OR gently slam the core on a flat surface before cutting into quarters to remove the core. Remove a few of the inner leaves to create a small bowl in the wedge to hold the toppings.
Plate the wedge and drizzle with a small amount of blue cheese dressing. Top with bacon crumbles, chopped tomatoes, avocados, grated cheese, and blue cheese crumbles. Drizzle with more blue cheese dressing.
Serve Cold and enjoy!
Recommended Products
As an Amazon Associate and member of other affiliate programs, I earn from qualifying purchases.
Nutrition Information:
Yield:
4 servings
Serving Size:
1 wedge
Amount Per Serving:
Calories:

600
Total Fat:

55g
Saturated Fat:

12g
Trans Fat:

1g
Unsaturated Fat:

40g
Cholesterol:

44mg
Sodium:

687mg
Carbohydrates:

19g
Fiber:

11g
Sugar:

6g
Protein:

12g