Individual size Naans are topped off with salsa, cheese, sausage, ham, bacon and scrambled eggs to create the best Sunrise Breakfast Pizza!
I'm always looking for a new fun way to serve breakfast! These individual Naan Breakfast Pizza's loaded with your favorite breakfast foods is exactly that…a fun way to serve the first meal of the day!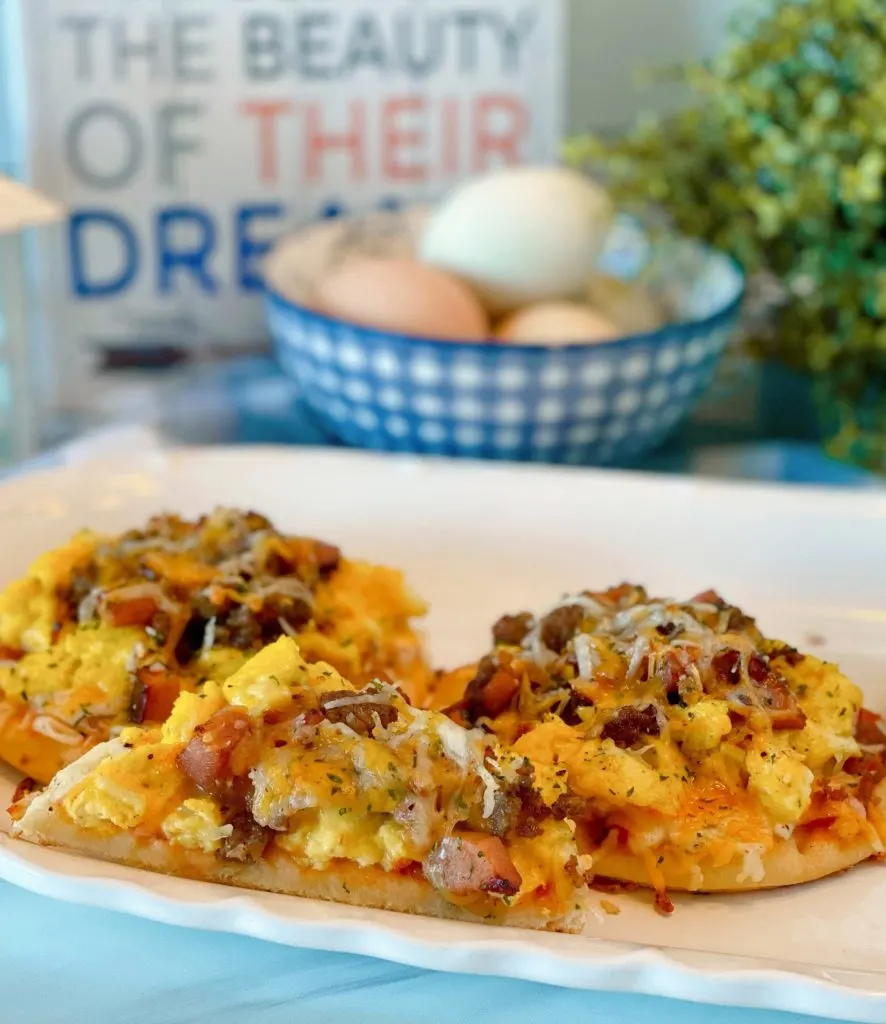 I was filling out my grocery order on-line the other day, when I spotted a package of individual "Naan" breads. They were cute. I love cute food! So they went into my virtual basket! Cause they were cute! (This is really all the excuse a woman needs when shopping!)
What to do with those cute Naan's? Instantly "pizza" popped into my mind. Not just every day pizza…but a breakfast pizza piled high with light fluffy scrambled eggs, sausage, ham, and bacon…and lots of cheese!
I'm not a huge lover of "Hummus"! Shocking I know! Don't get me wrong… I love chickpeas….just not hummus. I've tried all types, and they just don't bring me joy and happiness. Since I'm not a huge hummus fan I don't buy, or make, naan bread. I don't have anything against it, on the contrary, I love it. I just figure it's meant for hummus, so I need to respect the bread! (I'm nothing if not respectful of my carbs and their roles in our food society! Lol)
However, you don't need Hummus to cook with Naan! Que the Breakfast Pizza's!
How To Make Quick Naan Breakfast Pizza's
It all starts with individual Naan breads. You'll need one package of Stone Fire Original Naan Rounds. There's 12 to a package. This recipe makes 4 individual pizzas. You can freeze the extra or double, even triple the recipe.
Preheat the oven to 400 degrees. Place 4 Naan rounds on a parchment lined baking sheet top side down. Brush the bottoms with Olive oil. This will create a nice crispy "pizza" crust.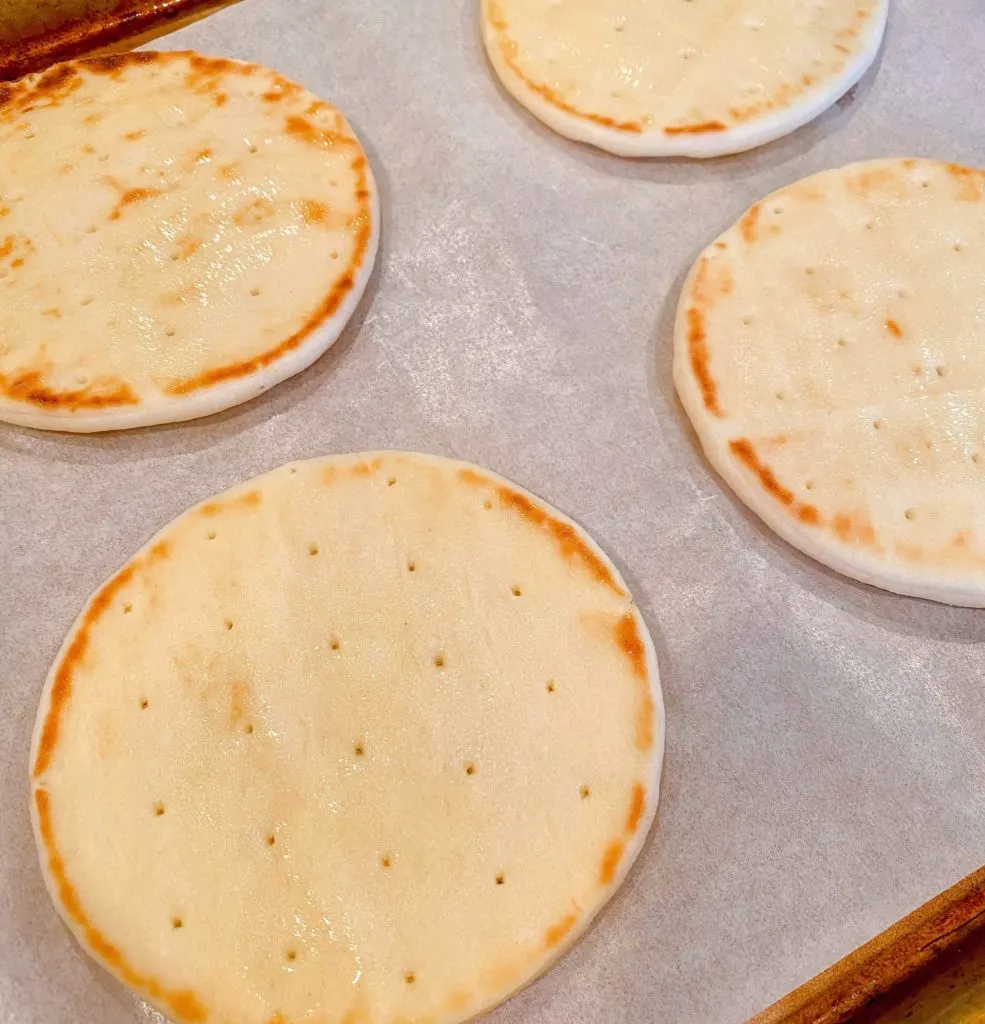 Flip the Naan rounds over. Place 1–2 Tablespoons of your favorite brand of Salsa on the top of each Naan round. This adds a great pop of flavor to each pizza.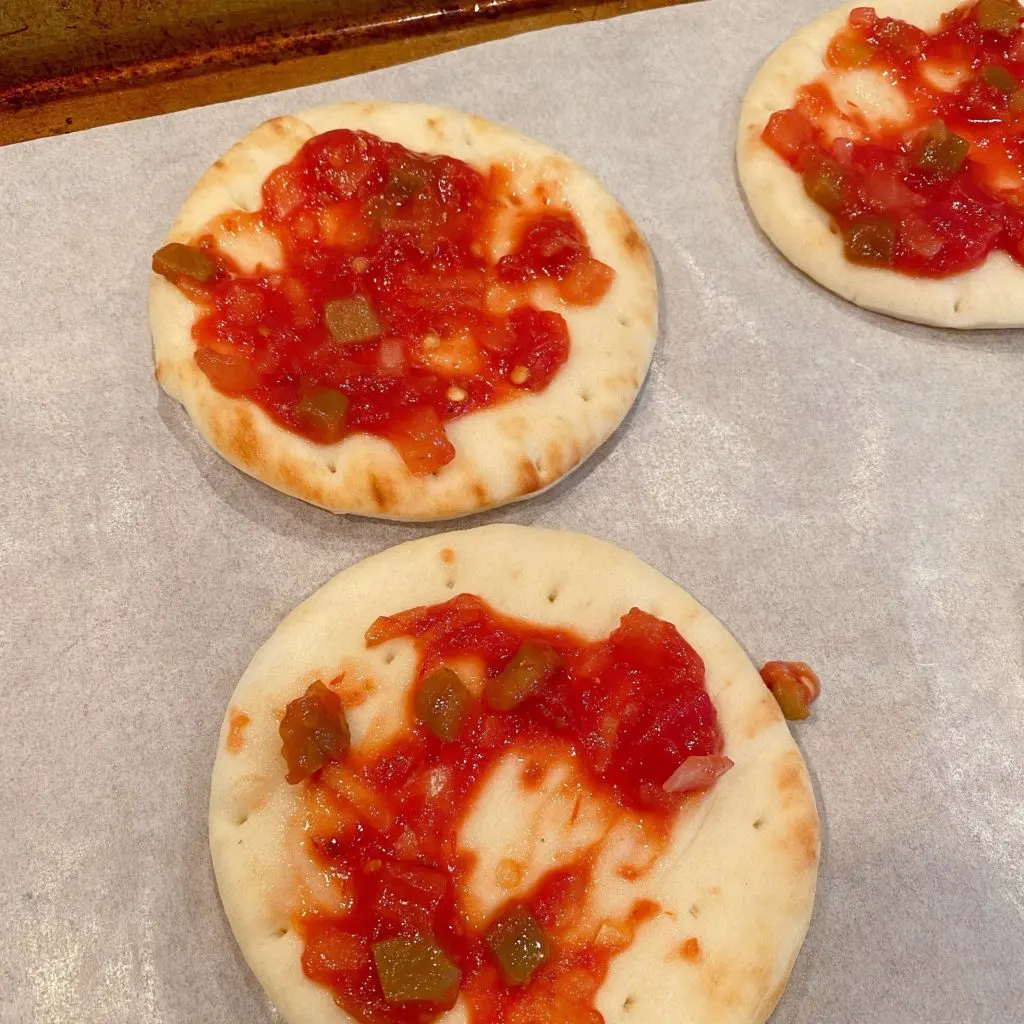 Cooking meats for breakfast pizza's
In a small skillet add 1 Tablespoon of butter and brown and add 1 cup chopped ham. If you don't like ham, you can skip the ham. I'm simply sharing how I made them. You also don't have to brown them…I'm just a fan of the golden crispy edges!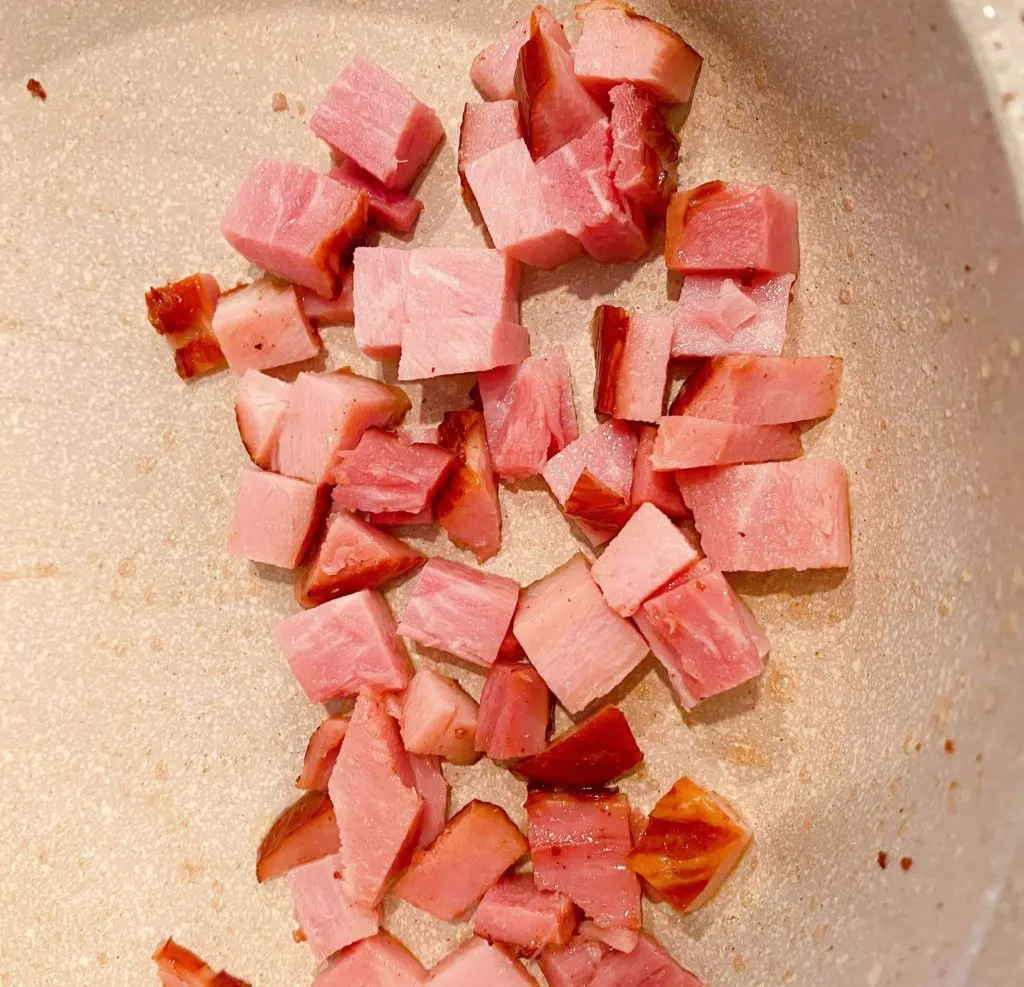 Next up… Breakfast sausage! Brown 1/2 cup of your favorite breakfast sausage. Allow it to crisp up, crumble, and get brown crunchies on it.
Drain on a paper towel.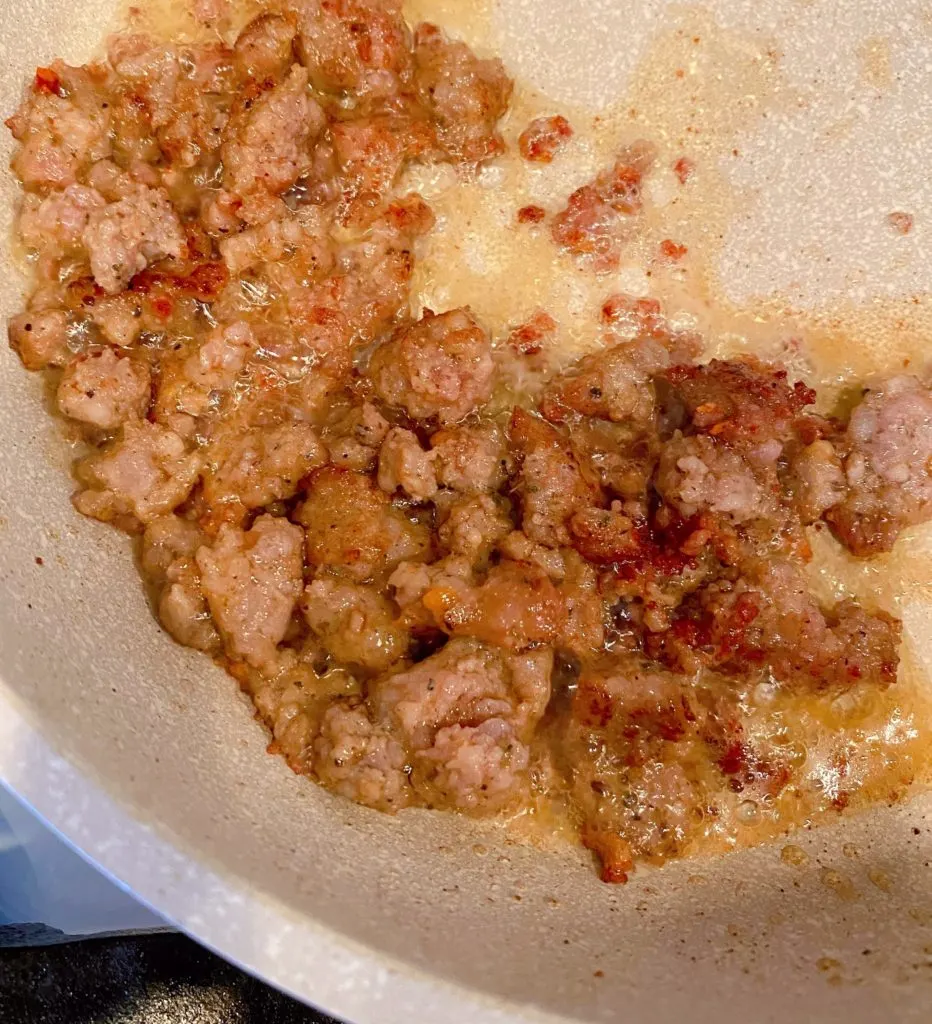 How to Make perfect Scrambled Eggs
Next up… Scrambled Eggs. I hear from so many of you that making light fluffy scrambled eggs is hard! Honestly once you have a few tips and tricks down, you'll be a fluffy, scrambled egg cooker in no time.
So let's talk about the basics! For this recipe you'll need 3 large eggs. Place the large eggs (cracked…unless you're a fan of eggshells!) in a medium size bowl. Sprinkle with 1/4 teaspoon salt and 1/4 teaspoon coarse ground black pepper.
Here's the secret tip to light fluffy eggs….are you ready? Add 1 Tablespoon of cold water! That's right…water makes light fluffy eggs…cream or milk makes heavy creamy eggs! You can do either…it's really a taste preference. I prefer light and fluffy.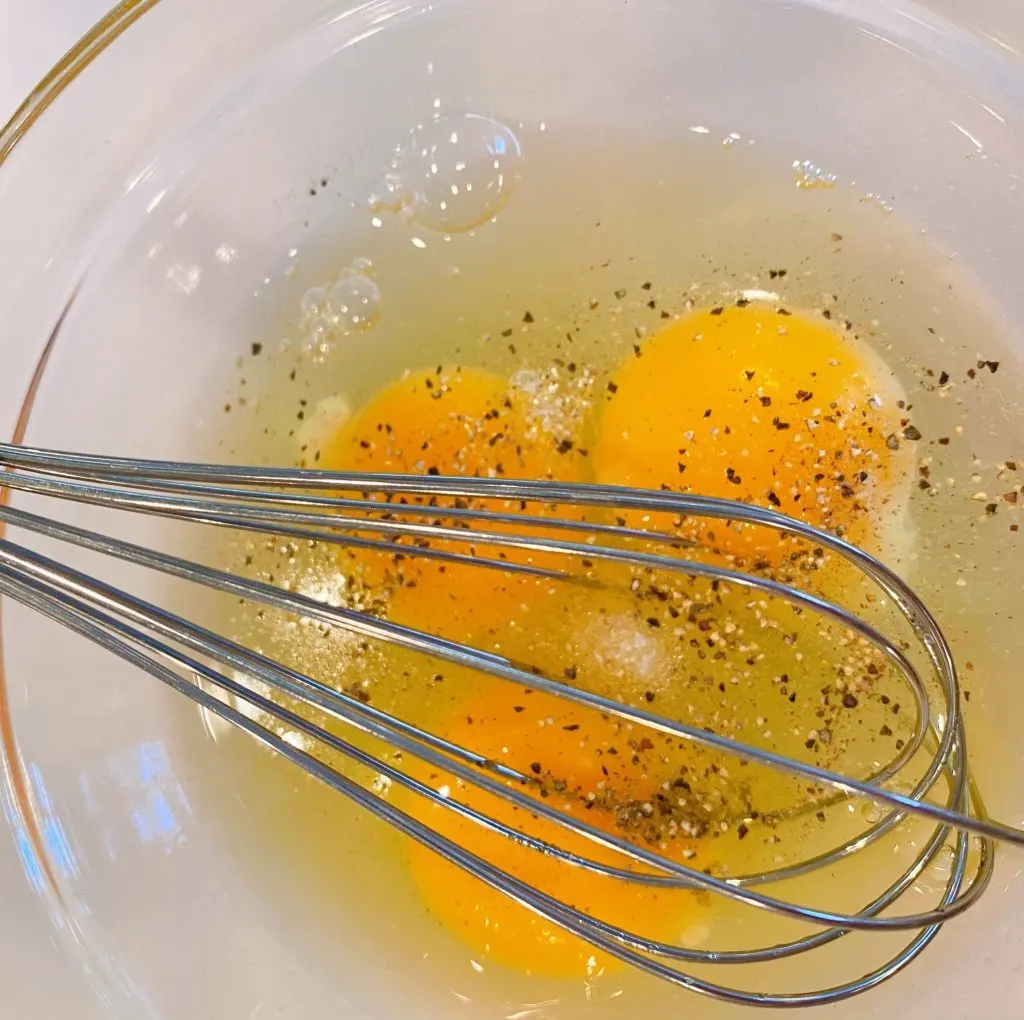 Using a hand whisk, rapidly whisk the eggs until light and frothy! Whisking is not only breaking up and "scrambling" the egg…it's adding air into the mixture. Air equals light and fluffy eggs. In addition, we want a nice light yellow consistency.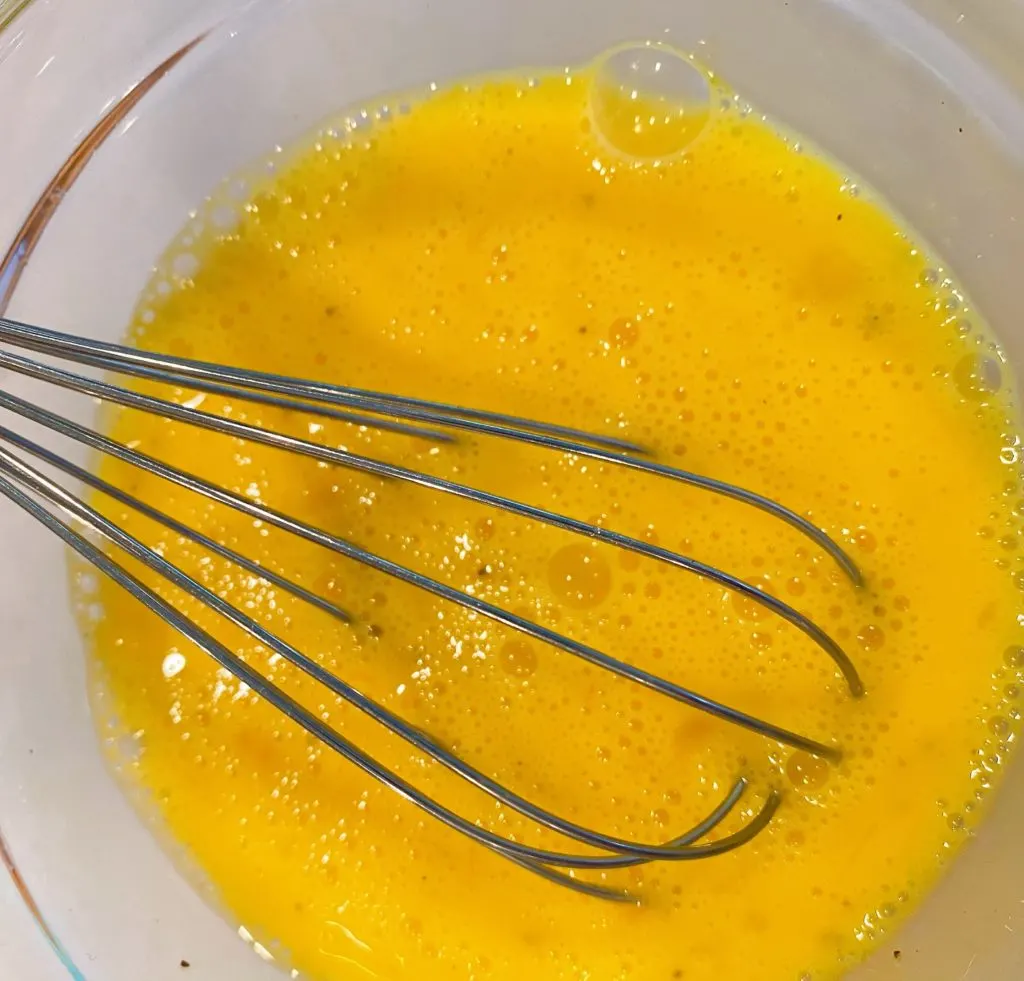 In a small skillet, over medium heat, add 1/2 tablespoon butter. Melt the butter and swirl it around in the pan to completely cover the bottom of the pan. Give the eggs one last good whip…and then slowly pour the scrambled egg batter into the hot skillet.
Using a rubber spatula… Yes! I said a rubber spatula…begin scraping the eggs from the bottom to the top. Basically turn the bottom onto the top, working your way around the pan.
TIP: Why a rubber spatula? I know there are a lot of professional chefs that have a heart attack when you use rubber in a hot pan. Today most spatulas' are made from silicone which is meant to withstand high heat. They are more gentle on something like scrambled eggs that you want to remain light and fluffy. Also, they won't scrape the bottom of your non-stick pan.
Slightly under cook the eggs, remember we are baking these pizzas after they are assembled, and you don't want overcooked eggs. Once the eggs are done to your liking, remove them from the pan to a plate to stop the cooking process.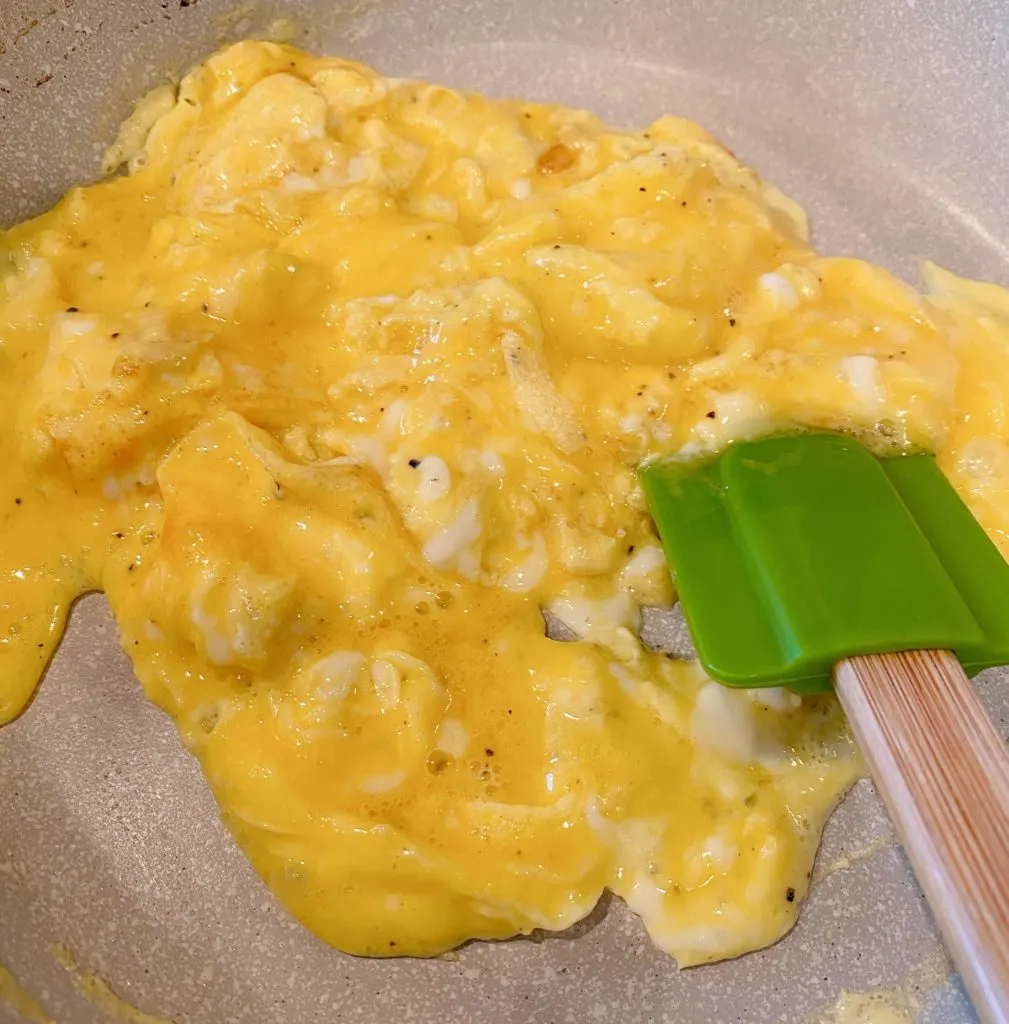 How to Assemble Naan Breakfast Pizza's
Cover the bottom of each naan, on top of the salsa (think pizza sauce), with about 2 Tablespoons of shredded blended cheese and 1 Tablespoon of grated mozzarella. Always start with cheese on the bottom to hold the toppings in place.
Add a hefty spoonful of the scrambled eggs on top of the cheese covered original naan's.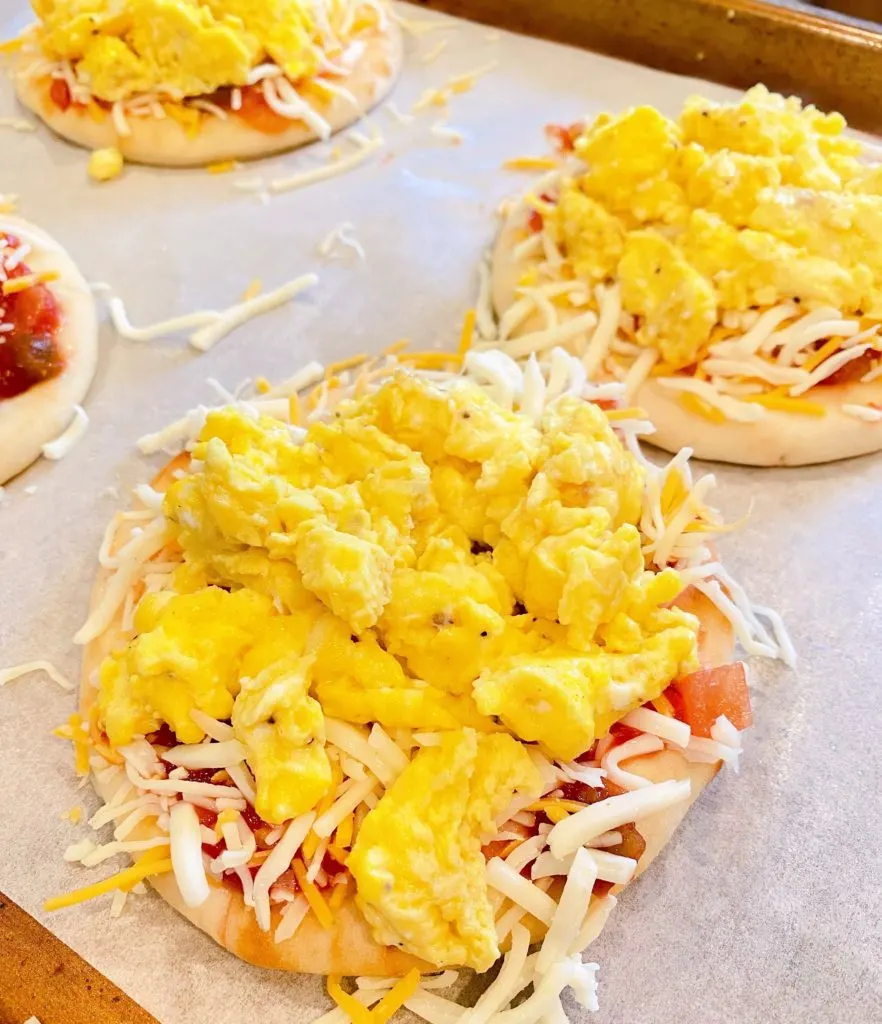 Next add your meat toppings! A sprinkle of ham and sausage on top of the scrambled eggs on each pizza. Build a nice big mound on top of that naan bread! This is an EPIC breakfast pizza!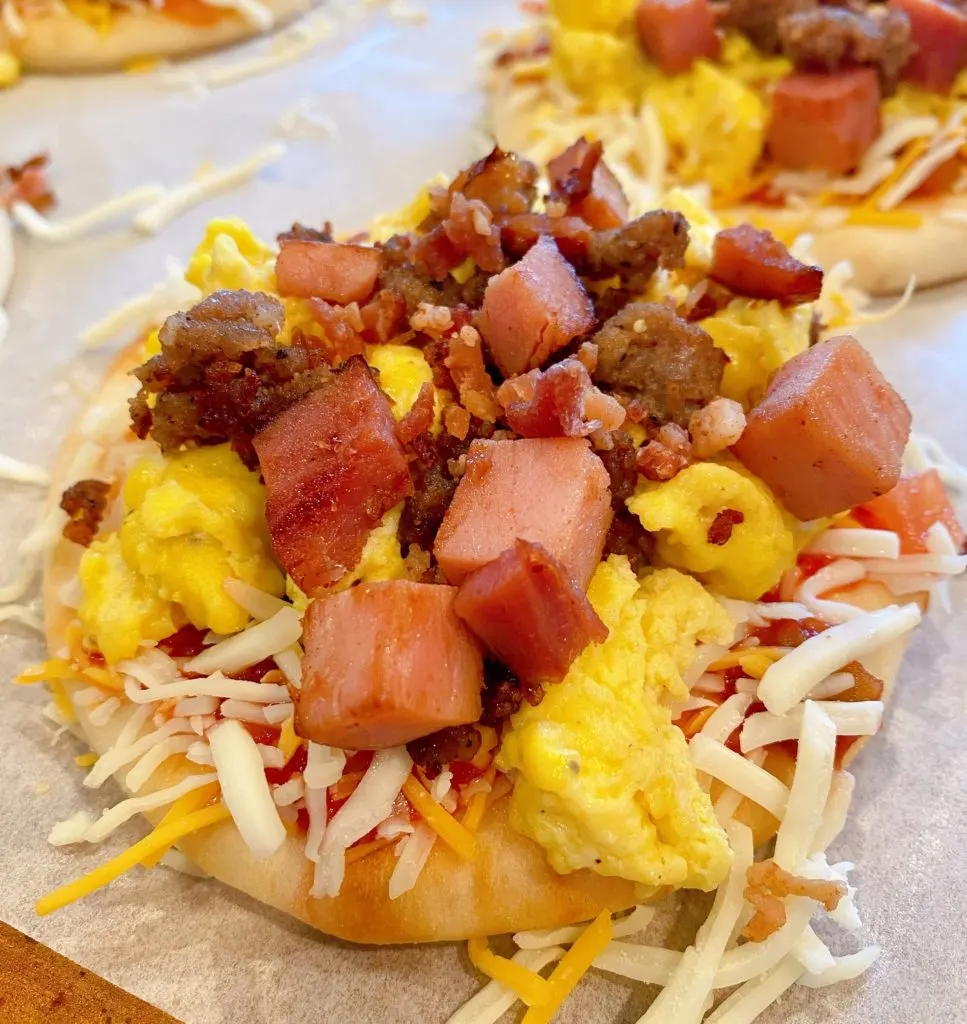 Top with another big sprinkle of cheese and finish it off with real bacon pieces and dried parsley flakes. I love the color that the dried parsley adds to this dish.
They are oven ready now! Don't let the few little bits and pieces that might fall off on to the baking sheet worry you. It's okay, the parchment paper will make clean-up a breeze!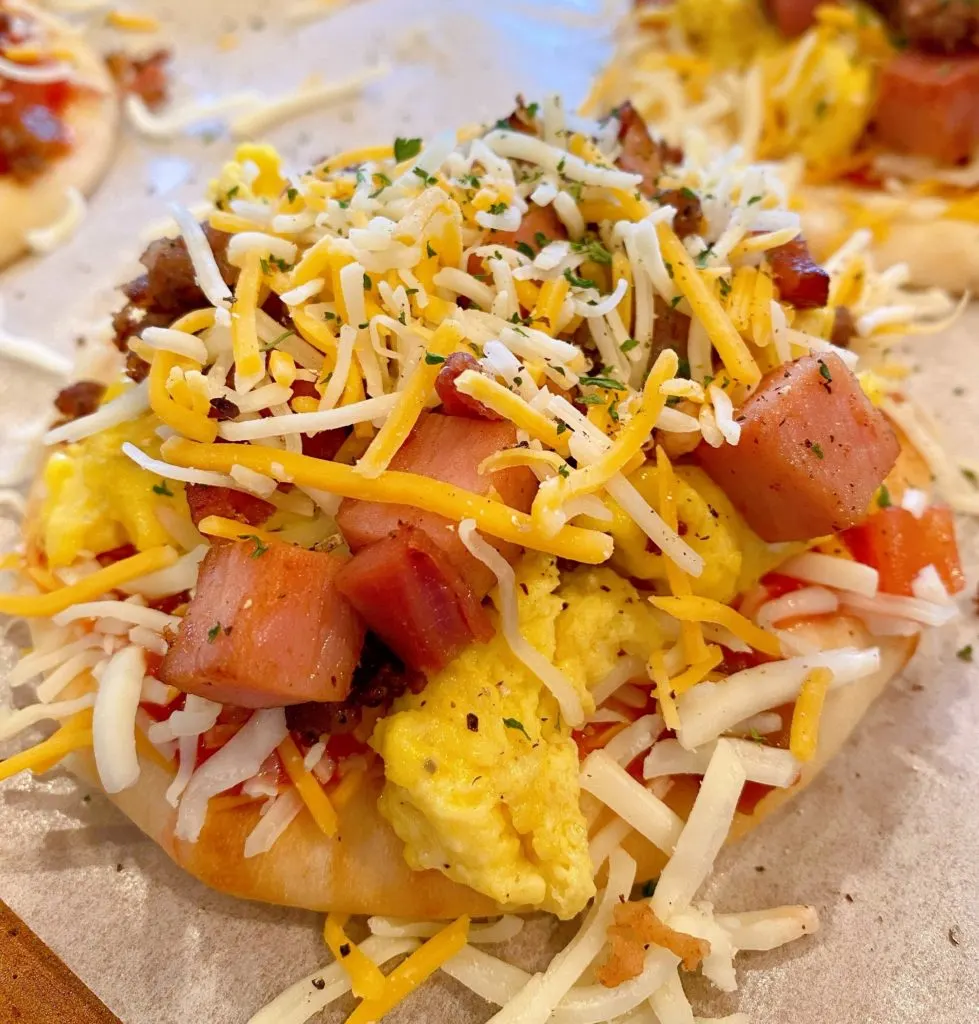 Place the breakfast pizza's in the preheated oven and bake for 10 minutes, until the cheese is bubbly and completely melted!
Don't they look amazing!! Honestly… do you want to reach through the screen and take a bite or two? Oh my goodness, I know I do! Course… I know how good they are!! It was love at first bite!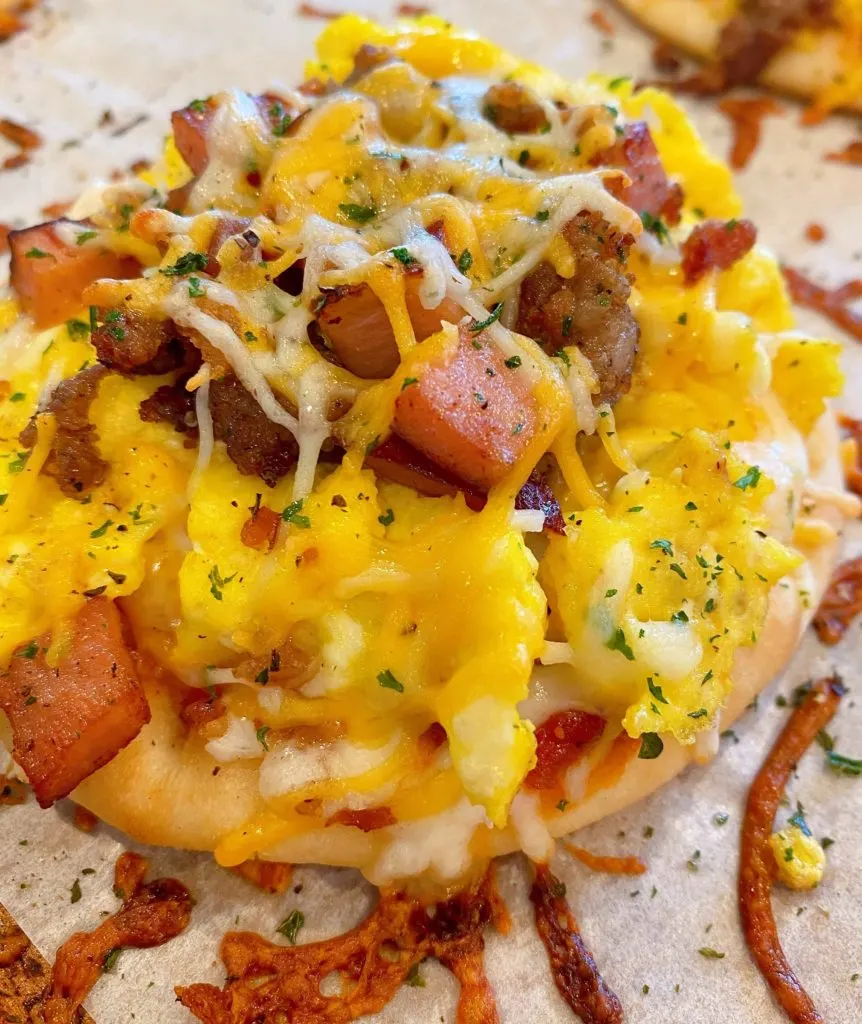 The crust is super crispy and crunchy on the bottom, like any great thin crust pizza, thanks to the brush of olive oil… and the top is tender and chewy! Naan makes the perfect pizza crust!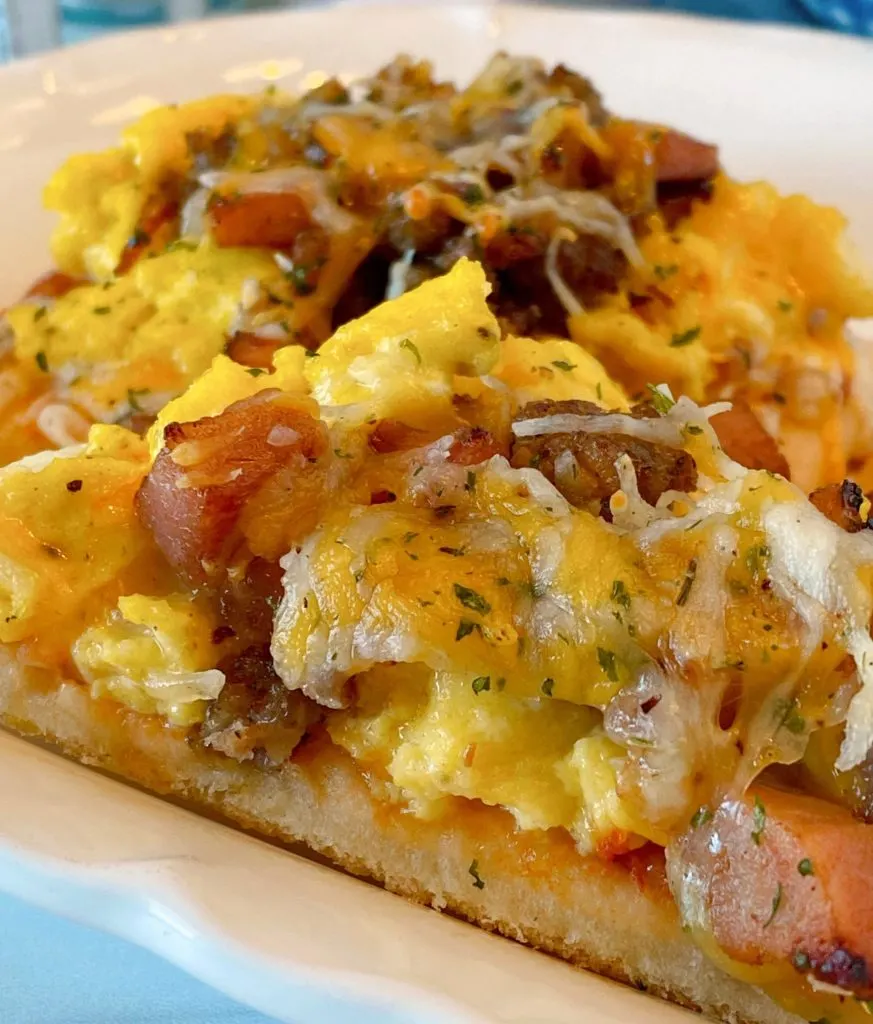 Every bite is loaded with flavor. I was swooning from the first to the last bite! All the ingredients combine beautifully for a breakfast treat everyone is sure to love!
I ate all four! Not at all once…but I did eat them all! They reheat really well so don't be afraid to make more and refrigerate the leftovers for later in the week!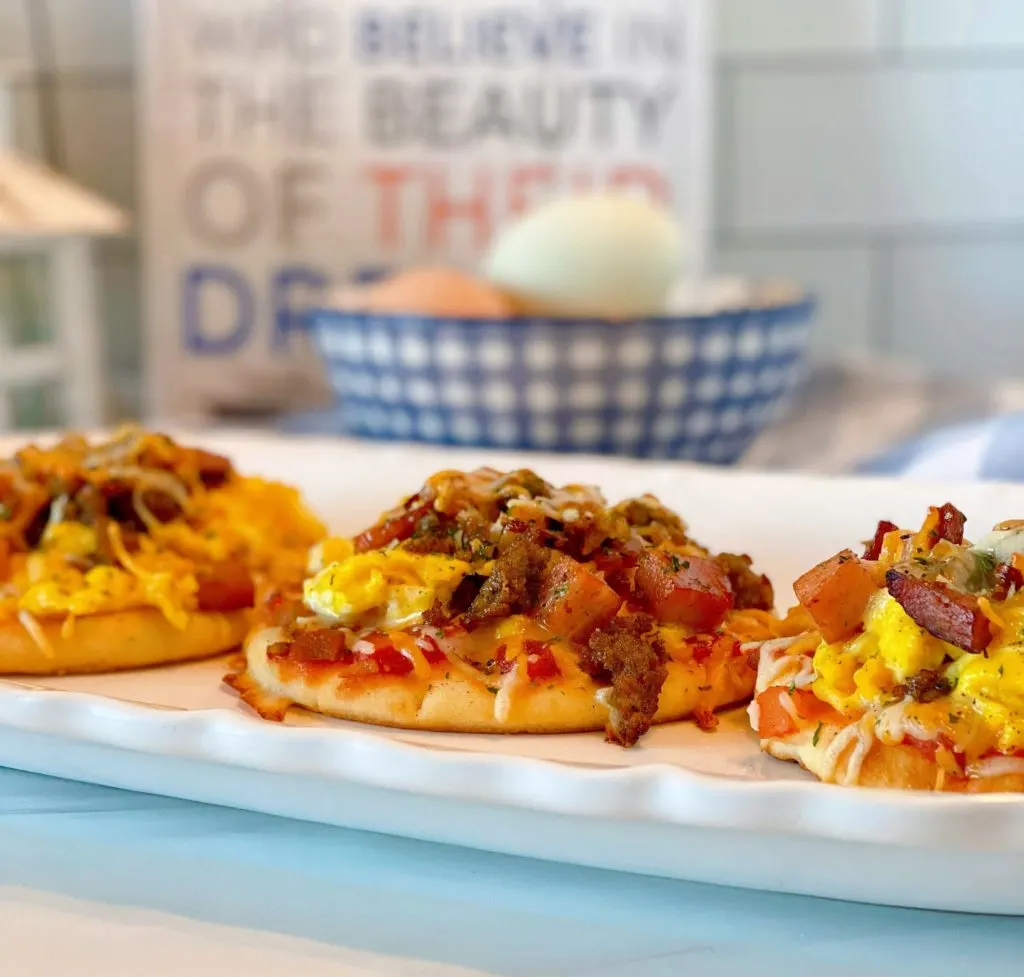 This dish would be perfect for a brunch/breakfast bar!
Set out all the toppings and allow your guests to build their own breakfast pizza. You can make breakfast pizza's in the oven, Bar-b-que grill, or even in your air fryer! They'd be great for a camping trip as well. So many possibilities! Get creative with this recipe…you'll have so much fun!
Favorite Breakfast Recipes
As always… Thanks for stopping by and visiting my Nest today! I'd love to have you join me over on my Facebook Page or Instagram account. Where I share my favorite recipes every single day!
Happy Nesting Friends!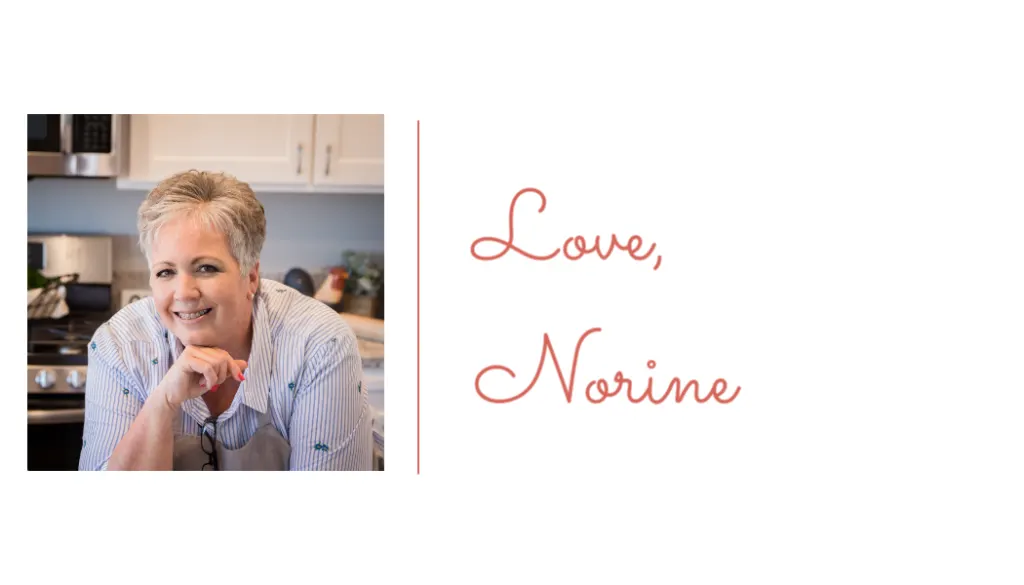 Yield: 4 servings
Easy Naan Breakfast Pizza's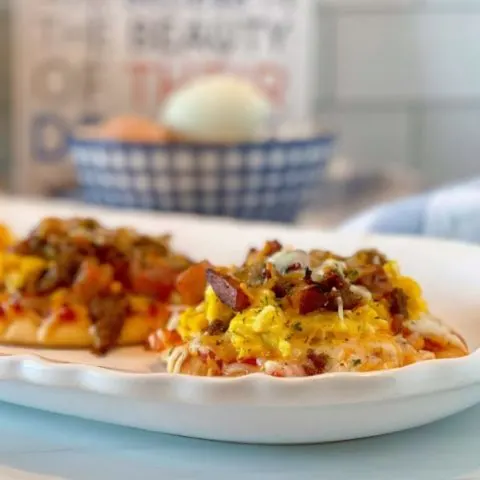 Individual size Naan's are topped off with salsa, cheese, sausage, ham, bacon and scrambled eggs to create the best Sunrise Breakfast Pizza!
Ingredients
4 Stone Fired Original Round Naan Bread
1 Tablespoon Olive Oil
6 Tablespoons prepared salsa
1 1/2 Tablespoon butter, divided
1 Cup chopped Ham
1/2 Cup Crumbled Cooked Sausage
3 Tablespoon Real Bacon bits
3 Large eggs
1/4 teaspoon salt
1/4 teaspoon black pepper
1 Tablespoon water
1 Cup Mixed Cheddar Cheese, Grated
1/2 Cup Mozzarella Cheese, Grated
Instructions
Preheat oven to 400°
Cover a large baking sheet with parchment paper. Brush the bottoms of 4 individual sized naan rounds with olive oil. Place brushed side down.
In a medium skillet, over medium heat, melt 1 Tablespoon butter and cook chopped ham with brown. Remove from pan and place on a plate. In the same skillet brown breakfast sausage. Cook until crisp around the edges and brown. Remove from skillet and drain on paper towels.
In a small bowl, add 3 large eggs. Season with salt and pepper. Add 1 Tablespoon of water. Whisk until light and frothy.
In a small skillet, or the same skillet you cooked the sausage in, melt 1/2 Tablespoon of butter over medium heat. Add scrambled eggs. Cook until lightly scrambled. Remove from pan and place on plate with ham.
Top each naan round with 1-1/2 Tablespoon salsa. Spread evenly over the top of each naan. Add 1-2 Tablespoons mixed cheddar cheese and 1 Tablespoon of Mozzarella cheese on top of the salsa on each naan round.
Place a heaping scoop of scrambled eggs on top of the cheese on each naan. Add a sprinkle of cooked ham and sausage on top of eggs. Sprinkle each pizza with remaining cheese. Top with bacon bits and a sprinkle of parsley flakes.
Bake in preheat oven for 10 minutes, or until cheese is melted. Remove from oven and serve.
Nutrition Information:
Yield:
4 individual pizzas
Serving Size:
1 pizza
Amount Per Serving:
Calories:

518
Total Fat:

37g
Saturated Fat:

16g
Trans Fat:

1g
Unsaturated Fat:

18g
Cholesterol:

226mg
Sodium:

1486mg
Carbohydrates:

18g
Fiber:

2g
Sugar:

3g
Protein:

28g