A deliciously rich and moist Vanilla Cake Sprinkled with Mini Semi-Sweet Chocolate Chips and a scrumptiously decadent Chocolate Ganache Glaze.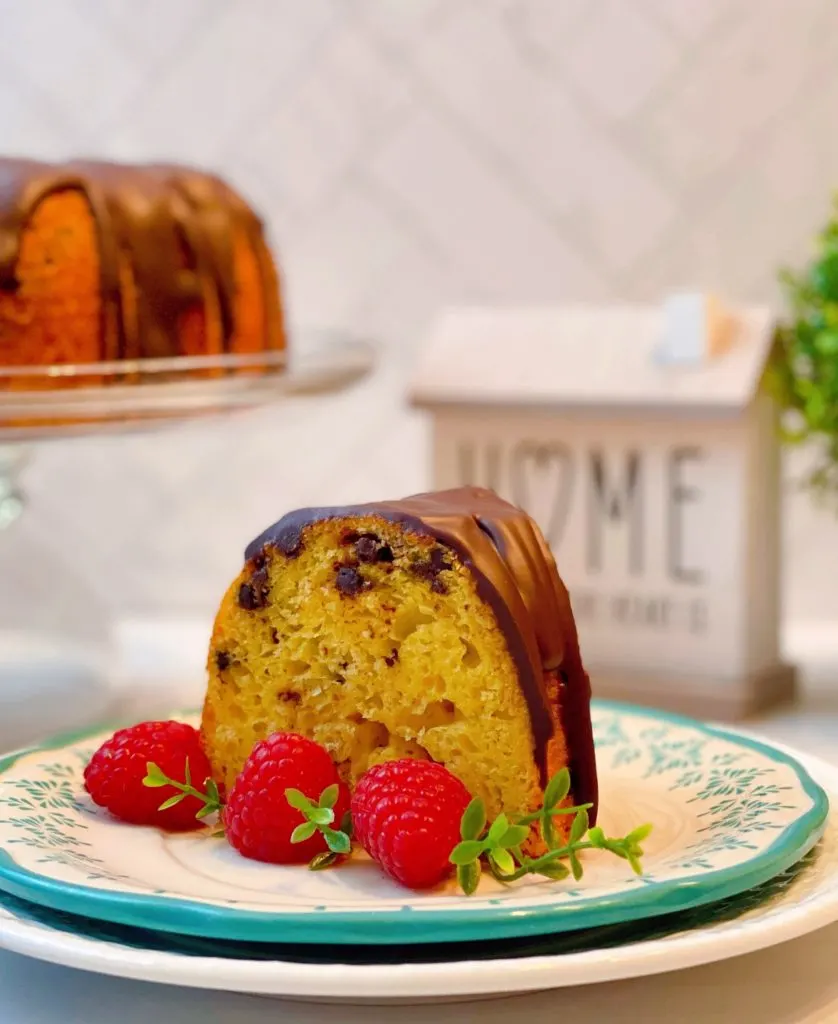 This delicious Chocolate Chip Cake made with a Yellow or Vanilla Cake Mix is super moist! It's topped off with a velvety rich creamy Chocolate Ganache Glaze.
This recipe is what happens when I wanted to make a Pistachio Bundt Cake but didn't have Pistachio Pudding. (I have every other flavor of pudding except the one I need! Ugh! Can ya relate?) When you want cake…you make cake! Pistachio pudding or not!
I love the simplicity of a bundt cake! I've never been a huge frosting fan, so bundt cakes are my favorite! I feel a bundt cake embraces the star of the show…the cake!
Let's Talk Bundt Cake?
Speaking of bundt cake…what constitutes a "Bundt" cake?
Any kind of cake baked in a bundt pan is considered a bundt cake. (I'm profound if nothing else! Bask in my intelligence! Lol) The pans are like beautiful cake molds. Most bundt pans often have wonderful designs that bake into the outside of the cakes. I drool over the new Nordic Ware Pans with their intricate designs!
There is a reason a bundt pan has a hole in the center. A bundt pan, with its characteristic hole in the center, help to bake all the batter, and prevents the under-cooking, of traditionally dense bundt cake batters.
Bundt Cakes became popular in 1966 when a Bundt Cake, the famous Tunnel of Fudge Cake, won 2nd place in the 17th annual Pillsbury Bake-Off! They're still super popular…especially at this Nest!
How To Make Sour Cream Chocolate Chip Bundt Cake
Here's a list of the ingredients you'll need to make this Chocolate Chip Cake…
1 yellow, or vanilla, cake mix
4 large eggs
1 small (3.4 oz) package instant vanilla pudding mix
1 cup sour cream
1/2 cup warm water
3/4 cup mini semi-sweet chocolate chips
1/2 cup Heavy Whipping Cream
1/2 cup semi-sweet chocolate chips
Preheat Oven to 350 °F. Spray bundt pan with non-stick baking spray. Baking spray is a mixture of flour and oil. You can also prepare the pan with the traditional method, using non-stick spray and flour.
TIP: The key to a perfect bundt cake is to be sure the pan is well floured so the cake doesn't stick to the design details of the bundt pan.
In the bowl your mixer add cake mix, vanilla pudding, sour cream, large eggs, and 1/2 cup warm water.
TIP: Break the eggs one-by-one into a separate bowl and add to cake one at a time. This will prevent any eggshell, or abnormalities possible in raw eggs, to get into your cake batter.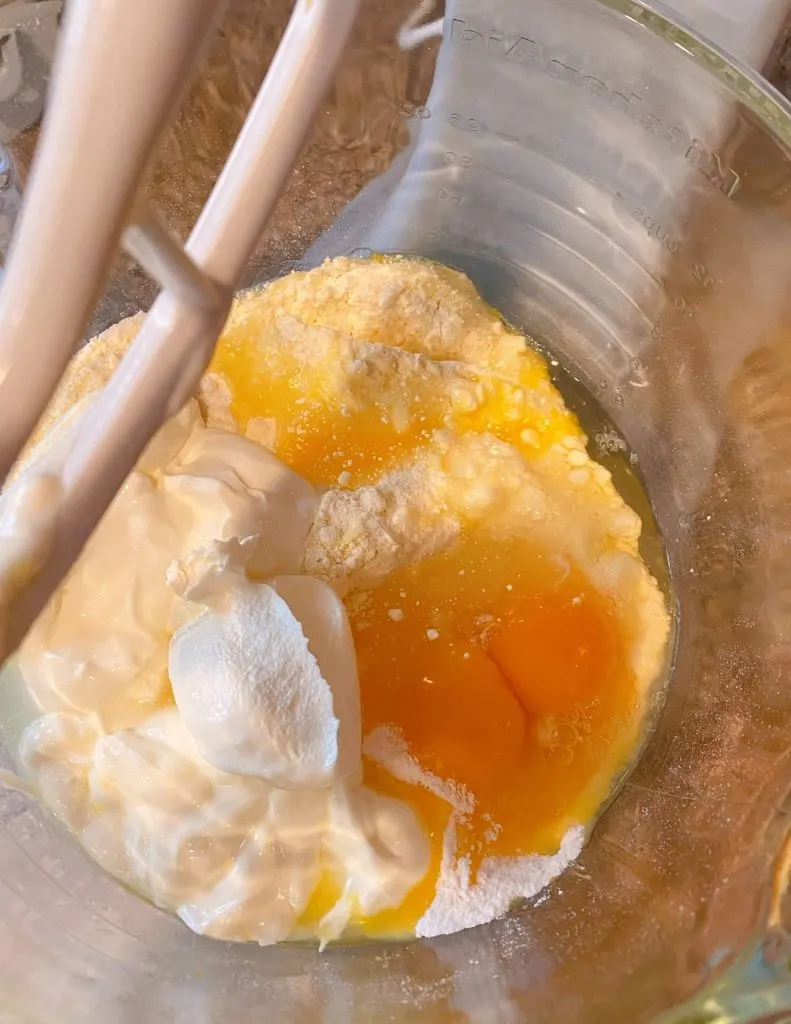 With the mixer on low, blend to moisten. Increase the speed to medium, and beat an additional 2–3 minutes. Make sure to scrape down the sides and bottom of the bowl, and mix one more time to combine all the cake batter ingredients.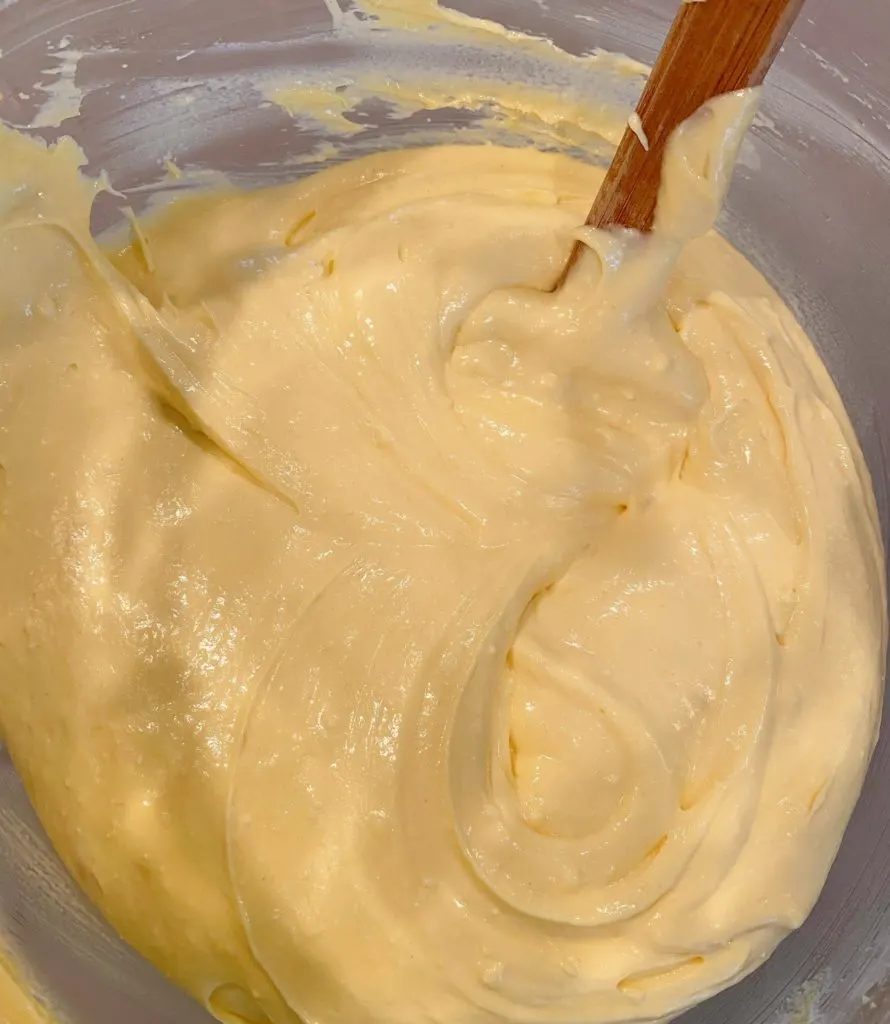 Gently Fold in the mini chocolate chips until well combined.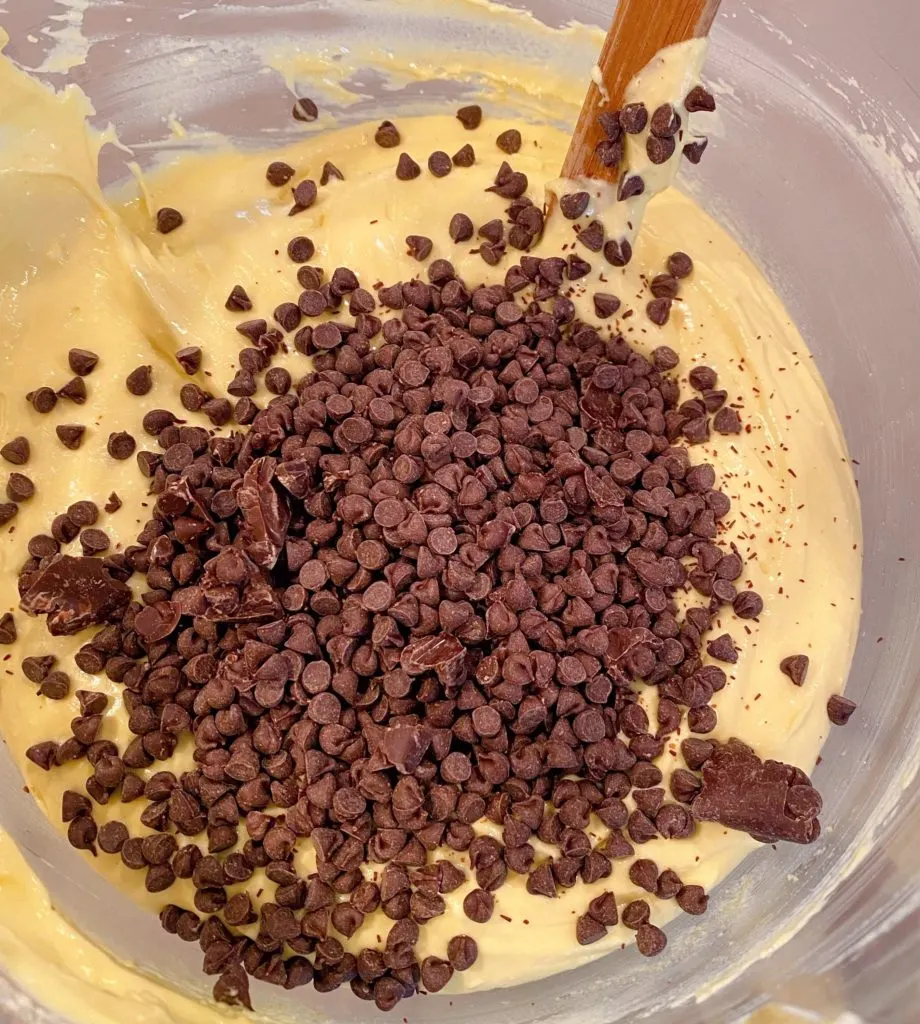 Pour cake batter into prepared Bundt Pan. Place cake in the center of preheated oven.
Bake for 40–45 minutes, at 350 °F until golden brown and cake springs back when lightly pressed in the center.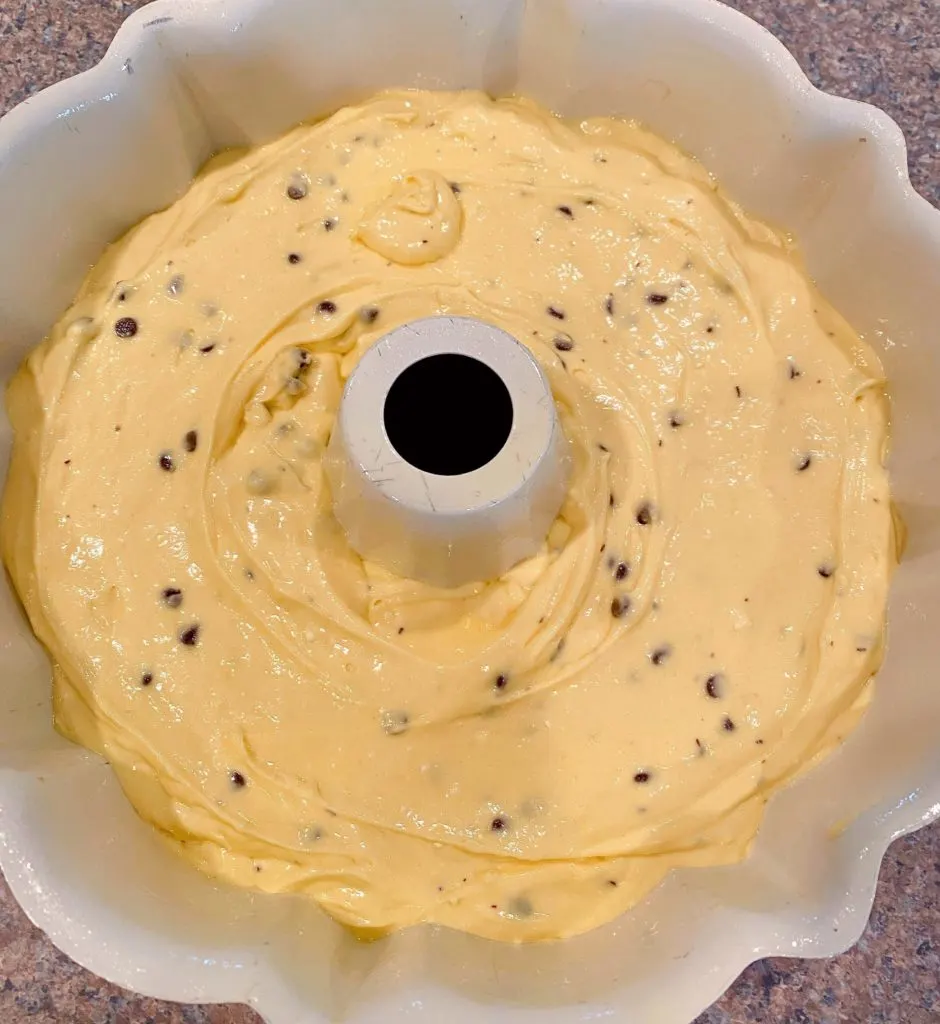 Remove cake from the oven. Cool 10 minutes. Invert pan over cake plate. Gently remove cake from pan. Allow cake to cool completely before frosting, or dusting with powder sugar.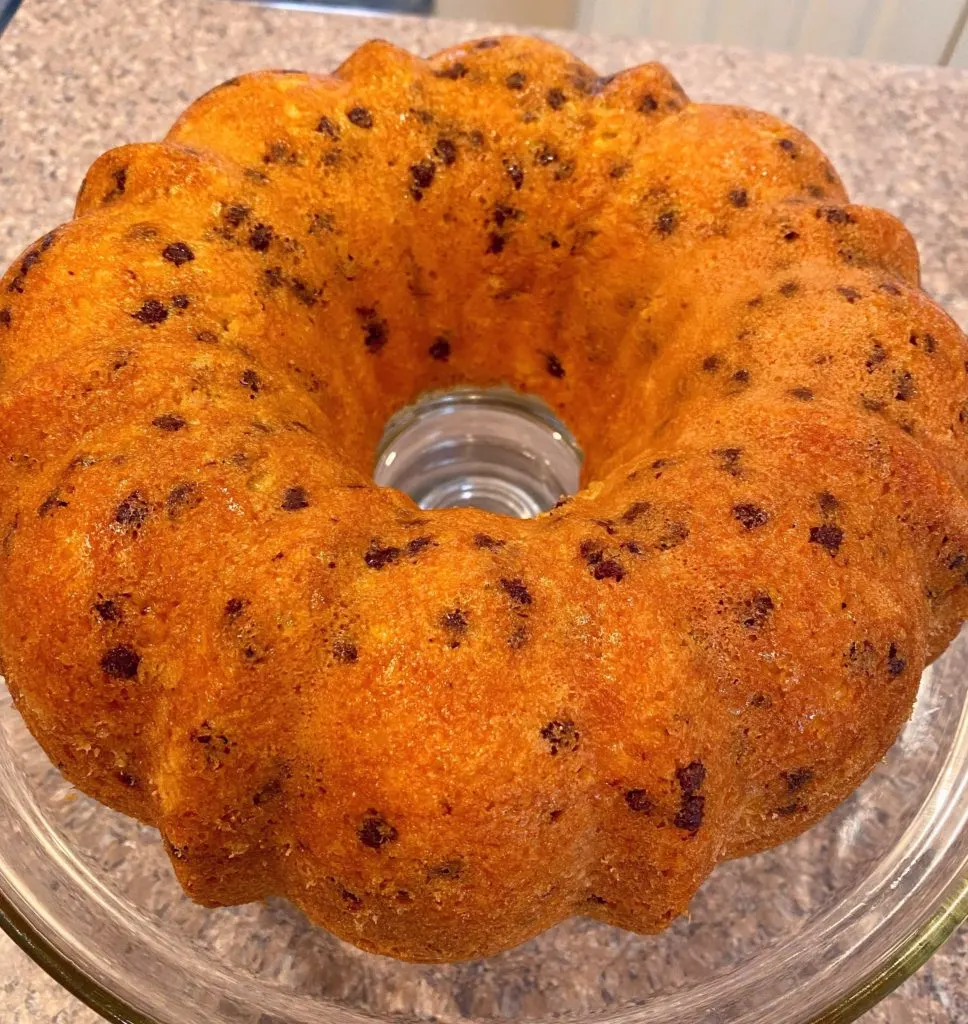 How To Make Chocolate Ganache
Chocolate Ganache is a sleek, rich chocolate coating found on many European desserts. It is also used as the filling for rich chocolate truffles. Ganache is a French term that refers to any combination of chocolate and cream. (I'd like to be called "Ganache" from now on!)
I love making ganache to add as a drizzled glaze to bundt cakes and cupcakes! It's the perfect topping! Thanks to the modern day microwave making a silky smooth Ganache is easy peasy!
In a microwave safe dish add 1/2 cup heavy cream. Microwave on high for 60 seconds, or less. Do not allow the cream to come to a boil! It should be hot enough to melt the chocolate chips.
TIP: Use a large glass measuring cup with a pour spout! It will make drizzling the ganache over the cake quick and easy.
Speaking of chocolate… Add 1/2 cup semi-sweet chocolate chips to the hot cream. Allow the chocolate chips to sit in the cream for 5 minutes. (They're just hanging out having the Spa day you wish you were having!)
Use a small wire whisk, or fork, gently stir the mixture until the melted chocolate chips blend together with the cream creating a thick rich chocolate ganache. It's magical watching these two ingredients come together to create a silky smooth chocolate sauce.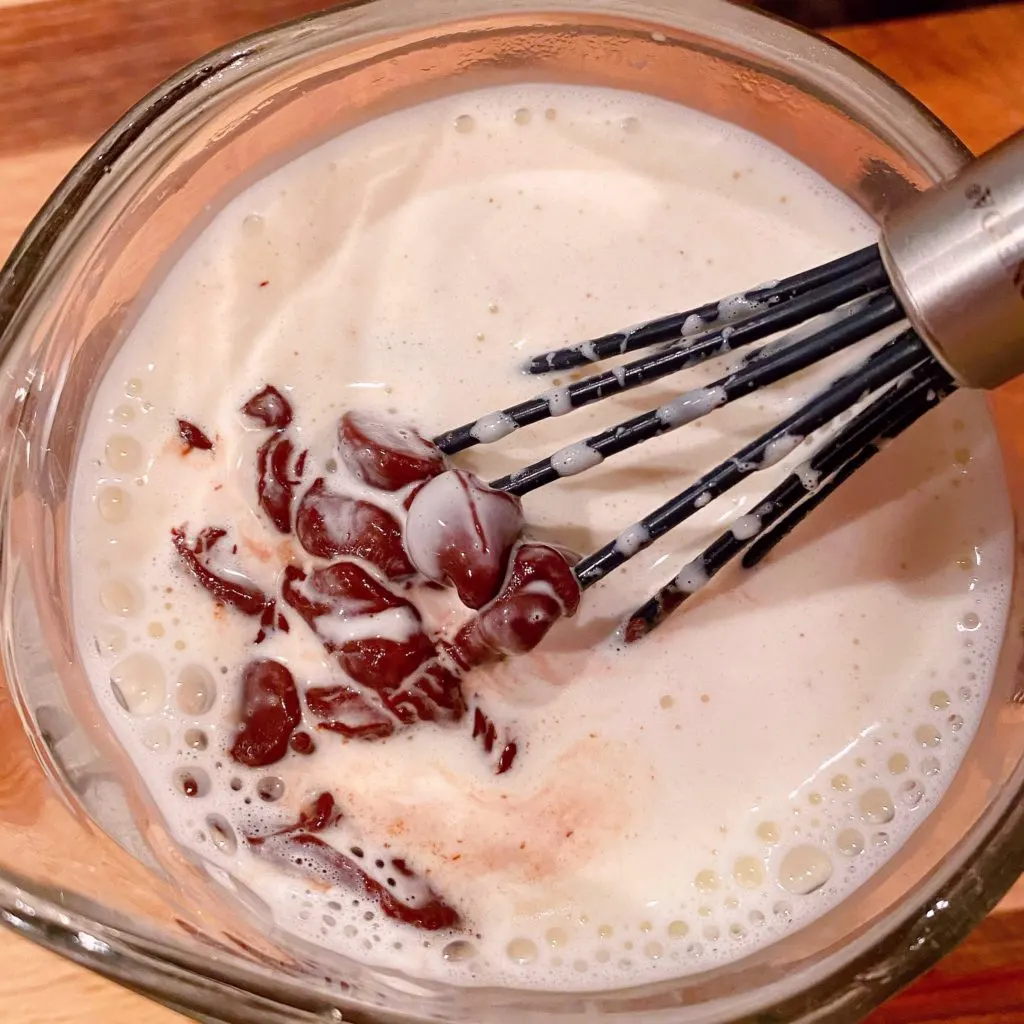 Finishing the Chocolate Chip Bundt Cake
Using a spoon, or a pour spout measuring cup, slowly drizzle the warm ganache over the top of the cake. The Ganache will slowly run down the cake and begin to firm up.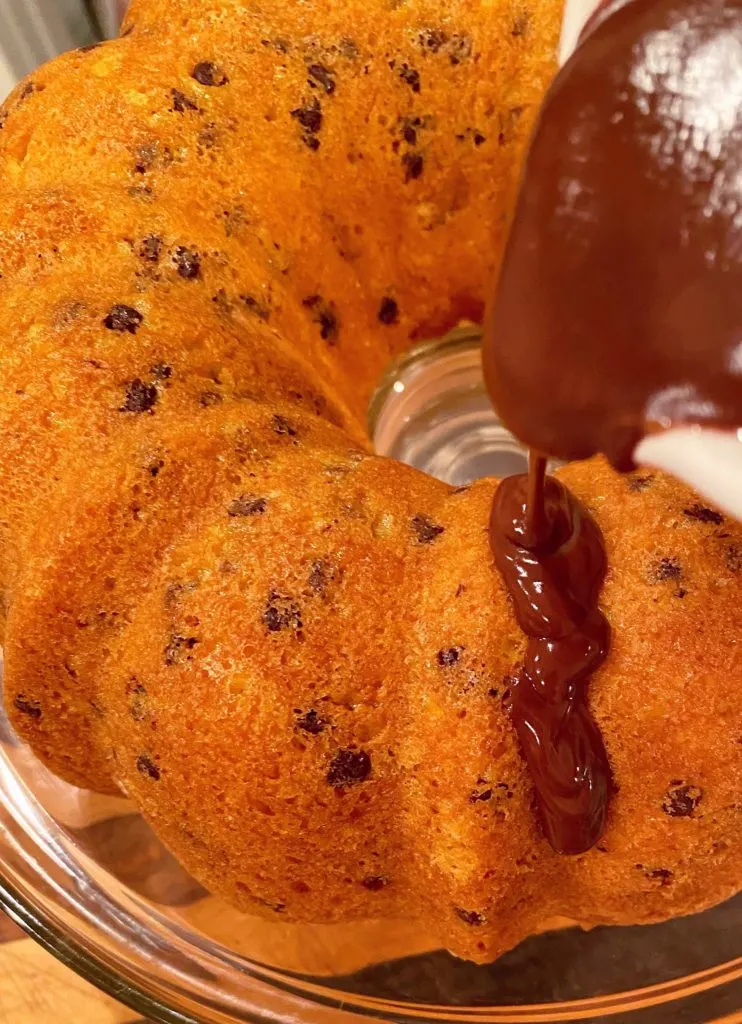 Once the chocolate ganache frosting has been drizzled over the top, and down the sides of the cake, wait for the ganache to set! It will become firm once set, and make it easy to slice and serve the cake.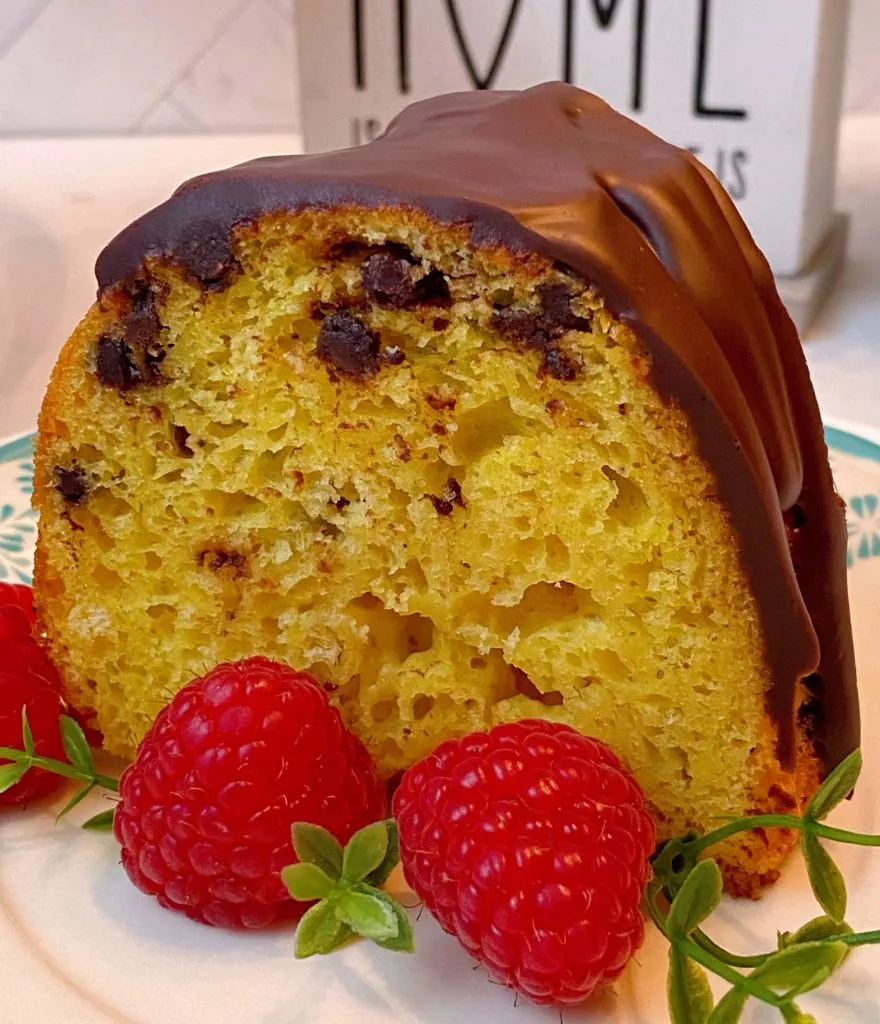 This is a simple, yet rich, and delicious Vanilla Chocolate Chip Cake. I'm so glad I was out of pistachio pudding and had to get creative! The results were a new favorite dessert for us!
Its beautiful presentation makes it elegant enough for a gathering with friends, or a fun family night dinner dessert!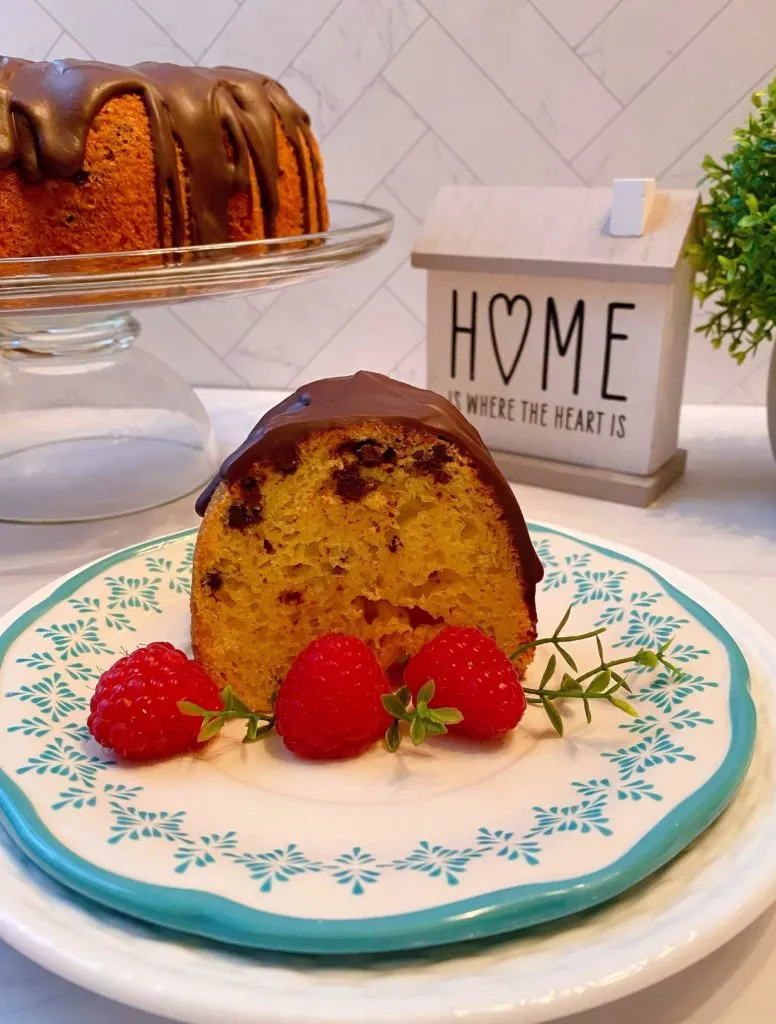 Other Easy Favorite Cake Recipes
Thanks for stopping by and visiting my Nest today! I hope you enjoy this recipe as much as my husband does! It makes him super happy when this dessert shows up on my kitchen counter!
Happy Nesting!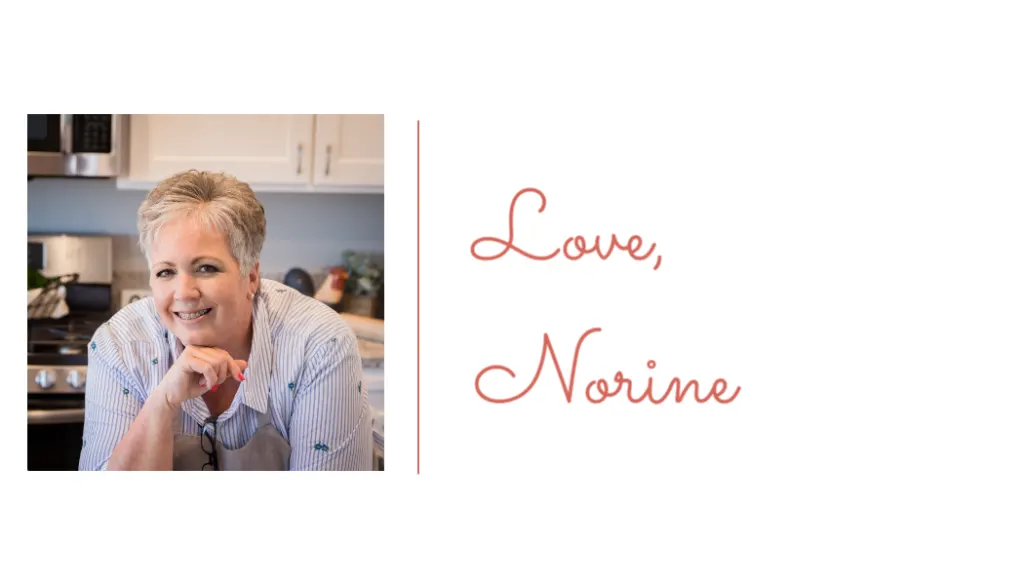 Yield: 16 servings
Easy Vanilla Chocolate Chip Bundt Cake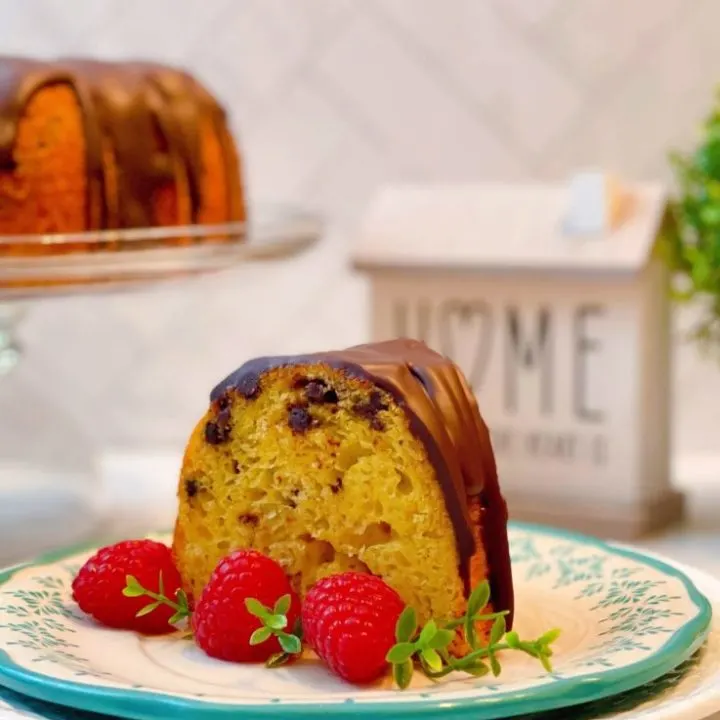 A rich and moist Vanilla Cake Sprinkled with Mini Semi-Sweet Chocolate Chips and a scrumptiously decadent Chocolate Ganache Glaze.
Ingredients
1 Yellow, or Vanilla, Cake Mix
1 (3.4 oz) Vanilla Instant Pudding Mix
4 large eggs
1 cup dairy sour cream
1/2 cup water
3/4 cup mini semi-sweet chocolate chips
1/2 cup heavy whipping cream
1/2 cup Semi-Sweet Chocolate Chips or Milk Chocolate Chips
Instructions
Preheat oven to 350°F. Spray Bundt pan with non-stick baking spray, or non-stick cooking spray and flour liberally.
In the bowl of mixer combine cake mix, pudding, sour cream, eggs, and water. Blend on low to moisten; then beat for additional 2-3 minutes at medium speed until all ingredients are combined and semi-smooth.
Fold in mini chocolate chips.
Pour into floured bundt pan. Bake at 350°F. for 40-45 minutes. Cake should be golden brown and spring back when lightly pressed in the center.
Remove from oven and cool 10 minutes. Invert cake onto desired cake plate. Cool Completely.
In a microwave safe dish heat heavy whipping cream on high for 60 seconds, until hot, but not boiling. Add chocolate chips. Let sit for 5 minutes until chocolate chips are melted. Gently stir to combine.
Pour warm Chocolate Ganache over the top of cooled bundt cake. Allow Ganache to set up and become firm before serving.
Recommended Products
As an Amazon Associate and member of other affiliate programs, I earn from qualifying purchases.
Nutrition Information:
Yield:
16
Serving Size:
1
Amount Per Serving:
Calories:

325
Total Fat:

15g
Saturated Fat:

9g
Trans Fat:

0g
Unsaturated Fat:

5g
Cholesterol:

66mg
Sodium:

298mg
Carbohydrates:

44g
Fiber:

2g
Sugar:

28g
Protein:

5g