A delightfully moist, easy, and delicious pumpkin spice cake with fresh tart cranberries and a heavy sprinkle of confectioners sugar, come together to create this Old Fashioned Holiday Pumpkin Cranberry Bundt Cake!
Years ago I subscribed to a magazine called "Victoria"! It was a stunning publication filled with all things Victorian. (I have a massive weakness for that time period…and NO I wasn't born then! Contrary to what my children think!)
*As an Amazon Associate I earn from qualifying purchases. This post may contain affiliate links, which means that I may make a commission from any purchases at no additional cost to you. Thank you for your support!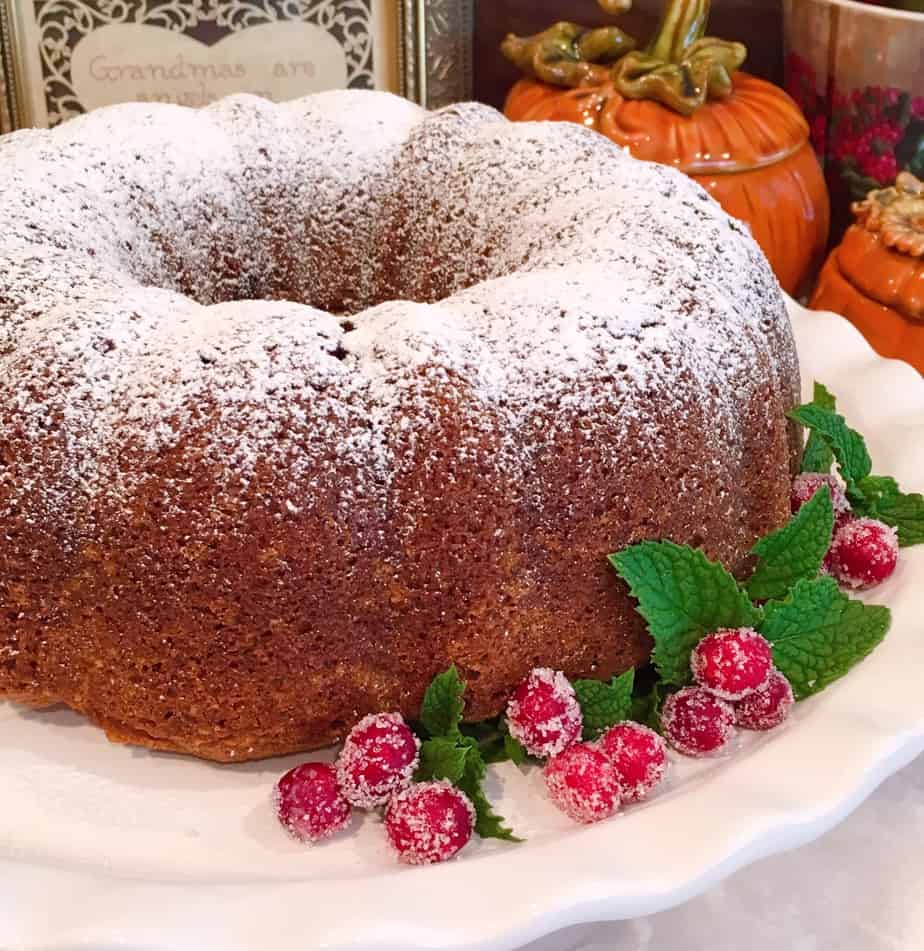 In every issue they would visit a Victorian B & B and print one of their most popular recipes. In the October 1993 issue there was this recipe for Pumpkin Cranberry Coffee Cake. It looked so delicious I had to make it. (I had to! My carb loving soul was demanding it … and that wench isn't to be ignored!)
I decided to make mine in a bundt pan rather than a baking dish. A few minutes into baking, the house filled with the warm scents of pumpkin and spice! It was blissful! (I may have heard heavenly choirs singing…or it could have been a baby crying? There were a few babies in the Nest back then!)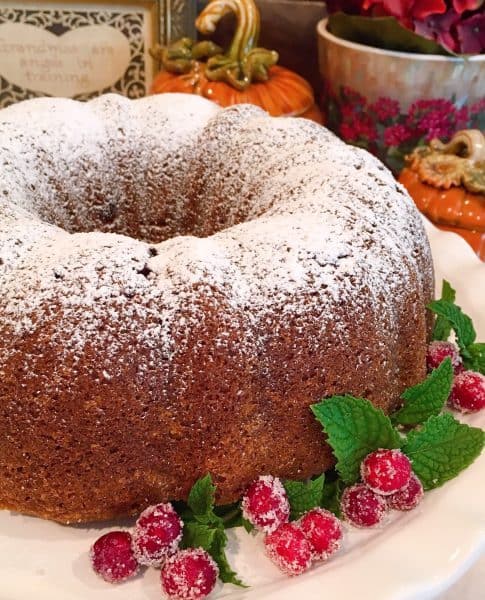 The cake baked beautifully and better than that…it so was moist, dense, and delicious! From the first bite to the last…I was in heaven…and as they say, the rest is history!
This is a dessert cake, breakfast cake, and snack cake all rolled into one! (Yes! It can be a breakfast cake…at least it worked for breakfast for me!) I'm a huge fan of cakes with no frosting! I'm all about the cake, so the dusting of powdered sugar on top of this cake is the perfect finish!
Let's get baking!
How to Make Holiday Pumpkin Cranberry Bundt Cake
Preheat oven to 350°. Spray an 8 cup bundt cake pan with non-stick baking spray!
TIP: Baking Spray is different from "cooking spray"! Baking spray has flour mixed with the non-stick spray to prevent baked goods from sticking to the pan. You can find it at any market next to the cooking oils.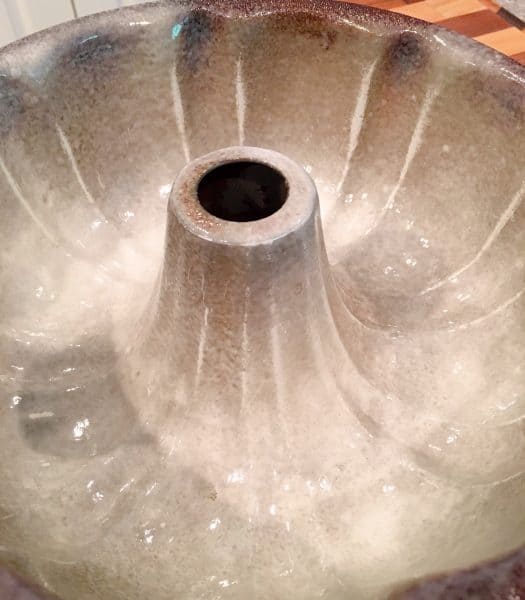 Preparing the Cake Batter
In a large bowl, combine 2 1/4 cups all-purpose flour, 1 Tablespoon pumpkin pie spice, 1 teaspoon baking soda, and 1/2 teaspoon salt.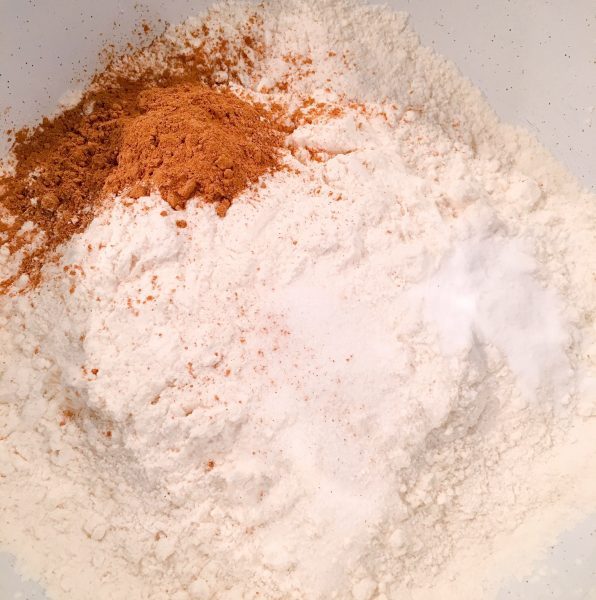 Using a wire whisk, blend dry ingredients together.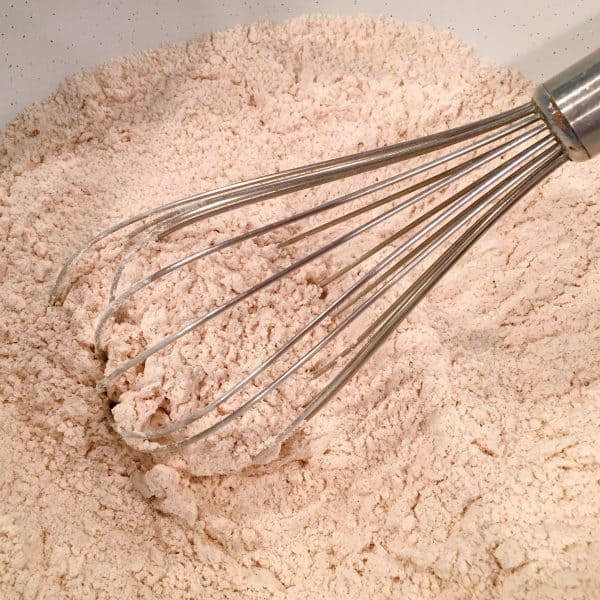 In the bowl of your mixer, add 2 eggs. (Obviously one of my eggs was on drugs…so sad!)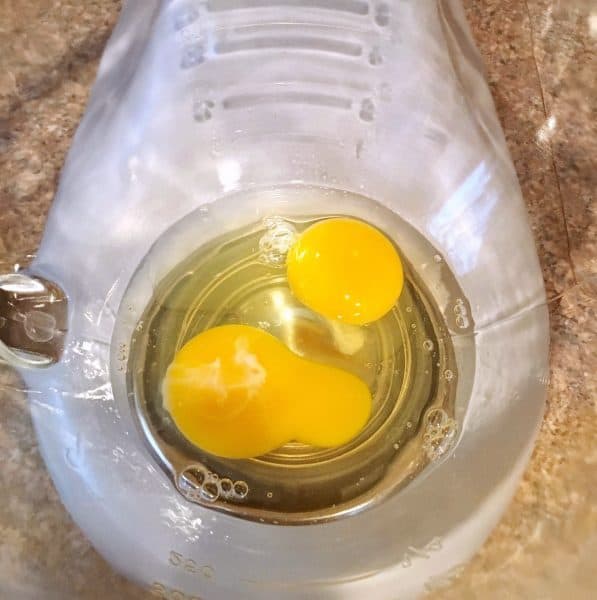 Beat eggs on medium speed until foamy! (Those eggs are foamy…just like mothers at Christmas! Like mad women with rabies! Remember…it's the happiest time of the year! lol)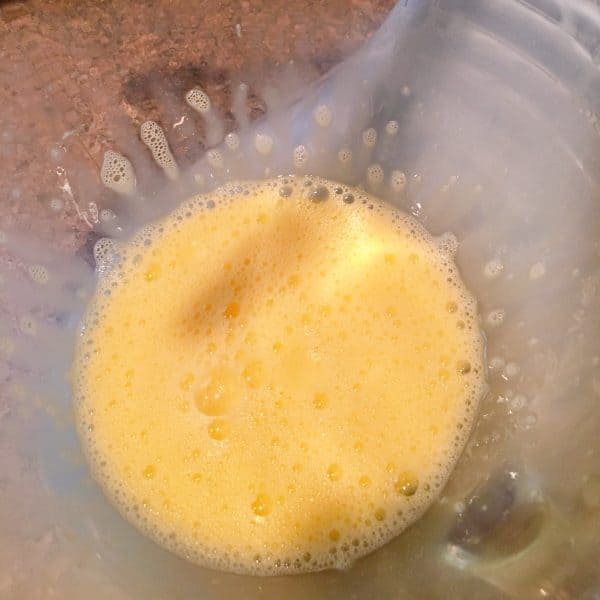 Beat in 2 cups sugar, 1/2 cup vegetable oil…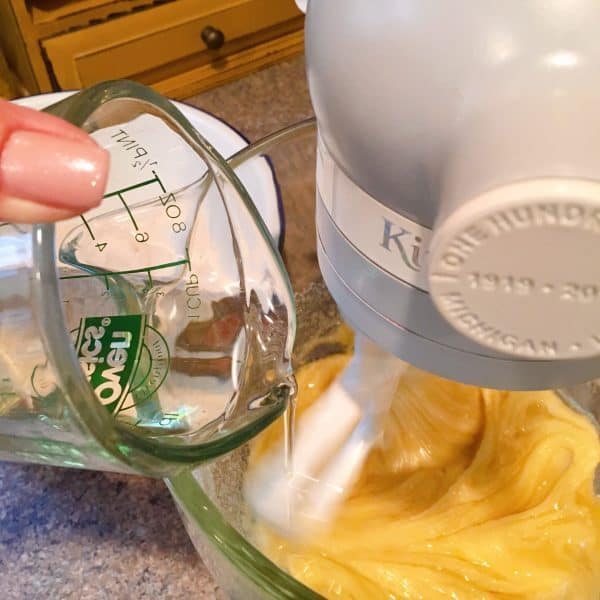 …add in pumpkin puree. Not only does pumpkin add wonderful flavor to baked goods, it also add an incredible amount of moisture! It's a win-win all the way around…especially if you are a pumpkin fan!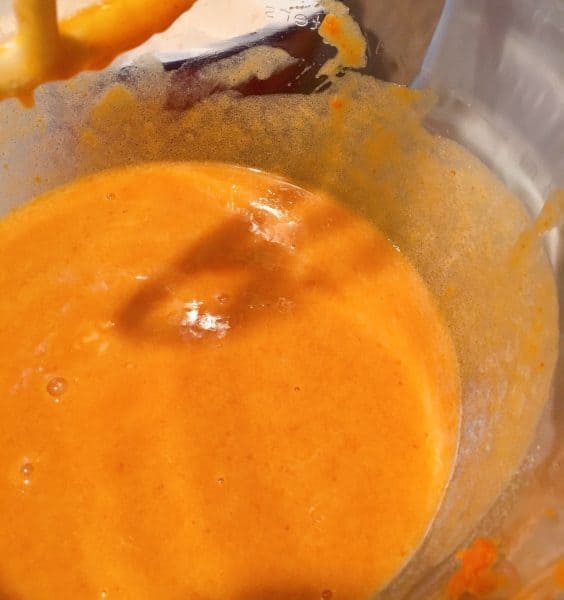 Add dry ingredients to the wet ingredients in your mixer! Blend just until combined.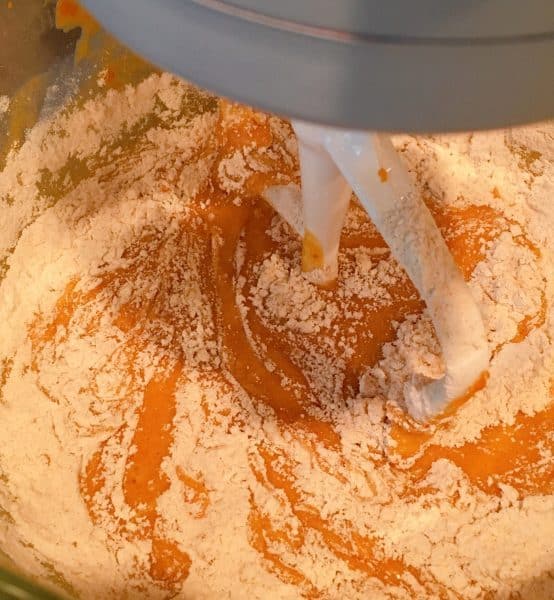 Using a spatula scrape down the sides of the bowl to make sure all the ingredients are combined. This is such a great dense batter. I love the colors and smells of this cake…from beginning to end!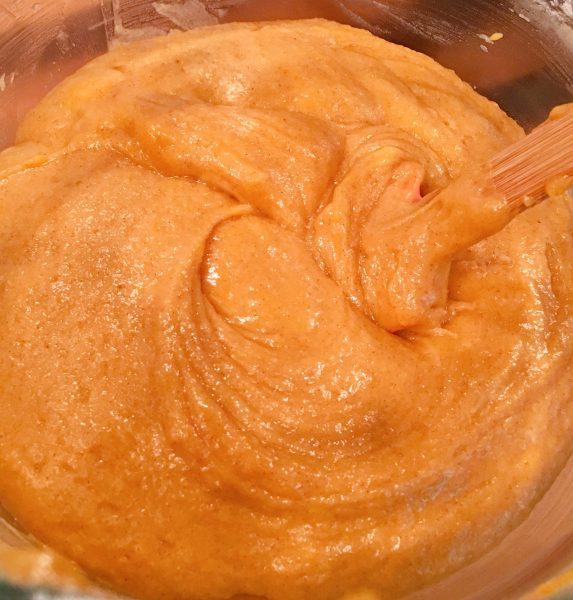 Adding Fresh Cranberries to the Cake
Gently fold in 1 cup fresh cranberries. The original recipe called for the cranberries to be chopped, but I left them whole. I love the burst of flavor from whole baked cranberries in baked goods and it works in this cake!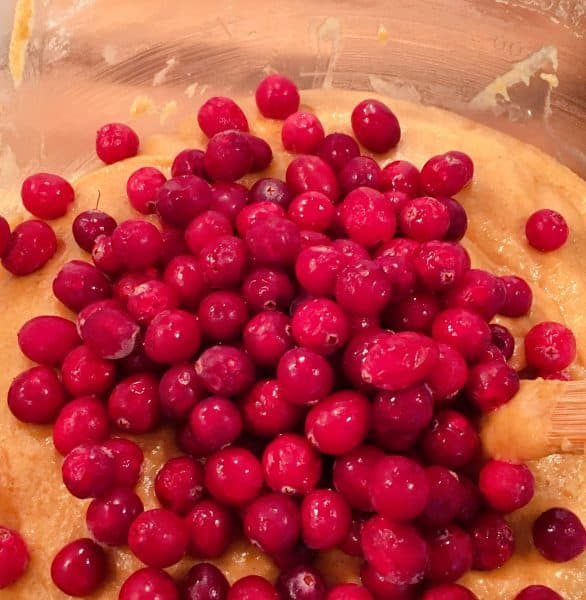 Spread batter evenly in the prepared bundt pan…be sure to slop some over the center divider…just for fun!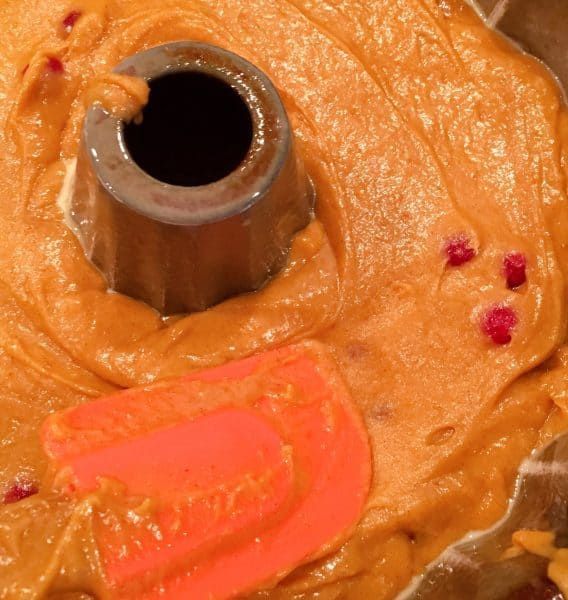 Add a few extra cranberries to the top of the batter which is really the bottom of the cake…but we are putting it on top of the bottom. Does that make sense? (Whose on First? … and I just gave away my age!)
Isn't that festive?! I get giddy when I make this cake! Que up the Christmas Music and let's start hanging tinsel!!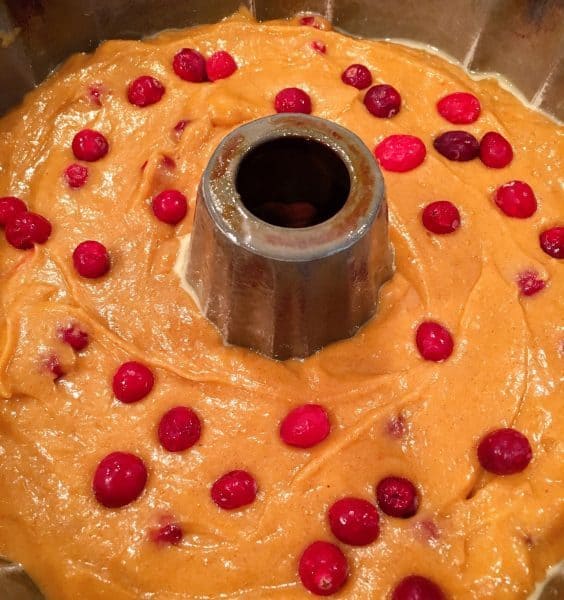 Baking the Cranberry Bundt Cake
Place bundt pan mold on a baking sheet to keep it nice and even on the baking rack.
TIP: Bundt pans can easily tilt on the racks of your oven. So it's always a good idea to place them on top of a baking sheet before placing the cake in the oven.
Bake at 350° for 50 minutes or until a toothpick inserted comes out clean. (Does it really come out clean??? These are things that make me go "hmmmm"?)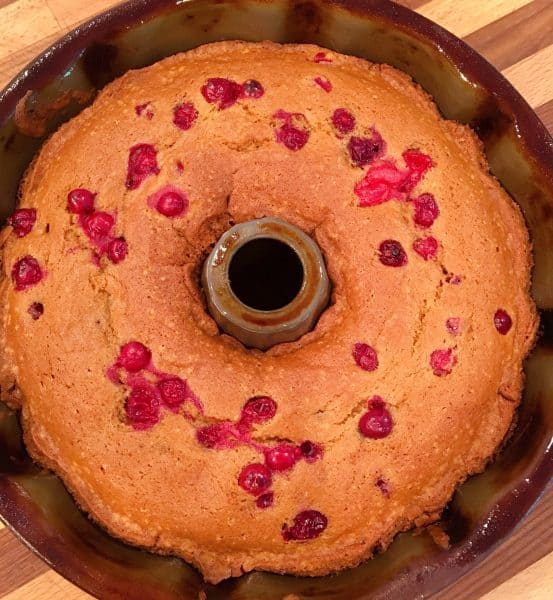 Place cake, in bundt pan, on a cake rack and allow to cool before inverting onto a cake plate. Sprinkle with Powder Sugar once the cake is completely cooled.
I love to garnish the outer edge of the cake plate with frosted cranberries and mint leaves. It adds to the Holiday cheer of this classic Victorian dessert.
How To Make Frosted Cranberries
In a small sauce pan combine 1/4 cup water with 1/2 cup sugar. Bring to a boil until sugar dissolves. Remove from heat and drop 1 cup fresh cranberries into the syrup. Coat quickly and then roll in sugar. Carefully place coated cranberries on a paper towel or plate to dry.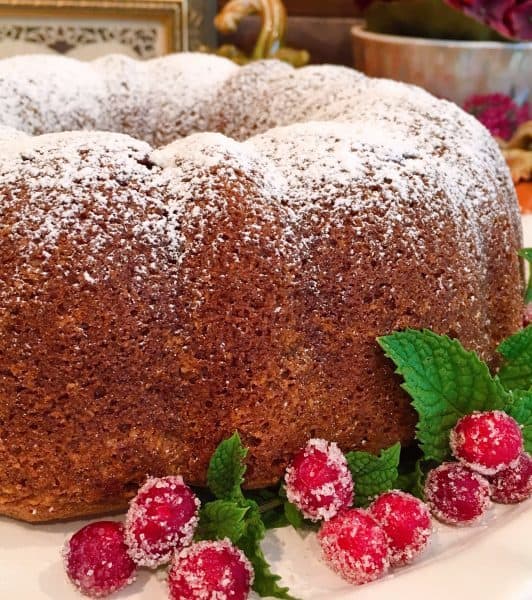 This cake slices beautifully! The dense texture is fabulous and the bright red cranberry jewels that dot the pumpkin cake are sublime! All we need now…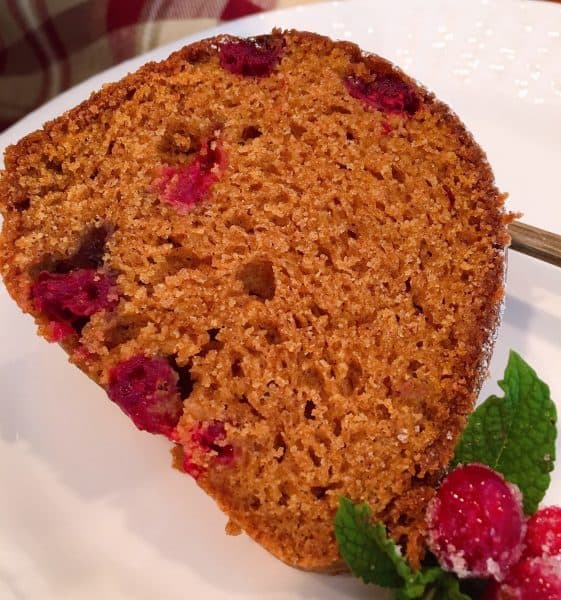 is A FORK! Yep, it's time to dig into this baby!
See the spices through out the cake and the juicy berries! Ahhhh! This is what a holiday no fuss pumpkin cake is all about! Pure simple flavors that shine!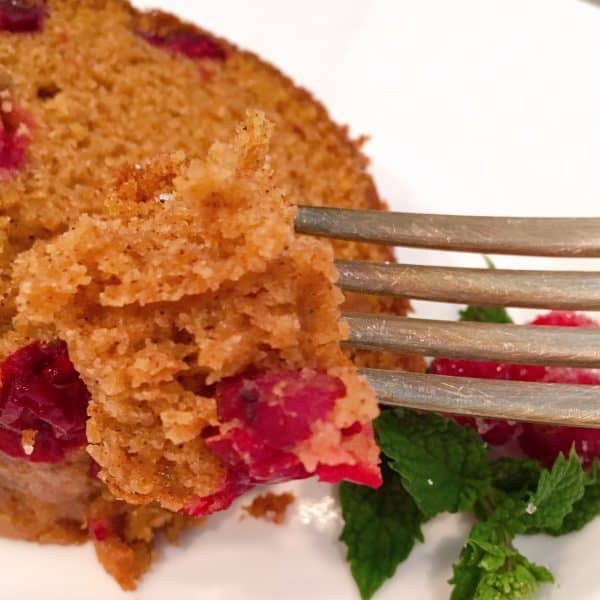 This Pumpkin Cranberry Bundt Cake is perfect for work parties, holiday pot lucks, and church dinners! It travels well and there's very little mess! You're sure to be the star of any party you attend if you bring this cake in tow!
If you enjoyed this recipe you may also enjoy these other Holiday Cranberry Recipes
As always, thanks so much for stopping by and visiting with me! Remember you can always sign up for my bi-weekly email where I share all the latest recipes and happenings from my Nest!
Happy Nesting Friends!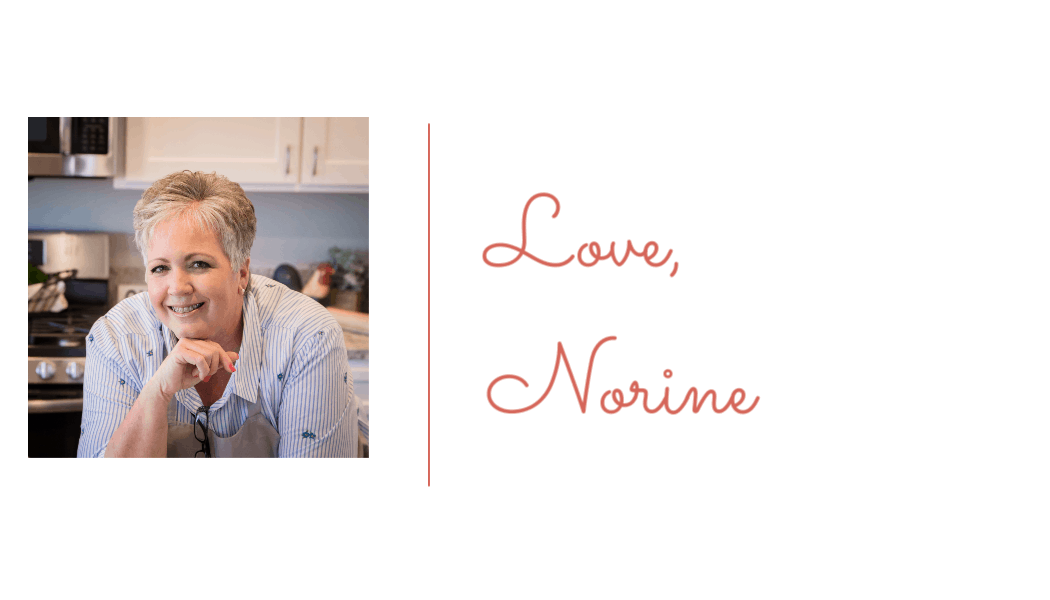 Yield: 10-12 servings
Holiday Pumpkin Cranberry Bundt Cake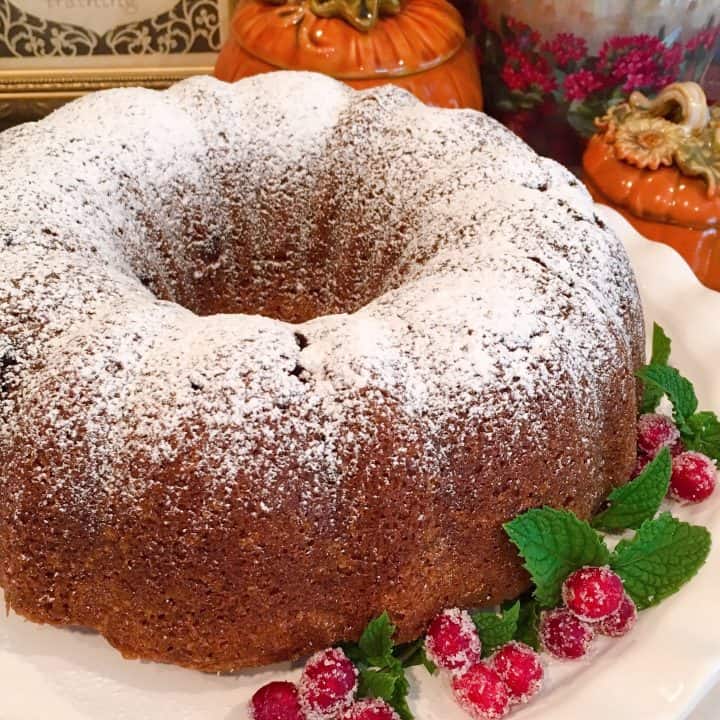 A delightfully moist, easy, and delicious pumpkin spice cake with fresh tart cranberries and a heavy sprinkle of confectioners sugar, come together to create this Old Fashioned Holiday Pumpkin Cranberry Bundt Cake!
Total Time
1 hour
5 minutes
Ingredients
2 1/4 Cups All-purpose flour
1 Tablespoon Pumpkin Spice
1 teaspoon baking soda
1/2 teaspoon salt
2 eggs
2 Cups Sugar
1/2 Cup Vegetable Oil
1 Cup canned pumpkin
1 Cup fresh cranberries; plus 1/4 cup extra for garnish
Instructions
Preheat oven to 350°. Spray 8 Cup bundt pan with non-stick baking spray or butter and flour bundt pan.
In a large bowl, combine flour, pumpkin pie spice, baking soda, and salt. Mix with wire whisk until well combined. Set aside.
In the bowl of mixer, beat eggs at medium speed until foamy. Add in sugar, oil, and pumpkin. Mix at medium speed until blended. Add mixed dry ingredients to wet. Stir just until blended. Scrape down sides of bowl and make sure all the ingredients are incorporated.
Gently fold in cranberries. Spread batter evenly in mold. Place a few extra cranberries on top of the cake batter. Place baking mold on a large baking sheet.
Bake in preheated oven for 50 minutes, or until toothpick inserted, comes out clean. Cool cake on cake rack in pan until cool enough to invert on cake stand.
Once completely cool sprinkle with confectioners sugar. Garnish with sugared cranberries and mint.
Nutrition Information:
Yield:
12 servings
Serving Size:
1 slice
Amount Per Serving:
Calories:

316
Total Fat:

10g
Saturated Fat:

1g
Trans Fat:

0g
Unsaturated Fat:

9g
Cholesterol:

31mg
Sodium:

207mg
Carbohydrates:

54g
Fiber:

1g
Sugar:

34g
Protein:

4g