This World's Best Rum Cake is tender and moist, loaded with the delicious butterscotch taste of rum and topped with lots of buttery chopped pecans. It's a delightful Holiday dessert and so easy to make.
If you could get tipsy from "Rum" cake… Mars and I would be in a stupor right now! That's a lie…we'd be face down passed out on the floor! Cake Faced!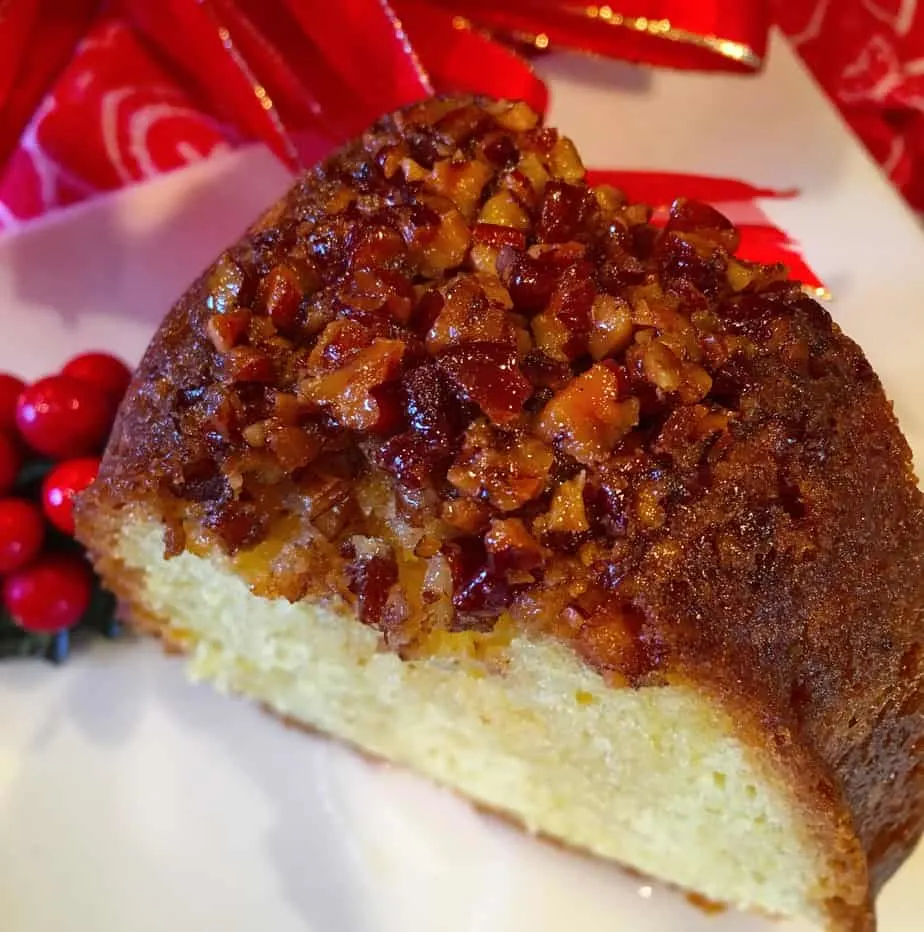 I don't throw words out like "World's Best" unless I mean it!
I don't profess to be an "expert" on "Rum Cake"… y'all know I don't drink, and truthfully…this is the only one I've ever had. (I just lost all validity with you, didn't I? Lol) BUT… I do know when I've had a great cake…and this is a GREAT cake! (Wipe that drool off your phone screen! Lol Wink, wink!)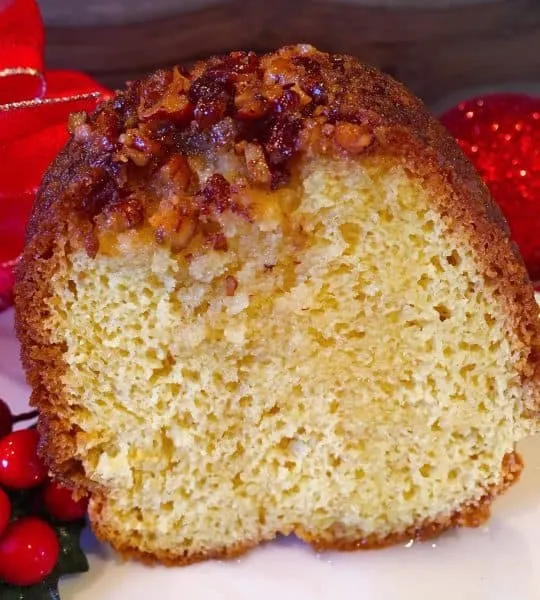 I've had this cake recipe for years. There were some elements that I loved and some I wasn't overly crazy about. I loved the cake! The original glaze…not so much so!
So I made a few changes. Which made a huge difference and added it to the "must have" list for the Holidays.
Let's do this!
How To Make The World's Best Rum Cake
Preheat the oven to 350°. Spray a bundt pan with Baker's Pride, or grease and flour the pan. Place 1 cup of chopped pecans in the bottom of the pan.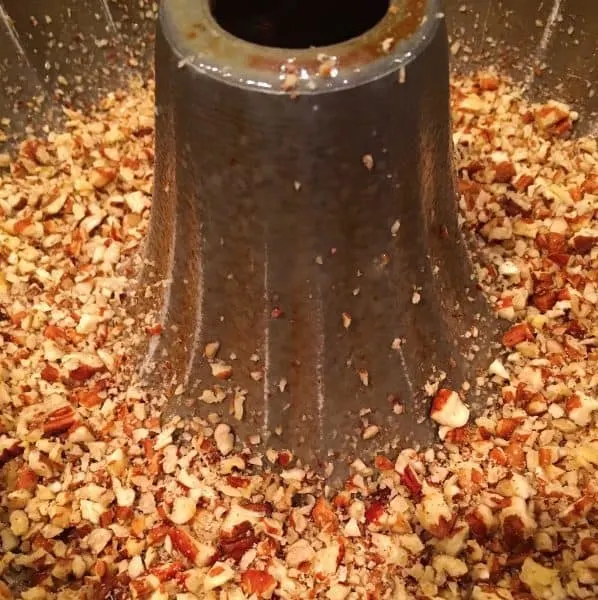 This cake begins with 1 yellow cake mix. I ALWAYS use Duncan Hines. If you have to use a cake mix I firmly believe in using the best! Duncan Hines is the best in this chicks humble opinion.
Place the cake mix, and one small box (3.9 oz) of vanilla pudding into your mixer with the paddle attachment.
This is where my first change came into play. I added one box of the new Godiva White Chocolate Vanilla Bean Puddings into this cake. OH. MY. GOSH! It's divine in this cake! Nuff said.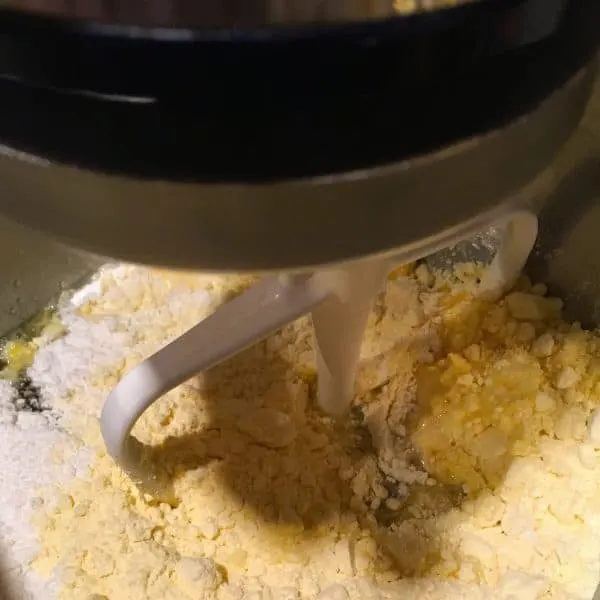 Add 4 eggs, 1/2 cup cold water, 1/2 cup vegetable oil, and 1/2 cup Baquardi Rum…80 proof. (I told you…face down on the floor! Lol) The original recipe calls for "dark Rum"… I had regular clear rum. It worked fine.
TIP: If you do NOT want the alcohol in the rum…you can bring it to a boil over medium heat, and it will cause most of the alcohol to evaporate…however…keep in mind that even Vanilla Extract has alcohol in it. Say WHAT? That's right my friends. A minimum of 35%. (Put that vanilla down right now! Lol)
Mix all the cake ingredients together until smooth. Being careful not to over beat the cake. Too much air in cake batter can cause your cake to "fall" during baking.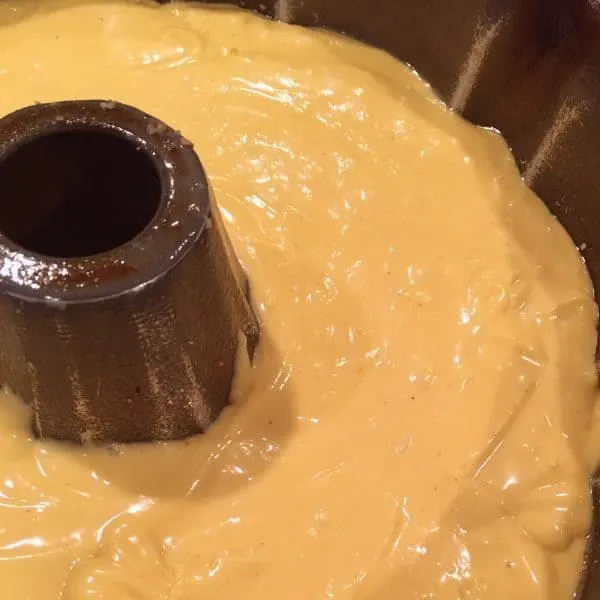 Pour cake mixture into your prepared bundt pan, and place in preheated 350° oven.

Bake for 1 hour. Remove from oven and allow to cool, in the pan, for 1 hour.
Isn't that a beautiful cake?! It rises spectacularly and smells heavenly! The texture is pure perfection! This is what a truly amazing bundt cake looks like my friends…and it's so SIMPLE!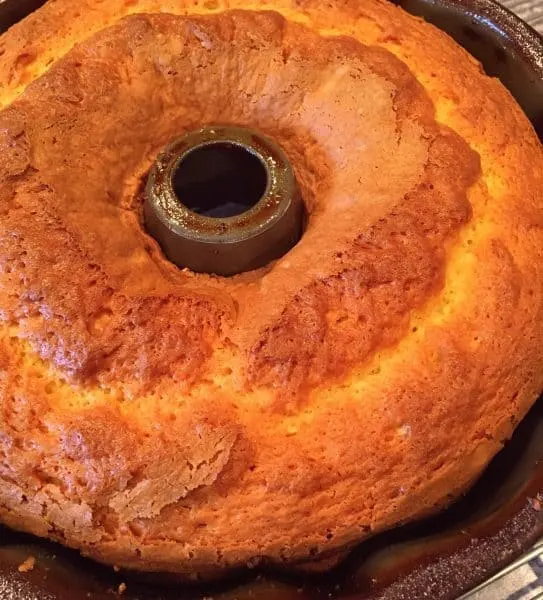 Invert the cooled cake onto a cake plate. Poke holes around the top of the cake and down the sides, about half way.
Drizzle the buttery rum glaze over the top of the pecans and down onto the cake. The holes make it possible for that amazing glaze to seep down into the cake.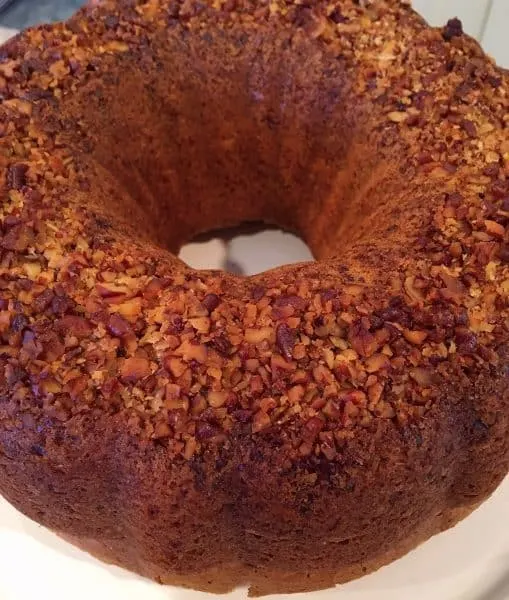 This is where my biggest change came into play. Like I said… I was never a fan of the original glaze with this cake. It was too thick and gloppy! (I've always wanted to use that word in a sentence! Lol)
It didn't need to be. A thick glaze is icky. The only reason it was thick… had to do with the cook times. I wanted a thinner glaze that would soak into the cake, but I didn't want a soggy cake. The goal was a cake that was infused with a tantalizing marriage between cake and glaze.
I reduced the cook time and used "Rum" extract instead of another cup of Rum! (I didn't want to supply Jack Sparrow's habit!)
Using a small sauce pan add 1/4 cup salted butter, and one cup sugar. In a 1 cup glass liquid measuring cup add 2 Tablespoons of Rum Extract, fill the remainder of the measuring cup with water to equal 1 cup.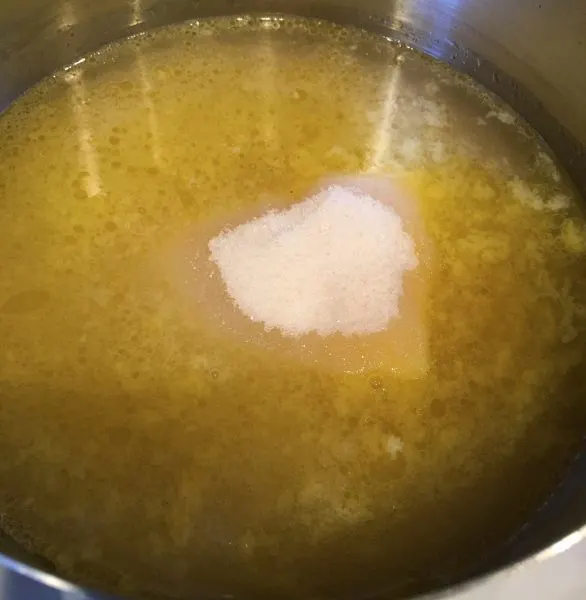 Bring the mixture to a low boil, stirring continually, until sugar is melted and sauce becomes slightly thickened.
Using a ladle, carefully drizzle 1/2 the hot glaze over the top of the cake, making sure to focus on those holes you poked in there earlier. Be sure to go slowly and watch it seep through the pecans. It's okay that some runs down the sides and onto the bottom. You just don't want the base "swimming" in it.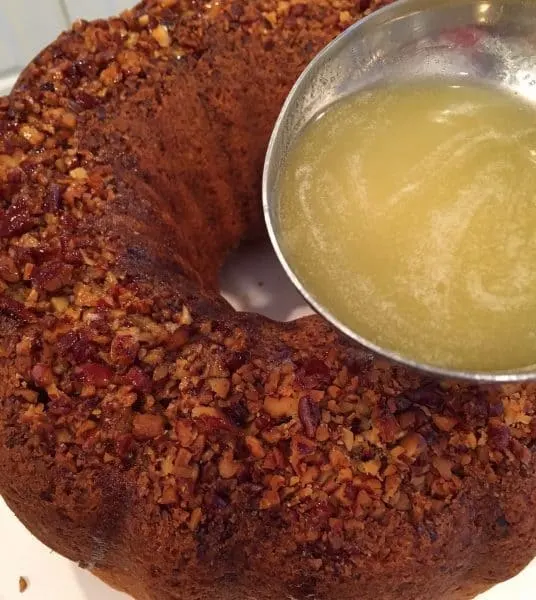 Look how pretty the nuts are after you've poured that buttery rum glaze over the top of them. YUM! You can see the streaks of glaze running down the sides of the cake. There's a touch of the glaze down in the center. That's fine…we want the bottom to soak up a little too.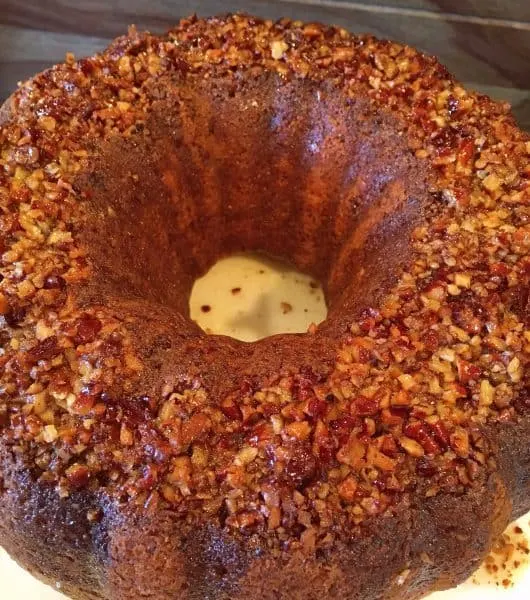 I want you to see how tall and beautiful this cake is. It's not a fancy cake…you could place a sprig of holly in the center to "gussy her up" a bit. I chose to let this cake just speak for itself.
It's golden, buttery, and loaded with the flavors of rum…which mimics butterscotch.
If Harry Potter's butter beer were going to be a cake…this would be it! (Maybe I should rename it? Naw!)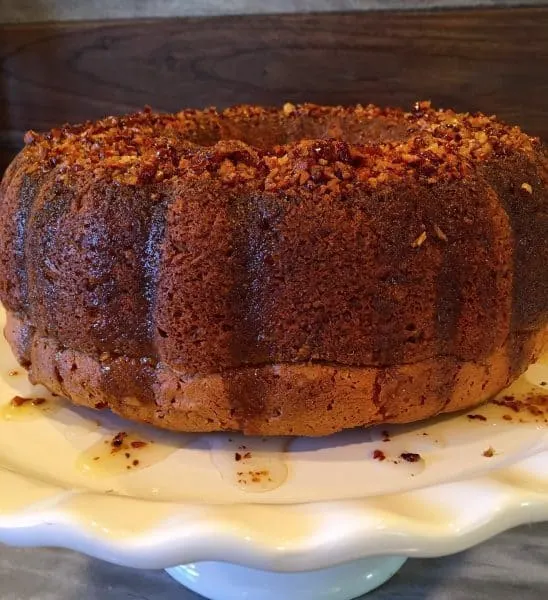 Slice nice thick slices, reheat the remaining glaze, and drizzled it over the cake before serving.
I'm pretty sure I heard Angels singing when I took the first bite! Your guest will too!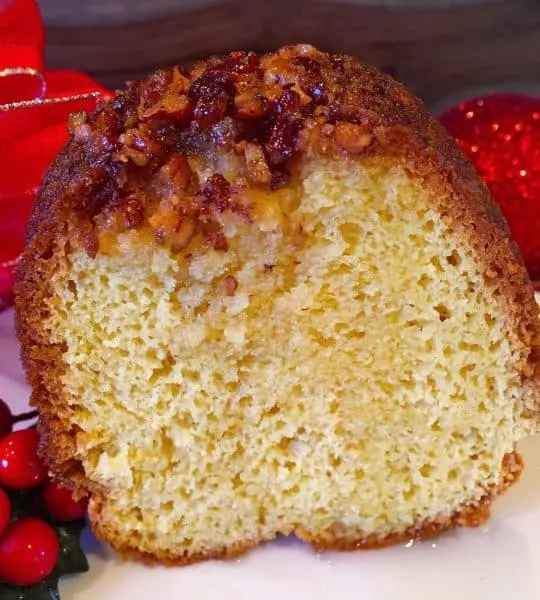 This cake is so moist that it melts in your mouth. Even the outer edges are perfect! Mars commented on that fact more than once. (Somewhere between his second and third slice…not that I was counting.)
Can we just have a moment of silence for those stunning glazed pecans on top!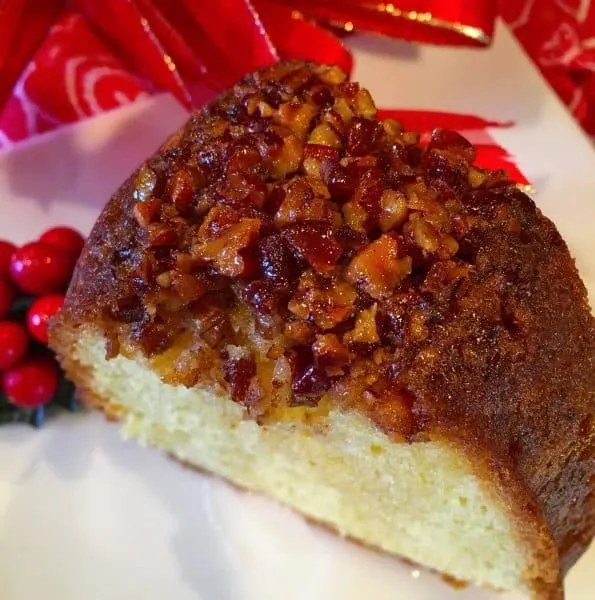 This cake is actually even better the next day! I kid you not.
I took a poll of my Instagram followers… the number one post they wanted to see… was this cake! I love my tribe! Ya'll have the BEST taste!
This cake is a wonder! I've seen a lot of really pretty desserts in my time that lacked flavor and the right texture. This cake has both…in abundance!
If you enjoyed this Holiday Cake you might enjoy these other Holiday Desserts
Enjoy! Be sure to check back frequently this next week! I've got a LOT of yummy idea's headed your way. I've been super busy in the kitchen and can't wait to share.
Happy Holidays and Happy Nesting!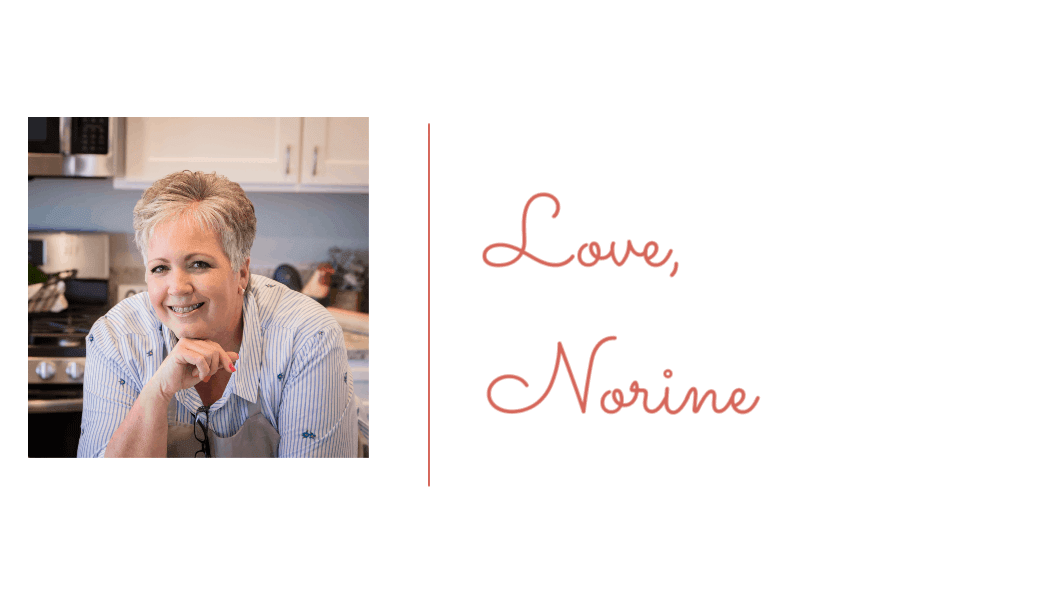 Yield: 20 servings
World's Best Rum Cake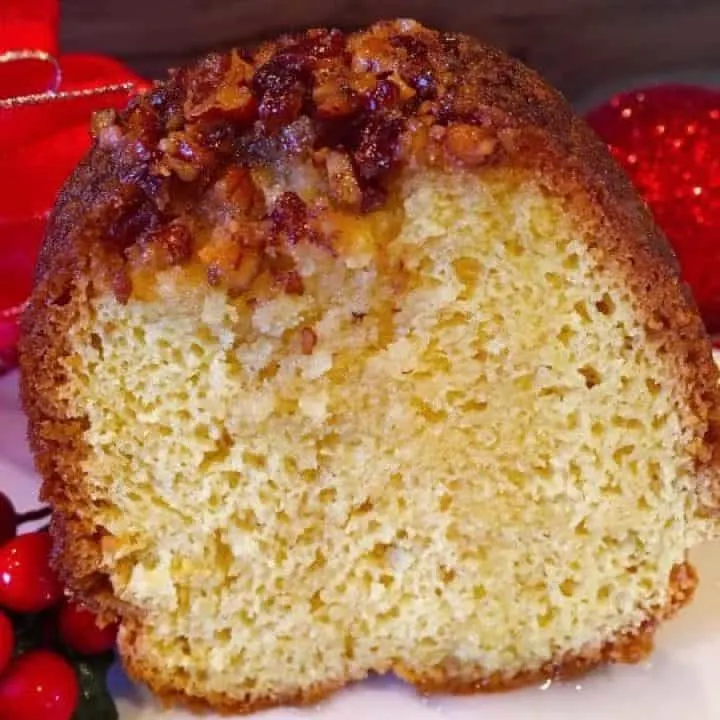 Moist flavorful Rum Cake with chopped pecans and a delicious rum glaze a perfect Holiday dessert.
Total Time
1 hour
20 minutes
Ingredients
1 Duncan Hines Yellow Cake Mix
1 (3.9 oz) box Godiva White Chocolate Vanilla Bean Pudding, OR small Vanilla Pudding
4 eggs
1/2 cup cold water
1/2 cup vegetable oil
1/2 cup baquardi Rum, 80 proof
1 cup chopped pecans
Glaze
1/4 cup butter
2 Tablespoons Rum Extract
1 Cup Sugar
1 Cup Water *See instructions
Instructions
Preheat oven to 350°
Spray Bundt pan with Baker's Joy or grease and flour pan.
Sprinkle 1 cup of chopped pecan into the bottom or prepared pan. Set aside.
In mixer, with paddle attachment, mix together cake mix, box of pudding, 4 eggs, cold water, vegetable oil, and 1/2 cup of Rum.
Mix until incorporated.
Pour over nuts. Bake 1 hour. Allow to cool in pan for 1 hour.
Poke holes in top and 1/2 way down cake.
Spoon 1/2 of the glaze carefully over the top of the cake.
Drizzle remaining warm glaze over individual cake slices when serving.
Glaze
Place 2 Tablespoons Rum extract into a glass 1 cup liquid measuring cup. Fill remainder with water to equal 1 cup of liquid.
In a small sauce pan, over medium heat, melt 1/4 cup butter, 1 cup of liquid, and 1 cup of sugar. Stirring constantly until mixture comes to a boil and slightly thickens.
Recommended Products
As an Amazon Associate and member of other affiliate programs, I earn from qualifying purchases.
Nutrition Information:
Yield:
20 servings
Serving Size:
1 serving
Amount Per Serving:
Calories:

307
Total Fat:

15g
Saturated Fat:

4g
Trans Fat:

0g
Unsaturated Fat:

10g
Cholesterol:

44mg
Sodium:

244mg
Carbohydrates:

37g
Fiber:

1g
Sugar:

26g
Protein:

3g