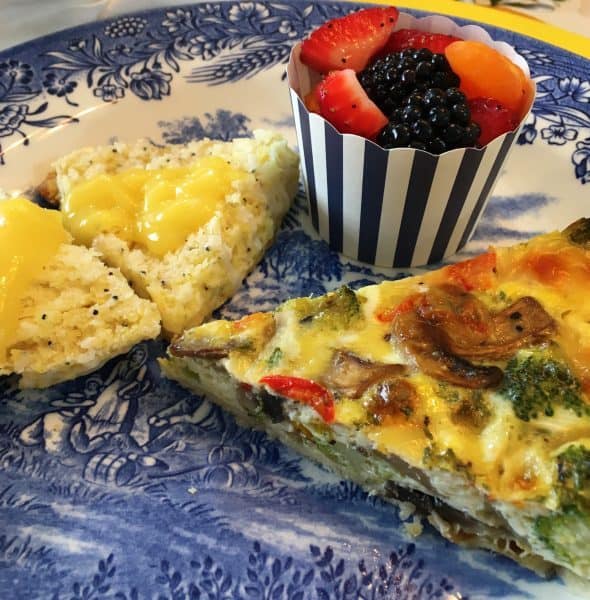 I'm risking a lot sharing this little secret. Some of you are going to disagree with me…and that's Okay! Here goes…I'm not a huge fan of Mother's Day! There…I said it! Don't get me wrong…I'm all for celebrating women and motherhood. I also believe that the TRUE celebration of motherhood comes at unexpected moments and should not be "forced or expected".
*As an Amazon Associate I earn from qualifying purchases. This post may contain affiliate links, which means that I may make a commission from any purchases at no additional cost to you. Thank you for your support!
Anytime we place expectations on a Holiday, like Mother's Day, we are disappointed. In this case it sends the message to our children and husbands that we are disappointed in them. Example: "Why didn't my kids make me burnt toast and runny eggs for breakfast?". " How come the kids are fighting?!!! It's MOTHER'S DAY!". "Where's my cute card and flower bouquet?". Or my new favorite…"look at so-and-so kids…they posted all kinds of wonderful loving comments on Facebook about their Mom…crickets over here on my page! I MUST be a horrible Mother".
Right? NO! It's another way we women use to "compare" ourselves and we need to STOP IT!
I'm also a woman who struggled with infertility for over 5 years after the birth of our first child. I just naively assumed because we got pregnant the first time that the trend would continue. Not so. Thankfully heading into year 6 of the "drought" we were blessed through adoption.
So I am painfully aware how hard Mother's Day is for those of you who want to have children, and for whatever reason…have not been able to have a child. I'm also very aware that some of you have had babies and made the ultimate sacrifice and given them up. In a nutshell…Mother's day is a painful reminder for some of what they don't have!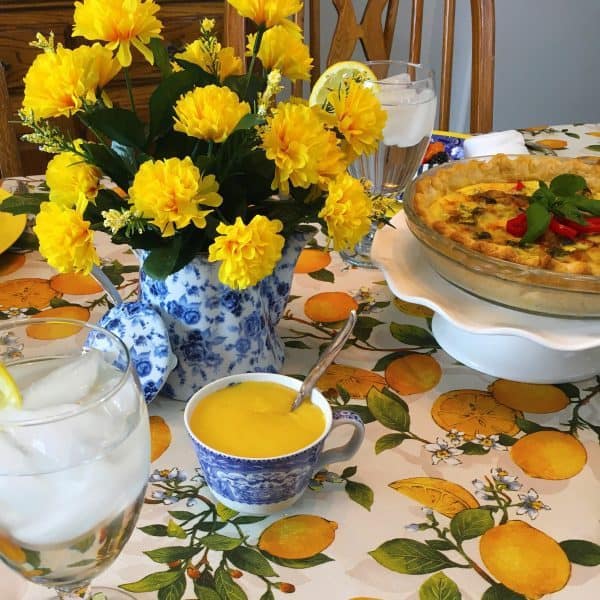 My belief is that Mother's Day is a day we need to celebrate the joy of womanhood. (With the exception of "Auntie Flo" and "Mother Menopause"! Those two wenches can take a hike! lol Sorry if you're a man reading this! Yikes!) I'm SO thankful for ALL the women that have "mothered" my children in one way or another!
Let's Celebrate "Us"! I decided I wanted to do a "Brunch"that you can throw for some of your favorite girlfriends. It's okay if you don't do it this week. Like I said above…I believe the celebration of "womanhood" can be any day…and should be!
The theme for this party started with this lemon table-cloth I found at T.J. Maxx for $12.00! (The lemon theme is pretty popular right now so I'm sure you can find one similar if you want to follow along.) The minute I saw this table-cloth I knew I could pair it with my Blue Transferware collection beautifully. (It's a bit of an obsession!) It also meant I had my color theme for the party. Bright blue and yellow. Perfect colors for a Spring brunch.
The biggest stumbling block I was having was placing the blue transferware directly on top of that busy pattern. It just wasn't working for me! I wanted something solid to break-up the two patterns. I thought…"I wish I had solid yellow chargers like the gold chargers I have." BAAAAZINGA! Light bulb moment!!! (Little secret about me…I'm addicted to spray paint! It started with my kids wedding receptions…now it's just an ongoing issue around here… I may still be high from the 27 cans I used for my daughters reception decor?) Hooray for Yellow Spray Paint!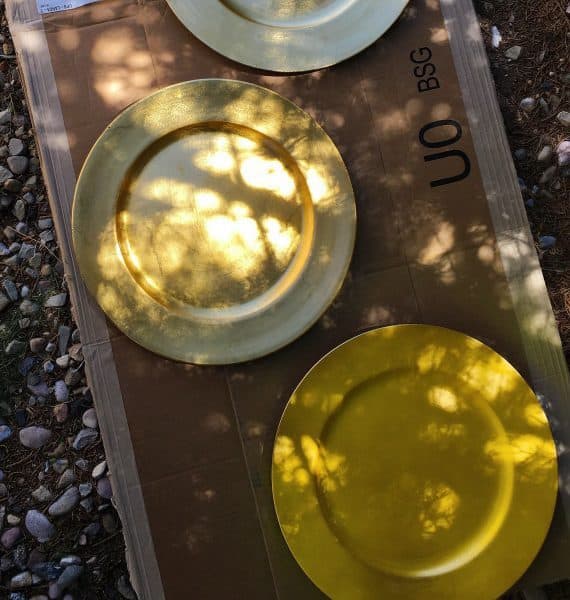 Friends! I'm so excited about this!!! It worked perfectly! Now the gold square chargers I bought to go with my red and black plaid square Christmas dishes are going to get a make over too!!! Woooo Hooo! I might do a set in blue too! (I feel an intervention pending!)
I love the bright, cheerful, "pop" of color these chargers added to my table setting. What do ya think? My transferware is part of a collection, so I don't have two plates that are the same. It worked beautifully. My point…don't thing everything has to match perfectly. It doesn't. In many cases it adds to the charm to the look you are going for.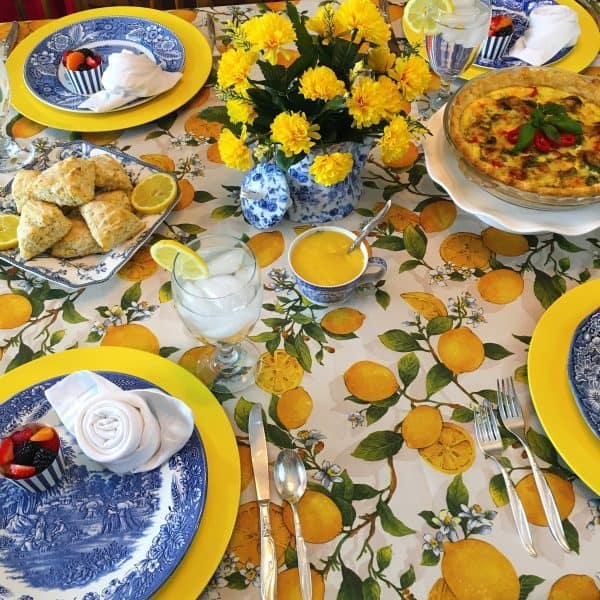 For a center piece I used a darling blue transferware teapot I have and filled it with some bright yellow spring flowers I found at JoAnn's for 50% off! $3.00 for my centerpiece. You could also do a small pot of real daisy's and slide it down inside of the teapot. The point is that you don't have to spend a fortune to host a party. If you've checked out some of my other party posts you'll know I'm big on "shopping your own home"!
My water goblets…the dollar store! I kid you not. They are my favorite stemware. I added a slice of lemon to go along with my theme.
If you don't own cloth napkins…think about purchasing at least 8. They are so soft and absorbent. I bought the white napkins you see here at T.J. Maxx for $10.00. They wash beautifully and you can fold them in all kinds of fun ways. I went with a rose for this brunch. A simple fun way to fold a napkin. (I found a tutorial on You Tube and had it down in 15 seconds, and I'm folding impaired!)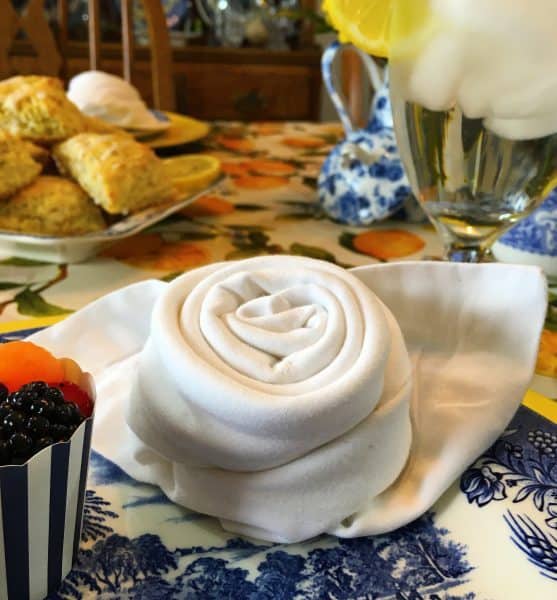 That was it for the table setting for this special brunch. I'm a big believer in "less is more"!
Next I had to come up with a simple, yet delicious menu. I am SO happy with how this menu turned out. I can honestly say…it is Spectacular! It is the perfect Spring or Summer Brunch Menu. I'm going to post the recipes separately but I want you too see how beautiful this menu turned out.
For the main course I went with this light delectable Vegetable and Munster Cheese Quiche. It was my first! I was a little apprehensive how it would turn out! Don't let it intimidate you. It's super easy-peasy! I made my crust from scratch, but you can purchase the already made crust and it will be just as wonderful.
I loaded this Quiche with LOTS of fresh veggies and used more egg whites and cut back on the whole eggs just so it would be a little lighter calorie wise. It's delicious! (Mr. Mars ate 3 slices when he got home from work last night!)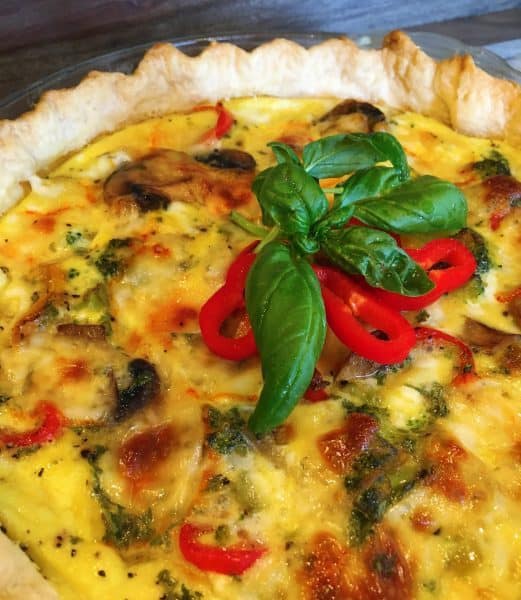 I wanted a real "WOW" treat and decided on Lemon Poppy Seed Scones with Fresh Lemon Curd. I made them smaller than a regular sized scone. This was a brunch for ladies…not the Hulk! We feel less guilty eating 3 small scones than one large scone. Am I right or am I right ladies?
Friends…if I was told I could only have ONE recipe on my blog…this would be it! SERIOUSLY!!! These are divine! Light, buttery, melt in your mouth…perfect! I wish I could give each of you just one to try. They are little triangles of heaven!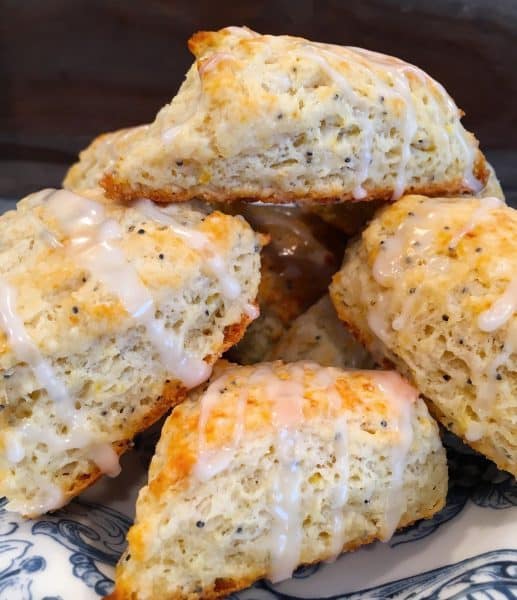 This Lemon Curd! Que the Choir of Heavenly Angels! I kid you not!!! I would bathe in this stuff if I wouldn't end up in the Psych ward!
I found a wonderful recipe from Wine and Glue for Easy Microwave Lemon Curd. It is life changing! Seriously LIFE CHANGING! I will always have lemon curd on hand now! I can't wait for you to try this recipe. You will L.O.V.E. it!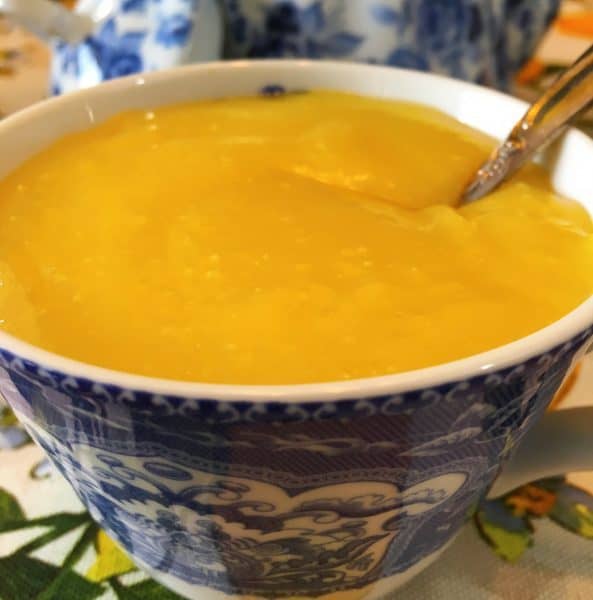 Last was a simple Fresh Fruit Salad with an Orange Honey Poppy Seed Dressing. Fresh Sliced Strawberries, Blackberries, and Fresh Mandarin Oranges ("Cuties" or "Halos") all drizzled with an easy Orange Juice, Honey, and Poppy Seed dressing. I filled cute little cupcake/candy holders with this sweet fruit salad and placed them on the plates.
I have found a new favorite dressing for my Fresh Fruit Salads. The subtle flavors were scrumptious!!!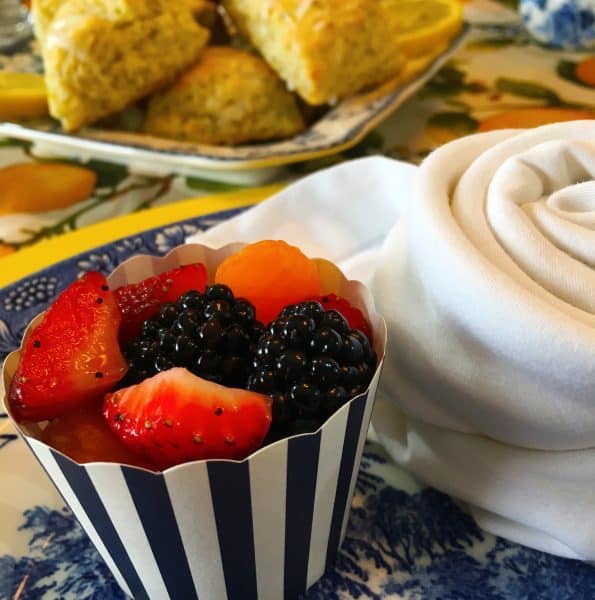 This was my entire menu and it was perfect! I love how the colors of my foods went with the colors of my theme. Everything looked so tasty and fresh. I would LOVE to be invited to a brunch like this. Wouldn't you?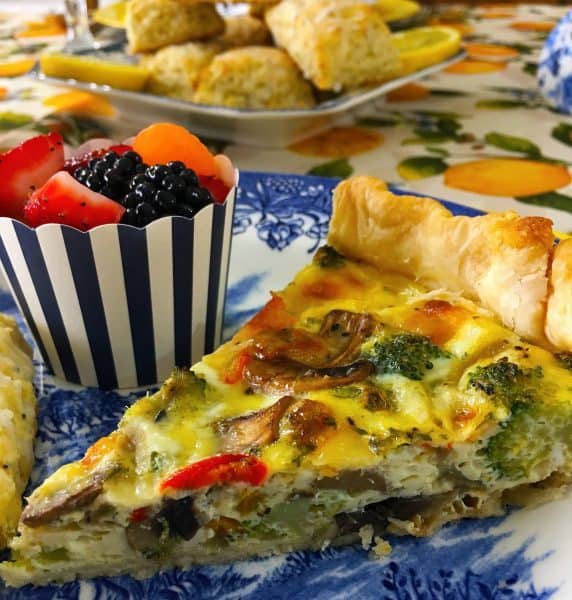 I had SO much fun doing this brunch! I had a vision and everything turned out exactly how I wanted it to. It's always fun when that happens. It doesn't always happen…so when it does I breathe a sigh of relief and relish the moment.
I hope whatever you do for Mother's Day this weekend that you have a Fabulous day and that you know how important you are to those that love you. Most of all I want you to know you do make a difference in the lives of those you love! You have all made a huge difference in my life and I sincerely thank you for that!
Oh, and always have a "Plan B" just in case the ingrates forget…a box of donuts and your favorite carton of ice cream should work! lol
Hugs