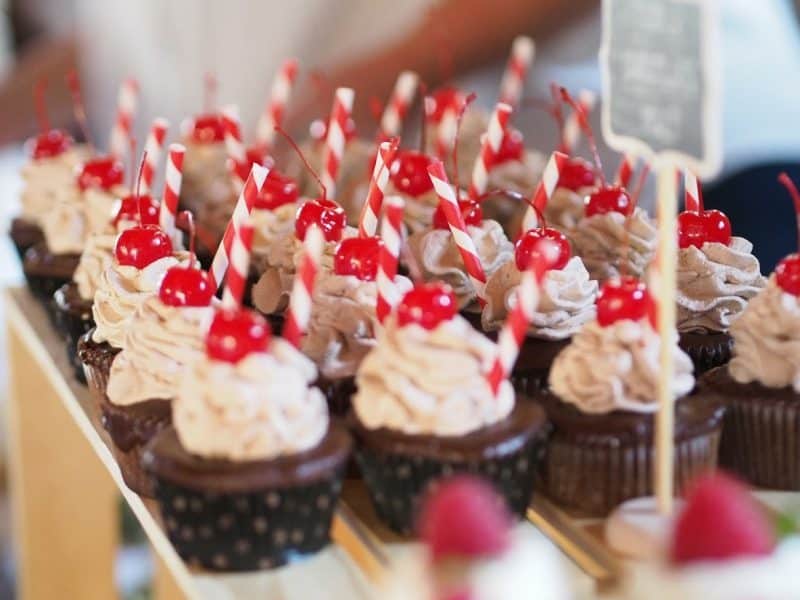 A few months ago I got this really cute text from my cousin Spencer. He wanted to know if I could make cupcakes for his upcoming wedding. I told him I'd be honored! Then I asked how many he needed. He quickly responded by saying a very large number! (like a thousand and could I do a pig in the ground too!) THAT nearly had me falling off my chair. Thankfully he was just teasing me. (Whew! Lesson learned! ALWAYS ask quantity first!) I gave him a list of flavors and he and his darling bride picked three of my all time faves! (Although to be fair…they are all my faves! I have a little cupcake love going on at this Nest! Okay…FINE! I could eat a dozen a week! Does that qualify for an intervention?)
*As an Amazon Associate I earn from qualifying purchases. This post may contain affiliate links, which means that I may make a commission from any purchases at no additional cost to you. Thank you for your support!
They requested Triple Chocolate Malt, Lemon Raspberry, and the timeless classic…Red Velvet! How can you go wrong with those three amazing picks? Not possible! Rumor has it that cupcakes are out of fashion. I HIGHLY disagree! Who doesn't love their very own little cup of happiness!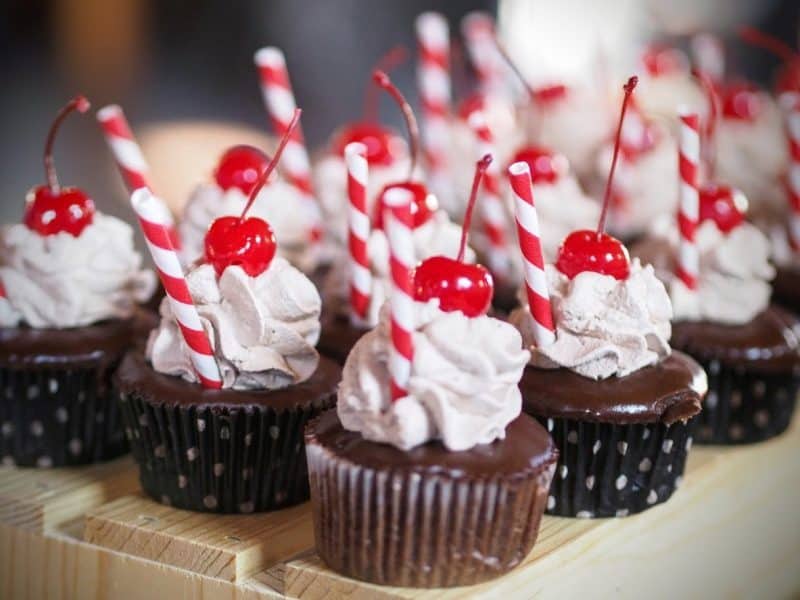 I get asked how I do hundreds of cupcakes for an event? It's really simple…I bake and freeze. The real trick is doing this without "smooshing" the cupcakes. (Is smooshing a word…I hope so… cause I love it!) For Spencer and Ally's wedding I was doing 300 cupcakes. 100 of each flavor. In order to do that I had to freeze them. A little well-known secret among bakers…freezing cake, any cake, adds moisture. So, if you start out with a really good cupcake that is moist…after freezing them you will have an AMAZING cupcake that is really moist! I place mine all on a cookie sheet. Allow them to freeze. Transfer them to gallon size bags. Then stack them. Since they are already frozen…stacking them won't "smoosh" them. Ta-da!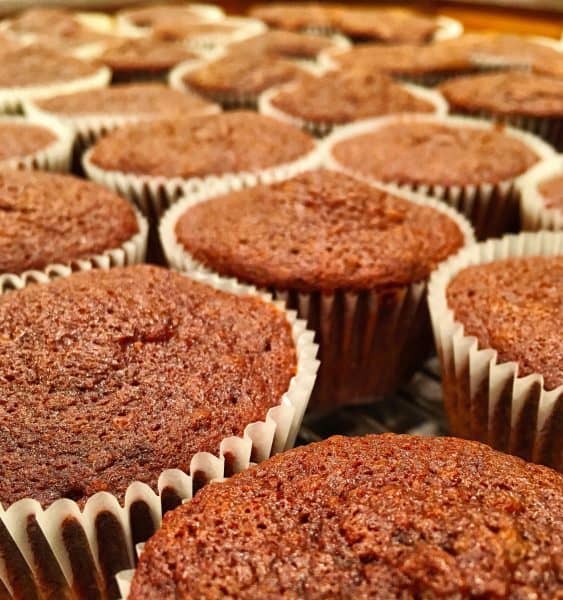 I was really happy with how all the cupcakes turned out. I had a lot of help from my daughter in frosting and detailing them. (She is the BEST sidekick a gal could ask for!) I always frost the day of the event. I want the frosting to be fresh and I want less chance for mishaps. (Not admitting I'm a Klutz but, I am!)
I promised to share photo's so here are the highlights… Let's start out with… The "Star" of the show…next to the bride of course! These ultra yummy Raspberry Lemonade cupcakes. A light lemon cake, with lemon zest, filled with a raspberry puree (not jam or jelly…no, no, no…pure raspberries!) topped with a lemon buttercream, fresh raspberry and a mint leaf. I think this cupcake won the overall round! Everyone loved the cake but, that raspberry filling! Hello Darlin'!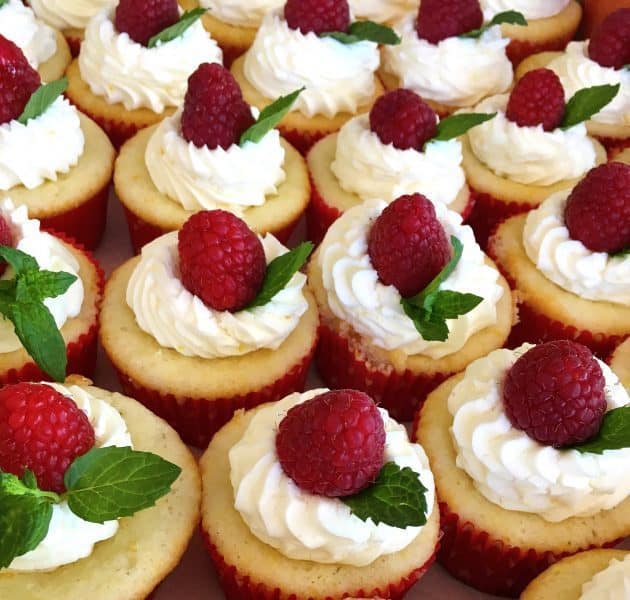 Next were the Triple Chocolate Malt cupcakes. This is an original recipe. A rich chocolate cake that is dipped in a dark chocolate ganache and then topped with a chocolate malt flavored whip cream with a cherry on top! I love making this cupcake. It's just a fun happy cupcake! Weddings should be fun happy events!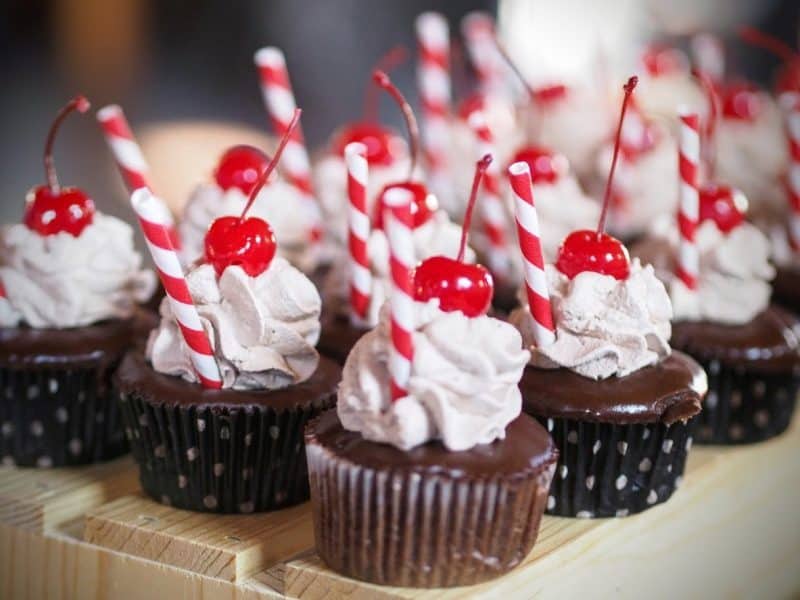 You can't beat a classic. The red velvet cupcake is a C.T.C. = classy timeless classic! I love the deep rich red of a red velvet cupcake. Top these off with classic cream cheese and cake crumbs. They just don't need a lot of "fluff". They are beautiful in their simplicity. I was in love with the cupcake liners for these cupcakes. Wilton is now lining some of their wrappers so dark colors don't bleed through! About time! Hooray!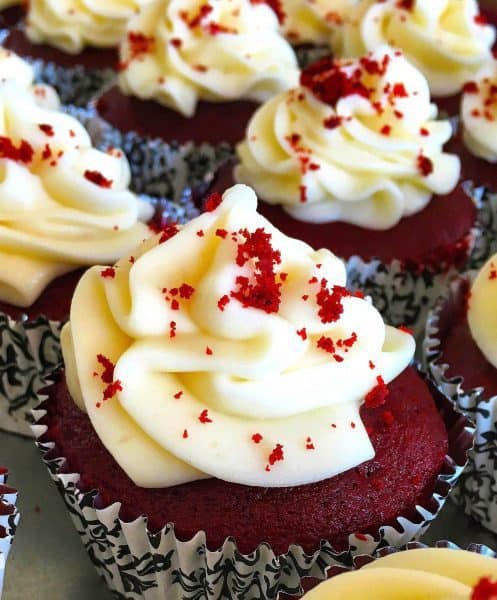 When we arrived my Aunt asked me if I could decorate the wedding cake. Another favorite thing of mine to do! Hooray!!! So, while I decorate the wedding cake with fresh flowers, an army went to work setting up the cupcake displays for me! (They ROCKED!)
This wedding was in a darling little barn in Draper, Utah, so the wood crates fit perfectly! Ignore the mess going on…we were still setting up! Creativity is messy work! (wink, wink)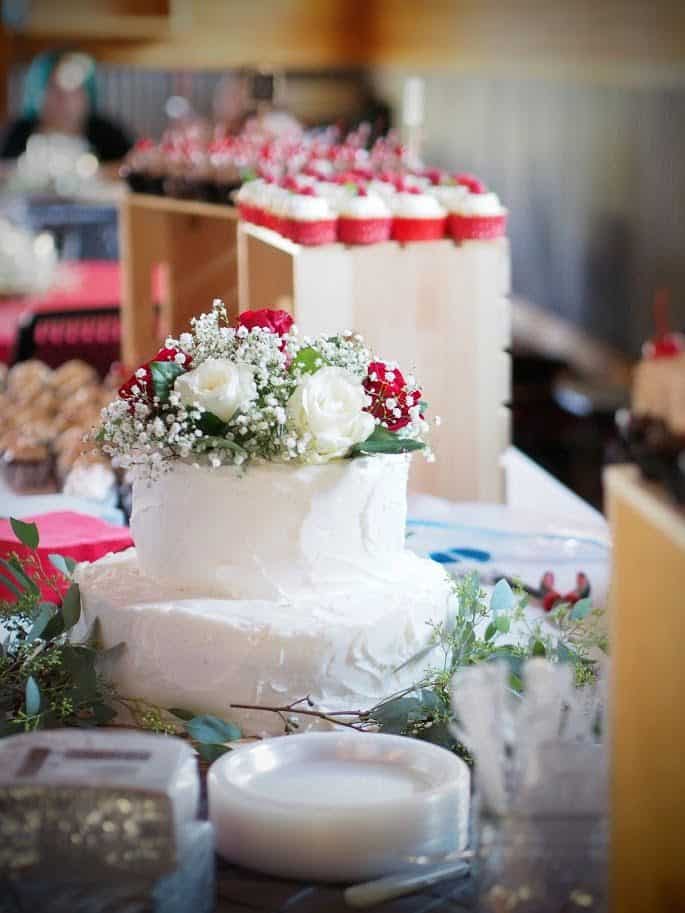 I really truly love very simple wedding cakes with fresh flowers! My all time favorite. Textured frosting on the cake, fresh flowers on top and around the base. Voila! Beautiful Perfection!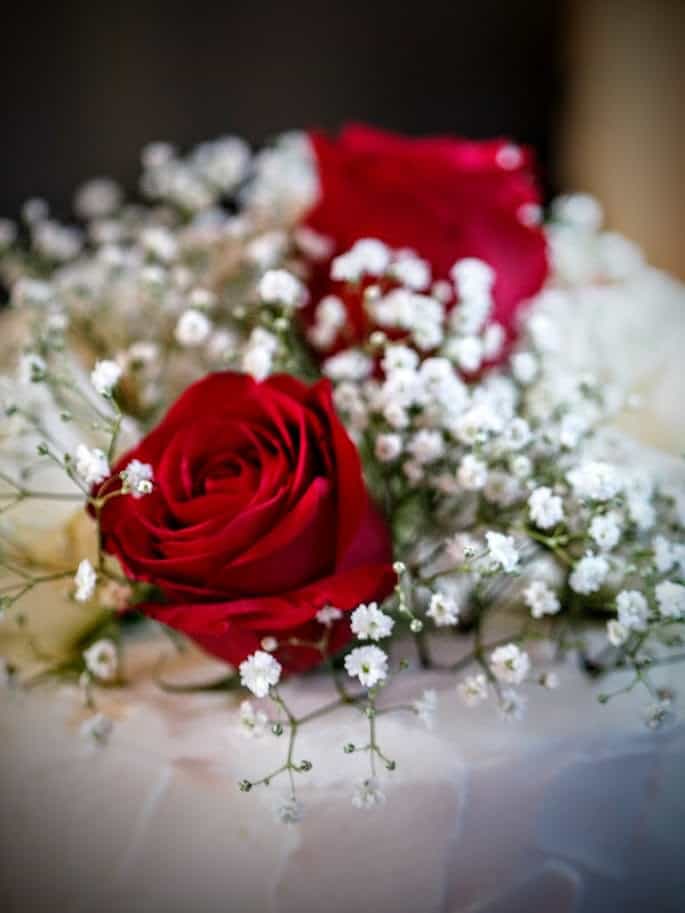 Any party or wedding is about the "details"! I'm a HUGE believer in that concept! If you are going to go to all the work to plan an event and cover all the "big" stuff…be sure to cover the details of the small stuff too! These darling cupcake flavor tags are a perfect example of covering the "small" details. They were perfect for our display!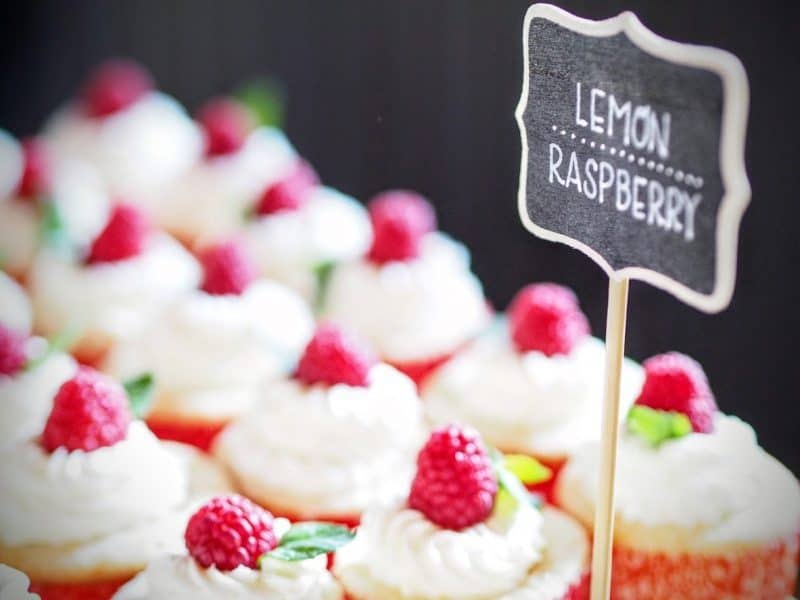 Here's another example of the "small" details… Flavor tag, cute straws in the cupcakes that went with the "malt" theme, and cute cupcake liners. It just ties it all together and leaves no loose ends.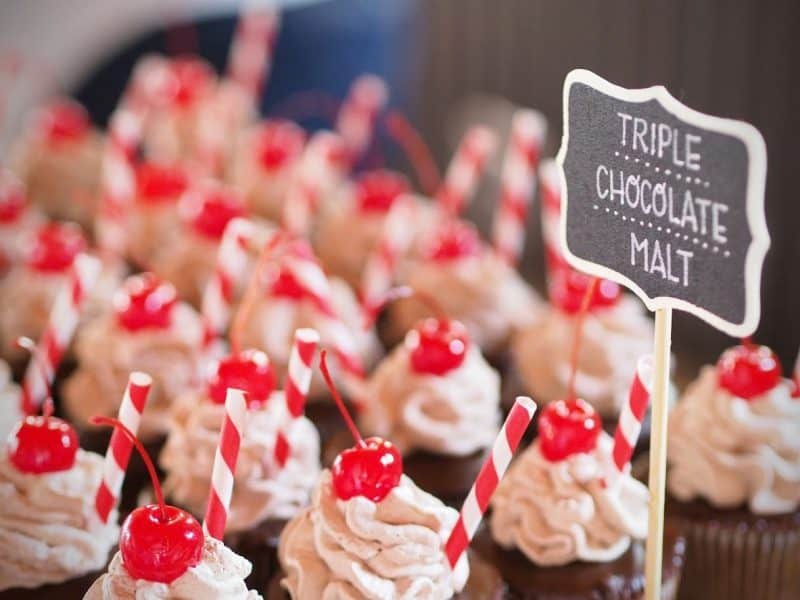 The best part of any wedding…The Couple! It's why we're having a celebration! Spencer and Ally are just one of the most genuine couples you will ever meet! I adore them! Celebrating them was fun and easy! I loved Ally's dress! It was beautifully timeless and yet stylishly retro. The length was just below the knee with a full skirt and a timeless sheer organza top! She was stunning! She was also the PERFECT bride. She was relaxed, she wasn't picky about anything, she was so grateful for every detail and act of service, and she made a point of greeting everyone. Did I mention how stunningly beautiful she is! It can't be stated enough! Oh my goodness Spencer is one lucky man! He's pretty handsome himself … no one has a better beard in all the land!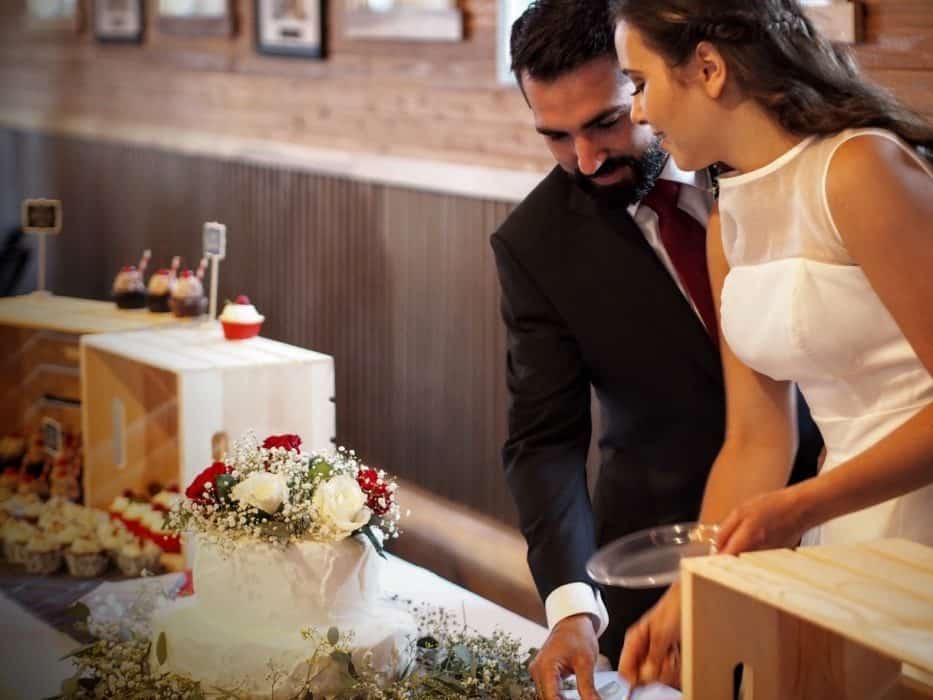 It was a wonderful day! Thank you Ally and Spencer for giving me the honor of sharing in your happiness. I hope my little cups of cake made your guests feel special and important! Wishing you both a life filled with cupcake joy and eternal bliss! Welcome to the extended Nest Ally! We are so happy to have you join us!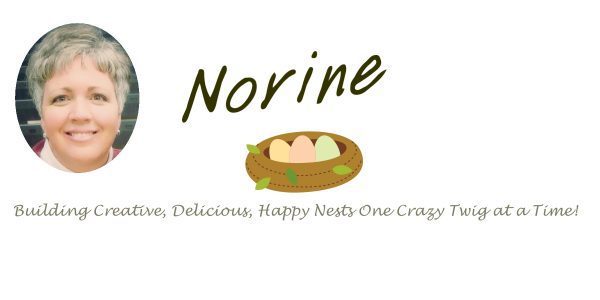 Some side notes:
Here are the link's for the cupcake recipes that I used. If you have any questions please comment and I'll get back to you in a jiffy!
For the Raspberry lemonade cupcakes I used the recipe from Shugary Sweets. Here is the link. If you are at a high altitude like I am I recommend using half regular flour and half cake flour. The Raspberry filling was one bag of frozen thawed whole raspberries placed in a sauce pan, add 4 Tablespoons of Granulated Sugar and 2 Tablespoons of corn starch. Bring to a boil stirring constantly. Allow to cool. Remove the middle of the cake using a knife and fork. Fill with cooled raspberry filling and frost with the recipe from Shugary Sweets.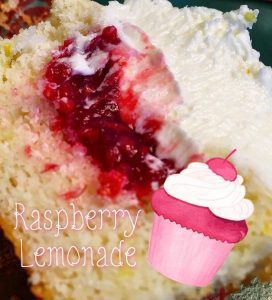 For the Red Velvet cupcake this is my very favorite "go to" recipe. It hails from the blog Art of Dessert. Here's the clickable link. I use their cream cheese frosting too. Go easy on the lemon extract or omit it all together.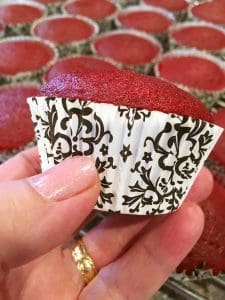 Last, but never least…my triple chocolate malt. The link for the cake is here. The chocolate ganache is here on the site under the dessert tab and it's the recipe for the chocolate covered strawberry cupcakes chocolate satin frosting. To make the whip cream topping I used Baker's Pride whipped topping. One cup whipped topping, whipped. Add in 2 Tablespoons coco powder and 1 tablespoon malt powder. Whip till well incorporated. Frost the cupcake and top with a cherry.