Wooo Hooo! I'm so excited!!! Let's do a Round Up! For those of you new to blogs…a "Round-Up" is when I round-up some of my favorite craft idea's and yummy recipes from other bloggers and share them with you my readers! Since I love the 4th of July, I decided it was the perfect time to do my first official "Round-up!" These simple idea's can be done last minute! Which is great if you procrastinate or, are running in five hundred different directions. Time seems to get away from all of us and these are a few quick, fun, and creative ideas.
*As an Amazon Associate I earn from qualifying purchases. This post may contain affiliate links, which means that I may make a commission from any purchases at no additional cost to you. Thank you for your support!
Let's get going….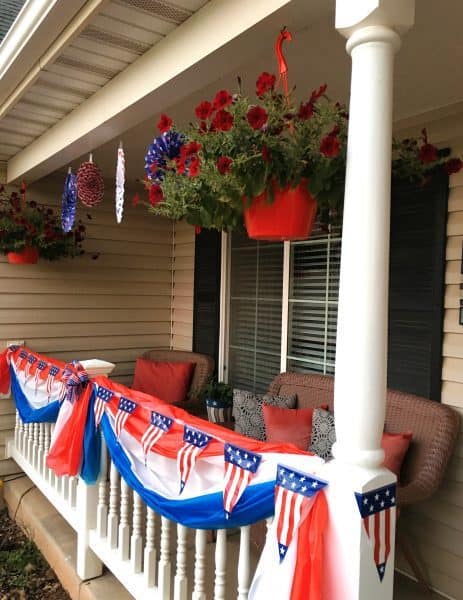 Every year I decorate my front porch using plastic table cloths from the dollar store. I think it started one year because I couldn't afford the beautiful fabric bunting I really wanted so I came up with this idea. I liked it so much I have just stuck with it. You'll need one table cloth in each color, cut in half length ways. I bunch them all up, drape them, and tie them to my railing. This year I found a few other cute decorations at the dollar store. You gotta love the dollar store! Nice thing about the plastic is it withstands the weather and when you're done…toss it away!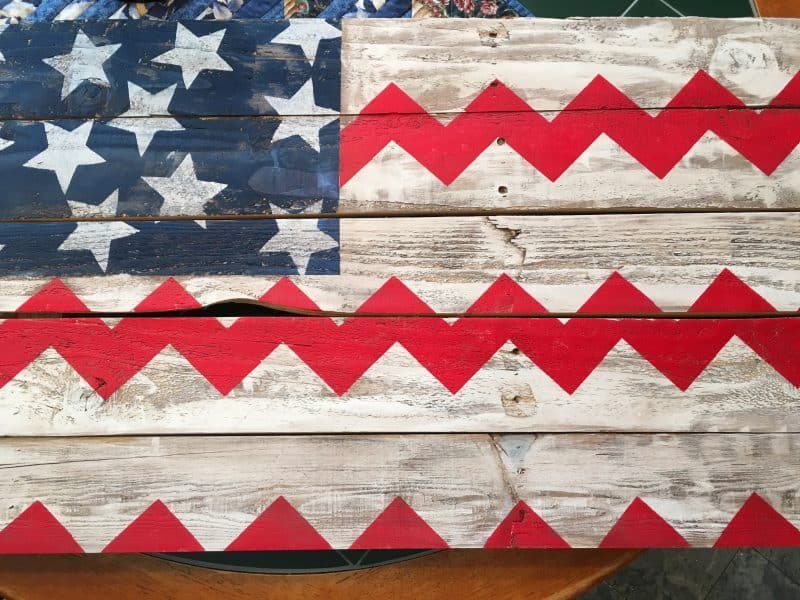 My daughter made this rustic pallet American flag decoration. I love the Chevron stripes! This is the perfect porch accent. She painted the whole pallet white then did the Chevron stripes in bright red. She finished it all with a brown glaze to give it a more antiqued rustic finish. I absolutely love how it turned out! Now to get her to make me one!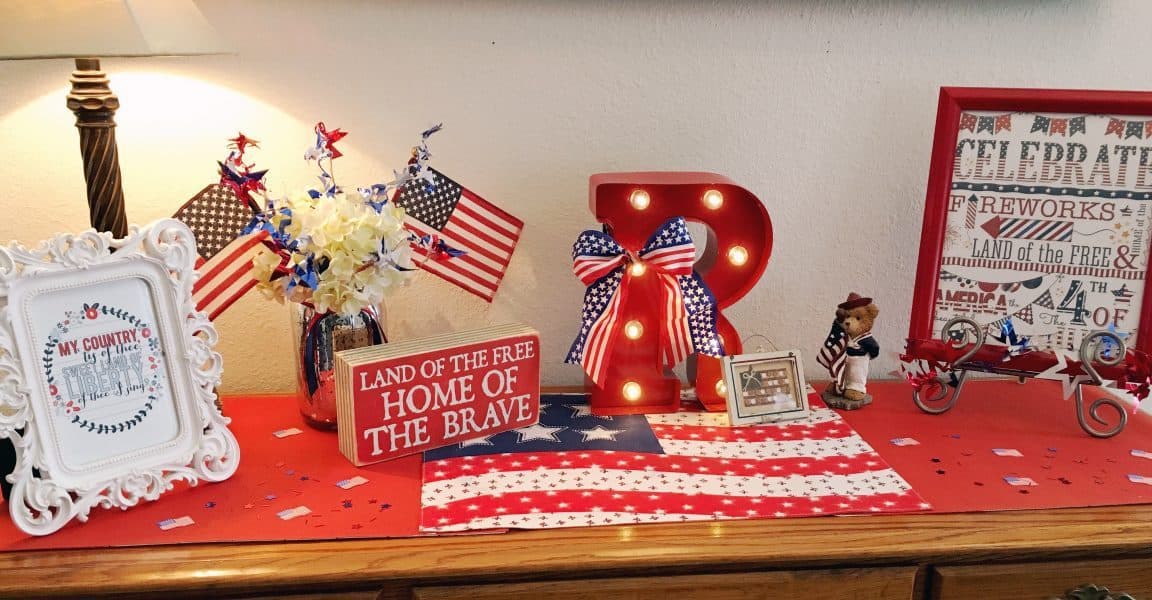 Let's move inside to my entry way. I decided to decorate my entry table rather than my entire house. It's the perfect way to greet guests and get them in the spirit of the holiday! I found my cute place mats at the dollar store! (Guess ya'll know where I shop!) My subway light was from Jo Ann's after Christmas clearance! I've used it for Christmas, Valentines and now the 4th. It's so versatile. It so cute! One of my favorite decor items this year.
My "Celebrate" printable came from 36th Avenue! I absolutely love all the amazing idea's and free printable's from 36th Avenue. If you haven't been to their site, go now and take a look around! It's so much fun! They have 12 free 4th of July printable's that I know you'll love! I printed mine off on card stock in 8×10 and then spray painted a dollar store frame bright red. It's the perfect addition to make my table pop!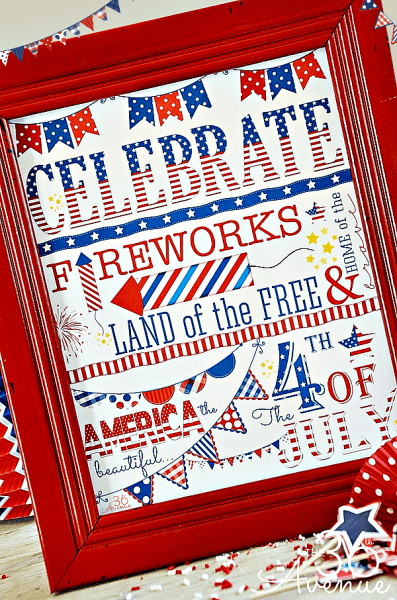 My next free printable came from Kikicomin.com Isn't it super cute? I absolutely love it! I found my frame at my very favorite store… T.J. Maxx! (You thought I was going to say the Dollar Store didn't ya? lol) I love the combo of this print and the ornate white frame. Kiki and Company has some really darling 4th of July idea's. I highly recommend spending some time poking around on her site. She is super talented!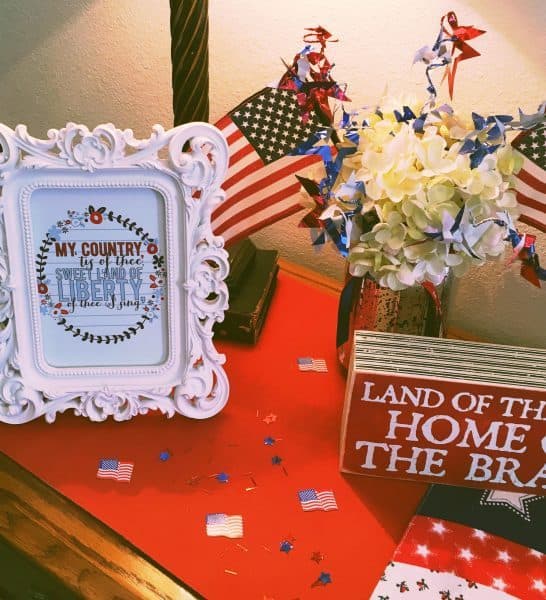 If you're looking for a cute game that everyone can play, old and young alike, you need to check out this darling Bingo game that was created by Rita over at Pink Polka Dot Creations (Don't ya just love the name of her blog!). It's a free printable! I made a set for our party last year. I highly recommend laminating them after you print them off on card stock so you can keep them for years to come!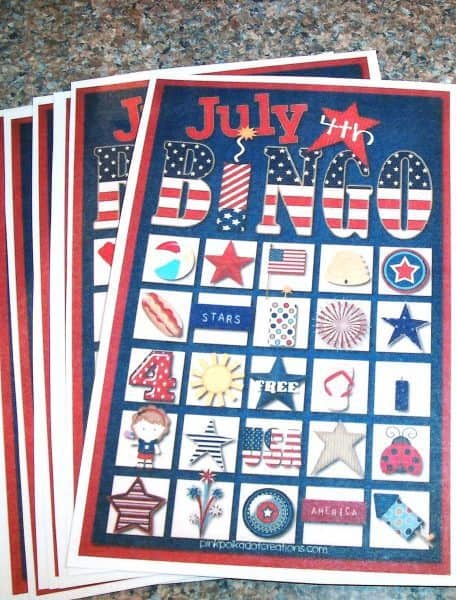 When it's time to serve your guests a drink this fun layered liquid refreshment is one that kids and adults will both enjoy! I know you've seen it all over Pinterest and it really does work! The sugar content is what keeps the different colored layers separate! These are so easy to make and serve. You can find the recipe for this on In Katrina's Kitchen. Talk about a cute website that you could spend hours visiting…this is it! When I grow up I want to be Katrina! (Never mind that I'm way older than she is…I still want to grow up to be her!) Not only is her stuff fun…wait till you see her cute boys!
If you're looking for something more traditional how about my Triple Berry Lemonade! It is the perfect drink for the Fourth! I found my cute milk bottles at…you guessed it…the dollar store! (They should pay me for advertising don't ya think? lol)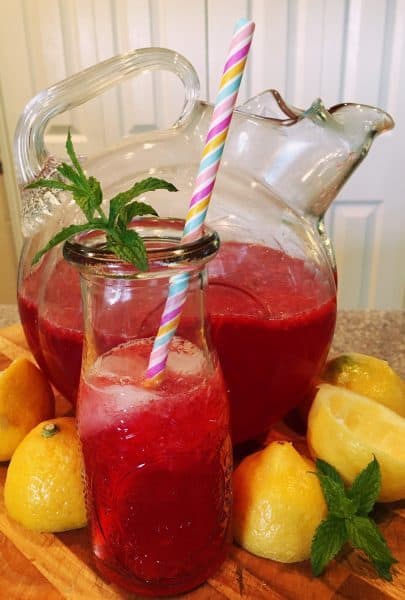 If your searching for a cute idea for your serving table your search may just be over. My cousin gave me this darling red buffet caddie. I just printed out a cute little sign and taped it on. Then I wrapped the plasticware in patriotic paper napkins I found at T.J.Maxx and tied them up with star wire decor. Simple, cute, and handy! If you can't find a caddie you could use a red basket!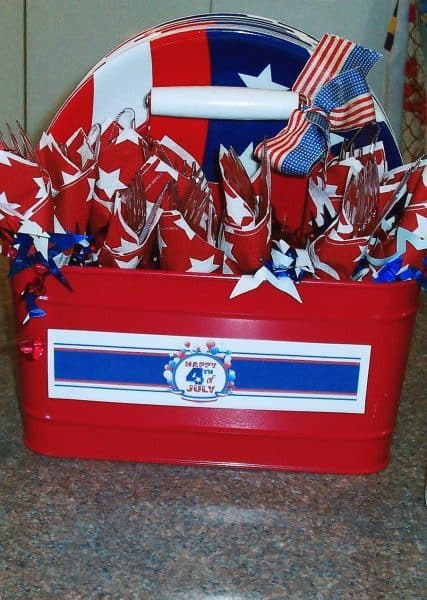 Are you stumped on what to serve your guests? I found some really yummy ideas! How about these beautiful patriotic parfaits from Life Tastes Good Just Like It Should! I have to agree with Marion on that! Life does taste good! She has some amazing recipes over on her site and her photography is stunning. So stunning, you should have a fork in your hand when scouring through her website.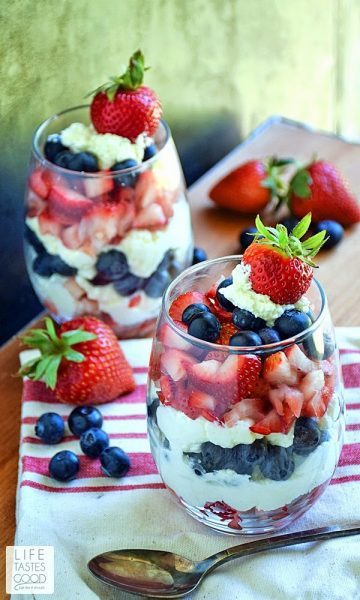 Okay I have a confession! I have a blog crush! It's a big one too! I absolutely LOVE Maria and Josh over at Two Peas and Their Pod! Her photography…AMAZING! Their posts…perfection! Her recipes…BRILLIANT! Her nails are always painted so cute too! I aspire to be as good as she is…someday! (It's a long way off folks…but you have to have a dream!) The other day she posted this stunning Watermelon, blueberry and Jicama Arugula Salad with Honey Lime dressing and I knew I had to add it to my post! Isn't it mouthwatering! I really want to serve this at my dinner this year!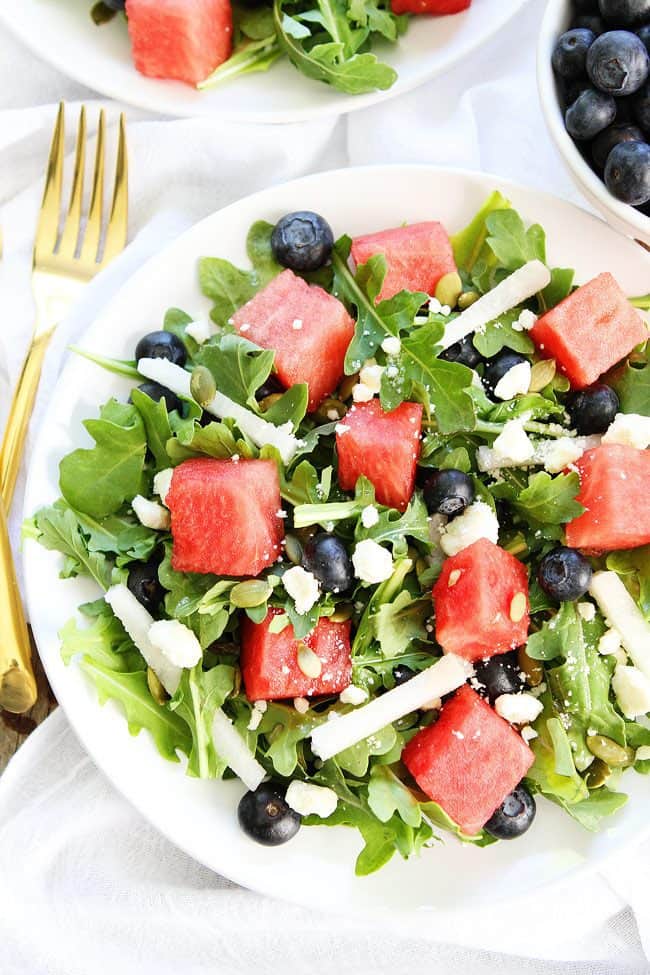 For your main course how about my wonderful Ribs? The link for that recipe is right here! You could also do the traditional All American Hamburgers and Hot Dogs! (I've got a fun Hot Dog Recipe coming tomorrow!)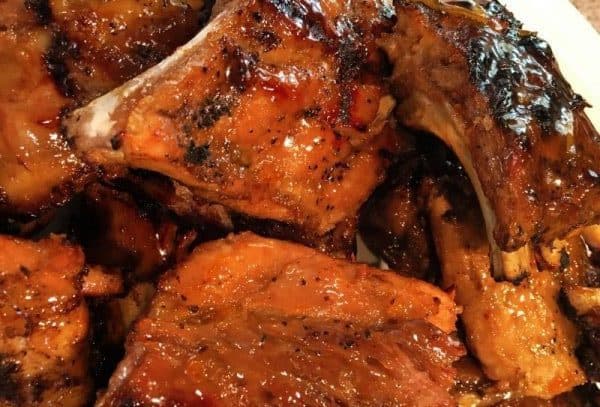 For sides to go with those awesome ribs how about these amazing Parmesan potatoes or the Shrimp Salad. Both are delicious and would go with any main dish you choose to serve.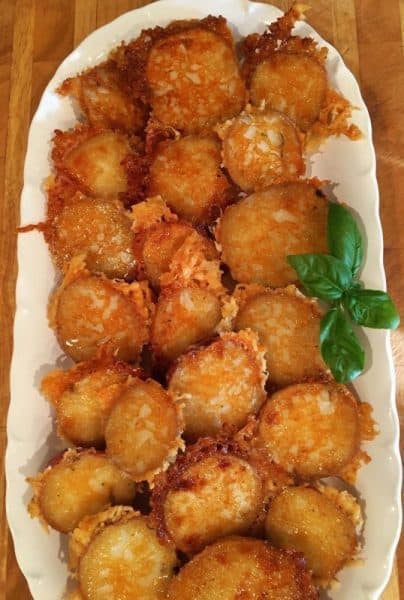 For dessert I love this mixed berry and rhubarb Pie! It's made just like the Strawberry Rhubarb Pie but, I added one diced apple and a cup of Triple Berry Blend and reduce the strawberries to one cup and the Rhubarb to 3 cups. I like to call it Brumbleberry Pie! It's delicious and worthy of the Red, White, and Blue!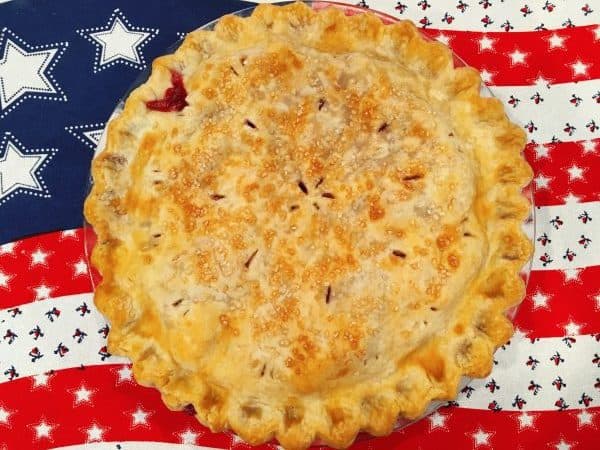 Another fun dessert idea are these adorable cones! These patriotic cones come from The Nobel Pig blog. The Pollak family owns a beautiful winery and they share family fun ideas on their blog. I kind of have a soft spot for them as her husband, Henry, has Meniere's Disease which effects your inner ear, something I know a little bit about! They have a creative and beautiful blog to go exploring on. I absolutely love these cones! I think the kiddos would LOVE them too!
Let's talk about treats! Who doesn't love treats? I love treats! I REALLY love treats. (I may love them too much!) Here are some really fun and crafty idea's! Kimberly over at A Night Owl has the cutest idea. Her painted bushel basket is perfect for serving treats! I just love this idea and you'll love Kimberly's site. She is a super cute "late night" crafty chick with fun and simple ideas. Love her blog too! Maybe cause I'm a bit of a night owl myself!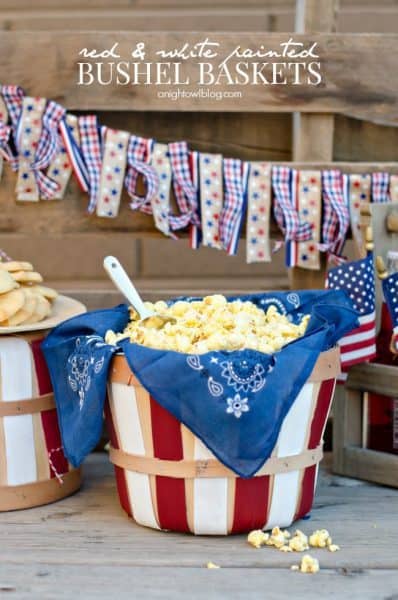 A popcorn ball on a stick! Brilliant! Kierste over at Simply Kierste (Love a blogger who uses her own name! That's my kind of gal!) came up with these yummy popcorn balls! Best part…they are made with marshmallows just like rice krispy treats and then dipped in white chocolate! Hello?!!! What kid (or grandma…just sayin') wouldn't want to munch on one of these balls of happiness! You have to check out all Kierste other fun idea's! She has darling free printable's (I love the word "free"). Like her summer "Reading Bingo" or her "Summer Bucket List" check off sheet. Just to mention a few. Seriously, calling all Mom's… go check out Kierste's site! You are going to be in heaven!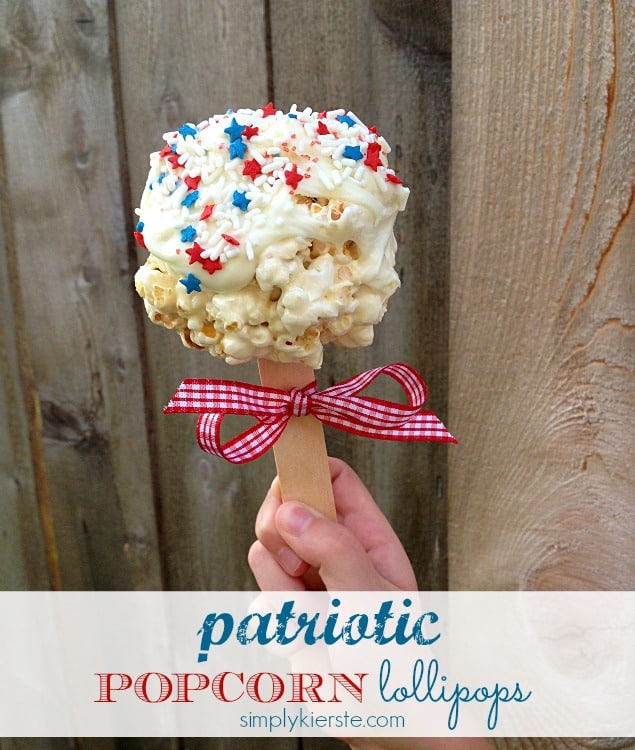 Let's cool it off with some delicious snow cones! I love making snow cones! My kids used to have a snow cone stand that they ran every afternoon out in front of our house! I found the BEST snow cone syrup recipe! It's quick, easy, and will fill your summer time with a rainbow of wonderful flavors! You will need 2 Cups of sugar to 1 cup of water. Bring to a boil then add one packet of your favorite Kool-aid flavor! Let it cool completely. When it is cool, pour on top of your shaved ice, and dig into that cup of ice cold happiness! I bought my Snow Cone machine by Rival from Wal-Mart for $19.99 and it Rocks!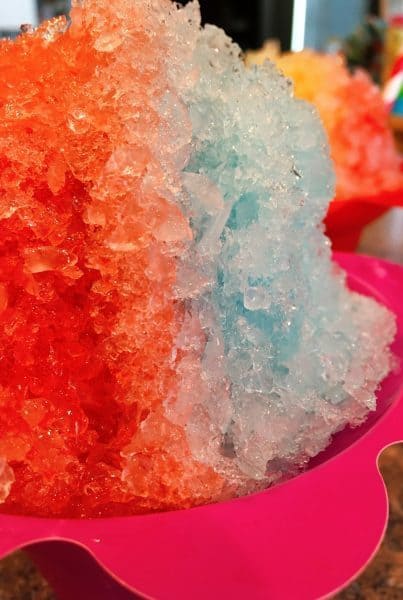 Nothing is better after a long day of parades, games, BBQ's, and snow cones than watching the fireworks display! It's the exclamation point to America's #1 day! That activity calls for more….ummm, you guessed it…TREATS! I found these darling 4th of July Kits on Kristi Murphy's website. They even come with the free printable "clasp" tags! Kristi is just so…so… "Now"! I honestly can't think of a better word to describe her! Her site reminds me of my daughter-in-law Brooke! Everything about Kristi's site is Brooke! It's chique, beautiful, stunning, and AMAZING! Her photography and graphic design skills are MAD! In case you can't tell…I'm a little obsessed with Kristi's site!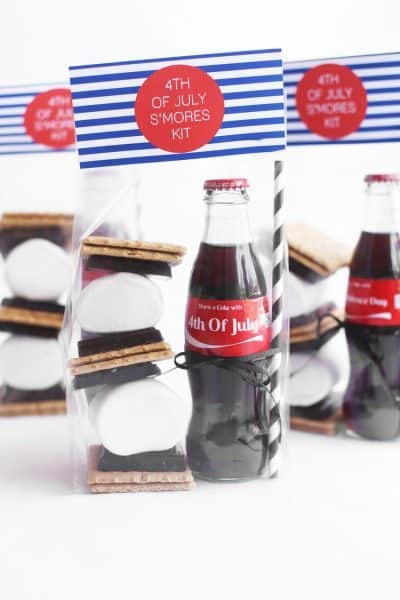 Last, but surely not least, I made these little snack bags last year. They're a great grab-n-go snack as you head out the door to watch the night skies burst into glory! Perfect for young and old alike! The best part is you can make these up ahead of time and be ready to roll when the night skies light up!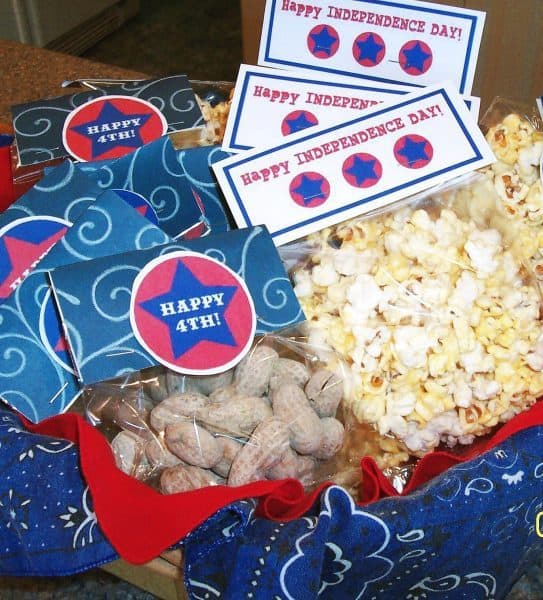 That's it! You did it! You made it to the end. Way To Go! I hope you enjoyed my first "Round-Up". I love a fun festive 4th of July Party and I hope that you will find some things in this post that will help you, your friends, and family, have a Fun, Safe, and Happy 4th of July! If you are looking for even more idea's you can visit my "Proud to be an American" board on Pinterest. It is filled with lots of fun and creative idea's that can be done at the last minute! Because, let's face it, we are all busy Mommy's doing the best we can!
As always…THANKS for stopping by! See ya soon!