Peaches and Cream Funnel Cakes are delicious fried batter cakes topped with powder sugar, fresh peaches, and topped off with a scoop of French Vanilla Ice Cream…for a spectacular Summer treat!
One of the BEST things about summer? The County Fair! Ummmm….Hellooooooo! That Funnel Cake!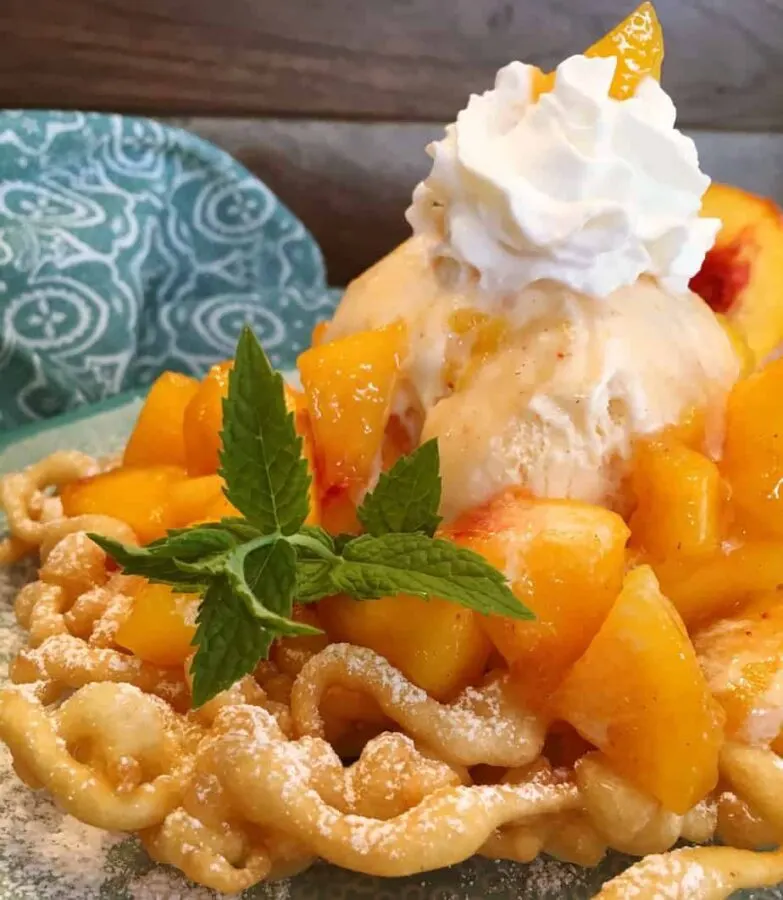 I realize most people go to the fair, I'll take the liberty to quote Charlotte's Web, to see "Some Pig"! Not me! I go to… "Be the Pig"! Yep that's right. I eat my way through the fair! (Someone has to do it, and I happily volunteer.)
Sigh… Funnel Cakes! Seriously who was that genius? Anytime you can fry a sweet batter and then cover it in powder sugar…BAM! Nobel Peace Prize winner right there friends. I think if we all ate a little more funnel cake and watched less media there'd be a lot more love in this world.
When I was looking at all the delicious fresh peaches we bought on Saturday, I decided it was time to take all that "healthy" fruit and make it decadent! (It's what I do!) Why wait for the Fair to indulge. Let's just go crazy and make our own!
How To Make Homemade Peaches and Cream Funnel Cakes
First things first. In a medium bowl add 3 cups peeled and diced fresh peaches. Add 1/4 cup of sugar and a sprinkle of cinnamon. Mix that all up. Cover and place in the refrigerator.
Next in a bowl mix together 3 cups of flour, 1/4 cup of sugar, 1/4 tsp. salt, and 3 teaspoons baking powder. Whisk together until well blended.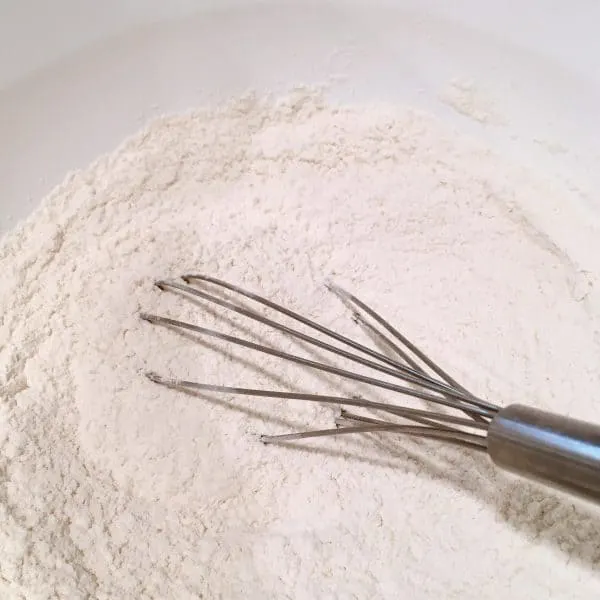 In a small bowl beat two eggs.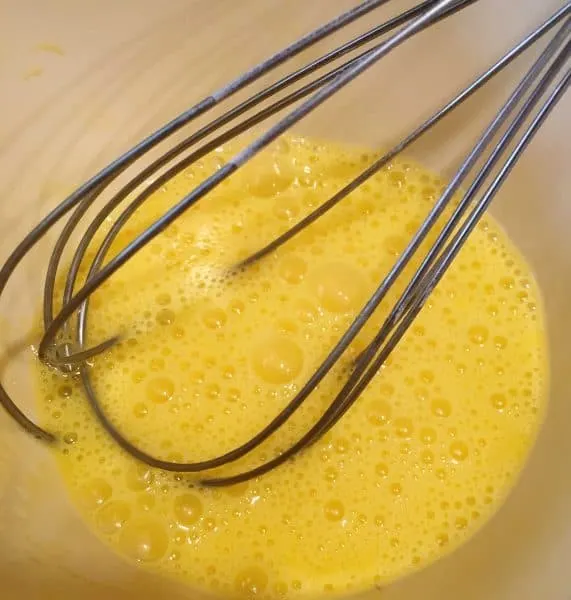 Add 1 cup milk, 1 cup water, and 1/2 tsp. vanilla extract. Mix together until well blended. Easy Peasy right? So simple!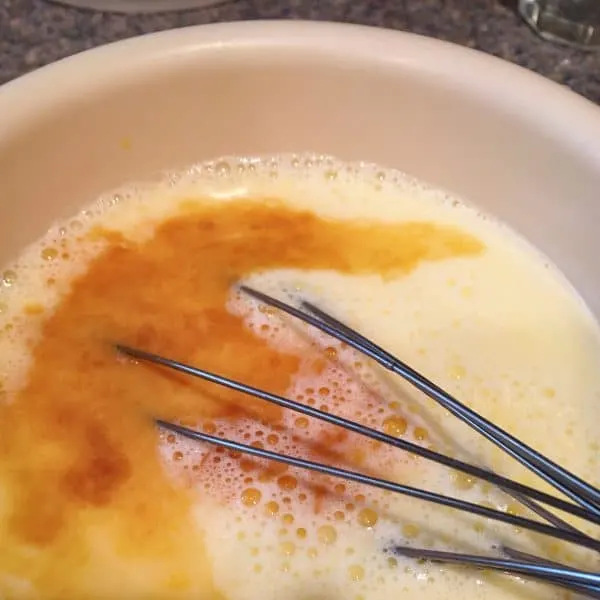 Mix the dry ingredients with the wet ingredients.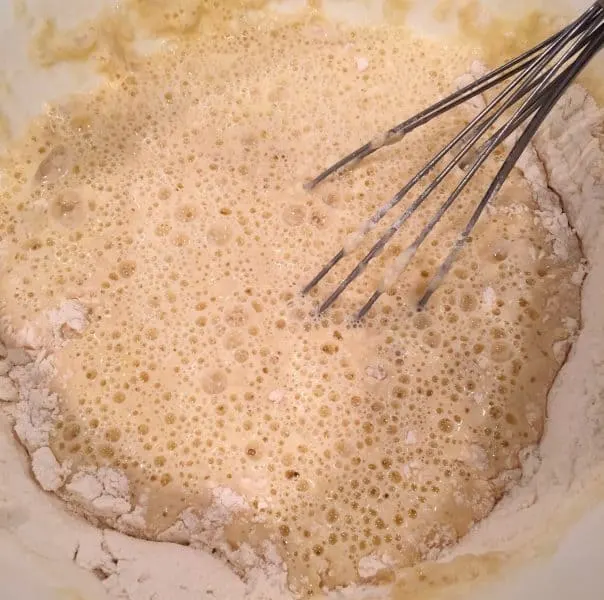 Beat until nice and smooth…like my facial skin used to be. I remember those days. Sniff, sniff. (I digress…back to funnel cakes.)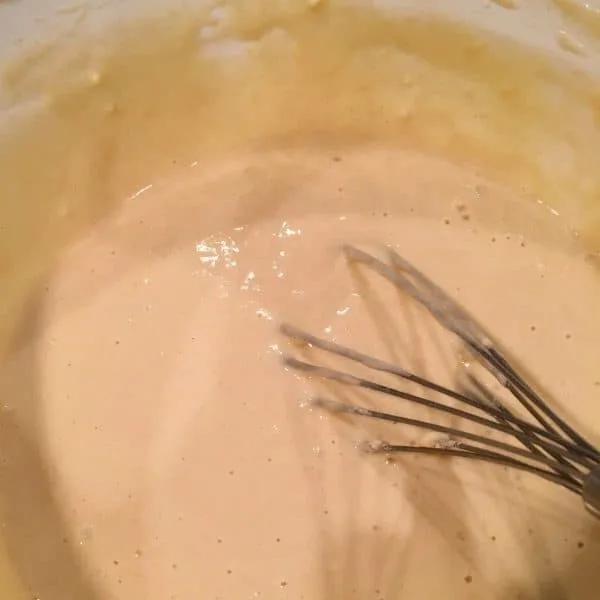 Tip on Frying Funnel Cakes
Choose a sauce pan the diameter you want your funnel cakes to be. Add 2–3 inches of vegetable oil. Turn handle towards the stove! ALWAYS!!! The last thing we want is for that handle to get hit spilling hot oil! I've spent time in a burn unit…you do NOT want to do that! So Please…for me…be careful whenever you are frying with hot or boiling liquids.
Bring heat up on the oil until a drop of water skips across the top, and you scream, jumping back 12–18 inches. Yep! It's ready! (Right about now the fair is looking pretty dang good, huh? Lol Hang in there!)
TIP: Lay out a double layer of paper towels to place funnel cakes on when done frying. You will also need a chopstick or fork to turn the funnel cake during the cooking process.
Place your finger over the end of the funnel. Add batter. Hold funnel about 5–6 inches above the hot oil. Release your finger and drizzle the batter around and around until you have a funnel cake sizzling away. It takes about a little over half the batter in the funnel.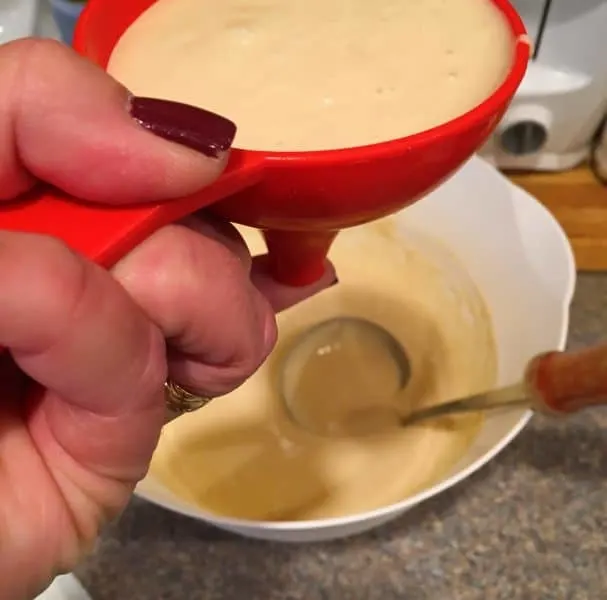 Allow to cook until golden brown. Isn't that cool. (I'm like 99.9% sure this is how my brain looks now after raising three children!)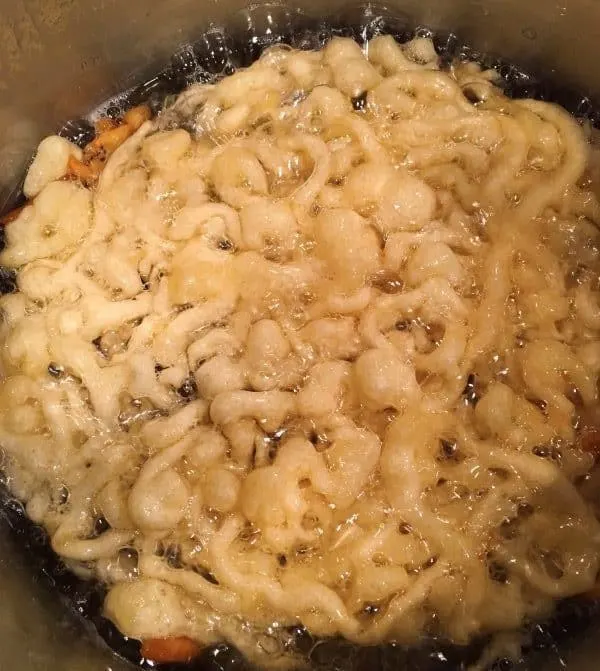 Using the chopstick, or fork, slide into a hole about 2 inches from the edge. Lift and gently turn cake over. Cook the other side.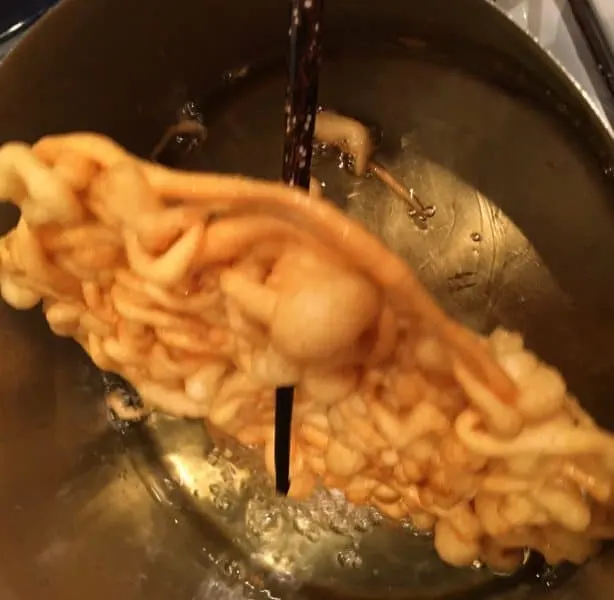 Toppings for Funnel Cakes
Remove from heat and place on paper towel to drain.
Now for the FUN part!!! Let's dress this pretty squiggly cake up!
Place the funnel cake on your serving dish. Sprinkle with Cinnamon sugar and then powder sugar.
I know, I know! The fair only does powder sugar. You're just gonna have to trust me on this one! The cinnamon sugar with the Peaches is the BOMB!
Then add one scoop of vanilla ice cream, top with the fresh diced peaches, and a squirt of whip cream!
YUM!!! Take that Fair Funnel Cake!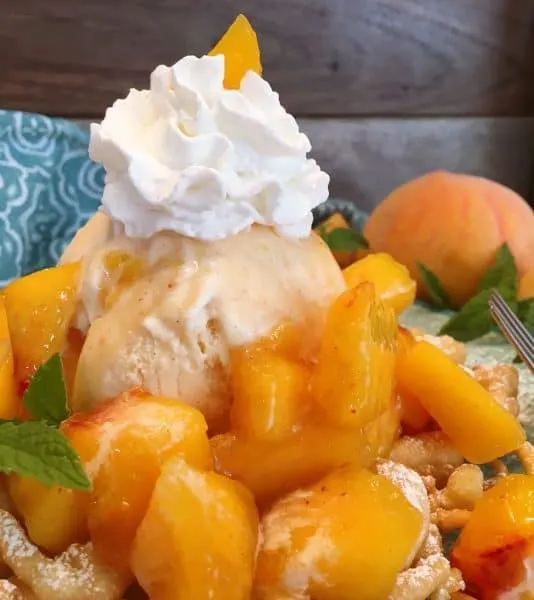 All you need now is a fork! Well…maybe a bib to catch-all your drool!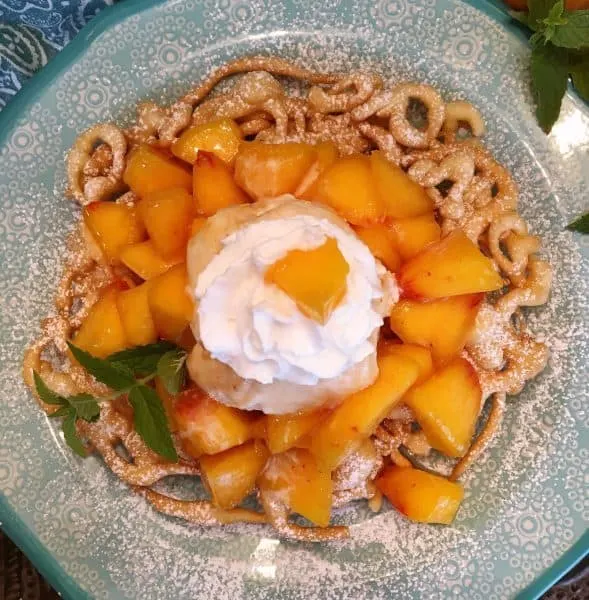 Mars saw me eating this and wanted to know if it was any good?
Well I can proudly say…after his SECOND…he declared them to be the BEST treat EVER!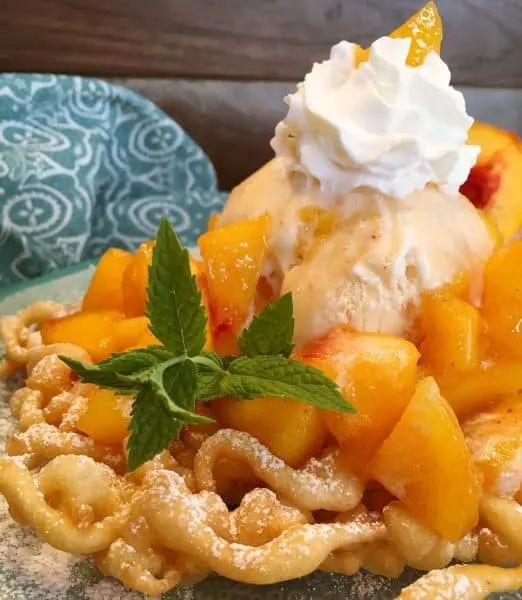 This may look like a complicated dessert. It really isn't. Took me about 10 minutes to whip up the batter and less than 5 to fry each funnel cake. I did my peaches the night before. So within 20 minutes I had this wonderful dessert ready.
This is a perfect Peachy Treat! Who needs to go to the Fair when you can make a delicious funnel cake loaded with all this YUM at home!
If you enjoyed this fun recipe you may also like these other Summer Favorite Recipes
Happy Nesting My Friends!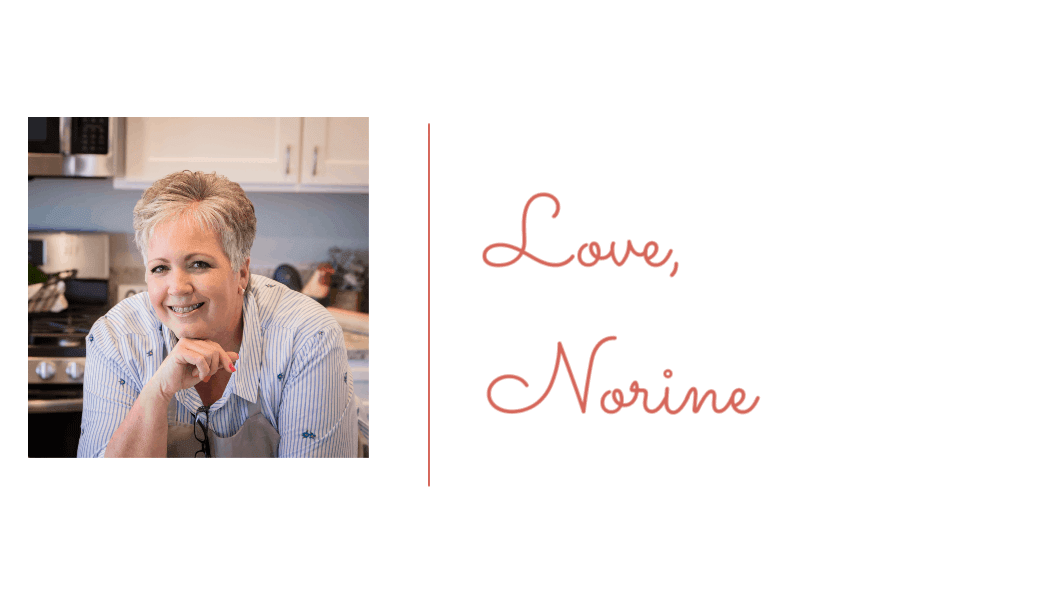 Yield: 5-6 servings
Peaches and Cream Funnel Cake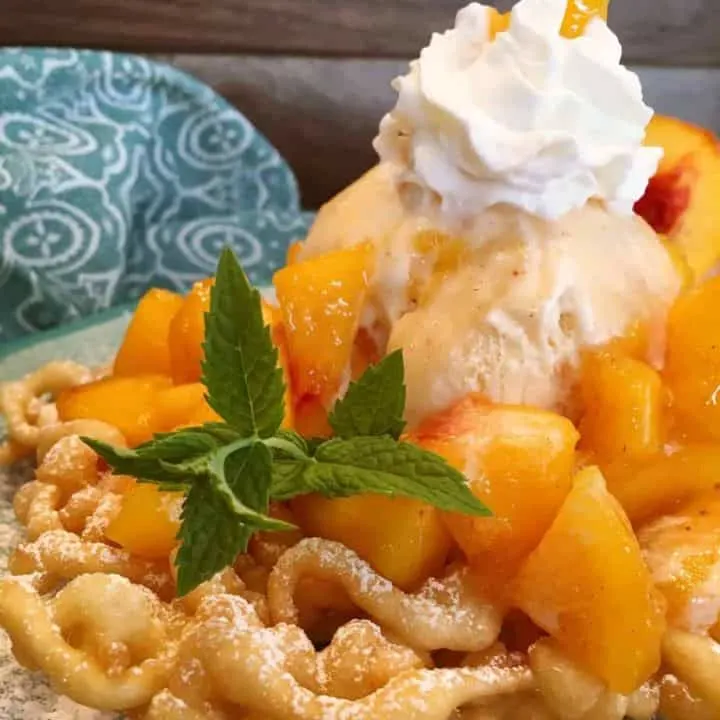 Who needs to go to the Fair for this favorite? Make your own delicious funnel cakes at home! Top with cinnamon sugar, peaches, and ice cream for one spectacular dessert!
Ingredients
Peaches
4 large peaches, peeled and diced
1/4 cup sugar
Dash of Cinnamon
Funnel Cakes
3 cups All-Purpose Flour
1/4 cup of sugar
3 tsp. baking powder
1/4 teaspoon salt
2 eggs
1 cup milk
1 cup water
1/2 teaspoon vanilla extract
Oil for deep-fat frying
Confectioners' sugar
Cinnamon Sugar
Vanilla Ice Cream
Whip Cream
Instructions
In a medium bowl mix diced peaches with sugar and cinnamon. Cover and place in refrigerator to chill.
Funnel Cake
In a medium bowl mix together flour, sugar, baking powder,and salt. Mix with wire whisk until well blended. Set aside.
In another medium sized bowl beat two eggs. Add milk, water, and vanilla. Mix well.
Combine dry ingredients and wet ingredients. Mix until smooth.
Place paper towels on a baking sheet to drain cooked funnel cakes on.
In a medium sauce pan, the diameter of the size you want your funnel cakes, place 2-3 inches of oil. Heat oil over medium heat until hot enough to deep fry batter. Test with a tiny drop of water...if it skips across oil it's ready for frying. *Be sure handle of pan is turned inwards towards the stove top.
Place your finger over the end of a funnel. Place a heaping scoop of batter into the funnel. Hold funnel about 5-6 inches above the hot oil. Remove finger holding the batter and begin drizzling into the hot oil, going around in circular motions and back and forth.
Fry on one side until golden brown. Use a fork or chop stick to gently turn the funnel cake over and allow to cook on the other side until it is golden brown.
Remove from oil. Drain on Paper towel.
Place funnel cake on a serving plate.
Sprinkle with cinnamon sugar, then with confectioners sugar.
Place a large scoop of vanilla ice cream in center of funnel cake.
Scoop diced peaches over the top of Ice cream and funnel cake.
Top with a squirt of whipped cream.
Recommended Products
As an Amazon Associate and member of other affiliate programs, I earn from qualifying purchases.
Nutrition Information:
Yield:
6 servings
Serving Size:
1 serving
Amount Per Serving:
Calories:

641
Total Fat:

8g
Saturated Fat:

3g
Trans Fat:

0g
Unsaturated Fat:

5g
Cholesterol:

76mg
Sodium:

399mg
Carbohydrates:

133g
Fiber:

6g
Sugar:

76g
Protein:

12g