Delicious BBQ Country Pork Ribs are slowly baked in the oven and then seared on the grill and slathered in BBQ sauce for the perfect summer grilling recipe!
Have you met "Baby Back's'" big brother "Country"? I know when it comes to ribs…"nobody puts baby in a corner!" (Let's spice this post up with a splash of Dirty Dancing quotes!) The problem with this? Baby gets all the attention, and her more mature family member is completely overlooked!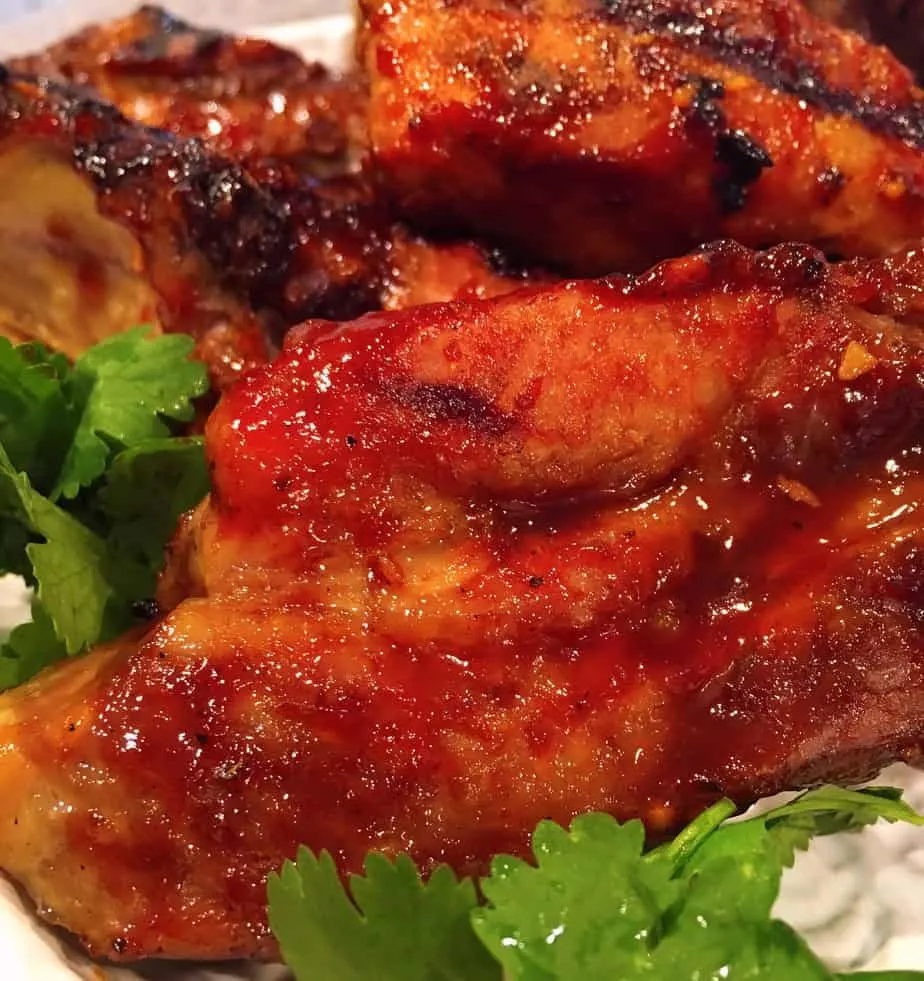 Which is a crying shame. These big thick meaty Country Pork Ribs are tantalizing and totally unforgettable! They're Slap Yo' Mama good! (Only don't slap your Mama!)
As a bonus… Country Pork Ribs are a lot less costly than their expensive counterpart "Baby Back"! That is a win-win in my check book! (I'm glad something is winning that battle!)
How To Make Country BBQ Pork Ribs
Let's start with a package of 8-10 country pork ribs. I found mine at Walmart in the mark-downs. $11.00 for all these beauties. WOW! I think any time you can feed 4 adults ribs for $11.00 it's a BIG DEAL!
TIP: Line a 9 x 13 baking dish. You want a nice deep dish for pre-baking these ribs because there will be a lot of juices from the ribs.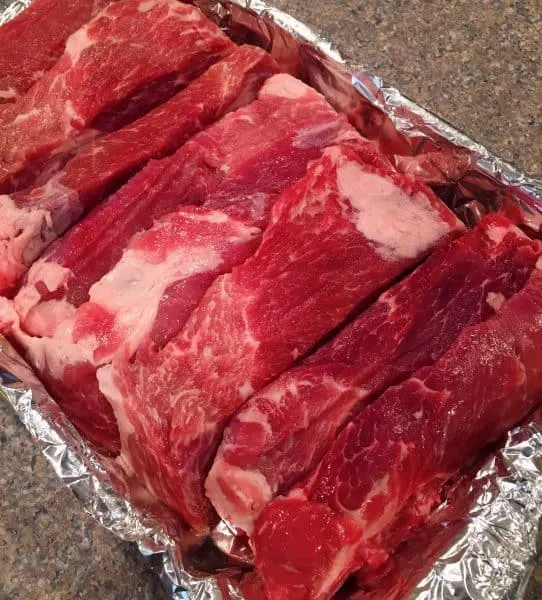 Be sure to place the ribs bone side down.
Country Ribs have a big thick bone that runs just along the bottom edge of the rib. It does not cover the entire bottom. Be sure the bone is down and that the ribs are all lined up in a row.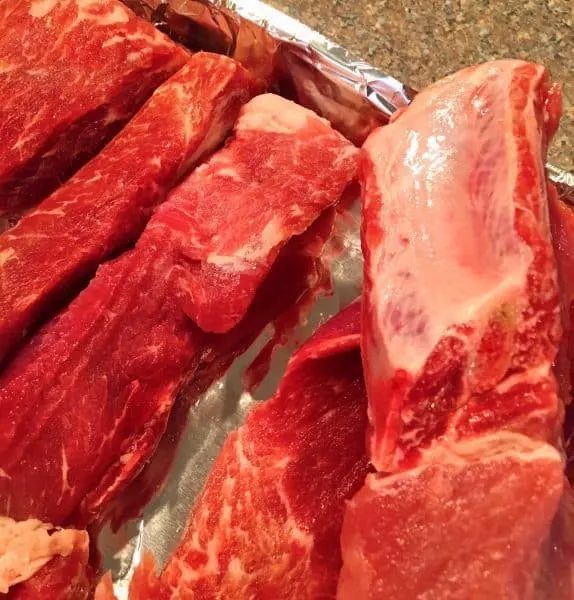 Season with salt, pepper, onion powder, and 1 large heaping teaspoon of minced garlic. Spread the minced garlic all over the top of the ribs.
I'm not going to give you "exact" measurements for the seasonings because I just sprinkled them all over the top of the rib. Season to your taste.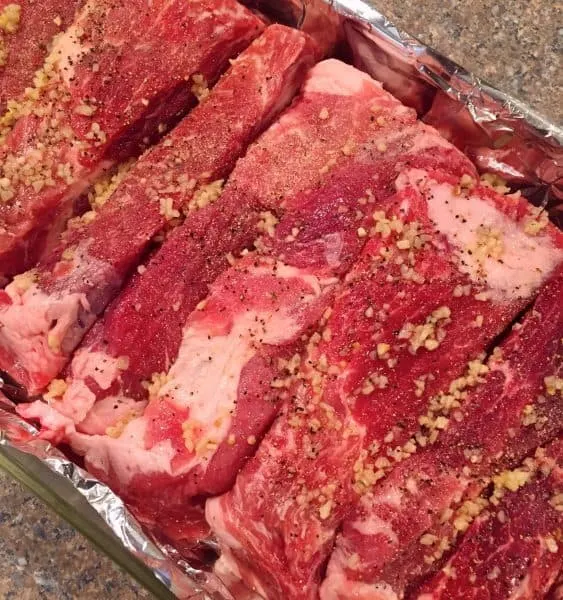 Slice one fresh lemon thinly. Place lemon slices over the top of the pork ribs. Why lemon? Lemon is a natural tenderizer. It breaks down the tough proteins in meat.
How to Cook Country Pork Ribs
Cover with foil and place in a preheated 250° oven for 2 1/2 hours.
ALWAYS cover your slow cooked meat with foil. Why? Because it creates steam which is another tenderizer for meats and allows all the flavor to circulate around the meat. Cooking uncovered dries the meat out.
TIP: Pre cooking poultry and pork allows the meat a more tender consistency than just grilling. It also reduces burning and meat char.
While the meat is cooking it's the perfect time to whip up the super easy BBQ sauce for these delicious ribs.
Place the BBQ Sauce, Jam, Water, Worcestershire sauce, and Whiskey (Optional) in a medium sauce pan and bring to a boil, stirring occasionally. Turn heat off and allow to cool. It will thicken as it cools. Set aside until ready to BBQ.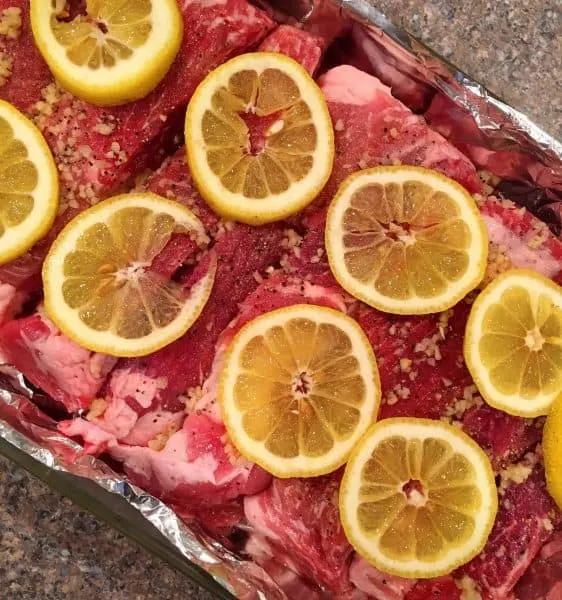 Remove ribs from oven and let to cool for about 2 hours. This will allow the tender meat to firm up before placing it on the grill. Before grilling remove lemon slices.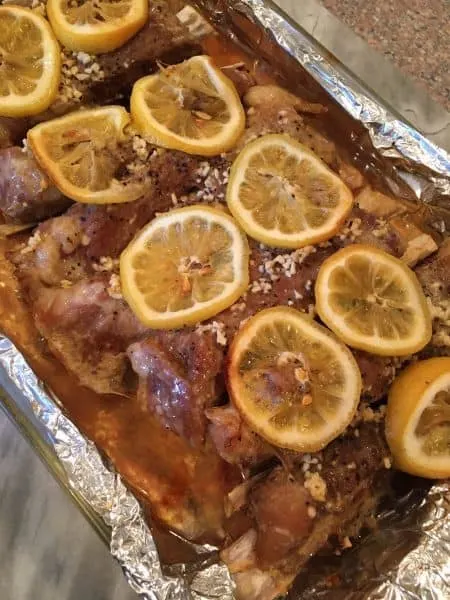 Grilling Country Pork Ribs
Place your cooled meat over a medium high heat grill. Brush both sides of the rib with the homemade BBQ sauce.
Allow meat to cook till a light char forms on the meat, flip and brush other side with BBQ sauce. Remember you are not "cooking" the meat as it is already precooked. All you are doing is caramelizing the sauce a tad and giving the meat a slight char, and smokey flavor.
These Country Ribs are AMAZING!!!! (Do I have ya drooling yet?) I can't over state how yummy these ribs are!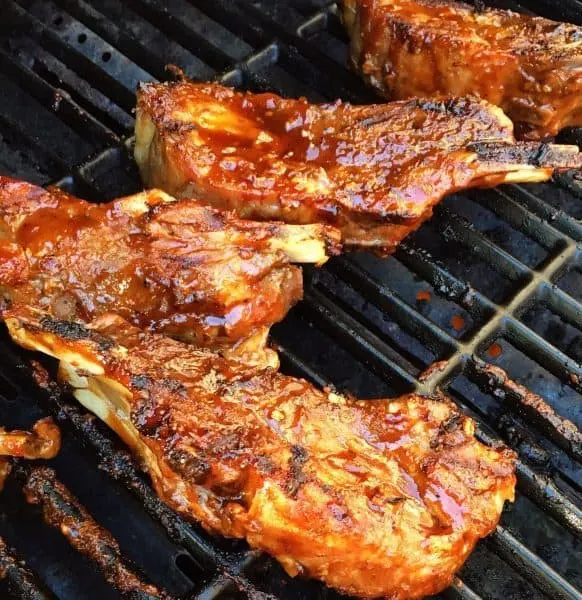 Make sure the Rib has one last swipe of sauce before you take them off the BBQ. Remove meat from grill and serve with your favorite sides.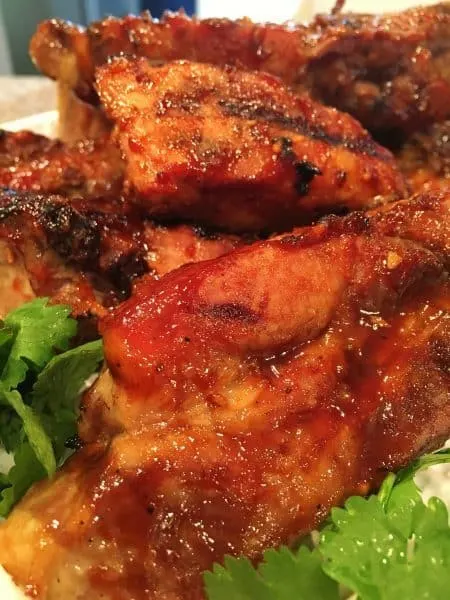 I made these Country Ribs for my birthday dinner. My Nest guests raved!
I don't know why I waited so long to make them. Dad used to make Country Pork Ribs. However, he didn't pre cook and they were always tough. Pre cooking is essential to this recipe!
The BBQ sauce for these ribs is the perfect combination of tangy and sweet. It's an amazing flavor combination. Garnish with a few sprigs of Cilantro. They are so gorgeous you don't need anything else to dress these up.
If you enjoyed this BBQ Country Pork Ribs you might enjoy these tasty Side Recipes
Thanks for stopping by! Remember you can always follow me on Instagram, Facebook, and Pinterest. Be sure to sign up for my weekly Newsletters to see all the YUM going on at my Nest!
Happy Nesting My Friends,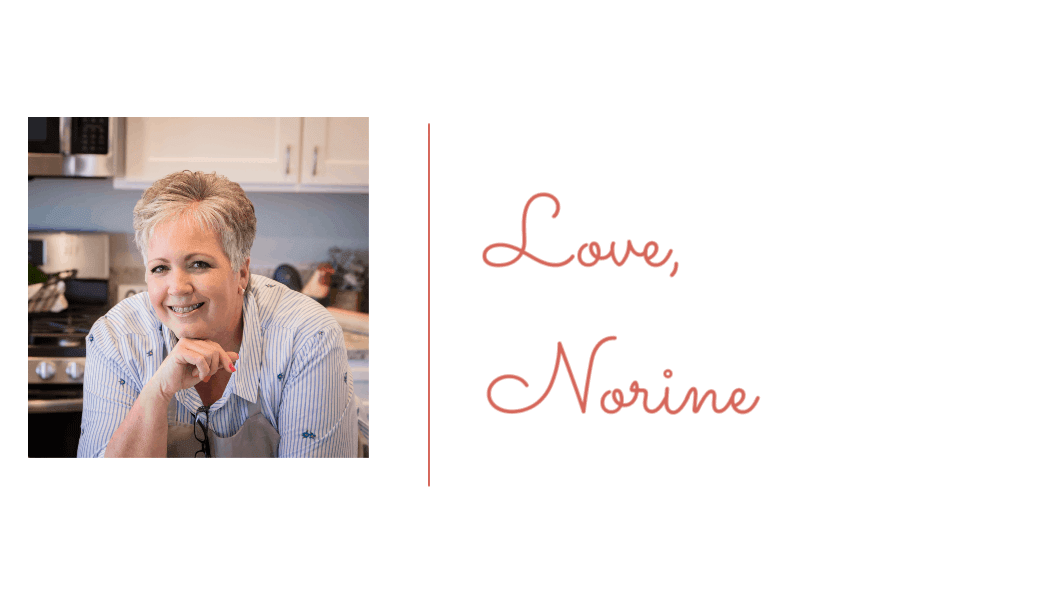 Yield: 5 servings
BBQ Country Pork Ribs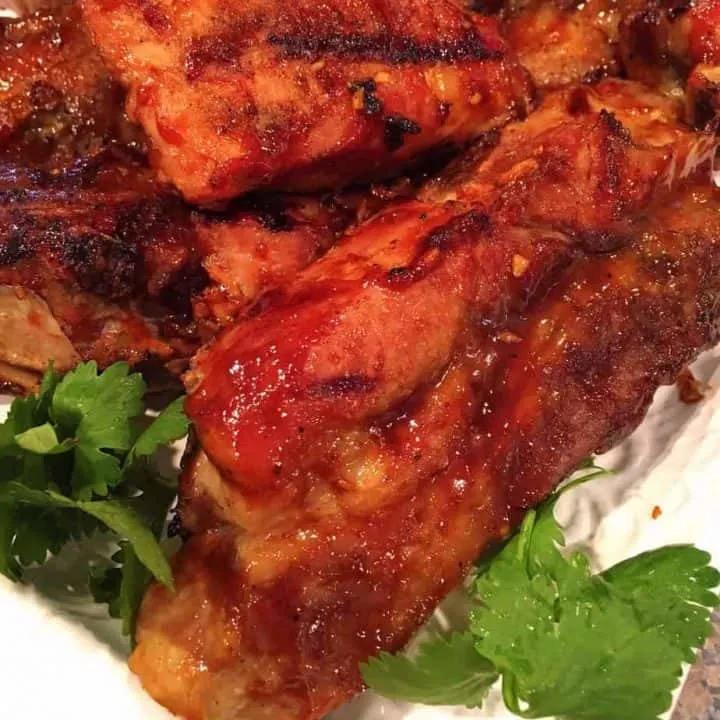 Tender Meaty Country Pork Ribs are a nice change for your next outdoor BBQ.
Cook Time
2 hours
45 minutes
Total Time
2 hours
55 minutes
Ingredients
1 package of Pork Country Ribs (About 8-10 ribs)
Salt - to taste
Coarse Black Pepper - to taste
Onion Powder - to taste
1 heaping teaspoon of minced garlic
1 large lemon, sliced thinly
BBQ Sauce
1 Cup of BBQ Sauce
1/2 cup of Apricot or Peach jam
1 Tablespoon of Worcestershire Sauce
1 Tablespoon of Whiskey (Optional)
1/4 cup of water
Instructions
Ribs
Preheat oven to 250°
Place Ribs bone side down in a foil lined 9 x 13 deep baking dish. Sprinkle with salt, pepper, and onion powder. Rub 1 heaping teaspoon of minced garlic all over the top of the ribs.
Place lemon slices over the top of the ribs. Cover tightly with foil.
Place in preheated 250° and bake for 2 1/2 hours.
Remove from oven, keep covered, and allow to cool for two hours.
Heat grill to medium high heat.
Place ribs on grill, brush with BBQ sauce, and cook until ribs are completely covered in sauce and a light char.
Remove from grill and serve.
BBQ sauce
In a medium sauce pan, place 1 cup of BBQ sauce, 1/2 cup of apricot or peach jam, Worcestershire sauce, water, and whiskey (optional). Bring contents to a boil stirring occasionally. Turn heat off and allow to cool. Sauce will thicken as it cools.
Nutrition Information:
Yield:
5 servings
Serving Size:
2 Ribs
Amount Per Serving:
Calories:

198
Total Fat:

5g
Saturated Fat:

2g
Trans Fat:

0g
Unsaturated Fat:

2g
Cholesterol:

22mg
Sodium:

749mg
Carbohydrates:

31g
Fiber:

2g
Sugar:

23g
Protein:

7g