The perfect Summer dessert! Orange Creamsicle Frozen Dessert combines vanilla and orange sherbet on a coconut cookie and whipped cream crust and topped with more delicious coconut crumb topping.
When I was kid, during the summer, we lived all day long to hear the sweet scratchy melodic sound of the Ice Cream Truck coming up the street. Didn't matter what you were doing…everything stopped!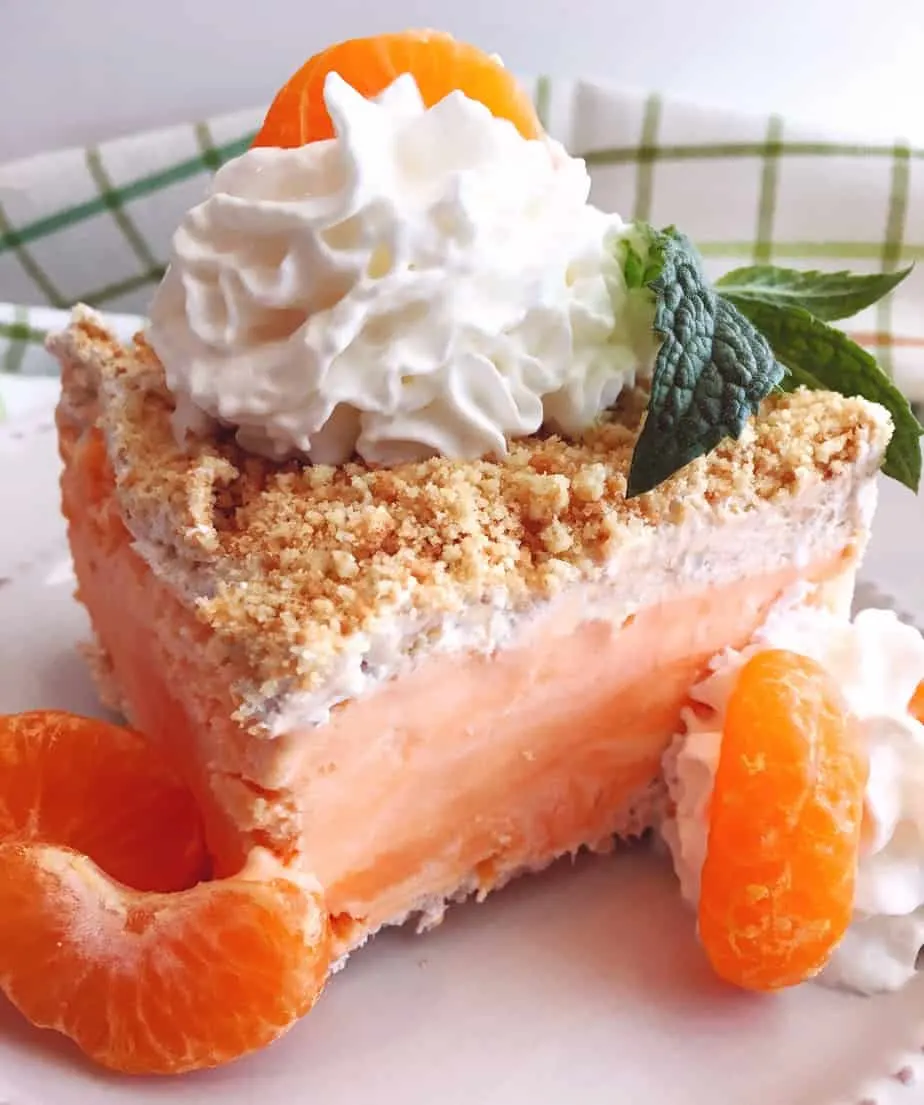 There was the rush home to beg Mom for .25 cents (Yes! I said .25 cents! Remember…I'm old! lol) so you could stand in line with all the "cool" kids in the "hood", just to buy one of the many delectable concoctions pictured on the side of the truck.
Didn't matter that Mom had a whole bag of banana Popsicle's in the big chest freezer in the garage…it wasn't ever going to taste as good as anything that .25 cents could buy from our favorite musical truck driving Good Humor Man!
Ahhh, that truck carried the dessert dreams of children on a hot summer day.Who can forget Bomb Pops, Push-Ups, Big Sticks, Strawberry Sundae Crunch, Snow Cones and the BEST treat of all…Creamsicles!
The magical bar that was half popsicle and half ice cream bar! It was pure genius! How in the world did they get that smooth vanilla ice cream in the center of that icy popsicle? Who cared as long as you had one!
So to celebrate "The Good Ol' Days" of summer past…I give you this amazing Orange Creamsicle Frozen Dessert. It combines a creamy crunchy crust with a blend of orange sherbet and vanilla ice cream… and it's scrumptious! So, so, so good! The perfect summer dessert for any gathering you may be having at your nest this summer.
How to Make Orange Creamsicle Frozen Dessert
You'll need one package of Mother's Coconut Cocadas, or Mother's Macaroon Cookies. Either will work. I couldn't find Macaroon's here so I went with these Coconut Cocadas and they are fantastic in this recipe.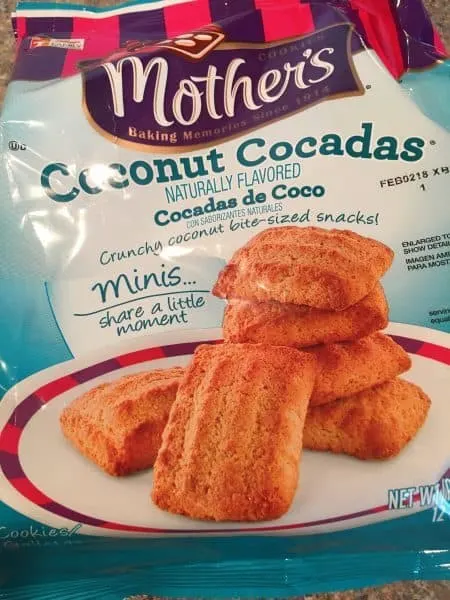 Place the cookies in a large zip lock bag and….CRUSH 'EM! I use my rolling-pin and go with a few hearty rolls over the top of the bag. In no time I have cookie crumbs. I suggest you really throw yourself into this process. (Save yourself a lot of money on therapy! lol)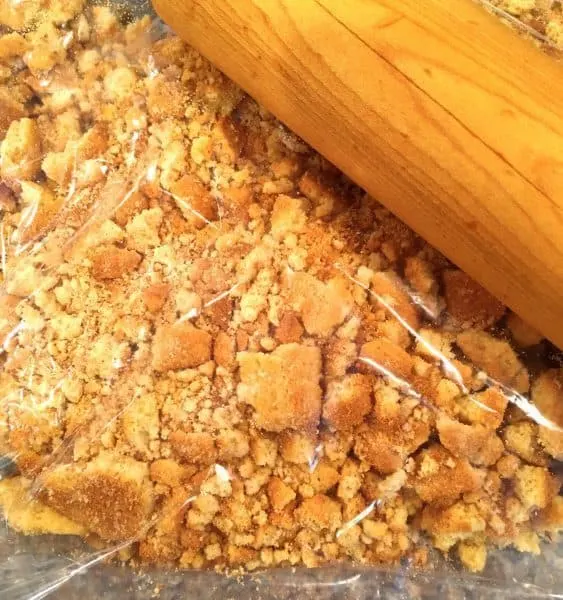 Reserve one cup of cookie crumbs. Divide remaining cookie crumbs in half. Mix half the mixture with one 8 oz. container of cool whip. Set the other half aside for later.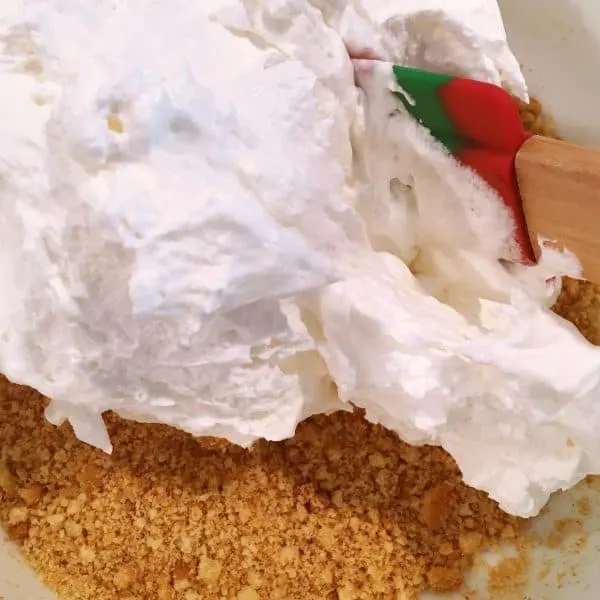 Mix until well combined. I know this seems really weird…but you're just gonna have to trust me. This is the crust for this dessert and it's the perfect pairing with the orange and cream center.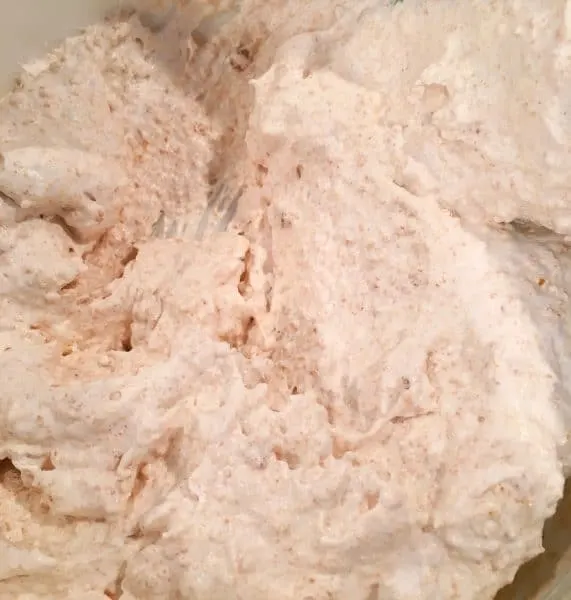 Spread that mixture evenly in a 9 x 13 baking dish. Place in the freezer until firm. (This has me thinking of certain body parts I'd like to place in the freezer to have them "firm" again! Am I the only one? I'm seriously realizing that my body is more a rapidly deflating bouncy castle than a temple!)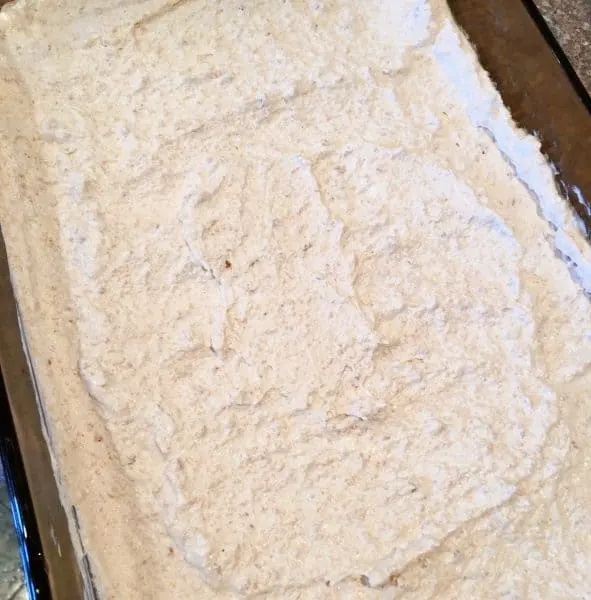 Next you'll need one quart of orange sherbet and one quart of vanilla ice cream. I just purchase a 1/2 gallon of each and then I let them set out for a little bit to get soft. Scoop out scoops of each until you have a quart of each in a large bowl.
What to do with the other half? Two words…Closet…Spoon! That's all!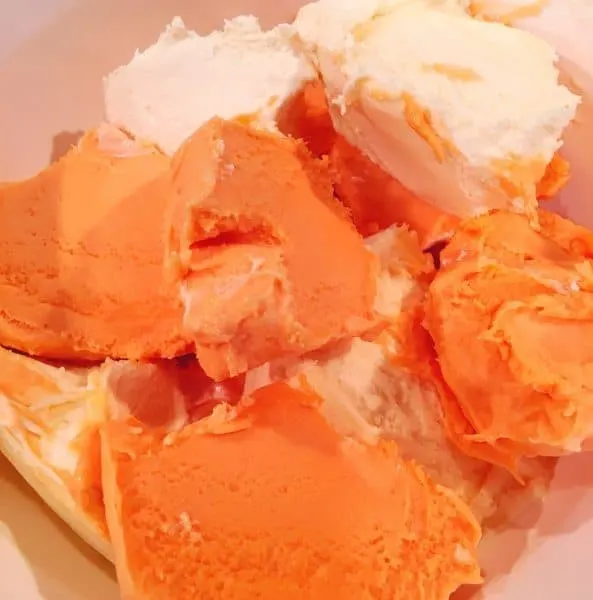 Slightly mix the two flavors. You want to still be able to see the Vanilla so that you get that "Creamsicle" look!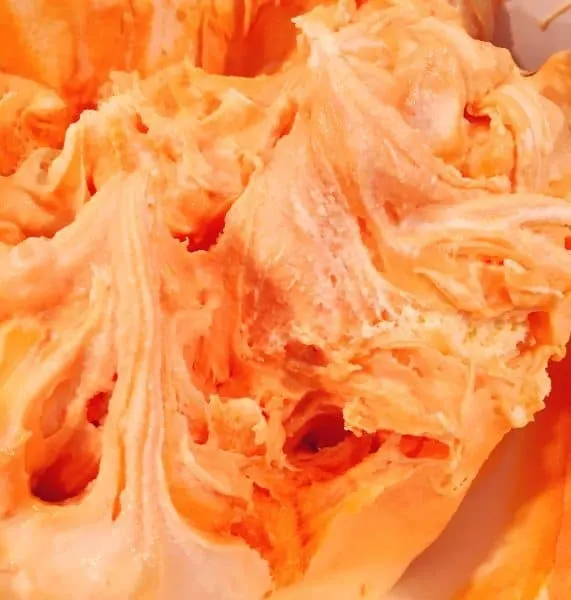 Then pour into the 9 x 13 pan with the cool whip and cookie frozen crust.
Now that just looks all orange! Under that I had big hunks of vanilla. I promise I did. Let's have a conversation…
You: "That is a horrible photo Norine! Who taught you to take a picture?"
Me:" Ummmmm…no one."
You… "That explains SO much!"
(Sorry guys! Horrid lighting…I have a feeling the recipe photos will get a make-over some day.)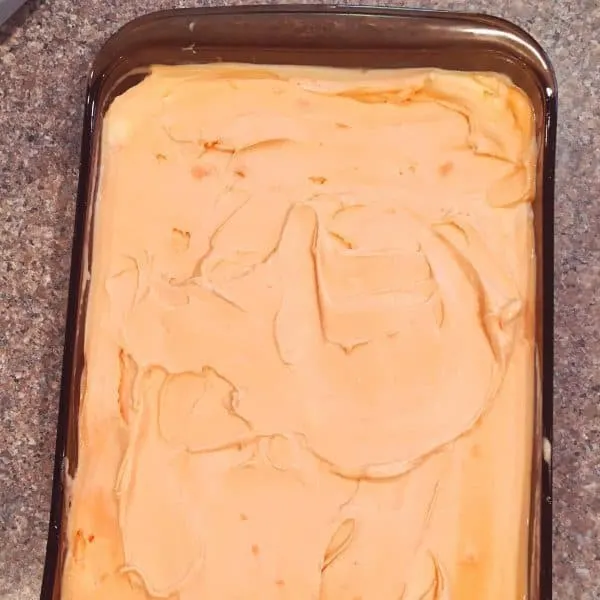 Moving on…let's finish up this Orange Frozen Creamsicle Dessert…take the other half of the cookie crumbs and mix with another 8 oz container of cool whip. Spread on top…quickly so ice cream doesn't melt.
Sprinkle top with reserved cup of cookie crumbs! (You still have them right? You didn't eat them!)
Cover the pan with foil and place back in the freezer and freeze until solid. I usually make this the day before to make sure it is frozen solid.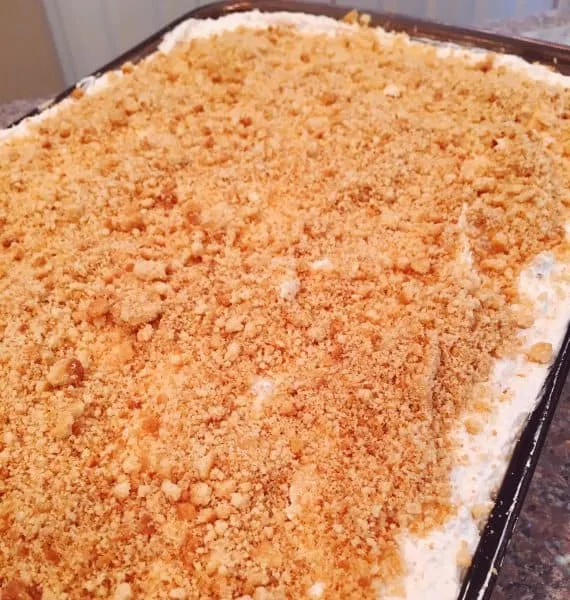 When ready to serve remove from freezer and allow to sit out on the counter for about 15 minutes.
With a large sharp knife cut into 12 squares. Top with whipped cream and garnish with a mandarin orange slice and sprig of fresh mint!
Now that's a grown-up version of a Creamsicle Bar!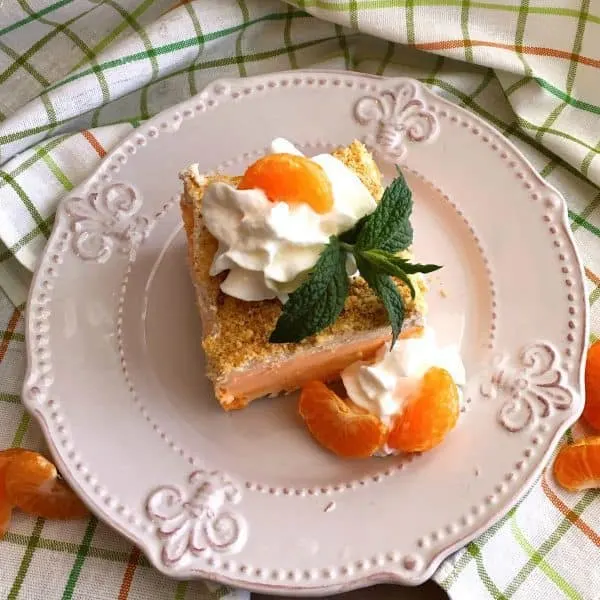 It's way better than the Ice Cream truck of our childhood! Why? Ummmm…seconds!!! No quarters and no dancing in your bare feet on the hot concrete waiting for your turn to pick that delicious creamsicle!
It's so pretty with its marbling of orange and vanilla ice creams. It's so refreshing, cool, and light. Orange Creamsicle Frozen Dessert…The one thing we are all seeking during the hot summer months. Frozen treats are the BEST!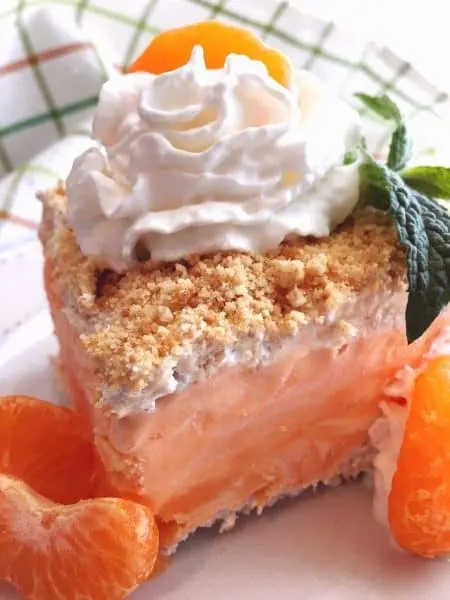 I hope y'all enjoy this Orange Creamsicle dessert. You can make it any flavor you want by changing up the sherbet. Raspberry would be another wonderful choice.
I had to stick with my childhood favorite. So many fun memories of long days spent with my friends. When summer was about adventures we had to come up with ourselves…so…we did! It was the BEST!
I sincerely hope you're allowing your children to make their own magic this summer. Don't plan everything to death! Do me a favor… and make this dessert, leave your phones inside the house…seriously LEAVE the phones inside the house… and spend a night outside watching the sunset as the kids run through the sprinklers, chase butterflies, make mud cities, roll in the grass, and watch the stars appear across a clear summer night sky!
Make memories…enough to fill that Nest and beyond!
If you like this recipe you might also enjoy these other Summer Favorites!
I'm also sharing this delicious fun summer time dessert over on the Weekend Pot Luck! Click HERE to join the fun!
Love,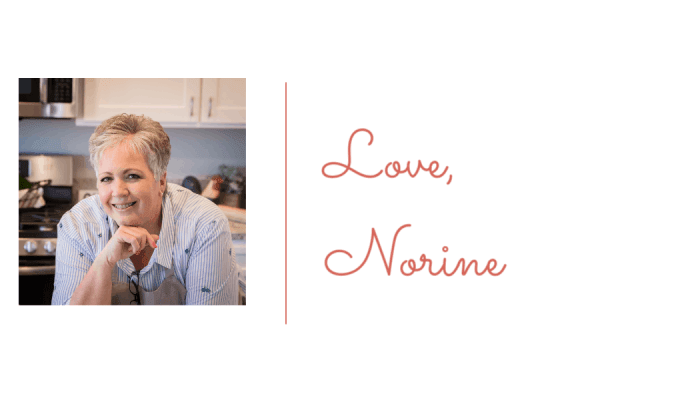 Yield: 12 servings
Orange Creamsicle Frozen Dessert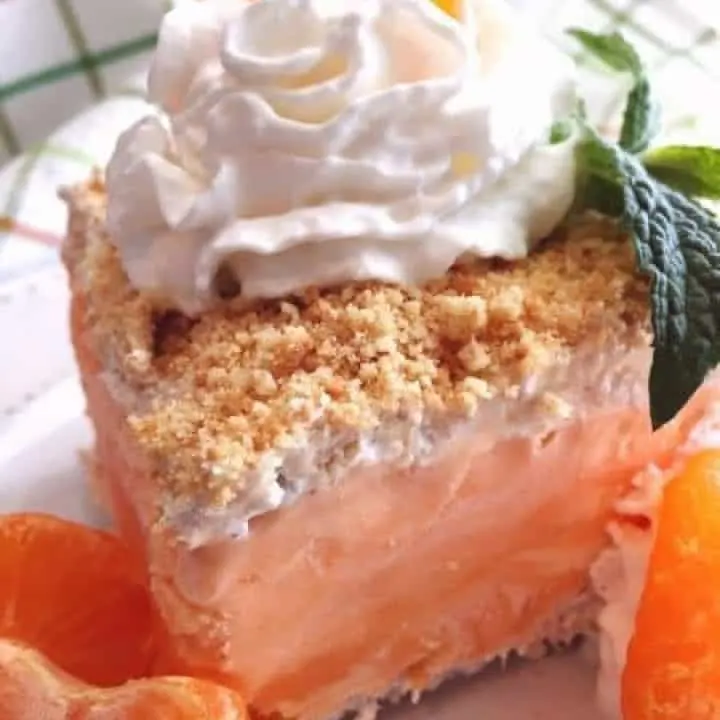 Orange Creamsicle Frozen Dessert is the perfect refreshing summer dessert and will remind you of those delicious Creamsicles you used to buy from the Ice Cream Man...only WAY better!
Total Time
5 hours
15 minutes
Ingredients
1 package Mother's Coconut Cocadas or Mother's Macaroon Cookies
2 - 8 oz. containers of Cool Whip
1 quart of Orange Serbet
1 quart of Vanilla Ice Cream
Mandarin Orange slices and Fresh Mint for Garnish
Whipped Cream
Instructions
Crush Coconut Cocadas to a fine crumb. Reserve one Cup of Cookie Crumbs for topping.
Divide remaining cookie crumbs in half.
Mix one half cookie crumbs and one 8 oz. container of cool whip. Mix until well blended.
Spread in the bottom of a 9 x 13 baking dish.
Freeze until firm.
In a large bowl scoop out 1 quart of orange sherbet and 1 quart of vanilla ice cream. (Half of a 1/2 gallon of each flavor)
Slightly mix together so you can still see vanilla.
Spread over the frozen Cool Whip cookie crust.
In a bowl mix the other half of the cookie crumbs and the other 8 oz. container of Cool Whip until well blended.
Spread over the top of the Ice Cream/ Sherbet mixture.
Sprinkle with 1 cup of reserved cookie crumbs.
Cover with Foil and Freeze until firm. Usually overnight.
Garnish with whip cream, orange slices and fresh mint.
Notes
Please note the time reflects freezer time.
Recommended Products
As an Amazon Associate and member of other affiliate programs, I earn from qualifying purchases.
Nutrition Information:
Yield:
12 servings
Serving Size:
1 square
Amount Per Serving:
Calories:

302
Total Fat:

18g
Saturated Fat:

14g
Trans Fat:

0g
Unsaturated Fat:

3g
Cholesterol:

20mg
Sodium:

79mg
Carbohydrates:

35g
Fiber:

3g
Sugar:

29g
Protein:

3g