I love ANY excuse to throw a party! It's a party for crying out loud! It means my little nest is going to be very full with the people I love! The minute I know I have an event that I can plan a party for my mind just takes off! Like from zero to 150 mph! (It may be the only thing that works that fast any more!)…
*As an Amazon Associate I earn from qualifying purchases. This post may contain affiliate links, which means that I may make a commission from any purchases at no additional cost to you. Thank you for your support!
First thing I do for any event is pick a theme. Picking a theme makes event planning much easier! It gives you direction. (Oh sure, you're gonna veer off the path! I mean sightseeing is part of the fun! Just remember, you're going 150 mph so slooooow down!) When our daughter told us she was pregnant you better believe I was at mach speed planning her baby shower! Zooooom!!! I was forced to apply the breaks so I could see if we were planning pink or blue! (Okay, I also had to apply the breaks because the hubs was going to have a heart attack with the thought of what it would cost him!) Once I knew pink was our color, the flag came down, and I knew exactly what I wanted to do! Thankfully I have a very easy going daughter! I presented the idea of a "sprinkle" Ice Cream Social in our backyard! She loved the idea! Hooray!!! Zooom…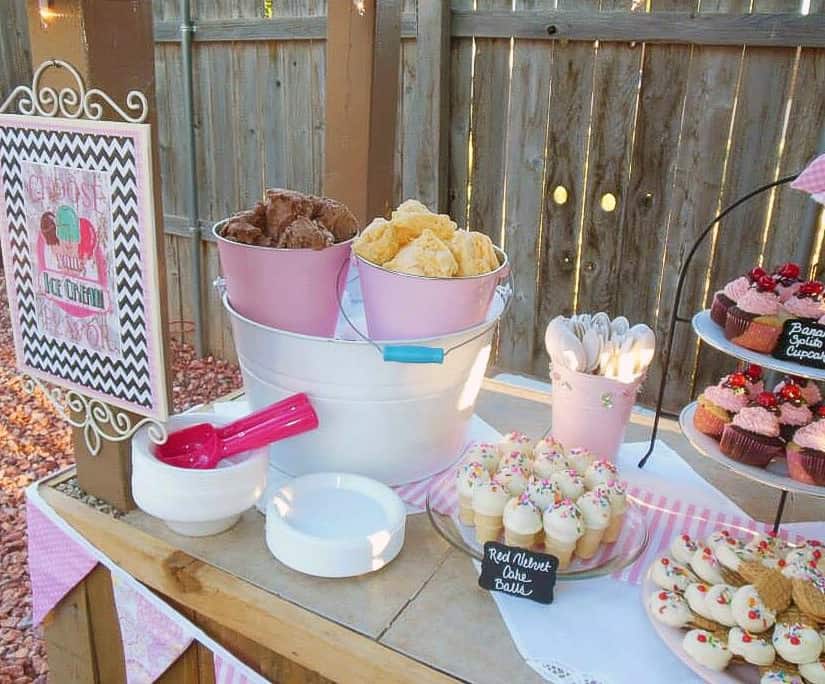 To get started, I made these darling invitations (if I do say so myself!) to invite all of Taryn's friends. I have a wonderful graphic design program called Print Master. I found mine at Staples but, it is also on Amazon. It's a great program for creating all types of wonderful graphic design projects. I cut off the bottom for privacy reasons. I think you can see how cute the theme worked for these invites. I put a small sticky rhinestone on top of the whip cream! Every girl needs a little bling in her life!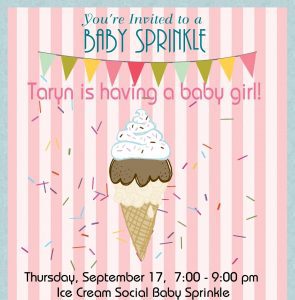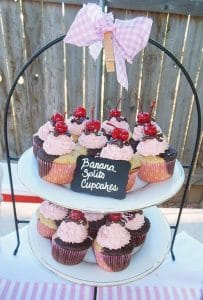 I managed to stayed on track with the theme for this party. I made banana split cupcakes from the wonderful blog, Your Cup of Cake. Click here to get the recipe. (Be careful, she has some amazing cupcake recipes on her site!) These turned out amazing! Super moist! The mix of banana, chocolate and strawberry flavors are wonderful! Plus, they're just super fun! Don't you want one? I know I do! I got my idea for the nutter butter cookies from Rose Bakes. To find the tutorial on her blog, just Click Here . These were so much fun to make and super easy. Who doesn't love a fun easy treat to serve to their guests? I also made my famous red velvet cake balls (I like to think I'm more important than I am!) and turned them into mini ice cream cones. I have to be honest, these little gems were the STAR of this event! They were SO much fun to make! I felt like I was really dipping mini ice cream cones! (I promise to share the recipe really soon!) Last of course, was the ice cream! We offered the option of making an ice cream sundae, ice cream float or both! This WAS a PARTY!! We had a float station with old fashioned bottled soda's, in a big bucket filled with ice. Don't forget the cute paper straws! There are so many adorable patterns and colors! I just love them!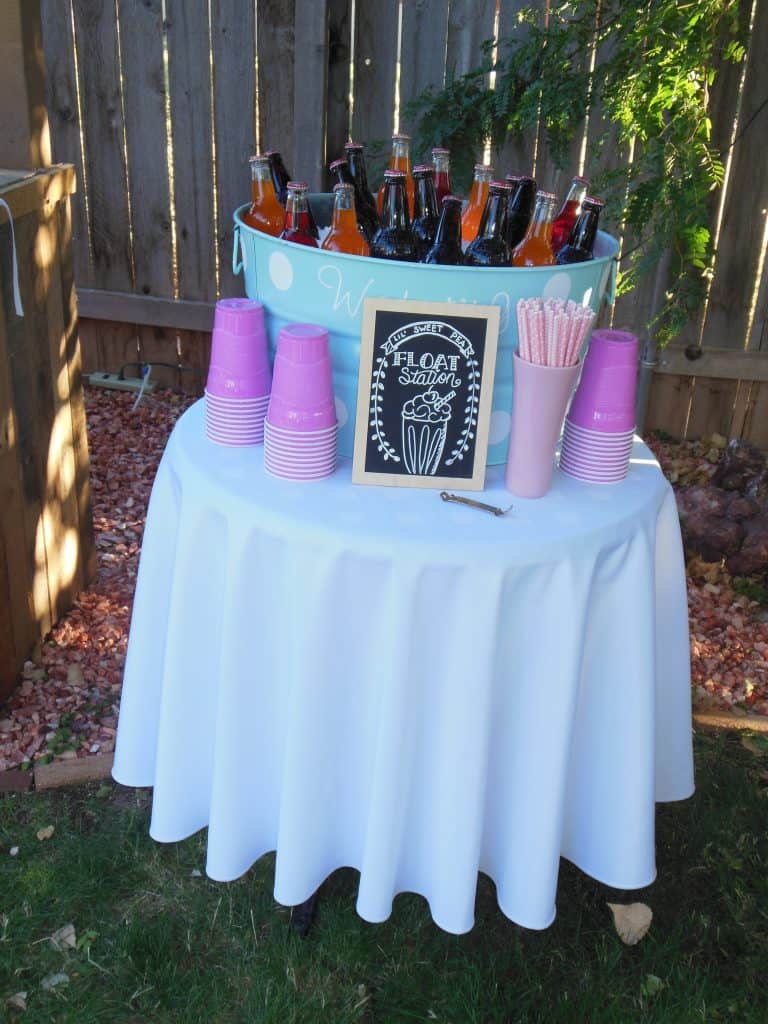 We had an Ice cream stand with all the condiments for ice cream sundaes. Who wouldn't love to make a sundae with all those yummy options! I loved how festive it looked. The best part of this shower was that all the food was prepared before hand. I even pre-scooped all the ice cream. I placed the scoops on cookie sheets covered with wax paper, and put them back in the freezer. When it was time to serve our guests all we had to do was fill the buckets with the ice cream. It made it so much easier for everyone! You don't want to spend all your time in the kitchen, so don't.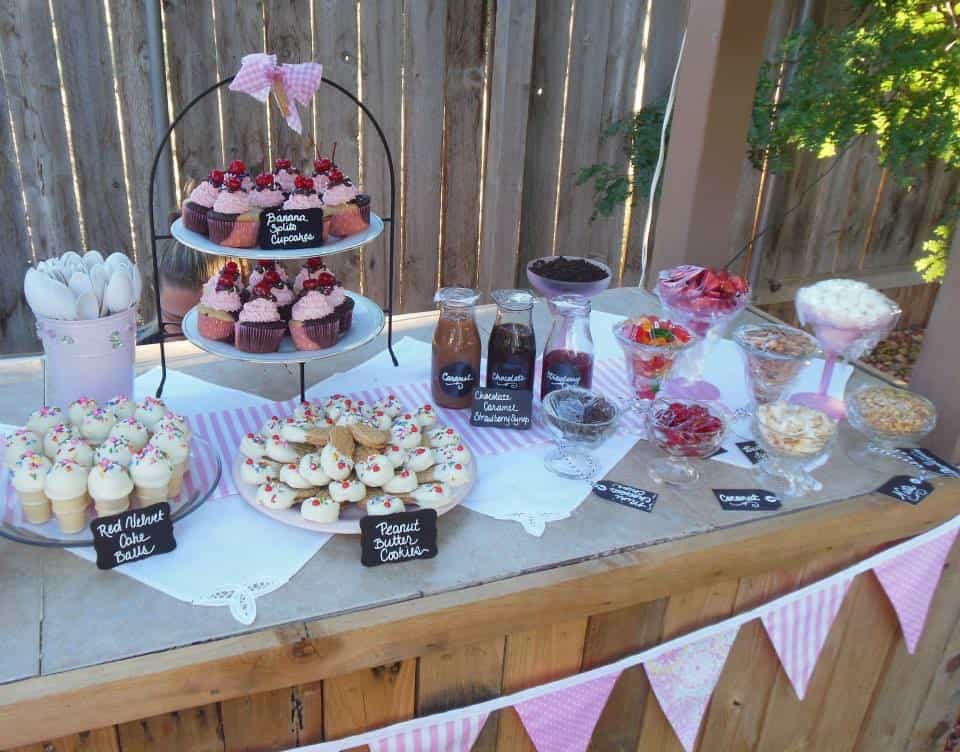 I kept the center pieces and the rest of the decor very simple. I felt the ice cream bar was the focal point and everything else was just, well… "the cherry" on top! For the center pieces I found glass sundae cups at a local thrift store. I filled them with fake paper pom-poms and a red pom-pom on top. I used actual "sprinkles" on the tables and extra soda bottles. To make the baby shower banner I had a friend cut letters out with her cricket, then I glued them on white gift sacks and filled them with pink tissue paper. I bought some cute little baby girl clothes at the local thrift store. I glued bows onto clothes pins then hung everything on a line of jute. I loved the way it turned out.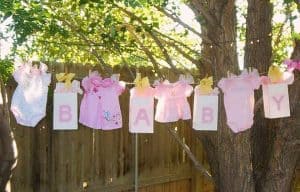 I just love when you are planning an event and everything comes together and turns out how you envisioned it. We had a wonderful evening surround by so many of our friends and family! I don't think we could have asked for a more perfect evening.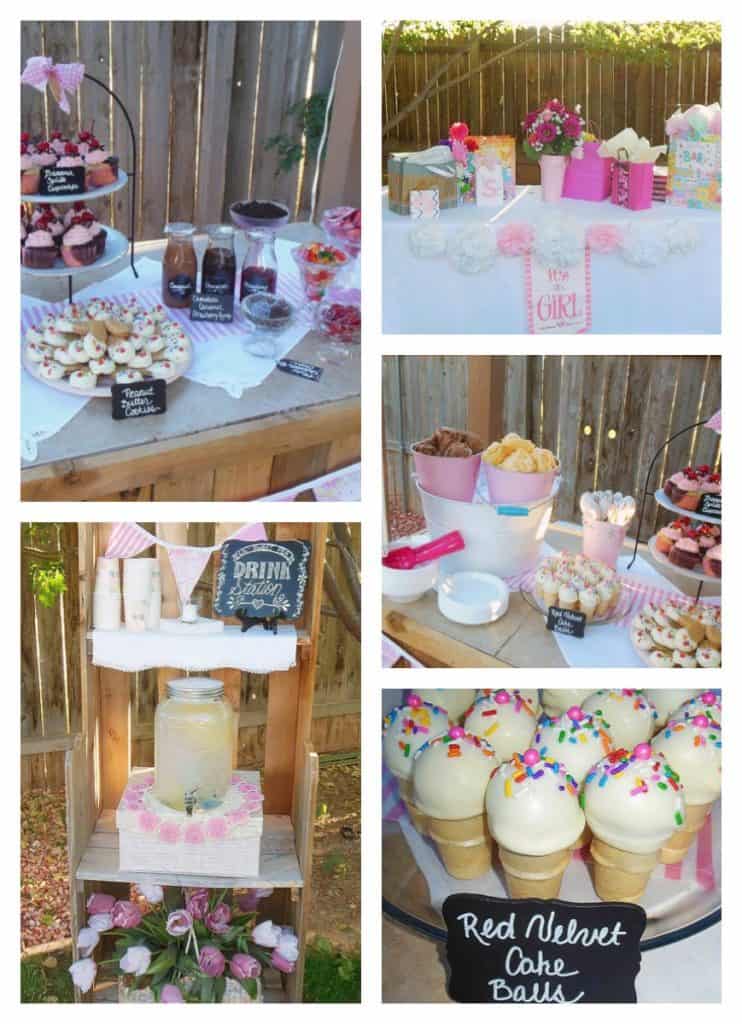 That evening when all the lights came on and we were all gathered around watching Taryn open up her gifts, visiting and laughing, I just had to stand back and take it all in. I get all weepy, even now, just thinking about it. My backyard nest was just overflowing with love and laughter that night. There is nothing better in this whole world! If you throw a sprinkle baby shower please share your photos with me in the comment section below or on my Facebook page. I'd love to see them. Happy Nesting!