Strawberry Vanilla Waffles are crispy and golden outside, tender and moist inside, with hints of vanilla peeking through and topped with mountains of fresh strawberries! The perfect Spring treat!
It's Spring! One thing I absolutely love about spring are all the fresh strawberries you can find in your local market. They're screaming "Hey! We're over here!". Admit it! Your cart just automatically heads over in their direction.
I grew up in a small town in San Diego County, California. We were surrounded by strawberry fields! One of things I miss about California, besides the ocean, are those wonderful red gems of juicy fruit!
Every spring I would watch those specks of red starting to dot the hillsides. It was glorious!
I knew that any day, we would drive to the strawberry stand with my Mom and pick up a flat of berries.
There is nothing like giant, fresh picked, strawberries! I'm pretty sure there are going to be fresh strawberry stands in heaven! There has to be if it's going to heaven for heaven's sake!
I was in the market Friday and sure enough, those little red jewels started crying out to me and my cart took on a life of its own.
So, Sunday I whipped up a batch of my favorite strawberry vanilla waffles! Nothing say's "Good morning Sunshine" like this beautiful homemade crispy vanilla waffle smiling up at you! I know it made me jump out of bed!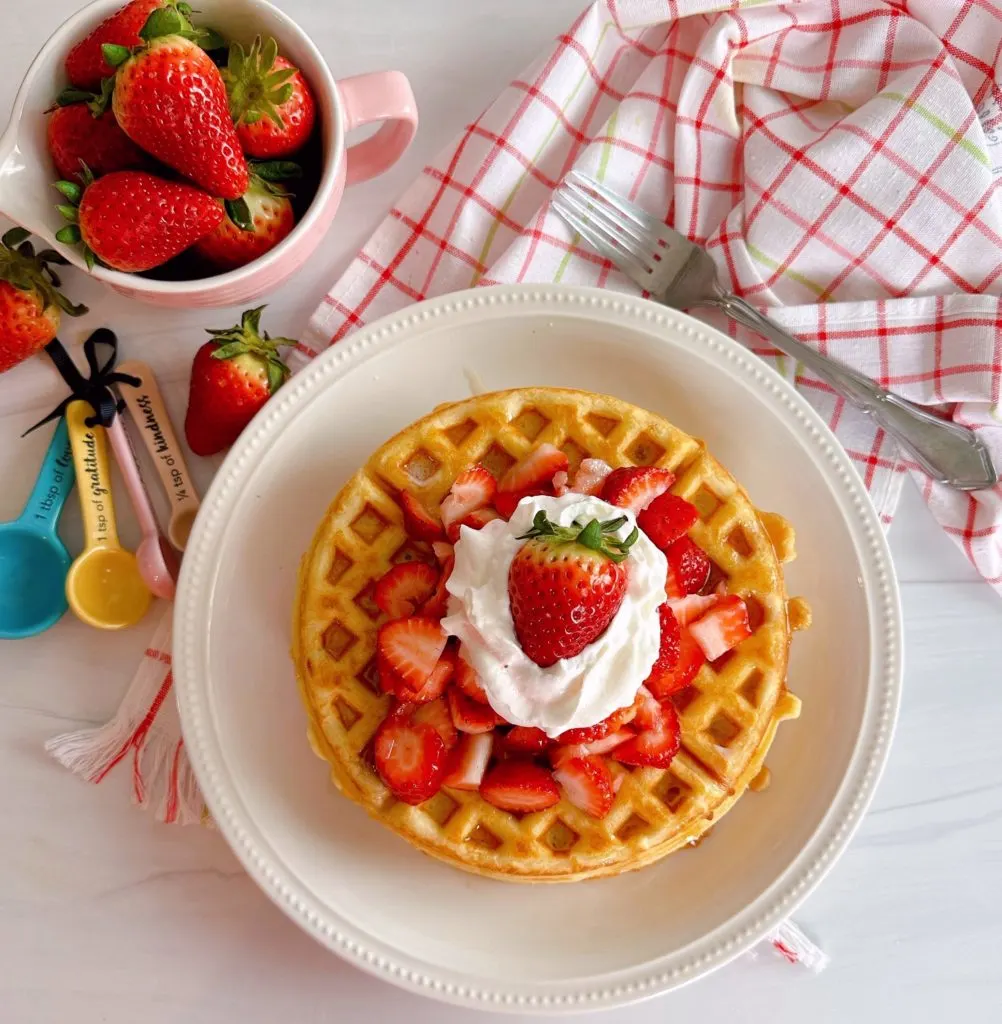 Ingredient List
2 cups all-purpose flour
1¾ cups milk
½ cup vegetable oil
2 large eggs
1 Tablespoon white sugar
4 teaspoons baking powder
¼ teaspoon salt
½ – 1 teaspoon vanilla – It's up to your own personal taste and preference.
4 cups sliced fresh strawberries, or mixed berries
½ cup white sugar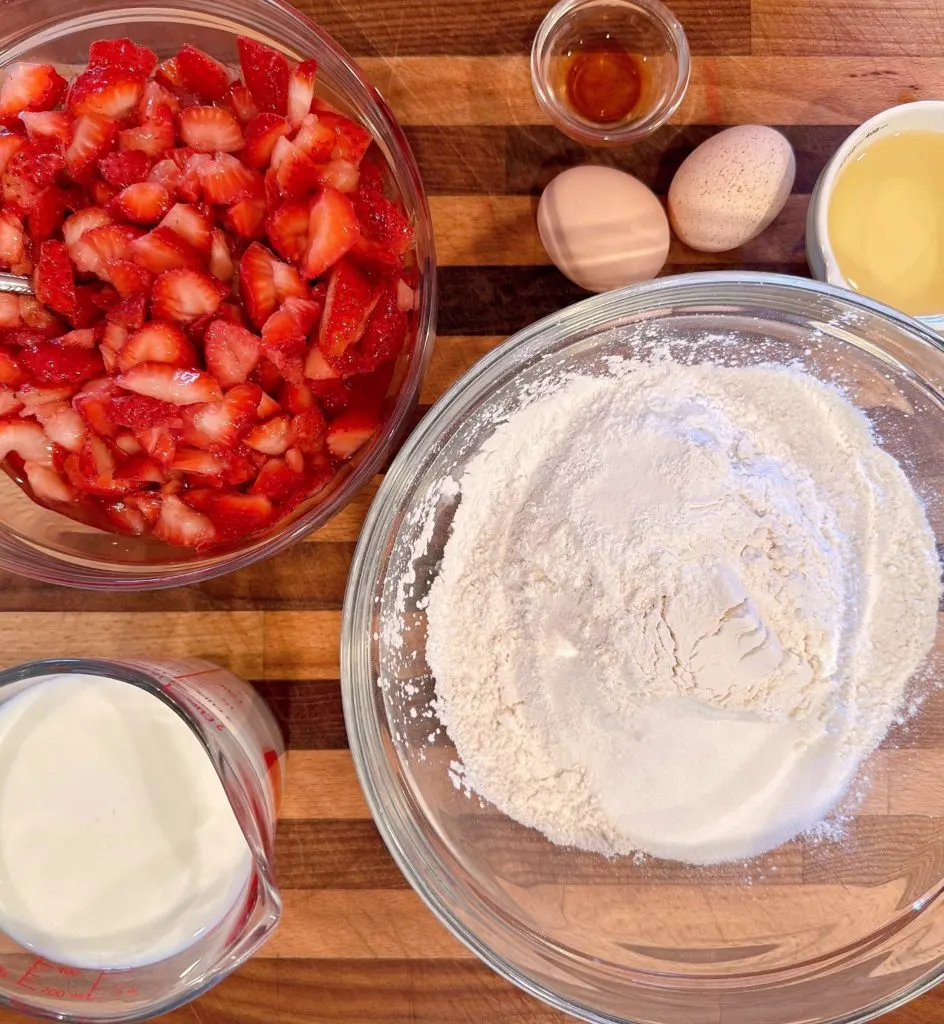 How To Make Homemade Vanilla Waffles
Start by mixing 4 cups of fresh sliced strawberries with ½ cup granulated sugar. Mixing the strawberries and sugar first give them plenty of time to macerate. (That's just a fancy word for making juice out of your fresh fruit). It helps to create the perfect strawberry topping for that vanilla waffle.
After your berries are doing their thing, mix up the waffle batter.
In a large bowl add flour, baking powder, salt, and sugar. Whisk to combine.
In a small bowl beat eggs until light and fluffy.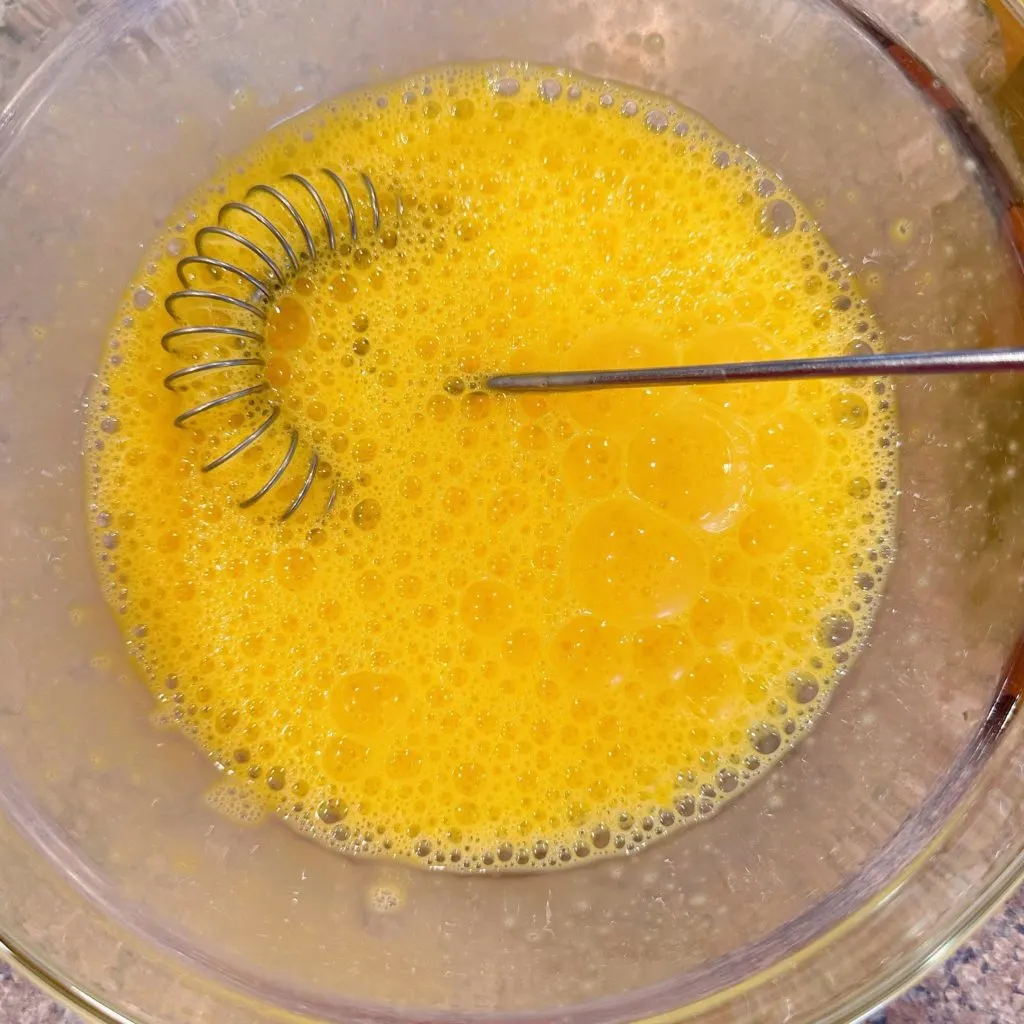 Make a well in the center of the flour mixture. Add beaten eggs and milk.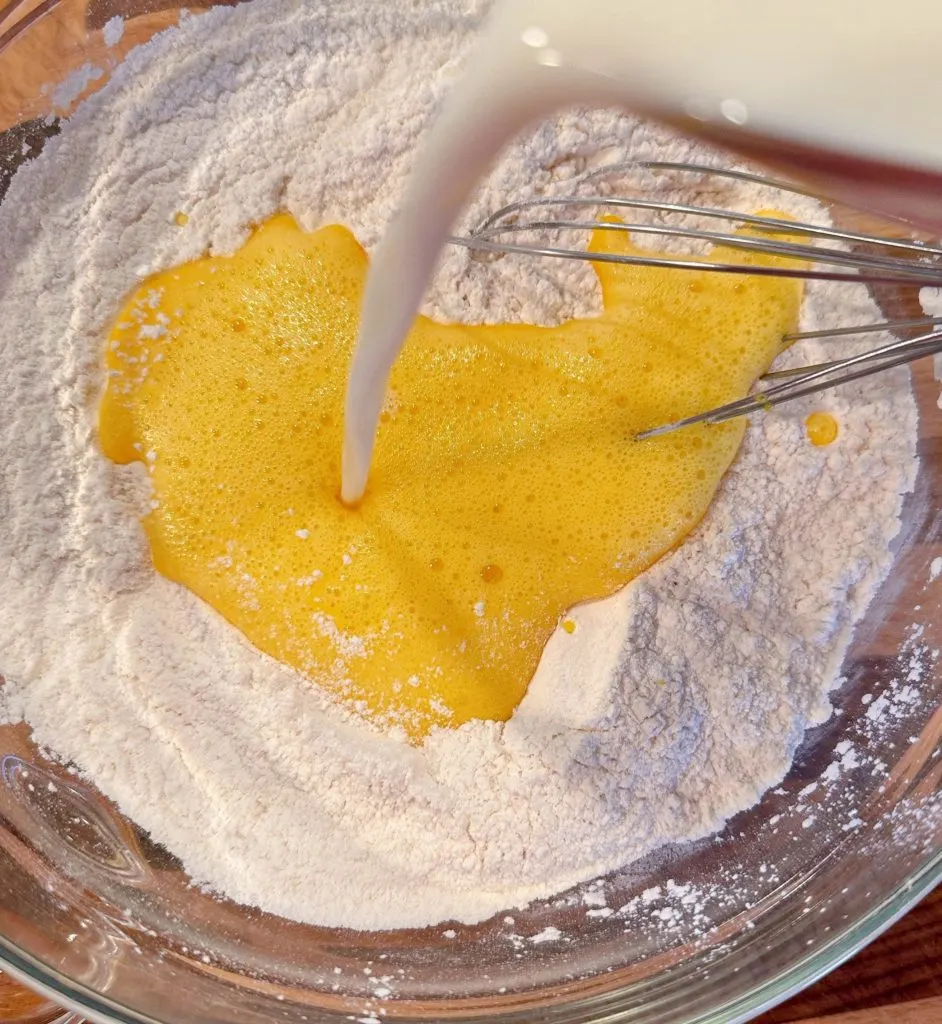 Add oil…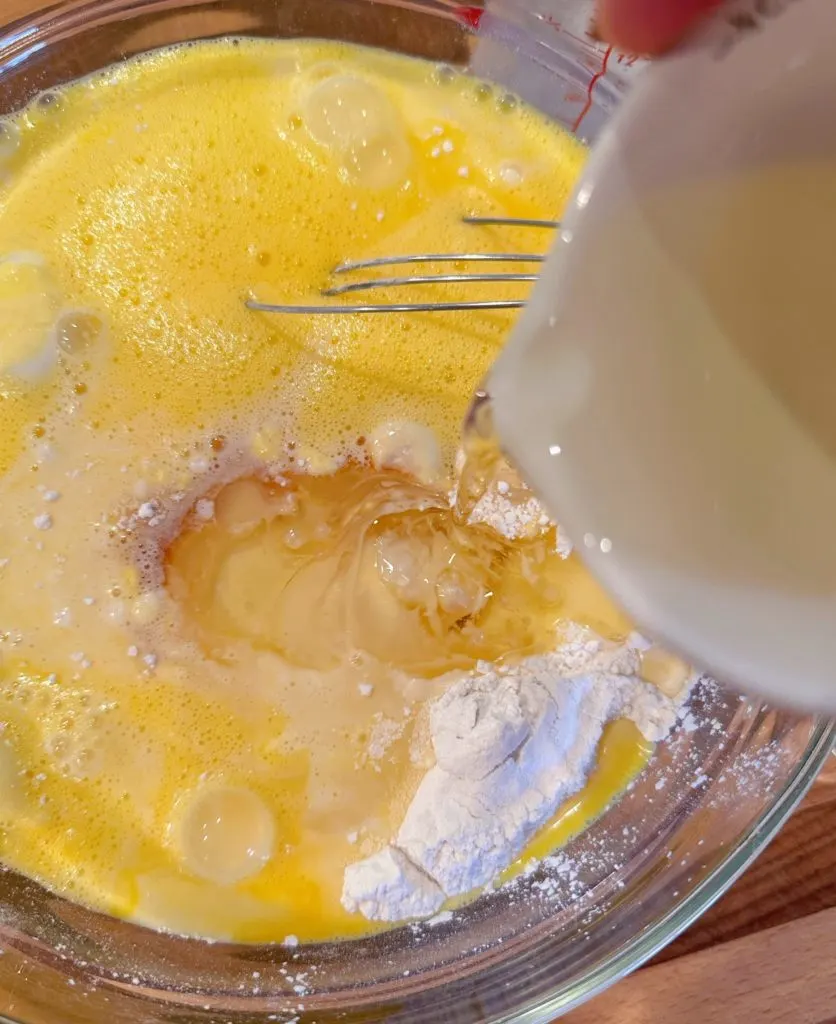 Add vanilla. You can switch the vanilla out for vanilla bean paste of you like a richer deeper depth of vanilla flavor!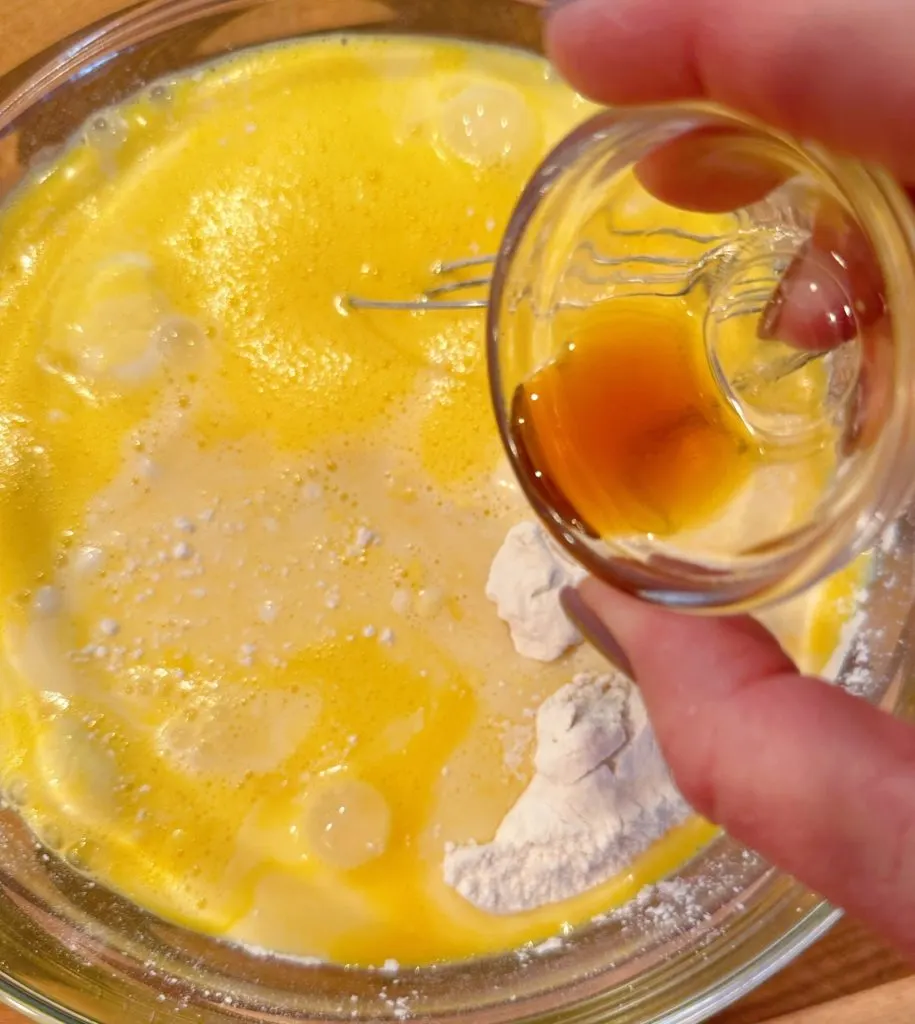 How To Cook Waffles
This waffle recipe works best with a regular standard waffle iron rather than a Belgian waffle iron. Pre-heat the waffle iron to the manufacturer's specifications. Most waffle irons have a setting of dark, medium, or light.
I set mine to dark because I have found these waffles cook better quickly on a high heat. Add a half-cup of batter and spread it quickly around the bottom of the waffle iron. Lower the lid and cook 2–3 minutes for a light golden color waffle.
TIP: Be sure to spray your waffle iron between each waffle so that you don't end up with a sticky mess! Plus, they just make the waffles extra crispy.
The waffle will rise during baking. These waffles are light and fluffy inside and golden crispy outside. If you overcook them, they will become crunchy…so check them before you think you should!
TIP: DO NOT WAIT for the waffle iron to stop steaming!
Finishing Waffles
Grab that bowl of freshly sliced strawberries. Butter the waffles, drizzle with maple syrup, I know it sounds crazy, but the combo is wonderful!
Top with several heaping spoonfuls of fresh sliced strawberries. Top with whip cream.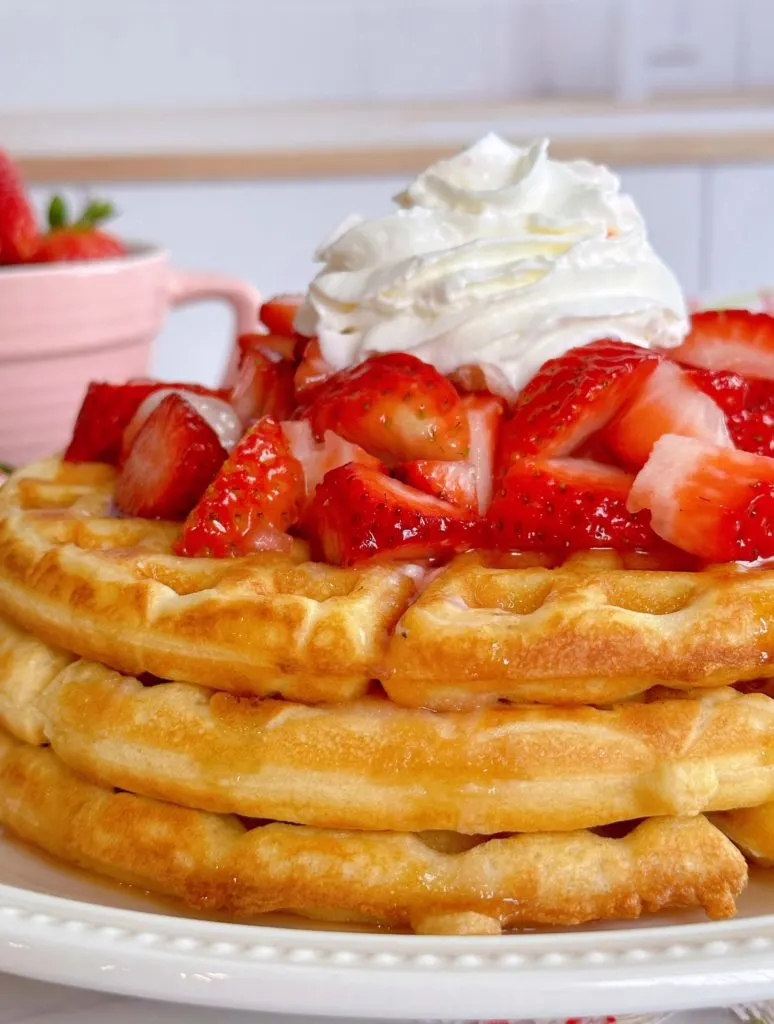 FAQ's for Waffle Recipe
What is the secret to making perfect waffles? Strike while the iron's hot. If your waffles come out pale, like a Minnesota Farmer, your waffle iron isn't hot enough. Preheat your waffle iron while mixing the batter. Whip your eggs. Always use oil instead of butter.
Is there a difference between pancake and waffle mix? Yes! The Oil! Waffles have a higher fat content making them richer than a pancake batter.
Should you let the batter rest for waffles? Letting the batter rest in the fridge for about 10 minutes will allow the gluten to relax and expand a bit creating a tender texture as the waffles cook.
What's the best flour to use in waffles? Good old AP, or all-purpose flour is perfect for waffles.
Can I cook and freeze the waffles? Yes! Cook all the waffles and wrap them individually in plastic wrap. Store in a large Ziploc bag. Freeze up to 2 months. To reheat pop them in a toaster for 1 minute.
Favorite Breakfast Recipes from our Nest
There is just something amazing about that wonderful crispy vanilla waffle with those beautiful sweet ripe strawberries! It makes for the perfect combination! Top it off with some yummy whipped cream!
I hope you enjoy these wonderful springtime waffles as much as I do! Watch out! Your little birdies are going to give you sweet sticky kisses!
Happy Nesting!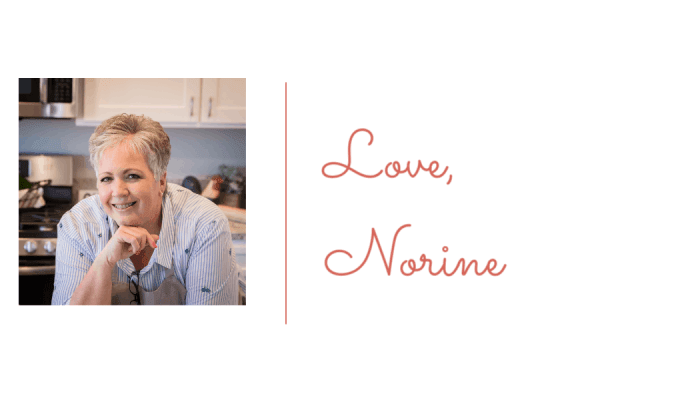 Yield: 6
Strawberry Vanilla Waffles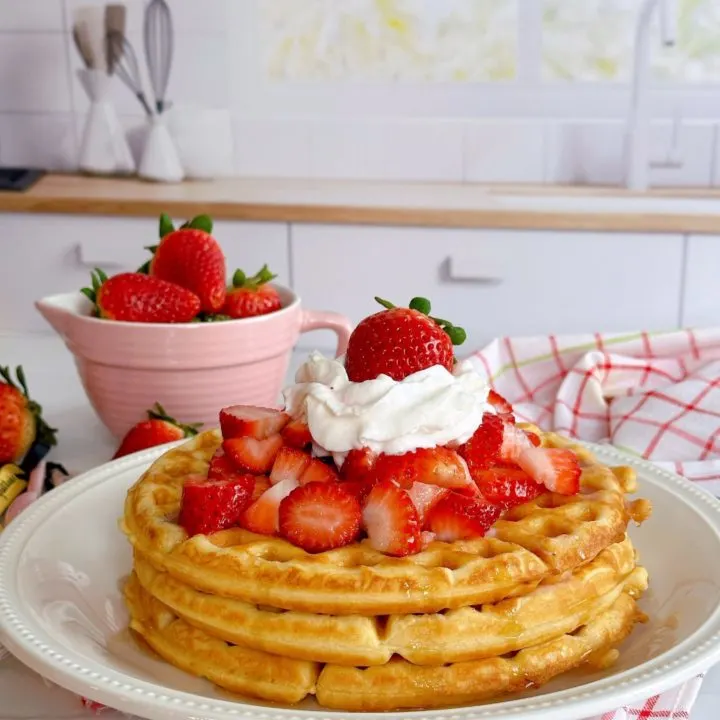 Golden Crisp Vanilla Waffles with fresh sliced strawberries.
Ingredients
4 cups sliced fresh strawberries
½ cup white sugar
2 eggs
2 cups all-purpose flour
1¾ cups milk
½ cup vegetable oil
1 tablespoon white sugar
4 teaspoons baking powder
¼ teaspoon salt
½ - 1 teaspoon vanilla extract
Instructions
Wash and slice your fresh strawberries. Add 1/2 cup sugar and let macerate while mixing the batter for the waffles.
Preheat waffle iron. Beat eggs in a small bowl with hand beater until fluffy. (You can also beat them by hand with a wire whisk).
In a large bowl combine flour, sugar, salt, and baking powder. Add eggs into flour mixture. Add milk, vegetable oil, and vanilla, mix just until smooth.
Spray preheated waffle iron with non-stick cooking spray. Pour batter onto hot waffle iron. Cook until golden brown.
Drizzle with maple syrup. Top with one heaping scoop of strawberries and juice. Add whipped cream to top of berries.
Nutrition Information:
Yield:
6
Serving Size:
1 waffle
Amount Per Serving:
Calories:

485
Total Fat:

22g
Saturated Fat:

3g
Trans Fat:

0g
Unsaturated Fat:

18g
Cholesterol:

68mg
Sodium:

476mg
Carbohydrates:

64g
Fiber:

3g
Sugar:

25g
Protein:

10g
Norine's Nest in no way provides any warranty, express or implied, towards the content of recipes in this website. It is the reader's responsibility to determine the value and quality of any recipe or instructions provided for food preparation and to determine the nutritional value, if any, and safety of the preparation instructions.