Brown Sugar Bacon Wrapped Lit'l Beef Smokies are made with three simple ingredients to create one scrumptiously easy appetizer!
Among my many talents…(cough, hack, giggle) is my self proclamation of… "Lit'l Smokie" expert! (My family is so proud!)
*As an Amazon Associate I earn from qualifying purchases. This post may contain affiliate links, which means that I may make a commission from any purchases at no additional cost to you. Thank you for your support!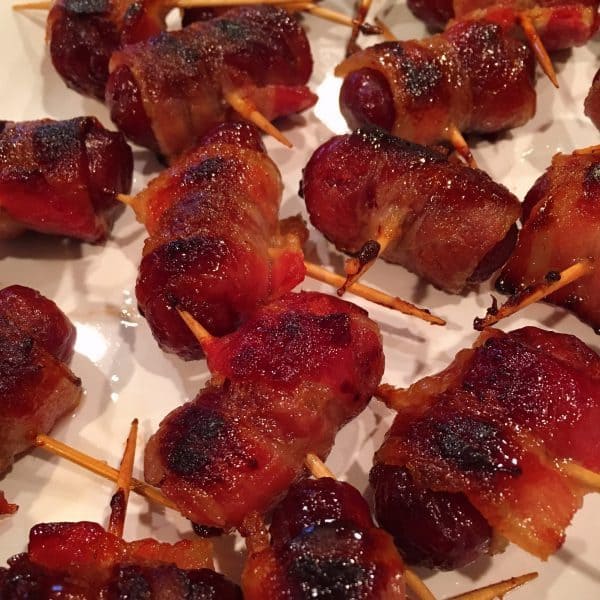 I've done it all! I've cooked them in the crock pot with glazes and sauces. I've used them in Fondue's with cheese sauce. I've wrapped their little bodies in crescent dough. Yep…I've done it all, or at least I thought I had!
This year I decided to really LIVE it up and do something a little different.
I spied a recipe for "spicy wrapped bacon smokies". They looked great, but I try to avoid "spicy" at this Nest. Why? Because there's a "Little" that hangs out here. I wanted her to be able to eat these little hot dogs!
So… I skipped the "spicy" and went with a simple brown sugar bacon wrap. HOLY COW! I mean H.O.L.Y. C.O.W!!!!
Yep, show stopper! My family went NUTS for these little gems!
How To Make Brown Sugar Bacon Smokies
You'll need one package of Little Beef Smokie Sausages, One package of bacon, and a 1/2 cup of brown sugar. (Only three ingredients? Yep!)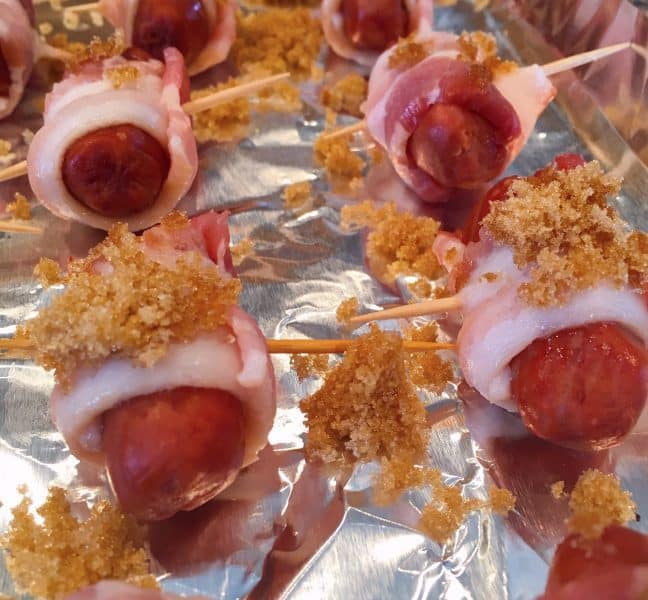 TIP: Line a baking sheet with aluminum foil. This will make clean up a breeze… I'm all about making clean up easy peasy!
Cut the bacon into thirds. Each slice of bacon will be cut into three pieces. It makes it the perfect size for covering the sausages.
Wrap a slice of bacon around each little smokie. Use a toothpick to hold the bacon in place.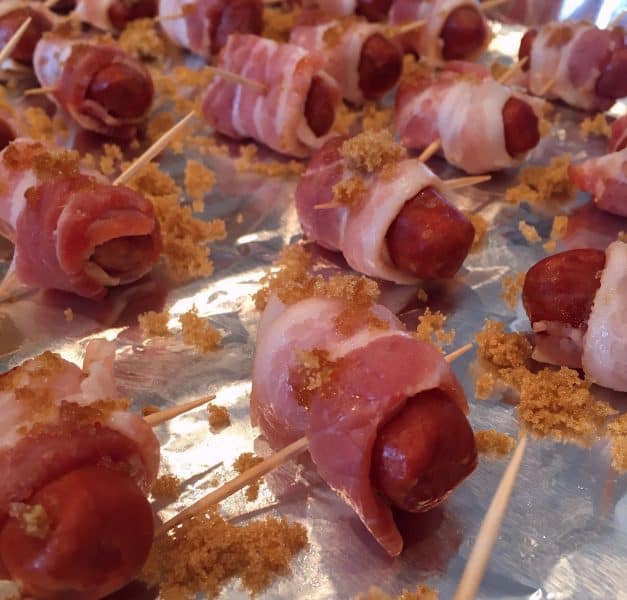 Sprinkle brown sugar over the bacon wrapped sausages. Turn sausages over and sprinkle the other side with sugar.
Place in a preheated 350° oven. Bake for 10-15 minutes. Turn sausages over, carefully, using tongs. Place back in the oven and bake for another 5-10 minutes until bacon is crispy.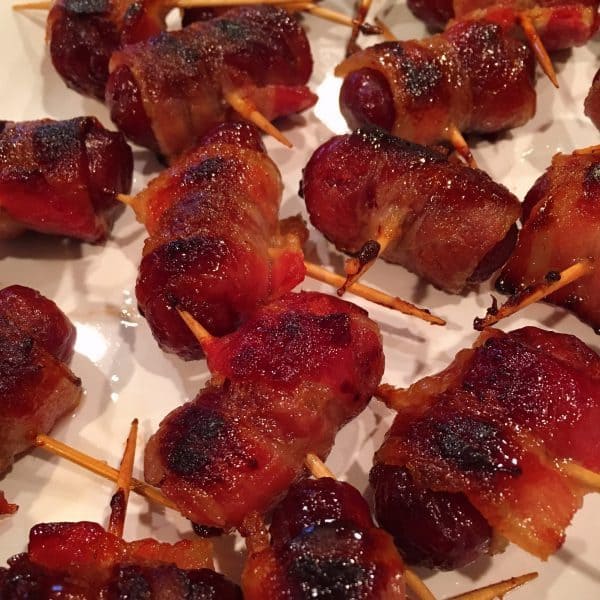 The beauty of this recipe is the juice from the bacon mixing with the brown sugar during cooking. It creates an amazingly delicious glaze!
I wish I had a beautifully plated photo for ya'll…but, the "Little piggy's" at this Nest gobbled these babies up so fast there was no time for "pretty photo's".
Such a simple recipe and SO good! My husband loves this new recipe. He's already asking me to make them again.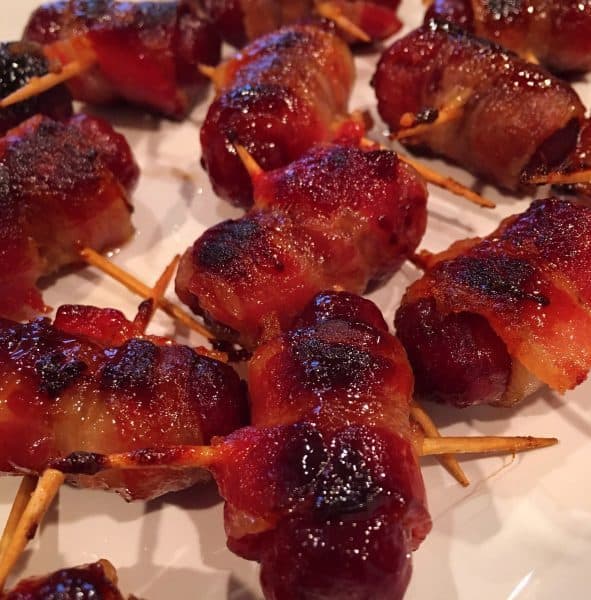 I love how simple this recipe is to make. When you can take three ingredients and make something this YUMMY…it's a BIG WIN!
If you enjoyed this recipe you might also enjoy these Delicious Appetizers
These Brown Sugar Bacon Wrapped Smokies are perfect for New Year's Eve, a Super Bowl Party, or late night snack! Enjoy!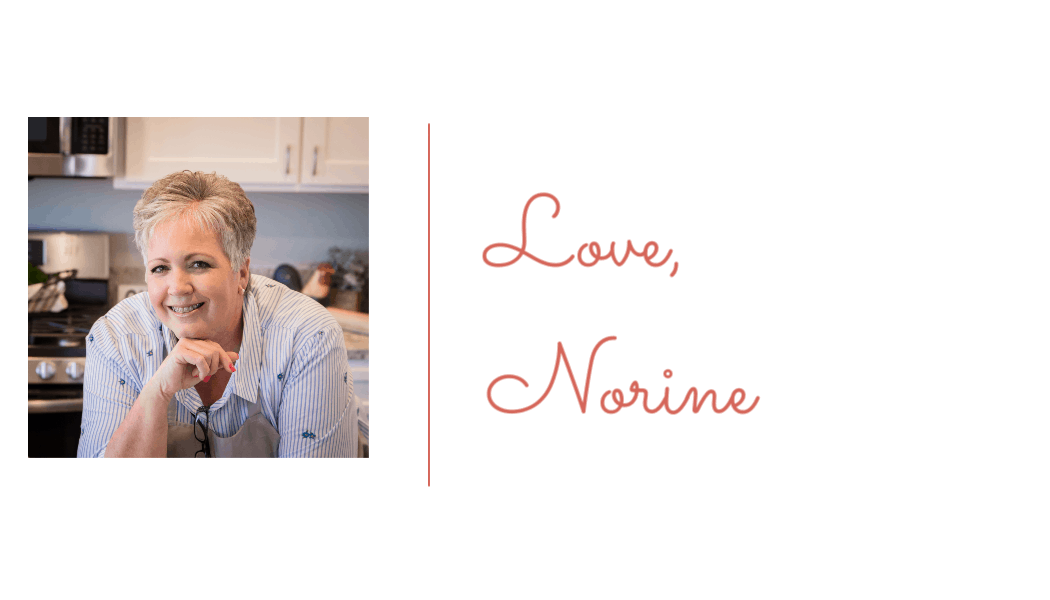 Yield: 6 - 8 servings
Brown Sugar Bacon Smokies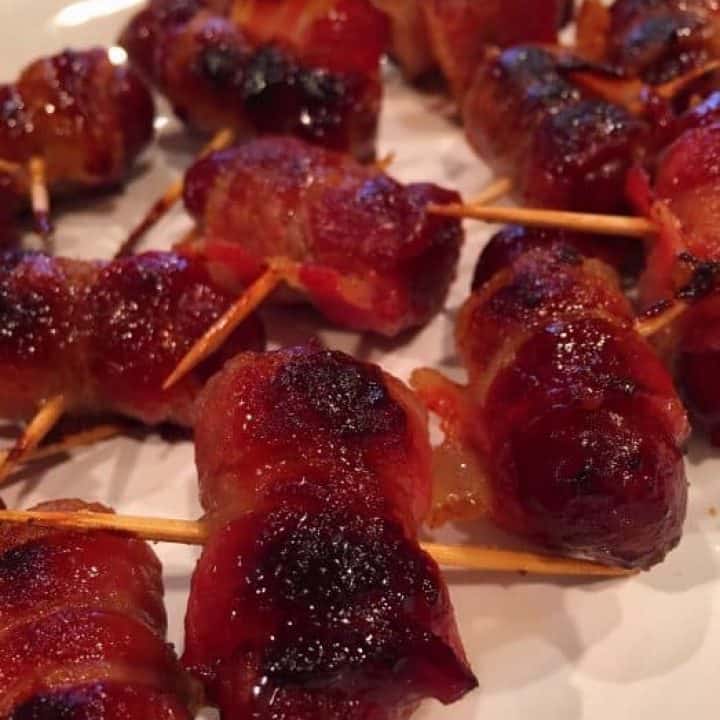 Brown Sugar Bacon Wrapped Lit'l Beef Smokies are made with three simple ingredients to create one scrumptiously easy appetizer!
Ingredients
1 lb bacon
1 12oz. package of Lit'l Beef Smokies
1/2 cup of light Brown Sugar
Instructions
Preheat oven to 350°
Line a baking sheet with aluminum foil.
Drain Lit'l smokies on a paper towel.
Cut bacon slices into thirds. Wrap each Lit'l smokie with a third slice of bacon and secure in place with a toothpick.
Sprinkle each smokie, front and back, with brown sugar.
Place in preheated oven and bake for 10-15 minutes. Using tongs turn each sausage over and bake for an additional 10 minutes.
Remove from oven and serve immediately.
Nutrition Information:
Yield:
8 servings
Serving Size:
2 smokies
Amount Per Serving:
Calories:

436
Total Fat:

29g
Saturated Fat:

10g
Trans Fat:

0g
Unsaturated Fat:

16g
Cholesterol:

94mg
Sodium:

995mg
Carbohydrates:

12g
Fiber:

0g
Sugar:

11g
Protein:

31g