Fun and Frugal Party Food and Decor for a Baby Shower or any Party you may be hosting!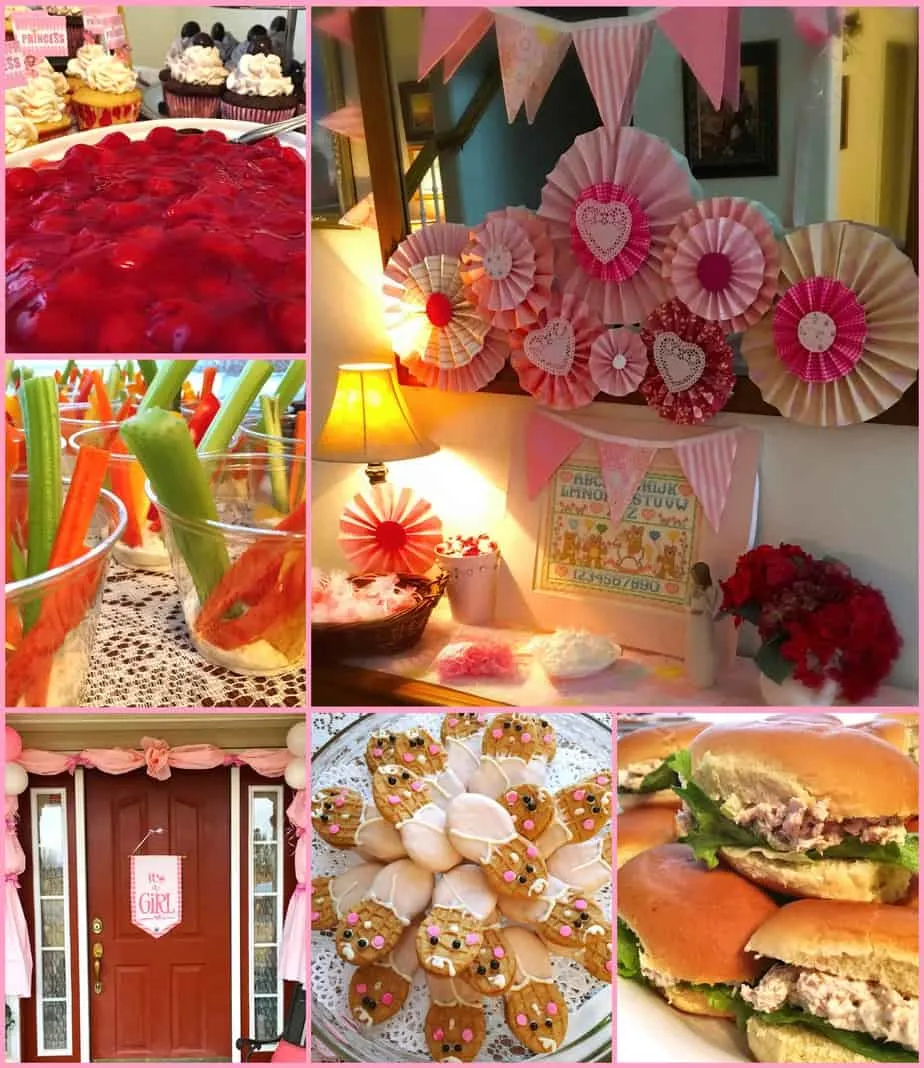 I love hosting parties for friends and family for all kinds of occasions. Whether its Bridal Showers, Birthday Parties, Super Bowl Parties, or Baby Shower's. However, they can be pricey and not very budget friendly! Over the years I've learned lots of little tricks on how to throw a party for pennies. (Mainly because "pennies" was all I had!)
This past weekend I hosted a Baby Shower for a friend's daughter who is now married and expecting her first baby! A girl! I love how everything came together. It's always nice when our hopeful visions become reality.
I put all my "vast" (lol) party knowledge to practice for this "princess pink" shower. I want to share some of my favorite tips with you so you can use them for your next party.
The first little tip I always like to share is to plan your party for mid-afternoon. We chose 2:00 – 3:30 pm. Mid-afternoon is past lunch, but before dinner. This way finger foods, light snacks, and simple desserts work perfectly. This saves on food, time, and energy. All huge bonuses for any hostess.
Nest, be sure you have a good idea of how many guests to expect. We live in a world where R.S.V.P. is generally ignored. Sad, but true. So a good rule of thumb is to cut the number of invitations sent out in half, and add 5 – 10 individuals, and you'll be pretty close to the number of guests who will actually attend.
For refreshments, I decided on Chicken Sliders, Veggie dip cups, dessert dip, and cupcakes. The Chicken sliders are easy to prepare and are made with my simple chicken salad recipe. It always receives rave reviews. So, I know it will be a hit!
Another perk? The chicken salad can be made ahead of time and then made into sandwiches the day of. Always keep in mind that as the hostess you want menu items that don't keep you tied to the kitchen. The recipe for my simple chicken salad is HERE.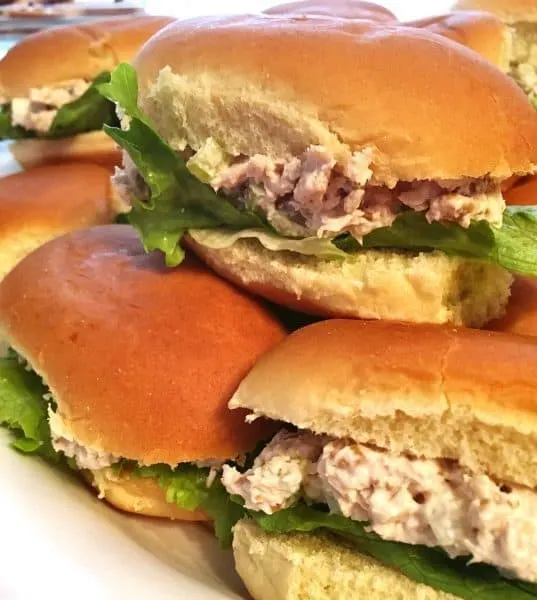 I took the idea of Veggie dip cups from Pinterest! So many great recipe boards on Pinterest.
I love this idea! I made the ranch dip up days ahead of time. (Score on time!) The veggies were all prepared ahead of time and stored in large zip lock bags. Another big time saver! (Note: If you're going to do bell peppers wait till the day of. They tend to get mushy when stored.)
Veggies are great party food. They're healthy and inexpensive. Especially carrots and celery!
To make the veggie dip cups you'll need clear plastic cups, 1 1/2 Tablespoon of Ranch dip in the bottom of each cup, and fresh veggie sticks of your choice. This clever idea prevents "double-dipping" (Ewe!) and bonus… no clean up! The ladies loved holding their cup of veggies…dipping and talking. (Or squawking as Mars calls it!)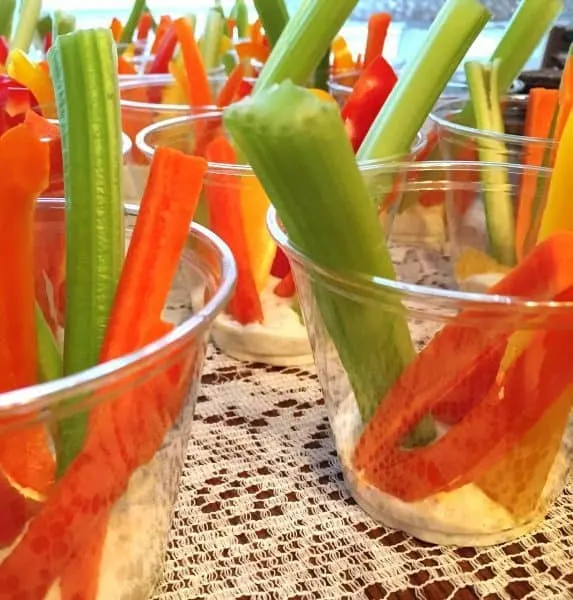 The BIG HIT of the day was the Cherry Cheesecake Dip! I served it with chocolate graham crackers, cinnamon graham crackers, and vanilla wafers. It's a quick delicious dessert.
To make the dip you need one 8 oz. package soften cream cheese, 1/2 jar of marshmallow fluff, one 8 oz. container of cool whip and one can cherry pie filling. Mix the cream cheese and fluff together. Add in the cool whip. Spread into a serving dish. Top with cherry pie filling. Chill till ready to serve. Ta-da! It's done, and…. It's AMAZING! (Sing that "Amazing" when you say it!)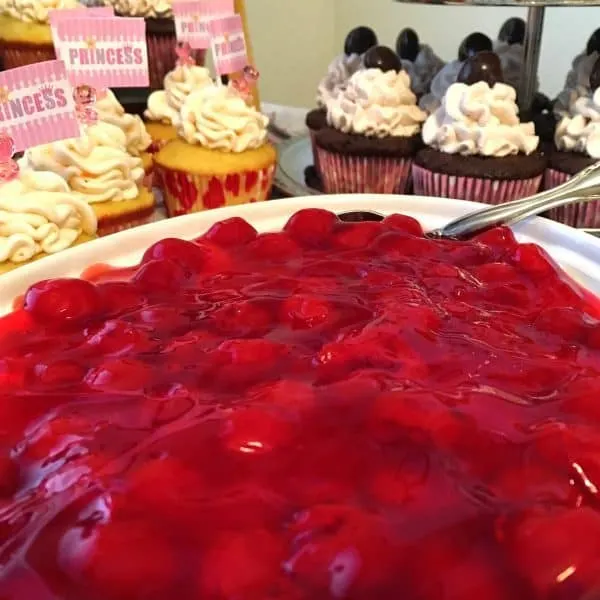 Dessert! Cupcakes are best when hosting a party. You can make them ahead of time and freeze them. Then frost and decorate the day before. Negative stress factor! Who doesn't like that? A little bonus…freezing and then thawing them makes them even more moist!
I found my cupcake liners at the dollar store. They came with the little "princess" flag topper. The mini pink pacifiers I found at JoAnn's on clearance for .97 cents for 24! They were so cute on top of the cupcakes.
For the cupcakes let me share a little money-saving secret. Cake mixes run around $1.60 each. (Always use Duncan Hines. It's the best for cakes! My humble opinion…take it or leave it. Lol) To change a box mix into a richer moister cupcake, substitute melted butter for the oil. Milk for the water. Add two tablespoons of instant dry pudding mix and 1/2 cup of sour cream. BAM! Best cupcakes EVER! As good as any gourmet bakery.
Explore flavors and fillings. I did Chocolate Cherry Ameretto with cherry filling and chocolate whip cream frosting. I also made a French Vanilla Blood Orange with spiced cranberry filling and orange zest butter cream frosting. Just a little creativity and imagination and in no time you have gourmet cupcakes for a fraction of the cost of ordering them from that high-end bakery.
I always try to squeeze in one "personalized" food item. It makes your guest feel special.
For this party it was the little Nutter Butter Babies with their rosy cheeks and pink blankets!
To make the Nutter Butter Babies…melt a package of white chocolate chips with 1 Tablespoon of vegetable oil in a microwave safe small bowl on 50% power for 3 minutes. Stir until chocolate is smooth and creamy. Remove 3/4 cup of the white chocolate and place it in a disposable piping bag. The remainder of the melted white chocolate add 1 or 2 drops of red food coloring to turn it light pink. Dip the bottom half of the cookie in the pink chocolate for the "Blanket" and set them on wax paper or a silicon mat to harden.
Snip off the end of the disposable bag and pipe dots to hold the eyes and cheeks on. Then add a curl for the hair, a dot for the mouth, and outline the blanket in the white chocolate piping.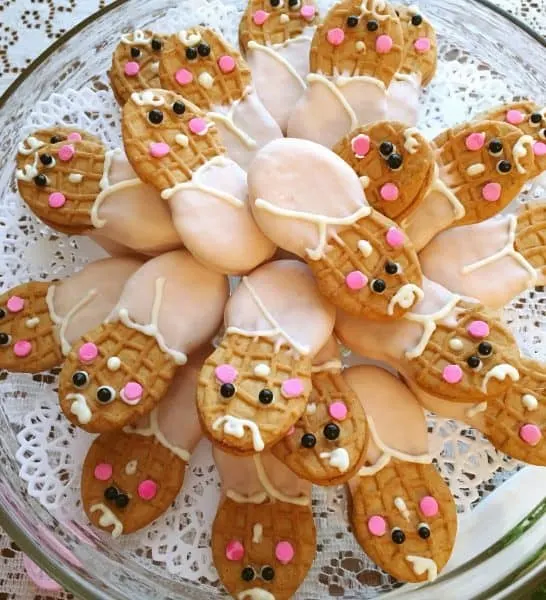 For drinks, I suggest infused water. Stay away from costly high sugar content punches. When trying to plan a cost-effective yet beautiful event, fruit infused waters are it! For this party I did citrus infused water.
Always place your fruit in a serving bowl or dispenser first, then Ice, and last water. The ice will hold the fruit down and prevent it from floating to the top. For citrus infused water use lemons, limes, and orange. $2.50 for the beverage!
The decor for this party!
The hit of this party was the front door decor. I received so many compliments on this door decor. Which was really fun because I threw the idea together the night before. I knew I would do some kind of door decor. I just hadn't figured it all out. Once I did I was super excited about it. (Ignore that my front door needs to be repainted! Trust me…it's on the spring "to-do" list! I just can't decide on a color yet. I'm leaning towards black? Any thoughts?)
Why the front door? I think every party needs a "Welcome! Hi! The Party is HERE!" It builds the excitement for what waits behind the door! (Kind of like the Price Is Right! Kind-a!)
To create this garland I used one pink plastic table-cloth from the dollar store cut in half down the middle lengthwise. 1 spool of pink and white polka dot ribbon from…you guessed it…the dollar store.
Gather one end of the table-cloth about 6 inches from the end. Twisted it and using a handy-dandy staple gun staple it to the middle of the door frame. (We won't discuss the amount of staple marks in my door frame or how happy it makes the hubs! Not!!!) Then work your way around one side of the door frame puffing and stapling. Do the same thing on the opposite side. In the center just "fluff" the 6-inch ends out to look like a flower. Tie bows with your dollar spool of ribbon everywhere but the corners. For the corners use "dollar store" balloons tied together and stapled in place. (You can probably see why he loves me for my staple gun!)
The darling banner on the door was given to me by a friend who didn't want to keep it. I am a firm believer in "re-purposing". I can use this for multiple baby showers. So I keep it in my "party decor box".
The total cost for the front door decorations…$3.00! It's not necessary to spend a lot to have it look like it cost a lot. Get creative. Go on Pinterest and use those ideas you've been pinning. There's literally thousands of them on there.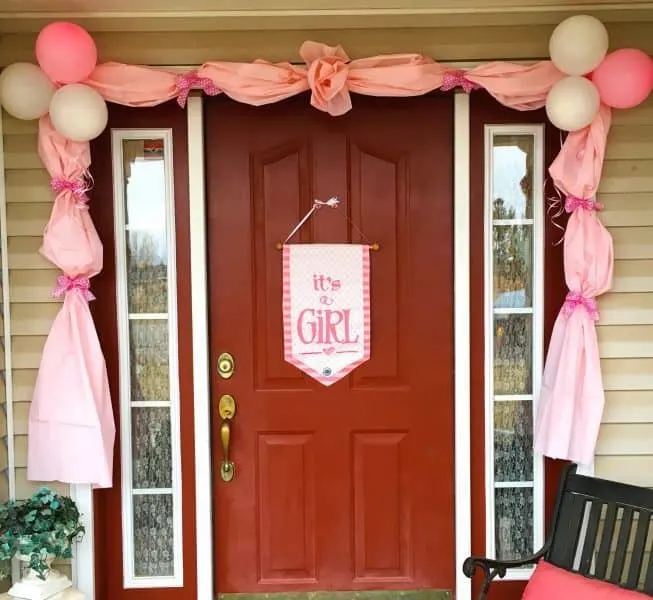 Inside I decorated the entryway. You don't need to decorate the entire house. Just a little "sparkle" here and there set's the tone for the event.
The cloth flag banner was left over from my daughters baby shower. (See we're back to re-purposing.) Mine is made out of fabric, but you could just as easily make one from cute craft paper, a hole punch, and bakers twine.
The paper rosettes, my new favorite decorating item, were made out of extra craft paper I had in my craft closet. Again, minimal cost involved. If you don't know how to make paper rosettes there are hundreds of tutorials on the internet. I think we've all folded paper fans in elementary school. Same concept… all grown up.
I love how it turned out! So much so that I'm leaving it up for Valentines decor.
To answer the question I know is in the back of your mind… "Will you keep them?" YES! At least for now. I'll store them in those wonderful heavy-duty plastic zipper bags your sheets and linens come in! They make the best storage containers for decor items you want to hang on to.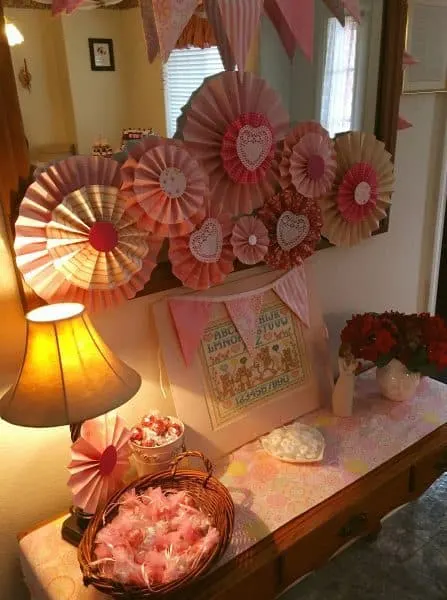 Next tip, and it's my favorite…shop your house! I say this over, and over, and over again! Your house is your best source of decor!
Example: I had the cross stitch in the back of a closet. The table runner is my spring runner, but the pink worked perfectly for this shower. The vase and flowers were from my bedroom. The pink treat can was in party box, a find from the thrift store for .50 cents. The mother and baby statue was given to me as a gift and was fitting for this party.
Simple easy decorations all found in my own home. So be sure to shop your home when planning to hostess any type of party.
The "Thank You" gifts you see in the basket, were pink organza bags found at the dollar store, filled with candy kisses and Lindt Strawberry truffles wrapped in pretty pink wrappers. I purchased the Lindt candy at T.J. Maxx for $3.99 a bag (They are $5.98 at Walmart!). Her guests loved their little pink goodie bags.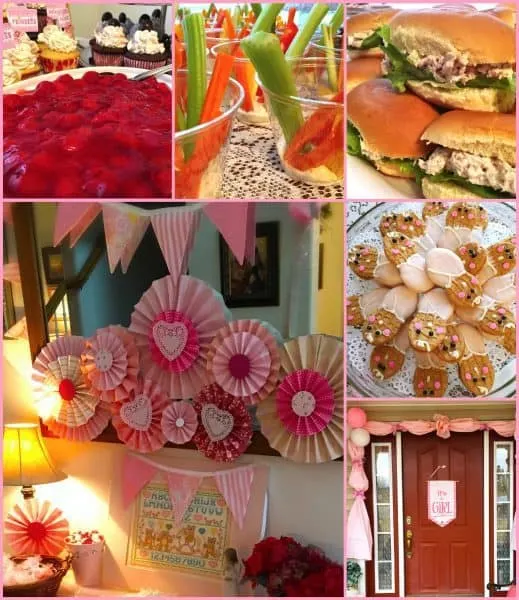 We didn't play any games. I'm a big believer that they are an extra expense, and more importantly, take time that could be spent sharing and laughing with friends. There's so little time spent visiting anymore. So it's a treat!
I'm also a huge advocate of "Open House" baby showers and bridal showers. Our weekends are precious to us, with so much going on, and it's nice to know you can run in and visit, then leave when you want, with no excuses. I think we all appreciate respect for our limited time.
There you have it! Some of my favorite penny-pinching party ideas. I hope your takeaway from this post is that you can host an event for minimal expense. Shop your own home, thrift stores, dollar stores and discount stores. Look for sale items and convert them into usable items for your party. Keep your menu simple. Most of all remember your guests are coming to visit and share a few moments with the guest of honor. Most are Mom's just happy to be out with other "grown-ups" having "adult conversations" for an hour.
I'd love to hear your ideas. What are some of your favorite Party Planning Tips and Tricks? Please share in the comments below.
I'm linking these party idea's up to my new favorite Link Party. Inspiration Monday! You can click right HERE to check out all the fun amazing recipes, decorating ideas, and crafts from some of the most talented bloggers EVER! Go take a peek!
Thanks and have a GREAT day! Plan a party, but…be sure to invite me! 😉