Crock Pot Meatballs with Sauce are an easy no-fuss meal! No browning is needed for these tender juicy meatballs that cook in a delicious thick sauce in the slow cooker! Great on pasta or for making the BEST Meatball sandwich!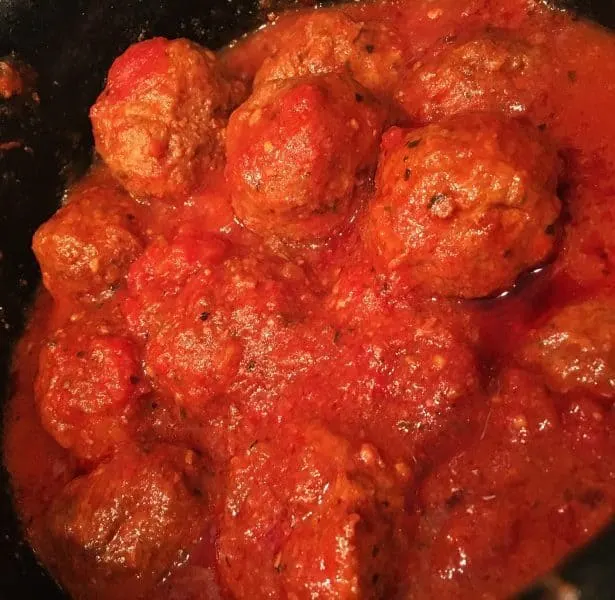 I love Italian food! (Awww heck… I love all food!) When it comes to comfort food, foods that speak of family meal time, and meals made with love…the Italian's just hold the corner on the market!
You'll know exactly what I mean when you make this dish! My house smelled like a Five star Italian restaurant! Oh my goodness, it was so amazing… they need a wall flower with that scent! (Well…maybe not, but you get the gist right?)
Who doesn't like a delicious meatball sandwich, or pasta and meatballs with a deep rich marinara sauce? It's the BEST!
The beauty of this recipe is you can do both, in the crock pot, (no kidding) and the sauce is OUT.OF.THIS.WORLD! So, go dig out that crock pot that you thought you had put away for the winter and lets a make'a some'a meatballs… hey! (Terrible Italian accent…awful! lol)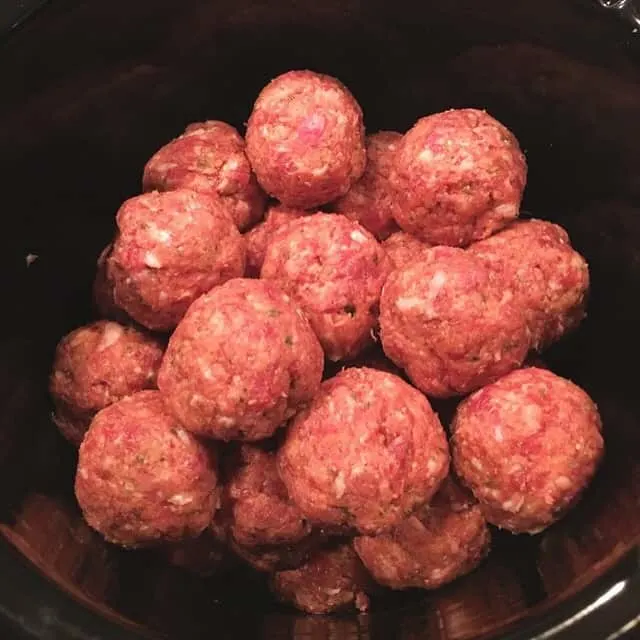 How To Make Slow Cooker Meatballs and Sauce
Take 1 pound of ground beef and 1 pound of mild Italian sausage (If you can only find it in links…just get links and cut them open…not a big deal)… along with your seasoned bread crumbs, parsley, eggs, and Parmesan cheese, and you are going to mush that all together really well. (That's right…Mush! I love mushing…just dig your hands in and mush away! Don't be a pansy…roll up those sleeves and MUSH!!! lol)
Take a heaping tablespoon of the mixture and roll it into a ball.
Place the meatball into the bottom of your crock pot. (Think golf ball size…maybe just a tad bigger) Continue rolling the meat into balls and placing them in the crock pot until you have used all the mixture. You should have around 25 – 30 meatballs…give or take.
Adding the Sauce Ingredients
Pour remaining ingredients on top of the meatballs…DO NOT STIR!
That's right, "dump" 2 cans of petite diced tomatoes, 1 can tomato paste, 1 small can tomato sauce, 2 cups of water, your onion, garlic, seasonings and sugar.
Cooking the Meatballs
Place the lid on top, set on low and… walk away….yep…walk away, or you can dance…whatever get's ya moving on to the next thing on your list.
TIP: If you have the newer crock pots with the digital settings…and you've already discovered that "low" is burning everything to a crisp…set it to "warm" to cook! I am not a huge fan of the new digital crock pots.)
In 4–5 hours as the house is starting to smell like Cousin Vinny's you can gently…ever so gently, to not break the meatballs apart… stir the mixture together.
Replace the lid and continue cooking another 5 hours.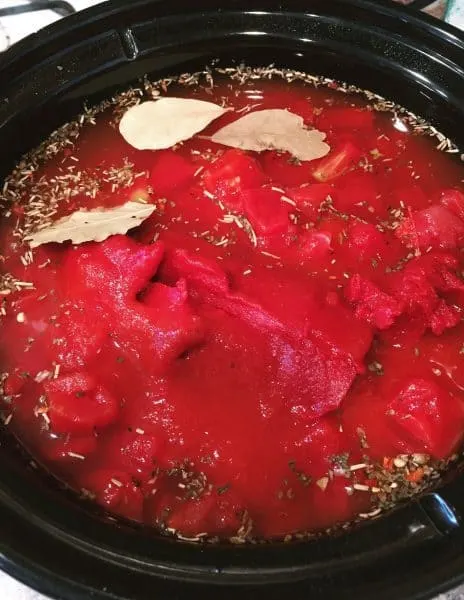 Finishing Slow Cooker Meatballs and Sauce
After 8–10 hours (I prefer 10 hours… just gives the sauce longer to do it's thang!) and a couple more stirs your entire house and… the next door neighbors house now smells like Italy!
As those meatballs cook… the juices from the meat and the flavors from the Parmesan cheese start to seep into that tomato sauce. (Cooking Magic…we love cooking magic!)
The sugar is caramelizing in that sauce, and it will just keep getting richer, and richer with each passing hour. Your meatballs are going to cook perfectly! Want to see….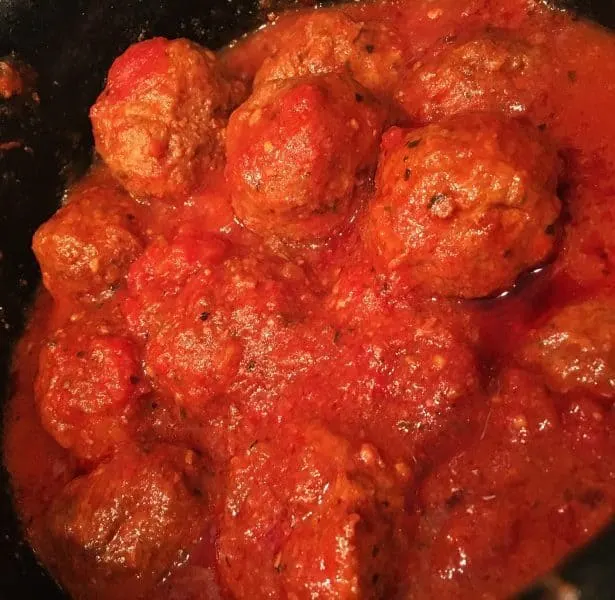 Oh… Mama Mia! That's a meatball!
Amazing right? So simple, so quick, so easy… you are probably skeptical about the taste!
You wouldn't think something this simple would be this wonderful… however… you end up with beautiful perfect meatballs, full of flavor, and a rich thick sauce that is just as good as any fine Italian restaurant you will ever go to! (Forget the Cannoli…bring me the Meatballs! Sorry God Father…had to steal your line!)
Depending on the size of your family, I can get 2 meals out of one recipe of meatballs.
The first day I made a pasta dish using Penne Pasta (it's our favorite) but, you can use any pasta you want. The second day meatball sandwiches.
The meatballs and sauce store really well in the fridge until you are ready to use them. I recommend making them one day allowing them to cook the entire 10 hours, then using them throughout the week.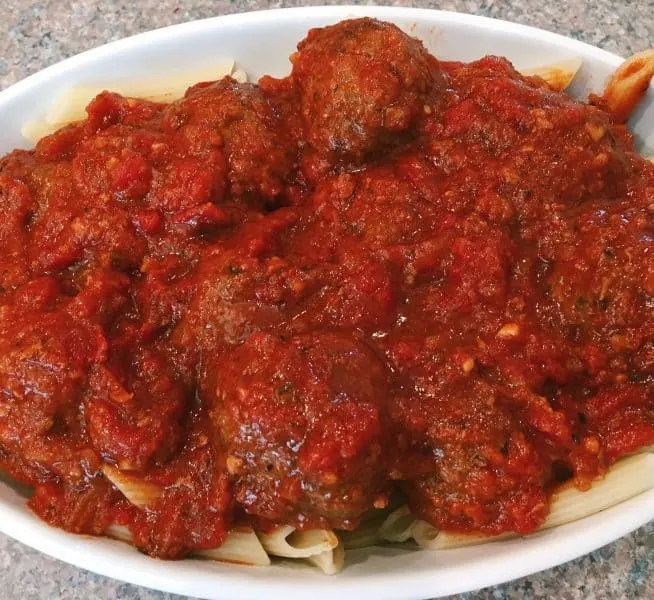 I cook some pasta, then spoon the meatballs, and sauce over the noodles.
I add some chopped fresh basil, and sprinkled it all over the top. Add some fresh grated mozzarella cheese and shaved Parmesan cheese.
Pop it into the broiler for a minute until the cheese is bubbly and golden brown. Serve it with a salad and some garlic cheese bread! Yum! (I really need another go-to word! Yum is so original!)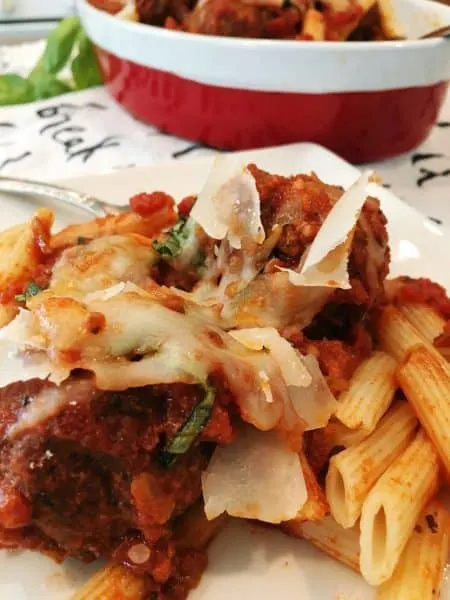 I can promise this recipe won't disappoint.
You will be able to tell all your friends and neighbors that you have Cousin Vinny's very special old world meatball recipe! Okay maybe not…but, they won't doubt its authentic Italian!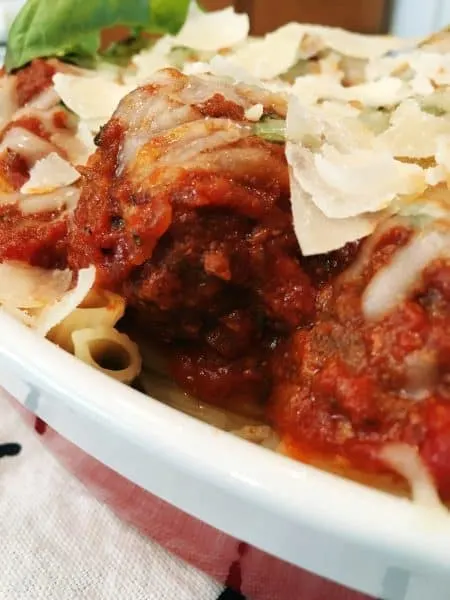 How to Get Two Meals out of One Recipe
As mentioned above, you can get two meals out of this recipe! The second day…I use these meatballs to create the world's best Meatball Sub Sandwich!
Split your favorite sub rolls in half, brush with olive oil, sprinkle with garlic salt, pop in the broiler till toasty and golden brown.
Add 3-4 meatballs and cover with sauce, top with cheese! Place them back in the oven under the broiler for another 2-3 minutes.
Another amazing dinner…and my personal favorite!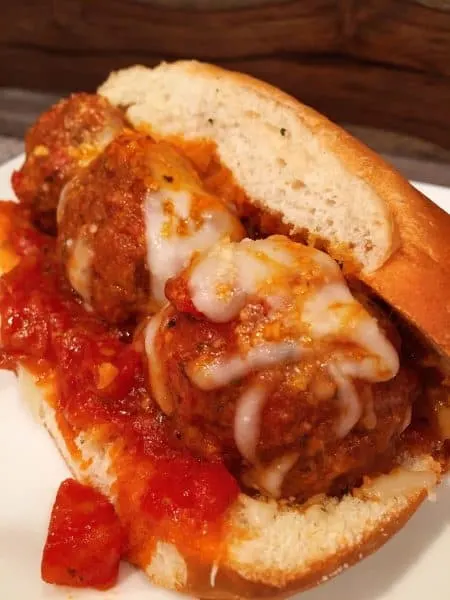 It's so nice on those crazy days, that we all have, to just pull out a healthy hearty meal you can heat up in minutes and be done!
Delicious Slow Cooker Recipes We Love
I've got the printable below for you…What's your favorite Italian dish? There's so many to chose from but, I'd love to know what some of your favorites are…maybe I can include them here on the Blog! Until next time… Manga!
I'm sharing this amazing recipe on some of my favorite Link Parties. Click the Link below to join the fun!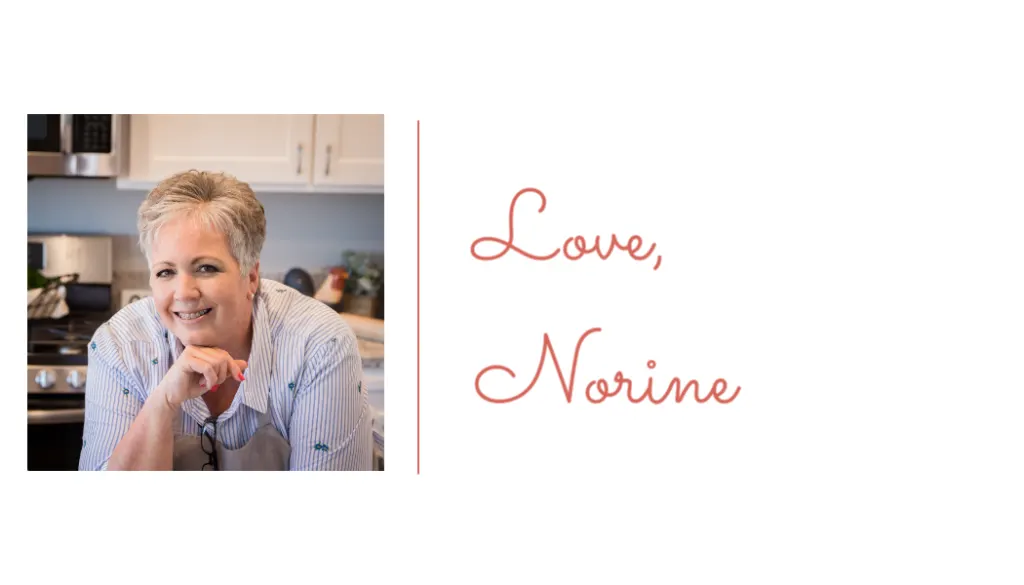 Yield: 25- 30 meatballs with sauce
Crock Pot Meatballs and Sauce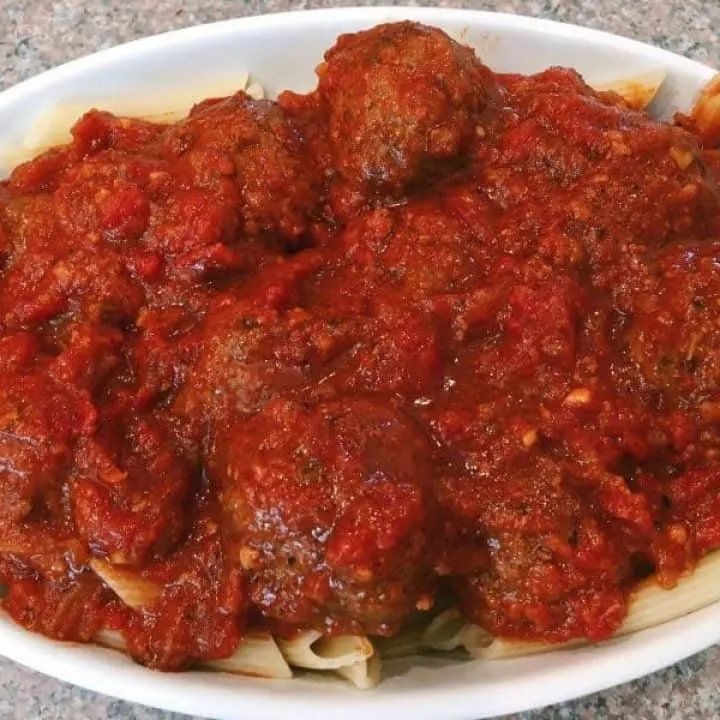 A true rich Italian dish made in your crock pot. Meatballs with a deep rich Marinara sauce. Simple, easy and full of flavor!
Total Time
10 hours
15 minutes
Ingredients
Meatballs
1 1/2 pounds ground beef
1 cup bread crumbs
1 teaspoon Italian Seasonings
1/4 cup chopped fresh parsley
2 eggs
1 cup grated Kraft Parmesan Cheese
Sauce
2 (16 oz.) cans diced petite canned tomatoes
1 (6 oz.) can tomato paste
1 (8 oz) can tomato sauce
2 cups water
3 Tablespoons white sugar
6 cloves garlic, minced
1/4 cup dried onion flakes
2 dried bay leaves
1 teaspoon crushed rosemary
1 teaspoon oregano
1 teaspoon dried basil
1/4 tsp dried red pepper flakes
Salt and Pepper to taste
Instructions
In a large bowl mix together all the meat ball ingredients. Mix till well blended.
Take one heaping tablespoon of meat mixture and roll into a ball about the size of a golf ball. Place into the bottom of the crock pot. Continue the process until all the meat mixture has been made into meatballs.
In the crock place all of the sauce ingredients. Cover, turn on low heat, and allow to cook for 4 hours.
After four hours gently stir the sauce to some what blend together. Return cooking on low heat for another 6 hours, checking about every two hours and gently stirring. Total cooking time should be about 8 - 10 hours. If you have a digital crock pot and you've noticed it burns even when cooking on low heat, I recommend turning the heat level to "warm".
After the 10 hours of cooking time you can serve the meatballs over the pasta of your choice or make into meatball sandwiches. Enjoy!
Nutrition Information:
Yield:
10
Serving Size:
3 meatballs
Amount Per Serving:
Calories:

434
Total Fat:

25g
Saturated Fat:

10g
Trans Fat:

0g
Unsaturated Fat:

15g
Cholesterol:

112mg
Sodium:

1031mg
Carbohydrates:

24g
Fiber:

3g
Sugar:

10g
Protein:

29g
Norine's Nest in no way provides any warranty, express or implied, towards the content of recipes in this website. It is the reader's responsibility to determine the value and quality of any recipe or instructions provided for food preparation and to determine the nutritional value, if any, and safety of the preparation instructions.