Pork Roast is slowly cooked in a delicious Mojo sauce made from garlic, citrus, cumin, and olive oil. Mojo is a traditional colorful Cuban vinaigrette that adds amazing flavor to this simple, yet delicious shredded Pork Roast. Served over rice it's the perfect meal!
A few weeks ago Mars (my husband) and I spent our anniversary weekend attending a home show in Southern Utah. While down there we stumbled upon this darling little food trailer. It was so charming that we just had to stop and check it out.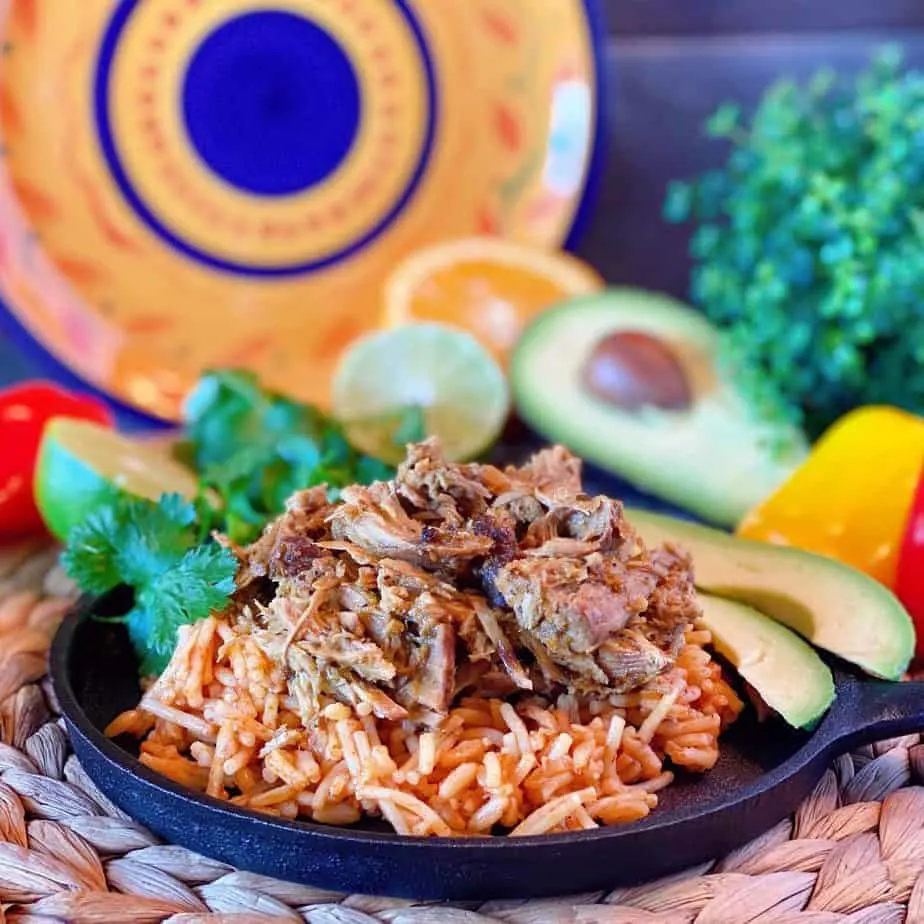 The menu was unique and everything looked so good. I wasn't sure what to order until I saw a "Cuban Pork Sandwich"! There are lots of recipes on Pinterest for Cuban Pork Sandwiches. I've always wanted to try one, but here in Utah they're pretty hard to find in local restaurants. I'm sure in Florida they're a dime a dozen. Not so much so here in my country town.
I was feeling particularly adventurous that day so I ordered a "Cuban" with fries, the BEST fries I've ever had in my life by the way… and waited with great anticipation. I was not disappointed! Goodness me! It was an explosion of flavor. From the very first bite there was a Par-Tay going on in my mouth!
I spent the next week dreaming about that sandwich! The flavors were so amazing. I just had to try making this dish at home! So I did!
What is Mojo Sauce?
What makes Cuban Pork…well…Cuban, is the Mojo Sauce. Mojo sauce is the national table sauce of Cuba. It is a colorful vinaigrette traditionally made with the fresh juice of sour oranges. However, finding sour oranges here in the states is nearly impossible, so generally chefs substitute regular oranges and limes to recreate the flavor of sour oranges.
There are several ways to prepare traditional authentic Cuban pork. From slowly roasting in the oven to cooking it in a slow cooker! For my version of this Cuban dish I am using my slow cooker! I'm all about the "easy"!
How to Cook Cuban Style Roast Pork
Place 1 bone-in, or boneless, pork shoulder roast (about 4 pounds) in the bottom of slow cooker. You can use the little pork loin roast from Costco. They work well in this recipe.
TIP: You can mix all the mojo ingredients together and then pour it over the pork roast…but I'm not a big fan of washing more dishes than necessary. So I just dump it in the slow cooker and let it do it's thang!
Top with 1 1/2 teaspoons salt, 1 teaspoon coarse black pepper, 2 teaspoons dried oregano, 2 teaspoons cumin, and 8 cloves of garlic! That's right…EIGHT CLOVES! This is a vampire repellant dish! (Might make your two year old stop biting their siblings…just sayin')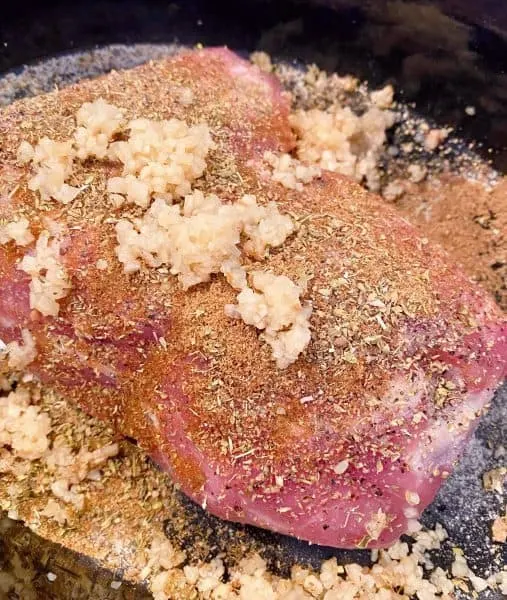 Add the zest of 1 orange and 1 lime. This is where the vibrant colors and flavor of Cuba come into play! Isn't it beautiful! Honestly this is when I get excited about cooking!
When flavors and colors combine to create a wonderfully authentic dish. It tells a story of cultures.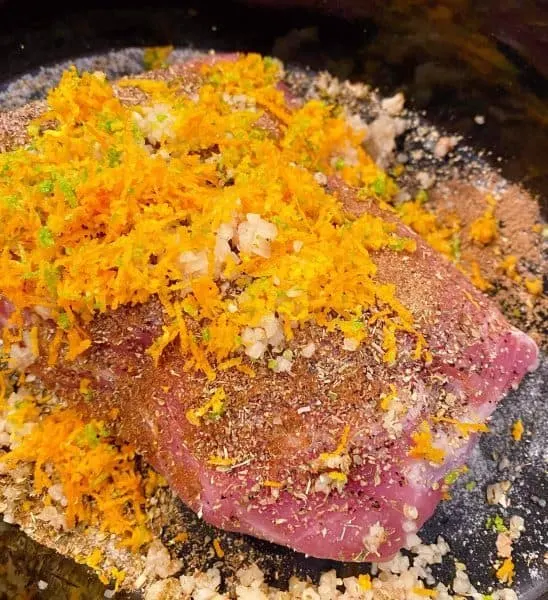 Add 3/4 cup orange juice, freshly squeezed. Like wise with the lime. You'll need 1/2 cup of fresh squeezed lime juice and 1/2 cup olive oil.
Tip: Make sure you use the orange you just zested! Let's not waste that orange!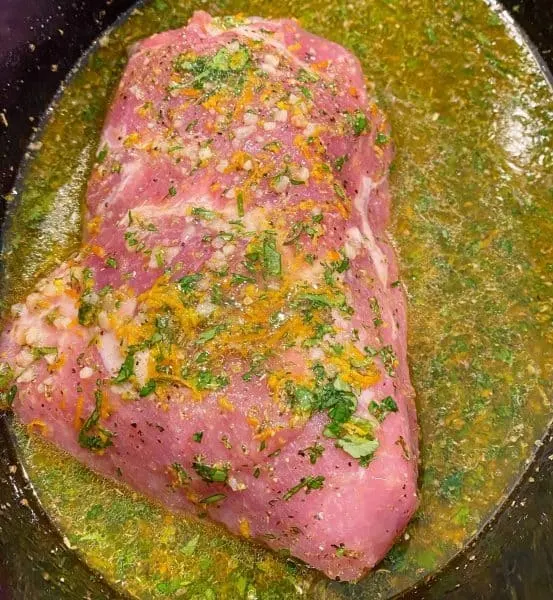 Add a little more color by adding 1/4 cup freshly chopped cilantro! Take a spoon and lightly mix everything, making sure to spoon the juices up and over the top of the pork roast.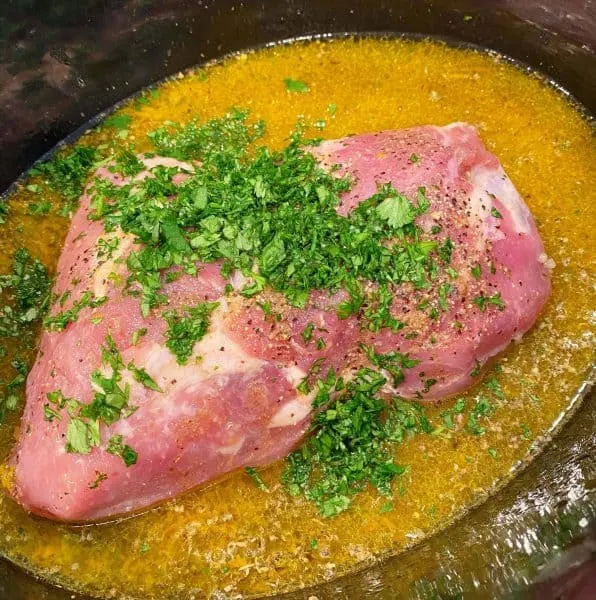 Slow Cooking Instructions
Cook on low for 8-10 hours or on high for 5-6 hours. Make sure to check on the roast from time to time. The reason being…not all slow cookers cook at the same "low" temperature.
I've said this before, I'll say it again…I feel the newer slow cookers cook at a much high temperature than the one Grandma had. So check the roast. It should almost fall apart when it's done.
The house is going to smell incredible and different all at the same time. Because this is a high citrus dish the smells are slightly sweeter than you'd expect with a slow cooked roast. Don't let that throw you. Trust me…the flavor in this dish is outstanding!
Carefully remove tender pork roast from the slow cooker and place on a foil lined baking sheet. Turn the edges of the foil up around the edges.
Spoon some of the Mojo juices over roast, reserving the rest for later, and place in preheated oven set for broil. Broil until the edges of the pork roast and the top of the roast are slightly crispy and brown.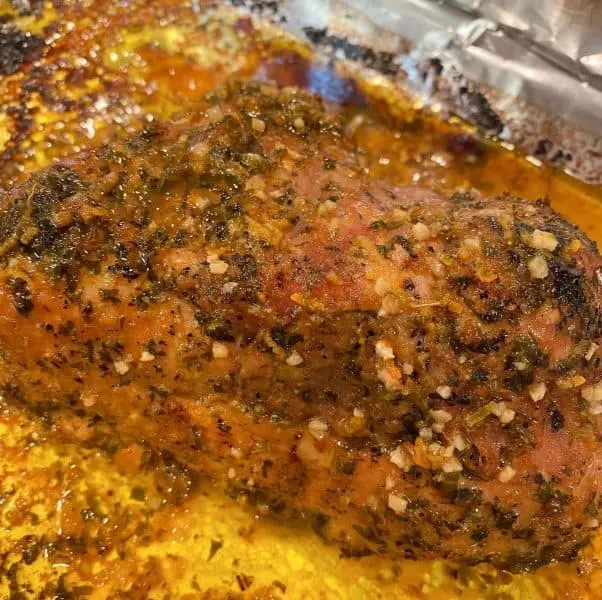 Remove browned roast from the oven, using two forks gently shred the pork roast. Spoon remaining mojo sauce over the shredded pork. Ya wanna dive in don't ya? Doesn't that roast look tender and juicy! Full of exotic flavors.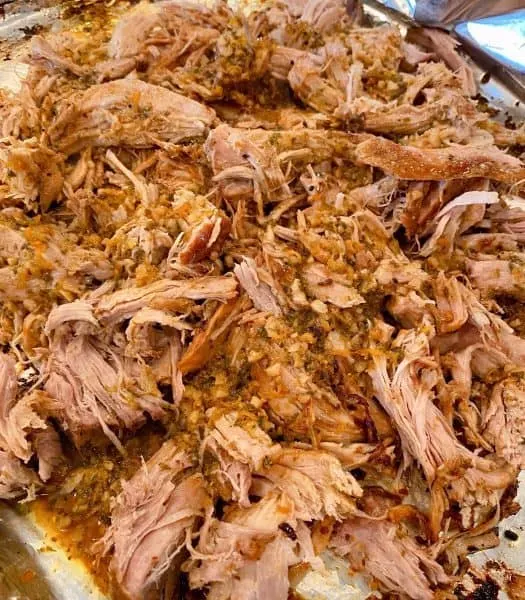 At this point you can do so many things with this recipe. You can make incredible Cuban Pork Sandwiches, which I will share that recipe soon, you can serve it over Spanish rice.
Top it with cheese, slices of avocado, and sour cream. It makes a mouth-watering Cuban pork bowl! It's great in a tortilla with your favorite toppings. There's no end to the YUM you can create with this recipe.
You can make this delicious homemade Spanish Rice or use a box mix. I loved the ease of using Knorr Spanish Rice and Pasta for this recipe. Makes dinner a snap and ready in minutes!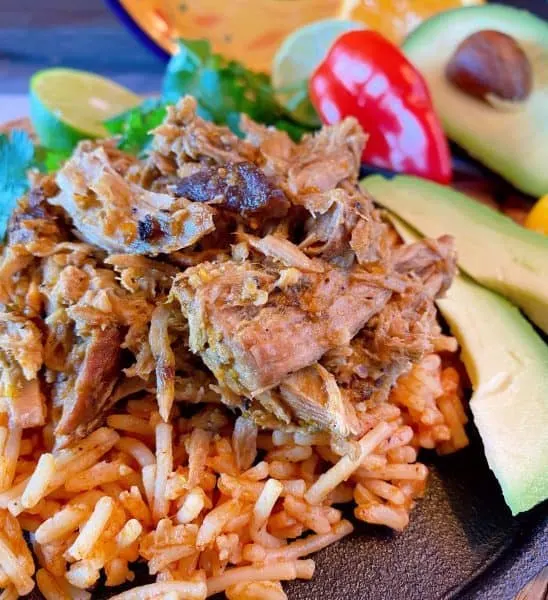 This Slow Cooker Cuban Pork is so tender and juicy! The flavors are intoxicating and take you away from the doll-drums of the same weekly casserole! Spice up your family dinner time with this delicious international dish.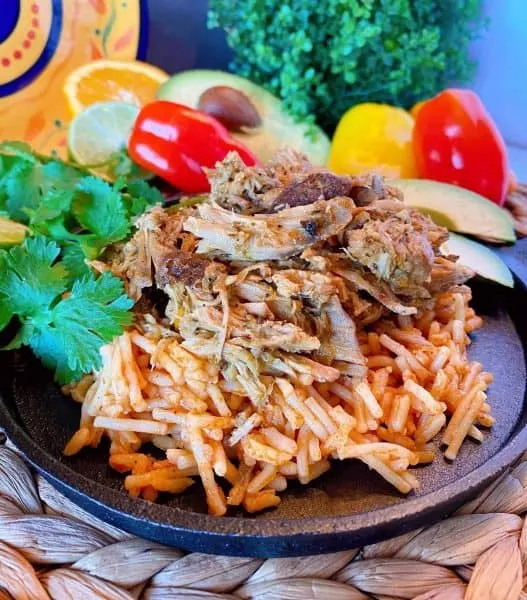 Other Favorite Slow Cooker Recipes
Stay tuned for "part two" of this recipe…the Cuban Mojo Pork Sandwich! I love a recipe that allows you to make two meals out of one! This is that dish and your family will love it!
I'd love to have you join me on Facebook, Instagram, and Pinterest where I share my favorite recipes every day and don't forget to sign-up for my emails where I send you links to all my newest recipes. Thanks for stopping by and…
Happy Nesting!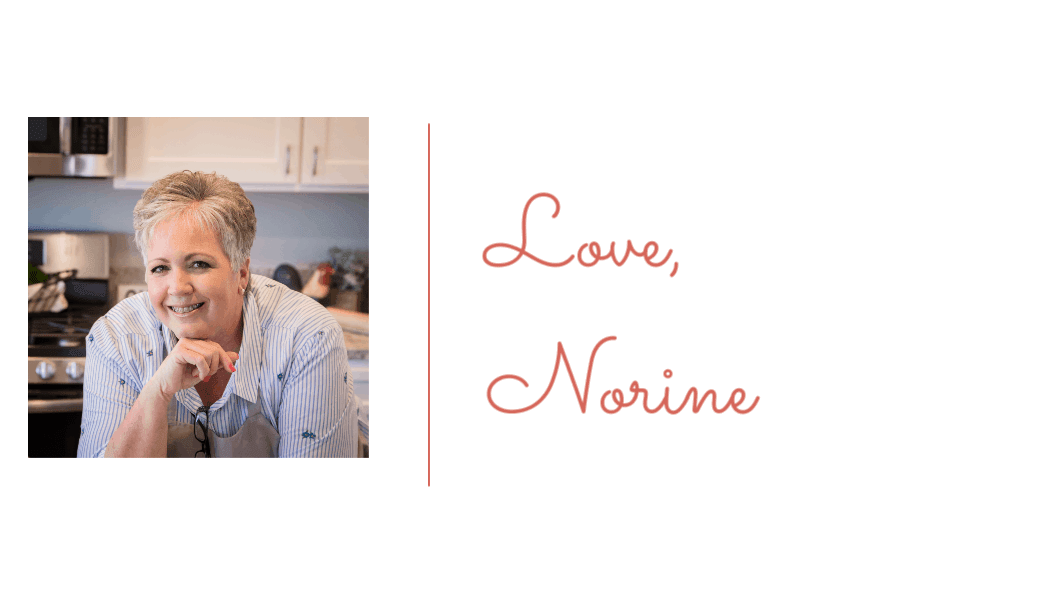 Yield: 8 servings
Slow Cooker Cuban Pork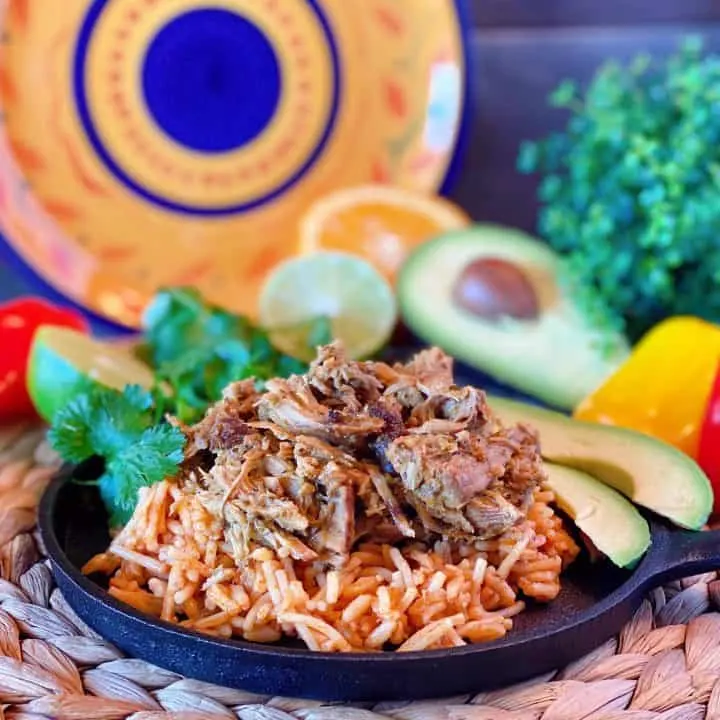 Pork Roast is slowly cooked in a delicious Mojo sauce made from garlic, citrus, cumin, and olive oil. Mojo is a traditional colorful Cuban vinaigrette that adds amazing flavor to this simple, yet delicious shredded Cuban Pork. Served over rice it's the perfect meal!
Total Time
8 hours
10 minutes
Ingredients
1 bone-in, or boneless, pork shoulder roast (about 4 pounds)
1 1/2 teaspoons salt
1 teaspoon ground black pepper
Zest of 1 orange
Zest of 1 lime
3/4 cup orange juice, freshly squeezed
1/2 cup lime juice, freshly squeezed
1/2 cup olive oil
8 cloves garlic, chopped finely
2 teaspoons dried oregano
2 teaspoons ground cumin
1/4 cup chopped cilantro (lightly packed)
Instructions
1. Place pork roast in the slow cooker.
2. Add all the remaining ingredients. Stir with spoon.
3. Cook on high for 5-6 hours or on low for 8-10 hours. Note every slow cooker cooks at different heats so your cook time may vary.
4. The pork should be tender and almost falling off the bone. Carefully remove the pork roast from the slow cooker and place it onto an aluminum foil lined baking sheet with the edges turned upward.
5. Place in oven set for broil. Broil until edges and top are brown and slightly crispy.
6. Remove from the oven and let rest for 10 minutes before serving. Shred with a couple of forks.
7. Spoon remaining juices from slow cooker over shredded pork.
Nutrition Information:
Yield:
8 servings
Serving Size:
2 cups
Amount Per Serving:
Calories:

202
Total Fat:

17g
Saturated Fat:

3g
Trans Fat:

0g
Unsaturated Fat:

13g
Cholesterol:

15mg
Sodium:

411mg
Carbohydrates:

8g
Fiber:

1g
Sugar:

4g
Protein:

5g