Decadent homemade chocolate chip cookies are filled with rich creamy vanilla ice cream and dipped in a satin chocolate ganache and rolled in toasted almonds for a spectacular summer time treat!
Every perfect beginning deserves a perfect ending!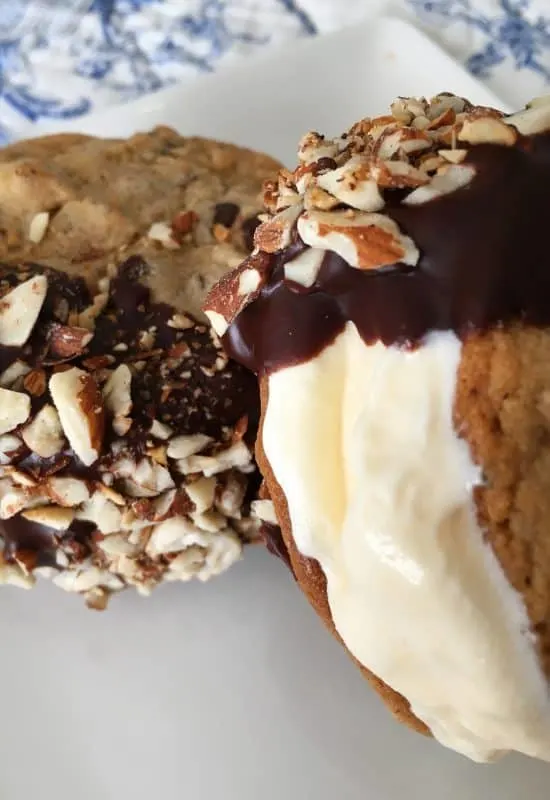 Mr. Nest loves homemade chocolate chip cookies! Loves 'em! (In fact I used them to woo him into falling in love with me! You know what they say about a man's heart and his stomach! It's true! Lol )
He also loves dark chocolate almond clusters. So, I decided to make his favorite chocolate chip cookies, throw a scoop of premium vanilla ice cream in-between and then dunk them into dark chocolate and roll them in toasted chopped almonds! Hello Scrumptious… Come to Momma!
How To Make Chocolate Chip Ice Cream Sandwiches
To start out you are going to need to whip up a batch of your favorite chocolate chip cookies.
Don't worry… I'm giving you my recipe just in case you want to give mine a try! I love this chocolate chip cookie recipe because simply put…it's perfection! Crispy and golden around the outer edges but, chewy on the inside. Sometimes you can get crispy and sometimes you can get chewy but…to get them together… Whoa!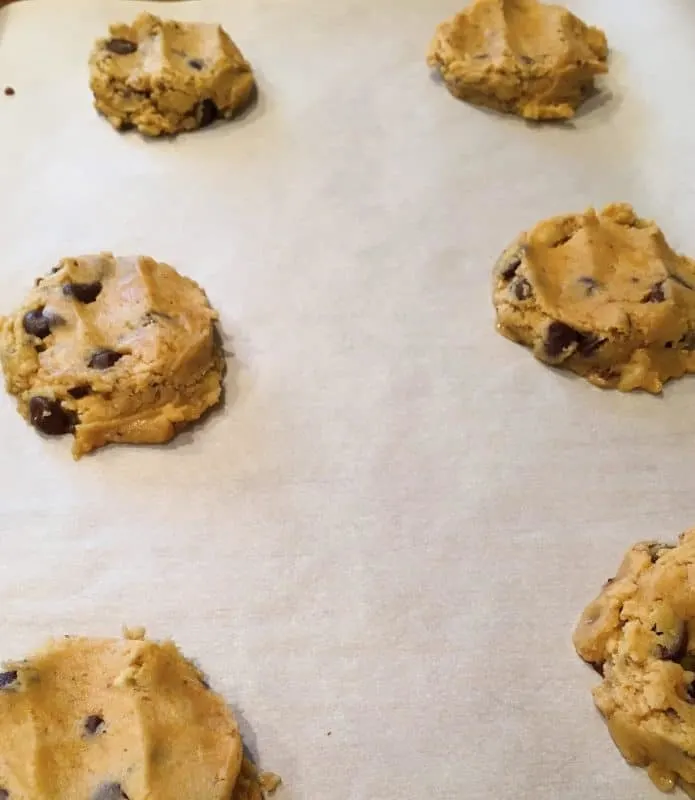 Mix cookie dough and then use a cookie scoop.
The cookie scoop will help keep them about the same size once they cook.
TIP: Normally, I don't flatten my cookies down but, because I was trying to make a "sandwich" top and bottom and wanted them a little thinner than normal… I pressed them down to about 1/2 inch. Just like in this photo! (See…I'm getting better about prep photos…generally I get so excited I forget to snap a pic!)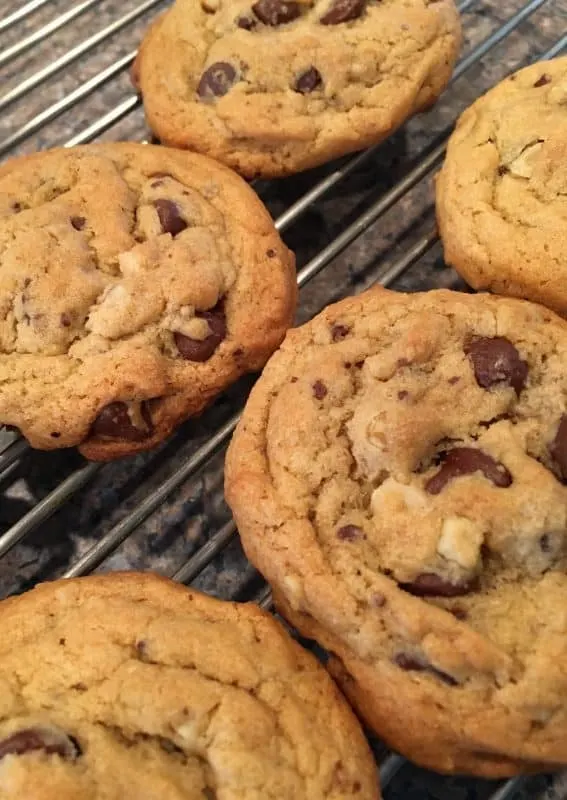 Once the cookies are baked I place mine on my very, very, VERY favorite Williams-Sonoma cooling rack! (I had to say that…it's the ONLY William-Sonoma thing I own and seriously…I'm in love with it! Some want Prada…I want William-Sonoma!)
Aren't those purty cookies?! They bring out the cookie monster in all of us! (I may have had them as my lunch…just sayin'…judgment free zone here!)
This cookie recipe allowed me to make 22 flat cookies for the ice cream sandwiches and then about 10 more regular cookies. HEY! Lunch…remember! Lol
After the cookies are completely cool you are ready to make the Ice Cream sandwiches.
TIP: Because of time constraints… I made my cookies one day and stored them in a zip lock baggie. Then, I … hid them…because I do live with a cookie monster! He may not be blue and furry but… his eyes can get a little crazy when he sees these cookies! Any who… just know you can break this down into two days. It worked out great for me!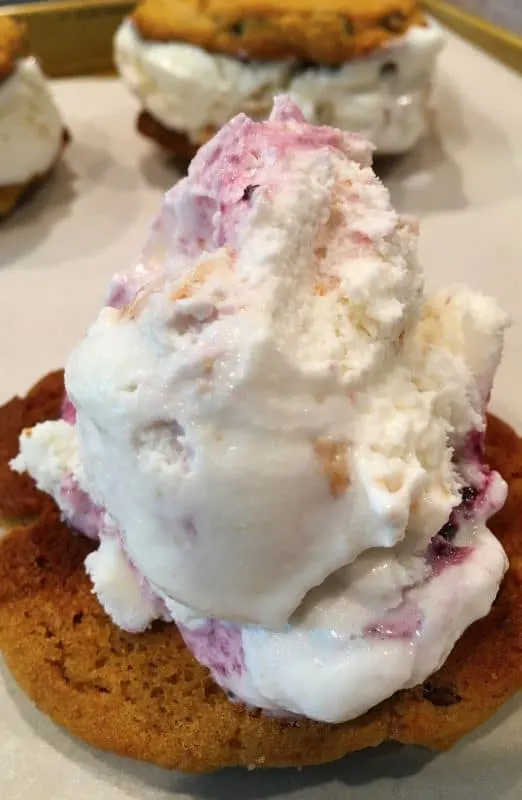 How To Assemble Cookie Ice Cream Sandwiches!
To make this step easier and to help keep you from breaking the cookies…allow the Ice Cream to sit out for about 20 minutes. I used two different flavors of Ice Cream! Premium Vanilla and "Red Button"-Huckleberry Pie! (I just had too! I love that Red Button Huckleberry Pie…it's…it's…Oooh…yeah…that good!)
Line a cookie sheet with parchment paper.
Next, chose two cookies that are just about the same size. Place a scoop of Ice Cream on one cookie and then carefully place the other on top and gently Smoosh (I just wanted to use that word!) down. I used a butter knife to smooth out the edges around the cookie. Like so…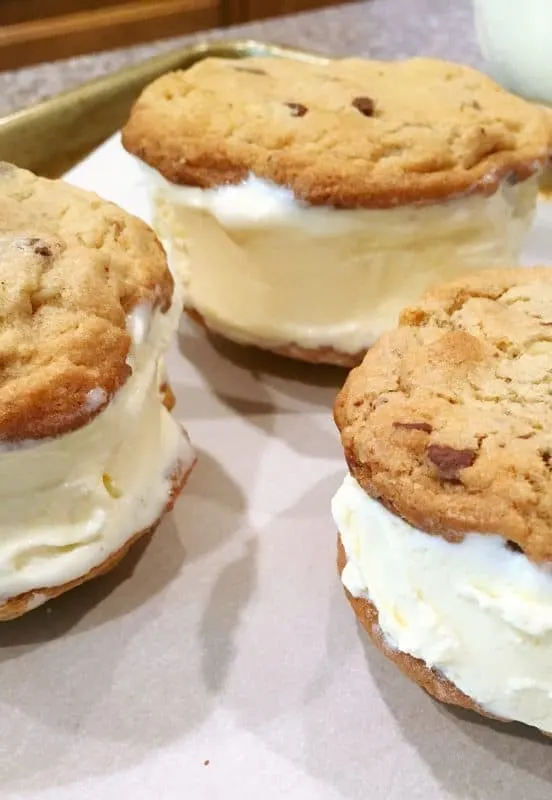 Hey! They even look like Ice Cream Sandwiches… Yippee!
After you have your sandwiches all assembled you want to place that tray back into the freezer and allow them to set up for about 2–3 hours.
How To Toast Almonds
I like to toast things on top of the stove in a skillet.
I just feel I have more control over the process rather than doing it in the oven. I can smell when they are toasting and pull them off before they burn.
Chop raw almonds, place them in a skillet and stir until toasted. You can do walnuts, pecans or even peanuts. I even used Ice Cream topping nuts on a couple of mine because I ran out of the toasted chopped almonds. Go crazy!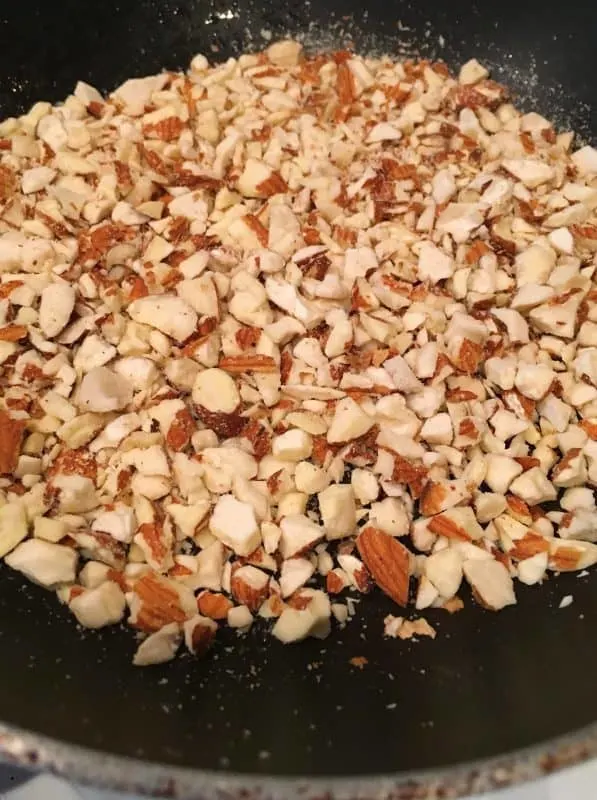 Once the nuts are toasted you want to pull them off the heat and pour them onto a piece of parchment paper to cool. Allow them to cool to room temp. No sneaking…just cooling! I'm watching you…lol!
Making Dark Chocolate Ganache
I'm including the printable recipe for the chocolate coating below with the cookies.
I make mine in the microwave in a medium glass bowl. It will take about 3 minutes at 50% power. When you remove the ganache from the microwave stir until it is smooth and creamy then add the vanilla.
Let sit coating set about 5 minutes, so it is not too hot for dipping, and to help it thicken up a bit.
I did a chocolate ganache because I wanted a chocolate that would not fall off the sandwich when you bite into it.
It will set up really fast because you are dipping frozen sandwiches into warm melted chocolate! (I hate waiting for chocolate to set up…it's a flaw of mine!) Dip half the ice cream sandwich into the chocolate ganache. Hold it up after dipping to let any excess drip off.
Next roll in the nuts to coat both sides and along the edge. Replace it on the parchment lined cookie sheet. Moving quickly, do all the other sandwiches on the sheet, and then return them to the freezer.
Allow to set up for about 30 minutes and then wrap each sandwich individually, in plastic wrap, to keep them from getting frost bite! (We don't want them to have frost bite! That would be so, so sad!)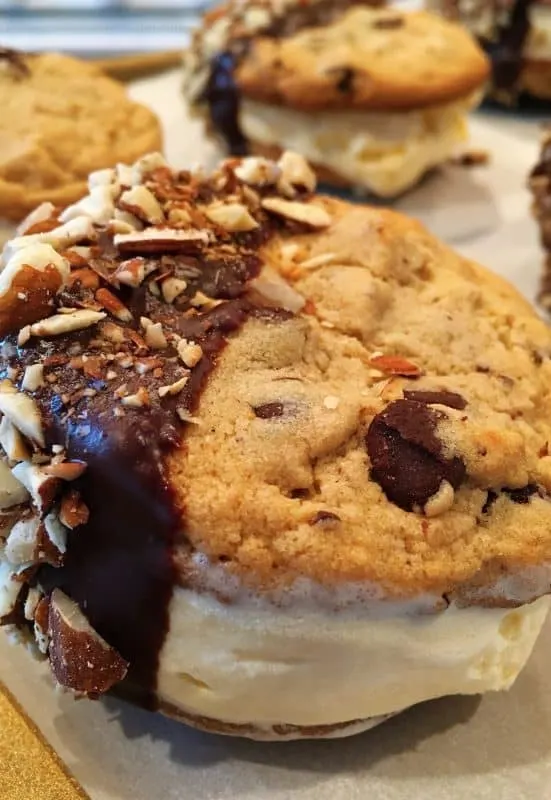 And there you have it… the perfect ending to your beginning! Yum!
Thanks all for stopping by and have a GREAT weekend!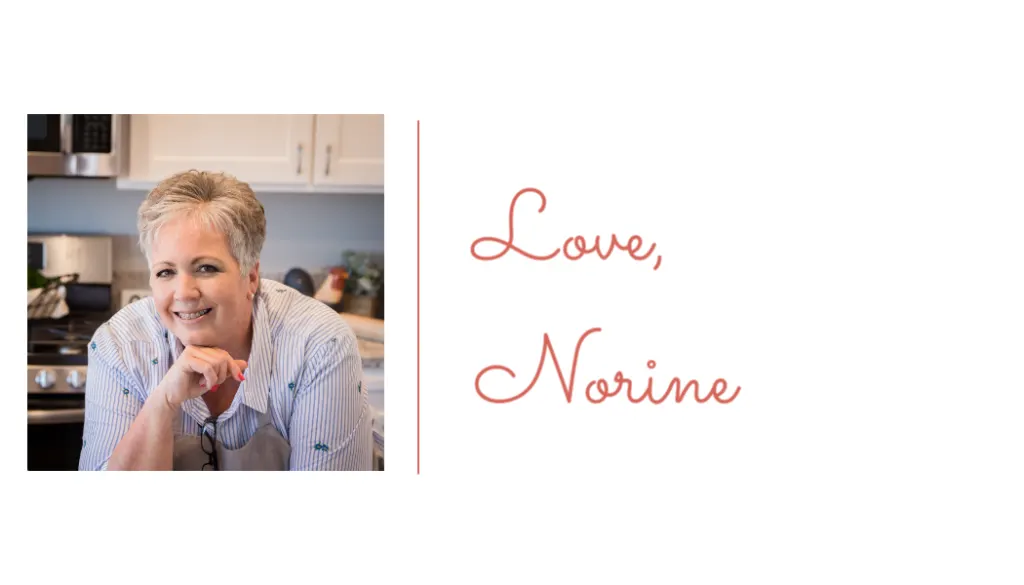 Yield: 10 servings
Chocolate Chip Cookie Ice Cream Sandwiches!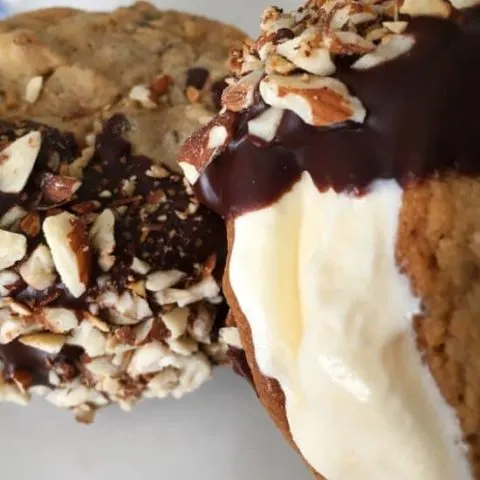 Decadent homemade chocolate chip cookies are filled with rich creamy vanilla ice cream and dipped in a satin chocolate ganache and rolled in toasted almonds for a spectacular summer time treat!
Ingredients
Cookies
2 1/4 cups all-purpose flour
1 teaspoon baking soda
1 cup butter, softened
3/4 cup packed brown sugar
1/4 cup white sugar
1 package instant vanilla pudding mix
2 eggs
1/4 teaspoon salt
1 teaspoon vanilla extract
2 cups semi-sweet chocolate chips
1 cup chopped walnuts (optional)
Filling
One quart premium vanilla Ice Cream
Chocolate Ganache
1 1/2 cups semisweet chocolate chips
6 Tablespoons butter (cut into pieces)
2 Tablespoons light corn syrup
1/2 teaspoon vanilla
1 cup toasted nuts
Instructions
COOKIES
Preheat oven to 350 degrees.
In a large mixing bowl, cream together the butter, brown sugar, and white sugar. Beat in the instant pudding mix until blended. Stir in the eggs and vanilla. Blend in the flour, baking soda, and salt. Finally, stir or mix in the chocolate chips and nuts.
Line cookie sheets with parchment paper
Using a cookie scoop drop cookies on parchment paper and gently press down with fingers until 1/2 inch thick.
Bake for 10-12 minutes in the preheated oven. Switch racks in middle of cooking so that cookies bake evenly. Edges should be golden brown.
Remove from baking sheet and place on cooling rack until cool.
Filling
Remove the Ice Cream from the freezer and allow to soften for about 20 minutes. Scoop one scoop of Ice Cream onto one cookie for the bottom of the Ice Cream Sandwich. Take the second cookie and gently press down. Use a butter knife to smooth out the edges. Place Ice Cream sandwiches on a parchment lined baking sheet and place in the freezer for 2-3 hours until firm.
Toasted Almonds
Place the chopped almonds into a skillet on medium heat. Using a wooden spoon constantly stir the almonds until the are lightly toasted. Remove and place on parchment paper to cool. Allow to cool completely.
Chocolate Ganache
In a medium size glass microwaveable dish, place the chocolate chips, butter, and light corn syrup. Set the microwave for 50% power and 3 minute cook time. Remove from microwave and stir. If needed place back in the microwave for an additional minute cook time at 50% power. Gently stir the ganache until smooth and well blended. Add in the vanilla. Allow to cool for 5 minutes.
To finish the Ice Cream sandwiches remove them from the freezer. Dip one half of each sandwich into the chocolate ganache and then roll in the toasted almonds. Replace on the parchment lined cookie sheet. Replace the cookie sheet into the freezer for about 30 minutes. Remove from the freezer and individually wrap each ice cream sandwich until ready to serve. Enjoy!
Nutrition Information:
Yield:
10 servings
Serving Size:
1 cookie
Amount Per Serving:
Calories:

1044
Total Fat:

67g
Saturated Fat:

33g
Trans Fat:

1g
Unsaturated Fat:

30g
Cholesterol:

128mg
Sodium:

639mg
Carbohydrates:

111g
Fiber:

7g
Sugar:

78g
Protein:

14g