A hearty ground beef Slow Cooker Chili Recipe loaded with beans, a rich tomato based sauce, and lots of warm flavors. The perfect meal for any time of year!
A bowl of thick, rich, bean laden, ground beef chili is the perfect weeknight dinner! A great way to quickly fill your crews bellies!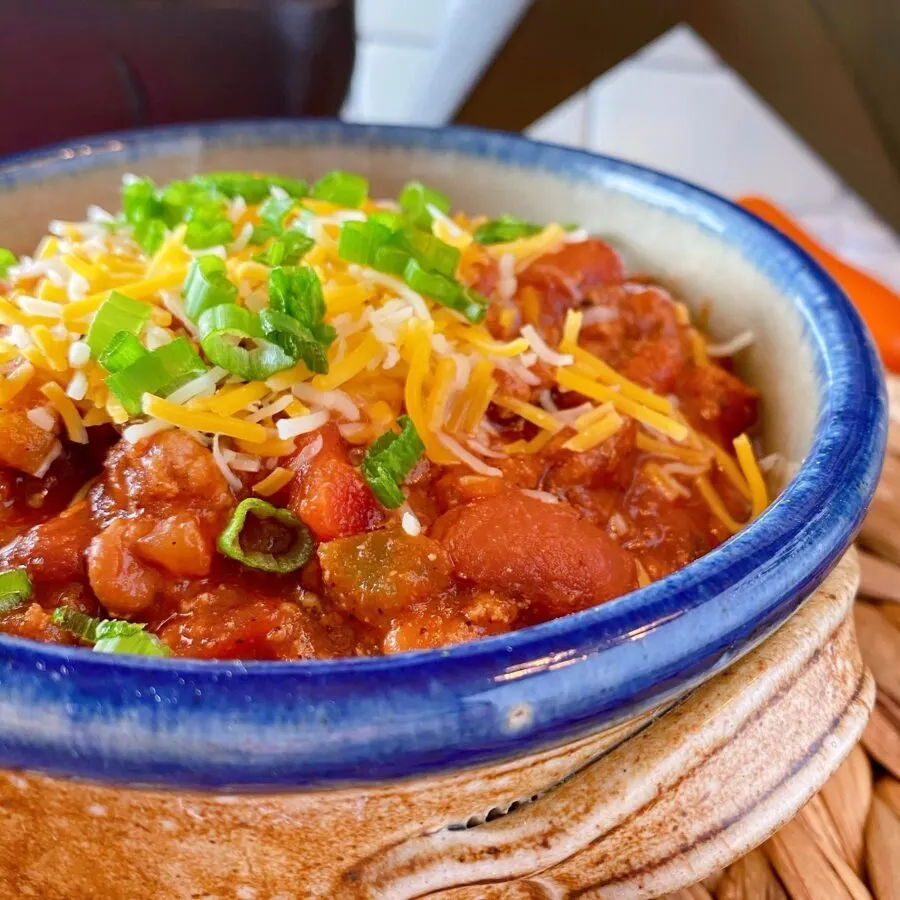 Whether you're a purest, and just want a simple bowl of chili, or you prefer to kick it up with "walking tacos", chili cheese fries, or "Navaho tacos"… this chili is exactly what you're looking for!
Ever get a "hankering" for a big ol' bowl of chili? I know I do! This recipe is my "go-to" chili. It's a really great versatile ground beef chili recipe. One I know you'll love. What's not to love about a meal that can be made in your slow cooker, so you can get on with your day?!
It starts out with 2 pounds of browned ground beef, then ya dump everything in your crock pot, give it a little pat on the lid, and a "see ya later"…and come back 4–6 hours later to a pot full of deliciousness!
How To Make Easy Crock Pot Beef Chili
Before we begin please keep in mind that this recipe makes a BIG pot of chili. If there is only two of you and you really, really, really love chili…by all means make this recipe as is. However, if you want a smaller batch, because eating chili for 34 days straight isn't your idea of the ultimate culinary experience…then I suggest you cut the recipe in half!
In a large skillet, over medium heat, brown 2 pounds of ground beef.
TIP: It's okay if it isn't completely cooked through since we will be slow cooking this chili for 4–6 hours.
Drain off excess grease.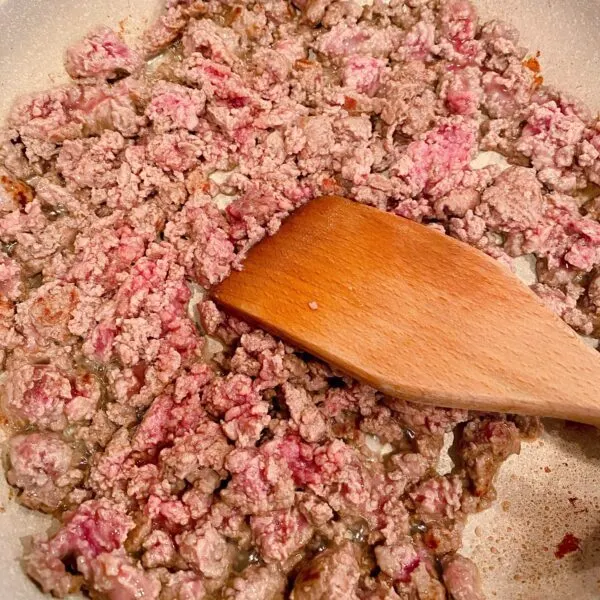 Place brown ground beef in the bottom of a large 8 quart slow cooker.
Next add 2 (14.5 ounce) cans petite diced canned tomatoes with juice, 2 small cans tomato sauce, 1 (6 ounce) can tomato paste, 4 cups beef broth, 1 can rinsed and drained kidney beans, and 1 (15 ounce) can chili beans with sauce.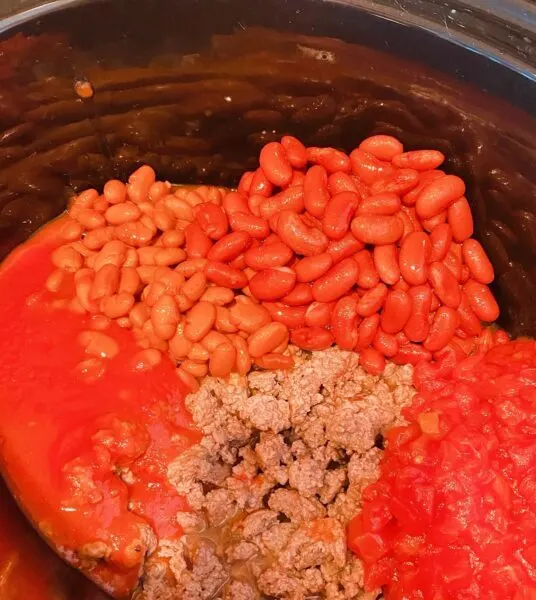 Add 1 large yellow onion, or 1/4 cup dried minced onions, 1/4 cup diced green bell pepper, 1 teaspoon coarse black pepper, and 1 teaspoon salt. (No worries…we're not done…we're just getting started here my friends!)
Now to spice things up a bit! Add 1 teaspoon paprika, 2 teaspoons minced garlic, 1 teaspoon dried oregano, 1 Tablespoon Worcestershire sauce. (Say that three times really fast! My least favorite word! Everyone sounds drunk trying to say "Wor-chest-er-shire"! Ugh!)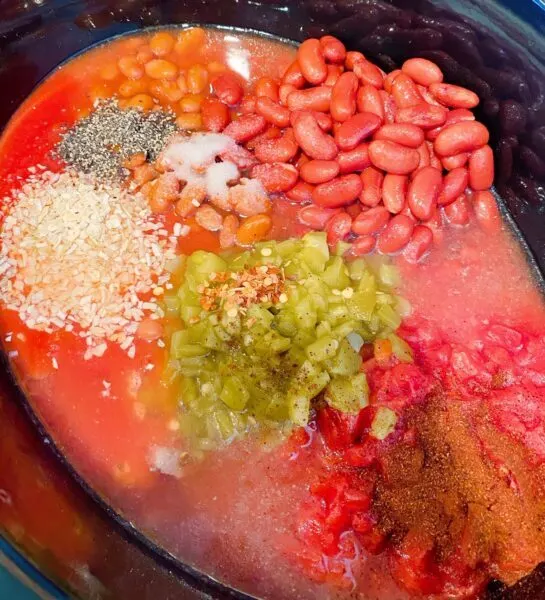 Add 1/8 – 1/4 teaspoon red pepper flake. (This is totally optional and depends on how many fire extinguishers you have at your nest!)
Let's heat things up…add 1/4 cup Chili Powder, 2 teaspoon ground cumin, 1 teaspoon dried oregano, and 2 teaspoons hot pepper sauce (optional) like Tabasco, and 1/8 teaspoon cayenne pepper (again optional for the non-flame thrower crowd). Add 1 small can chopped green chili peppers.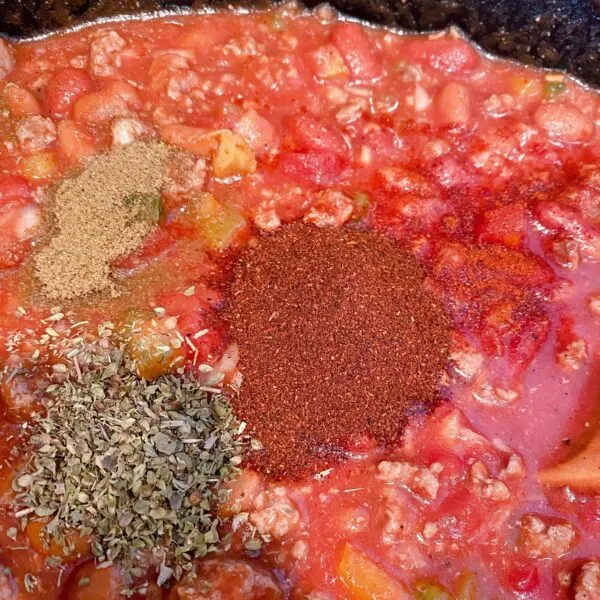 Give it a good stir. Add 1 teaspoon white or brown sugar. This helps cut the acidity of all the tomato products in the chili. I love using brown sugar because it adds hints of that rich molasses flavor. However, either will work equally well.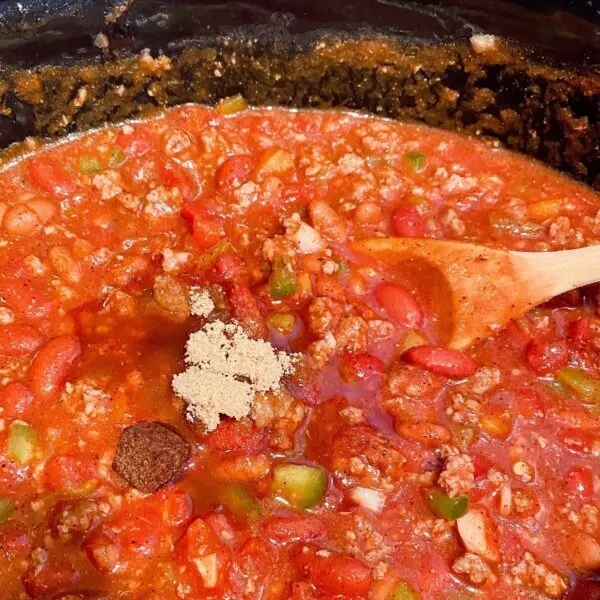 Stir one more time and cover with lid. Set temperature to "low" and cook for 6–8 hours or on "high" for 4 hours.
Tip: The longer the chili cooks the better it is! All those spices have a chance to really "hang out" and get to know each other. So if you have the time I recommend the 6–8 hours on low and be sure to give it a good stir occasionally.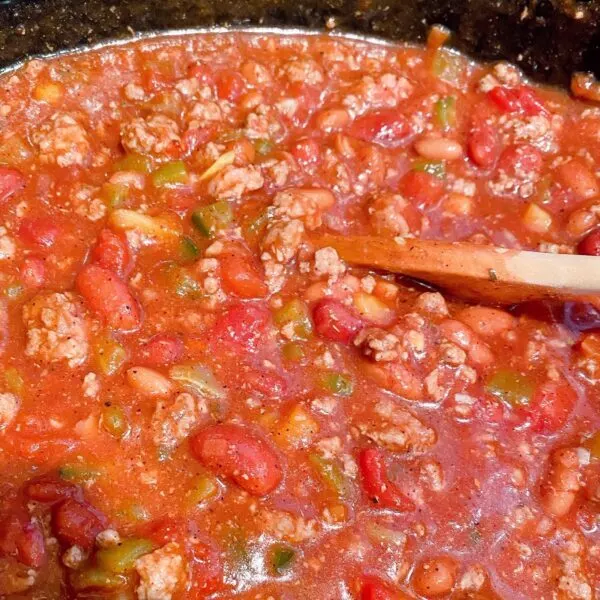 This is such a great recipe! Now I know that chili can be very subjective to every individual persons tastes. Some like hot chili, some like mild chili. Other's like bean-less chili and others love chili loaded with beans…toot-toot!
I think this is a great middle of the road chili. One that will make everyone at your Nest happy! Top it off with loads of grated cheese and some chopped green onion.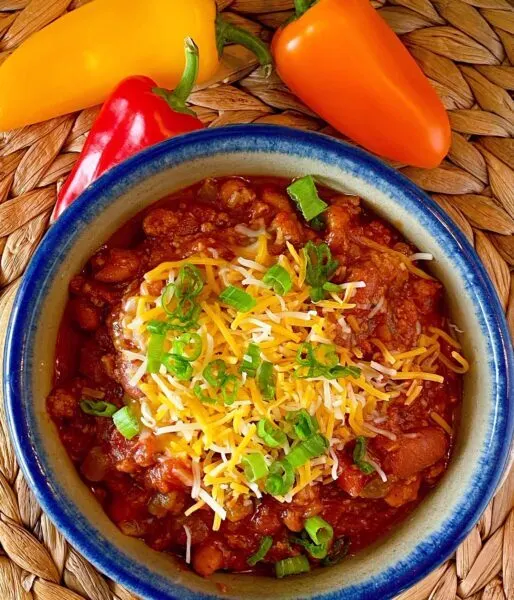 I love to add a dab of sour cream and crushed Frito chips to my chili. It truly makes for a deeee-licious meal! I also love to make a great big pan of my Buttery Sweet Corn Bread as a side to this dinner dish!
I know some of you feel Chili is only a Fall and Winter dish… I respectfully disagree. If you've never had a Navaho Taco at the country Fair then you don't know what you're missing.
I have a great recipe for Navaho Taco's coming soon. Fry bread topped with this delicious chili recipe is AMAZING!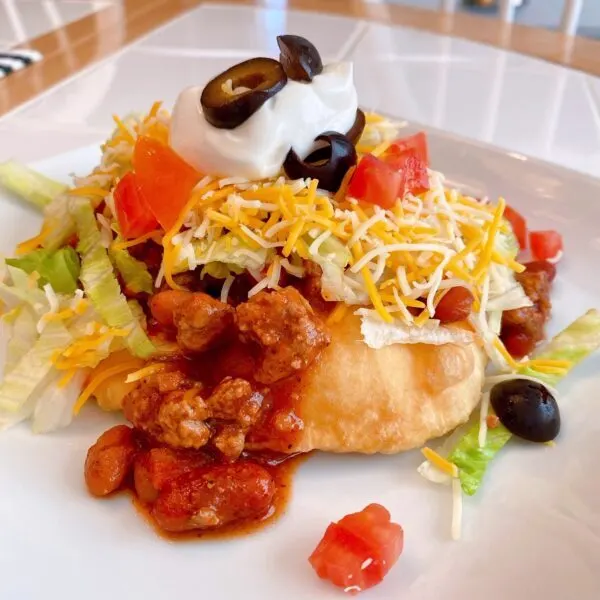 I hope you enjoy this easy and budget friendly Ground Beef Chili! The debate over who has "The Best Chili" will rage on as long as there are Chili Cook-offs!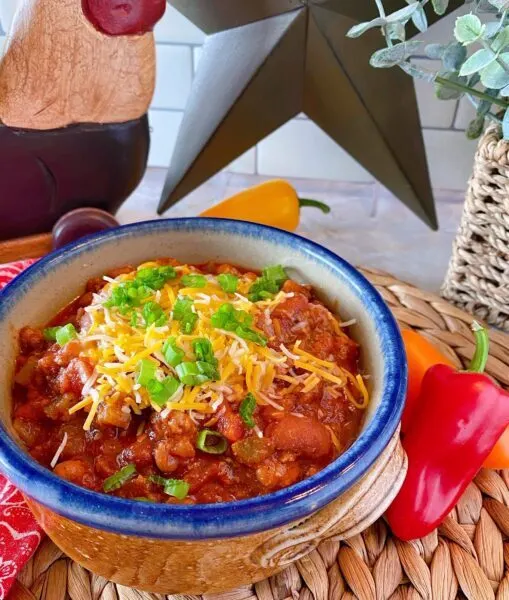 Other Great Soup Recipes
As always, thanks so much for stopping by and visiting with me today. I love having you here! You can always follow me on Instagram, Pinterest, and Facebook where I share not only my newest recipes, but some of my favorite classic recipes.
Happy Nesting and Have a Great Day!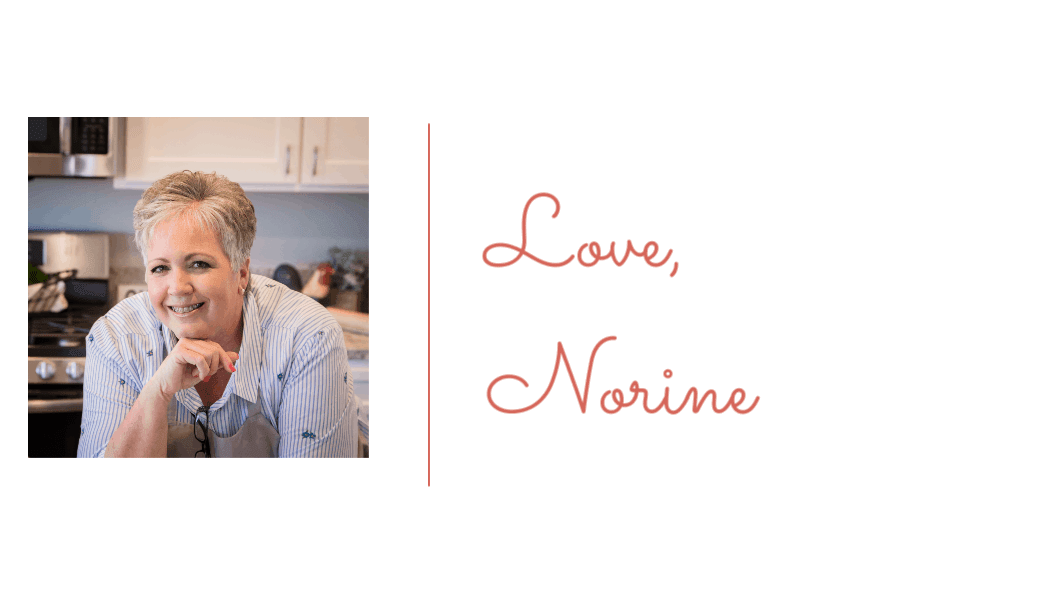 Yield: 8 servings
Best Slow Cooker Ground Beef Chili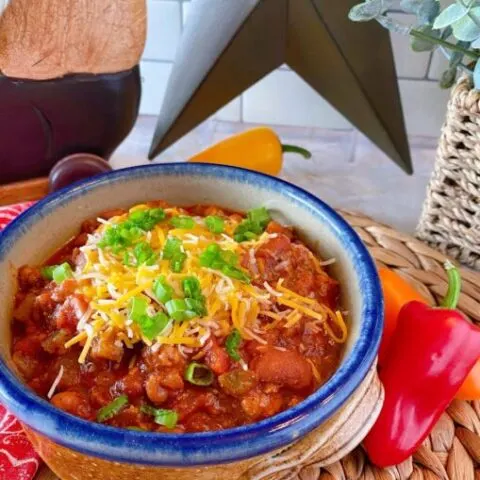 A hearty ground beef Slow Cooker Chili Recipe loaded with beans, a rich tomato based sauce, and lots of warm flavors. The perfect meal for any time of year!
Additional Time
2 minutes
Total Time
6 hours
22 minutes
Ingredients
2 pounds ground beef
1 (15 ounce) can chili beans in chili sauce
1 (15 ounce) can Kidney beans, drained
1 (6 ounce) can tomato paste
2 (14.5 ounce) cans diced tomatoes
2 (8 oz.) can tomato sauce
4 cups beef broth
1 large yellow onion, chopped or 1/4 cup dried minced onions
1/4 cup chopped green bell pepper
1 small can diced green chili peppers
1/4 cup chili powder
1/8 teaspoon crushed red pepper flakes
1 Tablespoon Worcestershire sauce
1 teaspoon paprika
2 teaspoons minced garlic
1 teaspoon dried oregano
2 teaspoons ground cumin
1 teaspoon salt
1 teaspoon coarse black pepper
1/8 teaspoon cayenne pepper
1 teaspoon white sugar or brown sugar
2 teaspoons hot pepper sauce (e.g. Tabasco)
Instructions
In a large skillet brown ground beef. Drain.
In an 8 quart slow cooker add ground beef and all the remaining ingredients. Stir to combine.
Cover and cook on low for 6-8 hours or cook on high for 4 hours. Stirring occasionally.
Top with grated cheese, chopped green onion, sour cream, and Frito chips if so desired.
Nutrition Information:
Yield:
8 servings
Serving Size:
1 1/2 cups
Amount Per Serving:
Calories:

415
Total Fat:

21g
Saturated Fat:

8g
Trans Fat:

1g
Unsaturated Fat:

10g
Cholesterol:

101mg
Sodium:

1214mg
Carbohydrates:

19g
Fiber:

5g
Sugar:

6g
Protein:

37g