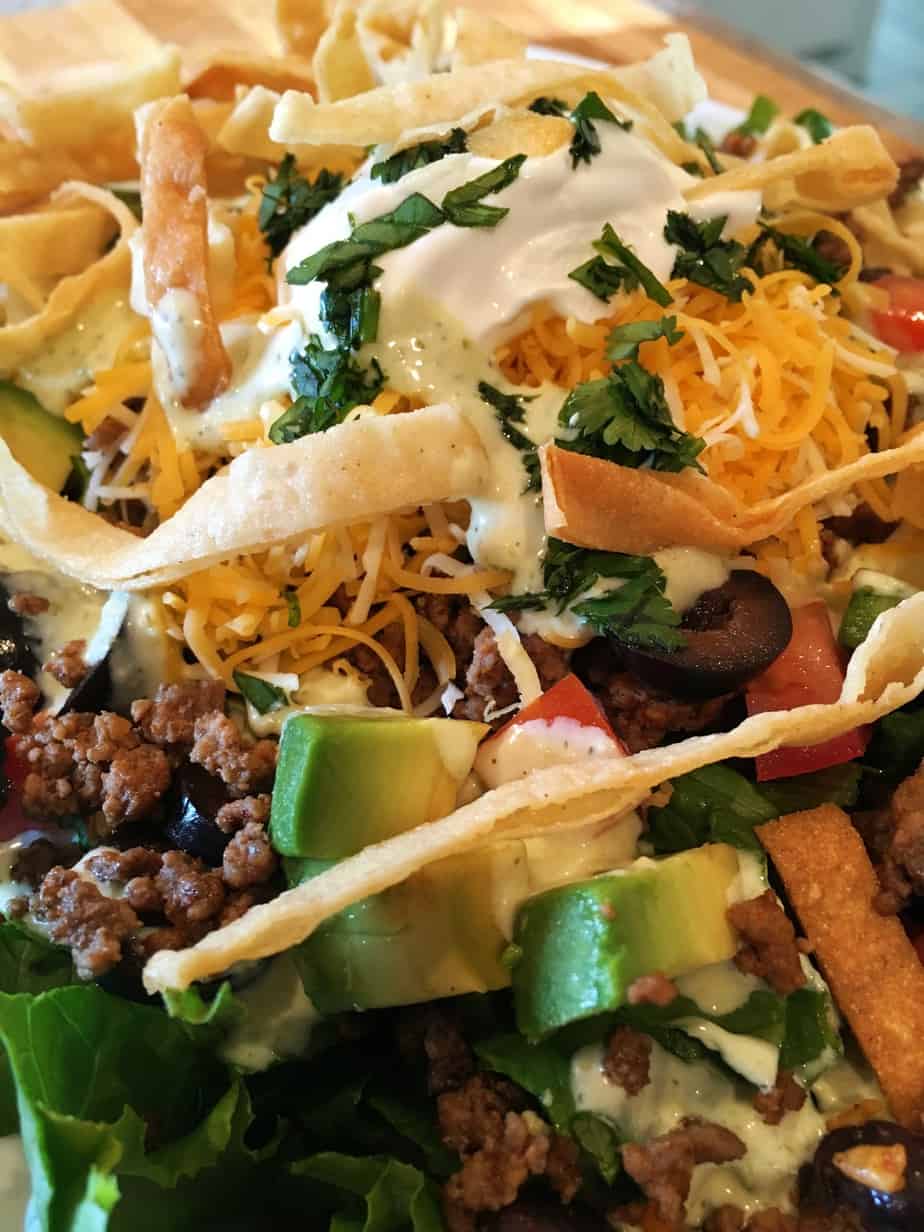 Let's cool things down! Whew! It is hot out there…and when it's hot outside I want an easy, cool, refreshing, and yet filling meal. One that is easy to put together that the whole family will like. This is that meal!
*As an Amazon Associate I earn from qualifying purchases. This post may contain affiliate links, which means that I may make a commission from any purchases at no additional cost to you. Thank you for your support!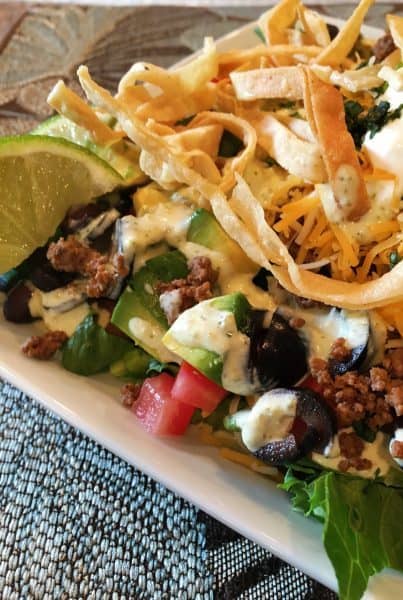 When my kids were younger the mere mention of salad caused their faces to contort into all kinds of hideousness. It was down right frightening!
However… I knew they loved tacos…and being the exceptionally brilliant mother that I am (cough, cough, hack, wheeeezzzz! Add teenage eye roll!) I decided to take all those taco ingredients and make my version of taco salad!
I was even smart enough to add black beans to the ground beef for a little extra protein! (Honestly…I should receive the Nobel Prize! lol)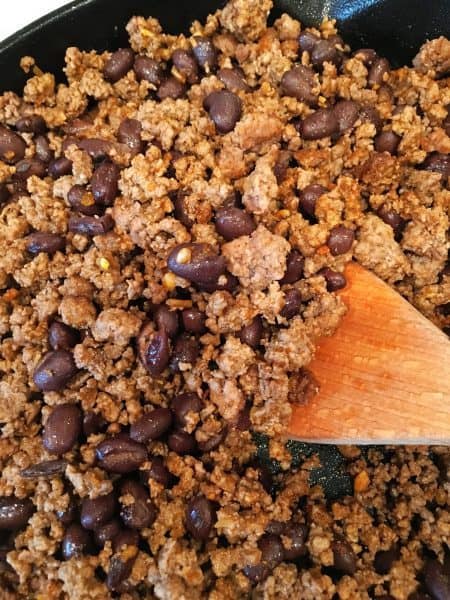 It is still one of our very favorite family recipes!
I place all the ingredients in containers and allow everyone to build their own salad. This way there is no complaining! Oh, I know…every Mom just LOVES to hear complaining after she's worked hard to put a meal on the table. We live for it! It brings us joy and happiness…(Yes! This is laced with sarcasm…it's hot…my sarcasm richter scale is off the charts!)
I did have a few rules back when the nest was full and they were younger. You had to have lettuce, you had to have meat, and you couldn't take all the "crunchies" …as the kids liked to called them. Other than that…game on!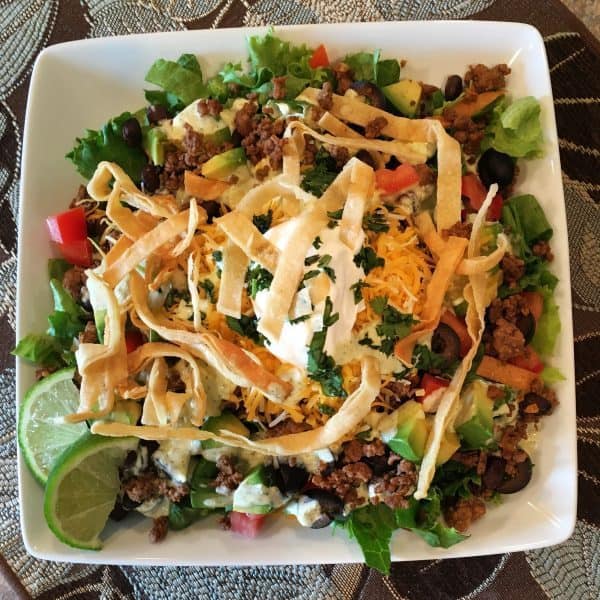 I use romaine lettuce or green leafy lettuce. That way you're getting more nutrients and let's face it…Iceberg, sweetie, you're a nice head of water!
Brown a pound of lean ground beef. Add one can of well drained and rinsed black beans. (Sneaking in that protein) To that add taco seasoning.
For toppings… diced and seeded roma tomatoes, diced avocado, grated cheddar cheese, sliced black olives, sour cream, salsa, chopped cilantro and the favorite…fried corn tortilla strips.
Top it off with Ranch dressing or Fiesta Ranch Dressing! If you really want to kick it up a notch make my recipe for fresh salsa.
MY FRESH SALSA RECIPE:
You can find it here. And….Bam! Dinner is done…finished…finito!
If you really want to knock dinner time out of the park you could serve Fried Ice Cream Cake for dessert! You can find that recipe right here. (It's okay… you just had salad…lol!)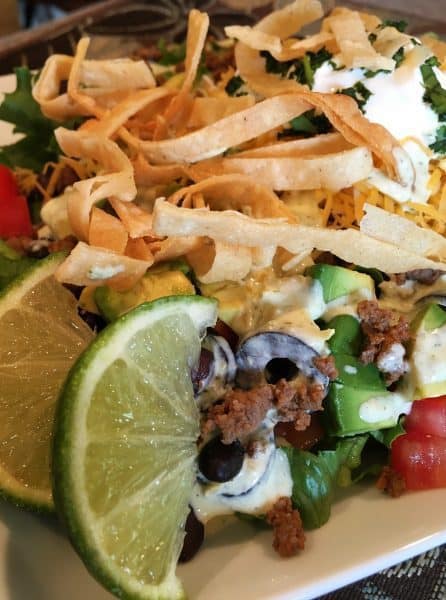 This is a very flexible recipe!
If you don't like beef, mix it up a bit…do shredded chicken, pulled pork or shredded beef. I've actually done all of them and they are equally good.
Also, if you don't like black beans you could use pinto or kidney beans. If you don't want to fry up the "crunchies" you can just take your heat frustrations out on a bag of tortilla chips and smash away!
It is really about personal preference and what your Nester's like!
We always bring this to our family reunions when it's our night for dinner. It's nice because you can make everything up ahead of time and then just set it out.
Great meal for camping too! However, on days like today when the sun could fry the back off a lizard…this is down right perfect!
PIN IT FOR LATER!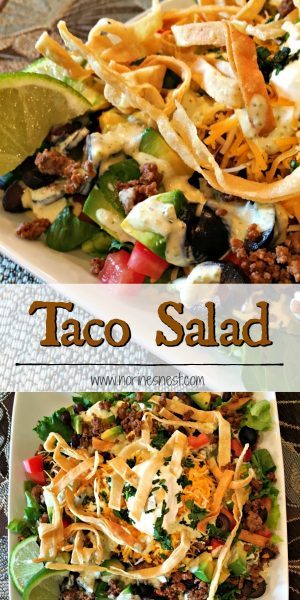 What's your favorite summertime "cool" down easy meal? I'd love to hear your ideas! Have a "cool" day!
I'm sharing this yummy recipe over on some of my favorite Link Parties! Click on the links below to join all the FUN!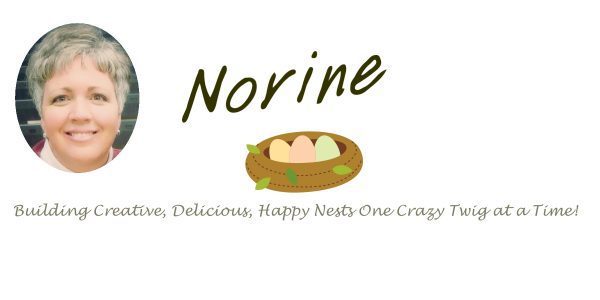 Yield: 5 -6 servings
Taco Salad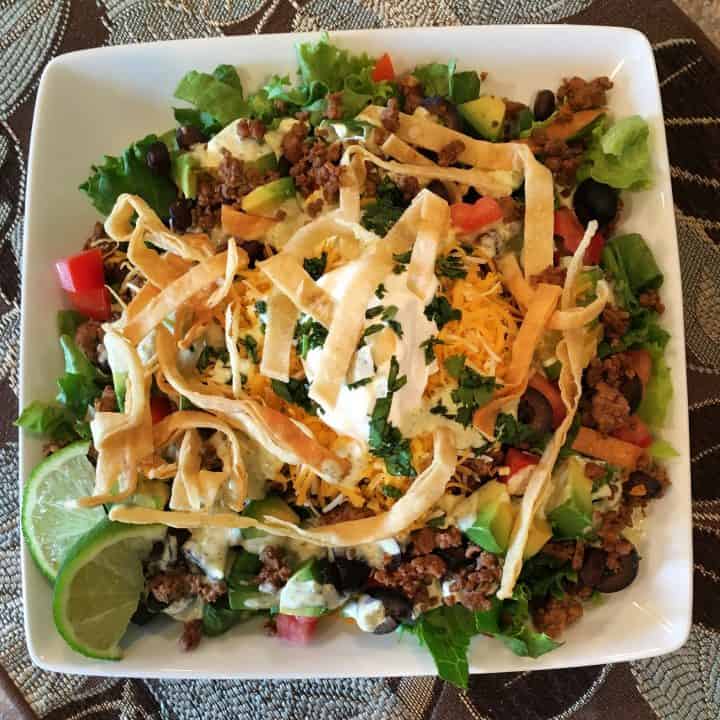 The perfect summertime alternative to Taco's...Taco Salad! A cool and refreshing salad for those hot summer days when all you want is something cool! Enjoy!
Ingredients
1 head of either romaine lettuce or green leaf lettuce, washed and chopped
1 pound lean ground beef
1 can black beans, drained and rinsed
1 Tablespoon Taco Seasoning
2 cups grated medium cheddar cheese
3 seeded and diced roma tomatoes
1 jar black olives, drained and sliced
2 avocado's diced
3 Tablespoons minced cilantro
10 white corn tortilla's sliced into thin strips, fried in hot oil and drained on paper towel*
Sour cream
Salsa
Ranch Dressing
Instructions
In a large skilled brown the ground beef. Drain off any excess fat. Add the black beans and Taco seasoning. Cook on low heat till well blended together. Remove from heat.
Place all salad toppings and the lettuce into separate containers so that everyone can make their own salad.
Start with lettuce, then meat/bean mixture, then the remaining toppings. Top with Sour Cream, Salsa, dressing and tortilla strips. Enjoy!


*To make tortilla strips, cut tortillas into thin strips. In a medium sauce pan add about 1 inch vegetable oil. Heat till hot enough to fry. Drop a small handful into the oil and stir around with a wooden spoon. Stir constantly.. Once golden remove onto paper towel to drain, and season with salt. Repeat until all the tortilla strips are cooked.


Recommended Products
As an Amazon Associate and member of other affiliate programs, I earn from qualifying purchases.
Nutrition Information:
Yield:
6
Serving Size:
2 Cups
Amount Per Serving:
Calories:

639
Total Fat:

36g
Saturated Fat:

13g
Trans Fat:

1g
Unsaturated Fat:

19g
Cholesterol:

110mg
Sodium:

722mg
Carbohydrates:

40g
Fiber:

12g
Sugar:

3g
Protein:

40g
Norine's Nest in no way provides any warranty, express or implied, towards the content of recipes in this website. It is the reader's responsibility to determine the value and quality of any recipe or instructions provided for food preparation and to determine the nutritional value, if any, and safety of the preparation instructions.