Spaghetti Sauce with Ground Beef is a favorite dish of families! Thin spaghetti is topped with a thick rich homemade sauce, laced with hearty spices, and topped off with grated Parmesan cheese!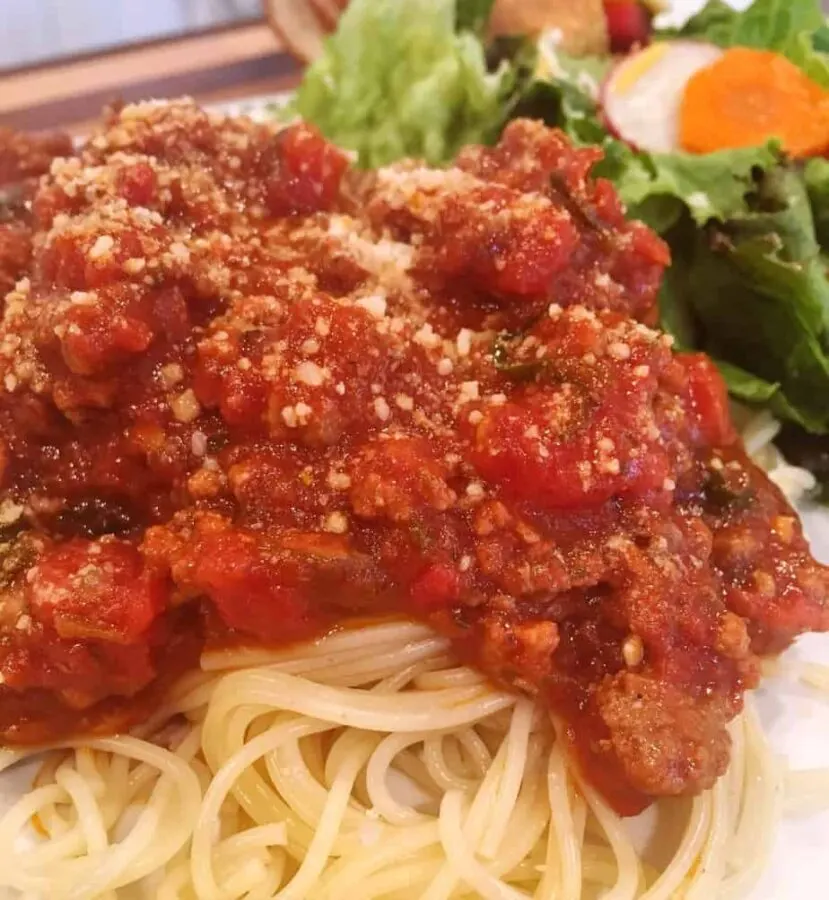 There's just something about a big pot of tomato sauce filled with rosemary, basil, and oregano cooking away on the back of the stove.
The house smells heavenly. (Italian kitchens must be splendid places to hang out!)
For years my marinara sauce was just "so-so". I'll be honest…and own it. I didn't know some really valuable tips. (Those Italian Mama's hold on tight to those family recipes!)
I'd buy store-bought sauce and just add hamburger…maybe a few little extra's here and there. Nothing really special.
Then one summer we had a plethora of tomatoes from the garden. I searched to find a really great canning recipe for homemade sauce… and "BAM!"….Life Changed! FOREVER!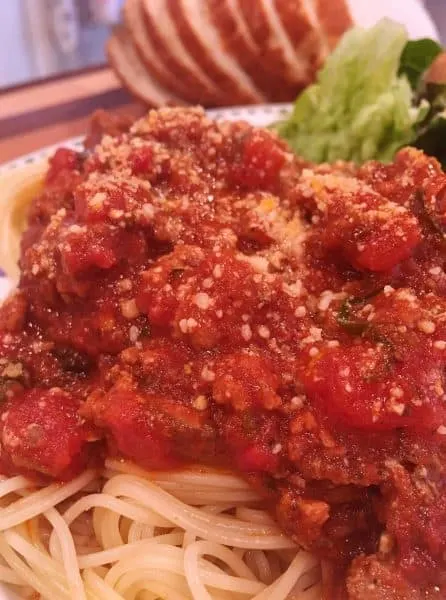 How To Make Homemade Spaghetti Meat Sauce
The basic sauce, minus the meat and mushrooms, is a classic Italian Marinara sauce.
If you're not a meat eater…you don't have to put the meat in this sauce. (I try to make things easy here at my Nest! However, I'm suddenly craving a hamburger…just sayin'!)
Let's get cooking
In a large skillet add 4 Tablespoons of Olive Oil.
Over medium heat add 2 teaspoons of minced garlic. (Yep…we're scaring away vampires…or old age! I'll take the latter. Excuse me while I go lather myself in garlic!)
Sauté garlic for 1-2 minutes.
Add one pound of lean ground beef and two cups of sliced mushrooms and cook until meat is brown. (Don't like mushrooms…skip them… the neglected cows will eat them! lol)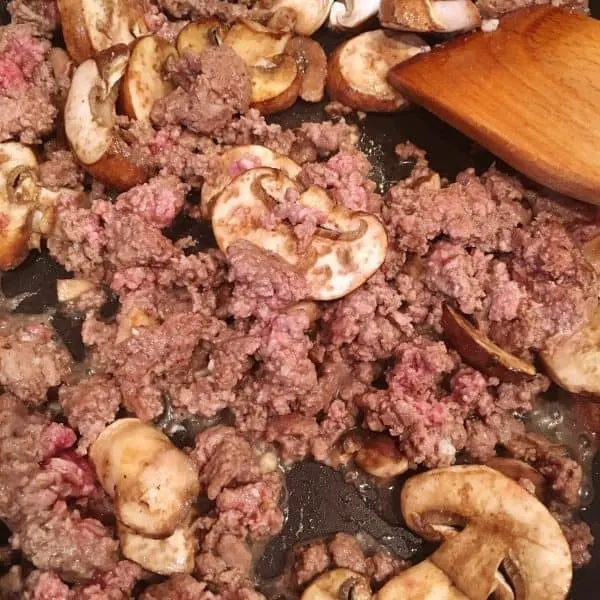 Creating the Sauce
Do not drain cooked meat. We want that oil in the sauce.
Add 1 cup of water, 1 – 8 oz. can tomato sauce, 1 – 16 oz. can petite diced tomatoes, 1 – 6 oz. can tomato paste.
In all seriousness if you are not adding meat… just add the above and continue to follow the recipe. I do this all the time and it turns out beautifully!
Although truthfully if I placed a plate of spaghetti in front of Mr. Nest with no meat he'd look at me like I'd just lost my last screw. lol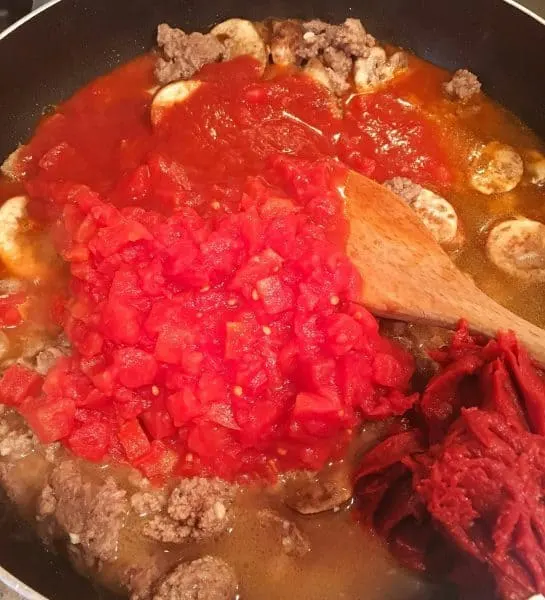 Add 1/2 – 1 Tablespoons sugar. It depends on how sweet you want the sauce.
TIP: Why add sugar? This helps cut down on the acidity of the tomatoes. This is one of those little "secrets" I mentioned above.
Add 1 teaspoon oregano, 1 teaspoon of crushed rosemary, 1/4 tsp. onion powder, 1/2 teaspoon coarse black pepper, 1/2 teaspoon salt, 1/8 tsp. red pepper flakes (optional), and two bay leaves.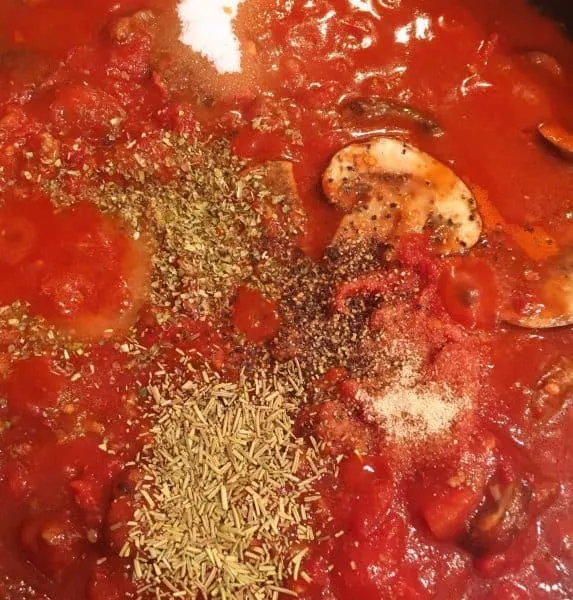 Add 1 Tablespoon dried parsley, or 1 1/2 Tablespoons fresh parsley.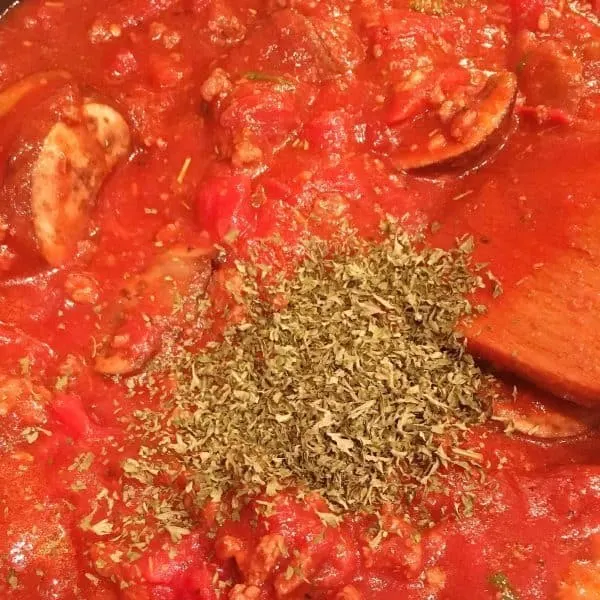 Add 1 Tablespoon fresh chopped basil or 1 teaspoon dried basil. I happen to L.O.V.E. fresh Basil! The smell is heavenly and so refreshing. So I try to always have it on had.
Simmer the Sauce
Stir everything together and turn the heat to low. Allow sauce to simmer on the stove for 4 hours OR you can put it in your crock pot and cook on low for 4-6 hours. Stirring occasionally.
TIP: This is the biggest secret I've learned…it's all about the LONG simmer time! Those Italian Grandma's know a thing or two! The sauce reduces down and the flavors condense and intensify!
The sauce will thicken and those sugars will caramelize in the sauce, creating a rich thick sauce with a wonderful depth of flavor. (Yes…just saying it again! In case you've forgotten in the last 2 seconds!)
As the day ticks away… the house will begin to fill with the most amazing scent! (Time to put a little Pavarotti on your iPhone!)
Finishing and Serving Homemade Spaghetti Sauce
Remove the bay leaves before serving.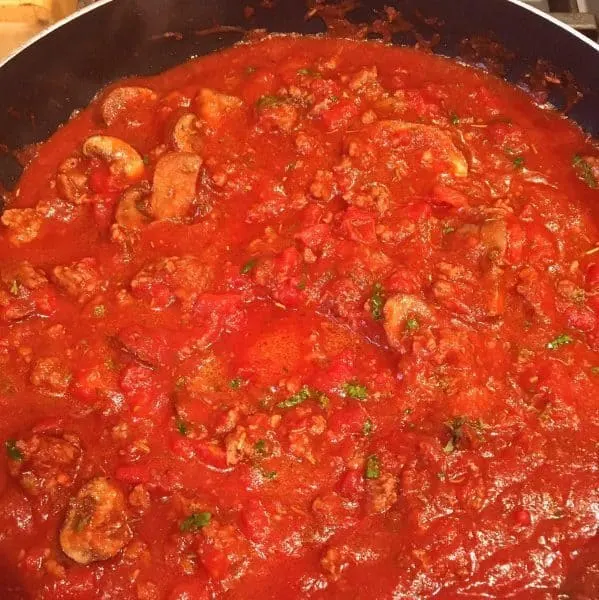 Prepare your pasta.
I always recommend that you cook whatever pasta you are making al dente! This will allow the pasta to absorb the sauce. There is nothing better than pasta that has absorbed the luscious flavors of the sauce. Truly spectacular!
TIP: I've found that the cook time instructions on the package of pasta, if followed correctly, makes for perfect pasta every time!
Pour that spectacular meat sauce over pasta and sprinkle with Parmesan Cheese!
Now go find a fork and swirl away!
Oh wait…maybe you're a cutter and not a swirler? We like to swirl at this Nest! There's just something about twirling pasta round and round and having the anticipation build!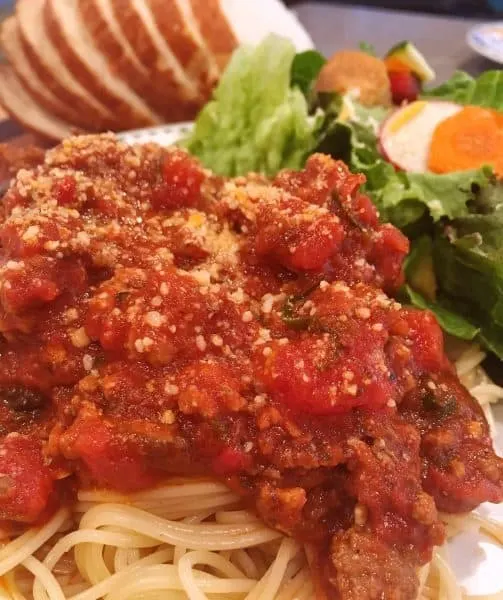 Serve this delicious spaghetti with a big garden salad and warm french bread. Let the rich meat sauce be the star of the show!
Before I learned how to make this spaghetti sauce my kids hated my spaghetti! (Gulp! That was hard to admit!) However…now I am the master of my spaghetti domain! Boo-yah!!!
Other Favorite Pasta Recipes
I hope this meat sauce is enjoyed by your family and friends. That you can be the Master of your Spaghetti Sauce domain! lol Bon Appetite!
Happy Nesting!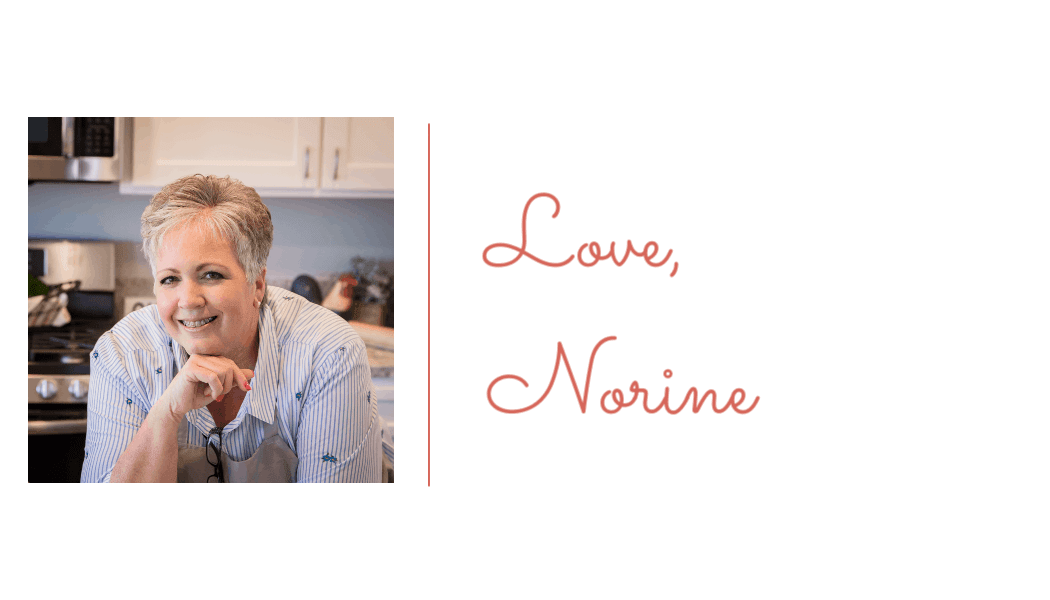 Yield: 6-8 servings
Spaghetti Sauce With Ground Beef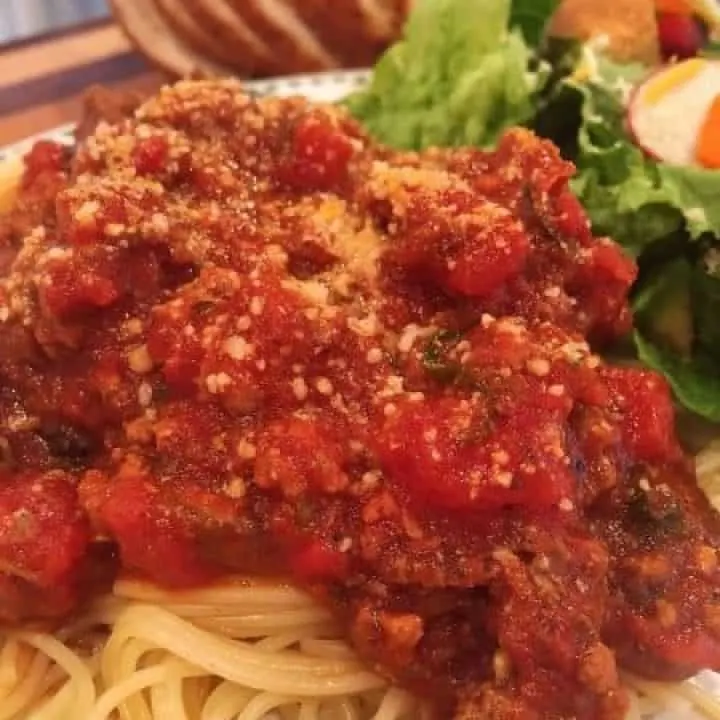 A rich hearty homemade meat sauce that is full flavored and delicious on your favorite pasta! It's the perfect sauce!
Total Time
4 hours
20 minutes
Ingredients
1 pound lean ground beef
2 cups sliced mushrooms
4 Tablespoons Olive Oil
1 Cup Water
2 tsp. minced garlic
1 - 8 oz. can tomato sauce
1 - 16 oz. can petite diced tomatoes
1 - 6 oz. can tomato paste
1/2 - 1 Tablespoon sugar
1 tsp. Oregano
1 tsp. crushed rosemary
1/4 tsp. onion powder
1/8 tsp. red pepper flakes (optional)
1/2 tsp.black pepper
1/2 tsp. salt
2 bay leaves
1 Tablespoon Fresh Basil, chopped; or 1 tsp. dried basil
1 Tablespoon dried parsley; or 1 Tablespoon fresh dried parsley
Fresh Pasta cooked al dente
Parmesan Cheese for garnish
Instructions
In a large skillet, over medium heat, add 4 Tablespoons of olive oil and saute garlic for 1-2 minutes.
Add 1 pound of ground beef and 2 cups of mushrooms. Cook until beef is brown and mushrooms are soft.
Do not drain.
Add tomato sauce, petite diced tomatoes, tomato paste, and water. Stir well.
Add in sugar, oregano, crushed rosemary, onion powder, red pepper flake, black pepper, salt, bay leaves, basil, and parsley. Mix well.
Simmer on low, stirring occasionally, for 4-6 hours, or place every thing in a slow cooker on low for 6 hours, until sauce reduces and becomes thick. Remove bay leaves.
Serve on top of your favorite pasta.
Recommended Products
As an Amazon Associate and member of other affiliate programs, I earn from qualifying purchases.
Nutrition Information:
Yield:
8
Serving Size:
1 cup
Amount Per Serving:
Calories:

269
Total Fat:

14g
Saturated Fat:

4g
Trans Fat:

0g
Unsaturated Fat:

9g
Cholesterol:

51mg
Sodium:

361mg
Carbohydrates:

16g
Fiber:

4g
Sugar:

7g
Protein:

20g